---
Richie Sambora (US) see: Samples etc.
Samla Mammas Manna (Sweden)
Måltid (1973, 42.23) ****/TT

Dundrets Fröjder
Oförutsedd Förlossning
Den Återupplivade Låten
Folkvisa i Morse
Syster System
Tärningen
Svackorpoängen
Minareten
Værelseds Tilbud

Snorungarnas Symfoni [Gregory Allan FitzPatrick/Samla Mammas Manna] (1975, 34.09) ****/T½

Första Satsen
Andra Satsen
Tredje Satsen
Fjärde Satsen
Current availability:
Måltid: Silence (Sweden)
Snorungarnas: MNW (Sweden)
Mellotrons used:
Samla Mammas Manna are one of Swedish prog's better-kept secrets, with many aficionados having never heard the band, or really gathered where they were coming from at all. They took influences from the more 'out there' end of British art-rock, as well as Swedish folk and God knows what else; think Gentle Giant/Henry Cow in a jazz stylee and you might be just beginning to get a handle on their sound. And that's before vocals are even mentioned...
I haven't heard Samla Mammas Manna's eponymous debut, but Måltid is pretty hard going, although ultimately worth the effort. Dundrets Fröjder gets things off to a good start, building up to a loping jazzy groove, slowly picking up speed, with Mellotron strings cutting in around the seven-minute mark. Oförutsedd Förlossning is totally different, while Den Återupplivade Låten heads off in another direction again, with a short burst of Mellotron flutes this time. The last Mellotron track on the album is Tärningen, highlighting their unusual Mellotron use: rather than layer it all over a track, they just bring in a few chords here and there; maybe only a few bars in a whole song, which avoids overkill, although sometimes you feel that a little more wouldn't have hurt. Anyway, don't buy Måltid expecting symphonic prog, but if your palette's a little jaded, they might be just the tonic you need. Incidentally, two of the bonus tracks on the CD are from the same sessions, but Circus Apparatha has been rather pointlessly appropriated from their first album.
Samla's third album, '74's Klossa Knapitatet, is Mellotron-free, but the follow-up is quite an oddity, being a collaboration between the band and American ex-pat Gregory Allan FitzPatrick, who composed and arranged the entire album, effectively using the band as collective session musicians. FitzPatrick's material, while no means 'standard' prog fare, leans more in that direction than Samla's own stuff, with four lengthy tracks contrasting with the band's own highly variable track lengths. There's a decidedly folky bent to some of this album and it's difficult to work out whether the passing similarity with Samla's own sound is due to they and FitzPatrick coming from the same musical area, or because his ideas have been filtered through theirs. Either way, it's different enough from Måltid to almost be a different band, except that they keep lurching back to type, just when you least expect it.
Lars Hollmer's Mellotron strings in Första Satsen (I think the tracks are titled simply 'first to fourth parts') are few and far between, with just a few seconds here and there, but Andra Satsen opens with a clunky flute/strings part (I think), before a few more odd bits scattered throughout the song. Tredje Satsen seems to be bereft of Mellotron, but a flute line in Fjärde Satsen reminds you it's still there. Not exactly a Mellotron Classic, then, but despite being written by someone else, a worthy album in the Samla catalogue.
So; two very good albums, though not for the beginner to the style. Samla split in '77, reforming as Zamla Mammaz Manna, then becoming involved in the British RIO (Rock in Opposition) movement, alongside Henry Cow and co. There are various other albums released under various names, but I'd be surprised if there's any more Mellotron use; there certainly isn't any on 1980's Familjesprickor (Family Cracks) (***½). Anyway; recommended.
See: Lars Hollmer
Samurai of Prog (Finland)
Undercover (2011, 77.30) ***/TT½

Before the Lamia
The Lamia
Starship Trooper
World of Adventures
Assassing
Gravitá 9.81
Jerusalem
Dogs
The Promise
...Zap
Stranger [by Resistor]
Blood Sacrifice [by Costa & Mariotti]
Asylum [by Roz Vitalis]
Prisoner of the World [by Contrarian]
Secrets of Disguise (2013, 131.12) ****/T½

Three Piece Suite
Sweet Iphigenia
Descenso en el Maelstrom
Before the Dance
Dancing With the Moonlit Knight
Aspirations
Traveler
Sameassa Vedessä
One More Red Nightmare
To Take Him Away
Time and a Word
Singring and the Glass Guitar
Darkness
Jacob's Ladder
The Case of Charles Dexter Ward (alt.version)
Tuonen Tytär II: A Tribute to Finnish Progressive rock of the 70's (2009) ***½/TT

[The Samurai of Prog contribute]
Colossus

Decameron: Ten Days in 100 Novellas, Part 1 (2011) ***½/T

[The Samurai of Prog contribute]
The Promise
Current availability:
All titles: Musea (France)
Mellotrons used:
Undercover: Alfio Costa's M400
Secrets: Matthijs Herder's M400/unknown
Although the oddly-named Samurai of Prog are based in Finland, only one of the trio's permanent members is a full Finn, the other two being Italian/Finnish and American (their various associate members are similarly multinational), with Elektroshock, Tasavallan Presidentti and various Colossus projects amongst their portfolios. The project's aim is clearly to homage the music they love, while simultaneously writing and recording their own material; the end result comes across slightly like a multi-artist tribute band, albeit one unafraid to play around with arrangements.
Their 2011 debut, Undercover, tackles Genesis, Yes, ELP, Floyd and Arti & Mestieri, plus new(er) outfits Marillion and The Flower Kings, which leaves only two original pieces of music, one of which is merely a newly-written intro to Genesis' The Lamia. Ignoring the two-second ...Zap, the last four tracks all date from bassist Marco Bernard's Elektroshock days, performed by four different artists, making this essentially a multi-tribute album. So, do they manage decent versions of the material contained herein? The Lamia, Assassing, Dogs and Jerusalem all sound much like the originals to one degree or another (if you know what I mean in the case of the last-named), while Starship Trooper and World Of Adventures mess seriously with their source material, making for a more interesting listen, frankly. Their own The Promise is pleasant enough, although it veers slightly too close to the soft-rock end of prog for my personal taste, but there you go. Alfio Costa (Tilion, Daal) plays his own M400 on the album, with choirs on The Lamia, strings on World Of Adventures (more than you'll hear on the original...), Gravitá 9.81 and The Promise plus strings and flutes, maybe surprisingly, on Elektroshock's Blood Sacrifice (there was Mellotron on the original version, too), making this borderline worth hearing for its Mellotron use alone.
The project's follow-up, 2013's Secrets of Disguise (thanks for this, Kimmo), is a better effort all round, as the core trio find their feet, tackling some less obvious pieces and recording a couple of their own compositions for good measure. The covered artists include both the obvious (Genesis and Yes again, King Crimson, Rush, Van der Graaf, PFM and Gentle Giant) and the less so (England, Crack, Matti Järvinen, Sandrose and Todd Rundgren's Utopia), all of their versions providing at least something of interest, particularly Utopia's bonkers Singring And The Glass Guitar, almost as nuts as the original and several minutes longer. Other highlights include David Myers' piano intro to Dancing With The Moonlit Knight, Before The Dance, Gentle Giant's Aspirations, sounding more like a Van der Graaf outtake, Crimson's One More Red Nightmare, Sandrose's To Take Him Away and one of the band's own compositions, Sweet Iphigenia.
Only three credited Mellotron tracks, with England's Robert Webb playing an M400 on Three Piece Suite, replicating his original MkII string and brass parts, David Myers recreating Tony Banks' parts on Dancing With The Moonlit Knight (is this Mellotron genuine?) and Matthijs Herder (Oceana Company) playing M400 strings and flutes on To Take Him Away. On the sample front, someone (probably Brighteye Brison/Änglagård keys man Linus Kåse) adds string samples to Sweet Iphigenia, Yesterdays' Enyedi Zsolt does the same on Sameassa Vedessä and Camel's Guy Le Blanc plays strings and choir samples on Singring And The Glass Guitar.
Overall, an unusual project, their debut sounding slightly like a condensed set of tribute albums, although several tracks are decidedly worth hearing, while their follow-up is decidedly superior.
See: Tilion | Elektroshock
Sanctuary (US)
Sanctuary (1971, 44.29) ****/TTT½

All in My Dreams
1982A
Time and a Word
Hard to Be
Winter's Dream
Current availability:
Mellotron used:
US outfit Sanctuary's sole self-titled album is so obscure that even its year of release is unknown, although 'around 1971' seems a safe bet. Its sound is mostly post-psych rather than prog per se and it's a pity the band didn't get the breaks; they could have developed nicely given a bit of time and money.
Keyboard man Eric Bikales shines on various instruments, including Mellotron. All In My Dreams showcases his skills, with a descending strings run to be proud of, although 1982A only has a smattering of cellos on the outro. Their cover of Yes', er, 'seminal' Time And A Word misses the opportunity to smother the chorus in Mellotron, only using it for a few chords at the end and Hard To Be again waits until near the end for what sounds like a Mellotron strings'n'flute duet, although most of the album's tracks sound like they contain real flute. The best track (as so often) is the side-long Winter's Dream, which is definitely more proggy than the rest of the album, with some excellent keyboard work. Although none of the tracks feature the Mellotron that heavily, this one has the most, definitely with flutes this time, a quick burst of cello and the obligatory strings, including a brief solo section with some excellent high-speed playing and a superb crescendo at its conclusion.
Your chances of finding a vinyl original of this are probably akin to discovering a MkII Mellotron in perfect nick for sale at your local social club. Actually, less. It's been bootlegged onto CD-R, but here's hoping for an official release sometime, not to mention the other tapes that Bikales says he has stashed away somewhere. Worth the effort.
Sanctuary Rig (UK)
Khnosti (2008, 91.39) ***½/TTT

Justify
He and She (Again)
Bring it on
Life Song
The Man in These Clothes
Don't Hurt Me
Mitchell and Shaw (Inverted)
Long Haul
Learn Again
Spy in the Atmosphere
Just for the Record
Louise
Dawn of a New Day
The Dawn
The Day
Louise (acoustic)
Current availability:
Mellotron used:
Sanctuary Rig are a London-based four-piece who've been around a few years, releasing an EP, Sail on, in 2005. I'll admit here to a slight air of nepotism, as keyboard player Mark Rae (ex-In the Cage) is an old friend and the only reason Khnosti's here at all is that Mark plays my M400 on several tracks. Unbelievably, it's a double CD, as the band seemed unwilling to drop anything and while this makes listening to it in one sitting a bit of a marathon, but hopefully there's enough variety to keep the listener interested. It's difficult to know how to describe the music herein: prog? Singer-songwriter? Maybe we should just stick with the band's own description: "rock, blues, prog, Mellotron, bass pedals, religious imagery, space murder, ex-wives and astral sex", or mine, which is: "rock clearly made by people who lived through the '70s". Several tracks sound slightly like Bob Dylan (particularly on Louise) as played by a slightly proggy mid-'70s outfit with a couple of albums out on Harvest, while others have that prog-blues feel that hasn't been sighted since the days of The Groundhogs, although they don't actually sound anything like them. Confused? Me too. Maybe you should just listen to the clips on their website.
Opener Justify has elements of The Who in its construction, while He And She (Again) starts as a slow blues before shifting gear into a rockier thing altogether, while the rest of the tracks on disc one ("Jipamari") juggle a prog feel (in places) with vocalist/guitarist Jim Faupel's 'could be played acoustically'-type songwriting. Disc two ("Famcrasl") opens with an odd little instrumental, Long Haul, which sticks a few late-'70s Genesis chords in for good measure and incorporates a straight-ahead rocker, Spy In The Atmosphere, an almost straight blues, Just For The Record and a jaunty Caribbean-flavoured (!) number in (proper) closer Dawn Of A New Day. The acoustic version of Louise that closes the album shouldn't really be considered part of the album 'proper' and wouldn't be here at all if they didn't have space to fill on disc two.
Most of Mark's keyboard work consists of (sampled) Hammond and piano, with the occasional faked analogue synth part and a couple of more obvious samples or more modern sounds. His first Mellotron interjection is towards the end of He And She (Again), with a string part that morphs into choirs just as the song shifts into Yes impersonation mode, while Bring It On features Mark playing a repeating part on successively more and more notes, proving, if nothing else, that my Mellotron's stable up to eight-note chords. All the rest of the Mellotron work juggles the strings and choirs, as the flutes on Just For The Record are samples (Mark felt he couldn't play the fast part on the real thing) and Bring It On's strings/brass mix is sampled. One of the album's best Mellotron parts is the instrumental second half of Dawn Of A New Day, The Day, with its 'extremely real' strings, with Mark doing his 'strings into choir' trick again into the fade.
If Khnosti has an obvious fault, it's that it's too long. An hour and a half is a hell of a long time to sit listening to one album, especially when there's no Lamb-style narrative thread to hold the contents together. The (necessary) two-disc format means that if you only like half the album, you can't just skip the tracks you don't like, but have to mess about ejecting discs and so forth. Still, a small problem, as the album gives great value for money and you can always burn your faves onto one disc, or just load them into your iPod or whatever. As far as my M400 goes, there's a fair bit of it scattered around, usually used more as an 'accent' than the basis for any track. This won't cost you a fortune and since you can hear clips of every track on the band's website, I'd do that if I were you and decide for yourself.
See: In the Cage
Sand Pebbles (Australia)
Eastern Terrace (2002, 43.13) ***½/TT

My Sensation
Out of My Mind on Dope and Speed
Moving Too Fast
One Time at Sundown
The Big V
Dirty
The Sundowner
Charmed
Moving Too Fast (the Director's Cut)
Current availability:
Camera Obscura (Australia)
Mellotron used:
Australia's Sand Pebbles (named for the film) play what I believe is termed 'alternative rock', whatever you take that to mean, although, just for once, I don't mean it disparagingly. I haven't heard their debut single, Noah's Ark, backed with their first Mellotron track, an early version of The Sundowner, but Eastern Terrace is really quite good, although the band's experimentation doesn't always work. I like the way they don't actually have a consistent sound throughout the album, though, tailoring the instrumentation to the song's needs, rather in the manner of XTC, say, although the two bands don't really sound alike. Notable tracks? Their version of Julian Cope's Out Of My Mind On Dope And Speed is pretty cool, while My Sensation is probably the best of their home-grown numbers.
Their mate Beck Zack plays Mellotron on two tracks, with a string line on the aforementioned My Sensation, alongside Ben Michael X's '$150 1979 string synth'. He really goes to town on the lengthy instrumental The Sundowner, though, with loads of flute and string work, including, effectively, a Mellotron strings solo towards the end. So; a good album, displaying considerable promise and some decent Mellotron work to boot.
Delta Joe Sanders (US) see: Samples etc.
Sam Sanders (US)
Mirror, Mirror (2013, recorded 1975?, 28.10) ****/TTT½

Inner City Player
Face at My Window
Loser
Funk'ed Up
Love's Gain
Summer Mist
Current availability:
Mellotron used:
The sorry tale of Detroit's Strata Records is an all too common one: small players in a big city battling against the odds, only to go under just as success came knocking. Strata released all of six LPs between 1969 and '75, although label owner Kenny Cox recorded many more, not to mention a slew of live recordings for local radio. New York DJ Amir Abdullah has rediscovered the label and is slowly releasing artefacts from its archives, one of the first being Stevie Wonder sideman, saxophonist Sam Sanders' Mirror, Mirror (the future Don Was' very first engineering job, fact fans), lined up for release when the label folded. Best described as a soul/jazz crossover with hints of funk, the under-half hour release is the kind of record that transcends tiresome genre-snobbery, from opener Inner City Player's insistent groove through Face At My Window's jazz moves, Funk'ed Up's heavy dose of Shaft-style choppy funk guitar and the sweet soulful jazz of Love's Gain.
I'm beginning to wonder whether the label had a studio they tended to use and, if so, whether that studio owned a Mellotron. Because? Not only can one be heard on one of their six contemporaneous releases, Lyman Woodard Organization's Saturday Night Special, but it's also on Cox's Clap Clap! The Joyful Noise (also released in 2013), not to mention Mirror, Mirror. Keys man John Katalenic plays it here, with wispy choirs kicking off Inner City Player, followed by an upfront string part, more strings on Face At My Window, cellos and choirs on Loser and strings on Summer Mist, leaving Love's Gain as the album's Mellotronic highlight, smothered in pseudo-orchestral strings. Well, I'd be the first to admit that a soul/jazz fusion isn't obviously my bag, but the sheer quality of the music on offer here overcomes any petty genre wars. Superb.
Sandrose (France)
Sandrose (1972, 40.07) ****½/TTTTT

Vision
Never Good at Sayin' Good-Bye
Underground Session (Chorea)
Old Dom is Dead
To Take Him Away
Summer is Yonder
Metakara
Fraulein Kommen sie Schlaffen Mit Mir
Current availability:
Mellotron used:
Now, the Sandrose album is something special; a much-fêted 'Mellotron Album' that actually lives up to its name. Usually described as 'early progressive', it was one of the first albums of the new genre to come from France, along with Ange's debut. However, Sandrose are often rather unfairly compared to Dutch pop-prog outfit Earth & Fire, mainly due to the similarity of their female vocalists; Sandrose's Rose Podwojny is more shrill than Earth & Fire's Jerney Kaagman, though, more in the 'torch' mode, really. Sandrose definitely has French chanson influences amongst the more familiar late-'60s/early-'70s stuff, making its sound quite unique.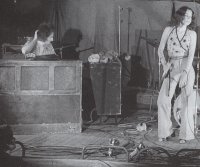 Basically, this album is quite literally Mellotron-swamped; the first six tracks all feature it heavily, particularly Old Dom Is Dead, a song guitarist Jean-Pierre Alarcen brought with him from a previous band. Underground Session is less jam-based than it sounds, but is the album's longest track by several minutes, also featuring waves of Mellotron strings (note: not 'washes'; this is an unacceptable cliché and will not be used on this site). While much of the music is proto-symphonic, this isn't a 'symphonic' album in the style of, say, early Genesis. It may or may not appeal, mainly depending on your capacity for accepting 'outside influences'; then again, with a style as new as prog in 1972, all influences could have been considered 'outside'. Six of the album's seven proper songs feature lashings of Mellotron (the last track is a thirty-second muckabout), so the much-maligned 'Mellotron Classic' label can be firmly applied. The whole concept was apparently Alarcen's, including the heavy Mellotron use, although he found organist Henri Garella to play it along with his usual instrument.
A vinyl original will set you back several limbs (£100+ for the UK release last time I heard), but French reissue heroes Musea put it out as one of their first projects, including, as you can see, some marvellous live pics in the booklet. In this rather heavily-cropped one, note the already rather battered-looking black M400 played by Garella's temporary replacement, Georges Rodi, with its weird, customised sled-like feet. Maybe it doubled as a toboggan.
Buy? An unequivocal yes.
Sangiuliano (Italy)
Take Off (1978, 32.36) ****/TTT½

Time Control
Saffo's Gardens
Take Off
Current availability:
Mellotron used:
Keyboard whizz Antonio Sangiuliano's lone album, Take Off, was an oddity on the Italian scene, sounding more like a symphonic version of Tangerine Dream, though with a distinctly Italian edge to his composition, setting it apart from the myriad German keyboard-led outfits. At only 32 minutes, the album doesn't have time to outstay its welcome, though unlike many other 'electronic' artists (naming no names), the record could've been longer without dragging, such is the quality of the material. It's difficult to describe the music without getting bogged down in the minutiae of 'at 3.16 a Polymoog string theme enters...' etc.; suffice to say, it constantly surprises with its adventurousness and melodic invention, particularly during the superbly-orchestrated 'string' arrangement on the title track.
Although the CD booklet give very few details of Sangiuliano's setup, my Italy-via-Japan copy has a Japanese insert, from where I can pick out English words such as 'Stockhausen', 'Pierre Boulez' and, er, 'Mellotron'. Actually, it gives his full rig, including his much-used Polymoog, ARP 2600, Eminent string synth and MiniMoog, with the only other occasional instrumental input being from drummers Derek Wilson and Enzo Restuccia and soprano Elisabetta Delicato (thanks to Augusto Croce's fantastic Italian Prog site for that information). His Mellotron use concentrates entirely on different choirs; I suspect he uses male, female and 8-voice, though it's not always easy to tell. There's an awful lot of it, anyway; the male voices are one of the first sounds you hear on the side-long Time Control and can be heard across all three tracks, supplying the requisite 'epic' quality that his music required, with the Wagnerian stabs on Take Off itself being particularly noteworthy.
It's a real tragedy that the fantastically-haired Sangiuliano didn't go on to have a long and honourable career, although like so many others in the '80s, he could've gone completely down the pan, so maybe we should be grateful for this one-off marvel. Anyway, excellent music (although I'm not sure I can confidently give it more than four stars) and plenty of Mellotron choir. Buy.
Santana (US)
Welcome (1972, 50.30) ***½/T

Going Home
Love, Devotion and Surrender
Samba de Sausalito
When I Look Into Your Eyes
Yours is the Light
Mother Africa
Light of Life
Flame-Sky
Welcome
Current availability:
Mellotron used:
Santana (the band's) fifth album, Welcome, followed Carlos Santana's collaboration with erstwhile Mahavishnu Orchestra leader John McLaughlin, Love, Devotion Surrender, also naming a track title here. McLaughlin also guests on the album, which may have helped to give it its smoother, jazzier feel, although Santana had already begun moving in that direction on Caravanserai. The overall feel of this album is definitely easier on the ear than their first three (all classics) and I feel the songwriting seems to be taking a back seat to the spiritual message held within, although I accept that this may be an unfair criticism.
Whatever, Welcome's a perfectly listenable Santana album, just not a particularly exciting one. If you're not into it, the jazzy keyboard work grates after a while and the smooth, soulful male and female vocals are a far cry from the impassioned, bluesy tones of original organist Gregg Rolie. Unless I'm badly mistaken, the first guitar solo isn't until track five, Yours Is The Light, which explains the missing element on which I couldn't put my finger. Yeah, that's the one; guitar. Funky rhythm sections are all very well, but without that searing, neck-pickup guitar work it could be any old Latino band, not the one who rewrote the rule book. There is some good material on offer here, particularly the 11-minute Flame-Sky, but I'm afraid it doesn't come anywhere near the heights of their early albums.
The only Mellotron on the album (played by Richard Kermode) is on instrumental opener Going Home; layered strings over an arhythmical backing with some unusual chord changes, leading into Love Devotion And Surrender. Very nice, but not worth the purchase price of the album, really.
Lucas Santtana (Brazil) see: Samples etc.
Chelique Sarabia (Venezuela)
La Garza Negra y de Hierro (1975, 34.35) ***/TTT

La Garza Negra y de Hierro
Orinoco Rio Abajo
Pasajero del Tiempo
A Ver Como No Compai
Canto de la Gran Sabana
Agua Que le Duele al Remo
Mas Alla de la Ternura
Las Eternas Montañas
Desperta es Nacer
Chelique y Manzanero en Casa (los Romanticos de America) [as Chelique
Sarabia & Armando Manzanero] (1976, 27.14) **½/TTTT

Asi es Mi Amor
Mi Propio Yo
Cosas Como Tu
Cuando No Se de Ti
Esta Tarde Vi Llover
Yo
Cada Vez
Perdido en la Nostalgia
Adoro
Ansiedad
Current availability:
Mellotron used:
José Enrique "Chelique" Sarabia Rodríguez is a highly successful Venezuelan musician, also working in several related fields since the late '50s, although I have no idea how many albums he's released over the decades. 1975's La Garza Negra y de Hierro is a weird hybrid of Latin pop and a kind of synth-led psychedelic folk, if that makes any sense at all, at its best on the lengthy opening title track, the psych/folk of Orinoco Rio Abajo and Canto De La Gran Sabana. Without a specific credit, it's impossible to say who plays the Mellotron, so it could be any of Alí Agüero, Eduardo Cabrera, Sarabia himself, José "Cholo" Ortiz or Lucio Caminiti, with background strings on the title track, more upfront ones, plus flutes, on Pasajero Del Tiempo, more flutes and strings on Canto De La Gran Sabana and Agua Que Le Duele Al Remo, occasional strings on Mas Alla De La Ternura and strings on Las Eternas Montañas, although the strings and brass on closer Desperta Es Nacer are real.
The following year's collaboration with Armando Manzanero, Chelique y Manzanero en Casa (los Romanticos de America), is pretty much what you'd expect: Latin pop of the era that could easily pass for music made twenty years earlier, making it fairly unpalatable to the modern, non-Latin American ear. Cholo Ortiz (for definite, this time) plays Mellotron superbly, although I have absolutely no idea where he sourced one in South America. Was this recorded elsewhere? Anyway, we get strings and/or flutes on every single damn' track bar opener Asi Es Mi Amor, making this something of an unexpected minor Mellotron classic, albeit one that you might not actually wish to hear too often.
Sarcofagus (Ltd) (Finland)
Envoy of Death (1981, 37.32) ***½/T½

Envoy of Death
The Deadly Game
Wheels of Destruction
Insane Rebels
Die to Win
Stolen Salvation
Black Contract
Core Values [as Sarcofagus Ltd] (2007, 59.57) ***/TT

Life By Proxy
Techgnostic
Core Values
Is This it? (No Flying Cars Yet)
Collateral Damage
Self Dysmorphic Disorder
No Collective Memory of Failure
ADHD
Radical Rethinking of the Processed World
2nd Coming
Chemical Sunglasses
2nd Coming (French version)
Back From the Valley of the Kings (2016, recorded 2010, 78.54) ***½/T

Subconscious Penetrating
Astral Flyer
Here I am
Eternal Silence
Stolen Salvation
Insane Rebels
Wheels of Destruction
Back to Black
2nd Coming
Talo
Metallinen Sateenkaari
1000 Megawatin Totuus
Go to Hell
Envoy of Death
Deadly Game
Die to Win
Current availability:
Envoy: Svart
Core/Back: Sarcofagus Ltd.
Mellotrons used:
Sarcofagus are fêted as Finland's first heavy rock band, which seems surprising given that by the time they appeared, the rest of Europe was entering its third (count 'em) phase of overdriven Marshallness; even neighbours Sweden had a healthy music scene, with one massive worldwide pop success and countless local bands. In fairness, Finland had a scene of its own, but not in this genre, it seems. Their debut, 1980's Cycle of Life, was a pretty formative affair, being a concept album about the afterlife, involving Egyptian deities, all put to a primitive hard rock (not metal) backing. Envoy of Death was a distinct improvement on its predecessor, although, strangely, it's another concept effort, this time going the whole way on the Ancient Egyptian front, each track telling the story of someone hauled up in front of the afterlife's equivalent of Juke Box Jury. Most of the album sounds like the more uptempo end of the Black Sabbath repertoire, notably the opening title track, with the occasional foray into near-prog territory, principally on lengthy closer Black Contract and Wheels Of Destruction (who said 'Confusion'?).
Producer and guest keyboard player on the album was none other than Esa Kotilainen, one of Finland's chief movers-and-shakers since the '70s. Unsurprisingly, as well as his Hammond, Kotilainen stuck some of his M400 on the album, so, given that he produced, it has to be his fault that it's mostly so low in the mix. The male choirs on the title track may or may not be Mellotron, although the strings and flutes on Wheels Of Destruction and, specifically, the repeating flute melody on Die To Win most definitely are.
Twenty-five years on... Sarcofagus reappear, reinventing themselves as Sarcofagus Ltd, launching themselves into an upside-down world where Finnish metal bands achieve worldwide fame; there's a turn-up for the books, eh? Core Values is, by and large, mainstream metal, with little of the charm of their early work, although eccentricities like the indie-pop/metal crossover Self Dysmorphic Disorder worm their way in somehow. Kotilainen's still involved, adding ripping Hammond to several tracks and Mellotron to a few, too. The amusingly-named Is This It? (No Flying Cars Yet) has some background strings, with strings and flutes on Collateral Damage and cellos on the aforementioned Self Dysmorphic Disorder, with a final string part and some nice choppy somethings on Chemical Sunglasses. Incidentally, the final track, the 'French version' of 2nd Coming, is well worth hearing just for its accordion work. No, really.
2016's Back From the Valley of the Kings was recorded live in the studio over the course of a single day in 2010, the band running through a fair chunk of their back catalogue, capturing their onstage energy without the inherent problems of live recordings, highlights including Astral Flyer, Wheels Of Destruction and 2nd Coming, amongst others. Kotilainen plays keys on tracks 1-13 (did he have to go home for tea at that point?), with exceedingly faint strings on Here I Am's intro, background chordal flutes on Wheels Of Destruction, a choppy flute line, following the Hammond, on Back To Black's intro and flutes on Talo, none of it that overt. Although not worth it for the Mellotron, this is definitely your best entry point to the band's work.
See: Esa Kotilainen
Bob Sargeant (UK)
First Starring Role (1974, 35.18) **½/½

Situation
Let Yourself Go
Between You and Me
King of the Night
Sunshine Blue
Can You Feel it
(It's So) Hard to Be Alive
King of the Night (Reprise Jam)
The Waiting Game
First Starring Role
Current availability:
Mellotron used:
Bob Sargeant seems to be chiefly known as a studio-based producer, although he released one solo album, 1974's First Starring Role. Last too, Bob. It's a typical middling pop/rock effort of its time, not unlike, say, Pilot in album mode, better tracks including the funky King Of The Night, Can You Feel It and The Waiting Game, but the overall vibe is 'second-hand pop/rock', making it unsurprising the album wasn't a success.
Sargeant plays Mellotron on opener Situation, if only just, with a few seconds of mixed choir that's neither here nor there, frankly. If you want to hear this, it's on YouTube, complete with the uploader's internal PC sounds carelessly splattered all over the place. Idiot.
---