Gentle Giant (1970, 37.05) ****/T½

Giant
Funny Ways
Alucard
Isn't it Quiet and Cold?
Nothing at All
Why Not?
The Queen

Acquiring the Taste (1971, 39.32) ****½/TT½

Pantagruel's Nativity
Edge of Twilight
The House, the Street, the Room
Acquiring the Taste
Wreck
The Moon is Down
Black Cat
Plain Truth

Three Friends (1972, 35.23) *****/TT½

Prologue
Schooldays
Working All Day
Peel the Paint
Mister Class and Quality?
Three Friends

Octopus (1972, 34.18) *****/TT

The Advent of Panurge
Raconteur, Troubadour
A Cry for Everyone
Knots
The Boys in the Band
Dog's Life
Think of Me With Kindness
River
Out of the Woods/Totally Out of the Woods: the BBC Sessions
(1996/2000, recorded 1970-75, 65.13/84.06) ****/T

City Hermit
Isn't it Quiet and Cold?
[DJ's Presentation]
The Advent of Panurge
Way of Life
The Runaway
Excerpts From Octopus
Knots
The Boys in the Band
Organ Bridge
The Advent of Panurge
Way of Life
Proclamation
Experience
Aspirations
Cogs in Cogs
Free Hand (live arrangement demo)
Just the Same
Free Hand
On Reflection
Under Construction [Disc 1] (1998, recorded 1969-80, 73.07) ****/T½

Radio Bit
Freedom's Child
Hometown Special
Weekend Cowboy
Bringing Me Down
Nothing at All
Rondo - Playing the Game
DVS Guitars
Robin Hood
Interview Whispers
Interview - Live
Timing - Live
Unreleased Civilian Track
You Haven't a Chance
Sample Archive
Out of the Fire: the BBC Concerts (1998, recorded 1973/78, 94.13) ****/½

Introduction
Way of Life
Funny Ways
Nothing at All
Excerpts From Octopus
Introduction
Two Weeks in Spain
Free Hand
On Reflection
I'm Turning Around
Just the Same
Playing the Game
Memories of Old Days
Betcha Thought We Couldn't Do it
(Special Presentation by John P. Weathers)
Funny Ways
For Nobody
Mountain Time
In a Palesport House (2001, recorded 1973-74, 69.00) ***½/T

The Runaway
Way of Life
Funny Ways
Knots
The Advent of Panurge
Nothing at All
Plain Truth
Knots
The Advent of Panurge
Scraping the Barrel [Disc 1] (2004, recorded 1964-2000, 77.47) ***½/½

Giant (vocal mix)
Alucard (Derek, master of ceremonies)
Pantagruel's Nativity (vocal mix)
Schooldays (piano, studio)
Schooldays (grand piano, studio)
Working All Day (demo)
Peel the Paint (different solo)
Mr. Class and Quality (intro bits & complete solos)
Three Friends (piano experiment)
Three Friends (vocal mix)
Kerry's Kindness
Think of Me With Kindness (studio outtake)
Keyboard Concerto (Plymouth 1973)
In a Glass House intro
Runaway/Experience segue
Way of Life (without vox)
Proclamation (rehearsal before take)
Proclamation (demo)
Playing the Game (experiment)
Playing the Game (pick'n'mix)
Playing the Game (alt.part)
The Boogie and the Woogie (Cogs)
No God's a Man (demo)
No God's a Man (vocal mix)
The Face (demo)
Valedictory (starts)
The Power and the Glory (inbetweenies)
The Power and the Glory (demo/band/studio pick'n'mix)
The Power and the Glory (second song)
With Gentle Giant on KMET jingle
On Reflection (rehearsal chaos)
Free Hand riff
His Last Voyage (vocal mix)
[Plus Disc 4 Mellotron tracks:
The Runaway (Torino 1973)
Pantagruel's Nativity - Mellotron Note (sample archive)
Think of Me With Kindness - never used Mellotron
(sample archive)]
King Alfred's College, Winchester, 1971 (2009, 65.01) ***½/T

Giant
Hometown Special
City Hermit
Funny Ways
Plain Truth
Alucard
Isn't it Quiet and Cold?
Why Not
The Queen
Peel Off the Paint
Current availability:
Gentle/Acquiring/Octopus: Eastworld
Three: Tapestry
Totally/Fire: Hux (UK)
Under/Scraping/King Alfred's: Alucard (UK)
Palesport: Glass House (UK)
Mellotrons used:
Gentle: band's own MkII?
Acquiring/Three/Alfred: band's own M300
Octopus/Woods/Fire/Palesport: band's own M400
Under/Scraping: all the above
Gentle Giant, a band who almost single-handedly define the term 'progressive', grew out of the ashes of Portsmouth-based soul-turned-psych outfit Simon Dupree and the Big Sound. The heart of Simon Dupree (Dupree, incidentally, never existed) were the Shulman brothers, Derek, Ray and Phil, who recruited guitarist Gary Green and wunderkind keyboard player Kerry Minnear, along with original drummer, the (sadly now deceased) Martin Smith. Their 'mission statement', as stated boldly in the sleevenotes to their second album, Acquiring the Taste, was to "expand the frontiers of contemporary popular music at the risk of being very unpopular". So who the hell would have the balls to say that now? Never mind do it... Amazingly, Giant were, for a while, very popular, particularly in the States, although they eventually succumbed to the shift in musical taste toward the end of the seventies, finally throwing in the towel in 1980.
Gentle Giant must've been something of a leap into the unknown for the young band, mixing influences like they were going out of fashion. The multi-instrumental lineup gives the album an ever broader feel than it would've got from the eclectic songwriting alone, bassist Ray Shulman's violin duelling with Kerry's Mellotron on Giant and the in-house string and brass sections on Funny Ways. In fact, I believe the six members played a good twelve totally different instruments between them and reproduced the feat on stage! Their stupendous vocal arrangements only added to the effect of a band who knew exactly what they were doing; they wouldn't get past the record company's front door today. There may also be a touch of Mellotron strings (a MkII at this stage, I believe) on Why Not?, but I wouldn't swear to it, not to mention (thanks, Chris) brief use of Melltoron vibes on Alucard. Acquiring the Taste was the only Giant album to give individual, track-by-track credits, from which we find out that Kerry used his Mellotron (probably by now an M300) on three tracks: Pantagruel's Nativity, a superb piece, has a string pad under much of the song, but nothing that really leaps out at you. There's none on one of the album's high points, The House, The Street, The Room, with its tricky unison riff, but both Wreck, with its sea-shanty feel and The Moon Is Down feature those strings again. Not essential Mellotron use, to be honest, but nice to hear all the same.
By their concept piece Three Friends, Giant had really found their feet, producing an absolute monster of a record, from its opening syncopated bass/piano rush to the extended Mellotron strings coda. The 'concept' is the story of three friends at school who, upon leaving, pursue wildly different ways of life; it's superb beginning to end, particularly Working All Day and Peel The Paint. Now, I can't remember who right now, but someone's just ripped this idea off wholesale, thirty years later, proving that there's nothing new under the sun etc. etc. I believe Kerry was still using the M300, giving the strings an unusual edginess. Schooldays is extremely good, but the previously-mentioned ending to the album is brilliant, strings riding roughshod over the rest of the arrangement. Definitely Giant's Mellotron high point, I feel. Octopus was another absolute classic, Knots being a live favourite right to the end of their career. It goes without saying that this is essential listening for anyone who considers themselves a progressive fan, so I'll concentrate on its Mellotronness. Which isn't all that much, to be honest; it's all a bit buried in the mix and all I can hear is a little flute and strings on the excellent Raconteur, Troubadour, even less flute on Think Of Me With Kindness and a few seconds of strings on closer River. Stunning album, but no Mellotron classic.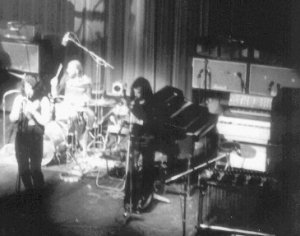 M400 clearly visible at the back of Kerry's rig
Although Kerry's M400 is pictured quite clearly on the back of In a Glass House (****½), it's nowhere to be heard on the record, or any subsequent Giant studio album, unless you believe the rumour that says the breaking glass at the beginning of the album is Mellotron sound FX... They carried on using it live for a year or two, though you won't hear it on the double-live LP they released in their 'lifetime', Playing the Fool (****½), their last really good album, to be honest. They tried to 'normalise' their sound towards the end of the decade, but didn't really get it right until their swansong, Civilian (****), which shows the (really rather good) direction they could have gone in if they hadn't decided to pack it in.
During the '80s, nobody gave a toss about Gentle Giant, which is pretty typical for that benighted decade; by the early '90s, however, interest began to grow again, the fledgling Internet helping by bringing fans together from around the world. Various archive releases began to appear on CD, including a couple of sets gathering together studio and live sessions for the BBC. 1996's Out of the Woods, reissued a mere four years later as the double-disc Totally Out of the Woods, with all of four extra tracks, collects the studio stuff, including a rather excellent little number from a 1970 session that never made it to their first album, City Hermit. This has an extremely brief Mellotron brass part, while The Knots section of Excerpts From Octopus, from '73 has a little Mellotron vibes. While none of the expanded edition's extra tracks feature any Mellotron, they're italicised above, so owners of the original set can see what they're missing. A couple of years later, an intriguing little two-CD box crept out, entitled Under Construction. Basically, it's over two hours of demos, experiments and bits'n'pieces of all sorts including live intro tapes, not to mention a 'Sample Archive' of, er, exactly that. Not an awful lot of Mellotron, but three of the first five tracks (all recorded early 1970), Freedom's Child, Weekend Cowboy and Bringing Me Down feature the strings. Nothing too special, but at that point it seemed to be a little more integral to the band's sound than even by later the same year. The set is the perfect present for 'the Gentle Giant fan who has to have it all'; all the obscurities you could wish for and then some.
Out of the Fire is a greatly expanded version of the BBC In Concert disc of a couple of years earlier (funny how both their BBC sets couldn't be released 'in full' originally...), not only the original's '78 set (their last UK gig), but an extra thirty-five minutes from '73 (shame about the tinny sound, though). Anyway, once again, the only obvious Mellotron (and it's not that obvious) is the vibes on Excerpts From Octopus; so that'll be Knots again... I believe Kerry's stage Mellotron was an M400 with strings/flutes/vibes tapes, meaning they didn't have to haul a vibraphone around with them; although the tapes sound pretty close, you can tell they're not real. In this, they join quite a few bands (New Zealand's Split Enz spring to mind) who used a Mellotron chiefly to reproduce studio effects live, as much as for its innate sound. Anyway, a good set, but not for the Mellotron fan who can't handle this wonderful band's complexity and originality.
In 2001, In a Palesport House appeared, quite clearly an official release of a bootleg, with all the inherent problems of the genre, i.e. it's as rough as a camel's arsehole. The Runaway cuts in part of the way through, there are numerous dropouts throughout the album, the sound is fairly poor mixing-desk quality etc. etc. For all that, it's a great performance, or rather, two great performances: although the bulk of the disc is from an Italian gig in January '73, the last two tracks are from the States late the following year. It sounds like Mellotron flutes on The Runaway to me, though I'm willing to be proven wrong, while I can't hear the usual vibes on Knots, but then, Giant were rarely the most obvious of Mellotron users. Anyway, caveat emptor, but the actual performance is worth the effort.
And finally (?)... The lengthiest release on this site, by quite some way, 2004's four-disc Scraping the Barrel, does exactly what it says on the tin, making Under Construction look both brief and cohesive. Compiled by Scandinavian mega-fan Dan Bornemark, its first two discs cover an assortment of studio outtakes (mostly fragments of familiar tracks, rather than unheard pieces) and a smattering of concert excerpts from across the band's ten-year career, while disc three tackles various solo projects, also giving us three new tracks, unfortunately sans Shulmans (bar Phil's lyrical contributions). "Whither disc four?", I hear you cry. After the seventy-nine tracks on discs 1-3, you might think the vaults pretty much exhausted. Think again... Disc four contains another two hundred and fifteen tracks in MP3 form, covering more of the same, not to mention another huge 'sample' archive (as on Under Construction): snippets from mastertapes, giving a unique insight into the band's working methods, assuming one is actually interested. Is it likely that anyone will use any of these in their own compositions? Not really, no, but they're interesting to hear. Once. Set highlights from discs 1-3 include the glorious multi-harmony vocal workouts on disc one, Keyboard Concerto Plymouth 1973 (Kerry's hated keyboard solo, apparently ditched as soon as possible) and The Power And The Glory Second Song, where the eagle-eared will spot a snatch of an unsuccessful demo that found its way onto the non-LP The Power And The Glory itself, not to mention Kerry's Moog Fugue on the third disc. Disc four includes many 'full versions' of edited excerpts from the main part of the set, large chunks of two sets (Torino '73 and '77 rehearsals) being highlights, along with the bizarre religious juxtaposition of Kerry's Good Christian Men Rejoice and Simon Dupree's Hava Nagila, although various '80s solo efforts really are for the hardcore fan only.
As you can see, I haven't bothered listing the entire contents of disc 4 (I nearly didn't bother listing anything, actually). Why? Because, as mentioned above, there are two hundred and fifteen of them. Do you need to see a complete listing? I'm sure you'll find one somewhere. Try Discogs. I see no need to clutter up this page with a vast and largely irrelevant list, but, as you can see, I've listed the disc's handful of Mellotron tracks at the end. Speaking of which, you can hear the M300 strings from the end of Three Friends in the background on Three Friends Vocal Mix (disc 1, track 10), a couple of flute chords on The Runaway (from Torino, 1973), an all-of-two-second, extremely hissy string note from Pantagruel's Nativity and a never-used flute part recorded for Think Of Me With Kindness (the one genuinely essential piece of Giant Mellotronia here), which, oddly, finds its way into the sample archive. So... Do you, the Gentle Giant fan, bother buying this set? How badly do you need to hear Kerry's 1964 demos? Much rehearsal room dicking about from the late '70s? Post-Giant solo tracks of varying (but mostly low) quality? More snippets from master tapes? You do? Go right ahead. Of course, there's loads of great stuff on here - how could there not be, in over twelve hours of music? - but if you thought Under Construction was for completists, you're clearly a Giant lightweight. It should be noted that nothing else has appeared in the subsequent nine years since this set's release, so perhaps we really HAVE reached the bottom of the barrel?
...or perhaps not! King Alfred's College, Winchester, 1971 crept out in 2009, a bootleg-quality recording of said gig, played not long after the release of their first album, going by Derek's stage patter. We get six of the seven songs from said debut, one from their forthcoming second release, two that first appeared on '90s retrospectives (City Hermit and Hometown Special), soon to be dropped from the set and... something called Peel Off The Paint. The Three Friends piece over a year early? Aside from a minuscule, faintly familiar snippet, it seems not. This is a genuinely unheard early Giant number, unless I've missed something, naught but its title (semi-) reused later. A lost classic? Not especially, no - had it been worth the effort, the band may have done something with it - but still worth hearing, although, sadly, it's the least complete track on the album, cutting out in the middle, then fading early. I did say this was bootleg quality... There's another bit missing elsewhere, but this is the worst offender. Mellotron? If you cast your eye below, to 'bootlegs', you'll see that I ponder on whether or not Kerry ever used his M300 live. Ponder no more, for here it is, used minimally, frankly, with a rather watery M300 string line on opener Giant, occasional vibes (which don't sound much like the real one Kerry was to use later) on Alucard and polyphonic flutes on Peel Off The Paint. You're not going to come here for the highest of fidelity, but to hear a fascinating recording (source unknown) of a very early Giant gig. And, of course, that M300.

Kerry spoke to Keyboard magazine in 1976, including one relevant paragraph (thanks to Neil for this one).
You used to play a Mellotron?
Yes, but I ditched it mainly because of its poor quality workmanship. Some bands get away with using them, but I find the tuning discrepancy and the lack of tonal equality in the upper range of the keyboards is just too much to bear. Also, 'live', we tend not to have those lulls where the Mellotron takes over and gives the rest of the band a break. You know what I mean - those big fat chords, ethereal pauses and the dim lighting. We haven't got any sections like that, so really, it was a very big thing being lugged around just to support the Moog. Yeah, we had ideas of having custom-built tapes and all the usual things people think about when they got Mellotrons, but we got rid of it anyway. I think they've got very poor quality heads, so you finish up with an instrument that spends most of its time in the shop being fixed. They're alright in a studio, in any static position, but when you take them out in the road it's horrible. You tune up the rest of the group with some notes and then others are out. When you try to tune at a compromise it's not good enough. The road is frustrating that way. It not only does things to your instruments, but where technique and ability are concerned, they go off on different tangents. It's limiting, really.

See: Giant for a Life | Simon Dupree and the Big Sound
---