Vol. 4 (1972, 43.23) *****/T

Wheels of Confusion
Tomorrow's Dream
Changes
FX
Supernaut
Snowblind
Cornucopia
Laguna Sunrise
St. Vitus Dance
Under the Sun
Sabbath Bloody Sabbath (1973, 42.33) *****/T

Sabbath Bloody Sabbath
A National Acrobat
Fluff
Sabbra Cadabra
Killing Yourself to Live
Who Are You
Looking for Today
Spiral Architect

Sabotage (1975, 43.44) *****/½

Hole in the Sky
Don't Start (Too Late)
Symptom of the Universe
Megalomania
Thrill of it All
Supertzar
Am I Going Insane (Radio)
The Writ

Technical Ecstasy (1976, 40.40) ***½/T

Back Street Kids
You Won't Change Me
It's Alright
Gypsy
All Moving Parts (Stand Still)
Rock'n'Roll Doctor
She's Gone
Dirty Women
Live Evil (1982, 80.03) ****/T

E5150
Neon Knights
N.I.B.
Children of the Sea
Voodoo
Black Sabbath
War Pigs
Iron Man
The Mob Rules
Heaven and Hell
The Sign of the Southern Cross/Heaven and Hell (continued)
Paranoid
Children of the Grave
Live at Hammersmith Odeon &nbsp[a.k.a. Mob Rules, disc 2] (2007, recorded 1981-82, 79.42) ****/T

E5150
Neon Knights
N.I.B.
Children of the Sea
Country Girl
Black Sabbath
War Pigs
Slipping Away
Iron Man
The Mob Rules
Heaven and Hell
Paranoid
Voodoo
Children of the Grave
Current availability:
All titles: Essential (UK)
Mellotrons used:
Yep, even the original bad boys of rock, the band who define the term Heavy Metal, even Black Sabbath have used a Mellotron. What's more, their best-known use is on a lush piano ballad, as early as their fourth album, the cunningly-titled Vol. 4. The story goes that it was going to be called Snowblind after one of its central songs, but the cocaine reference was too overt for the times, so a fast rethink was in order. Stranger still is the fact that this was their second album out of four to which this had happened; Paranoid was going to be called War Pigs until the unexpected hit single status of its eventual title track.
So; Changes. Some fans love it, some hate it. It's difficult to describe as anything other than a drippy ballad, with rather flowery piano accompaniment strangely uncredited on the sleeve (not very Metal, I suppose) from guitarist Tony Iommi, although bassist Geezer Butler played the Mellotron. Actually, the Mellotron is tastefully arranged in an orchestral fashion, rather like a low-budget John Paul Jones, drifting in and out of the song quite agreeably. However, what I originally took to be real strings on Snowblind, then decided were Mellotronic, are, according to Iommi's autobiography, actually real.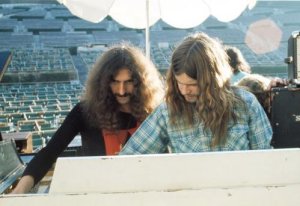 The following year's Sabbath Bloody Sabbath is a great album, despite its dismally thin production, gifting the world its title track, A National Acrobat (what?) and Killing Yourself To Live, amongst other cast-iron classics. The Mellotron's actually credited to Butler this time, with a genuinely beautiful strings passage in the middle of the sinister synth-led Who Are You, another one of those sui generis tracks Sabbath have specialised in over the years. Speaking of which, 1975's Sabotage contains possibly the only instrumental choir-metal piece ever (although I'll admit to not having heard much modern power metal nonsense), Supertzar, alongside the coruscating Symptom Of The Universe and The Writ, although it's the epic Megalomania that concerns us here, with some wonderfully ominous rising Mellotron string chords towards the end of the track, from an uncredited Geezer. The band's final studio use was on the below-par Technical Ecstasy (although You Won't Change Me and Dirty Women are classics), with another extremely tasteful strings part (from Gerald "Jezz" Woodroffe this time) in the middle of the rather ridiculous It's Alright, a bizarre song inexplicably sung by drummer Bill Ward. Put it down to the drugs.
Incidentally, these two pictures are from the band's appearance at the Hollywood Bowl in 1972, featuring no less than a white MkII Mellotron, sitting at right angles to a grand piano. In other words, the band played Changes that night, but where does the MkII come in? Anyone know?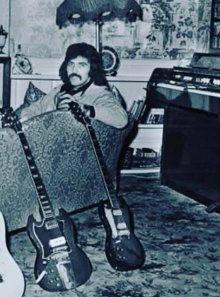 After Ozzy's final departure, following the Never Say Die tour, he was replaced by ex-Rainbow vocalist, diminutive American Ronnie James Dio. Their first Dio effort, 1980's Heaven & Hell (****½) was not only extremely good, but surprisingly contemporary, although the following year's Mob Rules (***) was largely indifferent. Their next project, after twelve years of existence, was to finally release an official live album (1980's Live at Last, recorded in 1972, was legal, but unsanctioned), Live Evil. Er, hadn't Miles Davis already used that palindrome? Anyway, I've recently become aware of the fact that Sabbath used a Mellotron live at the time (offstage, of course; keyboards still weren't very 'Metal'), played by Geoff Nicholls, heard on a handful of tracks here, along with the organ and occasional synth effect that seemed to be the sum of Nicholls' keyboard arsenal. So; church bell on Black Sabbath itself (I believe that all three selections on their tape frame featured this as their top note, just in case), strings and choir on Heaven And Hell, with extra choirs on Children Of The Grave. Quite effective, if a little far down in the mix, but then, given the tales of skullduggery in the mixing suite, that's hardly surprising...
Skip forward a few decades and the second Dio lineup (with Vinny Appice on drums) reconvened as Heaven & Hell, doubtless for legal reasons, actually going as far as releasing a studio album, 2009's The Devil You Know, before Dio's untimely death the following year. Now, for some strange reason, somebody made the decision to release a limited-edition (a paltry 5000 copies) live compilation on Rhino Handmade, titled Live at Hammersmith Odeon, recorded over three nights at that historic venue, from New Year's Eve '81 to January 2nd '82, technically making it recorded over two years. Unsurprisingly, it mostly mirrors Live Evil, losing one track (The Sign Of The Southern Cross) while gaining two (Country Girl and Slipping Away), both from the current Mob Rules, sounding better than their studio counterparts. Nicholls adds the Mellotron to a handful of tracks, with choirs on Children Of The Sea, the usual 'top key' church bell on Black Sabbath itself and choir on Heaven And Hell, although the sound used on Children Of The Grave doesn't sound that much like the Mellotron. Given the album's pointless rarity, I'm pleased to be able to tell you that it's now available as the second disc in the recent Mob Rules reissue, even if it's not that different to Live Evil.
Actually, thinking about it, offstage keys man for Black Sabbath must be one of the most unrewarding jobs in rock; the occasional chord or single note, buried in the mix and nothing to do for most of the time. I'd imagine it's only enlivened by your roadies telling you that there's a fault with the earthing and if you put both feet on the ground at once while playing, you'll get a full mains-voltage shock. And you believe them. Eh, Geoff? Anyway, if you like Sabbath (you don't? You don't like rock?) you'll own at least their first six albums; if you don't, I'm unlikely to persuade you to think again. There are some really nice Mellotron Moments on the albums mentioned above, but not enough to really make their purchase worthwhile to the non-fan. Incidentally, a big thanks to Geezer Butler, easily the best-known musician to have written to me, confirming his credits on the above albums (he said, name-dropping wildly).

Going Through Changes: Ngaruawahia Festival, Waikato River, New Zealand, 7th January 1973 (64.18) ****/T

Intro
Tomorrow's Dream
Sweet Leaf
War Pigs
Snowblind
Iron Man
Changes
Cornucopia
Wicked World
Embryo/Children of the Grave
Paranoid
Convention Hall, Asbury Park, New Jersey, 5th August 1975 (99.58) ****½/T

Supertzar/Introduction/Killing Yourself to Live
Hole in the Sky
Snowblind
Symptom of the Universe
War Pigs
Megalomania
Sabbra Cadabra
Jam/guitar solo
Drum solo/jam
Supernaut
Iron Man
Orchid/guitar solo/Rock'n'Roll Doctor
Black Sabbath
Spiral Architect
Embryo/Children of the Grave
Paranoid
Mellotrons used:
The band's set from their appearance at New Zealand's Ngaruawahia Festival in early '73 (their only visit to NZ?) survives in the form of a crummy audience recording; vocals and guitar cut through well enough, while the drums become audible after a few songs, but Geezer's bass never makes it through the murk. With one notable exception, they played a pretty typical (shorter) set of the time, including their usual fifteen-minute Wicked World medley; dunno about you, but I always wanted them to play a few extra songs instead... The exception? I have no idea what persuaded the band it might be a good idea to perform Changes, given that a) it sounds nothing like anything that a typical, stoned Sabbath crowd might want to hear live and b) it involved having a piano and a Mellotron on stage. However, here it is... They have a decent stab at it; Tony's piano playing's a bit shaky in places, although Geezer does a sterling job on the M400 (or MkII?), reproducing the studio part nicely. Did they play this extensively? I'd need to track down more '72/'73 boots to find out. Anyway, worth hearing, if only for this oddity.
By 1975, Black Sabbath were arguably at the peak of their considerable live powers, touring the stunning Sabotage across the civilised world. And Lewisham. Their August 6th gig at Asbury Park's Convention Hall was recorded for the legendary King Biscuit Flower Hour, source of so many great boots; it's a fab document of the Sabs gleefully promoting their new album to a doubtless typical quaalude-popping American audience. The recording is fantastic - way better than the officially-available Live at Last - while the playing is top-notch, too, with none of the drug-induced torpor of later tours. As for the set-list... The only problem with a Sabbath set from this era is that it could never be long enough to include everything you want to hear, the band (as always) fall back on several crowd-pleasers, while Iommi's solo guitar spot was already well out of control, gobbling up a sizeable chunk of their on-stage time. As it is, they touch on all their albums, playing unexpected classics like Hole In The Sky and Spiral Architect in a hundred-minute set.
I was under the impression that live keyboard player Gerald Woodroffe played Mellotron on two songs, although closer inspection reveals the strings on Megalomania to be string synth. However, the string part on Spiral Architect, which has a good go at replicating the studio part, is definitely Mellotron, which means they hauled one around for all of one song. Bizarre. There's none of the Mellotron work of some years later, not least the bells on Black Sabbath itself, but one Mellotron track is better than none... It seems that the Mellotron in question was Geezer Butler's; he still has the machine in storage, though I hate to think what sort of condition it's in these days.
All in all, this radio broadcast is more than worthy of official release and should be sought out by anyone who considers themselves a fan of the band, although it's a bit thin on the ground, Mellotronically speaking. Other relevant info... According to Black-Sabbath.com, the mighty Fireballet supported that night, though sadly their set presumably wasn't recorded. Unless you know better... One version of this boot is available as Behind the Wall of Spock, referring to the band's sometime engineer Spock Wall, although I've also seen it as A Hole in the Spectrum and at least half a dozen other titles.

See: Ozzy Osbourne | Dio | Jezz Woodroffe
---