Try Try Try (1995, 11.49) ***/½

Try Try Try
Baby, Let's Play Vet
W.E.S.S.E.X.Y.
Don't Jump Me, Mother
Julian Cope Presents 20 Mothers (1995, 71.50) ***½/TTTT

Wheelbarrow Man
I Wandered Lonely as a Cloud
Try Try Try
Stone Circles'n'You
Queen/Mother
I'm Your Daddy
Highway to the Sun
1995
By the Light of the Silbury Moon
Adam & Eve Hit the Road
Just Like Pooh Bear
Girl-Call
Greedhead Detector
Don't Take Roots
Senile Get
The Lonely Guy
Cryingbabiessleeplessnights
Leli B
Road of Dreams
When I Walk Through the Land of Fear
Interpreter (1996, 48.25) ***½/TTTT½

I Come From Another Planet, Baby
I've Got My TV & My Pills
Planetary Sit-in
Since I Lost My Head, it's Awl-Right
Cheap New-Age Fix
The Battle for the Trees
Arthur Drugstore
S.p.a.c.e.r.o.c.k. With Me
Re-Directed Male
Maid of Constant Sorrow
The Loveboat
Dust
Rite2 (1997, 55.26) ***½/TT½

Ver
Hill of Odin
D - c.o.m.p.o.s.e.r
The Ringed Hills of Ver

Odin: A 73-Minute Meditation on Silbury & Waden Hill (1999, 73.42) ***/T

Breath of Odin
Floored Genius 3: Julian Cope's Oddicon of Lost Rarities & Versions, 1978-98 (2000, 58.05) ***/TT½

Ascending
Conspiracist Blues
Propheteering
Mighty Carl Jung
Highway Blues
Sqwubbsy Versus King Plank
You Can't Hurt Me Anymore
Oh Yeah, But Never Like This Before
The One I Call My Own
Jellypop Perky Jean (alt.version)
Tighten-Up
Zabriskie Point
I Need Someone
Prince Varmint
Competition
Satisfaction
An Audience With the Cope 2000 [2001] (2000, 51.20) ***½/TTT½

The Glam Dicenn (Parts 1 & 2)
Holy Mother of God
Born to Breed
Ill Informer
The Glam Dicenn (Parts 3 & 4)
[Untitled]

Discover Odin (2001, 46.06) ****/TT

The 18 Charms of Odin
Discover Odin
Ode to Wan (Parts 1 & 2)
Yggdrasil & the Stone of Odin
Road to Yggdrasilbury
I Want to Go Wandering

Rite Now (2002, 72.36) ***½/½

Twilight of the Motherfuckers
Give the Poet Some
Supernatural Agencies
Ephaedra

Rome Wasn't Burned in a Day (2003, 54.20) ****/TTT

Shrine of the Black Youth
Zennor Quoit
The-Way-Luv-is
King Minos
Dance By the Light of the Bridges You Burn
Michelle of My Former Self
Far Out
Eccentrifugal Force

Dark Orgasm (2005, 48.01) ***½/TTT

Zoroaster
White Bitch Comes Good
She's Got a Ring on Her Finger... (& Another One Through Her Nose)
Mr. Invasion
Nothing to Lose Except My Mind
I've Found a New Way to Love Her
I Don't Wanna Grow Back
The Death & Resurrection Show

Concert Climax: Live in Hearing of the Motherfucker (2006, 50.36) ***½/T

Los Generation
Easter Everywhere
How the West Was Lost
The Living Dead
Living in the Room They Found Saddam in
I'm Gonna Get Some
Untitled
By the Light of the Silbury Moon

Rite Bastard (2006, 50.42) ***/T

So Tough
Too Stone
You Gotta Problem With Me (2007, 56.41) ***½/TT

Doctor Know
Beyond Rome
Soon to Forget Ya
You Gotta Problem With Me
They Gotta Different Way of Doing Things
Peggy Suicide is a Junkie
A Child is Born in Cerrig-y-Drudion
Woden
Sick Love
Can't Get You Out of My Country
Vampire State Building
Hidden Doorways
Shame Shame Shame
Black Sheep (2008, 67.22) ***½/TTTT

Come the Revolution
It's Too Late to Turn Back Now
These Things I Know
Psychedelic Odin
Blood Sacrifice
The Shipwreck of St. Paul
All the Blowing-Themselves-Up Motherfuckers (Will Realise the Minute
They Die That They Were Suckers)
Feed My Rock'n'Roll
Dhimmi is Blue
The Black Sheep's Song
I Can Remember This Song
Preaching Revolution EP [as Julian Cope & Black Sheep] (2008, 14.15) ***/TT

Mother, Where is My Father?
I Wanna Know What's in it for Me
Fuck Me U.S.A
Preaching Revolution
The Unruly Imagination (2009, 50.24) ***½/TT½

Preaching Revolution
Militant Feminist Dream
Mother, Where is My Father?
I Wanna Know What's in it for Me
Fuck Me U.S.A.
Gang of Four (At Home He Feels Like
a Tourist)
Alexei Sayle Driver Improvement Course
Creedist Blues
James Nayler Enters Bristol on a Donkey: 1656
Chairman Mao
Spitfire Boys (British Refugee)
Floored Genius 4 (2009, recorded 1983-2009, 69.37) ***½/TTT½

I Ain't Saying
When All You Got is a Hammer,
Everything Looks Like a Nail
Pre-Hysterical Blues
Sub-Mission
A Sassenach Tune
The Shrines Are Ablaze
The Glam Dicenn
Mad Clothes
I've Got My T.V. & My Pills
We Gotta Get Out of This Place
Mr. Self Respect
I Got With God
Sleeping Gas '90
I Gotta Walk
Due to Lack of Interest, Tomorrow Has Been Cancelled
Sucker Strut
Somebody Spiked My L.S.D.
Psychedelic Revolution (2012, 61.10) ***/TTTT

Raving on the Moor
Vive le Suicide
Cromwell in Ireland
Revolutionary Man
As the Beer Flows Over Me
Hooded & Benign
Psychedelic Revolution
X-Mass in the Woman's Shelter
Roswell
Because He Was Wooden
The Death of Rock'n'Roll
Woden: One 72-Minute Ambulent Meditation Upon Waden Hill & Avebury (2012, recorded 1998, 72.45) **½/TT

Woden
Revolutionary Suicide (2013, 71.00) ****/TTT

Hymn to the Odin
Why Did the Chicken Cross My Mind?
The Armenian Genocide
Revolutionary Suicide
Paradise Mislaid
Mexican Revolution Blues
Russian Revolution Blues
They Were on Hard Drugs
In His Cups
Phoney People, Phoney Lives
Destroy Religion
Drunken Songs (2017, 39.19) ***½/TT

Drink Me Under the Table
Liver Big as Hartlepool
As the Beer Flows Over Me
Clonakilty as Charged
Don't Drink & Drive (You Might Spill Some)
On the Road to Tralee

John Balance Enters Valhalla (2019, 49.44) ***/TT

Sandoz
Positive Drug Test
John Balance Enters Valhalla
John Valour
Geoff, Voller Tapferkeit, Aber Leer Von Magen, Betritt die Grosse Küche der Unterwelt Odin
Self Civil War (2020, 72.03) ***½/TTT½

That Ain't No Way to Make a Million
A Cosmic Flash
You Will Be Mist
The Great Raven
Berlin Facelift
Immortal
Einstein
Billy
A Dope on Drugs
Your Facebook, My Laptop
Requiem for a Dead Horse
'Self Civil War'
A Victory Dance
Cornucopea: Two South Bank Evenings With Julian Cope (2000, 23.06) ***½/TTTT

[Queen Elizabeth contribute]
Temple of Diana
[Julian Cope contributes]
Ver
Current availability:
Rite Bastard: Fuck Off & Di
All other titles: Head Heritage (UK)
Mellotrons used:
Julian's MkII and/or M400
Cope, or Saint Julian as he's known round here, has trodden a highly eccentric path since (and probably before) the Teardrop Explodes er, exploded in the early '80s. Über-hit World Shut Your Mouth put him right in the public eye and he's spent the better part of the next two decades extracting himself from this position with reasonable success, while keeping his cult status intact. Around the mid-'90s he discovered the Mellotron and has used one with considerable enthusiasm ever since, both on record and live, where he tends to play either solo or as half a duo, with an M400 wrapped in fluorescent yellow shrinkwrap. His gigs are manic, unpredictable, effervescent affairs, where the music is probably less important than the sense of occasion, though I'm sure many of his fans would disagree.
His first Mellotron album was (to date) his last-but-one 'proper' release, the sprawling double LP (Julian Cope Presents) 20 Mothers. Like the bulk of his (considerable) output, it's endearingly bonkers, with a wide variety of material, from the pop of Try Try Try, the punk of By The Light Of The Silbury Moon (ho ho), the acoustic whimsy of 1995 to the ambient prog of the magnificent When I Walk Through The Land Of Fear. Mellotronic highlights include the string breaks on Wheelbarrow Man, although what sounds like Mellotron brass is apparently a real (overdubbed) sax section, the full-on strings of Greedhead Detector and the immense When I Walk Through The Land Of Fear itself. Always performed at concerts, featuring the Drude on solo Mellotron (choir/pipe organ/string section) and vocals, the studio version is almost as intense; a serious Mellotron classic. Incidentally, there are also a few string stabs to be heard on a track from the Try Try Try EP, the sort-of funky W.E.S.S.E.X.Y.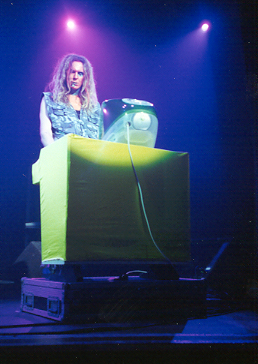 The following year's Interpreter was even more eccentric than its predecessor ('eccentric' is a word that gets used a lot around these parts), with oddities like The Battle For The Trees and The Loveboat scattered amongst slightly more mainstream fare like the excellent I Come From Another Planet, Baby or Re-Directed Male. Mellotron on almost every track, with loadsa choirs and strings, Julian credited with 'Mellotrons (400 and Mark II)'. Planetary Sit-In's (yeah, yeah, Cosmic Jokers) real strings are augmented by Mellotron choir, ditto The Battle For The Trees, while Cheap New-Age Fix has not only the ubiquitous choirs and strings, but a Mellotron flute solo, rare in Cope-Land. All in all, a total Mellotronfest. Buy.
'97 brought Cope's second Queen Elizabeth album, Elizabeth Vagina, a double CD of drifting spacerock-type stuff. It also saw the release of his second Rite album, Rite2, consisting of four lengthy tracks, a million miles away from the song-based material on his two previous albums. Hill Of Odin's hypnotic hand-drums sound nothing like D - c.o.m.p.o.s.e.r's Krautrock-style sequencer blips, while Ver is a drone piece with Mellotron strings (also heard on D - c.o.m.p.o.s.e.r). The album is essentially for meditation and makes a better job of it than its successor, to be honest.
1999's Odin is subtitled A 73-Minute Meditation on Silbury & Waden Hill and Cope's credited with 'vocals, Mellotron 400 & Starchamber 1', whatever that may be. The album's actually a one track, seventy-three-minute synth drone, with occasional changes in pitch and the odd bit of Mellotron strings or choir, very heavily effected, slipping in and out of the mix. Difficult to recommend from a Mellotronic point of view, although I imagine it's ideal for meditating to, getting stoned to or probably both. I hope I don't sound too dismissive, but I had trouble connecting with this album at all; maybe I just wasn't in the right frame (or state) of mind.
The subtitle of Floored Genius 3: Julian Cope's Oddicon of Lost Rarities & Versions, 1978-98 neatly sums up its contents, although without track-by-track credits, it's difficult to know how many of its sixteen tracks actually date back to the late '70s. As you might expect, it's a bit of a curate's egg, better tracks including the amusing Conspiracist Blues, Propheteering (originally a sparkly blue vinyl 7" from 1997, although its b-side is missing) and the cutesy, lo-fi alternate version of Jellypop Perky Jean, although I remain unconvinced by the sub-Devo take on Satisfaction that closes the set. No-one's actually credited with Mellotron; while Donald Ross Skinner gets a 'keyboard' credit, it seems inconceivable that Cope doesn't play it as well, if not only. Anyway, we get flutes (and real violins) on opener Ascending, choirs and strings on Propheteering, string section on Mighty Carl Jung, exceedingly upfront strings (string section?) on You Can't Hurt Me Anymore and flutes and strings on Oh Yeah, But Never Like This Before, although the strings on The One I Call My Own don't sound that Mellotronic to my ears.
An Audience With the Cope 2000 (ho ho) was originally a tour-only CD, though it's now available via Cope's website, which tells us it was re-released in '01 with a new booklet, but identical contents. It consists of eccentric songs like Born To Breed or decidedly non-song pieces, like the various parts of The Glam Dicenn, often with minimal instrumentation, but mostly including Mellotron strings and choir. Most of the Mellotron work's pretty good, but the standout track is The Glam Dicenn Part 3, with a near-solo Mellotron part some minutes in. There's an untitled sixth track, loaded with female choirs (?), some strings under Cope's scat vocals and a short closing flute part; incidentally, I've chopped five minutes off the CD time for the blank space before the track.
Discover Odin is a cross between an album and an event programme, subtitled 'Two Evenings With Julian Cope, 4-5 October 2001', with a header reading 'The British Museum: illuminating world cultures'. As you can see, it's in the form of a 'long box', though what you can't see is that it contains a ten-page book, relating Cope's views on Odin, shamanism etc. from ancient times to the rock'n'roll era (so to speak). The 18 Charms Of Odin sees Cope running through some Odinist myths, while Discover Odin itself is fascinating, being a ten-minute Cope monologue on the history of the Norse gods, taking in the Roman Empire, early Christendom and the misnaming of the Celts and Germans. After another 'song' in Ode To Wan, Yggdrasil & The Stone Of Odin is another history lesson, this time taking in Orkney, standing stones and, of course, Paganism, a subject of endless fascination for Cope. The punning Road To Yggdrasilbury is a slow-building march, bordering (dare I say it?) prog, with a Cope poem intoned over the music, while I Want To Go Wandering is nothing to do with Cope at all, being a spoken-word piece by noted American weirdo Vachel Lindsay. As far as Cope's Mellotron is concerned, there's mixed choir on The 18 Charms Of Odin, church organ towards the end of the title track and on Ode To Wan (part 2), but that's your lot.
Rather less to say about the latest Rite album, 2002's Rite Now, which is a lengthy jam session, effectively, with Cope and pals roaring through four space-rock head-trips in over seventy minutes. Get stoned and off you go. Very little of the credited Mellotron, with a very nice string part opening Give The Poet Some, but that appears to be it. Rome Wasn't Burned in a Day is another 'event' souvenir, this time of his three gigs at the Hammersmith Lyric Theatre, in London, in late '03. I didn't make the gigs myself, but the CD is excellent, opening with two of the best things I've heard from Saint Julian in Shrine Of The Black Youth and Zennor Quoit, although most of the rest of the material doesn't quite match up to this opening double-whammy. As for the Mellotron, I presume that's female voices on Shrine Of The Black Youth and definitely flutes and strings on Zennor Quoit. Most of the rest is standard M400 strings, although there's a short burst of murky pipe organ on Dance By The Light Of The Bridges You Burn, with a few string and choir chords right at the end of the twenty-minute guitar freakout, Eccentrifugal Force.
2005's two-disc Dark Orgasm is actually under fifty minutes long, presumably split into two as a statement rather than as a necessity. Channelling the MC5 (again), it consists of seven 'normal'-length tracks and one twenty-minuter, itself clearly made up from two shorter pieces, all obviously Cope, all rather more listenable than some of his other work. Cope adds Mellotron strings to She's Got a Ring on Her Finger... (& Another One Through Her Nose), I Don't Wanna Grow Back and The Death & Resurrection Show (complete with pitchbend) and string section (I think) on I've Found a New Way to Love Her, making for a more Mellotron-heavy effort than some of his recent albums. Concert Climax: Live in Hearing of the Motherfucker, released early in '06, is a bit of an oddity. An Italian release (the home of the bootleg, of course), it purports to be live from the previous year's Urbino festival, but includes studio material and is/was available from Head Heritage, giving it at least the patina of officialdom. Or maybe Cope was amused by the concept. Anyway, it's pretty typical Copeiana, as you might expect; I'm Gonna Get Some sounds like a twisted outtake from The Stooges' Fun House, skronky piano and all, while closer By The Light Of The Silbury Moon sees Cope in classic 'rants onstage against sparse backing' mode. Mellotron strings (from Holy McGrail or Thighpaulsandra) on opener Los Generation and the prescient Living In The Room They Found Saddam In, although that appears to be your lot.
2006's Rite Bastard, the last in the 'Rite' series, consists of two lengthy tracks: So Tough, recorded the previous year and Too Stone, a rescued mastertape from 1990, unsurprisingly displaying considerable stylistic differences. The earlier piece relies heavily on repetition, with the occasional distorted bass flurry to liven things up and some searing, wide-panning space-rock FX from the sterling Moog Rogue (which rhymes when pronounced properly, of course. Incidentally, I can attest to its qualities in this area). Of course, given the recording dates, there's no Mellotron on Too Stone, while it's fairly minimal on So Tough, with a nippy flute part about nineteen minutes in, plus strings towards the end. But is the clicky repeating synth line just preceding it a Mellotron tape, too? I think we should be told. Another two-disc effort, 2007's You Gotta Problem With Me (note: a statement, not a question) also seems to've been released in that format as a statement. Lyrically, it features all Cope's usual insurrectionist stuff, while the music shifts between the garage punk of the title track, the angry acoustic Soon To Forget Ya, the lengthy Doctor Know... A typical Cope album, really. Not that much Mellotron, with a few seconds of cello on nine-minute opener Doctor Know, a more overt string part on Beyond Rome, strings on A Child Is Born In Cerrig-y-Drudion and Hidden Doorways and flute chords on closer Shame Shame Shame.
Cope's heavy release schedule next produced 2008's Black Sheep, another two-disc effort that would fit onto one. More diverse than Dark Orgasm, it features several of his patented primitive acoustic tracks, bashed out with less regard for the music than the message, but then, that's always been part of St. J's ethos. Plenty of Copeotron again, with string section on These Things I Know, strings, choir and oboe (?) on Psychedelic Odin, oboe again and full-on strings on Blood Sacrifice, strings on The Shipwreck Of St. Paul and (deep breath) the cheery, singalong All The Blowing-Themselves-Up Motherfuckers (Will Realise The Minute They Die That They Were Suckers), choirs and strings on Feed My Rock'n'Roll, oboe on Dhimmi Is Blue and The Black Sheep's Song and strings and oboe on I Can Remember This Song, making for Cope's heaviest Mellotron use since the heady days of 20 Mothers and Interpreter.
2009's The Unruly Imagination is yet another limited-edited disc, this time from his event at Manchester University's Whitworth Gallery, including the whole of the previous year's Preaching Revolution EP. Preaching Revolution itself is a typically Copeian talking blues, but the album's other strongest moments are otherwise unavailable, including the strange Alexei Sayle Driver Improvement Course and James Nayler Enters Bristol On A Donkey: 1656, although I remain unconvinced by the fourteen long minutes of Chairman Mao. Passable Mellotron input, with strings and choir enter towards the end of Preaching Revolution, strings on Mother, Where Is My Father?, strings, oboe and cellos on Alexei Sayle, strings on James Nayler and something stringy (violas?, High cellos?) repeating to infinity towards the end of Chairman Mao.
Later the same year, Floored Genius 4 (ho ho) appeared, gathering together more odds'n'ends of Copeiana, seemingly going right back to the Teardrop Explodes days. As with all such albums, it's a slightly mixed bag, but with enough strong material (most previously unreleased in any form) to make it worthwhile for Cope, or indeed, Mellotron fans. Speaking of which, we get string section on A Sassenach Tune (2006), regular strings (plus choirs towards the end) on The Shrines Are Ablaze (2007), more strings and choir on an almost rhythmless The Glam Dicenn (2000), with more strings on I've Got My T.V. & My Pills (1997) and Mr. Self Respect (2006), but most surprisingly, choirs and strings on Sleeping Gas '90 (stealing the chords from Hawkwind's mighty Assault And Battery), quite clearly introduced as The Teardrop Explodes, although the sleeve does say 're-recorded and broadcast 1993', although that's still early for Cope Mellotron use. Anyway, better on the Mellotron front than anything since Black Sheep, for what it's worth.
After a three-year gap, the first of two 2012 releases, Psychedelic Revolution, sits firmly in Cope's 'acoustic songs of rebellion with Mellotron' category, an hour's-worth of material split over two discs, Side of Che Guevara and Side of Leila Khaled. As with many Drude albums, the lyrics seem to be more of a priority than the music, although musical highlights include the closing tracks on both discs, the lengthy Hooded & Benign and The Death Of Rock'n'Roll. If I have a criticism, it's that possibly, just possibly... Cope's beginning to resemble a one-trick pony? Stupid thing to say, I'm sure, as I'm certain he'll take a sharp left turn (NEVER to the right!) before long and confound us all. Mellotron? On disc one, Cope plays a flute melody and string chords on opener Raving On The Moor, string parts on Vive Le Suicide, Cromwell In Ireland and Revolutionary Man, with background chords on Hooded & Benign. Onto disc two: more strings on the title track, X-Mass In The Woman's Shelter and Roswell, a flute melody on Because He Was Wooden and major string and choir parts on The Death Of Rock'n'Roll to finish things off nicely, making this Julian's most Mellotron-heavy release since Black Sheep.
His second album of the year, Woden: One 72-Minute Ambulent Meditation Upon Waden Hill & Avebury, was recorded with Thighpaulsandra in 1998, essentially a companion piece to Odin (unsurprisingly). Also unsurprisingly, it's almost indistinguishable from that release, mostly consisting of drones and whooshes from a VCS3 and the aforementioned Starchamber 1, which actually appears to be some kind of custom-made sample manipulator, as far as I can ascertain. Here's the sleeve blurb: 'Instruments: VCS3 Putney synthesizer / Mellotron 400 / Starchamber 1 / Sony CFS-B21L Cassette Recorder'. Beat that, incredibly expensive high-end London studio! Bloody hell, is that incredibly faint chordal instrument that crops up around the thirty-seven-minute mark the Mellotron? I think I can hear the FX tapes 'church bells' in there, too, so I would imagine it is. [Waits for another ten minutes or so]. Yup, the choirs have just appeared. This really is one of the most low-fi recordings I've heard, frankly. One for those who liked Odin, but would like to hear more Mellotron.
2013's Revolutionary Suicide is yet another single-disc's-worth-on-two-discs set, Cope tackling contentious issues so that the rest of us don't have to, not least on the lengthy The Armenian Genocide. Musically, it isn't dissimilar to Psychedelic Revolution, a.k.a. this is where Cope sits at the moment, if you don't like it, go elsewhere. Mellotron on all but closer Destroy Religion (unless I've missed something), with strings on opener Hymn To The Odin, strings and oboe (and piano??) on the superbly-titled Why Did the Chicken Cross My Mind?, strings, choppy string section and clicky flute parts on The Armenian Genocide, strings and background choirs (and real brass) on the title track, strings on the faux-jaunty Paradise Mislaid, In His Cups and Phoney People, Phoney Lives, background choirs during the intro to Mexican Revolution Blues, more choirs on Russian Revolution Blues and oboe and strings on They Were On Hard Drugs.
After a several-year break from recording, Cope returns with 2017's Drunken Songs, recorded, it would seem, to celebrate the end of his twenty-seven-year sobriety. Er, are you sure this is a good idea, Julian? Side ('programme') one consists of drinking songs that sound traditional, but aren't, one of which (As The Beer Flows Over Me), previously recorded for Psychedelic Revolution, while Liver Big As Hartlepool is apparently an answer to old adversary Pete Wylie's Heart As Big As Liverpool. Programme two is the side-long On The Road To Tralee, a road-trip drinking song involving coming up behind a funeral procession, amongst other things; suffice to say, this is classic Cope, its story songs the epitome of the music he's been making since the '90s. Julian plays M400 (as you'd expect), with a thoroughly gratuitous string part on opener Drink Me Under The Table and a woodwind (oboe?) and strings on As The Beer Flows Over Me, while On The Road To Tralee features not just the expected strings, but what sound like the high end of one of the brass sounds.
2019's John Balance Enters Valhalla is clearly a rather belated in memoriam for Coil co-founder John Balance (1962-2004), the end result being an eclectic set of material, possibly at its best on the piano-driven John Valour. Julian does his usual Mellotron thing, with a string line and chordal string section on Positive Drug Test, while a string top-line opens the fifteen-minute title track, overlaid with an oboe (?) melody, the latter used again on John Valour. 2020's Self Civil War is a far more structured album, thirteen relatively straightforward, lengthyish songs, possibly at its best on opener That Ain't No Way To Make A Million, the punning You Will Be Mist, Einstein and the Neil-Young-channels-The-Doors of Requiem For A Dead Horse. Mellotron everywhere you look, with strings and flutes all over opener That Ain't No Way To Make A Million, string section and brass on A Cosmic Flash, a high string line and choirs on You Will Be Mist, trumpet on The Great Raven (plus two actual trumpeters), with chordal flutes and strings towards the end, dirty great slabs of string section and an unidentified brass sound on Berlin Facelift, various string parts on Immortal, Einstein, Your Facebook, My Laptop and the brief title track, strings and chordal choirs on Requiem For A Dead Horse and strings and brass on closer A Victory Dance.
In a quick backwards step, in April 2000, Julian hosted the event that spawned the Cornucopea: Two South Bank Evenings With Julian Cope CD, bringing together many acts from the past, present and future, many of them reforming as one-offs, not least the original Ash Ra Tempel. The album isn't obviously taken from the festival, as the tracks sound like studio recordings, so I'm not at all sure of the provenance of some of them, but it's a pretty cool collection, whatever. It takes a while for Queen Elizabeth's Temple of Diana to go all Mellotronic, but when it finally kicks in there's huge slabs of strings laid down over the heavy synth backing, while solo Cope gives us another version of Ver, Mellotron strings splattered all over.
So...; there's an awful lot of Mellotron to be heard on most of the above, apart from Odin, so you really can't go too far wrong with any of the others. Of course, if you don't like the various things he does musically, you're a bit stuffed, to which I say: open your mind a little. For that matter, I also say: try to get to see him live if at all possible; until I was dragged along to see him a few years ago, I was quite disparaging of his work, not to mention being in considerable ignorance of it. As the slipcase to the Audience With the Cope disc says, "Fluorescent Mellotrons". I couldn't have put it better myself.
By the way, if you've got a good bit of time to spare, please try to read some of Julian's fantastic official site, including stuff about not just music, but history, politics and just about anything else important you can think of, not all of it written by the Drude.

See: Black Sheep | Brain Donor | Døgntank | Dope | Christophe F | L.A.M.F. | Queen Elizabeth | Sons of T.C. Lethbridge | Thighpaulsandra | David Wrench
---