---
Robert Webb (UK)
Liquorish Allsorts (2014, 63.43) ****/T

The Ladies' Valley Prelude
Why Oh Why
Moog Fugue
Grand Canyon of My Dreams
The Journey By Camel
Limoncello
Bach Flute Sonata Allegro
The Cuckoo
Destiny
Carmina Burana (O Fortuna)
Takin' Part
Quaterfoil
Liquorish Torpedo
Oceans Away
Runnin' in, Runnin' Out
The Ladies' Valley
Current availability:
Mellotron used:
After forty years of musical activity, Robert Webb (not that one), keeper of the England flame, finally releases his first solo album, Liquorish Allsorts. Liquorish? Robert insisted on the spelling, based on the London pronunciation, apparently! The running order is anything but chronological, but its seeming eccentricity actually works rather well, recordings from decades apart sitting next to each other quite comfortably. As you might expect of a career-spanning collection, Robert covers so many styles that I think it's safe to say that no two pieces here really sound alike, so, on the offchance that you were naïve enough to do so, don't go expecting a re-run of Garden Shed.
Stylistically, the set travels from a jazzed-up Gentle Giant's Kerry Minnear's Moog Fugue through the mainstream pop/rock of the two previously-released tracks here, Jenny Darren's Grand Canyon Of My Dreams, from her eponymous 1979 debut (Robert was her MD) and Takin' Part, from the little-known Merlin's self-titled, lone 1974 release, to unexpected takes on classical pieces, not least a reggae version of Bach's Flute Sonata Allegro and Daquin's Cuckoo pushed, kicking and screaming, onto the dancefloor (!). Not to mention, of course, (relatively) full-blown prog, including the superb Limoncello (part of which apparently started life as an England piece in 1977), Destiny (begun in the late '90s) and closer The Ladies' Valley, partially based on Saint-Saëns' Aquarium section of his best-known work, Carnival of the Animals.
There's only one genuine Mellotron track here, Robert playing a borrowed Streetly M4000 on Destiny (the overdub recorded, I believe in 2010), with a brief, polyphonic flute part (I suspect the 'Ian McDonald' variety) opening the track, with strings (possibly not the 'regular' ones) later on and a reiteration of the intro flutes as a coda. Do you buy this? Mellotron fans may well be disappointed, ditto those expecting more England, but anyone who's followed Robert's career over the years will hopefully finds its unexpected twists and turns both intriguing and rewarding.
See: England | Samurai of Prog
The Wedding Present (UK)
Interstate 5 EP (2004, 14.11) **½/T

Interstate 5
Bad Thing
Snapshots

I'm From Further North Than You EP (2005, 9.57) **½/½

I'm From Further North Than You
Rekindling
The Girl With The Curious Smile
Current availability:
Mellotrons used:
The Wedding Present appeared in the mid-'80s, lauded as almost the 'archetypal indie band' by John Peel and other observers, reforming in 2004 after a several-year break, during which mainman David Gedge worked as Cinerama, themselves Mellotron users. Their immediate post-reformation work provides Planet Mellotron with a bit of a conundrum: 2005's Steve Fisk-produced Take Fountain appears to feature Fisk playing sampled Mellotron, as he usually does, but two of the EPs that predated the album's releases seem to use the real deal. Weird. Musically, they're the usual irritating indie of the 'confessional lyrics' variety, probably at their worst on I'm From Further North Than You; you generally either like this stuff or you don't, I find. I don't.
Fisk plays an upfront Mellotron flute solo on Snapshots, from Interstate 5, complete with key-click and wobbles and choirs on The Girl With The Curious Smile from I'm From Further North Than You, less obviously genuine. Both EPs are easily available on 2006's Search for Paradise: Singles 2004-5 (right), one of those handy 'mop up the odd tracks' compilations that more bands should do.
See: Samples etc. | Cinerama
The Weeks (US)
Dear Bo Jackson (2013, 44.55) **½/T½

Dear Bo Jackson
Brother in the Night
King-Sized Death Bed
Ain't My Stop
Bad Enough
White Ash
Gobi Blues
Thief in My Mouth
Harlots Bluff
Chickahominy
Wo is I
Current availability:
Mellotron used:
The Weeks play a kind of indie-Americana, at least on their sixth album, Dear Bo Jackson. Unfortunately, the end result, rather than the Neil Young-esque slow-burn country rock I'm sure they imagine they're conjuring up, just sounds dreary and one-paced. They finally discover a (small) reservoir of untapped dark(-ish) energy on Bad Enough and Chickahominy, but it's rather too little, rather too late.
In an online interview, the band claim "The only organ on the record is Booker T's Hammond from 'Green Onions' and the Mellotrons [note plural] were on the Big Star records", also mentioning Memphis' legendary Ardent Studios. So this is that studio machine we're hearing? Had I not know better, I'd have stuck this in 'samples'. Is that actually a real M400? Anyway, Alex "Admiral" Collier plays it on three tracks, I believe, with a melodic flute part on Bad Enough, background strings on White Ash and strings and mad flutes on Gobi Blues.
Greg Weeks (US)
Fire in the Arms of the Sun (1998, 57.56) ****/TTT

The Angel of Death
Starless
Joan of Arc
Shady Skies and Lullabies
The Flesh of Terrain
Tracey Bowen's Double Life
The Pale Shade
Leaves and Limerance
New Silver Finger II
Molly Bloom
Cutting Blue
Trading Touch
Harvester of Sighs
Straw Days
Fallow
King Rides By
Awake Like Sleep (2001, 41.22) ***½/TT½

These Days
Made
Past Four Corners
East 5th Street
The One True Song
I Will Fall to Meet Her
Ash Rising
Sleep Right
Sun Way Off
The Hive (2004, 44.20) ***½/½

You Won't Be the Same Ever Again
The Lamb's Path
Lay Low
Borderline
Burn the Margins
The Hive
Funhouse
Not Meant for Light
The Wait
Donovan
Division
Be Yourself: A Tribute to Graham Nash's "Songs for Beginners" (2010) ***½/T½

[Greg contributes]
Sleep Song
Current availability:
Fire/Awake: out of print?
Hive: Wichita
Be Yourself: Grassroots
Mellotrons used:
Fire: hired-in M400
Awake: unknown
Hive/Be Yourself: Weeks' own M400
Greg Weeks exists in a region of psychedelic folk, having not only released several solo albums, but co-founded the excellent Espers, whilst guesting on several other projects, probably in a similar capacity. Fire in the Arms of the Sun is his 1998 debut, a beautiful album of acoustic guitar, occasional keyboards, bass and cello, all overlaid by Weeks' fragile voice. The songs are pretty much uniformly excellent, although, like so many similar albums, a slight lack of variety begins to tell after a while. Weeks plays a Mellotron flute solo on opener The Angel Of Death, while Starless (not that one) is a short, unaccompanied Mellotron flute piece. More flutes (from Matt Martens) in The Pale Shade, sounding almost like recorders at one point, with a gorgeous string part on Leaves And Limerance, from Martens again. Back to Weeks for more strings on the lengthy Fallow, making for a most satisfying Mellotronic (and musical) experience. Oh and there's a credit for 'Mellotron hire', just in case you weren't sure.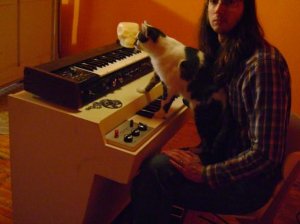 Three years on and Awake Like Sleep is Weeks' next full-length release, more keyboard- than guitar-orientated and somewhat shorter than its predecessor. The songwriting's still extremely good, yet possibly not quite up to his previous standard, although Made, East 5th Street and The One True Song are all quite excellent. Just Weeks on Mellotron this time round: Made has spitty flutes (HIT those keys!), wobbling all over the place, plus groaning string section, with more flutes on East 5th Street and strings and flutes battling it out with a harmonium on Sleep Right, making for another good Mellotron album.
Nothing on his 2003 EP Slightly West, or (I believe) 2005's Blood is Trouble, making us wait until 2008's The Hive for another dose of Weeks Mellotron. The album is even more electronic than its predecessors, although full band arrangements are a no-no, despite a 'drums and percussion' credit. The material is probably on a par with that on Awake Like Sleep, which is obviously where Weeks is at these days (Espers mix folk and electronica, too), with opener Lay Low and the title track probably being highlights. Now, I have an issue here: Weeks credits himself with Mellotron before anything else, yet it's barely to be heard on the record. Huh? His business, obviously, but the only things here that even might be Mellotron are distant, hazy string parts well down in the mix on Burn The Margins and The Hive itself, both of which could easily be something else. Bizarre.
All in all, then, I personally prefer Fire... to either of Weeks' later efforts, but that's simply one man's meat. All three albums are worth hearing and I suspect the latter two will grow on me given the imaginary time I fondly imagine I may find one day. The first of these three is easily the best for its Mellotron work, although Awake Like Sleep is no slouch. Avoid The Hive is that's all you're listening for, though.
See: Espers | Be Yourself
Walter Wegmüller (Switzerland)
Tarot (1972, 88.12) ***½/TTT½

Der Narr
Der Magier
Die Hohepriesterin
Die Herrscherin
Der Herrscher
Der Hohepriester
Die Entscheidung
Der Wagen
Die Gerechtigkeit
Der Weise
Das Glücksrad
Die Kraft
Die Prüfung
Der Tod
Die Mäßigkeit
Der Teufel
Die Zerstörung
Die Sterne
Der Mond
Die Sonne
Das Gericht
Die Welt
Current availability:
Mellotron used:
Dierks Studios' MkII & M400
Walter Wegmüller was a Swiss artist who made just the one album, the double Tarot, in 1972. Despite his not actually being German (although a Swiss German speaker), this is full on krautrock of the highest order, a psychedelic pot-pourri of mad juxtapositions, with English and German dialogue intercut with post-Floyd organ, erratic percussion and Wallenstein's Jürgen Dollase's fractured Mellotron parts. There are more conventional moments, too, not least the rocking Der Herrscher (The Emperor) and the gentle Der Hohepriester (The Hierophant), although they're heavily outnumbered by the weirder stuff. The album's sound comes as absolutely no surprise when you realise that the band comes from the same pool of musicians as the Cosmic Jokers, including Klaus Schulze, Walter Westrupp (of Witthüser & Westrupp), members of Ash Ra Tempel and the more conventional Wallenstein.
The album's concept is, rather obviously, the 22 cards of the Tarot's major arcana, in sequence, although quite what angle Wegmüller was taking has to remain a mystery to a non-German speaker. There isn't any singing in the conventional sense on the album, but it could be argued that Wegmüller's incantatory narration works better than someone warbling horribly over music this powerful and strange. Just about every krautrock base is covered here, making this possibly the ultimate kraut album, although I'm sure fans of La Dusseldorf, Neu! and early Kraftwerk might have something to say about that. Dollase's Mellotron work (apparently both the Dierks Studios' MkII and M400) encompasses the insane pitchbent strings and flute on Der Magier (The Magician), which are tempered by ghostly but conventional string parts on Die Hohepriesterin (The High Priestess) and Die Herrscherin (The Empress). Early choir use on Der Weise (The Hermit) and cellos on Das Glücksrad (Wheel of Fortune), with a mélange of sounds on disc two's Die Mäßigkeit (Temperance), including brass. Cellos and choir on Die Zerstörung (The Tower), with a heavenly choir part on Das Gericht (Judgement), although I can't tell if the screechy sounds on either Der Mond (The Moon) or Die Sonne (The Sun) are Mellotron or some form of glissando guitar. Or, for that matter, something else entirely.
Well, for Tarot-inspired albums, I think I'm more likely to stick to Steve Hackett's Voyage of the Acolyte and the subsequent album whose concept supposedly influenced him, The Enid's In the Region of the Summer Stars. Saying that, Tarot sounds absolutely bugger-all like either of those esteemed records, but if your preferred listening includes the likes of the Cosmic Jokers, you probably can't go too far wrong here. Decent Mellotron use, too, against all expectations.
See: Ash Ra Tempel | Cosmic Jokers | Klaus Schulze | Wallenstein | Witthüser & Westrupp
Jim Weider (US)
Percolator (2005, 46.32) ***/T

The Maze
Percolator
New Day
Troll
Flight
Smooth Move
No Goodbyes
Rain Daze
Caveman
Prayer
Current availability:
Mellotron used:
I had no idea The Band had reformed in 1985, but it seems Jim Weider played guitar in the reconstituted band, replacing Robbie Robertson, until they split in 2000, following Rick Danko's untimely death. Weider has made a handful of solo albums to date, of which I believe 2005's Percolator is the second. It's a mixed bag, as far as instrumental guitar albums go, with fusion workouts (The Maze, the title track), guitar balladry (New Day, No Goodbyes) and smooth jazz (Smooth Move) amongst the styles he tackles.
Our old friend John Medeski plays Mellotron, with a relatively normal flute part on Troll, at least as far as Medeski's concerned. A couple of other tracks (notably the flutes on New Day) have a vaguely Mellotronic feel to them, but it's only credited on the one track, so they're likely to be synth approximations. Overall, this is a mostly fusion effort, with other influences thrown into the melting pot (coffee pot?), making it stand out from the glut of identikit jazz guitar albums, with a little Mellotron thrown in for good measure.
Scott Weiland (US)
12 Bar Blues (1998, 59.13) ***/T

Desperation #5
Barbarella
About Nothing
Where's the Man
Divider
Cool Kiss
Date
Son
Jimmy Was a Stimulator
Lady, Your Roof Brings Me Down
Mockingbird Girl
Opposite Octave Reaction
Current availability:
Mellotron used:
When he recorded 12 Bar Blues, Scott Weiland (1967-2015) was on some sort of drug sabbatical from the outstandingly average Stone Temple Pilots, the end result sounding little like his alma mater, which isn't to say it sounds much better, just different. In fairness, there's obviously been some experimentation on the production front, several tracks using the sort of loops/fake analogue thing that was everywhere in the late '90s; the overall effect is definitely more interesting, so maybe I'm being rather unfair (what? Me?). Lady, Your Roof Brings Me Down even has a sort of Kurt Weil thing going on, so you certainly can't accuse this album of one-dimensionality.
As for the Mellotron, Victor Indrizzo plays some very upfront flutes on Divider, while Weiland himself allegedly plays it on Cool Kiss, although his contribution is completely inaudible. Maybe he just thought he played it. So; a surprisingly adventurous album, although one which, sadly, doesn't appeal to me very much. Very little audible Mellotron, although what you can hear is pretty good, but hardly enough to recommend purchase. Of course, Weiland finally left STP to join the wholly tedious and overrated Velvet Revolver with various ex-Guns N'Roses. Then he died.
See: Samples etc. | Stone Temple Pilots
Noam Weinstein (US) see: Samples etc.
Dennis Weise (US)
Valhalla (1979, 36.09) ***/T½

Machine Time Ship
Y M Alim-Kader
Breathe the Form
Alien Rock
Hedonic Rapture
The Big Apple Mystery
The Return of the Akpallus Mutants (Part A)
The Return of the Akpallus Mutants (Part B): 93rd Current
Valhalla
Consciousness Program [as Denis Wize] (1980, 39.38) ***/TT½

Thought Proceeds Action
Love in Foam and Surf
Only Time We've Got
Anima Manna
Consciousness Program
Back to Earth
Rosita Facilita
Light as Air
Balfazzar
Celestial Cungo Dub
Current availability:
Mellotrons used:
Dennis Weise was an American electronic musician who put a couple of albums out at the turn of the '80s. 1979's Valhalla is one of the nuttiest albums I've reviewed on this site, which is saying something; mad, atonal electronics, splintered vocal fragments and bucketloads of white noise, suddenly interrupted by almost normal string synth or Froese-ish guitar. Melodies turn into random squirts of notes, pseudo-tribal rhythms pulsate in and out... Getting the picture? This is quite bonkers and you really will probably either love it or hate it. After nowt but electronic gyrations, suddenly, on Hedonic Rapture, big slabs of reverbed Mellotron choir make their entrance, although the strings on the track sound synthesized to my ears. There's a little more choir on both parts of The Return Of The Akpallus Mutants, but that's your lot.
Did I say Valhalla is the maddest piece of shit I've heard all year? Weise decided to respell his name Denis Wize and released Consciousness Program the following year. It makes its predecessor look almost structured, full of found sounds, pre-sampler samples and crazed juxtapositions of noises. Oh and a Mellotron. It's difficult to think of anything constructive to say about the music itself, but Weise/Wize sticks plenty of Mellotron choir on two parts of side one's thirteen-minute 'medley', Anima Manna and the title track. Side two's similarly-lengthed segue has some very faint choirs on Light As Air and some more upfront phased choir on closer Celestial Cungo Dub. It's still difficult to tell what's producing the strings, but I'm sticking with string synth until/if I should find out otherwise (like, how?).
I think it's safe to say you're not going to find these very easily, at least in non-downloadable form; they're the sort of thing that someone will suddenly decide to reissue, but will remain unbelievably obscure until then. Not that much Mellotron on the first, a little more on the second; these are more one for the synth nuts out there who've run out of better-known practitioners.
Bob Welch (US)
Three Hearts (1979, 41.04) **½/T

3 Hearts
Oh Jenny
I Saw Her Standing There
Here Comes the Night
China
The Ghost of Flight 401
Precious Love
Church
Come Softly to Me
Devil Wind
Don't Wait Too Long
Little Star
Current availability:
Mellotron used:
Bob Welch (1945-2012) played with Fleetwood Mac in the early '70s, before recording two albums with Paris, alongside Jethro Tull's Glenn Cornick. 1979's Three Hearts was his second solo release, a pretty indifferent late '70s pop/rock effort, three of the Mac's then-current lineup guesting, easily at its best on the sparse The Ghost Of Flight 401, although a rather dodgy cover of I Saw Her Standing There and drivel like the awful Precious Love or Come Softly To Me mark the album down.
Either Welch or Christine McVie (or even David Adelstein) plays Mellotron flutes on Devil Wind and Don't Wait Too Long, to reasonable effect. Enough to make this worth hearing? Honestly? No.
See: Fleetwood Mac | Paris
Welcome (Switzerland)
Welcome (1976, 41.39) ****/TTTT

The Rag Fair
Dizzy Dune
Glory
Chain of Days
Dirge

You're Welcome (1978, 38.12) ***½/TTT½

Music is Life
Seasons
Join the Party
Elf
The Whip
Current availability:
Welcome: Musea/Black Rills
You're: Not on CD
Mellotrons used:
Welcome were a late-'70s Swiss outfit who seemed to be trying to be the Swiss Yes; mission accomplished, chaps. Their debut, Welcome, while derivative, is a very nice listen indeed, although the vocal harmonies are a little off in places (what was I saying about Yes?). Loads of Mellotron from Bernie Krauer, although the strings on The Rag Fair start off sounding like string synth, though soon resolve into definite Mellotron. The opening flutes on Glory switch to strings almost immediately, before shifting back and forth between the two sounds, but the inaccurately-titled Dirge may be the album's Mellotronic and musical highlight, with a beautiful polyphonic flute part followed by some gloriously upfront strings, although there's probably actually less Mellotron, second for second, than on some of the other tracks.
Their second album, You're Welcome, isn't quite up to the standard of their debut, to be honest; most of the material's reasonably good, though, with the glaring exception of Join The Party, without which the album would be noticeably better. A slightly more American sound too, strangely, with the band reinforcing their Yes fixation by adding a Styx influence, themselves Yes-influenced. Mellotron all round, from Krauer again, with choir on Music Is Life, then strings on everything else (even Join The Party), both sounds cropping up on the side-long The Whip, the album's best track.
So; Welcome is really very good, although I wouldn't call You're Welcome a classic, to be honest, although it's definitely got its moments. I believe there are some non-LP compilation tracks, also featuring Mellotron; more news should I get to hear them sometime.
| | |
| --- | --- |
| Paul Weller (UK) see: | |
Wellwater Conspiracy (US)
Brotherhood of Electric: Operational Directive(s) (1998, 50.12) ***½/T½

Destination 24
Compellor
Teen Lambchop
Hal McBlaine
Born With a Tail
Destination 7
Red Light Green Light
B.O.U.
Psycho Scrimm
Van Vanishing
Right of Left Field
Ladder to the Moon
Dark Passage
Good Pushin'
Dr.Browne Dr.Greene
Jefferson Experiment
Current availability:
Mellotron used:
Wellwater Conspiracy are effectively a duo, comprising ex-Soundgarden man Matt Cameron (who played Mellotron on their Superunknown, fact fans) and John McBain, ex-Monster Magnet, with various friends guesting. Unlike many such projects, they're actually really good, making a heavily psych-influenced sound, throwing all sorts of stuff into the pot, most of which works. Difficult to pick standout tracks, especially on a first listen, but the ones with the Floyd-ish Farfisa are all worth hearing.
I've absolutely no idea who plays the Mellotron parts on their second album, Brotherhood of Electric: Operational Directive(s) (the brackets appear to be optional), as both Cameron and McBain are credited with keyboards, as is Glenn Slater on several tracks, including the Mellotron ones. Anyway, strings and flutes on Red Light Green Light and VERY LOUD strings on B.O.U., which makes a welcome change; they sound cranky enough to be real, too. So; not bad at all and decent Mellotron on two tracks.
See: Soundgarden | Monster Magnet
Wende (Netherlands) see: Samples etc.
Michael Wendroff (US)
Southpaw (1974, 38.15) ***/T

Southpaw
Here We Are
What is Love
Some Day
Only a Fool Fools With Love
Take My Love With You
Empty Beaches
Come on Baby
Lost Planet
Lullabye
Current availability:
Mellotron used:
Hard-and-fast information on Michael Wendroff is hard come by, but I've stumbled across a reference that says he grew up in Brooklyn, becoming a member of an a capella aggregation, The Holidays, in his teens, going on to release a clutch of solo albums in the '70s. The second of these, 1974's Southpaw (slang for a left-hander, if you haven't previously encountered the term), is a decent enough effort, somewhat of its time, highlights including the potent Here We Are and the eight-minute, West Coast space-rock (!) of Lost Planet, although much of its material fails to stand out from the pack.
Michael Montgomery plays Mellotron on just one track, with a flute part on Take My Love With You, more upfront towards the end of the song. I don't believe any of Wendroff's limited oeuvre is available these days, although, at least to my ears, he's no less listenable than many still-revered names from the era, merely less well-known.
Max Werner (Netherlands)
Rainbows End (1979, 41.05) ***/TT

Rainbows End
Beware of the Dog
Tale of Tenderness
Sir Dance-Alot
Help Me to Do it Alone
Longsleeper
A Deadly State of Mind
Secrets of Mother Earth
Life's Serenity
Medicineman
A Glamour Story
Current availability:
Mellotron used:
Max Werner was vocalist and sometime drummer for Dutch progressive popsters Kayak, standing stage-front with an M400 to his right, in an almost unique set-up. Rainbows End (sic) is his first solo album, from '79, standing up very well against Kayak's contemporaneous albums, with better tracks including the title track, the instrumental Sir Dance-Alot, Secrets Of Mother Earth and closer A Glamour Story. The sleeve is far more mid- than late-'70s, too, possibly giving some idea of Werner's inspiration for the album.
The album utilises modern technology, including sequencers and what sounds like Prophet brass riffs on several tracks including Rainbows End itself and Beware Of The Dog. However, rather surprisingly, Werner's Mellotron crops up on several tracks, although he only uses the choirs. The title tracks sounds more like a Roland Vocoder, although I think it's the real thing on Tale Of Tenderness, Sir Dance-Alot, A Deadly State of Mind and Life's Serenity; unexpected, but welcome.
Overall, Rainbows End is a pleasant surprise. Yes, it's (progressive) pop, but so are Kayak and they produced some fine material, better than, say, Earth & Fire's more mainstream efforts. None of the Mellotron work here is exactly essential, but nice to hear on an unexpectedly decent album. Unsurprisingly, though, there's nothing to be heard on his successful follow-up, 1981's Seasons.
See: Kayak | Ton Scherpenzeel
Kanye West (US)
Late Registration (2005, 70.25) ***/½

Wake Up Mr. West
Heard 'Em Say
Touch the Sky
Gold Digger
Skit #1
Drive Slow
My Way Home
Crack Music
Roses
Bring Me Down
Addiction
Skit #2
Diamonds From Sierra Leone (Remix)
We Major
Skit #3
Hey Mama
Celebration
Skit #4
Gone
Diamonds From Sierra Leone
Late
Current availability:
Chamberlin used:
hip-hop, eh? Wossit all about then? Fucked if I know - I'm utterly the wrong demographic for this stuff, but it seems that the controversial Kanye West (real name, it seems) is more inventive and, well, eccentric than most. After a massive hit with 2004's The College Dropout, West could afford the time and money to sink into the following year's Late Registration, including collaborating on several tracks with Chamberlin legend Jon Brion, making for some interesting instrumentation, at least.
According to interview footage in Diana Dillworth's Mellodrama film, Brion plays Chamberlin on Gold Digger, with some squiggly pitchbend stuff at the end of the track, but if you didn't know it was there... So; superior hip-hop, but it's still hip-hop, with next to no obvious Chamby. Maybe not.
See: Jon Brion
---