In the Court of the Crimson King (1969, 43.54) *****/TTTTT

21st Century Schizoid Man
I Talk to the Wind
Epitaph
Moonchild
The Court of the Crimson King
In the Wake of Poseidon (1970, 41.10) ****/TTT½

Peace - a Beginning
Pictures of a City
Cadence and Cascade
In the Wake of Poseidon
Cat Food
The Devil's Triangle
Merday Morn
Hand of Sceiron
Garden of Worm
Peace - an End
Lizard (1970, 41.28) ***/TTTT

Cirkus
Indoor Games
Happy Family
Lady of the Dancing Water
Lizard
Prince Rupert Awakes
Bolero - the Peacock's Tale
The Battle of Glass Tears
Big Top

Islands (1971, 40.35) ***/TT½

Formentera Lady
Sailor's Tale
The Letters
Ladies of the Road
Prelude: Song of the Gulls
Islands

Earthbound (1972, 45.10) **½/T

21st Century Schizoid Man
Peoria
The Sailors Tale
Earthbound
Groon

Larks' Tongues in Aspic (1973, 46.46) *****/TTT

Larks' Tongues in Aspic, Part One
Book of Saturday
Exiles
Easy Money
The Talking Drum
Larks' Tongues in Aspic, Part Two

Starless and Bible Black (1974, 46.47) ****/TTTT

The Great Deceiver
Lament
We'll Let You Know
The Night Watch
Trio
The Mincer
Starless and Bible Black
Fracture

Red (1974, 40.09) ****½/TTTT

Red
Fallen Angel
One More Red Nightmare
Providence
Starless

USA (1975, 41.04/67.18) *****/TTT½ (TTTT½)

Larks' Tongues in Aspic, Part II
Lament
Exiles
Asbury Park
Easy Money
21st Century Schizoid Man
[CD adds:
Fracture
Starless]
The Great Deceiver (1992, recorded 1973-74, 295.25) ****½/TTTTT

(Walk on... No Pussyfooting)
Larks' Tongues in Aspic, Part Two
Lament
Exiles
Improv - A Voyage to the
Centre of the Cosmos
Easy Money
Improv - Providence
Fracture
Starless
21st Century Schizoid Man
(Walk Off From Providence... No
Pussyfooting)
Sharks' Lungs in Lemsip
Larks' Tongues in Aspic, Part One
Book of Saturday
Easy Money
We'll Let You Know
The Night Watch
Improv - Tight Scrummy
Peace - a Theme
Cat Food
Easy Money
...It is for You, But Not for Us
(Walk on... No Pussyfooting)
The Great Deceiver
Improv - Bartley Butsford
Exiles
Improv - Daniel Dust
The Night Watch
Doctor Diamond
Starless
Improv - Wilton Carpet
The Talking Drum
Larks' Tongues in Aspic, Part Two
(Applause & Announcement)
Improv - Is There Life Out There?
Improv - The Golden Walnut
The Night Watch
Fracture
Improv - Clueless and Slightly Slack
(Walk on... No Pussyfooting)
Improv - Some Pussyfooting
Larks' Tongues in Aspic, Part One
Improv - The Law of Maximum
Distress, Part One
Improv - The Law of Maximum
Distress, Part Two
Easy Money
Improv - Some More Pussyfooting
The Talking Drum
THRAK (1995, 56.39) ****/TT½

VROOOM
Coda: Marine 475
Dinosaur
Walking on Air
B'Boom
THRAK
Inner Garden I
People
Radio I
One Time
Radio II
Inner Garden II
Sex Sleep Eat Drink Dream
VROOOM VROOOM
VROOOM VROOOM: Coda
Epitaph - Live 1969 (1997, recorded 1969, 123.34/241.59) ****/TTTT½

21st Century Schizoid Man
In the Court of the Crimson King
Get Thy Bearings
Epitaph
A Man, a City
Epitaph
21st Century Schizoid Man
Mantra
Travel Weary Capricorn
Improv - Travel Bleary Capricorn
Mars
In the Court of the Crimson King
Drop in
A Man, a City
Epitaph
21st Century Schizoid Man
Mars
21st Century Schizoid Man
Get Thy Bearings
In the Court of the Crimson King
Mantra
Travel Weary Capricorn
Improv
By the Sleeping Lagoon
Mars
21st Century Schizoid Man
Drop in
Epitaph
Get Thy Bearings
Mantra
Travel Weary Capricorn
Improv
Mars

The Night Watch (1997, recorded 1973, 84.46) *****/TTTT½

Easy Money
Lament
Book of Saturday
Fracture
The Night Watch
Improv: Starless and Bible Black
Improv: Trio
Exiles
Improv: The Fright Watch
The Talking Drum
Larks' Tongues in Aspic (Part II)
21st Century Schizoid Man
Ladies of the Road: Live, 1971-1972 (2002, 103.06, Collectors' Club Special Ed.) ****/TT

Pictures of a City
The Letters
Formentera Lady (abridged)
The Sailors Tale
Cirkus
Groon
Get Thy Bearings
21st Century Schizoid Man
In the Court of the Crimson King
Schizoid Men 1-11
In the Court of the Crimson King: 40th Anniversary Series (2009, recorded 1969, 345.36) ****½/TTTT½

21st Century Schizoid Man (2009 stereo mix)
I Talk to the Wind (2009 stereo mix)
Epitaph (2009 stereo mix)
Moonchild (edit - 2009 stereo mix)
The Court of the Crimson King (2009 stereo mix)
Moonchild (full)
I Talk to the Wind (duo version)
I Talk to the Wind (alt. mix)
Epitaph (backing track)
Wind Session
21st Century Schizoid Man (2004 remaster)
I Talk to the Wind (2004 remaster)
Epitaph (2004 remaster)
Moonchild (2004 remaster)
The Court of the Crimson King (2004 remaster)
21st Century Schizoid Man (instrumental)
I Talk to the Wind (BBC session)
21st Century Schizoid Man (BBC session)
The Court of the Crimson King Part 1 (mono single)
The Court of the Crimson King Part 2 (mono single)
21st Century Schizoid Man (instrumental)
I Talk to the Wind (studio run through)
Epitaph (alt. version)
Moonchild (take 1)
The Court of the Crimson King (take 3)
21st Century Schizoid Man (vinyl transfer)
I Talk to the Wind (vinyl transfer)
Epitaph (vinyl transfer)
Moonchild (vinyl transfer)
The Court of the Crimson King (vinyl transfer)
21st Century Schizoid Man (Hyde Park 1969)
The Court of the Crimson King (Hyde Park 1969)
Get Thy Bearings (Hyde Park 1969)
Epitaph (Hyde Park 1969)
Mantra (Hyde Park 1969)
Travel Weary Capricorn (Hyde Park 1969)
Mars (Hyde Park 1969)
The Court of the Crimson King (Fillmore East 1969)
A Man a City (Fillmore East 1969)
Epitaph (Fillmore East 1969)
21st Century Schizoid Man (Fillmore East 1969)
21st Century Schizoid Man (US radio promo)
I Talk to the Wind (US radio promo)
Epitaph (US radio promo)
Moonchild (US radio promo)
The Court of the Crimson King (US radio promo)
The Court of the Crimson King (edited mono single mix)
Hofheinz Pavilion, Houston, TX, June 5, 1974 (The Road to Red, disc 4) (2013, 48.04) ***½/TTT

The Great Deceiver
Lament
Improv
Exiles
Fracture
Starless
The Talking Drum
Larks' Tongues in Aspic (Part II)
Civil Auditorium, El Paso, TX, June 8, 1974 (The Road to Red, disc 7) (2013, 49.08) ***½/TT½

Larks' Tongues in Aspic (Part II)
Lament
Improv I
Exiles
Easy Money
Fracture
RF Announcement
Starless (Part I)
Starless (Part II)
Coliseum, Denver, CO, June 16, 1974 (The Road to Red, disc 8) (2013, 37.33) ***½/TTT

The Great Deceiver
Lament
Exiles
Easy Money
Starless
The Talking Drum
Performing Arts Centre, Milwaukee, WI, June 22, 1974 (The Road to Red, disc 9) (2013, 44.41) ***½/TTT

Larks' Tongues in Aspic (Part II)
Lament
Improv I
Exiles
Improv II
The Night Watch
Starless
Aquinas College, Grand Rapids, MI, June 23, 1974 (The Road to Red, disc 10) (2013, 50.31) ***½/TT½

Larks' Tongues in Aspic (Part II)
Lament
Improv I
Exiles
Easy Money
Improv II
The Great Deceiver
Fracture
Starless
ORTF TV, Paris, France, March 22, 1974 (Starless, disc 9) (2014, 29.01) ***½/TT½

Larks' Tongues in Aspic (Part II)
Improv
The Night Watch
Lament
Starless
Palais Paul Videl, Avignon, March 24, 1974 (Starless, disc 10) (2014, 58.57) ****/TTT

Walk on: No Pussyfooting
Doctor Diamond
Lament
Fracture
The Night Watch
The Great Deceiver
Starless
Exiles
The Talking Drum
Larks' Tongues in Aspic (Part II)
Palais des Sports, Besançon, France, March 25, 1974 (Starless, disc 11) (2014, 56.27) ***½/TTT

Doctor Diamond
Lament
Fracture
The Night Watch
The Great Deceiver
Improv I
Starless
Exiles
Improv II
Halle der Fachhochschule, Dieburg, Germany, March 28, 1974 (Starless, disc 13) (2014, 58.31) ***½/TT½

Doctor Diamond
RF Announcement
Lament
The Night Watch
Fracture
Improv I
Exiles
The Great Deceiver
Improv II
Starless
Stadthalle, Göttingen, Germany, April 2, 1974 (Starless, disc 18) (2014, 58.17) ***½/TTT

The Great Deceiver
Doctor Diamond
Exiles
Fracture
RF Announcement
Lament
Starless
Improv I
The Night Watch
Live in New York, NY, February 12, 1972 (early show) (Sailors' Tales, disc 11) (2017, 61.27) ***½/TT

Pictures of a City
Formentera Lady
The Sailor's Tale
RF Announcement
Cirkus
Ladies of the Road
Groon
21st Century Schizoid Man
Live in New York, NY, February 12, 1972 (late show) (Sailors' Tales, disc 12) (2017, 73.27) ***½/TT

Pictures of a City
Formentera Lady
The Sailor's Tale
RF Announcement
Cirkus
RF Announcement
Ladies of the Road
Groon
21st Century Schizoid Man
Cadence and Cascade
Live in Detroit, MI, February 18, 1972 (Sailors' Tales, disc 13) (2017, 72.49) ***½/TT

Pictures of a City
Formentera Lady
The Sailor's Tale
Cirkus
RF Announcement
Ladies of the Road
Groon
21st Century Schizoid Man
Current availability:
All '70s releases: Virgin
All other regular titles: Discipline Global Mobile (UK)
Mellotrons used:
Court/Wake/Lizard/THRAK/Epitaph: one of band's MkIIs
All other titles: two or more of band's four (?) M400s?
In 1968, a trio of young men from Dorset snappily named Giles, Giles and Fripp recorded a rather strange album called The Cheerful Insanity of Giles, Giles and Fripp. Possibly the first album ever recorded by a firm of solicitors (?!), it's best described as psychedelic vaudeville, sounding vaguely like a cross between The Bonzo Dog Band and Sgt. Pepper. 'Of its time', is, I believe, the expression. Surprisingly, one of its less notable features is the presence of a Mellotron on a few tracks, apparently played by Robert Fripp himself.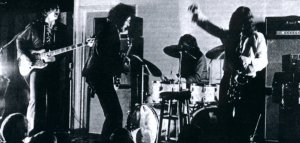 King Crimson were, of course, many older listeners' route into the world of the Mellotron, along with the Moody Blues. Crimson formed in early 1969 from the ashes of the previous band, their initial lineup consisting of Robert Fripp on guitar, Greg Lake (later the 'L' of ELP, of course) on bass and vocals, Michael Giles on drums, the multi-talented Ian McDonald and Peter Sinfield on 'words and illumination', presumably both the visual and spiritual varieties. Fripp obviously hadn't forgotten using a Mellotron the previous year and Crimson purchased a MkII, to be played by McDonald when he wasn't playing sax or flute. Fripp is rumoured to have contributed Mellotron to the line-up's sole album, but there is no actual evidence to back this up (see interview segment further down).
After gigging for a few months, they were signed by Island through their production company, EG, later to cause the band no end of trouble wasting no time in recording In the Court of the Crimson King. From its terrifying cover in, this is a stunning debut album; five tracks, three of which have become absolute classics with Crimson (or 'Crimso' to aficionados) fans. 21st Century Schizoid Man's roaring guitar and squalling saxes should need no introduction whatsoever, closely followed by the pastoral I Talk To The Wind, a gentle hippy throwback with drifting flutes and 'hello trees, hello flowers' lyrics. As it fades, an ominous rumble of tympani heralds the awesome power of Epitaph, one of the finest progressive pieces ever, not to mention an enduring Mellotron Classic. This track makes the album worth buying on its own, featuring a staggering overdubbed Mellotron section in the middle with one of the best examples of Mellotron pitchbend ever. Moonchild starts as another pastoral ballad, but shifts into eight minutes of rather unfocused improv, although proceedings end on a high note with the classic The Court Of The Crimson King, with more swathes of Mellotron. Ripping. Unsurprisingly, the classic 'strings' patch (three violins, to be irritatingly exact) is the most heavily used and remained so throughout the first phase of the band's career. Despite Ian McDonald's fine flute playing, the band obviously wanted the polyphony of the Mellotron flutes on Moonchild (the 'song' part, before the fairly excruciating eight or nine minutes of improvisation). Interestingly, on 1991's Frame by Frame box set, Fripp included almost the entire album on the first disc, but faded Moonchild before the improv section. Good move, good move...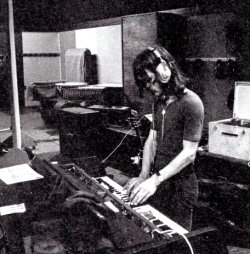 Incidentally, there's an amusing anecdote doing the rounds concerning the apparently pretentious 'subsections' of all but one of the songs on the album. After being derided for years on the issue, the truth leaked out: due to the bizarre reckoning of album royalties in the States, all releases are judged on the 'ten tracks' rule, which appears to penalise acts whose albums contain less than this optimum number! (Don't ask; I haven't got a clue why anyone would invent such a patently ludicrous system). I've no idea how they treat albums with more than ten tracks... Anyway, as Crimson's first only contained five pieces, they invented some completely spurious 'subtitles' for four of them to ensure they got their full share of royalties. Truth sometimes is stranger than fiction... This doesn't, by the way, excuse the overall album's subtitle, 'An Observation By King Crimson'. I suppose it was 1969...
The band gigged heavily, picking up a good following at home and abroad; their MkII was a familiar sight at gigs, being used on various songs that remained unofficially recorded, as well as on the improvisations that were already becoming a staple of their live sets. One piece in particular was entirely based around it; their adaptation of Holst's Mars (from his Planets suite), varying in length from night to night, consisted of guitar, bass and drums holding down the 5/4 rhythm, while the Mellotron provided all the harmonic and melodic content, ending with McDonald running his hand up and down the keyboard with considerable gusto. The effect is cataclysmic, sounding like the Mellotron is about to explode. Unbelievably, no version of this track was officially available until the Frame By Frame box set in 1991. 1997's Epitaph box provides several versions for the connoisseur. According to Fripp (in the Epitaph sleeve notes), the band ended up using two, then three MkIIs in the States, due to reliability problems. One of these extra machines is rumoured (again!) to have been sold to Genesis a year or two later, from whence it was sold to UK band England in the mid-'70s, although I'm not at all sure about the veracity of this one.
Unfortunately, the first Crimson line-up imploded at the end of 1969, leaving the uneasy alliance of Fripp and Lake to record In the Wake of Poseidon the following year. This is one of those albums that crops up every now and again that appears to be an almost straight copy of its predecessor. It's a perfectly good album, but it copies In the Court... almost track for track. Fripp took over Mellotron duties officially on the album, with the haunting In The Wake Of Poseidon itself, which bears a distinct resemblance to its predecessor's title track, in feel and structure if not the actual notes and The Devil's Triangle on side two. The latter was close enough to Mars for Holst to sue, had he still been around to do so, but without Crimson Mark 1's awesome power. There are some new sections in the piece, Fripp playfully messing around with some of the MkII's lesser known sounds, including the guitar and the left-hand manual's rhythms. There's a small amount of subtle Mellotron in Pictures Of A City, too, but I had to have it pointed out to me...
The line-up on ...Poseidon was never going to be a touring unit, so after Lake's departure to the inexplicably vastly popular ELP, Fripp recruited a new set of musicians to record Lizard. A dense, 'difficult' album that still leaves fans divided, it's pretty hard going, to be honest, although there's some great material on there for those who persevere. It's actually one of Crimson's chief Mellotron albums, too, all but two tracks featuring the instrument. Cirkus was played live by the subsequent Mark 2 lineup, with rasping Mellotron brass on the chorus, a delicate flute melody and layers of strings. The whole of side 2's extended title track has the Mellotron dipping in and out, too and makes the notoriously 'difficult' album worth working on.
After vocalist Gordon Haskell 'didn't work out' (while there has been considerable acrimony on both sides, they have apparently 'made up' in more recent years), Fripp recruited the now sadly late Boz Burrell, later of Bad Company, considering it worthwhile teaching him to play bass from scratch after being unable to find a suitable bassist. This line-up, generally regarded as 'Crimson Mark 2' toured throughout 1971 before recording Islands, both Fripp and saxophonist Mel Collins playing new Mellotron M400s. The tapes in these machines consisted of M400 violins (re-EQ'd MkII violins)/cellos, then flutes on one machine and mixed brass B on the other. This brass sound is apparently unique to the M400 and is not the original sound used on the albums up to and including Lizard. (Thanks, indirectly, to Martin Smith for that information). Crimson carried on using these machines until the original band's demise three years later.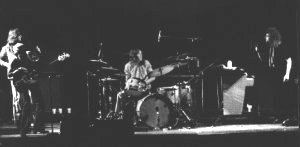 Of the Mark 2 Crimson albums, Islands is probably the least good, although easier to listen to than its predecessor. Formentera Lady is another rather slight ballad in the style of Lizard's Lady Of The Dancing Water, as is The Letters, while Ladies Of The Road is an uncharacteristically macho look at the, er, 'groupie scene', saved by some enormously distorted guitar picking in the chorus and a brief Mellotron flute part. Sailor's Tale is effectively a vehicle for a guitar solo (especially live), leaving the album's highest point to the mournful Prelude: Song Of The Gulls and the title track. Despite the presence of the Mellotron on a few tracks, Islands is no Mellotron Album and is one of Crimson's least good, too.
This lineup bowed out with the extremely substandard Earthbound, a live album compiled from cassettes recorded straight from the desk. The sound quality is about as you'd expect and little of the material shines. Peoria is a rather average improv and Groon is a grossly extended version of Cat Food's b-side, complete with drum solo fed through a VCS3 synth controlled by Hunter Macdonald from the mixing desk, rather as Eno was concurrently doing with labelmates Roxy Music. Earthbound finally achieved an official CD release in 2002 and it sounds like... Earthbound. No bonus tracks, still sounds like crap. Oh well. There are, in fact, several far better recordings of Crimso Mark 2 available, but only through the King Crimson Collector's Club website.
Fripp has admitted that Crimson Mark 2 was 'not so much an improvisational outfit as a jamming band', which is certainly borne out by the audio evidence. As well as Earthbound, there are to date four live King Crimson Collector's Club (see below) releases featuring this line-up. Startlingly, one hour-long CD features no Mellotron whatsoever; coincidentally (possibly...) it's also the least interesting of the three. Their early sets still featured some Mark 1 material, but, apart from the ubiquitous Schizoid Man, this was replaced by current material as time went on; surprisingly, maybe, this is the only Crimson line-up to have no generally available live recordings [note: no longer true, with the release of Ladies of the Road].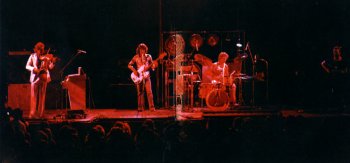 Fripp dissolved this line-up in mid-'72, realising it was going nowhere. He recruited an entirely new bunch of musicians (again), consisting of prodigiously talented drummer Bill Bruford from Yes, bassist/vocalist John Wetton, from Family, the very strange Jamie Muir on percussion and violinist David Cross substituting for a saxophonist, also doubling on keyboards. This line-up is regarded as Crimson's peak by many, the whole ensemble gelling beautifully, quickly writing and recording Larks' Tongues in Aspic, although, as Fripp is the first to admit, the studio recordings came nowhere near the onstage power of the material. The best pieces on the album are probably the two parts of the title track, but both Exiles and Easy Money feature loads of Mellotron strings, although again, both were far more powerful live. Nonetheless, a great album and a suitable debut for the new lineup.
Starless and Bible Black is a bit of a mixed bag, to be honest; much of it is taken (uncredited) from a gig in Amsterdam, plus bits from a couple of other gigs, edits and overdubs added later, á la Frank Zappa, leaving the album sounding a little disparate. For all that, there's some killer material here; Trio is a beautiful bass/violin/Mellotron flute improv and the lengthy title track and Fracture are ripping improv pieces from the gig. Songs like Lament, The Great Deceiver and The Night Watch pretty much maintain the quality of the Larks' Tongues material, although the overall feel is definitely less cohesive. Lament and Trio are probably the album's Mellotron highlights, although it's worth buying whatever. Incidentally, The Mincer tends to conjure up images of a huge, grinding machine rampaging across a war-torn landscape etc. etc. Well, it does for me, anyway. Wrong; it was named for an effeminate hanger-on Wetton encountered in LA the previous year. How un-PC.
By the end of Crimson's 1974 US tour, Fripp had had enough and Cross was effectively out of the band. The three remaining members recorded Red with various guests, then promptly split, leaving the album as a fitting epitaph to their genius. The title track is an insanely roaring, dissonant instrumental, misinterpreted by many contemporaneous reviewers as 'heavy metal'. Think you missed the point, chaps... Providence is a live improv piece and Fallen Angel (with some great Mellotron) and the ripping One More Red Nightmare keep up the pressure. The album's (and, contentiously, possibly their entire career's) crowning glory, though, is Starless. Originally titled Starless And Bible Black, an earlier, failed attempt had been made to record the lengthy piece and I have to say I'm glad they gave it another go. Of course, they'd already thrown the title away on the previous album and its improv title track, so a compromise was made. Judging by earlier live versions, the studio take tightened up both the melodies and lyrics, turning excellence into perfection. This is one of the all-time Mellotron Classics, with several minutes of stupendously mournful strings carrying the first section, apparently written by Wetton, reprising at the song's climactic conclusion, repeating its earlier themes over a backing of extraordinary intensity. Terrifyingly brilliant. Incidentally, there has been some debate over whether or not the cellos in Red's title track are Mellotron, as there's no cellist credited, but it seems they're real wattle and daub.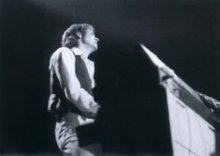 1975's posthumous USA is a great live album, despite having been tampered with; violin and piano overdubs come courtesy of Eddie Jobson (then of Roxy Music), although Cross' other keyboard work has been left intact. Both the Larks' Tongues Mellotron tracks are present and correct, as is Lament from its follow-up. Exiles is a storming version, with an incredibly intense ending, both Mellotrons set to strings, crapping from a great height onto the studio version, while the album's obligatory improv, Asbury Park, has a string line running through much of it. The (at last! At last!) CD issue adds storming versions of Fracture and Starless, with a brief flute line and some strings on the former and the standard waves of strings on the latter.
After spending the rest of the '70s playing sessions and discovering his spiritual side, in 1980 Fripp formed a band initially known as Discipline, who quickly became King Crimson Mark 4. A brilliant band (best album, 1981's Discipline (*****)), this version of Crimso barely used keyboards, let alone Mellotron and it wasn't to be heard on a Crimson album again until after another lengthy hiatus, from 1984-93. In the meantime, Fripp started his massive archive programme in 1991, with the release of the 4 CD set Frame By Frame (*****) featuring one disc of unreleased live material, including a stonking version of Mars from 1969, reappearing on the Epitaph box of a few years later. This set isn't listed above, as it contains nothing that hasn't turned up on subsequent releases.
After the success of Frame By Frame, Fripp got a little bolder with his next archive release, putting out The Great Deceiver, a massive work, filling four CDs to the brim with live Crimson from '73 and '74. There are several complete gigs on offer here, plus extracts from several others and, I have to say, the music is nothing less than superb throughout. OK, so the dodgy nights didn't make it, but the sheer quality of this material is stunning; live versions of nearly everything from that lineup's two albums, plus the early Starless, some songs present in several versions. There's a rare Mark 3 rendering of Peace/Cat Food, a Schizoid Man, an unreleased song, Doctor Diamond and no less than fifteen improv pieces, including Providence from Red. As you can see, there's Mellotron everywhere you look, including on many of the improvs. Interestingly, The Talking Drum has it on one version but not on the other, a situation that was to crop up with more frequency on the later Collectors Club releases. Anyway, I wouldn't recommend listening to this in one sitting, but it's a killer set, worth every penny. Incidentally, the sleeve notes to this box contains Fripp's witticism/truism that "tuning a Mellotron doesn't". Despite the difficulty of touring two machines, not to mention trying to keep them in tune, the original Crimson persevered with them until the band's demise in 1974.
Crimson swung back into action in '93, releasing the mini-album VROOOM (****) a year later. The following year's THRAK moved the Crimson sound on again, although, unlike the '80s version, elements of previous versions of the band are readily detectable here. Probably the last great Crimson recording, THRAK is magnificent, although several of the Belew songs may not appeal to Crimso fans of old. To the surprise of all and sundry, Fripp dragged out one of his old MkII Mellotrons (allegedly the In the Court... machine), gracing several tracks with its presence, though after listening closely, I don't think the strings at the beginning of Dinosaur are Mellotron, although some of the other keyboard work in the song almost certainly is, as is the album's quiet intro before VROOOM kicks in. As a bonus, there are some nice oboes here and there, which earlier Crimson had never really used. There was also a promo video produced showing Fripp playing the MkII during recording, though it's almost certainly a staged shot. And that was it for new Mellotronic Crimson material, sad to say, although it was five years before another proper new studio album from the band, 2000's ConstruKction of Light (***½).
After the band slowed down again after the '96 tour (this time without actually grinding to a halt), Epitaph - Live 1969 hove into view, this time as a double CD in a box, with the option of buying another two discs of lesser sound quality directly from Fripp's own label, DGM. There's a lot less variety here than on The Great Deceiver, simply because the band were only drawing on one album, plus a few unrecorded pieces. The studio tracks that open the set have been rescued from a ropey off-air tape of the band's sole BBC session and are worth hearing despite the background noise. Generally, it has to be said that sonically, Epitaph comes nowhere near the quality of The Great Deceiver, but the performances make it all worthwhile, even on discs 3 and 4. A quick glance at the track listing reveals the extended set's major flaw; several versions of almost everything, including five Schizoid Man's, but no I Talk To The Wind. It turns out that there could've been a version on the set, on disc 4, the Chesterfield Jazz Club gig, but apparently the Mellotron was woefully out of tune that night, its tuning nadir being during that song. As a result, Fripp quietly removed it from the disc despite warning his listening public that the sound quality was 'less than perfect'. We'd have coped...
The next archive release was The Night Watch, otherwise known as the whole of the gig at the Amsterdam Concertgebouw gig from November '73 that was raided for Starless and Bible Black. Heard complete and without its overdubs, it's actually a better album than its offspring, but it's fairly obvious why it couldn't be released in this form at the time. Most of the material will be familiar to the average Crimson fan, but the night's third improv piece The Fright Watch, is a real stormer, well worth the price of admission. Much Mellotron all round, too - recommended. Maybe it's something about early '70s audiences, or maybe it's just the Dutch, but the crowd sound strangely muted; not in a 'not recorded properly' way, more in a 'terribly polite theatre audience' way. Applause but no cheers. Weird.
The following year, Fripp decided to dive headlong into the archive market by starting the DGM (later King Crimson) Collectors Club, a subscription-only series of releases from the band's history. Although 2002's Ladies of the Road: Live, 1971-1972 is labelled a 'Collectors' Club Special Edition' (whatever that means; I presume it's available in the shops, for once - it has a DGM catalogue number, unlike all the other Club releases), I'm treating it as a regular release. Basically, disc one consists of performances from across the Mark 2 band's career, including their lead-off gigs at the Zoom Club in '71, while disc two is no more or less than nearly an hour of superb Schizoid Man guitar and sax solos edited together to make one continuous piece, which you'll almost certainly either love or hate. None of the selections is individually credited, so it's hard to say where and when any of them are from, or even whether or not we might have heard them before, but they're some of the best Mark 2 performances I've heard, which figures, I suppose. The one exception to this is the crudely truncated version of The Court Of The Crimson King, which is basically 'Court Blues', presumably from Detroit 1971. An incendiary (that word again!) Pictures Of A City gives you a good kicking before an unusually fragile The Letters, with the faintest hint of Mellotron, er, something in the intro. I don't know if Formentera Lady and The Sailors Tale are even from the same gig, but they segue seamlessly in time-honoured fashion, Robert's Mellotron strings and Mel Collins' Mellotron brass underpinning the guitar solo, before the massive 'build-up' section at the end. Phenomenal. But not as phenomenal as Cirkus, one of the best versions of this Mellotron monster I've yet heard, or am likely to hear; at last Fripp's got some live Mark 2 stuff out in the marketplace and not before time.
2009's five-disc (plus DVD) 40th Anniversary Series edition of In the Court of the Crimson King must be the last word on this seminal album. Surely? We get no fewer than four variations on the complete album, the 2009 remix, the 2004 remaster, a needle-drop of Robert's reference copy of the original Pink Island LP and mono mixes for US radio use, various backing tracks and alternate takes and mostly previously-available live and BBC session material from the era, while the DVD adds a 5:1 surround mix, for those of you who prefer to sit in the middle of the band. The 2009 remix is, in some ways, a revelation, revealing previously-unheard detail, whilst seamlessly trimming the most discordant three minutes from Moonchild, other points of interest including Wind Session, where various members coax the groans from a reed organ (?) that open the original album, a previously-unheard BBC session take on I Talk To The Wind, a couple of instrumental versions and The Court Of The Crimson King from the Fillmore East in 1969, not included on Epitaph, for some reason. By and large, the set's Mellotron use is as you'd expect, although an unfamiliar string part turns up at the end of some versions of the title track and there's a suitably alternate strings part on the alternate (instrumental) Epitaph, although the set's Major Mellotron Moment arrives in the form of a major string part on the BBC version of I Talk To The Wind. Is this set worth it for the casual fan? Don't be silly. However, for the Crimson fan who has to have everything, this is nigh-on essential. I'd settle for previously-unheard highlights, but there you go.
In 2012, Crimso released the first of several massive, sprawling boxed sets, Larks' Tongues in Aspic (the Complete Recordings), a fifteen-disc (including a DVD and a Blu-ray) effort, which I'll review when I get to hear it. The following year brought The Road to Red, twenty-four discs this time, including one DVD and two Blu-rays. So what do you get for your money? Seventeen gigs from the band's final tour, from April to July '74, multiple mixes and variants of Red and USA and some LCPM (look it up; I had to) mixes of the best of the live sets. Does anyone really need this much Crimson? Go to the next page, dear reader, and see just how much of this stuff DGM have already released... For the hardcore fan, of course, this is absolutely essential, although the differences between most of the sets are fairly minor. I've struggled with the best way to present my reviews, as many of the shows have already been released, either on CD or as downloads and can be found over the page, in the King Crimson Collectors' Club series.
For what it's worth, here are the actual shows contained in the set:

Veterans Memorial Coliseum, Columbus, OH, April 28, 1974 (reviewed over)
Stanley Warner Theatre, Pittsburgh, PA, April 29, 1974 (on The Great Deceiver, above)
Hofheinz Pavilion, Houston, TX, June 5, 1974
Tarrant County Convention Centre, Fort Worth, TX, June 6, 1974 (reviewed over)
Fairground Arena, Oklahoma City, OK, June 7, 1974 (reviewed over)
Civil Auditorium, El Paso, TX, June 8, 1974
Coliseum, Denver, CO, June 16, 1974
Performing Arts Centre, Milwaukee, WI, June 22, 1974
Aquinas College, Grand Rapids, MI, June 23, 1974
Massey Hall, Toronto, Ontario, June 24, 1974 (reviewed over)
Convention Center, Quebec City, Quebec, June 25, 1974 (reviewed over)
Kennedy Centre, Washington, DC, June 27, 1974 (reviewed over)
Casino Arena, Asbury Park, NJ, June 28, 1974 (twice, reviewed over)
Penn State University, University Park, PA, June 29, 1974 (reviewed over)
Palace Theatre, Providence, RI, June 30, 1974 (on The Great Deceiver, above)
Central Park, New York, NY, July 1, 1974 (reviewed over)
As you can see, this is a hopeless mess, but the band's discography has become so convoluted that it's difficult, nay, impossible to know the best way to tackle it, short of repeating reviews in different places on different pages, which helps no-one. In short, I've tried to review live sets in the order in which they were originally released; apologies if I've made any errors, also for any potential confusion this causes. Blame Fripp.
This leaves a mere five previously-unreleased sets (to my knowledge), beginning with disc 4, Hofheinz Pavilion, Houston, TX, June 5, 1974. Clearly only a partial recording, a truncated Larks' Tongues II at the end proving the point. No particular standout features, to be honest, Mellotron cellos on Improv, leading into Exiles. Disc 7, Civil Auditorium, El Paso, TX, June 8, 1974, is another fairly standard (albeit truncated) recording, splitting Starless into two parts, a minute or so missing from the middle. Highlights? Cross' major Mellotron flutes on Improv I and an amusing commercial break from Mr. Fripp. Disc 8, Coliseum, Denver, CO, June 16, 1974, is a strong, if truncated set, which just happens to feature five Mellotron songs out of six, particularly powerful on Exiles. Disc 9, Performing Arts Centre, Milwaukee, WI, June 22, 1974, features a nice flute part on Improv I, effectively an extended intro to Exiles and occasional strings on the 'Crimso attempt funk' Improv II, while the band struggle to play Starless with any degree of accuracy. Disc 10, Aquinas College, Grand Rapids, MI, June 23, 1974, features a brief-yet-abrasive Improv I (once again, an Exiles intro), complete with skronky Mellotron flutes, the band being far more on form than at Milwaukee the previous night.
2014 brought Starless, concentrating on their European dates over late '73 and early '74, upping the ante with twenty-three CDs, two DVDs and two Blu-rays, separate shows listed below.

Apollo Theatre, Glasgow, UK, October 23, 1973 (partially on The Great Deceiver, above and reviewed over)
Volkshaus, Zurich, Switzerland, November 15, 1973 (partially on The Great Deceiver, above and reviewed over)
Concertgebouw, Amsterdam, Netherlands, November 23, 1973 (on The Night Watch, above)
Palazzo dello Sport, Udine, Italy, March 19, 1974 (reviewed over)
Palazzo dello Sport, Brescia, Italy, March 20, 1974 (reviewed over)
ORTF TV, Paris, France, March 22, 1974
Palais Paul Videl, Avignon, March 24, 1974
Palais des Sports, Besançon, France, March 25, 1974
Stadttheater, Augsburg, Germany, March 27, 1974 (reviewed over)
Halle der Fachhochschule, Dieburg, Germany, March 28, 1974
Stadthalle, Heidelberg, Germany, March 29, 1974 (reviewed over)
Elzer Hof, Mainz, Germany, March 30, 1974 (reviewed over)
Jahnhalle, Pforzheim, Germany, March 31, 1974 (reviewed over)
Stadthalle, Kassel, Germany, April 1, 1974 (reviewed over)
Stadthalle, Göttingen, Germany, April 2, 1974
University of Texas, Arlington, TX, October 6, 1973 (reviewed over)
Again, five exclusive recordings, kicking off with disc 9, ORTF TV, Paris, France, March 22, 1974, a short, studio-quality recording (unsurprisingly), albeit one lacking much genuine power. Identifying marks include a decent Improv and a poorly-played and sung Starless, with the usual Mellotron parts on three tracks. Disc 10, Palais Paul Videl, Avignon, March 24, 1974, features the band on top form, with particularly powerful versions of Doctor Diamond and Exiles. Disc 11, Palais des Sports, Besançon, France, March 25, 1974, features the ripping, eight-minute Improv I, Mellotron strings and all, while the closing Improv II is a beautiful solo guitar piece, with interjections from Cross' Pianet. Disc 11, Palais des Sports, Besançon, France, March 25, 1974, features a nice little stretch of Cross' Mellotron strings on the nine-minute Improv I, a fine (if Mellotron-free Improv II and a heavily truncated Starless. Disc 18, Stadthalle, Göttingen, Germany, April 2, 1974, was, as Fripp tells us in his announcement, the last night of their European tour, making it the last time something called King Crimson would play on the continent until the early '80s. Improv I is worth the price of admission, not least due to its heavy Mellotron flute use.
Haven't had enough? 2017's twenty-one CD/two DVD/four Blu-ray Sailors' Tales takes a slightly different approach, giving us multiple variants on Poseidon/Lizard/Islands/Earthbound plus yet another raft of live recordings of variable quality, viz:

Live at the Zoom Club, Frankfurt, April 12, 1971 (reviewed over)
Live at the Zoom Club, Frankfurt, April 13, 1971 (reviewed over)
Live at the Zoom Club, Frankfurt, April 14, 1971 (reviewed over)
Live at the Zoom Club, Frankfurt, April 15, 1971 (reviewed over)
Live at the Marquee, London, August 10, 1971 (reviewed over)
Live in Wilmington, DE, February 11, 1972 (early show, reviewed over)
Live in New York, NY, February 12, 1972 (early show)
Live in New York, NY, February 12, 1972 (late show)
Live in Detroit, MI, February 18, 1972
Live in Pittsburgh, PA, March 6, 1972 (reviewed over)
Live in Milwaukee, WI, March 8, 1972 (reviewed over)
Live in Peoria, IL, March 10, 1972 (reviewed over)
Live at Summit Studios, Denver, March 12, 1972 (Mellotron-free)
This leaves all of three exclusive recordings: Disc 11, Live in New York, NY, February 12, 1972 (early show) gives us a particularly ripping Sailor's Tale, while Fripp disses the Mellotron outrageously during a brief announcement before Cirkus, viz
"We receive letters from kind people in America and they say 'what is this wondrous device you have called a Mellotron, because it's such an incredible invention?' It's not, in fact, it's a load of rubbish, it's like a really bad tape recorder that only works on playback and that it doesn't do too well"...
Heresy! Admittedly, I've never had to tour with one, but that's a particularly harsh assessment. Didn't stop him using them for the next two-and-something years, did it? Anyway, despite a typically flaccid Groon, the set ends will with the band tearing up Schizoid Man, although relatively little Mellotron overall. Disc 12, Live in New York, NY, February 12, 1972 (late show) gives us a messy Ladies Of The Road and over twenty minutes of Groon. Seriously, you can see why Fripp dumped this lineup a few months later. After Schizoid Man, Fripp promises to play Lonnie Donegan's Does Your Chewing Gum Lose Its Flavour (On The Bedpost Overnight?), the band launching into a jaunty piece that may well actually be it (you think I know?), before a truncated Cadence And Cascade. Mellotron? A few seconds of strings on the surviving fragment of Pictures Of A City, particularly good flutes on Cirkus and the expected strings on Sailor's Tale. This show's one-off, though, is Fripp playing Silent Night on Mellotron strings at the end of Groon, for reasons known only to himself. Disc 13, Live in Detroit, MI, February 18, 1972, is less playful, for want of a better word, with the usual Mellotron parts. This is called 'starting to run out of things to say about multiple, similar releases'.
Oh God; where to start summing-up? Crimson have released easily the most (confirmed) Mellotron Albums of anyone on this site, almost entirely due to the vast number of Collectors' Club releases, most of which are worth hearing. If you're into the whole Prog Thing you should already own their '70s releases, at least, but from a Mellotronic viewpoint I'd say the essentials are: In the Court, Poseidon, Lizard, Larks' Tongues, Starless and Bible Black, Red and USA, to which you can add Epitaph, The Great Deceiver and The Night Watch. All the relevant Club releases are worth hearing, which really only leaves Islands, Earthbound and THRAK as (Mellotronically) non-essential, though I'm sure some of you will disagree. Oh, bollocks to it; buy 'em all. See if I care.
Sadly, in 1997 Robert Fripp announced on his website his decision to sell all five of his Mellotrons. Bidding is still taking place on some machines at the time of writing, with ridiculous figures being bandied about, especially for the In the Court... MkII. It would seem that the individual instruments' provenance counts for more than their potential. Let's hope that they are bought by musicians rather than collectors who will probably squirrel them away as museum pieces. Note: they were never sold, as Robert apparently received no 'suitable' bids.
Incidentally, after the 1974 split, John Wetton remained a Mellotron fan for a few years, playing one with Phil Manzanera and Uriah Heep, among others. In recent years, he's been heard to play Starless on stage, often using IQ's Martin Orford, himself an ex-Mellotron owner. They generally only use samples, although their appearance at Progfest '95 featured the real thing, but when push comes to shove, samples are better than no Mellotron at all...
An interview snippet:
Back to the topic of 'so did Fripp play Mellotron on the first album or not?' Here's an interview segment with engineer Geoff Workman on the subject:
Asked if recording an instrument as notoriously quirky as a Mellotron posed special problems, Workman replies:
"Not really. We used to take them DI because the early models like they used in King Crimson and in the Moody Blues were so noisy. The later ones were smaller and quieter and had interchangeable racks of tapes and various other features. But these first ones were so noisy that if you put them through any kind of amp pre to getting to the console, you didn't have a signal-to-noise ratio, you had a noise-to-signal ratio! You'd hear this great, 'Shhhhhhh' all through it. 'Wait, I think there's a little string part in the background of all that noise!'"
"One of the things that was interesting about Crimson is that they often used two Mellotrons at the same time; both McDonald and Fripp would play them. The thing about the Mellotron is the tape loop [sic.] lasts just shy of eight seconds, so if a chord needs to be held down for more than eight seconds, you have to lift your hands off and let the springs pull the tape back so the loop can start again. So on songs that needed more sustained chords we'd use two, with one player holding the chord for seven seconds or so and then the other coming in to keep it going - we used to call it 'duelling Mellotron'".
So! Proof? I wouldn't like to argue with the redoubtable Mr. Workman, but I've never heard this story anywhere else. Unless you know better...
Live in Toronto (2016, 126.55) ****½
As I'm sure you all know, Robert Fripp finally changed his mind regarding his history, rehearsing up a considerable tranche of old Crim material for the latest, three-drummer (!) lineup's 2015 tour. It isn't all from '69-'74, although there's nothing from the Discipline era, apparently due to an agreement with Adrian Belew. The band played a (slightly) different set every night, opting to release the 20th November recording from Toronto, consisting of half-and-half old and new(er), the later material drawn from THRAK, The ConstruKction of Light and The Power to Believe, plus a handful of new pieces, including the drum trio The Hell Hounds Of Krim.
Unsurprisingly, despite an excess of drummage in places, the end result is bloody magnificent (as they were when I saw them), Tony Levin's bass and stick work as exemplary as ever, Mel Collins' sax and woodwinds impeccable and, finally making the Crim grade, Jakko Jakszyk plays second guitar and stands in for several past vocalists. About the only older piece that could've been put aside is The Letters, although the segue into Sailor's Tale makes it worthwhile. Highlight? How many would you like? Has to be Starless, of course, despite several other contenders.
One of the three percussionists, Bill Rieflin (Ministry, Nine Inch Nails, REM) played digital Mellotron, adding strings to The ConstruKction Of Light, Epitaph, Easy Money, Sailor's Tale, Starless and The Court Of The Crimson King, largely as you'd expect. At the time of writing, Fripp's rumoured to be heading out again with a similar lineup. See you down the front!
See: Collectors' Club releases | Giles, Giles & Fripp | John Wetton | Trey Gunn Band | 21st Century Schizoid Band | BPM&M | Emerson, Lake & Palmer | The Letters
---