Hybris (1992, 44.17/51.40) *****/TTTTT

Jordrök
Vandringar i Vilsenhet
Ifrån Klarhet Till Klarhet
Kung Bore
[CD reissue adds:
Gånglåt Från Knapptibble]

Epilog (1994, 43.59) *****/TTTTT

Prolog
Höstsejd
Rösten
Skogsranden
Sista Somrar
Saknadens Fullhet
[2010 reissue adds:
Rösten]

Buried Alive (1996, 72.18) ****½/TTTTT

Prolog [studio]
Jordrök
Höstsejd
Ifrån Klarhet Till Klarhet
Vandringar i Vilsenhet
Sista Somrar
Kung Bore

Viljans Öga (2012, 57.32) *****/TTTT½

Ur Vilande
Sorgmantel
Snårdom
Längtans Klocka

Prog på Svenska - Live in Japan (2014, 86.32) *****/TTTTT

Introvertus Fugu part 1
Höstsejd
Längtans Klocka
Jordrök
Sorgmantel
Kung Bore
Sista Somrar
Current availability:
Hybris/Epilog/Viljans/Prog: Änglagård Music (Sweden)
Buried: Musea (France)
Mellotrons used:
Hybris/Epilog/Viljans: band's own M400(s)
Buried: three borrowed M400s
Prog: hired-in M400
Änglagård, pronounced 'Engla-gord', frequently written with the accents wrong, or just missing. Strictly speaking, they shouldn't even file under 'A'; in Swedish they file at the end of the alphabet, but I think that may be taking authenticity a tad too far. Anyway, in the progressive world, Änglagård are a complete phenomenon; a band who, in the '90s, refused to acknowledge that anything had changed since, say, 1974 and who, instead of sounding curiously dated, sounded more vibrant than every Marillion-wannabee neo-prog outfit put together and stuffed into a very small space (not a bad idea, as it happens). What's more, they pretty much invented a whole new approach to progressive rock; the 'linear' technique. Write a section, play it a couple of times, change to another section, change again... Occasionally hark back to a previous part just to remind yourself that you are in the same piece, but never stay on one part long enough for boredom to intervene. Many progressive fans hate them, or simply don't understand them; others found them the best thing they'd heard in fifteen years or more.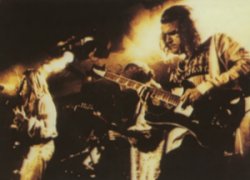 Änglagård not only wouldn't use any keyboard instrument invented after 1975, but weren't even that keen on synths; they rather apologetically used a weedy-sounding Korg Mono/Poly on occasion, but mostly stuck to the time-honoured 'boards: piano, Hammond and, of course, Mellotron, played to great effect by (mostly) Tomas Jonson, although other members chipped in both in the studio and on stage. They are very apologetic about using church organ and piano samples... You'll be hard-pushed to find albums stuffed with more Mellotron than Änglagård's. Using anything up to three live (!), they only owned one, an M400, which has a very fetching picture on the back of their first album, standing on its own in a field. The first track on Hybris, Jordrök, opens with a gentle piano figure, quickly building to a strange Mellotron choir part probably influenced by a track on the second SFF (Schicke Führs Fröhling) album, Sunburst (other noted influences are Cathedral's Stained Glass Stories, Shylock's Île de Fièvre and the first two Trettioåriga Kriget albums, for what it's worth). Then you're off on a rollercoaster-ride of Crimsonesque melodies, Yes-like basslines and other sundry progressiveness. Of course, it can be very well argued that Änglagård aren't the least bit 'progressive' at all, but that rather depends on whether or not you're treating it as a style or an approach. Stylistically, it's almost impossible to fault them; many fans feel that their two albums are the absolute pinnacle of progressive rock in the '90s. There are too many Mellotron highlights to name, but the closing section of Vandringar I Vilsenhet and the mid-song crescendo on Kung Bore are especially worthy of mention.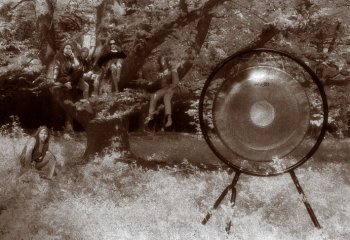 Hybris is the sort of album that not only takes many plays to properly appreciate, but gives a little more away each time you play it. After literally hundreds of spins, I can still hear parts I hadn't heard before; this has to be a finite procedure, but it hasn't stopped yet... About the only downside of the album are the vocals; rather weak, falsetto-led passages coming in at odd moments, though to be fair, only three of the album's four songs have any vocal passages and they're few and far between. The band solved the problem on Epilog by going fully instrumental. The title referred to the fact that it was to be their last 'progressive' album; they planned on moving towards 'modern classical', but it wasn't to be. After a final gig at ProgFest '94 in Los Angeles, the band imploded, ignoring all entreaties to reform, even as a one-off. There's every bit as much Mellotron on Epilog as on its predecessor; the Mellotron cellos have been replaced by real ones, but oboe tapes are used to expand their tonal palette.
Album opener Prolog is the most beautiful piece of music; just two minutes of Mellotron flute and classical guitar, building to a crescendo of cellos and Mellotron strings before dying away. The rest of the album is more typically 'prog', with many stops/starts, time/tempo changes and all the rest, but it is every bit as captivating as Hybris; many fans prefer it, in fact. Saknadens Fullhet closes the album; a short piano piece, this has to be one of the most haunting pieces of music I have ever heard. You can almost hear the band breaking up as it plays. If ever a piece described a place, this is it; it's impossible to hear it and not think 'Scandinavian forest in winter'. Again, too many Mellotron highlights to name, but the volume-pedalled flutes behind the single piano note motif at the beginning of Sista Somrar and the melodic choir part on Skogsranden are notable.
After the regrettable split (bright stars burn faster, I suppose), there was a posthumous live album from that ProgFest gig, the terribly-titled Buried Alive (a joke gone wrong, I believe), with a slightly mangled track listing on the back, but as the band say in the sleevenotes, it was unsurprisingly hardly their best gig. Great music, but really for completists only. One track from their set was dropped to make a single CD, too, so it's not even the whole show. There are various live tapes in circulation, showing the band improvising and covering both Genesis and Trettioåriga Kriget.
You may have realised that I quite like Änglagård (!) and, as such, I'm really not the best person to ask 'should I buy their albums?' Of course you bloody should, but don't blame me if you don't get it; that's not my department... Incidentally, Hybris was reissued later with a bonus track previously only available on an EP given away with UK fanzine Ptolemaic Terrascope, Gånglåt Från Knapptibble. The track was later reworked on Epilog, but the original version is well worth having.
STOP PRESS: In 2002, the band reformed, minus guitarist Tord Lindman, playing their first five-piece gigs in mid-'03, including two new numbers in the set. Future plans are at best 'vague', but a third studio album seems to be a distinct possibility at some point. Welcome back.
STOP STOP PRESS: Forget it... It seems that Tord wasn't the only fly in the ointment and it now seems highly unlikely that the band will work together again (sniff). Track down the NEARfest bootleg (below) to hear two new, excellent and unrecorded pieces.
STOP STOP STOP PRESS: It's 2010 and both albums are being made available again (at last). But what's this? Epilog a two-disc set? I've known since I (mini-)toured round Europe with them in 2003 (a story for another day) that Rösten should actually have been a 'proper' track, not just the few seconds of sound FX it ended up being, but they apparently ran out of time at the sessions. The band finally reconvened in 2008/9 to record it, complete with a full orchestra, but instead of adding it to the end of the album (as with Hybris' Gånglåt Från Knapptibble), they've put its massive 3:38 onto a second disc. Why? Who knows? This is Änglagård. So, what's it like? It's beautiful, of course, whad'ya think? The rare (and brief) major-key few bars near the beginning are heartbreaking, the orchestral swells a revelation. Mellotron? Of course: flutes (alongside Anna), strings and choirs all put in an appearance, although I think the cellos are real.
As if things couldn't get any better... Come 2011 and it seems the band are rehearsing for recording sessions and live dates. Better book my flights now...
...And 2012 brings Viljans Öga, Änglagård's first new studio album in eighteen years, recorded by the same five-piece lineup that first reformed a decade earlier. The chief difference between it and its predecessors is its near-hour length, as it retains their stylistic quirks, notably their 'linear' approach to composition. But is it as good as their first two albums? I'm happy to report that the answer's a tentative 'yes', although, as you might expect, it'll need many more plays before I can honestly claim to know it quite as well. In a quite-certainly deliberate nod to Hybris, the third track of four is the most in-your-face (in this case, Snårdom), while the deliberate nod to Epilog comes in the form of the bizarre waltz section in Längtans Klocka, reminiscent of the percussive barrage of that album's Skogsranden. Never a band to waste hard-won material, Sorgmantel and Längtans Klocka are based on the two new pieces they previewed during their brief 2003 reunion which, for some reason, makes me very happy indeed. Opener Ur Vilande is no slouch either (the band either find it impossible to write bad material, or are meticulous editors. Or both), although it is, if possible, even less 'immediate' than the rest of the album.
Mellotron? Loads, of course; how could it be otherwise? String and choir parts on all four tracks, a speedy choir part towards the end of Ur Vilande (no doubt deliberately) reminiscent of Hybris' Jördrok, with the occasional flute part alongside Anna's real one. Thomas also plays Mattias' new (of course, actually very old) Chamberlin, with bursts of those deranged solo male and female voices, the latter in Ur Vilande, the former in Längtans Klocka. Is it just me, or do the band use various tape-replay 'boards with a little more restraint this time round? While the Mellotron's clearly audible on Snårdom, for example, it only raises its head above the parapet on occasion, used less as the track's bedrock as for colouration. As a result, I've knocked all of half a 'T' off its rating, which has absolutely no bearing on the album's overall brilliance.
Sadly, after a few live dates in 2012 to promote the album (Thomas 'temporarily' replaced for live work by a member of Gösta Berlings Saga), the band splintered yet again, quickly reformed by Anna and bassist Johan, bringing back Tord Lindman from exile and adding a new guitarist and keyboard player, both from Brighteye Brison. I'm sure this lineup will be more stable (it could hardly be otherwise), but, with the creative heart of the band missing, do they have any real future? I've no idea whether they're intending to write and record, but I can't help feeling a little trepidation at the prospect. One thing's certain: we'll find out in due course.
Well, 2014 brings us a new live album, the two-disc Prog på Svenska - Live in Japan, featuring yet another lineup change, Mattias being replaced by Erik Hammarström, the band now having haemorrhaged 3/5ths of its members in the space of a year. Given that I know several of the people concerned, I shan't pass judgement, although I find it a pity that a band this good should have so much trouble working together. Anyway, the album: this is practically an 'Änglagård sampler', featuring two tracks from each album (one, admittedly, from a soundcheck) and a short(ish) new piece opening their set, which sounds like Änglagård, but slightly less so. Tord's return means that, for the first time in nearly two decades, vocals are to be heard on an Änglagård album, specifically in Hybris classic Kung Bore, other highlights including the duelling saxes (Anna and keys man Linus Kåse) on Längtans Klocka and that soundcheck version of Sista Somrar. The performance isn't perfect (knocks the crap out of the '94 ProgFest debacle, though), but it's very much live, with bags of energy, the accent being on performance as against perfection, although Mattias' 'wildcard' drumming is sorely missed. Going by the promotional video on YouTube, Anna plays real Mellotron, while Linus plays samples, making it difficult to work out where we're hearing the real thing, although I think it's on every track. Does it actually matter? Not really, no; it's always about the music at the of the day and the music is, as always, superb.
YET ANOTHER STOP PRESS: Jonas Engdegård's back (hi, Jonas), meaning the band can reproduce the guitar arrangements from their first two albums again.

Milwaukee, Wisconson, 18th December 1993 (81.27) ****½/TTT½
Prolog/Jordrök
Ifrån Klarhet Till Klarhet
Krigssång I
Vandringar i Vilsenhet
Milwaukee Jam
Gånglåt Från Knapptibble
Kung Bore
The Musical Box
NEARfest, Trenton, New Jersey, 29th June 2003 (98.17) *****/TTTTT
Intro/Saknadens Fullhet
Höstsejd
New Song #1
Gånglåt Från Knapptibble
New Song #2
Jordrök
Sista Somrar
Kung Bore/Vandringar i Vilsenhet (excerpts)
Mellotrons used:
Milwaukee: band's own M400
NEARfest: three borrowed M400s
I really don't need to stress yet again the importance of Änglagård to the current progressive rock scene; almost certainly the most important progressive band of the '90s, their two studio albums, Hybris and Epilog, have no real equals after the late '70s. Most of the original band's last live appearance, at Progfest '94, was released two years later as Buried Alive (nice title, Musea...), but while still brilliant, they were clearly imploding in front of our ears, leaving a gaping void needing to be filled by a totally ripping performance from some time during their brief career. Failing that, the fairly easy to find boot from Milwaukee on December 18th '93 may well have to do.
Having been booked to play two concerts in Mexico City, oddly, the band tacked two US shows, in Houston and Milwaukee, onto the 'tour', making it their second trip of the year to the States, after playing the inaugural Progfest in May. On that first appearance they played all of Hybris, finishing with Genesis' The Musical Box, a strange choice considering how much the original relies on massed 12-strings, an instrument Änglagård rarely, if ever used. By the time they came over again, they'd begun writing the material for Epilog, including the 'in-betweenie' Gånglåt Från Knapptibble, that mutated into the second album's Skogsranden. To fill out a longer set, they included a jam (never the best jamming band, but never mind) and a cover of Trettioåriga Kriget's Krigssång I, along with a reprise of The Musical Box as an encore.
The set opens with a solo Mellotron strings version of the second half of Prolog, while Vandringar i Vilsenhet, shorn of its apocalyptic ending, leads into the scrappy Milwaukee Jam, which finishes with the intro to Prolog on the Mellotron flutes. Kung Bore loses its acoustic intro and The Musical Box is played faithfully enough, with the rest of the first album's pieces played pretty much as is. Mellotron all over, of course (the band flew theirs over, amazingly) and it sounds like just the one, with no obvious choir use at all. Most of (presumably) Tomas' use is the ubiquitous strings, although the cello part in Jordrök is present and correct, as are the aforementioned flutes. The chief problem with the Mellotron on this recording is in the tuning department. Yeah, I know, "Tuning a Mellotron doesn't", blah blah blah, but actually they're usually pretty good; I suspect the US/Europe 50/60 cycle issue reared its ugly head here, with several discrepancies, the worst being the few seconds of strings inserted at the end of The Musical Box, which are so woefully out as to be almost in the next count(r)y. Overall, however, this is probably the essential 'original' Änglagård boot to go for; it seems to be on everyone's trade list and shouldn't be that hard to track down. Recording-wise, this sounds like a desk recording; odd instrument levels, almost nonexistent crowd, etc, but vastly better than your average audience recording.
In 2002, eight years after their original split, Änglagård decided to have a second stab at it, sans guitarist Tord Lindman; somehow or other, I managed to travel with the band to three of the five dates they played in summer 2003, although that's a story for another day... Their third gig was an appearance at fêted US festival NEARfest, essentially the new Progfest in importance, albeit on the opposite coast. At the time of writing, over 1100 people have signed a petition to the band to release the show (recorded onto multitrack), although Mattias Olsson has commented, "When it comes to matters like these, Änglagård is a slug on valium". Oh, good. In that case, I feel perfectly entitled to review the bootleg of the show, which only seems to be circulating as an MP3 download, or as audio CD-Rs of said MP3s, sounding a little thin compared to the original, no doubt, but needs must...
The second version of the band differed from the first by only being a one-guitar five-piece, meaning certain parts had to be farmed out to various members to maintain the pieces' integrity. In line with the Epilog material, the band was also entirely instrumental, largely avoiding their vocal material, although strangely playing an instrumental Gånglåt Från Knapptibble rather than Skogsranden. Shows opened with Thomas Johnson playing Saknadens Fullhet on piano, morphing into Höstsejd, before the first of the evening's new songs, generally known as New Song #1. Now, I heard the new songs three times actually on stage, plus maybe another couple of times at soundchecks and bits of both of them stuck like glue, to the point where they were completely familiar upon re-hearing over a year later. And people say prog has no tunes? I believe both tracks metamorphosed during the band's brief lifespan and I'm not convinced the versions here are the ones I heard a mere fortnight earlier, though I can't be sure without being able to compare them. Anyway, #1 starts with a guitar/bass duet, before flute and vibraphone enter the (very quiet) fray, building up to a memorable unison riff and generally carrying on in true Änglagård fashion. Gånglåt Från Knapptibble is probably more Skogsranden, really and New Song #2 has a totally sublime 'chorus' section to die for, leaving a fairly standard version of Jordrök, Sista Somrar with an extended ending and a slightly uneasy medley of the end sections of Kung Bore and Vandringar I Vilsenhet to close.
On the Mellotron front, the setup differed from gig to gig, with Anna Holmgren playing the band's own machine at Würzburg and Saint Palais sur Mer (appalling weather notwithstanding), with Thomas on samples, with roles reversed in Stockholm, while three were provided at NEARfest and an extra two at Verviers to add to their own, including mine. As a result, all the Mellotron parts on this boot are for real, shared between Thomas and Anna, although I seem to remember Jonas nipping round behind Anna to play a few chords at one point, while she was otherwise engaged. Unsurprisingly, the only Mellotron-free track is the brief Saknadens Fullhet, with both new tracks displaying healthy amounts of the Great White (or black) Beast. In fact, there's Mellotron everywhere, which shouldn't surprise anyone at all familiar with the band's music, leaving me absolutely no option but to award the full five stars and Ts. Hurrah!
If you're tapped into trading circles at all, you shouldn't find it that difficult to source these two boots, though (fingers crossed) there's at least a vague possibility that NEARfest will appear officially at some point; let's hope they don't chop bits out to fit it on a single disc, as Musea did with Buried Alive, eh? Classics both.

See: AK-Momo | Matti Bye/Mattias Olsson | Geller | Molesome | Nanook of the North | Necromonkey | Pineforest Crunch | Reminder | Thieves' Kitchen | Brighteye Brison | All Traps on Earth | Mellodrama
---