---
Ruphus (Norway)
Ranshart (1974, 33.35) ***½/TT½

Love is My Light
Easy Lovers, Heavy Moaners
Fallen Wonders
Pictures of a Day
Back Side
Current availability:
Mellotron used:
I don't know much about Ruphus, to be honest; they give the impression, at least on their second effort, Ranshart, of being a hard rock band with progressive leanings, rather than vice versa. The titles and lyrics rather give the game away; I mean, Easy Lovers, Heavy Moaners? However, the music's reasonably good, though far from world-beating, being fairly run-of-the-mill heavyish mid-'70s prog, although the longer tracks on side two betray a slight Yes influence.
Keys man Håkon Graf plays Mellotron on four of the album's five tracks, along with the usual Hammond and Moog. His use is in the standard 'string washes' territory, although it definitely lifts the tracks on which it's used. Unsurprisingly, for a semi-prog album, the best tracks are the longer ones (why is this so often the case?), those being Pictures Of A Day and Back Side, although I suspect the rest of the album may grow on me, should I ever find the time to play it enough.
Rush (Canada)
2112 (1976 , 39.00) ****½/T½

2112
Overture
The Temples of Syrinx
Discovery
Presentation
Oracle: the Dream
Soliloquy
Grand Finale
A Passage to Bangkok
The Twilight Zone
Lessons
Tears
Something for Nothing
Snakes & Arrows (2007, 62.50) ***½/T

Far Cry
Armor and Sword
Workin' Them Angels
The Larger Bowl
Spindrift
The Main Monkey Business
The Way the Wind Blows
Hope
Faithless
Bravest Face
Good News First
Malignant Narcissism
We Hold on
Current availability:
2112: Mercury
Snakes: Atlantic
Mellotron used:
2112: Hugh Syme's M400
Snakes: Allaire Studios' M400
That's 'Twenty-One-Twelve' to you, not 'Two-One-One-Two', as some initiates to Rush's music first thought (yeah, me too). One of Rush's finest hours (a Rush hour? Sorry...), 2112 is their second album to feature a concept piece, but the first to really get it right. However, it isn't the album's centrepiece that concerns us here, but a rather inconsequential ballad on side two. The sleeve states: 'Special guest Hugh Syme - keyboards on 'Tears''. Syme was keyboard player with the Ian Thomas Band, owning his own M400, also used on Spoons' Stick Figure Neighbourhood, from '81 and still works for Rush in his capacity as artwork guru to this day. I haven't actually looked that closely at the sleeve of 2112 for years; I was convinced he was credited with 'Mellotron', which shows you how the mind can play tricks sometimes. Well, it is Mellotron and a very fine example too. The track itself would be easy to discount as a rather wussy ballad if it wasn't for the Mellotron interjections; flutes in the verse, strings in the chorus. Whether the band wrote the Mellotron part or if the legendary Mr Syme came up with it himself isn't specified, but it enhances the song no end, though if you don't like Rush, this track isn't going to convert you to their cause.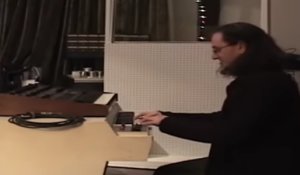 Skip forwards thirty-one years... Rush released their nineteenth studio album, Snakes & Arrows, in mid-'07, Geddy Lee's credit reading, 'Bass guitar, bass pedals, Mellotron, vocals'. Er, y'wot? Mellotron? Apparently it's a genuine one, already resident in one of the studios the band used. I must have had more mail about this one album than any other in the seven or eight years I've been running this site, almost all of which said something along the lines of, "But you can't bloody hear it". They're not actually right - although inaudible on my car stereo, there's a fairly obvious string part on Faithless, with a few notes on Bravest Face and Good News First and a background noise on Armor And Sword (so what's suddenly with the American spelling, guys? You're Canadian) that could just, at a pinch, be strings. However, like the credited bass pedals (their producer persuaded them to dig out the old Taurus), there's so little Mellotron here that the credit was barely worth the effort. So, not a bad album, given that their last couple were so ropey and the accompanying tour was, of course, stupendous. No Mellotron, though.
A quick quote concerning Geddy's Mellotron use on the album from EQ Magazine:
For his part, Lee fussed over a Mellotron - an infamously unpredictable piece of equipment that he hadn't used in years.
"We wanted to use orchestra-like glissandos on 'Faithless,'" explains Lee. "But I had to play the glisses by manipulating the pitch wheel on the Mellotron, which involved finding the right position on the wheel, marking it with tape, them moving the wheel down to another note and marking that position with tape. I was all very Rube Goldberg.".
So it appears it's genuine, never mind what we're hearing. Buy? If you like Rush, you already own 2112; if you don't, try to hear the track anyway. You won't regret it. Snakes & Arrows is a good modern Rush album, leagues ahead of, say, Vapor Trails (more American spelling!), but please ignore that 'Mellotron' credit.
n.b. Darren has pointed me towards an oddity on Ian Thomas' website; an answer to a question from the man himself, viz:
"I do believe the Mellotron you refer to [on Thomas' The Runner] may very well have been played by the multi-talented Hugh Syme on the Rush track "Tears". That Mellotron was the best one I had ever seen over the years. It was a double manual and with a pretty comprehensive tape library. Note: incorrect. Further down the same page, Syme is quoted as saying, "We used the (classic) white Mellotron 400 (single manual) model [on both the Thomas and Rush recordings]". There is a greater story to that Mellotron in that it was sold to Geddy by none other than the late great jazz pianist Oscar Peterson. Oscar, rest his warm curious soul, was always interested in any technology involving music and in particularly anything involving his love... the keyboard.".
So Geddy owns/owned Oscar Peterson's old MkV? First I've heard of it, but then, I haven't exactly got a hotline into Ged HQ.
Gayle Russ (US)
Gayle Russ Sings "The Whippoorwill Song" & Other Favorites (197?, 33.34) ½/TTT

The Whippoorwill Song
I Stand Amazed
Sheltered in the Arms of God
That's What Jesus Means to Me
He Loves You
The Muhlenburg County Song
His Banner Over Me is Love
A Broken Heart I Gave
All in the Name of Jesus
This is the Day
Current availability:
Chamberlin used:
Gayle Russ (a male Gayle, so to speak) was one of the many committed Christian singers who have elected, over the years, to impose their 'talents' on the unsuspecting public, in this case in the form of the undated Gayle Russ Sings "The Whippoorwill Song" & Other Favorites, provided by my alleged friend Mark Medley. It's a particularly offensive, country-flavoured effort, Russ' vocals to the fore throughout, serenading us with such deathless classics as the title track, His Banner Over Me Is Love and closer This Is The Day, although I could, frankly, have picked any of its ten interminable tracks for approbation. Why is this more offensive than other, similar efforts? A deadly combination of Russ' crooning vocal style and the lightest-of-lightweight country backing, I suspect, making me lose the will to live well before this horrible album finally ground to a halt. And it's only just over half an hour long.
Given that this abomination was released on the God-bothering Benson label, it should come as absolutely no surprise to learn that it features our old friend (?) Larry R. Benson (Gateway Singers) on Chamberlin. Larry plays remarkably lifelike strings on every track bar That's What Jesus Means To Me, adding flutes to the mix on The Whippoorwill Song itself, He Loves You (sadly, not a re-sexed, so to speak, version of The Beatles' hit) and His Banner Over Me Is Love, with oboe (?) on This Is The Day. Properly, fully appalling, not that you're likely to run into a copy of this by accident. Very nasty.
| | |
| --- | --- |
| Leon Russell (US) see: | |
Luther Russell (US)
Repair (2007, 39.36) **½/T

Rise + Shine
Everybody Falls
Parachute
Blinking Star
Lightning Strikes
My Own Blood
Black Leather Coat
The Razor
When Your Way Gets Dark
Nothing Else Remains
Want You to Know
Current availability:
Chamberlin used:
After leading The Freewheelers in the early '90s, Luther Russell went solo, 2007's Repair being his fourth release in the subsequent decade. In some ways, I'm surprised to find no references to his music being used in US TV shows, as the album has that rather bland, mainstream singer-songwritery vibe about it so beloved of TV producers. Better tracks include the countryish Blinking Star and the folky Nothing Else Remains, but I'm afraid that, while entirely harmless, this isn't the most dynamic album you'll ever hear.
Russell plays authentically wobbly Chamberlin strings on Everybody Falls, most likely real, given that the album's produced by Ethan Johns. A so-so singer-songwriter effort, then, rather too mainstream for this site's tastes, with one decent Chamby track.
Mary Russell (US)
Heart of Fire (1979, 38.55) ***/½

Right or Wrong
Heart of Fire
King of Africa
Keep the Home Fires Burning
Body Music
Good Combination
Up Against the Wall
Eldorado Gypsy
You Know What I Need
Music Man
Current availability:
Chamberlin used:
Mary Russell (née McCreary) was married to Leon Russell, making (to my knowledge) just the one solo album (after two with Leon), 1979's Heart of Fire. It's a pretty typical R&B release of the era, combining elements of soul, funk and blues, although, thankfully, very little disco, at its possible best on the ripping ARP solo on Eldorado Gypsy and the rocky You Know What I Need.
Hubby played near-subliminal Chamberlin, with distant strings and cellos on King Of Africa and faint flutes on Body Music, although I'm not sure why he bothered, given its inaudibility. Couldn't afford an orchestra? Anyway, a good album of its type, if a long way from my personal taste.
See: Leon Russell
Russian Circles (US)
Enter (2006, 44.16) ***½/T

Carpe
Micah
Death Rides a Horse
Enter
You Already Did
New Macabre
Current availability:
Mellotron used:
I suppose you could call Russian Circles post-rock, but they add a huge dose of heaviosity to the proceedings that you won't hear on Godspeed or Mogwai albums. Entirely instrumental, their 2006 debut, Enter, is actually a pretty decent record that doesn't outstay its welcome over six tracks, combining metal, prog and indie into a vocalless stew that will probably have your typical post-rocker (is there such a thing?) running screaming.
Robert Lowe plays Mellotron towards the end of the title track, while everything else drops away, leaving a lonely flute part that sees the piece out, getting very wobbly towards the end. Despite its nicely upfront nature, a minute or so of unaccompanied Mellotron probably doesn't make this worth buying on that account. However, not a bad album, probably unlike anything else you've heard this week/month/year.
Rusted Root (US)
Rusted Root (1998, 52.33) **/½

She Roll Me Up
Rising Sun
Magenta Radio
My Love
Live a Long Time
Kill You Dead
Airplane
Agbadza
Moon
Away From
Flower
You Can't Always Get What You Want
Current availability:
Mellotron used:
How can Rusted Root have sold several million records and I've never heard of them? They're not even genre-closeted, so to speak, like many multi million-selling country artists. Anyway, how to describe them? Well, their fourth, eponymous album contains a percussion-heavy fusion of blues, soul and country, with a little generic African influence thrown in. Like the sound of it? Didn't think so. Me neither. Actually, their faithful cover of The Stones' You Can't Always Get What You Want that closes the album sums their sound up perfectly; if you've always disliked the track as much as I have, you've got a pretty good pointer as to how you'll feel about this album.
It seems the band collaborated with Hot Tuna on some of the record (fittingly, since that outfit are a Grateful Dead offshoot, a band to whom Rusted Root are often compared), after touring with them. That outfit's Pete Sears adds Mellotron to Away From, with a rather wobbly minor flute part that doesn't really add anything to the song. Rusted Root isn't the kind of album you're going to analyse, pick apart and generally obsess over; it's the kind of album you're either going to dance to at a thirty-somethings party or smoke a fat one to, if pseudo-ethnicity's your bag. Personally, I shall do my level best never to hear it again. Dull, dull, dull.
Rustic Hinge (UK)
Replicas (1988, recorded 1970, 44.32) ***/0

T on the Lawn for Three
Excitation Wavelength
Litmus Transformation
Ocus Pocus
Crystallized Petard
Kinesis
But That Was Then That Was But
[Untitled]
Last Time
High Tide Play Rustic Hinge
Romanian Folk Dance No. 1
Macedonia
Radio Kabul
Romanian Folk Dance No. 2
Mastadon
Current availability:
Mellotron used:
John "Drachen" Theaker and Andy "Android Funnel" Rickell's Rustic Hinge were one of the nuttier early Brit progressive outfits to crop up at the beginning of the '70s, not to mention one of the many who almost got something released, but fell at the last hurdle. In this case, John Peel's Dandelion label were going to issue the one-sided (fuck knows why) T on the Lawn for 3, but when it never happened, the tapes were stashed away until the late '80s, when London's much-missed Reckless label released Replicas (on vinyl only), presumably containing all known material by the band.
It's a bonkers mix of (relatively) straightforward psych, proto-prog and manic Beefheart-like strangeness, much of it apparently 'written' from Theaker's mad improvs, Rickell keeping up somehow, until the pieces coalesced into some vague kind of form. Although the eventual release is only 'vinyl length', you get the feeling that maybe the original, briefer running order might make more sense, as the band wander off into avant territory on side two's Romanian Folk Dances, although that's also where you'll find High Tide Play Rustic Hinge, the band having links with Tony Hill and future Hawk Simon House's band.
Bruce Langhorn allegedly plays Mellotron on 'side 1, track 4', although given that everything up to [Untitled] seems to be a subdivision of T On The Lawn For Three, it's hard to say just which track this might be. Anyway, I can't hear a damn' thing, so if there's anything there, it's buried at the bottom of the mix. Incidentally, Arthur Brown was involved with the band for a brief period (Theaker had been an on/off member of The Crazy World), until they turned out to be too crazed even for him, at which point he buggered off to form Kingdom Come, I believe having later links with Theaker and Funnell again. Anyway, an, er, 'interesting' album, if not always a particularly listenable one, but no obvious Mellotron, for what it's worth.
See: Arthur Brown's Kingdom Come
Paolo Rustichelli & Carlo Bordini (Italy)
Opera Prima (1973, 40.48) ****/TTT

Nativita
Icaro
Dolce Sorella
Un Cane
E Svegliarsi in un Giorno
Cammellandia
Current availability:
Mellotron used:
Rustichelli and Bordini were a keys/drums duo, contracted from a trio with a bassist who made just the one, excellent album, Opera Prima. I've seen this listed as 'one of the Italian greats', so it's gratifying to hear that it is, indeed, one of the better albums to come out of such a large scene; I must've heard album opener Nativita sometime in the past, as it was immediately familiar, which is more than I can say for a great deal of music I've owned (and played) for years. The material takes a slight dip in the middle of the album, with some unfortunate vocal parts (Rustichelli?), although that's just being picky, really.
Rustichelli used his Mellotron on four of the six tracks, mostly strings, although there are several cello parts (notably the intro to Cammellandia) and the odd bit of flute. This is all excellent stuff, the Mellotron coming in just when needed, avoiding 'Mellotron overkill' syndrome. Well, it's nice to hear a much-awaited album and find that it was worth the wait. Buy.
Corrado Rustici (Italy) see: Samples etc.
Rusty Truck (US)
Broken Promises (2003, 47.31) ***½/½

Every Time
Cold Ground
Civil Wars/Luck's Changing Lanes
Broken Promises
1000 Kisses
Candy
Fool
Malibu Canyon
Tangled in the Fence
Never Going Back
TKO
Prey
Luck's Changing Lanes (2008, 45.11) ***½/½

Every Time
Cold Ground
So Long Farewell
Broken Promises
1000 Kisses
Fool
New York Fallen Angel
Luck's Changing Lanes
Malibu Canyon
Tangled in the Fence
Never Going Back
Prey
Current availability:
Broken: Terra
Luck's: Rykodisc
Chamberlin used:
Mark Seliger is best-known as Rolling Stone's chief photographer in the '90s, shooting many magazine covers and portraits, although, maybe unfairly, his musical career is less noted. He began writing songs during his tenure at Rolling Stone, during which time he made many friends in the music biz, including Jakob 'son of the better-known...' Dylan (surely Zimmerman?) and one of this site's Chamberlin superstars, Rami Jaffee, who helped him pull a band together, including members or associates of Grant Lee Buffalo and Ryan Adams, amongst others. Once Lenny Kravitz came on board, Seliger felt confident enough to approach some other people he'd worked with in his main career, taking eighteen months to piece a record together.
The resulting album, Broken Promises, appeared in 2003, under the moniker Rusty Truck (who he, then?), apparently as a 'limited release', according to Seliger's website, although it still seems to be available through Amazon. It sits firmly in the alt.country/Americana area and to my ears, is every bit as good as the genre's leading lights, the songwriting covering all the usual bases, with a distinctly Texan twang to some of them. Presumably due to its original 'limited' status, Seliger reissued the album five years later as Luck's Changing Lanes, dropping two tracks (the mariachi-flavoured Candy, sadly and TKO) in the process, while adding So Long Farewell and the country/reggae (!) of New York Fallen Angel. Maybe it's Seliger's non-musical background, but he brings something new to the genre, as evinced by the tablas and sax on Prey and New York Fallen Angel's unusual feel.
Rami Jaffee plays Chamberlin on one song on both versions, with background strings towards the end of Never Going Back, although you could hardly call his use 'classic', frankly. That isn't why you might wish to splash out on this album, though; that'll be the songs. The reissue also adds a DVD with a surround sound version of the album and several videos, should you be impressed by such things.
Mike Rutherford (UK)
7" (1980) ****/TT

Working in Line
Compression
Current availability:
On out-of-print German Genesis fan club CD It's Only Knock and Knowall & Anthony Phillips' Harvest of the Heart box set (Esoteric)
Mellotron used:
This has to be the oddest Genesis-related Mellotron track of them all. Mike Rutherford's first solo album, the really rather good (if Mellotron-free) Smallcreep's Day gave birth to a single, Working In Line, excised from the side-long title track. Its non-album b-side, Compression, is a six-minute number, the instrumental section of which apparently dates right back to the Selling England sessions in 1973. It's actually a perfectly good song, better than several on the album, so it can only be a matter for conjecture as to why it hasn't been added to CD issues.
Rutherford's old pal Anthony Phillips plays keys on the album and the track, adding, assuming my ears don't deceive me, Mellotron flutes (first part), strings AND choir (second part), making this not only a last (current) Genesis Mellotron gasp (Steve Hackett was, of course, an ex-member by this point), but also the most upfront use of the machine by any of them in three years. I've no idea why he elected to use one at this late stage, but let's not look a gift horse in the mouth, eh?
You really are not going to find this one easily, to be honest; I couldn't even find a download of it, having to rely on the charity of one of my correspondents (thanks, Jochen!). Apart from the rare-as German fan club CD mentioned above, it turns up on, of all godforsaken things, a four-disc Mike + the Mechanics bootleg set. I mean, four DISCS? Wild horses couldn't drag me to play one bloody track... Hopefully this will appear officially one day, but until then, good luck in your search...
See: Genesis | Anthony Phillips
Barry Ryan (UK)
Sings Paul Ryan (1968, 35.57) ***½/½

Theme to Eutopia
Why Do You Cry My Love?
The Colour of My Love
Crazy Days
Eloise
My Mama
I Will Bring You Love
Love is on the Way
What's That Sleeping in My Bed?
You Don't Know What You're Doing
Kristan Astra Bella
Current availability:
2-on-1 with Barry Ryan on Singing the Songs of Paul Ryan, 1968-69: Rev-ola
Mellotron used:
Paul & Barry Ryan were identical twin pop stars of the mid-'60s, but when Paul bowed out due to stress, Barry carried on, at least for a while, singing Paul's songs. The best (only?) known of these is the baroque orchestral pop classic Eloise, memorably covered by The Damned in the early '80s. It was a massive hit for Ryan in '68, too, selling over three million copies and completely overshadowing anything else he did. He made two albums, '68's Sings Paul Ryan and an eponymous '69 follow-up, before retiring from the biz himself. Stuffed full of material in a similar vein (if not quite the quality) of Eloise, both albums are well worth hearing, although it's only the former that interests us here. Opening with Theme To Eutopia, a kind-of overture to the album as a whole, as well as the obvious, it features songs of the quality of Crazy Days, My Mama and the Beach Boys-esque I Will Bring You Love, although, in truth, there's not a single clunker to be heard here.
An anonymous session muso adds overt MkII strings to the intro of Love Is On The Way, in direct contrast to the orchestra utilised on the rest of the album, making it likely it was used specifically for its sound (hurrah!), rather than as a cheap orchestral substitute. You almost certainly know Eloise, if only The Damned's version (which doesn't differ that much from the original, anyway), so if you'd like to hear more of the same, you could do an awful lot worse than to buy Rev-ola's Singing the Songs of Paul Ryan, 1968-69, containing both of Barry's albums and a couple of bonuses. Sings Paul Ryan's a great album, though really not worth it for its minor Mellotronic contribution.
Terje Rypdal (Norway)
Whenever I Seem to Be Far Away (1974, 37.10) ***½/TT½

Silver Bird is Heading for the Sun
The Hunt
Whenever I Seem to Be Far Away
Current availability:
Mellotrons used:
Terje Rypdal is probably Norway's best-known jazz guitarists; not so difficult, to be fair, but he's a talented player and writer, active since the early '60s in one guise or another. His ongoing collaboration with the esteemed ECM label began around 1970, while he was working with Jan Garbarek, with Whenever I Seem to Be Far Away being (I believe) his third solo effort. In many ways, it's a typical mid-'70s fusion album, although it has some very untypical Mellotron work from Pete Knutsen of the Norwegian Popol Vuh (nothing to do with Florian Fricke's outfit). Actually, it's unfair to say the album is typical; it's a good deal more inventive and less clichéd than your average American fusion record, with considerable use made of orchestral instruments, particularly on side two's title track, which was written for guitar and orchestra.
Knutsen's Mellotron work on the 'band' side is excellent, opening the album with cellos and strings under (real) french horn on the 13-minute Silver Bird Is Heading For The Sun, shifting key signatures every couple of bars to great effect. More Mellotron interjections throughout the piece, with similar on the shorter The Hunt, along with Knutsen's jazzy Rhodes work.
See: Samples etc.
---