---
Q65 (Netherlands)
Revival (1969, 37.09) ***/T

Cry in the Night
No Place to Go
It Came to Me
I Was Young
World of Birds
So High I've Been, So Down I Must Fall
Sundance
Voluntary Peacemaker
Ridin' on a Slow Train
Fairy Tales of Truth
Current availability:
Mellotron used:
Q65 were Holland's very own Pretty Things, raucous R&B merchants who made The Stones look a bit wet; well, would that outfit have released a single called I Despise You? They folded in early 1968, after just one album, 1966's Revolution, losing the battle with flower power. Some of the band regrouped a year later, recording a second album, Revival, including tracks from their busman's holiday band, Circus. Listening to it with the benefit of considerable hindsight, their problem is highlighted by No Place To Go, a.k.a. How Many More Times, as comprehensively shredded by Led Zep on their debut the same year. By 1969, Q65 were a band out of time; the album, while good, mixes too many styles to be really convincing, from the dirty Cry In The Night to the eastern-flavoured Sundance (a single, unbelievably). The last four tracks on the album were Circus leftovers, having a flavour of second-rate psych about them; this band were about garage punk and mock-sophistication sat on them like an ill-fitting wig.
Keyboard parts are few and far between on the album, although a Hammond can be heard on a couple of tracks. Paul Natte played Mellotron, with vibes on Voluntary Peacemaker and a full-on strings part on closer Fairy Tales Of Truth, quite possibly played on Phonogram Studio's M300, also used by Earth & Fire, Ekseption et al. Basically, this is a reasonable record by a band who were apparently once great; while it has its moments (and is by no means bad), I wouldn't go too far out of your way to secure a copy, either for the music or the Mellotron. As an aside, original bassist Peter Vink and later drummer Beer Klaasse and mid-'70s guitarist Joop van Nimwegen formed the mighty Finch, most of whose members became Q65 again in 1980, after Finch disbanded. It's quite possible a version of the band are still in existence somewhere in Holland, led by vocalist Wim Bieler, but I think it's safe to say their glory days are well behind them.
Qoph (Sweden)
Pyrola (2004, 52.47) ****/T

Woodrose
Half of Everything
Korea
Travel Candy
Stand My Ground
Moontripper
Fractions
Current availability:
Kaleidophone (Sweden)/2LP on Nasoni (Germany)
Mellotron used:
Qoph (named for the nineteenth letter in the Hebrew alphabet) play the kind of psychedelic hard rock usually regarded as having puffed its last around 1972, although they mostly end up being lumped in with the prog mainstream, such as it is. I've seen their second album, 2004's Pyrola, compared to Captain Beyond, amongst others, but one of their most obvious influences, at least to my ears, is fellow Swedes Anekdoten, so it comes no surprise at all to learn that guitarist Nicklas Barker guests here on Mellotron. The material on the album veers between the song-based (Travel Candy) and the more psychedelically jammed-out stuff (Fractions), covering most points in between, while retaining the listener's interest throughout, although approaching this album expecting anything even remotely symphonic will only lead to disappointment.
Barker's Mellotron work is far from overbearing, with weird, drifting strings on Korea, before Mats Öberg's bonkers MiniMoog takes over and a similar part on Moontripper. Most of the time, though, the band concentrates on guitar/bass/drums basics; Half Of Everything even features a few bursts of harmonica, an instrument found on remarkably few of the albums reviewed on this site. There's a double-vinyl version of the album available on German label Nasoni, with no fewer than three extra tracks (more easily found on 2014's Glancing Madly Backwards: Rare & Unreleased 1994-2004), but no more Mellotron.
Quad (UK)
Quad II (1997, 39.57) ***/TTT

Inner Groove (part 1 & 2)
Outer Groove (part 1, 2 & 3)
Current availability:
Prescription (vinyl only, long out of print)
Mellotron used:
Information about British psych outfit Quad (essentially Sun Dial's Gary Ramon) is amazingly difficult to find, not helped by their name, clearly an homage to the great UK valve amp manufacturer, whose most famous product is called the Quad II, title of... Quad II is a strange, drifting album, sounding like more drugs than you can possibly imagine were consumed during its creation, which probably means everyone involved was straight as a die. Er... Its two, side-long tracks (it only appears to've been available on vinyl, even as late as 1997) meander through pastures of acoustic guitar, ambient percussion (yes, really), sitar and Mellotron flutes, only the occasional flurry of screaming lead guitar hauling you out of your torpor.
Both tracks feature Ramon's Mellotron flute lines running throughout their length, sometimes played surprisingly fast, but given that a) it's clicky as hell and b) it's Gary Ramon, I don't think its authenticity is in doubt. Quad II isn't at all bad at what it does, but its determined lack of focus becomes slightly draining after the first side, unless, of course, you've medicated yourself appropriately before listening.
See: Sun Dial
The Quarter After (US)
The Quarter After (2005, 54.59) ***½/T

So Far to Fall
Your Side is Mine
Always Returning
Parting
Too Much to Think About
Know Me When I'm Gone
Mirror to You
One Trip Later
Taken
Everything Again
Changes Near (2008, 51.56) ***½/TT

Sanctuary
She Revolves
Counting the Score
See How Good it Feels
Early Morning Rider
Nothing Out of Something
Changes Near
Winter Song
Turning Away
This is How I Want to Know You
Follow Your Own Way
Sempre Avanti
Current availability:
Quarter: Bird Song
Changes: Committee to Keep
Mellotrons used:
Robert Campanella's M400?
The Quarter After are current L.A.-based practitioners of the kind of Byrds-into-psych region previously exploited by various powerpop acts reaching beyond the usual influences. Most of their eponymous debut's tracks feature that traditional Rickenbacker 12-string jangle, albeit updated in places, while two songs stretch out into full-on acid-fuelled jams, in the way many of their influences wouldn't have dared, forty years earlier. Both the near-twelve minute Too Much To Think About and the nine-minute Taken move into areas The Byrds could only dream about in '65, which pretty much sums up the benefit of hindsight, I suppose. The countryish Mirror To You brings various alt.country acts to mind, not least Beachwood Sparks, with whom the band have connections. Confirmed genuine Mellotron from producer and band member Robert Campanella, with occasional string interjections on Too Much To Think About and an octave string part in the latter half of the slightly stretched Know Me When I'm Gone.
2008's follow-up, Changes Near, is a slightly more mature record, less obviously in thrall to its influences, although there's still plenty of 12-string work for the faithful. Less jamming this time round, although Nothing Out Of Something cuts loose a little an the album ends with an echoed, spacey jam that clearly carries on a good deal longer live. Campanella's Mellotron work is slightly more extensive this time round, with strings (sounding suitably wobbly and real) on Sanctuary and She Revolves (from Lou Vogel) and strings and flutes on Winter Song, making the album more worthwhile for the Mellotron fan.
See: Nelson Bragg
Quarteto 1111 (Portugal)
Onde Quando Como Porquê Cantamos Pessoas Vivas (1975, 29.14) ****/TTTTT

Onde Quando Como Porquê Cantamos Pessoas Vivas 1
Onde Quando Como Porquê Cantamos Pessoas Vivas 2
Current availability:
Edições Valentim de Carvalho
Mellotron used:
Onde Quando Como Porquê Cantamos Pessoas Vivas (often known simply as Cantamos Pessoas Vivas) was Portuguese outfit Quarteto 1111's last album, used as a launchpad for his solo career by keys man José Cid; effectively, it's a late-period psych/prog album, maybe like a proggier and gutsier Moody Blues, though don't let that put you off if you're not a Moodies fan. The album consists of two (short) side-long tracks, side one fading out and the flip fading in at the same point. If there's ever an official CD release for this, it'd be nice if the two sides could be correctly rejoined, thanks...
You want Mellotron? You've got it... It sometimes amazes me just how many Mellotron-heavy releases there must still be out there that I've never heard, not all of which are small label/country (see: Canadians Small Wonder). Signor Cid goes completely overboard here, with swathes of strings underlaid by cellos (I wonder if he owned the two machines pictured in his solo album back then?), with considerable quantities of flutes, too. There's a nice moment about a minute into side two, where he suddenly switches from strings to flutes 'on the fly', but in truth, there isn't a bad moment on the album. And you can't just log on and buy it, although the entire Pendragon back-catalogue is constantly available... There is no justice. Anyway, the only other keys on the album are an unidentified monosynth which gets used a bit, a smattering of piano on side two and even less string synth at one point, so I think it's safe to say, this is a Mellotron Album in every sense of the word.
See: José Cid | Frei Hermano da Câmara com o Quarteto 1111
Quasifunk (Germany)
Besonders Gern vor Fremden Leuten (2002, 26.34) ***½/TT

Babette
Für Immer
Ein Stumpfes Grün Verwirrt den Sinn
Was Soll ich Tun?
Woanders
Current availability:
Mellotron used:
Well, here's a new one on me; German-language '70s-style funk, from a new band. Hammond-driven, with plenty of sax work, Besonders Gern vor Fremden Leuten is far less groove-orientated than I'd expected, with the band living up to their name pretty well, serving up a variety of feels across its five tracks, some of them most undanceable. Opener Babette is the most typically funky thing here, lulling the listener into a false sense of (in)security, before the creepy Für Immer throws a complete curveball and the stop/start rhythms of Ein Stumpfes Grün Verwirrt Den Sinn break a few ankles on the dancefloor. A straight funk album would (at least to me) become boring very quickly, but this smorgasbord of styles keeps you on your toes, giving no clue as to what might happen next.
The band's part-time '70s fetish goes beyond mere musical style, extending into their choice of instruments. I mean, keys man Thomas Waltner uses Hohner Clavinet and Pianets, a fake Hammond, a Yamaha CS-30 and a theremin, on top of the ubiquitous Mellotron, using them all well. The Mellotron crops up on two tracks, with choirs on Für Immer, followed by an overdubbed strings and flute part, while closer Woanders opens with an in-yer-face flute melody, followed by more strings.
This is actually Quasifunk's third release and the second with Mellotron; they also sent me a disc of work-in-progress for their next (presumably full-length) release. More Mellotron in evidence than here, although the tracks are a little overlong in places, which may well be sorted out before they record the album proper. Anyway, Besonders Gern vor Fremden Leuten is an interesting, eclectic mini-album, going far beyond the confines of mainstream funk (of any decade). Cautiously recommended.
Michael Quatro (Jam Band) (US)
Paintings (1972, 40.35) ***/TTT

Paintings
Time Spent in Dreams
Circus (What I Am)
Each Day I Want You More
Life
Rachmaninoff's Prelude
Detroit City Blues
Court of the Crimson King

Look Deeply Into the Mirror (1973, 36.08) ***/TTT

We'll Be Together
Prelude in A♭ Crazy (Classical Variations)
Natural Way
Tomorrows
Gypsy Caravan, Part 1
Won't You Come Away
Gypsy Caravan, Part 2
Lullaby (Sleep Well Sweet Children)
In Collaboration With the Gods (1975, 39.34) ***/TTTT

In Collaboration With the Gods (Theme)
Interlude of Ra
Interlude of Ares
A Letter to Venus
Neptune's Nicromea
Waltz of the Gods
Get Away
Rockmanninoff's Prelude in C Blunt Funk
Ave Rock Maria
Prelude in A♭ Crazy II
Sweet Lovin'
Dancers, Romancers, Dreamers & Schemers (1976, 40.16) **½/TTT

Children of Tomorrow
Stripper
One By One
Rollerbach
Circus
Ancient Ones
Pure Chopin
Adagio
Touch of Class

Gettin' Ready (1977, 32.58) **/½

Hollywood (Hallucination)
It's Only a Love Song
Trouble in Paradise
Last Man Alive
Get You Ready for Love
Detroit City Blues
I'm Winning
Rockin' All Night Long
Wild One
Current availability:
Collaboration: Flawed Gems (Sweden - unofficial?)
Other titles: Not on CD
Mellotrons used:
Michael Quatro (brother of the better-known Suzi, below, herself an occasional Mellotron user) is a classically-trained pianist who stuck out a few albums in the mid-'70s, initially as the Michael Quatro Jam Band. He debuted with the rather badly-recorded Paintings (budgetary restrictions, no doubt); it really is a bit of the proverbial curate's egg. Some of the material isn't too bad (the title track, the Rachmaninoff and King Crimson stuff), but Circus (What I Am) is a pretty awful Latinesque effort, although it looks like pure genius next to the soporific balladry of Each Day I Want You More and as for the pointless boogie of Detroit City Blues... All things to all men, eh, Michael? His take on (In The) Court Of The Crimson King is quite bizarre, as he appears to rewrite the verse sections, while copying the 'chorus' note-for-note. And I haven't even mentioned his voice... Mellotronically speaking, his M400 crops up within seconds of the beginning of the title track, choppy strings fighting for space with a melodic flute part, with some seriously fast (relatively speaking, of course) playing at the end of the track. More Mellotron strings wizardry on Rachmaninoff's Prelude and plenty on the Crimso cover, of course, making the whole rather better for the Mellotron than for the music.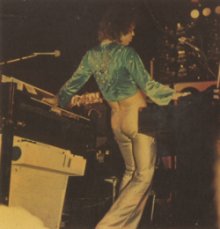 Quatro's follow-up, Look Deeply Into the Mirror, wasn't a lot better either sonically or compositionally, to be honest, although the overblown prog of Gypsy Caravan, Part 1 is sort of worth hearing, ditto some more rocked-up classics in the form of Prelude In A♭ Crazy (Classical Variations). It takes him a while to kickstart the Mellotron this time, although it's all over side two, with strings on most highlighted tracks (note Quatro's trademarked pitchbend work on Won't You Come Away), with the exception of flutes on Lullaby (Sleep Well Sweet Children).
photo: Larry Huff's mate Nick
For his next effort, In Collaboration With the Gods, he went 'solo', producing an album that's another mixed bag, to be honest. There's some great playing, but he all too often lacks taste; some of the cod-classical piano licks are almost criminal. Although little of the (mostly instrumental) material really excites, Quatro slaps Mellotron all over the album; mostly strings, bits of cello and flute, too. None of the use is especially original, but there's certainly a lot of it, although a few tracks only sport a few seconds here and there. Nice pitchbend work and passable orchestration on some tracks, although the pretentious (and copious) notes accompanying each song are a little wearing. Ave Rock Maria is a rearrangement of Beethoven's Moonlight Sonata, which takes me back to my comment about taste. As you can see here, though, there's a lovely picture of Mr. Quatro from behind, displaying his tight satin strides to their best effect. Very fetching.
Dancers, Romancers, Dreamers & Schemers features far more vocal than its predecessor and suffers accordingly. There are some nice moments, but it's an awful lot cheesier than In Collaboration..., with another couple of classical steals in Rollerbach and Pure Chopin; Bach's Toccata In Fugue (presumably a then-topical reference to Rollerball) and some Chopin I recognise but can't name. Quatro's vocals leave quite a bit to be desired, even if they were singing anything vaguely worthwhile; he really was better writing instrumentals, as his previous albums proved. There's less Mellotron on this album, too, although he could almost have patented that pitchbend trick, he uses it so often.
If you thought that was bad... the first half of 1977's Gettin' Ready is a horrible, R'n'B-infused mainstream nightmare, full of schlock like opener Hollywood (Hallucination), the 'soulful' Trouble In Paradise and Last Man Alive. Matters improve slightly on side two, although the clichéd rock'n'roll of his re-recording of Detroit City Blues and the proto-AOR of I'm Winning aren't exactly going to win awards for originality. Is there a best track? Surprisingly, yes: closer Wild One is a decent enough cover of Thin Lizzy's Fighting classic, but it's a case of too little, too late. Quatro's Mellotron use is about as minimal as you'd expect for both the year and the album's style, with naught but background choirs (under real strings) on It's Only A Love Song, even more background ones on Last Man Alive and quite unbelievably background ones on Wild One, to the point where I'm not fully convinced they're there at all.
Suzi Quatro (US)
Suzi Quatro (1973, 46.19) ***½/T

48 Crash
Glycerine Queen
Shine My Machine
Official Suburban Superman
I Wanna Be Your Man
Primitive Love
All Shook Up
Sticks and Stones
Skin Tight Skin
Get Back Mamma
Rockin' Moonbeam
Shakin' All Over
Quatro (1974, 41.18) **½/T

The Wild One
Keep a-Knockin'
Too Big
Klondyke Kate
Savage Silk
Move it
Hit the Road Jack
Trouble
Cat Size
Shot of Rhythm & Blues
Friday
Current availability:
Both titles: 2-on-1, BGO (UK)
Mellotrons used:
Detroit-bred Suzi, the rather unlikely sister of Michael (above), appeared on the scene at just the right time to be embraced by the burgeoning glam movement, although it's hard in retrospect to see what exactly was supposed to be 'glam' about her. That's not meant to be a slur; her low-slung bass, leather'n'more leather image and raw rock'n'roll should have received her more plaudits than being lumped in with a short-lived movement before being relegated to the endless '70s revival circuit. Her all-male band, including hubby guitarist Len Tuckey, provided a solid backing for the Chinn-Chapman (the Stock, Aitken and Waterman of their day) songs with which she had hits, along with many of their own numbers and a few well-chosen covers.
Suzi Quatro is a pretty solid debut, seven out of twelve tracks being Suzi's own material, although the standout track is Chinnichap's 48 Crash. The band are tight throughout, Alastair McKenzie's piano work adding that essential '50s vibe when required, also playing an interesting Mellotron strings part on Skin Tight Skin, an unusual, moody track, at odds with the rest of the album. Not exactly a classic, but not at all bad, considering the production-line values of the era. Not really worth it for the one Mellotron track, although it is different to anything much else you'll have heard utilising the instrument.
The follow-up, Quatro, sounds like a typical second album to me; only three self-penned numbers this time round and several really quite weak songs, particularly the Chinnichap opener, Wild One, which, er, isn't. Of the five non-Chinnichap covers, four of them have rather insipid arrangements, leaving Move It as the album's one standout track, neither Hit The Road Jack nor Little Richard's Keep A-Knockin' really being worth the price of entry. As with its predecessor, the album's sole Mellotron track, Savage Silk (there's a couple with real strings, too, including the dull Cat Size), is a bit of an oddity, opening with a Hammond swirl, before shifting into a gentle 12-bar, McKenzie's Mellotron strings coming in on the chorus, plus an interesting flutes part in the bridge. So, difficult to recommend the album, but one good track and one good Mellotron track. Hmmm.
Suzi's third album, the funky, horn-driven Your Mamma Won't Like Me (***) is a bit of an improvement over Quatro, but with a total dearth of any Mellotron involvement, is irrelevant here. So, her debut is OK, the follow-up less so, but two Mellotron tracks over two albums does not essential listening make. It's interesting to hear her album stuff, as against the usual run of hits, three of which aren't on any of these, strangely, including the immortal Can The Can and the even more immortal Devil Gate Drive. I'm glad to say, the last I heard, Suzi was still touring, although these days largely confined to the 'oldies' circuit, sadly.
Queen Elizabeth (UK)
Queen Elizabeth 2: Elizabeth Vagina (1997, 137.29) ***/T

Eisteddfod 69
Tal-y-Fan
Callanish
Airidh Nam Bideram
Hulavig
Cnoc Fillibhir Bheag
Cnoc Ceann a'Gharraidh
"Pa Dodens Trae vi Gror Som Nuets Blomster"
Temples of Ker
Kerlud
Pentre Ifan
Rock'n'Roll Station
Kenidjack
The Dianaver
Current availability:
Mellotron used:
Queen Elizabeth is one of the estimable Julian Cope's multifarious side-projects, this time alongside Spiritualized collaborator (well, we all have our crosses to bear) Thighpaulsandra. Their debut, '94's Queen Elizabeth's cover design features Thighpaulsandra surfing through space on a giant ARP 2600, possibly making it The Coolest Debut Album Sleeve Ever. Possibly. Cope discovered Mellotrons soon after and, by the time they recorded their follow-up, the stupendously-titled Elizabeth Vagina, had already used them extensively on two of his own albums.
Cope is credited with (amongst other things), 'Mellotrons (400 & Mark 2)' and 'Starchamber 1', the same piece of weird shit he used on his own Odin; a suitable comparison, in fact, as although the two albums are noticeably different, they have more in common with each other than anything much else Cope's recorded. Five tracks spread over two full-length CDs makes for some seriously lengthy material, although, unlike the single track on Odin, I doubt if this would be much use in meditation, being too fractured to aid concentration. There's a reasonable amount of sonic variety both between and within the pieces, Cope's bass and Thighpaulsandra's grand piano and Moog effects providing a much-needed focus amongst the drones, but prog it ain't; nor is it trying to be.
Mellotron: it could be strings producing the volume-pedalled notes at the beginning of Eisteddfod 69, but it's more likely to be guitar, or even French horn (credited for the track). Definitely Mellotron pipe organ on Tal-Y-Fan, after the initial percussion barrage, plus (presumably) MkII strings later on, but, surprisingly, that would appear to be that. Not quite the Mellotron-fest I'd been expecting, but there you go. Not an easy listen, either, but there's bound to be some of you who'll get off on this. Out of print for several years, it's been reissued with a new cover, milk floats obviously now being passé.
See: Julian Cope | Thighpaulsandra | Black Sheep | Brain Donor | L.A.M.F.
Queen Samantha (US)
Queen Samantha II [a.k.a. Queen Samantha 2] (1978, 34.43) **½/TT

Take a Chance
Sweet San Francisco
So Far Away
What's on Your Mind
Thank You for Your Love
The Look of Love
Current availability:
On The Collection (albeit out of sequence): Jonathan
Mellotron used:
Gloria "Queen Samantha" Brooks was a soul singer from Chicago, taken under his wing by the by-then Parisian-based Harris "Harry" Chalkitis (Demis Roussos), presumably content in the knowledge that nothing he subsequently produced could be as truly godawful as his eponymous 1975 solo effort. Samantha's first two albums are pretty much generic soul/disco, relatively benign on their own, deadly in company, although it's only the second, Queen Samantha II (or 2) which concerns us here. The material's pretty forgettable stuff - no disco 'classics' here - but relatively inoffensive as this kind of stuff goes.
Chalkitis played all the album's keyboards, including Mellotron, with upfront choirs on Take A Chance and more background ones on all other tracks, plus a tiny smattering of strings on So Far Away. This is a rare example on this site of an album where every (or nearly every) track contains some Mellotron, but the album as a whole contains very little; it certainly doesn't have enough presence to make it worth hearing for the casual listener, although fans of obscure disco could do a lot worse than to track this down.
See: Harris Chalkitis
Queens of the Stone Age (US) see: Samples etc.
Quella Vecchia Locanda (Italy)
Quella Vecchia Locanda (1972, 34.34) ****/TT

Prologo
Un Villaggio, un'Illusione
Realtà
Immagini Sfocate
Il Cieco
Dialogo
Verso la Locanda
Sogno, Risveglio e...
Current availability:
Mellotron used:
Quella Vecchia Locanda's self-titled debut is one of the early-'70s Italian scene's more celebrated albums and it isn't difficult to see why. Far more experimental than the likes of the rather lame The Trip, although less symphonic than, say, PFM, they carved out a little niche for themselves involving violin-led classically influenced material, much of it instrumental. The 'rock' end of their sound was heavily influenced, like many other Italian bands, by Jethro Tull, who don't seem to have been an influence anywhere else in the world, for some strange reason. None of the eight tracks are particularly long, but their structure and melodic motifs are rooted firmly in the classical tradition, making a mockery of much of what is considered 'progressive' today.
There isn't actually that much of Massimo Roselli's Mellotron work to be heard on Quella Vecchia Locanda, to be honest, most of the strings being provided by Donald Lax's endearingly out of tune violin playing, although there are definite Mellotron string parts on the three tracks highlighted above. Overall, despite the album's decided musical qualities, it's no Mellotron classic, although I've heard considerably worse use (back to The Trip again...). There's supposed to be Mellotron on their second (and last) release, Il Tempo Della Gioia (****½), but it's not credited and all I can hear is Lax's violin.
I Quelli (Italy)
7" (1967) ***½/TT

Tornare Bambino (Hole in My Shoe)
Questa Città Senza te (Even the Bad Times Are Good)
Current availability:
On I Grandi Successi Originali: BMG Ricordi
Mellotron used:
(I) Quelli were one of Italy's best-known beat groups of the late '60s, known chiefly these days for supplying musicians to several '70s outfits, not least PFM. They released around ten singles and an eponymous album between 1966 and 1970, mostly covers of British and American hits sung in Italian, the odd self-written number thrown in, although said album, 1969's Quelli, is largely a compilation of tracks from singles. All of their small catalogue now appears to be available on 2003's I Grandi Successi Originali, should you wish to hear it.

Amongst the more familiar of their covers are Lacrime E Pioggia (Aphrodites Child's Rain & Tears), Pensieri (The Nice's The Thoughts Of Emerlist Davjack), a cover of Deep Purple's cover of Hush and possibly their greatest remake, Tornare Bambino (literally, Become a Child Again), Traffic's Hole In My Shoe, complete with a little Italian girl saying something in the middle sounding remarkably like the girl on the original, but, er, in Italian. I wonder whether it's a direct translation? This seems to be the one obvious Mellotron track they recorded (also included on the Quelli LP); in fact, they're notable for being the first Italian band to use one. Rather than the pitchbent strings of the original, Chris Wood's flute parts are replaced by Mellotron here, to pleasing effect. I had originally quoted their final single, the stately Dietro Al Sole, as a Mellotron track, too, but the strings lurking behind the Hammond now sound rather more like... strings. Talking of covers, what is that guitar riff on Dietro Al Sole's flip, Quattro Pazzi? Might that be Led Zep's Heartbreaker? Hmmm?
See: PFM
Quick Step John (US) see: Samples etc.
Quicksand (UK)
Home is Where I Belong (1974, 40.43) ***/T½

Hideaway My Song
Sunlight Brings Shadows
Empty Street, Empty Heart
Overcome the Pattern/Flying
Time to Live
Home is Where I Belong
Seasons/Alpha Omega
Hiding it All
Current availability:
Mellotron used:
Quicksand are one of those bands about which little seems to be known; while the band members' names are easily found, what they played is another matter, although recent reissues make matters clearer. The rear sleeve of their sole album, Home is Where I Belong, actually has a band bio, along with a bucolic view of a classic Welsh valley, complete with a sheep, although it obviously neglects to give any useful instrumental information. Hailing from South Wales, the cover pic makes them look like a rare form of hippy miner, which vaguely describes the music herein. OK, it doesn't; they basically bordered prog without really immersing themselves wholeheartedly in the style, having much in common with other proto-prog outfits such as Cressida or Spring, albeit less interesting.
Hideaway My Song is typically uninteresting mid-'70s 'rock', although Sunlight Brings Shadows ups the ante a little by bringing in a faint Gentle Giant influence, would you believe. The rest of the album veers between boring and vaguely adventurous, although Quicksand were never really going to be front-runners. Robert Collins' Mellotron on three tracks, with small string parts on Sunlight Brings Shadows and Overcome The Pattern/Flying and more strings and brass on Seasons/Alpha Omega; no surprise that it was used on the longer, proggier tracks.
Quiet (US)
7" ( 1981) ***/T½

Telepathy 1
In Motion
Current availability:
Mellotron used:
Quiet were a short-lived quirky new-wave outfit featuring US prog-gods Cathedral's Tom Doncourt on keys. As far as I know, they only ever released the double-a side Telepathy 1/In Motion single, a reasonable enough effort in its genre, combining new wave and synth-pop influences, throwing in the occasional prog chord structure or guitar solo for good measure.
Doncourt plays Mellotron strings (the unusual M300a ones, via his M400, I believe) on both tracks, possibly doubled with synth ones; either way, they're not that overt, but definitely there. This probably only sold locally, making it now as obscure as you like, but, while worth hearing for fans of the era, it's not exactly a Mellotron classic. It is worth anthologising, however, but the chances of it actually being so are probably fairly slim.
See: Tom Doncourt
Quiet Evolution (Canada)
Quiet Evolution (2009, 44.14) **/T

Walk Thru Fire
Exhilaration
In This Play
Save Me
Let it Rain
Liars & Lovers
Innocent Child
Sacrifice
Your Sweet Love
Man on the Run
4 Walls
Current availability:
Mellotron used:
I can tell you remarkably little about Quiet Evolution, other than that they're a quartet from Edmonton, Alberta (I wonder if they know that their hometown is named after a particularly grotty part of north London? UK, not Ontario...). Their eponymous 2009 (sole?) release is a drippy piece of indie Americana, of the 'sounds like it's Christian, but don't think it is' variety, at its least tedious on energetic opener Walk Thru Fire.
Stew Kirkwood guests, playing upfront Mellotron strings on Liars & Lovers, sounding surprisingly real, thus, er, not quarantining the album in 'samples'. Much as I hate to kick independent artists while they're down (no, really), this is absolute schlock. Avoid.
Quiet Heroes (US)
Between Before & After (2002, recorded 1988-2002, 67.01) **½/T

Wickwire Road
Month of Mondays
American Dream
Strategy
New Things
All for You
Waterfields
Ducks on Your Fence
Tired of Your Love
Somewhere Near the End
Spiral Cloud
High on a Mountain
Age of Information
Cigarette
Follow You
Baby I'm Crazy
People in the Street
The Difference is the Differences (2014, 536.21) **½/T½

The Day Ahead
I Can't Wait
West Virginia Day
Sanctify Me
Police State
What Can I Say
The Twelfth Round
You Found Me
Look Where You Are
Month of Mondays
Mercy Never Comes
No Encore
The Difference is the Differences
Sunset
How Far it Goes
Current availability:
Mellotrons used:
Quiet Heroes have been around since the late '80s, 2002's Between Before & After being a compilation mostly consisting of material from their three, widely-spaced previous releases, adding three new tracks for good measure. As a result, it's a bit on the bitty side, at its best on the psychedelic Month Of Mondays, Waterfields and Cigarette and its, er, less best on the heavy(-ish), synth brass-driven Strategy and the rather dull Follow You. Neal Jay Hamilton plays clearly real Mellotron on two of the newly-recorded songs, with dirty strings and choppy choirs on Month Of Mondays and distant choirs on Follow You.
Twelve years later, the band released the relentlessly cheap-sounding The Difference is the Differences, a home recording if ever I heard one. OK, lo-fi has its place, but I'm not convinced it does Quiet Heroes' music any favours. Exhibit A: the clunky-as-fuck Police State. US indie, anyone? Someone (Hamilton again?) plays 'mellowtron', with string swells on Look Where You Are, strings on Mercy Never Comes and, for some odd reason, exactly the same version of Month Of Mondays as on Between Before & After.
Quill (US)
Sursum Corda (1977, 35.32) ***½/½

First Movement
Floating
Interlude
The March of Dreams
The March of Kings
Storming the Mountain
Princess of the Mountain
Storming the Mountain (Part II)
Second Movement
The Call
Timedrift
Earthsplit
The Black Wizard
Counterspell
The White Wizard
The Hunt
Rising
The Spell
Sumnation
Finale
Current availability:
Mellotron used:
By the time ELP-type trio Quill (not to be confused with the band that played Woodstock eight years earlier, or The Quill, or anyone else of the same name) released their sole album, they were already an anachronism, with their Wakeman-style capes, rather silly lyrics and side-long suites. However, given that it's all a bit derivative, Sursum Corda's a good little prog album, grandiose to the max, with plenty of Wakeman/Emerson keyboard work, several strong themes and good melodies, although they were obviously never destined for Happy the Man-style respect from progressive fans.
As you can see, the album is basically one long piece, mainman Ken de Loria playing all the keys, mostly Hammond and MiniMoog, although there's bits of piano (notably the Awaken-style intro), string synth and a tiny bit of Mellotron choir at the beginning of side two. This is a damn' good album for keyboard fans, but the Mellotron use is so far in the background that it took me several listens to discern it at all.
Quintessence (UK)
Dive Deep (1971, 42.09) ***/T½

Dive Deep
Dance for the One
Brahman
The Seer
Epitaph for Tomorrow
Sri Ram Chant
Current availability:
Mellotron used:
By 1971, I would imagine Quintessence were seen as an anachronism, harking back to the sound of several years earlier, with their sitars, tablas and other exotic instrumentation, by then largely discarded by the rock mainstream. Dive Deep was their third album, apparently carrying on in a similar vein to their first two, drone-laden ragas intersecting with the occasional burst of guitar-heavy prog (Epitaph For Tomorrow), although the bulk of the album sounds more like the soundtrack to a dodgy Indo-exploitation film of the early '70s, assuming such a thing exists. It's not a bad album, but hasn't dated well and does sound just a little too close to Indian restaurant music for comfort.
Uncredited Mellotron on two tracks, played by the inimitable Phil "Shiva Shankar" Jones, with some rather sparse strings on Dance For The One, followed by a brief flute part, despite the presence of the band's actual flautist and more strings on The Seer, though nothing that wasn't being done an awful lot more effectively by many other bands at the time. So; not bad, but inessential, unless you really crave a dose of the post-hippy underground at the turn of the '70s. Incidentally, there's a current version of the band in existence, called Shiva's Quintessence, who claim to have used a Mellotron on two albums, though whether or not it's real is another matter. I shall report back if I get to hear them.
Official Shiva's Quintessence site
See: Shiva's Quintessence
Les Quitriche (Germany) see: Samples etc.
---