Houses of the Holy (1973, 40.59/77.12) ***½/T½

The Song Remains the Same
The Rain Song
Over the Hills and Far Away
The Crunge
Dancing Days
D'yer Mak'er
No Quarter
The Ocean
[Expanded CD adds:
The Song Remains the Same (guitar overdub reference mix)
The Rain Song (mix minus piano)
Over the Hills and Far Away (guitar mix backing track)
The Crunge (rough mix - keys up)
Dancing Days (rough mix with vocal)
No Quarter (rough mix with JPJ keyboard overdubs - no vocal)
The Ocean (working mix)]
Physical Graffiti (1975, 84.27) ****½/T

Custard Pie
The Rover
In My Time of Dying
Houses of the Holy
Trampled Underfoot
Kashmir
In the Light
Bron-y-Aur
Down By the Seaside
Ten Years Gone
Night Flight
The Wanton Song
Boogie With Stu
Black Country Woman
Sick Again
The Song Remains the Same (1976, 99.44) ****½/TTT

Rock and Roll
Celebration Day
The Song Remains the Same
Rain Song
Dazed and Confused
No Quarter
Stairway to Heaven
Moby Dick
Whole Lotta Love
How the West Was Won (2003, recorded 1972, 150.17) ****½/T

LA Drone
Immigrant Song
Heartbreaker
Black Dog
Over the Hills and Far Away
Since I've Been Loving You
Stairway to Heaven
Going to California
That's the Way
Bron-yr-Aur Stomp
Dazed and Confused
What is and What Should Never Be
Dancing Days
Moby Dick
Whole Lotta Love
Rock and Roll
The Ocean
Bring it on Home
Current availability:
Mellotrons used:
Houses/Graffiti/Song: band's own M400
How: unknown M400 (?)
So what exactly are Led Zeppelin doing with their own page? They only ever used Mellotron on three tracks, as against the multiple album use by many artists, one of those being minimal. It's not even about the band's fame, although that helps. Basically, their minor Mellotron use is iconic, much in the way that The Beatles' is, not to mention a major misapprehension on the Mellotron front.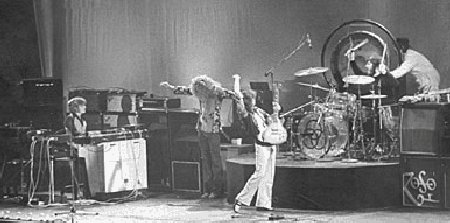 Led Zeppelin are the subject of the second most common misnomer in Mellotron folklore (the first is that they use tape loops. Mellotrons, not Led Zeppelin); when the 'typical' examples are trotted out, along with Strawberry Fields Forever and Nights In White Satin comes Stairway To Heaven. Wrong. Before you leap in saying "But I've seen a Mellotron on The Song Remains the Same", I'm not denying for a second that John Paul Jones used one on stage; this is common knowledge. However, it's the studio track that is being referred to and I'm afraid there's no sign of any Mellotronic activity on Zep's most famous song. A close listen will confirm that, while flute-like, it's definitely not the Mellotron flute as in Strawberry Fields. In fact, we're hearing Jones' multitracked recorders, although one fairly definitive book on Zeppelin has it that it's actually ocarinas; you know, the small, roundish earthenware things with the holes in them. Think: the weird flutey solo in the Troggs' 'Wild Thing'. However, recorders it is.
When the song was first aired live, it apparently produced no particular reaction from audiences; it had yet to achieve the iconic status it would gain over subsequent years. John Paul Jones' keyboard arsenal in 1971 consisted of a Hammond and a Fender Rhodes only, so the 'flutes' were faked with a reedy organ patch, as Genesis would do in 1973, lacking flutes on their M400 tape frame. By Zeppelin's 1972 Japanese tour, a Mellotron M400 had been added to the rig; there are bootlegs in circulation featuring a 'Mellotron solo' (see below).
Their first studio use of the instrument occurs on '73's Houses of the Holy, which I'm afraid I don't personally rate as highly as its predecessors, although I know that view could be considered heresy in some quarters. The most overt Mellotron use in the Zep catalogue, the studio version of The Rain Song actually borders on lounge music in places; rather cheesy chord voicings, particularly on the guitar, with the orchestrated Mellotron part exacerbating the problem. For all that, the orchestration is second to none, block chords banned outright; Jones' background as a orchestral arranger is very apparent here. This made lugging a Mellotron around the world's stages slightly more cost-effective; two songs instead of one! This may, in retrospect, seem slightly extravagant, but by this time Zeppelin were playing some of the biggest indoor venues in the world and one piece of equipment more or less was obviously fairly insignificant. 2014's two-disc remastered version of the album adds a near-complete 'Alternate Houses', including a 'mix minus piano' version of The Rain Song, almost identical to the album version, merely losing Jones' lounge bar ivory tinkling. Hurrah! Unsurprisingly, it sounds like exactly the same Mellotron arrangement (i.e. exactly the same recording), but I've included it here for the sake of completeness. New standard version, anyone?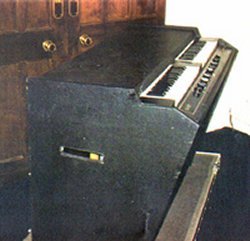 On 1975's Physical Graffiti, the legendary Kashmir provides Zep's last (studio) recorded example of Mellotron. Actually, it's rather hard to say just how much of the song contains The Beast, as Jones has admitted that, "A lot of the strings were real" (not to mention the brass); a cursory listen will reveal violin glissandos impossible on a Mellotron. The "All I see turns to brown" section is definitely Mellotron playing the violin melody, but that may be it. Once more, the instrument was used to recreate the parts live, the cello part originally played (rather unsatisfactorily) on a Clavinet. It's a distinct possibility that Jones' third sound on his tapeframe was the string section, which would be ideal for Kashmir; despite the short keyboard, there's enough sonic range to cover all the parts. There is no official recording of the track live, but there are any number of bootleg versions available from the '75 and aborted '77 tours. I've heard a report of one boot where the Mellotron can be heard breaking down mid-song; after a dreadful clunking noise, possibly from Jones hitting the machine (!) he carries on playing both parts on the clavinet. By 1977, Jones was using Jimmy Page's twin-keyboard prototype MkV (right), although it's difficult to work out what advantage this gave him (see: bootlegs, below). 'Kashmir' sounds like it might have two parts running at once, but without a top-quality official recording it's rather hard to tell. The bass parts are probably bass pedals; Jones used various types over the years, although some variety of bass sound on the left-hand manual isn't inconceivable.
In late 1976, Zep released The Song Remains the Same, recorded on their 1973 US tour, or, to give it its full title; Soundtrack From the Film The Song Remains the Same, although it only really approximates that description. Many Zeppelin fans dislike this, the band's only official live album until the late-'90s release of BBC Sessions (****½). Zep were exhausted at the end of their long 1973 US jaunt and all concerned admit that their playing wasn't up to its usual standard. Nonetheless, Zeppelin on an off night still crap on most bands and I reckon this album can still hold its own, at least until the band delve into their archives and give the fans what they want. [Note: in 2007, they released expanded versions of both film and album, though, of course, no more Mellotron].
Zep's Mellotron use in the studio had been pretty minimal; its real forte, though, was on stage, where JPJ couldn't call on string sections or a phalanx of recorder players. This is probably where the 'Mellotron on Stairway' rumours started; there is, of course, Mellotron flute at the beginning of Stairway To Heaven on this album. There just isn't on the studio version. The Rain Song is the other Mellotron track here; removed from its studio setting, it becomes a real tour de force, the strummed acoustic guitar replaced by picked electric, the Mellotron arrangement finally making sense. Both songs feature Jones' superb orchestral arranging skills to the point where, as a callow fourteen year-old, I was convinced on my first hearing of this album that there were real string and woodwind sections secreted away at the side of the stage. One viewing of the film later I discovered the (not so) awful truth.
By 1979, Jones was using a new Yamaha super-synth, the GX1, allegedly sonic precursor to '80s über-synth, the DX7, although other reports have it that it's actually a monstrous prototype for the CS80, now regarded as a classic analogue polysynth. This seems rather more likely, as the GX1 actually predates the CS80 and was released six or more years before the DX; several lifetimes in the synth world at the time. This behemoth had three manuals and a pedalboard; at most, around a hundred were ever made. How many survive is a rather moot point; Keith Emerson's was reportedly destroyed in an accident at his studio involving a runaway truck! This was obviously the end of the road for Jones' Mellotron. An interview quote from a few years later had him saying something along the lines of "I must take it out into the middle of a field one day and burn it". Hopefully he never carried out his threat, unlike another famous Mellotronist, who shall remain nameless (although it was actually Rick Wakeman). To this day, rather like Tony Banks, Jones refuses to talk about the Mellotron; using one for so long obviously left deep emotional scars.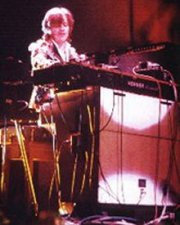 Access to modern samplers leads the average younger player to tend to forget the Mellotron was once the only way of even approximating orchestral sounds live. Playing them onstage could be an absolute nightmare, as it's never been ideally suited to stage use, especially with the minimal maintenance they often got on the road. While some keyboardists used them for their own sound, many, including Jones, used them purely to approximate acoustic instruments and, as soon as they found an easier way to achieve the same ends, it was bye-bye Mellotron time.
At long, long last, after over two decades' wait, Jimmy Page finally opened up the archives in 2003, releasing the 5½ hour DVD, er, DVD, plus the triple-live How the West Was Won, taken from two nights in LA in June '72. No lengthy sleevenotes, no 'bonus tracks', just three hours of Zeppelin at their coruscating best, the only disappointment being that it's a snapshot of the band at only one point in their development, but I suppose that's where the DVD comes into its own. However, the only live version of Kashmir on either release is on DVD, from Knebworth '79, although there's some great closeup Mellotron action on Stairway from Earl's Court '75, also featuring a different arrangement to that on The Song Remains.
As far as the CD set's concerned, the only Mellotron is another version of Stairway, with an arrangement very similar to the one already available, but the album's an absolute gem, so I can't say it matters that much. However... Zep scholars will have already noted that JPJ didn't start using a Mellotron live until the autumn of that year, using a muted Hammond patch up until that point. So, howcum we hear a nice clear Mellotron flute part several months earlier? Eddie Edwards at the now-defunct The Garden Tapes thinks it could be taken from a completely different performance, possibly from the following year [note: Wikipedia says Southampton '73]. His excellent site nailed down the multiple edits used on most live Zeppelin, both audio and video, going as far back as The Song Remains..., so it would be no surprise at all to discover that Mr Page had craftily inserted a Mellotron part from a completely different tour.
I reckon Zeppelin never made a genuinely bad record, although In Through the Out Door (***) had some decidedly ropey moments. If you like what they do, buy both Houses and Graffiti, though the latter not especially for its Mellotron, plus the magnificent How the West Was Won. At risk of upsetting some people, I would also unreservedly recommend The Song Remains the Same, although many would say avoid. Two Mellotron classics on one album? How can you go wrong?
IV (1971, 42.41) ****½
As outlined above, Stairway To Heaven is probably the most famous 'mistaken Mellotron sighting' ever; just for the record, no, that isn't a Mellotron on the intro, but John Paul Jones' multitracked recorders. It doesn't actually sound like a Mellotron at all, if you give it another listen; far too reedy, without the trademark 'warble' of the Mellotron flutes. Of course, just to heavily confuse the issue, after early live performances where Jones used a reedy Hammond patch, the intro was performed on Mellotron flutes between late '72 and '77, as you can hear on The Song Remains the Same, recorded in '73. So that sorts that one out, then. As for the rest of the album; well, it's superb, with not a duff track in sight. Most of the material sounded better live (to my ears), but it's difficult to knock even the slightly lesser-known stuff like Misty Mountain Hop or Four Sticks, let alone side one's quartet of classics and mighty closer When The Levee Breaks, allegedly the most sampled drum intro ever. A classic, though not for anything to do with Mellotrons.
Kokaido Hall, Nagoya, Japan, 5th October 1972 (124.37) ****½/TTT

Rock & Roll
Black Dog
Misty Mountain Hop
Since I've Been Loving You
Dancing Days
Bron-y-Aur Stomp
The Song Remains the Same
The Rain Song
Dazed and Confused
Stairway to Heaven
Whole Lotta Love
Sakura, Sakura
Thank You
Arabesque & Baroque: Earl's Court, London, 24th May 1975 (207.37) ****½/TT

Rock & Roll
Sick Again
Over the Hills & Far Away
In My Time of Dying
The Song Remains the Same
The Rain Song
Kashmir
No Quarter
Tangerine
Going to California
That's the Way
Bron-y-Aur Stomp
Trampled Underfoot
Moby Dick
Dazed and Confused
Stairway to Heaven
Whole Lotta Love
Black Dog
Destroyer: Richfield Coliseum, Cleveland, Ohio, 27th April 1977 (159.18) ****½/T½

The Song Remains the Same
Sick Again
Nobody's Fault But Mine
In My Time of Dying
Since I've Been Loving You
No Quarter
Ten Years Gone
Battle of Evermore
Going to California
Black Country Woman
Bron-y-Aur Stomp
White Summer/Black Mountain Side
Kashmir
Out on the Tiles/Moby Dick
Guitar solo
Achilles' Last Stand
Stairway to Heaven
Rock & Roll
Trampled Underfoot
Mellotrons used:
'72-'75: band's own M400
'77: band's own prototype MkV
Led Zep are, of course, known for one of the major cases of Mellotronic mistaken identity, with the oft-quoted nonsense that Stairway To Heaven features Mellotron flutes on the intro. Live, yes; studio, no. In fact, Zeppelin only ever (officially) used the mighty Mellotron on three tracks and only one of those (The Rain Song) has much studio version presence. They toured their Mellotron (originally an M400, then a prototype MkV) over four years: (late) 1972, '73, '75 and '77; '73's tracks are ably covered by the official The Song Remains the Same, leaving three tours unaccounted for officially, which is where your friendly local bootleg dealer steps in.
It seems that John Paul Jones bought his Mellotron some time in 1972, first using it on Zep's short Japanese tour that October, although it's possible it first turned up in the States the previous June. Their set included a handful of new songs that would be unveiled the following year on Houses of the Holy, notably The Overture (also known at some point as The Campaign, finally titled The Song Remains The Same), The Rain Song and the jaunty Dancing Days (listen out for Pagey tuning to double drop D). Other highlights include a ripping Since I've Been Loving You and a typically lengthy Dazed And Confused, clearly containing an excerpt from a fourth, er, forthcoming Houses... track, The Crunge.
Of course, JPJ uses the Mellotron on The Rain Song (given its ubiquity in the song, I presume this tour was its first outing) and Stairway To Heaven, replacing the flutey Hammond patch used previously on the intro, although, as far as I can ascertain, their set in Nagoya on October 5th was the only night he played a well-known Japanese folk tune, Sakura, Sakura, as part of a Mellotron improvisation, shifting between string, flute and cello parts, lodging the selector between violins and cellos at one point. Beautifully, he carries on playing it throughout Thank You, shifting between string and flutes again, with a brief burst of cellos at the end. Did he use it on Thank You on the rare occasions it was played both before and after this short tour (US, summer, UK, winter)? Unknown, but at least we have a decent recording of this Mellotronic rarity.
Zep's 1975 Physical Graffiti tour featured all three of their 'regular' Mellotron tracks, making a good boot from this tour an obvious candidate for inclusion here. I've had to choose between the last two of their five nights at London's Earl's Court in May; the 24th features a slightly shorter set (two encore tracks missing), but better sound generally, despite a few tape wobblies. The band were at the height of their powers at this point, regularly playing a new segue, opener Rock & Roll morphing into the brand new Sick Again, plus another three newies, In My Time Of Dying, a lengthy Trampled Underfoot and, of course, the mighty Kashmir on its first outing. Aside from an acoustic segment halfway through, the rest of the set reads like an edited version of 1973, notable losses including Celebration Day, Misty Mountain Hop and Since I've Been Loving You. Although two hundred minutes would easily fit on three discs, exactly the same problem rears its ugly head as on the official How the West Was Won: Moby Dick. On its own on twenty six-minute disc three here (a small chunk appears to be missing), it would clearly be difficult-to-impossible to fit the entire set onto three discs without messing with the running order, so four it is.
Mellotron: we get the standard string part on The Rain Song and strings all the way through Kashmir, doing a decent job, all things considered, of covering for the studio version's real string section, while JPJ plays a slightly different flute arrangement on Stairway than on the studio version and previous tours. Zep were absolutely on fire at this point in their career, making a '75 boot a must for serious fans; see it as an addition to the handful of tracks officially released in video form on DVD.
The most famous (and quite possibly the best) '77 tour boot is the soundboard-sourced 4LP/3CD-Destroyer, from Cleveland's Richfield Coliseum on 27th April, not to be confused with the audience recording, The Destroyer, from the following night (couldn't make this stuff up, could you?). Given its source, it sounds fantastic, even if opener The Song Remains The Same cuts in halfway through (whad'ya expect? It's (or should be) free!), with near-as-dammit pristine sound throughout; an unintended bonus of Zep playing such big gigs by this time is that soundboard recordings give us everything, not just the stuff that isn't properly amplified onstage, since everything has to go through the PA at full whack. Set highlights include the two Presence pieces, Nobody's Fault But Mine and the epic Achilles' Last Stand, a reinstated Since I've Been Loving You and Physical Graffiti's superb Ten Years Gone, added since touring that album and held over for some of their handful of dates in '79.
Only two Mellotron tracks on this tour, but, given that JPJ was using a prototype twin-manual MkV, he shows off his new acquisition on Kashmir, doubling brass and strings in the 'chorus', while Stairway does its usual flute thing. Given that this must be one of the easiest-to-find Zep boots, you really have no excuse for not tracking a copy down. Properly jaw-dropping. Given that there are something in the region of four hundred (!) Zep boots, only the very, very determined (and not a little nutty) are going to attempt to track 'em all down, or even a sizeable percentage. As with a lot of top bands, the rest of us only really need a handful, one or two from each tour at most, given that, like so many outfits, Zep's setlists became more stratified as their career progressed. Although there are several other 'must-have' titles (Blueberry Hill and Bonzo's Birthday Party spring to mind), these three are not only all top recordings, but will, along with The Song Remains the Same, complete your 'Zeppelin: the Mellotron Years' set with aplomb.
See: Jimmy Page | Jimmy Page & Robert Plant | Robert Plant & Alison Krauss
---