7" (1967) **½/TT

Leave This Man Alone
Love & Beauty
Days of Future Passed (1967, 41.34/98.31) ****/TTTT (TTTTT)

The Day Begins
Dawn: Dawn is a Feeling
The Morning: Another Morning
Lunch Break: Peak Hour
The Afternoon
Forever Afternoon (Tuesday?)
Time To Get Away
Evening
The Sun Set
Twilight Time
The Night: Nights In White Satin
[SACD adds:
Tuesday Afternoon (alternate)
Dawn is a Feeling (alternate)
The Sun Set (alternate)
Twilight Time (alternate)
Nights in White Satin (mono)
Fly Me High (mono)
I Really Haven't Got the Time (mono)
Love and Beauty (mono)
Leave This Man Alone (mono)
Cities (mono)
Long Summer Days
Please Think About it
Don't Let Me Be Misunderstood (BBC)
Love and Beauty (BBC)
Leave This Man Alone (BBC)
Peak Hour (BBC)
Nights in White Satin (BBC)
Fly Me High (BBC)
Twilight Time (BBC)]
In Search of the Lost Chord (1968, 42.12/95.30) ***½/TTTT (TTTTT)

Departure
Ride My See-Saw
Dr. Livingstone, I Presume
House of Four Doors
Legend of a Mind
House of Four Doors (Part 2)
Voices in the Sky
The Best Way to Travel
Visions of Paradise
The Actor
The Word
Om
[SACD adds:
Departure (alternate)
The Best Way to Travel (alternate)
Legend of a Mind (alternate)
Visions of Paradise (instrumental)
What am I Doing Here? (original)
The Word (Mellotron mix)
Om (extended)
A Simple Game (Justin Hayward vocal)
King and Queen
Dr. Livingstone, I Presume (BBC)
Voices in the Sky (BBC)
Thinking is the Best Way to Travel (BBC)
Ride My See-Saw (BBC)
Tuesday Afternoon (BBC)
A Simple Game]
7" (1968) ***/TT

Ride My See-Saw
A Simple Game
On the Threshold of a Dream (1969, 37.02/68.07) ***½/TTTT (TTTTT)

In the Beginning
Lovely to See You
Dear Diary
Send Me No Wine
To Share Our Love
So Deep Within You
Never Comes the Day
Lazy Day
Are You Sitting Comfortably
The Dream
Have You Heard? (i)
The Voyage
Have You Heard? (ii)
[SACD adds:
In the Beginning (full)
So Deep Within You (extended)
Dear Diary (alternate)
Have You Heard (original)
The Voyage (original)
Lovely to See You (BBC)
Send Me No Wine (BBC)
So Deep Within You (BBC)
Are You Sitting Comfortably (mono)]
To Our Childrens' Childrens' Children (1969, 40.16/83.02) ***½/TTTT (TTTTT)

Higher and Higher
Eyes of a Child, Part 1
Floating
Eyes of a Child, Part 2
I Never Thought I'd Live to Be a Hundred
Beyond
Out and in
Gypsy
Eternity Road
Candle of Life
Sun is Still Shining
I Never Thought I'd Live to Be a Million
Watching and Waiting
[SACD adds:
Gypsy (alternate)
Candle of Life (alternate)
Sun is Still Shining (extended)
Gypsy (BBC)
Sunset (BBC)
Never Comes the Day (BBC)
Are You Sitting Comfortably (BBC)
The Dream (BBC)
Have You Heard/The Voyage/Have You
Heard (BBC)
Nights in White Satin (BBC)
Legend of a Mind (BBC)]
A Question of Balance (1970, 38.39/64.03) ****/TTT½

Question
How is it (We Are Here)
And the Tide Rushes in
Don't You Feel Small
Tortoise and the Hare
It's Up to You
Minstrel's Song
Dawning is the Day
Melancholy Man
The Balance
[SACD adds:
Mike's Number One
Question (alternate)
Minstrel's Song (original)
It's Up to You (original)
Don't You Feel Small (original)
Dawning is the Day (full original)]
Every Good Boy Deserves Favour (1971, 40.08/48.33) ***½/TTTT

Procession
The Story in Your Eyes
Our Guessing Game
Emily's Song
After You Came
One More Time to Live
Nice to Be Here
You Can Never Go Home
My Song
[SACD adds:
The Story in Your Eyes (original)
The Dreamer]
Seventh Sojourn (1972, 39.30/63.28) ***/TTTT½ (TTTTT)

Lost in a Lost World
New Horizons
For My Lady
Isn't Life Strange
You and Me
The Land of Make-Believe
When You're a Free Man
I'm Just a Singer (in a Rock and Roll Band)
[SACD adds:
Isn't Life Strange (original)
You and Me (backing track)
Lost in a Lost World (instrumental demo)
Island]
Caught Live + 5 (1977, recorded 1967-69, 75.48) ****/TTTTT

Gypsy
The Sun Set
Dr. Livingstone, I Presume
Never Comes the Day
Peak Hour
Tuesday Afternoon
Are You Sitting Comfortably
The Dream
Have You Heard (Pt. 1)
The Voyage
Have You Heard (Pt. 2)
Nights in White Satin
Legend of a Mind
Ride My See-Saw
Gimme a Little Somethin'
Please Think About it
Long Summer Days
King and Queen
What am I Doing Here
Octave (1978, 45.50) **½/½ (TT)

Steppin' in a Slide Zone
Under Moonshine
Had to Fall in Love
I'll Be Level With You
Driftwood
Top Rank Suite
I'm Your Man
Survival
One Step Into the Light
The Day We Meet Again
[Remastered CD adds:
Steppin' in a Slide Zone (live)
I'm Your Man (live)
Top Rank Suite (live)
Driftwood (live)
The Day We Meet Again (live)]
Long Distance Voyager (1981, 46.51) **½/T

The Voice
Talking Out of Turn
Gemini Dream
In My World
Meanwhile
22,000 Days
Nervous
Painted Smile
Reflective Smile
Veteran Cosmic Rocker
The Present (1983, 42.03) **/½

Blue World
Meet Me Halfway
Sitting at the Wheel
Going Nowhere
Hole in the World
Under My Feet
It's Cold Outside of Your Heart
Running Water
I am
Sorry
Prelude (1987, recorded 1967-69, 36.59) ***/TT½

Fly Me High
I Really Haven't Got the Time
Leave This Man Alone
Love and Beauty
Cities
A Simple Game
Gimme a Little Somethin'
Please Think About it
Long Summer Days
King and Queen
What am I Doing Here
Late Lament
Live at the BBC 1967-1970 (2007, 133.17) ****/TTTT½

Fly Me High
Don't Let Me Be Misunderstood
Love and Beauty
Leave This Man Alone
Peak Hour
Nights in White Satin
Fly Me High
Twilight Time (Evening)
Dr. Livingstone, I Presume
Voices in the Sky
Ride My See-Saw
Best Way to Travel
Voices in the Sky
Dr. Livingstone, I Presume
Peak Hour
Tuesday Afternoon
Ride My See-Saw
Lovely to See You
Never Comes the Day
To Share Our Love
Send Me No Wine
So Deep Within You
Lovely to See You
Nights in White Satin
Morning Another Morning
Ride My See Saw
Dr. Livingstone, I Presume
House of Four Doors
Voices in the Sky
Best Way to Travel
Visions of Paradise
Actor
Gypsy
Sunset
Never Comes the Day
Are You Sitting Comfortably
Poem (the Dream)
Have You Heard
Nights in White Satin
Legend of a Mind
Question
Live at the Isle of Wight Festival 1970 (2008, 64.04) ***½/TTT½

Gypsy
The Sun Set
Tuesday Afternoon
Minstrel's Song
Never Comes the Day
Tortoise and the Hare
Question
Melancholy Man
Are You Sitting Comfortably
The Dream
Have You Heard (parts 1 & 2)
Nights in White Satin
Legend of a Mind
Ride My See Saw
Timeless Flight, disc 7: Blue Jays, Lancaster University, 1975 (2013, 66.13) ***½/TT½

Tuesday Afternoon
You and Me
My Brother
Isn't Life Strange
Who Are You Now
New Horizons
Emily's Song
I Dreamed Last Night
Nights in White Satin
I'm Just a Singer (in a Rock and Roll Band)
Blue Guitar
When You Wake Up
Question
Timeless Flight, disc 8: Seattle Coliseum, 1979 (2013, 76.29) ***/TTTT

Steppin' in a Slide Zone
Twilight Time
The Day We Meet Again
The Story in Your Eyes
I'm Your Man
Driftwood
I'll Be Level With You
Gypsy
Survival
The Balance
Nights in White Satin
Legend of a Mind
Question
Ride My See Saw
Timeless Flight, discs 9 & 10: Inglewood Forum, 1983 (2013, 110.14) ***/TTT½

Sitting at the Wheel
Gemini Dream
Tuesday Afternoon
The Voice
Steppin' in a Slide Zone
The Story in Your Eyes
Hole in the World/Under My Feet
Painted Smile/Reflective Smile
Veteran Cosmic Rocker
Driftwood
Talking Out of Turn
Running Water
Gypsy
Isn't Life Strange
Blue World
I'm Just a Singer (in a Rock and Roll Band)
Nights in White Satin
Legend of a Mind
Question
Ride My See Saw
Things Go Better With Coke: Sixties Coca-Cola Commercials, 1965-69 (1996) ***/TT

[The Moodies contribute]
The Moody Blues #1
The Moody Blues #2
The Moody Blues #3
Current availability:
Days/In Search/Threshold/Question/Caught: Deram
To Our/Every/Sojourn/Long: Threshold
Octave/BBC: Decca
Present/Prelude: Universal
Wight: Pinnacle
Things: Distortions
Timeless: Commercial Marketing
Mellotrons used:
Days - Question/Caught/Prelude/BBC/Wight: band's own MkII
Every: band's own MkII/M300 (?)
Seventh: band's own MkII/Chamberlin (M1?)
Octave: band's own MkII/Moraz' M400 (?)
Long/Present: Moraz' MkV/M400 (?)
Timeless: band's own MkII/unknown/Moraz' MkV/M400
How is it, precisely, that certain songs can make you feel nostalgic for something you've never known? Procol Harum's A Whiter Shade Of Pale does it and so does the Moodies' greatest moment, Nights In White Satin from Days of Future Passed. Both songs evoke 1967 effortlessly, although I can barely remember the year at all (I'm old, but not that old) and certainly can't remember these songs from the time. The Moodies actually first used their Mellotron (famously purchased from a Birmingham-area social club who didn't really understand what they'd bought) on a b-side, Love And Beauty, the flip to a single that crossed over between their earlier, beat style and their new psychedelic era. Leave This Man Alone's a terribly ordinary ditty, if truth be told, although Love And Beauty presages their future direction perfectly, Mellotron strings to the fore. Both tracks gained a wider audience on the 1987 Prelude compilation, incidentally.
Days was actually the Moodies' second album, after their typical mid-'60s beat boom debut, The Magnificent Moodies (1965), released while Denny Laine, later of Wings, still fronted the band. After some major lineup changes and a few unsuccessful singles, the band were asked by Deram if they'd collaborate with conductor/arranger Peter Knight on a band/orchestra rendition of Dvorâk's New World Symphony. Once in the studio, the band persuaded Knight to let them record their own compositions with the orchestra, the end result being Days of Future Passed. All these years later, the orchestral arrangements sound irredeemably cheesy, to be honest, although the album still has many, many adherents; to be fair, much of the material still stands up, albeit in a rather dated way. As you can see, the 'concept' (such as it is) of the album is a 'day in the life' kind of thing, although most of the tracks have ended up being known by their 'proper' titles, rather than Dawn, Lunch Break etc. It's notable for being the first major Mellotron Album, keyboardist Mike Pinder going all out on the instrument (allegedly helped by both guitarist Justin Hayward and bassist John Lodge), despite the orchestra's involvement. It's sometimes difficult to spot what's Mellotron and what's not, but I'll do my best. Incidentally, as an ex-employee of Streetly Electronics (Mellotron manufacturers, of course), Pinder was well-versed in the technical side of the machines, replacing the 'accompaniment' tapes in the left-hand manual of his MkII with a second set of 'lead' tapes, making the machine far more versatile for live use. Listening to this, I keep thinking how much better it would've been without the orchestral stuff (the intro to Peak Hour is a particularly bad example), but then, it may never have been recorded, so we'll have to live with it.
The Day Begins is all orchestral (you can hear the Nights In White Satin theme's first use here), with a spoken-word piece over the top, but Dawn Is A Feeling has Mellotron strings under the verses, while Another Morning has a solo trumpet part that must be Mellotronic. Peak Hour features the rarely-heard Mellotron Hammond (actually a Lowrey, I believe), while the track that has come to be known as Tuesday Afternoon sounds like the brass/strings mix later made famous by Genesis on Watcher Of The Skies, albeit minus the Leslie. Or the sheer welly. The tenor sax tapes are allegedly used here, too, but it's difficult to tell without knowing the sound that well. I don't know if the orchestral interlude is Time To Get Away, but Evening has Pinder on both strings and an indefinable woodwind sound, before the album's denouement, Nights In White Satin. Love it or loathe it, it absolutely defines a period in musical history, as much as Strawberry Fields or the aforementioned A Whiter Shade Of Pale. Smoother than a smooth thing, it manages to be both of its time and timeless. Huh? No, I dunno either, but it works, although I'm not entirely convinced by the album's second spoken-word piece following it. For the two people out there who've never heard the song, if features much string and brass from the Mellotron, before the orchestra's reintroduction at the end; something of a reverb-drenched classic. Dated or not, Days is essential listening for anyone interested in the Mellotron's history.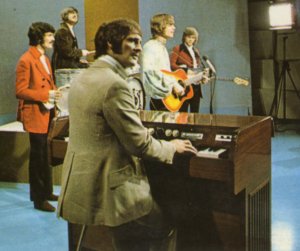 By In Search of the Lost Chord the following year, the orchestra had been (thankfully) ditched, leaving all the orchestrations to Pinder's mighty MkII, although, unusually, the sleeve has specific instrumental credits, telling us that Hayward helps out on the Mellotron front again. The music seems more straightforward than on Days, but that could just be due to the lack of terrible orchestral flourishes; there are certainly many more tracks, most of which adhere to the three-minute-or-under rule expected of pop groups of the day. This might be a good place to comment on whether or not the Moodies were ever 'progressive rock'. My personal view is that they might've been progressive pop, but rock? They never moved into genuine large-scale composition, à la Crimson, Yes et al., although they did segue numbers together, but then so did The Beatles and no-one ever calls them prog. Or do they? Side two of Abbey Road certainly isn't... Anyway, there's Mellotron on practically every track here, apart from the 'experimental' intro, Departure, Mellotronic highlights including the string-drenched House Of Four Doors, the pitchbent strings on the Timothy Leary tribute, Legend Of A Mind and some fantastically accurate pitchbent Mellotron organ at the beginning of The Best Way To Travel. I wouldn't swear to it, but I reckon a couple of the tracks on side two have Pinder's Mellotron flutes underpinning Ray Thomas' real one, but I could be mistaken. Incidentally, are those half-speed strings on Om? Anyway, another Mellotronfest, with more to come. Incidentally, Ride My See-Saw's b-side, A Simple Game (easily good enough to've made the album, actually) has a smattering of Mellotron strings; find it on the Prelude compilation.
On the Threshold of a Dream starts with another 'conceptual' intro, along the 'omnipotent computer' lines, after which they settle into business as usual. I have to say, Pinder's Mellotron playing is exceptional; rarely have I heard a player manipulate the instrument with such mastery. Send Me No Wine's pitchbends are, again, spot on and his reverbed pitch-shifting on The Dream has rarely been bettered. There seems to be a little less Mellotron on the album overall and with real organ on Lazy Day, the only Mellotron is some string chords way down in the mix, if it's actually there at all. The best is kept for last, though, with more of that superb pitchbend work (strings and brass) on Have You Heard (i), segueing through the excellent piano-led The Voyage and on to part two (the cellos are real, incidentally). The last few tracks make the album worth buying for the Mellotron fan and are some of the band's best work, too.
The Moodies kept up their incredibly heavy workload (although typical for the time) with their second album of '69, To Our Childrens' Childrens' Children, also the first release on their own label, Threshold; I believe they were the first band to have their own vanity label, before the Stones' Rolling Stones Records or Jefferson Airplane's Grunt. Musically, there's little change, although there seems to be slightly less Mellotron this time, particularly on side one (thanks to Johannes for pointing out the pitchbent Mellotron vibes on Floating). Saying that, the instrumental Beyond has what sounds like heavily detuned strings, although, without any credits, it's hard to say, while Pinder really goes for it on Out And In. Side two's back to normal, shedloads of strings on all tracks, with more of that gorgeous pitchbending on I Never Thought I'd Live To Be A Million. According to one report, Pinder plays an M300 on Watching And Waiting; it sounds different to his MkII, but it's hard to tell.
A Question of Balance features what, to my ears, is their best songwriting since Days of Future Passed, three years earlier, although I'm less convinced by the lyrics, still stuck in 1967. Maybe that's the point. Anyway, it opens with the high-octane Question, complete with McCartney-style bassline and a powerful strings/brass Mellotron part, before How Is It (We Are Here)'s strings and flutes, not to mention what I believe is the first appearance of a synth on a Moodies album. Don't You Feel Small only has a couple of notes, but all the other highlighted tracks above have plenty of Mellotron stuff, mostly strings, with pretty upfront brass on The Balance. Shame there's none on the really rather good Melancholy Man; probably the album's best track, along with Question. Every Good Boy Deserves Favour (derived from a mnemonic for remembering the notes on the stave - E/G/B/D/F) improves again on the songwriting front, the powerful The Story In Your Eyes getting things off to an excellent start, after by-now typical effect-laden opener, Procession. After You Came rocks quite nicely, although I feel the album would've been improved by taking the master tape for Nice To Be Here and burning it. Mellotron pretty much throughout, excepting After You Came, the usual strings and brass parts, with the odd flute chord here and there. My Song has another of Pinder's half-speed string parts, meaning, of course, that he can hold the notes twice as long (a trick also performed by England's Robert Webb). Actually, My Song is something of an epic, track lengths increasing across the board; this one almost strays into genuine prog territory, Mellotron strings an' all.
Seventh Sojourn was their last album before the band took an extended break, missing most of the '70s in the process. Allegedly, there's next to no actual Mellotron on the album, as Pinder had bought a Chamberlin in the States; he apparently couldn't get the station selector on his MkII to work properly live and wanted more than six sounds to play with. Another story has it that they were sick of the Mellotron's 'thin' sound (!!) and thought the Chamby was fatter. I mean, how fat do you want? I personally feel that the Moodies took a backwards step on Seventh Sojourn, or maybe it was the first definite move towards the style that would envelop them after their five years off. Basically, it's bland. They were never the most exciting of bands in the first place (in my humble opinion, of course), but several tracks here head quite determinedly for the middle of the road, not least New Horizons, which sounds like it should have a cheesy string section on it rather than Chamby strings. Mind you, the album finishes on a high note with I'm Just A Singer (In A Rock And Roll Band) which powers along very nicely, with shitloads of MkII, including strings, brass and some nice flute arpeggios. Every track on the album has some sort of tape replay on it, so it gets the best T rating yet, but sadly, the worst *.
Nearly five years after their split/lengthy break, Caught Live + 5 appeared in '77, three sides sourced from a Royal Albert Hall concert from December '69 and one of previously-unreleased tracks from '67 and '68, also found on Prelude. The live material is surprisingly raw, with, for better or for worse, a very live sound, possibly why it wasn't released at the time; the songs leap out at the listener in a way their studio counterparts could only dream of, Pinder's MkII very much to the fore, although it's woefully out of tune on uptempo opener Gypsy. You can quite clearly hear the effect of his replacement of the left-hand manual's tapes, with string chords and a simultaneous brass melody line on the rather iffy Dr. Livingstone, I Presume, while I presume those are Hammond tapes we can hear on Peak Hour. I'm sure Pinder used no other keyboard on stage, which seems to be backed up by pictorial evidence, although the only pics on the sleeve are dodgy paintings of the band members set in a typical Hipgnosis design. Caught Live is a Mellotron fan's delight, even if it is a bit rough'n'ready; not just the parts Moodies fans will already be aware of, but new ones, too, not least the string line in Are You Sitting Comfortably, at the beginning of the lengthy five-track segue from side two of On the Threshold of a Dream, also displaying Pinder's considerable Mellotron-manipulation skills, as he recreates his studio pitchbends on The Dream and Have You Heard (Pt. 1). Side three's three longer tracks (ending with a steaming Ride My See-Saw) are absolutely smothered in the thing and it's nice to hear Nights without the orchestral stuff, although I hear that a 'Greatest Hits' version has a band-only mix of the track. In fact, every single live track on the album (not to mention three of the studio ones) is stuffed with Mellotron, making this an easy five-T LP and, I heretically feel, possibly the best introduction to the band for the novice.
After a few years off for good behaviour, er, to do solo projects and the like, the Moodies regrouped in '78, finding themselves in a very different world to the one they'd left some years earlier. The twin-pronged attack of punk and disco (who'd have ever believed that those two would be seen as bedfellows?) had changed the music scene seemingly irrevocably, acts of the Moodies' stature no longer afforded respect due to album sales, longevity, or any other such nonsense. The band had mellowed even further in the intervening years and Octave is laid-back even by their standards. A little detail that isn't mentioned anywhere on the sleeve is that Mike Pinder left halfway through the recording, replaced by ex-Refugee and Yes man Patrick Moraz, who apparently contributes a fair chunk of the album's keys. It's at this point in the band's career where they and I part company completely; suffice to say, if you like the mellower end of their sound, you may well like Octave. Conversely... It occurred to me while listening to this album that the band somehow managed to avoid the era of the monosynth, moving straight from the organ/Mellotron era to the early days of the polysynth. There's certainly plenty of it on Octave, presumably from Mr. Moraz, the Mellotron pushed right into the background. In fact, the only places I even think I can hear it are on the opening two tracks, Steppin' In A Slide Zone and Under Moonshine, with, oddly, flute parts, complete with key-click, the only thing that makes me think it wasn't Ray Thomas. Amusingly, Pinder's only song on the album, One Step Into The Light, features the line:
'There's one thing I can do,
Play my Mellotron for you'.
although there's no Mellotron in the song. Bizarre. Anyway, a not-so auspicious return for the band, although worse was to come. By their next release, they'd found their feet and settled into the style that has served them well to date: a slushy, MOR/soft rock hybrid that keeps the old fans happy, while not having a hope of attracting anyone new to the fold. The world has moved on and I'm afraid their late-'60s sentiments sound increasingly like the work of men out of time, which doesn't stop them still selling out large venues whenever they tour. And why not? Incidentally, the expanded reissue of Octave adds five '78/'79 live tracks, Moraz adding Mellotron strings to Steppin' In A Slide Zone, I'm Your Man and Driftwood, making all concerned rather more palatable than their studio versions, plus what I'm guessing is a string section phrase triggered from a Mellotron key on I'm Your Man.
Moraz' first full album with the band, Long Distance Voyager, begins well enough, with the Mellotron strings-laden The Voice, a typical Moodies strumalong thing, but the material rapidly becomes bland and faceless, not to mention frequently overlong. Talking Out Of Turn is string section-assisted, to its detriment, while Gemini Dream has lashings of CS80, sadly without the excitement that unique instrument can often provide. That may be Mellotron male voices on In My World, but they're more likely to be real, despite their 'synthetic' quality, although there's a faint-yet-definite string line under the synth on 22,000 Days (thanks, Max). Moraz uses the full range of keyboards available in the early '80s, synth strings frequently to the fore, the Mellotron seemingly largely redundant by this point. I know he used not only his MkV on stage, but an M400 too, partially for specially-recorded sound effects to reproduce their studio sound. Did you know that even a modern sampler (pre-laptop based ones, of course) would be hard-pushed to hold one hundred-odd 8-second samples of comparable quality? Did you care? Anyway, real strings again on Nervous, while I can't tell what it is on the slightly better Veteran Cosmic Rocker, so there may be more Mellotron on the album than I've indicated. Anyone out there know any better?
I'm afraid the word that best describes The Present is insipid; even more lightweight then its predecessor, it catches the Moodies on the cusp of full-blown MORdom, making even the blandest of their previous output sound dynamic. Moraz can be found in full-on synth flow and had very much stamped his personality on the band by this point, for better or worse. There's even less apparent Mellotron than on its predecessor, although there's a suspiciously Mellotronlike pitchbend on I am, played on a suspiciously un-Mellotronlike sound; aside from that, I can only spot some distant choirs on Meet Me Halfway. This is pretty awful, frankly; buy their early stuff, but ignore the reformation. Amusingly, by the way, the same sleeve painting was used the following year on the only Dali's Car LP, a band composed of ex-members of the rather cooler Bauhaus and Japan.
I'm assured that neither '86's The Other Side of Life nor '88's Sur la Mer have any Mellotron input; I'll be buggered if I'm going to bother to listen to them to find out. A rather interesting release cropped up in '87, however; Prelude collects together both sides of their first two singles with Hayward, a couple of early b-sides, the studio tracks from Caught Live... (presumably to fill out an otherwise very short album) and one of Graeme Edge's poems from Days of Future Passed on its own. A mixed bag? Maybe, but it usefully gathers together several tracks never before available on album, including their first Mellotron track, Love And Beauty, released as a single three months before Days... The only other relevant track not on Caught Five... is A Simple Game, b-side to Ride My See-Saw. For what it's worth, 1991's Keys to the Kingdom allegedly used samples, presumably first-generation ones, as commercial ones weren't available then, although, upon a re-listen, nothing leaps out.
In 2006-7, the Moodies' 'big seven' all came out as SACD/CD hybrid 'deluxe editions', some as double-disc sets. This means, in practice, tarted-up sound and plenty of bonus tracks, which has to be good news for fans of the band, unless they've already bought them on CD, remastered CD and DVD audio, of course. The Days of Future Passed bonus tracks are mostly early, pre-orchestra versions, giving the listener the welcome chance to hear Pinder's Mellotron work free of any orchestral embellishments; it has to be said that they work just fine this way, while giving a very different feel to this partial version of the album. The bulk of the bonuses seem to be mono versions of the tracks on Prelude that aren't already on side four of Caught Five, plus a bunch of BBC session tracks and the original mono single version of Nights... without the album's orchestral additions. So this is how the general public originally heard it, eh? Good to have this version available again, I must say. The BBC tracks include a version of Leave This Man Alone with extra Mellotron brass, Peak Hour with MkII organ and Fly Me High with what sounds like background Mellotron organ stabs.
The alternate version of In Search of the Lost Chord's opener, Departure, is credited with 'bizarre Mellotron effects, later mixed down', although you'd be hard-pushed to tell. The rest of the bonuses give a slightly different slant to the familiar album material, with more raw BBC stuff, Mellotron used across the board. On the Threshold of a Dream features the same mix of alternate takes and BBC stuff as its predecessor, with the usual range of live Mellotron parts, bumping its 'T' rating up accordingly. To Our Childrens' Childrens' Children's bonuses start with three alternate takes, before plunging into the meat'n'potatoes of the second disc, a full half-hour Beeb concert recording, Mellotron (as, of course, Pinder's only stage keyboard) to the fore. Does he use it? Is the Pope Catholic? Do bears shit in the woods? Etc. etc. Plenty of great playing, including some wondrous pitchbend work (the M400 could never quite match the MkII in the pitchbend dept.), making this another essential for the major fan. A Question of Balance contains the smallest number of bonus tracks yet and, what's more, only one of them is previously fully unreleased, and only half have any Mellotron. If you thought the bonuses were thin on the ground there, Every Good Boy Deserves Favour has a mere two extras, Mellotron on one, a different take of The Story In Your Eyes (thanks, Frank). Seventh Sojourn increases that number to four, one of which, Island, is apparently the sole survivor of sessions for their abandoned eighth album, making it of historical interest, at the very least. Pinder's new Chamberlin is particularly audible on Isn't Life Strange, making this notable for spotters of that rarely-heard beast, mainly due to its famous ability to disappear in a busy mix.
2007's Live at the BBC 1967-1970 does exactly what it says on the tin, containing what appears to be their complete session output for the era, mostly studio, a few live, in good quality throughout (lucky they've all survived, to be honest). The first two tracks are the Mellotron-free Fly Me High (repeated a few tracks on) and their version of The Animals' Don't Let Me Be Misunderstood, after which they shift into their more familiar repertoire. Most of the Mellotron parts are pretty much as on their studio albums, minus the orchestral embellishments on the Days of Future Passed selections, which mostly work rather better; both versions of Peak Hour have the rarely heard MkII 'church organ', a.k.a. a Lowrey with all the drawbars out, pretty much inaudible on the album version. As with all their stuff for me, it varies between 'ooh, that's quite nice' (Nights..., Gypsy), to 'I must stop gritting my teeth before I hurt myself' (the jaunty Dr Livingstone, I Presume), but if you're a Moodies fan and already have everything else, you'll almost certainly want this.
Live at the Isle of Wight Festival 1970 is equally self-explanatory, sounding more like a good quality bootleg than an official recording, if truth be told. It's a decent enough document of their appearance, with what I'd imagine is a typical 1970 set, Pinder's MkII's on all but one track, pitchbends present and correct in all the right places. This really is one for hardcore fans only, mainly due to its sound quality, or lack thereof, with enough variation from Caught Live to make it worthwhile for the faithful. Speaking of the faithful, you'd really have to be to buy Things Go Better With Coke: Sixties Coca-Cola Commercials, 1965-69 for The Moodies' contributions, three advertising jingles based around the 'things go better with Coca-Cola' slogan, two containing their trademark Mellotron. Fairly pointless, frankly.
2013's massive eleven-CD/three DVD Timeless Flight revisits familiar areas across its first six discs, giving us five discs of 'new' live recordings, the first (disc seven) being a set from Justin and John's Blue Jays tour from '75. The duo largely played it safe, the bulk of the set being drawn from the Moodies' catalogue, a handful of new songs thrown in for good measure. The most interesting thing about the set (for me, anyway) is the composition of the backing band, although, unless I'm missing something obvious, there's a piece of information regarding this disc that I can't find: who played keys? An online scan of the tour book (or 'programme', as I still quaintly refer to them) tells us who backed the dynamic duo, but not what they played. It turns out that two of them were members of Trapeze (a Threshold band, all of whom went on to fame and fortune elsewhere), the other three (covering violin, viola and flute, amongst other instrumentation) coming from the long-forgotten Providence, an American band also on the label. However, none seem to've played keyboards on any other project, leaving the question unanswered. Whoever it is plays the expected Mellotron parts on opener Tuesday Afternoon, You And Me, Isn't Life Strange, Nights In White Satin (of course) and I'm Just A Singer..., the only surprising use being on their sole 'solo' hit, Blue Guitar. Want to hear Moodies' songs with real strings? Here's your chance (although, in fairness, the reformed band toured with a full orchestra a couple of decades later).
Disc eight features a CD's-worth of the reformed, Moraz-era band in Seattle in '79, three tracks of which duplicate some of the bonuses on the recent Octave remaster, although that disc contains one song (Top Rank Suite) omitted here. To be bluntly honest (as you'll have ascertained from my reviews of the band's later studio albums), I can't say I find any of their post-reformation work of any great interest, its bland, MOR sensibilities screaming 'out of touch!' to the world at large. As a result, the best material here is the earlier stuff, nicely enhanced in places by 'new boy' Patrick Moraz' synth work, a notable highlight being the extended piano/flute segment in the middle section of Legend Of A Mind. The difference in the keyboard department is immediately apparent, as Moraz throws some Yamaha CS80 and Taurus pedals in amongst the Mellotron strings at the beginning of the set, with string parts on new tracks I'm Your Man (a major part in the chorus), Driftwood and Survival, plus all the usual stuff on the older material.
Discs nine and ten, a nearly-complete 1983 set from LA's Inglewood Forum, has done the rounds for years as a bootleg, although the mastertapes have clearly been used for this release. A rather gruelling (for the non-fan) near-two hour set features more new material than old, highlighting the band's determination at that point to still be considered relevant, rather than the early entrant to the 'heritage act' circuit they were soon to become. Unfortunately, the blandness of said material scuppered their ambition, largely leading to their future status. Highpoints are few and far between here, although Moraz adds some great synth work to opener Sitting At The Wheel and Gypsy powers along as nicely as ever. The only new Morazotron work here is the strings all over The Voice (as on the studio version), with reiterations of a handful of Octave tracks and the usual older material, the Mellotron brass cutting through nicely towards the end of the set.
As a pretty much non-fan, I'm not sure how to recommend Moodies albums to you. You've seen my star ratings above; if you like their style, you'll probably like everything from Days to Caught Live, at least. I can certainly recommend all of these on the Mellotron front, although I'd have trouble doing the same for their '80s albums on any front at all, to be honest. As I said, I haven't heard their other '80s albums, but I'll report back when or if I do. The Moodies are one of THE classic Mellotron bands, though, however you wish to categorise their sound. An essential listen for the Mellotron enthusiast, particularly the expanded versions.
Incidentally, the rumoured Mellotron samples on 1991's horrible Keys of the Kingdom (*½) appear to be a misnomer, sampled and real strings and flute creating confusion. Still had to listen to the bastard, though.

See: Justin Hayward (& John Lodge) | John Lodge | Mike Pinder | Patrick Moraz | Mellodrama | Things Go Better With Coke | Higher & Higher
---