---
Marc Bonilla (US)
EE Ticket (1991, 48.08) ***½/½

Entrance
White Noise
Mannequin Highway
Commotion
Lycanthrope
Hit and Run
Afterburner
Hurling Blues Skyward
Antonio's Love Jungle
Razorback
Slaughter on Memory Lane
Exit
Current availability:
Mellotron used:
Marc Bonilla is one of those 'gun for hire' guitarists, having played with Keith Emerson, Glenn Hughes and, crucially, Kevin Gilbert in Toy Matinee. 1991's EE Ticket was his first solo album and, while it could loosely be slotted into the 'shredding' genre, it's a vast improvement on most guitar-wank albums (you know the usual culprits), dipping into jazz, blues and '70s hard rock for inspiration, maintaining a level of good taste from which many of his contemporaries could learn. The end result is a very listenable instrumental record, tracks conceptually linked by various found sounds and library recordings, including Neil Armstrong's iconic (and slightly fluffed) moon landing speech.
An early entrant in the 'Mellotron resurgence' stakes, producer Kevin Gilbert adds faint, low choirs to Hit And Run and distant flutes to Hurling Blues Skyward, although I've no idea why it's quite so low in the mix. So; a decent enough album in its oeuvre, but forget it on the Mellotron front.
See: Kevin Gilbert
Bill Bonk (US)
Spaghetti Western (1996, 47.14) ***/T

Calico
Merchant of Venice
Winston Churchill
Still Waters Run Deep
I Surrender
World Gone Mad
Teen Canteen
Samson and Delilah
Art School Days
No Second Chances
Pour Me a Strong One
Matinee
Current availability:
Chamberlin used:
Bill Bonk's second album, 1996's Spaghetti Western, slots into a loose singer-songwriter/Americana area, at its best on the album's opening salvo, Calico, Merchant Of Venice and Winston Churchill, although it works less well when it tries to rock, notably on Teen Canteen.
Quite an early entrant in the 'Patrick Warren plays Chamberlin' zone, with strings on Merchant Of Venice (alongside real cello), although the strings on opener Calico and No Second Chances sound real. Not bad, not great, a handful of decent tracks and one Chamby definite.
Brian Bonz & the Dot Hongs (US) see: Samples etc.
Bonzo Dog Band (UK)
The Doughnut in Granny's Greenhouse (1968, 37.27) ****½/½

We Are Normal
Postcard
Beautiful Zelda
Can Blue Men Sing the Whites?
Hello Mabel
Kama Sutra
Humanoid Boogie
Trouser Press
My Pink Half of the Drainpipe
Rockaliser Baby
Rhinocratic Oaths
11 Moustachioed Daughters
Current availability:
Mellotron used:
The Doughnut in Granny's Greenhouse (did you know it's a jokey euphemism for an outside toilet?) was the Bonzos' second album and, while it didn't quite match the highlights of their debut, Gorilla, it was still a superb spoof on, well, late-'60s life generally, I suppose. It tends to get forgotten just how good they were as a band; We Are Normal features a superb psych organ part, easily the equal of any of their more serious contemporaries and the musicianship throughout is excellent, especially that of erstwhile leader and later Monty Python collaborator and Rutle, multi-instrumentalist Neil Innes.
Innes plays a snatch of Mellotron strings, in an excellently 'end-of-the-pier' style on Humanoid Boogie, but there can't be more than a few seconds on the whole album, so don't rush out expecting a Mellotron classic. As long as you can handle the completely ridiculous lyrics and the frequent 'recitations' by various members, chiefly head loon (the sadly late) Vivian Stanshall, I can't imagine anyone into late-'60s UK stuff having a problem with the band, but the 'Mellotron' credit is a slightly red herring, to be honest. Buy because it's excellent, but not for the Mellotron.
Benjamin Booker (US) see: Samples etc.
Boot-Led Zeppelin (UK)
Early Demos & Latter Gigs (2005, 77.09) ****/T½

We Gonna Groove
Bring it on Home
No Quarter
Kashmir
The Song Remains the Same
The Rain Song
Since I've Been Loving You
Trampled Underfoot
Friends
The Battle of Evermore
Stairway to Heaven
Current availability:
Mellotron used:
The better part of a decade ago, my brother opened a studio near Camden, in north London, catering for both rehearsals and recording. One of their first recording clients was a Zeppelin tribute called Boot-Led Zeppelin, run by guitarist Raff Achour, who heard about my Mellotron and hired it in for the sessions. They used it on three tracks: Stairway To Heaven, Kashmir and, surprisingly, Friends, only one of which features it on the original studio version and then sparingly. Despite hassling him for a copy whenever I ran into him (including, entirely randomly, at a folk festival), I never did get to hear the end results. Or so I thought...
Wind forward nine years and Raff e-mails me out of the blue on another (admittedly Mellotron-related) topic, mentioning the Boot-Led Zep sessions. My enquiry re. the recordings elicited the response that two of the three tracks had actually been commercially (albeit privately) released a few years earlier as the wittily-titled Early Demos & Latter Gigs and before you can say whatever you do in these circumstances, a copy plopped onto my non-existent doormat. I saw the band once and was duly impressed by the singer's voice; all I can say upon hearing it again is, 'how does Luke Ward get to sound that close to Percy?' As with the ReGenesis albums and doubtless many others, I'm not entirely sure I see the point of tribute bands releasing albums, but in this case, a handful of tracks stray from the tried'n'tested 'identical to the real thing's live versions but less good' formula.
Most of the album consists of live tracks, with three of those 2000 demos tacked on the end. Opening with the misspelled We Gonna Groove, next up is the 'rarely if ever played live by Zep' Bring It On Home, both tracks giving some insight into how they might have (or occasionally did?) sound played by the original band. The rest of the live material's all available by Zeppelin in one form or another, although these are very acceptable versions, with sampled Mellotron on the two you'd expect, Kashmir and (more obviously) The Rain Song. The studio tracks are actually quite effective, Raff having a good (left-handed) stab at Pagey's overdubbed leads on Stairway, while Ward tackles both Percy and Sandy Denny's vocal parts on The Battle Of Evermore. Raff plays my M400 himself, with the live flute parts on Stairway and string section (and MiniMoog) on Friends. The latter is quite excellent, I have to say; OK, you miss the Arabic-style strings sliding about from the original, but the Mellotron does the sound very effectively. Would'ja believe, one of the few times I've heard it used this well in the studio? I seem to remember that Raff played regular strings and brass on Kashmir, but given that it isn't on here, it'll probably never see the light of day.
See: Led Zeppelin
Ken Boothe (Jamaica)
Let's Get it on (1974, 36.27) ***/½

That's the Way Nature Planned it
Leaving Me
My Love
Come Back Baby
Playground of My Mind
Let's Get it on
African Lady
Is it Because I'm Black
Down By the River
Dum Dum
Whole World's Down on Me
That's the Way Nature Planned it pt. 2
Current availability:
Mellotron used:
Ken Boothe's massive international hit with Everything I Own was yet to come when he released his sixth album (although Jamaican artists' album releases were frequently rather moveable feasts), 1974's Let's Get it on, a perfectly decent set of semi-commercial reggae, if nothing outstanding. Rude sleeve pic, too. Highlights? Probably the upbeat Come Back Baby (nearer ska than reggae), the pointed Is It Because I'm Black and an interesting reggae take on Neil Young's Down By The River, but this is never going to challenge genre classics like, er, most of Bob Marley's '70s output.
Lloyd Chalmers (or Charmers) plays Mellotron on African Lady, with separate male and female voices before Boothe's vocals kick in, rather than the more familiar mixed-voice '8 choir', although I don't think the strings on Dum Dum are our favourite keyboard instrument. One for reggae completists, I suspect.
Edmond S. Bordeaux & Norma Jean Nilsson (US)
Journey Through a Thousand Meditations: Rendition & Composition From Original Sources (1965) ****/TTTTT

Side 1
Side 4

Indian Melodies: Rendition From Original Sources & Instruments (1965, 45.55) ***½/TTTT½

Side 1
Side 2
Current availability:
Chamberlins used: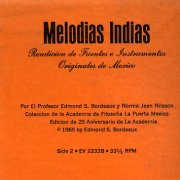 The estimable Pea Hicks of the also estimable Optigan.com drew my attention to these bizarre efforts, before posting MP3s at the forum listed under 'current availability'. Edmond S. Bordeaux's correct name was Edmond Bordeaux Székely and he was apparently Transylvanian, although he settled in America. He seems to be known (if at all) these days as some sort of mystic, being the co-founder of the International Biogenic Society in 1928, whose tenets were way ahead of their time, not to mention being keen on meditation years before it hit the mainstream. As well as his books, he also made records, although before Pea discovered these two, I don't believe there was a single mention of them on the 'Net. As Pea says: "Journey Through a Thousand Meditations is a double LP, but I only have one of the two discs (sides 1 and 4) and it's in very sorry shape. I found it at an estate sale. Interestingly, the only Bordeaux disc I could find for sale online at all was a copy of the OTHER disc from this (sides 2 and 3), but I ordered it and it got lost in the mail! If it turns up, I'll add it here. Shortly after discovering Journey Through a Thousand Meditations, I found two mint copies of another (single) LP, Indian Melodies, at a rummage sale".
The sleeve design for Indian Melodies, such as it is, is actually plain white, with the above design printed onto a sticker found in the corner, with a Spanish version on the reverse (see: right). Pea is under the impression that the sleeve of Journey Through a Thousand Meditations is similar, although he has no proof as yet. He also contacted a resort in Mexico founded by Bordeaux/Székely, but they had no knowledge of his records or the instrument on which he recorded them, almost exclusively and the reason why they're here: his Chamberlin. I have no idea what model he owned, but going by these two albums, my guess is that it was a two-manual job (the 'common' MusicMaster 600?), with 'leads' on both sides; he cued up one station and sound per side, then let rip with whichever sounds fell under his fingers. I've also no idea what Norma Jean Nilsson did on these records, either; more Chamberlin? Maybe Bordeaux owned two and they played one each? One keyboard each on one machine? Who knows?
Journey Through a Thousand Meditations is, frankly, bonkers; I can't imagine how you'd ever be able to meditate to something that chops and changes like this. Of course, long drones (or even fairly short ones) are out of the question with tape-replay, so what you get here is... (struggles for inspiration), um, Chamberlin duets between two sounds, playing near-random melodies, while remaining perfectly tuneful. It isn't classical, easy listening, or any other obvious style popular at the time and it certainly has nothing to do with 'rock'n'roll' as we know it. Soundtrack-ish? Possibly, although I'm not sure what sort of film would use material like this. It's actually quite enchanting, although it can be disconcerting in places, too. If you own a Mellotron (or reasonable samples thereof), imagine sitting down at it and playing the first thing that came into your head. That's what this sounds like, because that's probably how it was made. Possibly.
The album literally contains nothing but Chamberlin, rivalling the Celluloid albums for sheer tape-replay madness. And it's far more listenable. Opening with a plaintive minor-key solo oboe melody, a flute part enters soon after, carrying on chopping between the sounds for an unbelievable fourteen minutes, before a shift to female vocals for another, briefer, track. On track four we finally get what we've been waiting for: the strings. Played almost solo, this is a beautiful example of how the Mellotron tape library copied this sound from the Chamberlin and at last you can actually hear it, without losing it in the mix. Solo trumpet, tympani, vibes, male voices (audibly switching to the flutes, which must've been on an adjacent track)... This is essentially a demo LP for the Chamby and it's a shame it wasn't used as such at the time. I wonder if Harry C was even aware of its existence?
Indian Melodies is, unsurprisingly, essentially more of the same, but less so. Presumably going with the Native American theme, the Chamberlin sounds used are actually very limited, as are the melodies and the album's more rhythmic than its close relative, with some sort of 'native drum' sound being used. It's still practically all Chamby, though; the point at which the male voices surge up beneath the flute melody, drowning it out almost entirely, is quite breathtaking; these albums HAVE to've been made using two machines, unless Bordeaux had primitive overdubbing facilities. Given the part a few minutes later, where another flute melody is laid over something played backwards, maybe he did. Later on, you get to hear what I take to be the same rhythm forwards, something like a wood block; doesn't really sound like it's tape-generated, so maybe Bordeaux used a little hand percussion as well. Or is it a Rhythmate? Overall, though, this is less interesting than ...A Thousand Meditations, largely due to the lack of variety in the sounds used, accounting for its slightly lower ratings all round. Of course, had I not heard the other album, this would probably have been rated higher... It's a cruel old world.
These albums' deep obscurity can mean only one thing: there could be more of this stuff out there. LOADS more. They sound like Bordeaux knocked them out in a couple of sessions and if they sold well, there would've been no good reason for him not to've recorded more, although I realise there is a finite limit to how many 'relaxation' albums one man can produce. Isn't there? Anyway, it looks like the albums are that interesting combination; rare and almost valueless. Given that Pea found two mint copies of one of them, I'm sure it's only a matter of time before more turn up, hopefully including a full version of ...A Thousand Meditations. Since these are so easy to download, I can only urge you to do so immediately for a Chamberlin treat of monumental proportions.
Torsten Borg (Finland) see: Samples etc.
Sarah Borges & the Broken Singles (US) see: Samples etc.
Boris (Netherlands) see: Samples etc.
Adrian Borland (UK) see: Samples etc.
Eduardo Bort (Spain)
Eduardo Bort (1975, 35.21) ***½/TT

Pensamientos parte I (Thoughts)
Pensamientos parte II (Thoughts)
Panseando Sobre la Hierba (Walking on the Grass)
Cuadros de Tristeza (Pictures of Sadness)
Yann
En las Riberas del Yann
Current availability:
Mellotron used:
Bort's self-titled 1975 debut appears to have been his only album of that decade, the Latin-flavoured Silvia turning up eight years later. Eduardo Bort is a psych/prog crossover album, although I doubt if that's how he thought of it at the time. Bort's guitar work is noticeably Hendrix-influenced in places, with that 'psych fuzz' tone that was popular a few years earlier and song structures based more around jamming than progressive arrangements. Best track? Fight it out between Yann and En Las Riberas Del Yann, the latter of which has the most 'progressive' arrangement on the album.
The bulk of the album's 'prog' element is provided by the keyboards, with both Pepe Dougan and José Soriano playing throughout, the former on Mellotron, along with Vicente Alcañiz. The Mellotron input doesn't even kick in until track four, with only a few string chords on Cuadros De Tristeza, although there's a good bit more of the same on the Yann/En Las Riberas Del Yann pairing, with Alcañiz playing on the latter and the former featuring a credit for 'Mellotron arrangement'. Still very psych-influenced, but a really nice ending to the album.
Bosques de Mi Mente (Spain)
Trenes de Juguete (2007, 60.23) ***½/TT½

Trenes de Juguete (Intro)
Y... de Repente... Me Curaste
Hermana
Remanso de Paz
Trenes de Juguete (Interludio)
Una Tarde de Otoño Vista Desde la Ventana
Casi un Grito de Rabia
Recuerdo Infantil
Viajando en tu Tren de Juguete
Familia
Tortugas de Arena
Trenes de Juguete (Conclusión)
LO-FI (2007, 55.38) ***½/TTT½

Paseo 1, Primavera
Los Titanicos Esfuerzos de una Bicicleta Oxidada por Avanzar
Un Nino Que Ya No Existe Jugando Con el Viejo Piano
Paseo 2, Verano (la Nina de Hiroshima)
Tormenta de Verano
El Amanecer Reflejado en Tus Ojos, Parte 1
Paseo 3, Otono
El Mensaje de las Ballenas
El Amanecer Reflejado en Tus Ojos, Parte 2
Paseo 4, Invierno (el Largo y Tedioso Camino a Casa)
Cuando Se Hayan Ido Todos, Tan Solo Quedara el Crujir de Sus Columpios al Viento
Ruido Blanco (2008, 61.33) ***/TT

Nubes Apiladas en Forma de Montañas
Primera Aparición de la Mañana
La Ultima Vez Que Estuvimos Todos Juntos
Cientosetenta Segundos en el Pasado Parte 1
La Linea del Horizonte
Y en Aquellos Dias...
Nostalgia
Cientosetenta Segundos en el Pasado Parte 2
Soledad
Cuando Eramos Niños
Todo se Precipita a Tu Alrededor Deprisa
Cientosetenta Segundos en el Pasado Parte 3
La Calle Solitaria
Ruido Blanco
Current availability:
Mellotrons used:
The aptly-named Bosques de Mi Mente (Forests of My Mind) are a one-man project helmed by the mysterious Nacho, whose modus operandi seems to be almost-ambient piano works with extra instrumentation judiciously applied as and when necessary. I say 'almost', as his compositions are frequently too good to be lumped into that dustbin category that gets used for anything quiet enough to lose the reviewer's attention, although it's all too easy to let his languid playing slip past you, I have to confess. All three of these albums are available as free downloads from the remarkable Clinical Archives project, who seem to specialise in off-the-beaten-track music whose authors are happy for it to be shared.
2007's Trenes de Juguete is mostly piano, with occasional forays into different areas. I had put these into Samples, until Nacho wrote to me to tell me he owns a MkVI Mellotron, which explains the 'ultra smooth' sound. Nacho makes his music at home and while he has a real piano, I didn't think he'd have a real Mellotron, which goes to show how wrong I can be. Anyway, what you get is liquid string and flute parts on Remanso De Paz, deep strings and flutes on Viajando En Tu Tren De Juguete, barely sounding like a Mellotron, strings and real flute on Tortugas De Arena and finally, strings on Trenes De Juguete (Conclusión), improving what is already very good music. His second release of the year, LO-FI, adds full band arrangements, radio interference and ambient sound to the mix, although this could be less 'progression' and more 'works which fit together', I suppose. Another several Mellotron tracks, with strings on Paseo 1, Primavera, El Amanecer Reflejado En Tus Ojos, Parte 1 (featuring a lengthy solo part), Paseo 3, Otono and muted string section on El Mensaje De Las Ballenas.
2008 brings Ruido Blanco, sounding more like his debut, until suddenly Y En Aquellos Dias... hits you with its distorted electronica version of his sound, piano still tinkling in the background. To be brutally honest, having listened to all three of these albums in one day, Nacho's schtick is starting to wear a bit thin by this point and he's starting to sound like he's repeating himself. In isolation, I'm sure the album sounds fine, but maybe they shouldn't be played one after the other. Mellotron? Cientosetenta Segundos En El Pasado Partes 1, 2 and 3 all feature either the strings or the string section. Given that these won't even cost you anything, you have no reason not to download them should you like the sound of Nacho's music. If they have a fault, it's that they can become soporific after a few tracks, which is probably why he throws something noisy in every now and again. Decent Mellotron all round, particularly on LO-FI. A quick thanks to Nacho himself for clearing up various Mellotron-related queries.
Bostich & Fussible (Mexico) see: Samples etc.
The Both (US)
The Both (2014, 42.03) ****/TTT

The Gambler
Milwaukee
No Sir
Volunteers of America
Pay for it
You Can't Help Me Now
The Prisoner
Hummingbird
Honesty is No Excuse
Bedtime Stories
The Inevitable Shove
Current availability:
Mellotron/Chamberlin(s) used:
The Both are the duo of Planet Mellotron fave Aimee Mann and the less well-known Ted Leo, who, on their eponymous 2014 debut, make precisely the album you'd expect, chock-full of superbly-written singer-songwriter material, not a million miles from Mann's solo work. Top tracks? To be honest, there's not a single clunker here, but highlights must include the powerpop of Milwaukee, Pay For It, the stomping The Prisoner and the beautiful Hummingbird, while in Honesty Is No Excuse, we get that rarest of things, a cover of an Eric Bell-era Thin Lizzy track, especially one that isn't the trad. arr. Whiskey In The Jar or The Rocker.
On his website, Paul Bryan gleefully refers to his two Chamby M1s, not to mention his new Streetly M4000 Mellotron, so no bloody samples here, thank you very much. Unless I'm missing something, his machines turn up on about half the album, with background (Chamby?) cellos on Milwaukee, (Mellotron?) strings on No Sir, vibes on Pay For It, chordal flutes on You Can't Help Me Now, Chamby cellos, with flutes and strings (from one or the other) on Hummingbird (top tape-replay track) and strings on Honesty Is No Excuse. All in all, then, a fine album, well up to Ms. Mann's usual standard, Bryan's tape-replay work simply being the icing on the cake.
See: Aimee Mann
Bots (Netherlands)
Van Kwaad tot Erger (1975, 41.43) **½/T

De Man
Dokter
De Bevalling
Snotneus
Lied Van de Werkende Jeugd
Keesje
Wat een Troep
Kreupel
Pro Deo Voor de EO
Kakafonie
Voor God en Vaderland (1976, 49.56) **½/T

Zeven Dagen Lang
Annie
Korte Metten
Ali Ouwe Turk
Menens
Voor God en Vaderland
Tis Weer Raak
Dr. Grossbaum
Wat een Werk, Wat een Job
De Ouwe Schuit
De Lange Weg
Current availability:
Both titles: 2-on-1, Zeven Dagen Lang (Rotation), missing several tracks
Mellotrons used:
Wikipedia describes Bots (Clash, amusingly), formed in 1974, as 'Dutch-language folk rock', although their sound on their debut, 1975's Van Kwaad tot Erger (From Bad to Worse), is as much mid-'70s sax-driven pop/rock as the folkier variety. Better tracks include the nine-minute, borderline-progressive Snotneus (think: a Dutch Audience) and Kreupel, but, I suspect, any significant appreciation of the material would involve speaking the language. Bonki(e) Bogaerts plays Mellotron, amongst other keys, with chordal flutes and strings on Snotneus.
The following year's clearly ironically-titled Voor God en Vaderland is, essentially, more of the same, featuring the band's biggest hit, opener Zeven Dagen Lang. It's at its least uninteresting on Wat Een Werk, Wat Een Job and De Ouwe Schuit, but nothing here's even as good as its predecessor's relative highlights. Bogaerts on Mellotron again, with chordal flutes on Menens. Edited versions of both albums can be found on Rotation's Zeven Dagen Lang, including both Mellotron tracks.
La Bottega dell'Arte (Italy)
Dentro (1977, 40.54) **½/TT

Dentro
Il Suo Sguardo, la Malinconia, la Mia Poesia
Che Dolce Lei
A Renee
Canzone del Sole d'Inverno
Quando una Donna
Incontro
Musicante
Questa Sera e per Noi
L'Ultima Storia
L'Avventura (1979, 35.37) *½/T

L'Avventura
4.280 Miglia
Un'Emozione in Piú
Via del Grano
La Casa del Tempo
Finisce Qui
Ancora Solo
Pescatore della Luna
Un'Altra Storia
Current availability:
Dentro: Si-Wan (Korea)
Avventura: not on CD
Mellotrons used: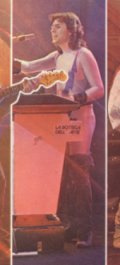 I haven't yet been able to find any biographical information on the 'Net about La Bottega dell'Arte in English, possibly because lightweight Italian pop has little international presence (although I did meet one Swedish young lady who had a soft spot for it...). There's a reason for this; it's terrible. I've seen a copy of their third album, L'Avventura, on sale in London for over £20, admittedly at a second-hand shop run by an Italian guy with zero idea of what this kind of stuff is actually worth; thankfully I paid an awful lot less on eBay, but I'm still feeling slightly ripped-off. OK, my fault. Having already seen the sleeve, I should've known what I was getting into; terrifyingly naff stagewear, with the band members wearing matching thigh-length boots (!) and seriously crapola tops. So, what sold it to me? Guess. Yup, it was Piero Calabrese's band-logo'd Mellotron clearly visible on the cover pic, lovingly topped with a Polymoog and some less-identifiable keyboards. You sad bastard, Thompson. Although I'm sure the 'live' pics were staged, it seems likely that they used their Mellotron live, but that's hardly any guarantee of quality, is it? Wait until I track down some (I) Pooh albums... [n.b. Have done so and they're not good...]
To backtrack for a moment... Having now heard the band's first two albums, '75's self-titled debut and '77's Dentro, I can tell you that although La Bottega dell'Arte (***) has a couple of moments that could be Mellotron, I don't think they are, although the album itself isn't that awful, being at the 'pop' end of typical Italian prog. Dentro is, unsurprisingly, a halfway stage between its just-about-acceptable predecessor and its horrendous successor, with progressive moments including parts of Canzone Del Sole D'Inverno, Incontro, Musicante and specifically closer L'Ultima Storia, effectively a lightweight prog number. That isn't to say this is particularly good, mind... It has its (brief) moments, but will only disappoint Italian prog fans looking for a new fix. Piero Calabrese's Mellotron choirs pop up here and there, though never that loud and never that interesting. Che Dolce Lei probably features the nearest this album gets to an overt Mellotron part and it isn't that overt.
Back to L'Avventura... The album's keyboard input is rather less than exceptional, which is no particular surprise. Even the piano's obviously a Yamaha CP70 and the synth work sounds mostly like the Polymoog on its blandest settings, although that Mellotron does rear its ugly head on the odd occasion. Very odd, actually; Finisce Qui ends with a quite discordant synth part over distant Mellotron choirs, providing the album's one real (brief) moment of musical interest, although the choirs on Via Del Grano are the standard background stuff. I suspect Calabrese used it live to cover for the studio string parts, so it probably got a little more use than here, but somehow, I can't see the band suddenly breaking out into full-on prog territory once they hit the stage... So; can I recommend this album? Don't be silly; it's complete rubbish. BUT... unlike much bad music, there's actually some reasonable playing involved and its ridiculous cheesiness did make me smile in places.
Botticellis (US)
Old Home Movies (2008, 28.26) ***/T

Old Home Movies
Stay With My Brother
When I Call
Up Against the Glass
The Reviewer
New Room
Flashlight
Tongue is Blue
Who Are You Now
Table By the Window
Current availability:
Mellotron used:
The Botticellis are a new Californian outfit who want to be a certain other Californian outfit very, very much, to the point of naming themselves after a surfing term, only they're not good enough not quite up to their standards. Their debut, Old Home Movies, is actually a perfectly acceptable (albeit extremely short) album and it's possible that its material may grow on me given time, but while it's all perfectly pleasant, little of it particularly stands out, at least for this listener.
Matt Henry Cunitz (co-producer) and Zack Ehrlich both play Mellotron, with the rarely-heard Mellotron bassoon on When I Call and undistinguished cellos and flute on New Room; the cellos on Tongue Is Blue and the strings on Who Are You Now are real. Overall, then, not bad, not great, all rather second-hand, really, but better than a lot of the stuff I've heard recently. Next to no Mellotron, though, unless it's hidden away somewhere in the mix.
Bottle Rockets (US)
24 Hours a Day (1997, 40.57) ***/T

Kit Kat Clock
When I Was Dumb
24 Hours a Day
Smokin' 100's Alone
Slo Toms
Indianapolis
Things You Didn't Know
One of You
Perfect Far Away
Waitin' on a Train
Dohack Joe
Rich Man
Turn for the Worse
Current availability:
Mellotron used:
The Bottle Rockets have been described as 'the torchbearers for smart Southern-style rock', which seems a pretty good summation. Their third album, 1997's 24 Hours a Day, combines the aforementioned southern rock with Americana (listen for the banjo on closer Turn For The Worse), all with an indie tinge, though not enough to spoil the overall feel.
Eric Ambel plays Mellotron, with cranky string and cello parts on Slo Toms, although the album's other strings sound like (real) solo violin. Overall, then, a reasonably good vaguely Americana record, albeit with more of a rock element than usual. One decent Mellotron track, but not enough to make purchase worthwhile.
---