Live at the Marquee, 1969 (1998, 71.29, Collectors' Club 1) ***½/TTT½

21st Century Schizoid Man
Drop in
I Talk to the Wind
Epitaph
Travel Weary Capricorn
Improv
Mars
Trees

Live at Jacksonville, 1972 (1998, 60.30, Collectors' Club 2) ****/TTT

Pictures of a City
Cirkus
Ladies of the Road
Formentera Lady
The Sailor's Tale
21st Century Schizoid Man


The Beat Club, Bremen, 1972 (1999, 44.36, Collectors' Club 3) ****/TTT½

Improv: The Rich Tapestry of Life
Exiles
Larks' Tongues in Aspic (Part I)
Live in Central Park, NYC, 1974 (2000, 74.05, Collectors' Club 10) ****½/TTT½

Walk on... No Pussyfooting
21st Century Schizoid Man
Lament
Exiles
Improv: Cerberus
Easy Money
Fracture
Starless
The Talking Drum
Larks' Tongues in Aspic, Part 2
Live at Plymouth Guildhall, May 11, 1971 (2000, 95.36, Collectors' Club 14) ****/TTT

Cirkus
Pictures of a City
Sailor's Tale
The Letters
Lady of the Dancing Water
Cadence and Cascade
Get Thy Bearings
In the Court of the Crimson King
Ladies of the Road
21st Century Schizoid Man
Mars
Live in Mainz, March 30, 1974 (2001, 58.11, Collectors' Club 15) ****/TTTT

Improv: The Savage
Dr Diamond
Improv: Arabica
Exiles
Improv: Atria
The Night Watch
Starless
Lament
Improv: Trio
Easy Money
Live in Detroit, MI, December 13, 1971 (2001, 91.51, Collectors' Club 18) ****½/TTT

Pictures of a City
Formentera Lady
Sailor's Tale
Cirkus
Ladies of the Road
Groon
21st Century Schizoid Man
Mars
In the Court of the Crimson King
Lady of the Dancing Water
Live at the Zoom Club, October 13, 1972 (2002, 115.11, Collectors' Club 20) ****½/TT

Larks' Tongues in Aspic (Part I)
Book of Saturday
Zoom
Improv: Zoom Zoom
Easy Money
Improv: Fallen Angel
Improv: Z'Zoom
Exiles
The Talking Drum
Larks' Tongues in Aspic (Part II)
Live in Hyde Park, July 5, 1969 (2002, 62.11, Collectors' Club 12) ****½/TTT

21st Century Schizoid Man
In the Court of the Crimson King
Get Thy Bearings
Epitaph
Mantra
Travel Weary Capricorn
Mars
Band reunion meeting
21st Century Schizoid Man (instrumental version)
Live in Orlando, FL, 1972 (2003, 79.09, Collectors' Club 23) ***½/T½

Pictures of a City
Formentera Lady
The Sailors Tale
Cirkus
Ladies of the Road
Groon
21st Century Schizoid Man
Earthbound
Cadence and Cascade
Live in Guildford, November 13, 1972 (2003, 42.39, Collectors' Club 24) ****/TT½

Larks' Tongues in Aspic (Part I)
Book of Saturday [Daily Games]
Improv: All That Glitters is Not Nail Polish
Exiles

Live at Fillmore East, 1969 (2004, 62.07, Collectors' Club 25) ****/TT

The Court of the Crimson King (fragment)
A Man, a City
Epitaph
21st Century Schizoid Man
The Court of the Crimson King (fragment)
A Man, a City
Epitaph
21st Century Schizoid Man

Live in Heidelberg, 1974 (2005, 58.06, Collectors' Club 29) ****/TTT½

Improv: Heidelberg I
Dr Diamond
Exiles
Improv: Heidelberg II
Starless
The Night Watch
Lament
Easy Money
Fracture
Live in Brighton, October 16, 1971 (2005, 103.59, Collectors' Club 30) ***½/TTT

Cirkus
Pictures of a City
Formentera Lady
The Sailors Tale
The Letters
Islands
Ladies of the Road
Groon
21st Century Schizoid Man
Mars
Zoom Club, 12th April 1971 (2005, 77.03) ****/TTT½

Cirkus
Get Thy Bearings
In the Court of the Crimson King
Lady of the Dancing Water
21st Century Schizoid Man
Pictures of a City
The Sailor's Tale
Cadence and Cascade
The Devil's Triangle
Zoom Club, 13th April 1971 (Sailors' Tales, disc 5) (2005, 85.19) ***½/TTT

The Sailor's Tale
Cirkus
Get Thy Bearings
Cadence and Cascade
The Court of the Crimson King
21st Century Schizoid Man
Pictures of a City
The Sailor's Tale
Lady of the Dancing Water
Get Thy Bearings
The Devil's Triangle
Jahnhalle, Pforzheim, Germany, March 31, 1974 (Starless, disc 16) (2005, 58.05) ****/TTT½

The Great Deceiver
Improv I
Doctor Diamond
Improv II
Exiles
The Night Watch
Lament
Starless
Easy Money
Fracture
Casino, Asbury Park, New Jersey, June 28, 1974 (2006, in The Collectable King Crimson,
Volume One, 77.26) *****/TTT½

Walk on
Larks' Tongues in Aspic Pt II
Lament
Exiles
Improv: Asbury Park
Easy Money
Fracture
Starless
21st Century Schizoid Man
Palazzo dello Sport, Brescia, March 20, 1974 (Starless, disc 8) (2005, 57.06) ***½/TTT

Improv I
Larks' Tongues in Aspic (Part I)
Doctor Diamond
Easy Money
Lament
The Night Watch
Improv II
Starless
Exiles
Zoom Club, 14th April 1971 (Sailors' Tales, disc 6) (2006, 75.04) ***½/TT½

Cirkus
Get Thy Bearings
The Court of the Crimson King
21st Century Schizoid Man
Pictures of a City
The Sailor's Tale
Cadence and Cascade
The Devil's Triangle

Zoom Club, 15th April 1971 (Sailors' Tales, disc 7) (2006, 43.41) ***½/TT½

Pictures of a City
The Sailor's Tale
The Court of the Crimson King
Cadence and Cascade
The Devil's Triangle
University of Texas, Arlington, TX, October 6, 1973 (Starless, discs 25 & 26) (2006, 93.09) ****/TT½

Larks' Tongues in Aspic Pt I
RF Announcement
Easy Money
The Night Watch
Fracture
Book of Saturday
Lament
Improv I
Exiles
The Talking Drum
Larks' Tongues in Aspic Pt II
21st Century Schizoid Man
Stanley Warner Theater, Pittsburgh, March 6, 1972 (Sailors' Tales, disc 14) (2006, 74.18) ***/T½

Pictures of a City
Formentera Lady
The Sailor's Tale
Cirkus
Ladies of the Road
Groon
21st Century Schizoid Man
Improv
Kennedy Centre, Washington, DC, June 27, 1974 (The Road to Red, disc 14) (2006, 48.35) ***½/TT½

Lament
Improv I
Exiles
Easy Money
Improv II
Fracture
Starless
Riverside Theater, Milwaukee, March 8, 1972 (Sailors' Tales, disc 15) (2006, 78.27) ***½/TT

Pictures of a City
Formentera Lady
The Sailor's Tale
Cirkus
Ladies of the Road
Groon
21st Century Schizoid Man
Cadence and Cascade
Apollo, Glasgow, Scotland, October 23, 1973 (2006, 96.29) ****½/TT

Sharks' Lungs in Lemsip
Larks' Tongues in Aspic Pt I
Announcement
Easy Money
We'll Let You Know
The Night Watch
Fracture
Lament
Book of Saturday
Tight Scrummy
Exiles
Improv IV
The Talking Drum
Larks' Tongues in Aspic Pt II
Peace - a Theme
Cat Food
Live in Denver, March 13, 1972 (2007, 73.14, Collectors' Club 35) ***½/TT

Formentera Lady
The Sailors Tale
Cirkus
Ladies of the Road
The Letters
Groon
21st Century Schizoid Man
Cadence and Cascade

Penn State University, June 29, 1974 (2007, 71.37) ****½/TTT½

Walk on
Larks' Tongues in Aspic Pt II
Lament
Exiles
Improv: Is There Life Out There?
Easy Money
Improv: Its for You But Not for Us
Fracture
Starless
Augsburg, Germany, March 27, 1974 (2007, 58.23) ****/TTT

Dr Diamond
Lament
Easy Money
Fracture
The Night Watch
The Great Deceiver
Starless
Improv Augsburg
Exiles
Larks' Tongues in Aspic Pt II
Technical College, Hull, England, November 10, 1972 (Larks' Tongues Complete, discs 4 & 5) (2007, 93.59) ****½/TTT

Walk on: No Pussyfooting
Larks' Tongues in Aspic (Part I)
Book of Saturday
RF Announcement
Improv: Vista Training College Under Spotlight
Exiles
Easy Money
Improv: Fallen Angel Hullabaloo
The Talking Drum
Larks' Tongues in Aspic (Part II)
21st Century Schizoid Man
Veterans Memorial Coliseum, Columbus, OH, April 28, 1974 (The Road to Red, disc 1)
(2007, 44.29) ***½/TT½

The Great Deceiver
Lament
Improv I
Exiles
Fracture
Easy Money
Improv II
The Night Watch
RF Announcement
Live in Kassel, April 1, 1974 (2007, 57.47, Collectors' Club 36) ****/TTT½

The Great Deceiver
Improv I
Dr Diamond
Improv II
Exiles
The Night Watch
Lament
Starless
Improv III
Easy Money
Fracture
New Theatre, Oxford, England, November 25, 1972 (Larks' Tongues Complete, disc 7) (2008, 46.10) ***½/TT½

Larks' Tongues in Aspic (Part I)
RF Announcement
Book of Saturday
Improv: A Boolean Melody Medley
Exiles

Armoury, Wilmington, Delaware, February 11, 1972 (Sailors' Tales, disc 10) (2008, 67.02) ***½/T½

Pictures of a City
Formentera Lady
The Sailor's Tale
Cirkus
RF Announcement
Ladies of the Road
Groon
21st Century Schizoid Man
Stanley Warner Theatre, Pittsburgh, PA, April 29, 1974 (The Road to Red, discs 2 & 3)
(2009, 90.43) ****/TTT½

Walk on: No Pussyfooting
The Great Deceiver
Lament
Improv: Bartley Butsford
Exiles
Fracture
Easy Money
Improv: Daniel Dust
The Night Watch
Doctor Diamond
Starless
Improv: Wilton Carpet
The Talking Drum
Larks' Tongues in Aspic (Part II)
21st Century Schizoid Man
Live in Boston, MA, March 27, 1972 (2009, 67.23, Collectors' Club 40) ***½/T½

R.F. Announcement
Pictures of a City
Formentera Lady
The Sailor's Tale
Cirkus
Groon
21st Century Schizoid Man
Improv
Cadence and Cascade
Live in Zurich, Nov 15, 1973 (2009, 99.45, Collectors' Club 41) ****½/TTTT

Walk on ... No Pussyfooting
Improv: Some Pussyfooting
Larks' Tongues in Aspic: Part I
RF Announcement
Lament
Peace: a Theme
Cat Food
The Night Watch
Fracture
The Law of Maximum Distress: Part I
Improv: The Mincer
The Law of Maximum Distress: Part II
Easy Money
Exiles
Improv: Some More Pussyfooting
The Talking Drum
Larks' Tongues in Aspic: Part II
21st Century Schizoid Man
Community Theatre, Berkeley, CA, June 16, 1973 (2009, 58.39) ***½/TT½

Dr Diamond
Larks' Tongues in Aspic Pt I
RF Announcement
Easy Money
Improv Intro to Exiles
Exiles
Improv I
The Talking Drum
Larks' Tongues in Aspic Pt II
21st Century Schizoid Man
Palazzo dello Sport, Udine, Italy, March 19, 1974 (Starless, disc 27 & 7) (2014, 101.19) ***½/TTT½

Walk on: No Pussyfooting
Improv: Some Pussyfooting
Larks' Tongues in Aspic: Part I
Lament
Doctor Diamond
The Night Watch
The Great Deceiver
Guts on My Side
Improv II
Starless
Book of Saturday
Exiles
Fracture
Exiles
Fracture
Larks' Tongues in Aspic (Part II)
Tarrant County Convention Centre, Fort Worth, TX, June 6, 1974 (The Road to Red, disc 5)
(2010, 47.48) ***½/TT

Walk on: No Pussyfooting
Easy Money
Lament
Fracture
Improv
The Talking Drum
Larks' Tongues in Aspic (Part II)
21st Century Schizoid Man
Fairground Arena, Oklahoma City, OK, June 7, 1974 (The Road to Red, disc 6)
(2010, 53.56) ***½/TT½

The Great Deceiver
Lament
Improv I
Exiles
Fracture
Starless
Improv II
The Talking Drum
The Talking Drum Insert
Larks' Tongues in Aspic (Part II)
The Barn, Peoria, IL, March 10, 1972 (Sailors' Tales, disc 16) (2011, 46.42) **½/½

Cirkus
RF Announcement
Ladies of the Road
Groon - Peoria
21st Century Schizoid Man
Improv
Cadence and Cascade
Live in Toronto, June 24, 1974 (2011, 88.39) ****/TTTT

Larks' Tongues in Aspic: Part II
Lament
Exiles
Improv - The Golden Walnut
The Night Watch
Fracture
Improv - Clueless and Slightly Slack
Easy Money
Starless
21st Century Schizoid Man
Convention Center, Quebec City, Quebec, Canada, June 25, 1974 (The Road to Red, disc 13)
(2012, 55.04) ***½/TTT

21st Century Schizoid Man
Lament
Improv I
Exiles
Easy Money
Improv II
Fracture
Starless
Live at the Marquee, August 10, 1971 (Sailors' Tales, discs 8 & 9) (2012, 92.23) ***½/TT½

Pictures of a City
Formentera Lady
The Sailor's Tale
Cirkus
The Letters
Cadence and Cascade
Improv
Ladies of the Road
RF Announcement
21st Century Schizoid Man
Current availability:
All titles: Discipline Global Mobile (UK)
Mellotrons used:
Marquee '69/Hyde Park: one of band's MkIIs
All other titles: two or more of band's four (?) M400s?
In 1998, Robert Fripp decided to dive headlong into the archive market by starting the DGM (later King Crimson) Collectors Club, a subscription-only series of releases from the band's history. I suppose it's a slightly moot point as to whether or not these can be considered 'official' releases, since they're unavailable in the shops (truncated Japanese boxed-set versions aside), but as anyone with a bit of spare cash can subscribe, I tend to fall on the side of 'they count'.
Its inaugural release, Live at the Marquee, 1969 was, unsurprisingly, an early London Marquee show (date uncertain) with a bonus track from Croydon a few months later. Despite David Singleton's sterling efforts, the sound quality is, er, 'a bit rough' (read: some of you may find this unlistenable), but the disc contains some historically fascinating performances, so quality be damned! What on earth can you expect from a thirty year-old audience tape, anyway? Opening part of the way through Schizoid Man lets you know from the off that you're in 'reconstructed bootleg' territory, a truncated Epitaph proving the point. Mellotron rarities are (at last!) a live I Talk To The Wind, with slabs of strings and only one noticeable dropout, a few chords in the rather earnest Travel Weary Capricorn, a couple of notes in the lengthy improv piece and the Croydon track, the previously unknown (at least to me) Trees, a lovely little ballad in the same area as I Talk To The Wind, with a lengthy jam at the end which ended up as the middle section of A Man, A City/Pictures Of A City. The abbreviated Epitaph is as you'd expect, while Mars opens with what sounds like some Mellotron flute pitchbend doodlings before shifting into one of the most intense versions of the track I've heard, though maybe the inherent distortion adds to the effect...
Second release Live at Jacksonville, 1972 features Crimso Mark 2, opening with Fripp and Mel Collins getting their twin M400s in tune with each other before Pictures Of A City with minor Mellotron string interjections. Cirkus, on its first official live outing, is phenomenal, opening with a delicate Pianet part before the crushing Mellotron brass in the 'chorus'. The brass also appears, more subtly, in the second verse, before more brass and strings in the second chorus. Strings again in the middle section, then arpeggiating flutes in verse three; basically, a Mellotron fan's wet dream, with possibly some cellos thrown in to complete the inventory of their Mellotron sound library. Stupendous. This looks like a fairly typical Mark 2 setlist, with several Lizard and Islands pieces, including a fair-sized chunk of Mellotron on The Sailor's Tale (strings and brass again), segueing from Formentera Lady, as was their wont at the time. A superb release; shame it isn't more widely available.
The series developed chronologically, Club 3 being the very first Mark 3 gig, with Jamie Muir on board, The Beat Club, Bremen, 1972, otherwise known as the band's famous German 'Beat Club' performance, part of which (Larks' Tongues I) I've seen on TV. It'd be nice to be able to see the whole thing sometime, assuming it was all filmed. Crimso bravely open with the longest improv piece I've heard by them; nearly half an hour of The Rich Tapestry Of Life, named in honour of Muir, who only lasted a few months before disappearing to a Scottish monastery. The first few minutes of the piece are fairly funk-based, but with Mellotron strings and flutes drifting in and out, mostly from David Cross, while Fripp extemporises on guitar. About two-thirds of the way through, it becomes evident that someone is playing flute. Who? Turns out it's Cross, who also played it (uncredited) on Larks' Tongues. All in all, a pretty cool improv with loads of Mellotron. Exiles is fairly much as you'd expect, although rather than reaching a crescendo à la the USA version, it just gently peters out. Larks' Tongues I is, as always, Mellotron-free, but a great performance anyway, including the long percussion build-up as on the album. Another essential!
The next several Club releases mostly featured later lineups, although Club 9, Live at Summit Studios, Denver, March 12, 1972 (***) is a bit of a shocker, being a full-length early Crimson set with no Mellotron, although both Fripp and Collins are credited with it in the booklet. Listening to Sailor's Tale again, at one point all you can hear is guitar, bass and drums; it's possible that the Mellotrons never made it to the broadcast mix (this is from a radio show), as the lack of any Mel Collins contributions at this point seems a little strange. Thoroughly bizarre and noted in drummer Ian Wallace's sleevenotes. Pictures Of A City is the Mellotron-free version, too; maybe they didn't have them with them that night? Christ knows. It's not the most inspiring set, either, so don't go too far out of your way for this one.
Live in Central Park, NYC, 1974 is another matter, however. Having already released Mark 3's first gig through the Club, this is their last and is another stormer. Fripp describes it in his sleevenotes as "Angels descending from heaven on chariots of fire blowing trumpets of gold in your ear", so I think it's safe to assume he thought it was a good one too. The band are, er, 'blowing' after a lengthy US tour, especially the rhythm section, who were, by this point, rather drowning out David Cross: violin vs. Wetton/Bruford. Hmmm. Cross and Fripp were, by this point, using the white/black colour scheme (instruments and clothes) that rather pointed out their personality differences; Fripp couldn't have looked more satanic had he been sporting horns and a forked tail. While a great album, capturing this classic band on a great night, Central Park is slightly less essential from the Mellotronic point of view than most of the Club CDs, if only because most of the Mellotron tracks are available in similar versions elsewhere, chiefly on The Great Deceiver. The exception is the rocking improv Cerberus, with some ripping strings from Mr. Cross under Fripp's searing lead work (review cliché no. 14), shifting into some orchestrated flute work in the 'funkier' section (that is, Crimsoid funk, which has little in common with James Brown et al.). As a result, killer performance, but Mellotronically inessential.
Live at Plymouth Guildhall, May 11, 1971 is a double disc set from Crimson Mark 2's first UK dates; in fact, only their fifth gig full stop. It shows a very confident outfit playing material old and new; I was amazed that both In The Court and Mars were played at this juncture, although both had bitten the dust by the band's next tour. Arrangements are very different to what they would become; Sailor's Tale is markedly longer than later versions, with a solo flute spot in the middle and, when the Mellotron finally comes in, it's mainly brass, as against the strings of the later studio version. Actually, there's surprisingly little Mellotron to be heard on the ninety-five-minute set; four tracks only, two of which are the previously-mentioned hangovers from Crimso Mark 1. In the Court is superb, proving (to my ears) that the MkII Mellotron fetishism displayed by some players is precisely that; a fetish. The strings sound great, with none of the supposed 'thinness' that some listeners claim to be able to hear; fascinating to hear this performed by a different band. Mars is quite cataclysmic; rather than one MkII, you're hearing two M400s, one on strings, one on brass, with the all-important distinction of two players, i.e. four hands, not to mention Pete Sinfield's rather intrusive VCS3, 'played' from the desk. So; while not an essential Club recording, well worth a listen.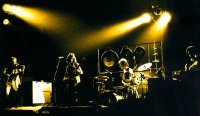 Live in Mainz, March 30, 1974 is a slightly odd one; much familiar material, not all played familiarly. Starless, in particular, has a very odd arrangement, with electric piano and stray Mellotron chords. Actually, apart from a few flute notes in the brief improv Arabica, like the Central Park disc, there's nothing Mellotronic here that isn't available elsewhere, although it's another great performance. Oddly, Trio is still labelled 'improv', although it's similar to the previous year's Amsterdam version that ended up on Starless and Bible Black, though with maybe a little more Mellotron flute.
I've seen Live in Detroit, MI, December 13, 1971 heralded as 'the best Collectors Club CD yet' and, would you know, it almost is? Crimso Mark 2 were seriously on form that night, with absolutely standout performances of Pictures Of A City and an extended Cirkus, to name but two. There's also a hysterical In The Court Blues, triggered by audience cries for 'the old stuff'; the song we all know and love put to a 'Mannish Boy' verse and a bizarre guitar reworking of the chorus, which explains why such a famous Mellotron Track isn't highlighted... It's interesting how Crimso used to do different versions of their standard repertoire at any given point, particularly with regard to their Mellotron use. This set has the Mellotron version of Pictures Of A City, as does Jacksonville, whereas Plymouth doesn't. You'll find the same thing with the Mark 3 band, where (for example) both Fracture and The Talking Drum have Mellotron and non-Mellotron versions. Anyway, other Mellotron use here is on Sailor's Tale, another cataclysmic Cirkus and the usual stuff on Mars, which I'd guess was one of that piece's last outings.
Live at the Zoom Club, October 13, 1972 documents Crimso's return to the venue where they introduced their Mark 2 lineup to... introduce Mark 3. Although only an audience recording, the double CD is a fantastic document of a new band finding its feet in public, improvising its way through much of the gig, while playing no material from its previous lineups. As it says in the liner notes, many audience members would've seen them at the same venue a mere eighteen months earlier, also debuting a new lineup, but this band bore very little relation to that one. Crimson are known for building up the improvisational percentage of gigs as a lineup matures, but this release proves that the incendiary Mark 3 version of the band were in there from the beginning; in fact, once they found their feet, they settled into a more stable repertoire.
Opening with Larks' Tongues I was an inspired move, as Jamie Muir's tinkling percussion and Fripp's incidental guitar slowly build up to David Cross' violin part before all hell breaks loose. In fact, that phrase would probably describe most of the gig; the improvisation now entitled Zoom features Fripp on guitar overload, cutting loose all over the shop, although the extraordinary lengthy (over forty minutes) Zoom Zoom is rather less focussed, although it has plenty of worthwhile moments. Don't get your hopes up on the Mellotron front with this track, though; it only has a few seconds of strings at the beginning, although Easy Money features a unique Mellotron flute intro, completely different to any other available version. In fact, the song has a completely different arrangement to the one with which we're familiar, followed by a piece retrospectively entitled Improv: Fallen Angel, backed by the guitar riff that was exhumed for the track of the same name on Red. Exiles, again, is an early arrangement, with less Mellotron, while Wetton's all over the place on Larks' Tongues II. So; a fantastic document of a formative lineup, but a little disappointing on the Mellotron front, although a few seconds of cellos on Larks' Tongues II and its closing strings are a bit of a one-off.
Live in Hyde Park was originally scheduled as Collectors' Club 12, back in '99, but after unspecified legal hassles, ended up finally appearing late in 2002. Well, it was worth the wait. An excellent performance in front of a huge crowd gathered in Hyde Park to watch the Rolling Stones play their first post-Brian Jones gig that turned into a eulogy when he died mere days earlier. Crimso more than rose to the occasion, tightening their set up from their club appearances, letting rip particularly on Travel Weary Capricorn, which may be the best version of the piece yet released. Also, I've never noticed the riff in Mantra that became Exiles over three years and two lineups later; time to go back to Epitaph and give it another blast... Ian McDonald's Mellotron work is restricted to the three numbers on which this first lineup of the band always used it; The Court Of The Crimson King, Epitaph (great version) and an excellent, though very abbreviated Mars without most of the initial buildup, but with extra added air-raid siren 'played' from below the stage by Dik Fraser and David Enthoven. To bulk out the disc, Fripp has added edited highlights of the chat between all the original members and crew at the launch party for the Epitaph box in '97, plus an instrumental outtake of Schizoid Man from the first album sessions, both of which are worth hearing, although they mean that the actual gig is only just forty minutes long. Still, it's some of the best forty minutes you'll spend all year.
Live in Orlando, FL, 1972 (KCCC 23) is a fairly typical Mark 2 set from that tour, strangely spread over two discs when it would've just fitted onto one. Odd. Anyway, highlights include particularly incandescent versions of Cirkus and Schizoid Man; note that Earthbound, on disc two, is the same version you've already got on , er, Earthbound. Only three Mellotron tracks: the 'Mellotron version' of Pictures Of A City, though only just, with strings and brass on The Sailors Tale and the usual total overkill on Cirkus. A decent set, but probably not the best you can get from that period.
Live in Guildford, November 13, 1972 is the third Jamie Muir-era show to appear and has a structure in common with the first, a couple of shorter tracks surrounding the lengthiest improvs the band seemingly ever played. In this case, Larks' Tongues In Aspic I, Book Of Saturday (then still entitled Daily Games) and Exiles coexist with the twenty-five-minute Improv: All That Glitters Is Not Nail Polish, clearly titled retrospectively. Larks' Tongues is far wilder and longer than the studio version, despite losing its percussion intro, Daily Games/Book Of Saturday is pretty much as you'd expect and Exiles cuts off three or so minutes in, the rest of the set being lost to posterity. The reason you'll want this disc, though, is the improv. Not only is it long, manic and experimental, but there's a fair bit of Mellotron to be heard, with several-minutes of Cross' mad, polyphonic cello work, Fripp's flutes over the latter part, themselves being underpinned by strings from Cross again and all within the first six minutes. Nothing else until the expected cellos and strings in the truncated Exiles, but although good, the Mellotron work isn't the main reason to buy this disc.
Live at Fillmore East, 1969 (KCCC 25) is presumably the nearest we're ever going to get to a 'complete' record of Crimso's two nights at that legendary venue, 21st and 22nd November 1969. The sharper-eyed (or brained) amongst you will've already noticed that most of the surviving recording from the first night have been available for years on the first disc of the Epitaph set, but Robert's presumably decided to make them available again in this form. Added to the original three tracks, we now get a fragment of The Court Of The Crimson King, McDonald's Mellotron present and correct on the final chorus, with the usual parts on Epitaph. The second night's Court... cuts in at almost exactly the same place, strangely, although the sound quality's marginally better, with the same (expected) Mellotron parts as on the previous night's set. Not essential if you already own Epitaph, but completists will doubtless go for it.
Live in Heidelberg, 1974 (what, no date?) opens with a relatively gentle improv, before another version of the never-recorded Dr Diamond and a great take on Exiles with a several-minute runup to its expected intro. Wetton and Bruford are on form here, Wetton playing with his phrasing and Bruford getting all Muir-like on the percussion in Starless. Cross also plays the Pianet at one point on the track, before switching to Mellotron for the closing section. The usual Mellotron suspects, of course, with Exiles, Starless and Easy Money, amongst others, doing their thing, but there's also a nice (gentle) Mellotron duel towards the end of the second Heidelberg improv, Cross and Fripp warbling away on strings and flutes, segueing nicely into Starless. Only three minutes of Fracture have survived, so it's not known whether it was a 'Mellotron version' or not, but this is another good addition to the ever-growing Crimso library.
Live in Brighton, October 16, 1971 is chiefly notable for containing the only live recording I know of Islands, although it's far from being the best recording of the Mark 2 lineup. Amusingly, it opens with a spoken treatise from Fripp on people who shout 'Wally', which I remember hearing was a popular pastime back then. No, I don't know why, either. Actually, Fripp has quite a bit to say this night; sadly, although the music is relatively clear, his spoken interludes are muffled to the point of near-inaudibility, so his witticisms are largely lost on me. Anyway, typical versions of Cirkus, Pictures Of A City etc., with a grotesquely over-extended Groon being the low point and Islands the high. Mellotron on the expected pieces, with the usual brass/strings/flutes mayhem on opener Cirkus, while Pictures Of A City is the 'Mellotron version', although it's only just audible, while The Sailors Tale and Mars do their usual things. Where this disc diverges from the norm is in a rarely-heard strings/brass part in The Letters and, of course, the beautiful strings in Islands, making you wonder why this didn't make the grade live, when The Letters and the tedious Formentera Lady did.
When the Collectors' Club started, I was a subscriber, receiving fairly expensive discs, some of which I've only ever played once (mid-'90s rehearsals, anyone?). After the format changed, I bought several 'Mellotron-era' releases, but how many King Crimson live albums do you really need? I'd like to be able to review everything relevant that Fripp chooses to put out, but even allowing for the current dollar/pound exchange rate, I simply can't keep up. As a result, although there haven't been that many relevant CDs, a yawning gap has opened up in my coverage. Just to add confusion to lack of funds, DGM have made a whole load of shows available as downloads only, but as they can still be said to've been 'released', they've been added to the list. Do you need more confusion?
The very first download-only concert was Zoom Club, 12th April 1971, the first of the band's four nights at the venue. We get a fairly manic set, highlights including Fripp's crowd chat regarding an audience conductor and possibly the most out-there version of Mars (credited here as The Devil's Triangle) I've yet heard, Sinfield's VCS3 mimicking a series of battlefield noises. Oddities include some serious tape-wobble and not, for once, from a Mellotron, while I presume it's a missing section of recording that causes Cirkus to cut straight into Get Thy Bearings, including the drum-solo-through-VCS3 that was later included in Groon. The expected Mellotron parts turn up in opener Cirkus and In The Court..., plus an exceedingly brief string part in Pictures Of A City, Fripp's quite mental brass on The Sailor's Tale, morphing into strings near the end, under Collins' (real) flute and horrendous Mellotron abuse in The Devil's Triangle, which, oddly, never quite breaks into the iconic flattened fifth riff. The following night, Zoom Club, 13th April 1971, a.k.a. Sailors' Tales, disc 5, is one of the most complete shows from the Lizard tour, featuring, for some unknown reasons, two versions of both The Sailor's Tale and Get Thy Bearings. Listening to this version of Crimso again, it's a wonder that Fripp persevered with it for as long as he did; this is a good band, but not a great one. Whimsical pieces (Cadence And Cascade, Lady Of The Dancing Water) rub shoulders uneasily with their trademark angular weirdness and Mellotron epics, while all concerned (even Fripp) seem happy to head resolutely up a jazzy blind alley at top speed, to the obvious bemusement of a roomful of young Germans. Middling Mellotron content, at least by the band's standards, with full-on, strident brass part some minutes into the first version of The Sailor's Tale, morphing into strings, minimal strings on Pictures Of A City, brass and strings, albeit briefly, on the second version of Get Thy Bearings and, of course, major string parts on The Court Of The Crimson King and The Devil's Triangle, a.k.a. Mars.
Jahnhalle, Pforzheim, Germany, March 31, 1974, a.k.a. Starless, disc 16, is a solid set from the era, only in any way outstanding due to its two improvs, the second of which is one of the band's better efforts. Plenty of Mellotron, of course, with faint flutes and background strings on The Great Deceiver, Cross' string part under thundering bass and guitar on Improv I, more chordal flutes and cellos on Improv II, the expected cellos and dual strings on Exiles and the equally expected strings on The Night Watch, Lament, Starless and Easy Money. Fracture's only three minutes or so, as the tape cuts out, so no idea whether it was the 'Mellotron version' or the 'non-Mellotron version'. There are now three volumes entitled The Collectable King Crimson (we're not going to go there re. the no fewer than ten volumes of The Collectors' King Crimson), each of which doubles up two releases. No big deal, until you realise that Volume 1 pairs the already-available Mainz gig and the original version of Casino, Asbury Park, New Jersey, June 28, 1974, better known as the source gig for USA. Eddie Jobson's overdubs are nowhere to be heard, Cross is back in the frame and the whole thing's in the correct running order. Hurrah! This is, unsurprisingly, an absolute stormer; Fripp didn't choose it back in '75 for nothing... Given that it doesn't seem to be available on its own, if you don't already have the Mainz set, buy this double, especially as it's available at Amazon and other online retailers. Stacks of Mellotron too, of course. Essential.
Palazzo dello Sport, Brescia, March 20, 1974, a.k.a. Starless, disc 8, gives us the second date of what turned out to be their final tour, several months after their last live outing. Highlights include the superb Improv II and a formative version of Starless; interesting, as versions from a mere few days later show the familiar live arrangement, pre-Fripp's rewritten intro melody. No Mellotron until track four, Easy Money, after which it rarely lets up, with great slabs of Cross' flutes on Improv II and strings later on, not to mention a radically different strings arrangement on Starless, Fripp and Cross both clearly winging it like crazy, with blatantly wrong chords in places from both men. Last track (probably not actual set closer) Exiles cuts off after four minutes; bootlegs, eh? Even official ones. Zoom Club, 14th April 1971, a.k.a. Sailors' Tales, disc 6 and the following night (disc 7) are notably different sets, even given that half of the latter is missing, both featuring blistering versions of Devil's Triangle, quite why Sinfield felt the need to insert random VCS3 whoops over several tracks can only be a matter for conjecture. Recognition? The only reason the 15th has a higher percentage of Mellotron tracks is that most of the missing material is the non-Mellotron stuff; other than that, both get TT½.
University of Texas, Arlington, TX, October 6, 1973, a.k.a. Starless, discs 25 & 26, contains one of this series' more interesting versions of Larks' Tongues I, its Mellotronic highlight being Cross' flutes and strings on Improv I. Stanley Warner Theater, Pittsburgh, March 6, 1972, a.k.a. Sailors' Tales, disc 14, sees the band having fun with Ladies Of The Road, while the six-minute Improv that ends the set has to be one of the slackest, most irrelevant improvisations across all these sets. As usual for an early '72 set, Cirkus is the only Mellotron track of any import. Kennedy Centre, Washington, DC, June 27, 1974, a.k.a. The Road to Red disc 14 features a longer-than-usual version of Easy Money and what the hell is Wetton singing in Starless? It sounds like random syllables, made up on the spot. Perhaps it is. No Mellotron on either (admittedly short) improvs, Cross giving us the only unexpected use as he plays a brief flute part with a string line towards the end on this version of Fracture. A good set, but not one of the greats. Riverside Theater, Milwaukee, March 8, 1972, a.k.a. Sailors' Tales, disc 15, sees the band moving into an Islands setlist, including a rather formative Ladies Of The Road and that bloody VCS3'd drum solo in Groon. At least the sound's decent and there aren't any incomplete tracks. Very little Mellotron, at least by Crimso standards, with the usual minor use in Pictures Of A City and Sailor's Tale, leaving Cirkus as the only major Mellotron moment. If the improv titles on Apollo, Glasgow, Scotland, October 23, 1973 look familiar, it is, of course, because a large chunk of the gig's been available for ages on The Great Deceiver. It's good to hear the whole thing, though, in the correct order, previously-unheard highlights including excellent takes on Fracture and Exiles, not to mention a ripping Talking Drum. Mellotronically, we get the usual parts on Easy Money, The Night Watch and Exiles, plus the tiniest smidgeon of Cross' strings on Fracture. Incidentally, note that the Peace - A Theme/Cat Food encore was extremely unusual for the band at this point and also incidentally, couldn't we have lost the entirely unnecessary six minutes of crowd noise that follows Larks' Tongues II?
Six months before the Mark 2 lineup dissolved, the band sound like they were having a whale of a time the night Live in Denver, March 13, 1972 was recorded. Ladies Of The Road has Boz Burrell introducing "Fingers Fripp, playing his blues licks", while various members are laughing too hard to sing their backing vocal parts. The rest of the set is at least played properly, but is a case-book study as to why Fripp eventually tired of their approach. Apart from the evergreen Schizoid Man, the only tracks that really stand out here are, coincidentally, the two containing Mellotron, with a fine Sailors Tale and a ripping Cirkus. It's a great shame Fripp threw the repertoire baby out with the bathwater for his next version of the band, as that lineup would've more than done the song justice; on the other hand, dropping Groon and its interminable VCS3'd drum solo did the music world a massive favour.
Fragments of Penn State University, June 29, 1974 escaped on The Great Deceiver, but once again, it's great to hear the whole gig, if only as a download, not least for Fripp's piss-funny onstage story concerning Elmer Gantry's Velvet Opera. A ripping set, with two excellent (if already available) improvs, Is There Life Out There? and Its For You But Not For Us, while Fracture is present in a particularly coruscating version. What's more, there's at least a little Mellotron on every damn' track bar opener Larks' Tongues II, with Cross' faint string part during the intro to Lament, the usual parts on Exiles, Easy Money and Starless, more Cross strings (so to speak) and what sounds like rare Fripp flutes on Improv: Is There Life Out There?, not to mention flute and string parts from Cross on Fracture. Augsburg, Germany, March 27, 1974 is a fairly standard '74 tour set, in other words, a blinder, certainly in comparison with most other bands touring at that time. Highlights include opener Dr Diamond and a slightly different arrangement on Starless, my only real criticism being the relative brevity of the set, although that's partly due to an early tape run-out truncation. Plenty of Mellotron again, although the handful of string chords on Lament and the rather surprising flutes on Fracture and The Great Deceiver are pretty minimal, leaving Easy Money, Starless and Exiles as the usual top Mellotron tracks. It's a mystery why Fripp didn't opt to release 2007's download-only Technical College, Hull, England, November 10, 1972 on CD until 2012's Larks' Tongues In Aspic (The Complete Recordings) box, as it's probably one of the best Mark 3 recordings I've heard. The band refuse to put a foot wrong, playing the whole of their new album, two improvs, including the amazing, half-hour Vista Training College Under Spotlight and, of course, the expected Schizoid encore. Fripp and Cross play the expected Mellotron parts on Exiles and Easy Money, but the set's Mellotronic highlight is clearly the cellos, strings and the seriously radical flute torture on the improv, finishing with a few string chords at the end of Larks' Tongues In Aspic (Part II), dropped on later renditions.
Veterans Memorial Coliseum, Columbus, OH, April 28, 1974, a.k.a. The Road to Red, disc 1, is a strange, truncated set, ending with two minutes of Fripp & co. feeling the love from the audience. No Starless (played but not taped?), but, Mellotronically speaking, the usual brief flute part on opener The Great Deceiver, flutes on Improv I and flutes and strings on Fracture. Live in Kassel, April 1, 1974 is anything but an April Fool; a slightly unusual set for the time, featuring four Starless & Bible Black pieces and another Dr Diamond (so why didn't they record this for Red, anyway?), but only two from Larks' Tongues, although it's truncated a few minutes into Fracture, probably missing a closing Larks' Tongues II. Has Fripp run out of suitable improv titles? Previous Club releases have diligently given retrospective titles to thirty year-old jams, but all we're given here is Improv I/II/III. I is essentially an extended intro to Dr Diamond and II performs the same function for Exiles, only more extended, leaving the brief guitar/violin duet III as the only one of the three worthy of particular mention. A reasonable helping of Mellotron, with the customarily short flute part on opener The Great Deceiver and the standard segments on Exiles, The Night Watch, Lament and Starless. Before you get too excited, Improv II isn't one of their Mellotron improvs, sadly, its Mellotron part only really being the first few cello notes to Exiles, included in the previous track due to the disc sequencing. 2008's download-only New Theatre, Oxford, England, November 25, 1972, a.k.a. Larks' Tongues Complete, disc 7, documents a short-yet-potent set, at its best on Larks' Tongues I and the twenty-minute improv, retroactively titled A Boolean Melody Medley. The more observant amongst you may have noticed that this recording features Mellotron during Fripp's announcement, as he and Cross tune their instruments (as far as anyone can) in preparation for the improv, where Cross gives it his all on the flutes for several minutes, Fripp plays shifting string chords under Cross' violin towards the end, finally leading into the familiar strings and cellos of Exiles.
There's little about Armoury, Wilmington, Delaware, February 11, 1972, a.k.a. Sailors' Tales, disc 10, to make it stand out from the pack. Dare I suggest that Fripp's policy of releasing everything might be slightly misguided? Of course, no-one's making anyone buy anything, but listening to multiple very minor variations on a theme is, frankly, somewhat mind-numbing. Oh well, no-one's making me do it. I think Fripp plays a slightly different guitar part on this version of Groon, but that's about it. Usual Mellotron parts, principally on Cirkus. Stanley Warner Theatre, Pittsburgh, PA, April 29, 1974, a.k.a. The Road to Red, discs 2 & 3, is the full version of the set originally aired on The Great Deceiver set, adding only a handful of versions of tracks we've heard on literally dozens of other releases. Chief Mellotronic point of interest? Cross' flutes all over Improv: Bartley Butsford. After innumerable download-only releases, 2009's Live in Boston, MA, March 27, 1972 is a welcome return to a real, hold-in-your-hand CD issue, although I've absolutely no idea why Mr. Fripp's opted to release this particular one 'properly'; superior sound quality? Everything's relative. Anyway, it's another typical early '72 set, albeit one with an especially cataclysmic version of Schizoid Man; Fripp was clearly on fire that night. Minor Mellotronic input from Collins and/or Fripp on Pictures Of A City, the usual parts on The Sailors Tale and Cirkus, so no real surprises here.
Collectors' Club 41, Live in Zurich, Nov 15, 1973, is yet another full version of a (pleasingly lengthy) gig plundered for The Great Deceiver, another ripping, improv-filled set more than deserving of its semi-legendary status, other highlights including a killer Larks' Tongues In Aspic: Part I and another Peace - A Theme/Cat Food. Mellotronically speaking, we get the usual string parts on Lament, The Night Watch, Easy Money and Exiles plus occasional flutes on Fracture, while on the improv front, there's a major Fripp string part on The Law Of Maximum Distress: Part I, less of the same on The Mincer, flutes on The Law Of Maximum Distress: Part II and superb Mellotron duet Some More Pussyfooting, featuring some radical pitchbending from Cross. All except The Mincer are on The Great Deceiver, but they're worth hearing in situ, not to mention in their correct running order. The relatively brief Community Theatre, Berkeley, CA, June 16, 1973 is one of the murkiest post-'69 recordings here, actually sounding like a bootleg, for once (he says, like this is a good thing). A short-yet-potent set, highlights include Dr Diamond and Improv I, essentially an intro to The Talking Drum, although the sound quality makes it less essential than many. We get the usual (albeit rather distorted) strings on Easy Money and Exiles, plus cellos on Improv Intro To Exiles and dissonant flutes and strings on Improv I, making for a relatively low Mellotron quotient, too.
Palazzo dello Sport, Udine, Italy, March 19, 1974, is probably the main oddity in the Starless set; the (nearly) full recording is tacked onto the end, as disc 27, while a mere three tracks, one of which (Larks' Tongues II), isn't on the longer version, are to be found on disc 7, in much higher quality, leading to a situation where two tracks (Exiles and Fracture) are duplicated. An early-in-the-tour set, it has several points of interest, not least what appears to be an otherwise-unheard song, as against instrumental jam (sorry, 'improv'), Guts On My Side, a really shaky (i.e. early) Starless and a rare tour outing for Book Of Saturday. Mellotronically, we get the usual parts plus an unusual (unique?) few seconds of strings on Doctor Diamond and flutes, cellos and strings on the reflective Improv II. Tarrant County Convention Centre, Fort Worth, TX, June 6, 1974, a.k.a. The Road to Red, disc 5, is one of the lower-fi recordings in this series, especially closer (encore?) Schizoid Man, which sounds like it's from a different (and poorer) source. For a poor-quality truncated set, this is actually pretty good, highlights include a particularly blistering version of The Talking Drum. Not that much Mellotron, by Crimso standards, with the usual parts on Easy Money, Lament and Fracture and cellos and strings on Improv. Fairground Arena, Oklahoma City, OK, June 7, 1974, a.k.a. The Road to Red, disc 6, is... a typical show from the band's last tour, its only standout feature, musically or Mellotronically, being Cross' mad, fairground flutes on Improv II and a particularly rabid Talking Drum. The heavily-incomplete The Barn, Peoria, IL, March 10, 1972 features Fripp adding a snatch of Lucy In The Sky With Diamonds to the end of Ladies Of The Road, while the near-twenty minute Groon stands out for being one of the most flaccid versions available, including a bizarre, sax-and-vocal led detour into Silent Night. Given that Earthbound's Peoria was excerpted from this set, perhaps the conspiracy theory that the album was Fripp's idea of a joke has legs. Avoid.
Live in Toronto, June 24, 1974 is the last of the complete versions of Great Deceiver material, featuring a particularly strong The Night Watch and Starless, while The Golden Walnut is the better of its two improv pieces. Most of the set features the Mellotron to one extent or another, with the usual parts on Lament, Exiles, The Night Watch, Easy Money and Starless, plus occasional flute and string parts on Fracture and a distant string part from Cross on The Golden Walnut and cellos on Clueless And Slightly Slack on the improv front. Oddly, Convention Center, Quebec City, Quebec, Canada, June 25, 1974, a.k.a. The Road to Red, disc 13, opens with a version of Schizoid Man, generally an encore, if played at all. A perfectly good, yet perfectly ordinary show, although Wetton's brief fuzz bass solo on Fracture wasn't played every night, while Fripp's fuck-up on a truncated Starless is a rarity, albeit one you have no need to hear. To be honest, even the Mellotron flutes on Improv I refuse to stand out from the pack. Live at the Marquee, August 10, 1971, a.k.a. Sailors' Tales, discs 8 & 9, is, in contrast to some of the above, an excellent document of the band's second lineup, featuring particularly combative versions of Cirkus and The Letters, while the set's Improv lasts a wholly unfeasible twenty-seven minutes. As with most sets from the tour, not that much Mellotron, with the usual parts on Pictures Of A City, Sailor's Tale and Cirkus, plus an unusual echoed flute intro to The Letters, or was it fed through Peter Sinfield's VCS3 at the desk?
To attempt to sum up the Club releases; all the above are worth hearing, but some are more worth hearing than others! I'd say go for Beat Club, Central Park and Detroit first, then all the others. Recently, the Club has changed its format, with individual releases all now available via the website, so it would appear it's no longer a subscription service. Fripp has said that if interest dies off, they'll have to cancel the Club, which would be a great shame, so get out there and buy some of the discs!

See: Main Crimso releases | Giles, Giles & Fripp | John Wetton | Trey Gunn Band | 21st Century Schizoid Band
---