---
Kent (France)
Je Ne Suis qu'une Chanson (2002, 52.12) ***/½

Je Ne Suis qu'une Chanson
Tous les Souvenirs
Les Paroles Silencieuses
Nos Amis, les Autres
Le Nez au Vent
Au Verso de l'Amour
Les Éléphants (Les Éléphants/Les Pôts Cassés)
La Vie Sans Complexes
Ça Sent l'Été
Pain Perdu
Le Pays d'où l'on Ne Revient Pas
L'Aventure Humaine
L'Homme de Mars (2008, 49.04) ***/T

Prologue
Ici et Maintenant
Welcome to My Paradise
Télépathie
On a Marché sur la Terre
Vibrato
Paroles d'Hommes
Comme George Bailey
Rapport Humain
Mon Etudiante
La Nostalgie de l'Avenir
Amer Sonnet
Miss Monde
Happiness et Moi
Dans le Rouge
Planète Mars
Epilogue
Panorama (2009, 74.54) **½/T½

Une Ville à Aimer
Un Peu de Prévert
Je Suis un Kilomètre
Panorama
Tous les Mômes
Betsy Party
Cash
Léo Song
Au Revoir, Adieu
Métropolitain
Mois de Mai
Reste Encore
Des Roses et des Ronces
Les Éléphants
Paroles d'Hommes
Inoxydable
Congas et Maracas
Juste Quelqu'un de Bien
Papillon de Nuit
Current availability:
Cyclone: Barclay
Je Ne Suis/L'Homme: AZ
Panorama: Thoobett
Chamberlins used:
Hervé "Kent (Hutchinson/Cokenstock)" Despesse, a man of many names, was vocalist with pioneering French new wave band Starshooter (it says here), subsequently releasing something like fifteen solo albums, at least three of which are supposed to feature the Chamberlin, although 2000's Cyclone, despite keyboard work by the legendary Mitchell Froom on every track, is not among them. 2002's Je Ne Suis qu'une Chanson is, however, an album based almost entirely on the sound of the traditional French accordion; unusual for a couple of tracks, wearing for twelve. François Lebleu's only definite Chamby use is the distant voices on La Vie Sans Complexes (male? Female? Both?), although it's possible there's something on the opening title track, making this a pretty low-priority tape-replay album.
2008's L'Homme de Mars appears to be some kind of concept effort, indecipherable to the non-French speaker. Musically, it largely consists of epic, mid-'60s influenced orchestral pop, for better or worse: possibly worse, on reflection, although (he said, grudgingly) it does it well. Fred Pallem on Chamberlin this time, with a little burst of strings on Comme George Bailey and more of the same on Dans Le Rouge, any other contributions being well and truly hidden in the mix. 2009's Panorama's chief influence is rockabilly, of all things, although Kent throws several rather French-sounding ballads into the mix, as you might expect, along with a handful of mainstream folk/pop efforts. Pallem on Chamby again, with flutes on Je Suis Un Kilomètre, a strings/brass mix and cellos on Les Éléphants and strings and cellos on Paroles D'Hommes. Is this the same Chamberlin used in the late '70s by Magma and Dan ar Bras? I think we should be told.
Jack Kerouac (US)
Doctor Sax & the Great World Snake (2003, 132.00) ***/T

Doctor Sax & the Great World Snake
Current availability:
Mellotron used:
Doctor Sax & the Great World Snake is Jack Kerouac's screenplay of his 'spontaneous prose' novel Doctor Sax (written 1952, published 1959), never filmed, but recorded as a double CD spoken-word set in 2003 by Kerouac's nephew Jim Sampas. As you might expect from the 'spontaneous' part of the above description, this is a somewhat random work, partially autobiographical, like much of Kerouac's work, this one concerning his childhood, both real and fantasy, incorporating vampires, alchemy and, of course, the world snake itself. Too many drugs, says I.
John Medeski plays Mellotron, if only just, with borderline-atonal choirs about twenty minutes from the end and similar cellos, followed by flutes some minutes later and strings right at the end of the narrative, giving the bizarre impression that Medeski was only invited to contribute towards the end of the sessions, assuming they were recorded entirely in sequence. This performance works better in some places than others; suffice to say, if you're not already a fan of Kerouac's work in general and this title in particular, you probably won't want to bother.
See: John Medeski
Kerrs Pink (Norway)
7" ( 1979) ***&frac12/½

Kong Edvardt
Feberlåten


Kerrs Pink (1981, 48.34/57.15) ****/T

Velkomst
Sett Dem Bare Ned
Barkbillens Flukt
Sang Fra Skogen
Pimpernelle
Parringsstevet
Bamse Brakar
Sirrus
Hvis Jeg er der Neste År
Avskjed
[CD adds:
Kong Edvardt
Feberlåten]
Current availability:
Mellotrons used:
Kerrs Pink (named after a brand of Norwegian potato, apparently) had been around since the early '70s in one form or another before releasing an independent single in 1979, Kong Edvardt/Feberlåten. Despite their ever-changing personnel, they recorded the single with the three-guitar lineup they'd used throughout most of their history, more mellow than you might expect, with a folky feel to both pieces. Halvard Haugerud's Mellotron is well back in the mix on the a-side, with a little strings, which seems a bit of a waste, but there you go. Something you don't often hear on 'progressive' stuff, whatever you take that to mean, is the rather jaunty feel of both of these tracks, obviously coming more from the folk end of things than the prog.
The following year, their self-titled first album draws on the Scandinavian folk tradition, amongst other influences (particularly on Parringsstevet); although most of the tracks are gentle, laid-back pieces, an occasional burst of (slight) aggression shows through, such as on Sett Dem Bare Ned or the closing section of the excellent Hvis Jeg Er Der Neste År. Other artists are largely noticeable by their absence in the band's sound, although Sirrus has a distinctly Pink Floyd bent to it (Cirrus Minor?) and a general 'symphonic' feel pervades several tracks. Again, not that much Mellotron, just choir and strings, so don't go buying this for that alone.
Incidentally, as you can see, both single tracks are included on the CD, which is a good job, as originals are almost certainly impossible to find. They almost certainly didn't use Mellotron on their second album, Mellom Oss, from a year later, although finding out for sure won't be the easiest task, as, when Musea reissued it, the band elected to submit an entirely re-recorded version of the album from the early '90s. Lost tapes? Dissatisfaction with the original? Who knows?
Kestrel (UK)
Kestrel (1975, 44.10) ***½/TTT½

The Acrobat
Wind Cloud
I Believe in You
Last Request
In the War
Take it Away
End of the Affair
August Carol
Current availability:
Mellotron used:
Kestrel's sole release is an odd little album, being a rare example of the little-remembered MOR/prog crossover (!). Adventurous arrangements, but frequently cheesy chord sequences and vocal melodies; what were they thinking? It's actually not a bad listen, as long as you temporarily disable your cheeseometer and pretend that the Fender Rhodes work sounds more like Gentle Giant than it actually does. The best tracks are probably opener The Acrobat and the two longer tracks detailed below, but there's nothing too awful on offer, unless you tend to wither and die at anything played in major (seventh) keys.
John Cook's Mellotron work is quite low-key until several minutes into the lengthy In The War, where a string part cuts in for thirty seconds or more, completely swamping the mix in grand style. Fabulous! The other overwhelming part is the strings and (faint) choir towards the end of the album's other long track, closer August Carol; the rest of his use consists of fainter string and choir parts, but these two tracks earn most of the 'T' rating above.
Marie Key Band (Denmark)
Hver Sin Vej (2008, 41.27) **/½

Bum Bum
Almindelig Dag
Blege Knæ
Ikkeryger Ven
Brevet
Loppen
Togsangen
Dope
Luften
Går Hun Ikke Meget for Sig Selv?
Fjernsyn
Den Stenede Jord
Fest og Liv og Dans
Current availability:
Mellotron used:
One of Tim Christensen's M400s
Marie Key Kristiansen's second and (to date) last album with her band, 2008's Hver Sin Vej, is, sad to say, a dull, mainstream pop album, although it becomes less predictable as it progresses, at its least tiresome on Brevet, the sparse Luften and Går Hun Ikke Meget For Sig Selv?, perhaps.
Tim Christensen plays one of his own Mellotrons, with a flute line and chordal strings towards the end of Ikkeryger Ven; sadly, that's it. Key has gone on to solo success, but I wouldn't expect any more of it than this sorry effort. Very dull.
Keyboards Triangle (Japan) see: Samples etc.
Alicia Keys (US)
As I am (2007, 55.59) **½/T

As I Am (Intro)
Go Ahead
Superwoman
No One
Like You'll Never See Me Again
Lesson Learned
Wreckless Love
The Thing About Love
Teenage Love Affair
I Need You
Where Do We Go from Here
Prelude to a Kiss
Tell You Something (Nana's Reprise)
Sure Looks Good to Me
Current availability:
Mellotron used:
I'm the sort of person who knows next to nothing about superstars like Alicia Keys, entirely from choice; seriously, why would I? It seems Alicia "Keys" Cook is a stage-school girl from a single-parent background who has sold thirty-odd million records to date; not bad going by anybody's standards, I suppose. She's a good singer, albeit in that awful 'R&B' style that's so horribly ubiquitous at the moment and a respectable pianist, making a change from the usual run of 'I can sing a bit' types who seem to sell CDs, er, downloads by the bucketload, none of which makes her utterly mainstream work any more appealing to moi.
Credited Mellotron on three tracks, with nothing audible on Superwoman, distant choirs on No One (both from Keys herself) and an interesting pitchbent string part on The Thing About Love from Bigelf's Damon Fox (!). Not interesting enough to give this more than one T, though.
Kid Down (Sweden)
Deadkidsongs (2005, 13.44) **½/T

We'll Make it Away
Nothing More, Just a Lie
Reality Through a Telescope
Portrait of a Young Man
Current availability:
Mellotron used:
Are Kid Down emo? Is that what this metal/indie/pop hybrid is? Their first release, 2005's Deadkidsongs EP, is the kind of thing a certain kind of young person goes for, while leaving those of us with longer memories completely nonplussed. The most irritating thing about this disc is that it has several good points, but they're all cowed into submission by the infuriating vocal style the band insist on using.
Someone (Eric Höjdén?) plays Mellotron, presumably real, as it was recorded at a different studio to the rest of the EP (usually a giveaway), with background string parts on all but final track Portrait Of A Young Man. I can't honestly recommend this to you, though; if this is emo, I'm outta here.
Kid Rock (US)
Kid Rock (2003, 67.15) ***/T

Rock'n'Roll Pain Train
Cadillac Pussy
Feel Like Makin' Love
Black Bob
Jackson, Mississippi
Cold and Empty
Intro
Rock'n'Roll
Hillbilly Stomp
I am
Son of Detroit
Do it for You
Hard Night for Sarah
Run Off to LA
Single Father
Current availability:
Mellotron used:
Robert James "Kid Rock" Ritchie is one of those phenomenally successful artists who have constantly flown under my radar (not that I expect he noticed), probably because his target audience, i.e. disaffected redneck American teenagers, is an awfully long way from my own social demographic. As a result, his 'unsuccessful' ('only' 1.4 million sales) eponymous 2003 album is the first thing I've heard by him and, I have to say, it's far better than I'd expected. Most descriptions of his style include hip-hop, metal, country and Skynyrd-style 'southern rock', sometimes all in the same song, which is pretty spot-on. It's actually quite difficult to fault his schtick, as he aims fairly and squarely at his target audience and hits them smack between the eyes (missing the brain by three feet) while making albums that contain, if not something for everyone (that ludicrous old chestnut), something for a lot more people than you might expect. The upshot of all this is that I actually found Kid Rock fairly palatable, if not something I'll put on every week (or year. Or possibly life), with some surprisingly universal lyrical themes and some reasonable cod-'suvvern' riffing.
Anyway, yer man Rock plays a lovely Mellotron flute part on his version of an unreleased Bob Seger number, Hard Night For Sarah, with the only other even vaguely possible use being the strings on Cold And Empty, although it seems likely they're generic samples, given how upfront it is on the Seger track. Again, the strings on closer Single Father are either real or programmed, but one decent Mellotron track is one more than I'd expected. So; a surprisingly listenable album, with an amusing cover of Bad Company's Feel Like Makin' Love for people old enough to remember the original. I shan't be rushing out to purchase anything else by Mr Rock, but at least I don't feel I've totally thrown away an hour of my life. Criticisms? Like so many modern albums, it's too bloody long, but that seems to be par for the course with mainstream stuff, so it's hardly even worth mentioning, although I did anyway.
Steve Kilbey (Australia) see: Samples etc.
Kill, Baby... Kill! (US) see: Samples etc.
Killing Floor (UK)
Out of Uranus (1970, 45.26) ***/T

Out of Uranus
Soon There Will Be Everything
Acid Bean
Where Nobody Ever Goes
Sun Keeps Shining
Call for the Politicians
Fido Castrol
Lost Alone
Son of Wet
Milkman
Current availability:
Mellotron used:
Killing Floor were a late-'60s blues boom band, whose sole album, 1970's Out of Uranus (oh my aching sides, etc.), is a somewhat unoriginal slice of under-powered blues-rock, that seems to have picked up some kind of posthumous reputation as a 'classic'. It isn't. Generic blues numbers like Where Nobody Ever Goes or Sun Keeps Shining don't exactly help matters, but a series of uninspired riffs and awful, clichéd lyrics drag the album down, although given time, it's possible the band could've pulled something out of the hat, going by the energetic, jammed-out ending to closer Milkman. Mind you, they invented/stole the Block Buster/Jean Genie riff three years early on Lost Alone, so maybe they were innovators after all, although there's a particularly poor example of the Dreaded Studio Drum Solo on Son Of Wet, so I take it all back. Maybe it worked better live.
Mellotron on one track, with some nice MkII strings on Soon There Will Be Everything from Lou Martin, later of Rory Gallagher's band. To be honest, it's the best thing about this very average album; how was it possible to be so unoriginal so early in hard rock's history? An inability to let go of the blues probably didn't help, along with a severe lack of imagination, I suspect. Anyway, a rather ordinary effort with a couple of reasonable tracks and one nice bit of Mellotron. This barely scrapes three stars. Disappointing.
Killjoys (Canada)
Melos Modos (1999, 44.55) ***/½

Perfect Pizza
Beckon Call-Girl
Honesty Mistake
I've Been Good
Sandalwood + 50
That's All
One Goodbye
Unpaid
Lucky Me
Cheerleader Type
Weeds & Worms
Rocketsleep/Hang Up
Current availability:
Mellotron used:
The Killjoys were a Canadian band, formed in 1992, operating at the punkier end of powerpop. Melos Modos was their third album and, while containing some reasonable material, fails to leap out at you like the genre leaders, although the key changes in Lucky Me work a treat, while the acoustic-with-cello Weeds & Words might just be the album's best track, sneaking in under the radar. Just when you think you've got the band sussed, they finish the album 'proper' with Rocketsleep, shifting into drone mode after a few minutes, jammed out to six minutes-plus before the tediously obligatory-for-the-time 'hidden track', Hang Up and several minutes of silence, for no good reason (subtracted from timing above).
Powerpop legend Marshall Crenshaw guests on Mellotron, with what has to be one of the most minor pieces of actually audible Mellotron on this site, a couple of seconds of buried-in-the-mix cellos on Beckon Call-Girl. Why bother? Anyway, a decent enough album in its genre, but far from classic, with next to no Mellotron.
John Kilzer (US)
Hide Away (2014, 53.19) ***½/T

Lay Down
Until We're All Free
Hide Away
Love Wants to Give its Heart to You
Sleeping in the Rain
Crescent Moon
Babylon
The White Rose and the Dove
Love is War
California
Eyes of Love
Graveyard Jones
Current availability:
Mellotron used:
John Kilzer's roots-rock credentials are impeccable, his life story a succession of left turns, from basketball star through mainstream albums on Geffen, addiction, songwriting kudos, church ministry and doctorate. As far as I can ascertain, after those two early major-label releases, his next album, Seven, appeared in 2012, Hide Away following two years later. A set of well-crafted Americana, highlights include opener Lay Down, Sleeping In The Rain, Crescent Moon, the beautiful California, all cello and upright piano and Graveyard Jones, which riffs on The Beatles' Come Together.
There's something terribly tentative about Rick Steff's Mellotron flutes on The White Rose And The Dove, which, along with its not-actually-fully-in-tuneness, have convinced me that, just for once these days, we're hearing a real machine. Only one track, mind, but it's a good'un. An excellent effort, then, that should keep the discerning Americana fan more than happy. Incidentally, Kilzer appears to have neither Wikipedia page nor website. Old school.
Kim (France)
Radio Lee Doo (2011, 40.09) ***/T

Radio Lee Doo
Muriel
To Kremlin
La Dolce Lee Doo
I'm Getting Old
Uptown
The Sunlights Never Came
The Candidate
Don Lee Doo
Goodbye Lee Doo
Current availability:
Mellotron used:
Kim Stanislas Giani's Radio Lee Doo is mostly a contemporary pop/rock album, occasionally taking a left-turn into something slightly weirder, as with La Dolce Lee Doo's jazzy moves or Don Lee Doo's properly out-there experimentation. The rest of the record performs the unusual trick of rarely repeating itself, from the opening title track's breezy powerpop, through Muriel's vaguely Supertramp moves, To Kremlin's electropop, I'm Getting Old's pop/punk and closer Goodbye Lee Doo's piano/synth balladry.
Giani's credited Mellotron presents me with a conundrum: usually, it's at least relatively obvious whether or not we're hearing samples, but the strings on Don Lee Doo could, genuinely, go either way. Sonically, they sound real, but some of the playing strikes me as improbable. But then, the major key-click towards the end of the track (this features a LOT of Mellotron) sound authentic, as does the very wobbly tuning. Help! Thrown such a curveball, I've opted to put this here, until (or if) I should find otherwise.
Jennifer Kimball (US)
Oh Hear Us (2006, 47.41) **½/TT

Can't Climb Up
Don't Take Your Love Away
Eternal Father
Is He or Isn't He?
The Wheel
Last Ride Home
When I Was Lost
East of Indiana
Lightning Bugs
Ballad #61
Wrap Your Troubles in Dreams
Current availability:
Chamberlin used:
Jennifer Kimball formed The Story in the '80s with Jonatha Brooke, the duo splitting after two records. 2006's Oh Hear Us is her second solo effort, a haunted singer-songwriter album, at its best on the sparse Last Ride Home, East Of Indiana and Ballad #61, although it's possibly too laid-back for its own good, jazzy closer Wrap Your Troubles In Dreams aside.
Paul Bryan plays Chamberlin, with cellos and strings on Don't Take Your Love Away, strings on Last Ride Home, When I Was Lost and East Of Indiana and flutes and strings on Lightning Bugs, all nice to hear, but not adding an awful lot to the overall picture.
Will Kimbrough (US) see: Samples etc.
Kin Ping Meh (Germany)
Kin Ping Meh (1971, 45.48/64.01) ***½/T½ (TT)

Fairy Tales
Sometime
Don't You Know
Too Many People (live)
Drugsen's Trip
My Dove
Everything
My Future
[CD adds:
Everything's My Way
Woman
Every Day
Alexandra
Too Many People]
No. 2 (1972, 39.39/48.11) ***/T½

Come Down to the Riverside
Don't Force Your Horse
Come Together
Together Jam
Livable Ways
Day Dreams
Very Long Ago
I Wanna Be Lazy
[CD adds:
Sometime (single version)
Sunday Morning Eve]
Current availability:
Kin: Polydor
No. 2: Eclipse
Mellotrons used:
Kin Ping Meh's debut eponymous album is not so much Krautrock as late-period psych/prog, with a guitar-driven jamming sound that was rapidly falling out of favour at the time. This isn't to denigrate the album; it's actually pretty good, with a driving rhythm section and good playing throughout, although it now sounds very dated, as with many contemporary lesser outfits. The CD version adds five tracks from non-LP singles and, while none of them are bad, neither are any of them very exciting, actually dragging the album into 'boredom' territory, although I'm in general agreement with the 'make everything available' lobby. There isn't an awful lot of Frieder Schmitt's Mellotron work, with flutes on Sometime and a good strings part on My Dove, one of the album's best tracks. If you hear the CD version, the single version of Too Many People also features flutes and strings.
The following year's No. 2 is, if anything, even less prog than their debut, the nearest they get to that hallowed state being the lengthyish Livable Ways and their take on The Beatles' Come Together, segueing seamlessly into Together Jam. Not that close, really. Schmitt on Mellotron again, with cellos and strings on Livable Ways and flutes, cellos and strings on Day Dreams, plus flutes on the CD's bonus single version of their debut's Sometime. Incidentally, there's the bizarrest YouTube clip available: KPM backing some bloke called Jacques Perrot, whose party piece appears to be playing his head. In fact, playing Mozart on his head. Backed by a MkII. I'm very keen to find out whether or not this track (Allegro) was ever released commercially. Anyone know? [n.b. It seems the video appeared on an Italian DVD from 2007, This is Kraut Volume 1. Any audio release?]
Kinetic Element (US)
Powered By Light (2009, 69.13) ***½/TT

Riding in Time
The Ascent
Now and Forever
Peace of Mind, Peace of Heart
Meditation
Reconciliation
See the Children
Current availability:
Mellotron used:
One of Frank Stickle's M400s
Kinetic Element grew out of keyboardist/vocalist Mike Visaggio's solo project, after the release of Starship Universe in 2006. 2009's Powered By Light sees him at the head of a quartet, making progressive rock in the grand tradition (American dept); lyrically, the album apparently explores Visaggio's Christian worldview, but I'm happy to say it isn't particularly apparent, or no more so than, say, Kansas' pre-obviously Christian albums. Actually, Kansas aren't a bad comparison in places; the very lengthy Reconciliation reminds me of them, particularly the piano work, although a better comparison may be the less well-known Magellan, notably their first couple of albums from the dawn of the '90s (another band led by a singing keyboardist, funnily enough). The album works its way through several different progressive styles; opener Riding In Time is a typical modern symphonic effort, there's a slightly fusionesque feel on Now And Forever, while Meditation is an acoustic guitar piece, although the band maintains a consistent feel across the record.
Instrumentally speaking, Visaggio uses equipment ancient and modern; parts of The Ascent illustrate perfectly how 'classic' and modern sounds usually make for poor bedfellows, the spikey digital synth sounds clashing badly with the Hammond, although this is the worst example. I don't know the story behind the contact, but Visaggio used one or more of East Coast Mellotron guru Frank Stickle's M400s (Frank provides Mellotrons for NEARfest when required). It isn't overused here, with a brief string part on Now And Forever and considerably more of the same, plus choirs, on Peace Of Mind, Peace Of Heart. Closer See The Children features those instantly recognisable Mellotron cellos in its intro, too, used in conjunction with strings later on, with more choirs under real voice.
Freddie King (US)
Getting Ready... (1971, 36.37) ***½/T

Same Old Blues
Dust My Broom
Worried Life Blues
Five Long Years
Key to the Highway
Going Down
Living on the Highway
Walking By Myself
Tore Down
Palace of the King
Texas Cannonball (1972, 36.42) ***½/½

Lowdown in Lodi
Reconsider Baby
Big Legged Woman
Me and My Guitar
I'd Rather Be Blind
Can't Trust Your Neighbor
You Was Wrong
How Many More Years
Ain't No Sunshine
The Sky is Crying
Woman Across the River (1973, 39.04) ***½/T½

Woman Across the River
Hootchie Cootchie Man
Danger Zone
Boogie Man
Leave My Woman Alone
Just a Little Bit
Yonder Wall
Help Me Through the Day
I'm Ready
Trouble in Mind
You Don't Have to Go
Current availability:
All titles: Shelter/The Right Stuff
Chamberlins/Mellotron used:
Various Leon Russell machines
In 1969, over ten years into his career, Chicago incomer Freddie King (you know perfectly well he's not related to either of the other two blues Kings) played the 1969 Texas Pop Festival, subsequently signing to Leon Russell's Shelter Records. He made three albums for the label, backed by a crack team of session players, not least Russell himself.
1971's Getting Ready... is, by blues standards (pun unintended), a pretty varied release, although opening with a slow, 3/4 blues (Same Old Blues) seems wilfully odd, frankly. His acoustic take on Elmore James' Dust My Broom works well, ditto Key To The Highway and the propulsive Going Down, although insistent closer Palace Of The King possibly takes 'top track' award. Russell adds what sounds like Chamberlin to a couple of tracks, with strings and an eccentric, descending flute line (illustrating the line "Morning rain keeps on falling") in opener Same Old Blues and background strings on Walking By Myself.
The following year's Texas Cannonball repeats the formula, highlights including opener Lowdown In Lodi (an energetic one, this time), the funky I'd Rather Be Blind, How Many More Years (just about recognisable as the song Zeppelin retitled How Many More Times) and the fabulous dual (note: not twin) guitar work on Ain't No Sunshine. Chamberlin-wise, Russell merely adds a distant string line to Can't Trust Your Neighbor this time round, in a way that suggests that he wanted to get it in somewhere (and why not?), as it doesn't especially add to the track.
No great change (OK, no change at all) for '73's Woman Across the River, top tracks including Boogie Man, the haunting Help Me Through The Day and Trouble In Mind, the last-named reminding me of one of his British acolytes, Peter Green. It sounds like Russell's playing Mellotron this time round, with chordal flutes on Danger Zone and string parts on Help Me Through The Day and Trouble In Mind, making this the most satisfying tape-replay release of the three. Tragically, having had a second stab at fame, King was to live all of another three years, dying at the end of 1976, essentially working and drinking himself to death, aged forty-two.
See: Leon Russell
King Adora (UK)
Who Do You Love? (2004, 36.54) ***/TT

Drag
9" of Pure Malice
Born to Lose
Kamikaze
Depression
Sweet Abandon
Boy for Rent
Maniac Love
Come
Death By Rock'n'Roll
Fear and Loathing
Love So Volatile
Asleep
Current availability:
Very Disco (out of print?)
Mellotron used:
Going by their second and last album, 2004's Who Do You Love? (let alone its cover pic), King Adora played a kind of garage glam, notably on opener Drag, which has something of T. Rex about it, unfortunately filtered through The Darkness. Top tracks? Drag, for its sheer chutzpah, 9" Of Pure Malice, for its title, Sweet Abandon and the punky Boy For Rent, amongst others.
My old pal Mark Wallis played his M400, with choirs and background strings on Born To Lose, strings all over Sweet Abandon and block choir chords on Fear And Loathing, although the voices on Drag sound more like actual backing vocals to my ears. If punky Brit-glam with a smattering of Mellotron sounds like your bag, this may just be your new favourite album.
King Black Acid (US) see: Samples etc.
| | |
| --- | --- |
| King Crimson (UK) see: | |
King Gizzard & the Lizard Wizard (Australia)
Murder of the Universe (2017, 46.49) ***½/TTT

Chapter 1: The Tale of the
Altered Beast
A New World
Altered Beast I
Alter Me I
Altered Beast II
Alter Me II
Altered Beast III
Alter Me III
Altered Beast IV
Life/Death
Chapter 2: The Lord of
Lightning vs. Balrog
Some Context
The Reticent Raconteur
The Lord of Lightning
The Balrog
The Floating Fire
The Acrid Corpse
Chapter 3: Han-Tyumi and the
Murder of the Universe
Welcome to an Altered Future
Digital Black
Han-Tyumi the Confused Cyborg
Soy-Protein Munt Machine
Vomit Coffin
Murder of the Universe
Sketches of Brunswick East [as King Gizzard & the Lizard Wizard with
Mild High Club] (2017, 42.30) ***/TT

Sketches of Brunswick East I
Countdown
D-Day
Tezeta
Cranes, Planes, Migraines
The Spider and Me
Sketches of Brunswick East II
Dusk to Dawn on Lygon Street
The Book
A Journey to (S)hell
Rolling Stoned
You Can Be Your Silhouette
Sketches of Brunswick East III
Current availability:
Mellotrons used:
I've only become aware of Antipodean recreational drug (ab)users King Gizzard & the Lizard Wizard recently, chiefly through some crazed videos on YouTube, so it's interesting to finally hear a full album. Their second full-lengther of '17, they claim that Murder of the Universe is only one of the year's four or five (!) releases; no, I've no idea where they get the energy/inspiration, either, although I can probably guess.
It's (in their own words) a 'concept album to end all concepts', split into three suites, The Tale Of The Altered Beast, The Lord Of Lightning Vs Balrog and Han-Tyumi And The Murder Of The Universe. Strangely, I haven't yet found an online review that mentions the Lord of the Rings connection with the Balrog; perhaps no-one's noticed? Anyway, it's an endearingly bonkers work, with female narration over the first two parts and a text-to-speech device on the third, a particularly bizarre track about a cyborg who wishes for two things: death and the ability to vomit. Right... Apparently (spoiler alert here), it achieves both, while its out-of-control vomiting destroys the universe. Guys, guys... Drugs. Just drugs. Musically (oh yeah; the music) it's a heavy psych/prog crossover thing, probably at its best on the first part and weakest on the third, utilising repeating themes throughout. Maybe that's how they release several albums a year?
Vocalist/guitarist/general frontman Stu Mackenzie plays Mellotron on the album. Real? I don't know where he'd have sourced one, but it doesn't 'alf sound genuine to my ears... He's actually credited with 'Mellotron flutes and choirs' and, indeed, that's what we get, with chordal flutes (briefly) on Alter Me II, a matched flute and choir line on Alter Me III, choirs on Altered Beast IV, flutes on Life/Death, female voices (I think) on The Reticent Raconteur, a suspiciously-speedy choir part on The Balrog, choirs on The Floating Fire, The Acrid Corpse, Welcome To An Altered Future and Digital Black and upfront flutes and background choirs on the title track. Whew! All in all, perhaps not a work of genius, but definitely one of considerable talent, not to mention considerable Mellotron. I'll be interested to see where the band go next.
And where they go next is... Sketches of Brunswick East (a Melbourne suburb), referencing Miles Davis' Sketches of Spain, in collaboration with a one-man project calling himself Mild High Club. Sticking with the Miles comparison, this is what happens when you cross the band's regular sound with jazz; it works in places and not in others, is my conclusion. Personal favourite is Tezeta, most of the album being simply too jazzy for this listener, but it does its thing with aplomb. More of that (real?) Mellotron, with flute melodies or background chords on all highlighted tracks, plus a choir melody and chords on The Book.
See: Samples etc.
King Hannibal (US)
Truth (1973, 31.23) ***/T

I Got That Will
The Truth Shall Make You Free
Party Life
Same Ole' Fool Again
Black Girl
Wake Up
It's What You Do
Hymn No. 5
Current availability:
Mellotron used:
Atlanta, GA's James "The Mighty Hannibal" Shaw (1939-2014) used the nom de plume King Hannibal during the '70s, although, according to Discogs, he only released one album and four singles under that name, as against twenty-something 7"s (but no albums) in his Mighty days. 1973's Truth is a soul/funk album of the 'deep cut' variety, far removed from the era's mainstream, thankfully, although I doubt whether it did Shaw any favours commercially. Best tracks? Probably The Truth Shall Make You Free and contentious, seven-minute closer Hymn No. 5, an anti-Vietnam war number that saw him put a few noses out of joint.
Dan Eckley plays 'Melotron', with a pseudo-orchestral strings part on Black Girl, quite distinct from It's What You Do's real ones. Ironically, the record kicks off with Hannibal declaiming, "This is my first album and I hope to God it don't be my last album", as little more was heard from him, although a couple of this album's tracks are available on 2001's Hannibalism!, on Norton Records.
King Missile (US)
Happy Hour (1992, 59.26) ***/T

Intro
Sink
Martin Scorcese
(Why Are We) Trapped?
It's Saturday
VvV (VulvaVoid)
Metanoia
Detachable Penis
Take Me Home
Ed
Anywhere
The Evil Children
Glass
And
King Murdock
I'm Sorry
Heaven
Happy Hour
Current availability:
Mellotron used:
King Missile are effectively a vehicle for John S. Hall's surreal poetry and outlook on life, every lineup held together by his artistic vision. After two early albums as King Missile (Dog Fly Religion), they dropped the suffix, along with their first guitarist and released the iconic Mystical Shit. 1992's Happy Hour was the new lineup's third effort, consisting of eighteen tracks, ranging from relatively (I do say relatively) straightforward early '90s rock (Anywhere, the title track) to surreal vignettes, such as the notorious minor hit Detachable Penis. But is it any good? 'Fraid I can't tell you; that's entirely down to taste, more than most vaguely avant-garde music. Some of it amused me, some of it bored me, while some of it lost my attention completely.
The inimitable Kramer produces and plays Mellotron on the lengthyish Take Me Home, with a string part that floats through the track in a slightly threatening kind of way. Shame it isn't used more, but I'd imagine Kramer and Hall decided it would have more effect used sparingly. Or something. Anyway, an odd record, but if you appreciate the (slightly) further-out reaches of the art, you might just go for this. Not worth it for one Mellotron track, though.
See: Kramer
King of Woolworths (UK) see: Samples etc.
King Radio (US)
Are You the Sick Passenger? (2004, 38.39) **/TT½

Introduction
Famous Umbrellas
Meet the Maker
Caveat Emptor
Busman's Holiday
Intermission
The Sick Passenger
Pistil and the Stamen
You Were the One
Am I the Same Girl?
Dead and Gone
Haley's Comet
Current availability:
Chamberlin used:
Massachusetts' King Radio (presumably in honour of the 1930s Trinidadian calypsonian of the same name) are The Divine Comedy after a lobotomy, refusing to temper their '60s-inspired loungecore with the faintest shred of wit or humour, let alone memorable songs. Is anything here worth the effort? Intermission sounds exactly like cinema intermission music from the '70s, belying what I said about humour, but drivel such as Famous Umbrellas and Am I The Same Girl? seem tailor-made for faux-'60s indie nerds.
Peter Baldwin plays Fidelitorium Studios' Chamberlin, although, with several credits for 'keyboards', not to mention real strings, it's sometimes difficult to tell where it might be. I'd say the strings and flutes on Introduction, flutes on Busman's Holiday and Intermission, vibes on The Sick Passenger itself and Pistil And The Stamen, chordal flutes on Dead And Gone and vibes on (deliberately?) misspelled closer Haley's Comet, but I could be wrong. This really is terrible. Avoid.
Kings' Boards (Japan)
Kings' Boards (1990, 38.45) ***½/T½

Drama Composition (Motoi Sakuraba)
The Maze of May (Shigetomo Hashimoto)
Corde Spirale (Naomi Miura)
Ladies of Green & Blue (Manabu Kokado)
Hungary (Kodomo Endo)
Current availability:
Made in Japan (Japan) - still in print?
Mellotron used:
This is a bit of an oddity; not a band at all, but a project involving five different noted Japanese progressive keyboard players from the '80s from various bands including White Fang, Deja-Vu and Rosalia; the rhythm sections are mostly from White Fang and Social Tension, managing a reasonably cohesive sound across the album. All tracks are as expected; guitar-free keyboard extravanganzas with superb, lightning-fast playing from a bunch of classically-trained musicians, although technique tends to take precedence over composition in most cases, with something of an excess of nasty '80s noises on some tracks.
All concerned use a mixture of digital and analogue gear, Rosalia's Naomi Miura's equipment list featuring a Roland sampler as the only modern bit of kit. Her track, Corde Spirale, opens with what sounds like Mellotron cellos, with a snatch of flutes and a string melody before a great 'eerie discordant strings' part. There's a choir part later on, so maybe I was wrong about the cellos, or maybe she owns two tape frames. Miura's track is the most adventurous on the album and not just because of her gear... It has less of that 'smooth '80s feel' about it and is considerably more angular than anything else on offer. A few too many Emersonisms here for comfort (all concerned list their favourite keyboard player and two name him), not to mention too many spiky digital patches, but worth a listen if you don't have to fork out too much for it.
See: Rosalia
Kingsbury Manx (US) see: Samples etc.
Gershon Kingsley (US)
The 5th Cup: A Spirit Explosion (1974, 45.28) ***½/TTT

1984
One, One is One
Ode to Life (Kiddush)
To Celebrate Our Freedom
First Question - Poverty Ballad
Second Question - Bitter Herbs
Third Question - Superstition
Fourth Question - Walk Like a Free Man
Wise Man Say
What Does it Take (the Ten Plagues)
Security Song/Reprise of One, One is One
Then Came the Law/Grace
Current availability:
Mostly on God is a Moog: The Electronic Prayers of Gershon Kingsley: Reboot Stereophonic
Mellotron used: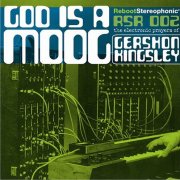 You know Popcorn - everyone knows Popcorn, even if they were born after its chart reign in 1972. But do you remember the artist? Hot Butter, for what it's worth. Who? A Danish group of synth nuts, as it happens, although the track was written by a Jewish/Catholic German/Israeli émigré, Götz Gustav "Gershon Kingsley" Ksinski (1922-2019). Kingsley settled in America after the war, becoming an electronic music pioneer in the '60s with the better-known Jean-Jacques Perry, releasing the original version of Popcorn in 1969, on Music to Moog By. It turns out he'd been releasing albums for over a decade by that point, only slowing down (not stopping) in his sixties. One of these, 1974's The 5th Cup: A Spirit Explosion, co-credited to Norman Simon and Theodore Bikel, is probably best described as Jewish rock opera, despite Kingsley's stated lack of belief. Musically, this treads a line between two different eras, his Broadway tropes sounding heavily dated, as you can imagine, bizarrely juxtaposed with his up-to-the-minute Moog experimentation. Unfortunately, one of Kingsley's influences seems to be ELP, of all bands, especially in the organ department, although his heavy Mellotron use is very unEmersonian.
Now, I have an admission to make: I haven't actually heard the entire album, just the slightly edited version, some tracks combined, to be found on 2006's God is a Moog: The Electronic Prayers of Gershon Kingsley. It's difficult to say for sure, but it looks like this version chops just one track, Fourth Question - Walk Like A Free Man, so I've had to leave it unhighlighted, whether or not it actually featured any Mellotron, which I shall correct (if necessary), should I ever get to hear the full album. Anyway, he played Mellotron strings on 1984, flutes and strings on Ode To Life (Kiddush), strings on To Celebrate Our Freedom, flutes on First Question - Poverty Ballad, flutes and strings on Third Question - Superstition and strings on Wise Men Say and What Does It Take (The Ten Plagues), although I'm not convinced you actually need to hear it for that reason alone.
Decades later, an eighty-two year-old Kingsley, still a pioneer, opened his archives, the results being the aforementioned two-disc God is a Moog, compiled from various oddities, including Jewish devotional recordings, recorded between the late '60s and mid-'70s. Its contents are pretty bizarre; imagine a baritone vocal singing in a pre-rock'n'roll era style over early electronics, or, as I said, Jewish rock opera (disc two also includes 1971's Sabbath/Shabbat for Today), which received a far better reception at the time than he expected. A fascinating document of the work of a true maverick, you may only play this once, but I can guarantee you'll be glued to your seat for the duration. Weird, but in a good way.
---