Secrets on Parade (2000, 54.31/58.55) ****/TTTT

Secrets on Parade
Get the Fuck Out of My Mind
Time is the Space Between Us
Love is a Matter of...
Watery Eyes
Falling to Pieces
Let's Face it
Prime Time
Stranger
21st Century High
Caterpillar
Kings Garden
[Jap CD adds:
Misty Mono]
Honeyburst (2003, 53.36) ****/TTTT

Intro
Surfing the Surface
Lost and Found
Jump the Gun
Whispering at the Top of My Lungs
Lay Down Your Arms
Right Next to the Right One
Isolation Here I Come
No Easy Key
Close the Door
Don't Leave Me But Leave Me Alone
Tonight I'm Fine
unlisted track
Superior (2008, 47.03) ***½/TTTT

One of These Days
Hard to Make You Mine
Superior
Wonder of Wonders
Two is a Crowd
India
As I Let You in
Tell Me What You Really Want
Love Rears its Ugly Head
Song for Shelly
Follow My Lead
Maggie My Dear
Tim Christensen & the Damn Crystals (2011, 45.56) ***½/T

The Damn Crystals
Surprise Me
Far Beyond Driven
Million Miles Away
Happy Ever After
I'll Let You Know
Love and Water
All Them Losers
Wiser
Never Be One Until We're Two
Current availability:
Secrets/Honeyburst: EMI (Denmark)
Superior/Damn: Mermaid (Denmark)
Mellotrons used:
Secrets/Honeyburst: one or more of Tim's M400s
Superior/Damn: one or more of Tim's M400s/Tim's M4000
Once upon a time there was a devilishly good Danish hard rock outfit with the rather suspect moniker Dizzy Mizz Lizzy (give 'em a break, they were really young), little known outside their homeland and Japan. Their eponymous debut (*****) was the dog's, although follow-up Rotator (***) couldn't match it for quality. Sadly, mainman Tim Christensen chose to split the band and concentrate on his burgeoning production career for a while, during which he discovered the Mellotron and bought three M400s (probably Denmark's entire population).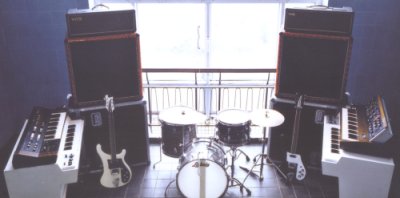 Which leads us to his solo debut, Secrets on Parade. There are echoes of DML here, particularly in some of the guitar parts (see the magnificent Get The Fuck Out Of My Mind), but the album has a lighter sound overall and Tim's songwriting skill has recovered since Rotator. There's plenty of Mellotron on board, mostly chordal string parts and occasional bursts of cello and brass, while I'm sure I can hear Mellotron electric guitar on the excellent Prime Time, just after the 'Palm Court'-style strings. Tim Christensen is definitely a Mellotron convert, which makes me wonder how the DML albums might have sounded with the occasional burst...
Christensen's second solo album, Honeyburst, keeps up the standard set by his first, with strong, if relatively mainstream songwriting, with the odd rocker thrown in to confuse the casual listener. Even more Mellotron this time round, or at least, more variety, with loads of cellos and a flute solo on one track. Individual highlights are hard to pick out, although I particularly liked the drawn-out Don't Leave Me But Leave Me Alone, with its jammed-out coda. Either way, if you liked his debut, you'll like this.
2008's Superior follows after an overlong, five-year wait, largely showcasing a gentler side to Tim's songwriting, ironically a mere two years before 2010's time-constrained DML reformation. Highlights include the Typically Tim Hard To Make You Mine, the title track and Song For Shelly, while the album's most atypical material includes Rhodes ballad Wonder Of Wonders and jazzy, Beatles-esque closer Maggie My Dear. Tim plays Mellotron on most tracks (big surprise), with cellos and strings on Hard To Make You Mine and Love Rears Its Ugly Head, strings on the title track, India and Tell Me What You Really Want, flutes on Two Is A Crowd and Song For Shelly (plus real strings), while I think that's the boys' choir on Follow My Lead and oboe on Maggie My Dear.
Post-Dizzy Mizz Lizzy reunion, 2011's Tim Christensen & the Damn Crystals is a little rockier than its predecessors, although its most notable feature has to be Tim's use and crediting of a proper band again, for the first time in his solo career. Top tracks include ten-minute (!) opener The Damn Crystals, Happy Ever After and the offbeat Love And Water, while any familiarity in Far Beyond Driven's title is (semi-) deliberate; it seems that Tim used the Pantera album as a working title, then found that 'nothing else fitted as well'. Unfortunately, however, it's noticeable that most of the album's tracks start well, then pretty consistently drift off into less dynamic territory. Although the Mellotron (played by keys man Christoffer Møller) is uncredited, Mellotronic (as against any other variety) strings can be heard on Million Miles Away and parts of Happy Ever After, although all other string, flute, cello and choir parts sound rather too generic to my ears, which probably means they're actually Mellotron.
All in all, several rather good little albums, with lashings of Mellotron. Despite the first two's major-label status (EMI Denmark), I doubt if you'll find them in your local record emporium, but they're available via Tim's site. Incidentally, Christensen has played Mellotron on various production jobs over the last few years; links to those I've been able to review at the bottom of the page.

Live at Abbey Road Studios, 2004 (2005, 87.57) ****
If you've spent any time at all on this site, Tim Christensen really should need no introduction: mainman of the underrated/near-unknown Dizzy Mizz Lizzy, his handful of solo albums continue to highlight his idiosyncratic writing skills. Although his fame is sadly still largely confined to Scandinavia and Japan, a few high-profile production jobs (not least Celine Dion) are beginning to get his name about. Live at Abbey Road Studios, 2004 (also filmed and released on DVD) is a document of the (invitation-only) last night of his Honeyburst tour, featuring not only the electric and acoustic segments of the show, but five tracks of studio-recorded acoustic versions as a bonus. The live material's excellent, as you'd expect, featuring roughly equal numbers of tracks from his two solo albums, plus a superb acoustic version of DML's classic Love Is A Loser's Game, making for a good primer to Tim's solo work.
Tim is, of course, a major Mellotron user, although, for some reason, he elected not to bring one over for the gig, nor borrow/hire one here. Instead, his second guitarist/keys man plays a MIDI controller in a Mellotron-shaped box (right). Why, Tim? I know the whole shebang was filmed, but you can spot it in the close-ups if you know what you're looking for. Anyway, we get strings, cellos, flutes, vibes, oboes... I've just realised why he used samples on the night: you can't get enough sounds into an M400 to accurately reproduce the studio versions. To be honest, you can spot the samples from the squashy low string notes, but not only do they mostly fool the ear, but you have to watch the DVD for the close-ups to determine that we're not looking at The Real Thing here. Actually, given that the bonus disc's tracks are studio recordings, might that be real Mellotron we're hearing? If I find out that's the case, I shall move this review forthwith.
So; what it loses in the way of studio sheen, Live at Abbey Road gains in live atmosphere, even if the venue's not the most obvious. In some ways, you're better off buying the DVD version; several tracks are on YouTube if you'd like to see what you're buying. No actual Mellotron, but a very good facsimile.

See: Dizzy Mizz Lizzy | Celine Dion | Girlfriend | Louise Hart | Kashmir | Marie Key Band | Kim Larsen | Melanies | Mew | Swan Lee | Winther-John
---