---
Gardener (US)
New Dawning Time (1999, 37.32) **½/T

Tamed
New Dawning Time
Backseat
Shakedown Cruise
Outside Looking in
(You Wear the) Raincoat
Canyon
Quay
End Up That Way
Struggle With Sickness
Come Again
Current availability:
Mellotron used:
A decade after the release of their sole album, 1999's New Dawning Time, Gardener are looking increasingly like a vanity project for the musicians concerned, Seaweed's Aaron Stauffer and Screaming Trees' Van Conner. It's apparently a fairly straight mix of the two bands' sounds which, for the uninitiated, means a kind of '90s American punk/indie thing, which may well appeal to many people, but doesn't grab this reviewer in any meaningful kind of way.
Conner (originally a bassist) plays almost everything on the album, by the looks of it, including Mellotron, with very background strings on (You Wear The) Raincoat and a cranky solo cello on Quay, although that would appear to be it. Generally speaking, then, a rather dull album with only one even slightly decent Mellotron track. Go elsewhere, I think.
Ted Gärdestad (Sweden)
Upptåg (1974, 33.54) **½/T½

Silver
Öppna Din Himmel
Viking
Buffalo Bill
Love Comes
Eiffeltornet
Goliat Från Gat
Can't Stop the Train
Fantomen
Regnbågen
Current availability:
Mellotron used:
Ted Gärdestad (1956-1997, apparently known internationally as Ted) was Polar Music's second-best selling artist, whose third album, 1974's Upptåg, sees all of their best-sellers helping him out on a set of mainstream pop/rock of the era. Any better tracks? Probably glam-lite opener Silver, the vaguely rocky Fantomen and gentle, instrumental, Coral sitar-driven closer Regnbågen.
Benny Andersson plays (presumably Polar/Abba's) Mellotron, with chordal strings on Buffalo Bill and high, sustained string notes on Regnbågen. although the strings on Öppna Din Himmel and Can't Stop The Train are real. Even for the time, this is far from a Mellotron classic, frankly.
Hirsh Gardner (Canada) see: Samples etc.
Jacco Gardner (Netherlands)
Cabinet of Curiosities (2013, 41.39) ***½/TTT

Clear the Air
The One Eyed King
Puppets Dangling
Where Will You Go
Watching the Moon
Cabinet of Curiosities
The Riddle
Lullaby
Help Me Out
Summer's Game
Chameleon
The Ballad of Little Jane
Current availability:
Mellotron used:
Nederlander Jacco Gardner is a real solo artist: someone who writes, plays, sings, produces... Despite only being in his early twenties, his influences hail entirely from the late '60s: Brian Wilson, Love, Curt Boettcher/The Millennium, The Zombies and, of course, Syd's Floyd. His debut, 2013's Cabinet of Curiosities, is everything you could hope for, given his influences, albeit in a somewhat ersatz way; everything's in its correct place, but there's not a shred of originality about any of it. Gardner's deadpan baritone vocals have something of Syd about them, while the instrumentation (flute, harpsichord, Mellotron, a very '60s-sounding organ) is either genuine or damn' good copies; suffice to say, this could, in many ways, date from 1968 on all fronts. Best tracks? Nothing actually disappoints, but opener Clear The Air (nice key changes), the waltz-time Watching The Moon, the instrumental title track, The Riddle and Lullaby possibly stand out.
Gardner plays what seems to be real Mellotron (where did he source one?), with strings on every track, even if only faintly, plus cellos on Where Will You Go and flutes on closer The Ballad Of Little Jane. Real? A short passage in The One Eyed King sounds authentic, ditto the repeating solo part on The Riddle, but some of the other parts could quite easily be samples. I apologise if I seem to have been harsh here; surely, when the world is awash with terrible sub-post-rock and landfill-indie garbage, someone making an album as beautiful as this should be lauded to the skies? Don't get me wrong, this is a lovely record, but please, Mr. Gardner, inject a little of yourself into your next venture.
Art Garfunkel (US)
Breakaway (1975, 36.44) **½/½

I Believe (When I Fall in Love it Will Be Forever)
Rag Doll
Break Away
Disney Girls
Waters of March
My Little Town
I Only Have Eyes for You
Looking for the Right One
99 Miles From L.A.
The Same Old Tears on a New Background
Current availability:
Mellotron used:
By 1975, Art Garfunkel was two solo albums out of his collaboration with Paul Simon, having taken a couple of years out of the music business at the beginning of the decade. Breakaway is exactly what you'd expect of an Art Garfunkel solo album: ballad-heavy adult pop, with little of the magic of the Simon & Garfunkel years, although perfectly harmless as these things go. Its best tracks are probably Break Away (a hit, it brings back memories of the time) and My Little Town, written for him by Simon and included on both their albums that year.
Bill Payne plays Mellotron on Waters Of March, although what I take to be a faint string part near the beginning is as good as drowned out by a string synth. I can't imagine there are many people out there who would like to hear Garfunkel's solo albums but haven't, so my opinion's pretty much irrelevant, really. Suffice to say, don't bother for the Mellotron.
Gargamel (Norway)
Descending (2009, 47.02) ***½/TTT½

Descending
Prevail
Trap
Labyrinth
Current availability:
Mellotron used:
Gargamel's (named for a Rabelais character, also the bad guy in The Smurfs...) first album, 2006's Watch for the Umbles, used Mellotron samples, making their second effort, 2009's Descending, the first to properly concern us here. It's a diverse record, which makes a change from most modern progsters, who tend to find a style and stick to it doggedly. The opening title track has a distinct 'Canterbury' feel to it, accentuated by using the same organ sound as Caravan, Prevail is more Änglagård and Labyrinth veers a little too closely to Van der Graaf for comfort, complete with raucous sax and (presumably) Tom Uglebakken's Hammillesque vocals. Where the album falls down is on the originality front; there's plenty of energy, some great key changes and even a jammed-out section in Labyrinth, but the overall feel is of a band still finding their way and not because of their frequent stylistic shifts.
One of two keyboard players, Arne Tøn adds all the Mellotron work on the album, with strings on Prevail and choirs and strings on Trap and Labyrinth, particularly heavily on the latter. Even without this photo, it's quite clearly real, although I've no idea who they borrowed it from. Overall, then, a decent effort, if not outstanding, but still many leagues ahead of the hordes of Spock's Beard and (immeasurably worse) Dream Theater wannabees that infest the scene, so if you're not so worried by their on/off resemblance to some better-known outfits, you could do far worse than to pick this up.
See: Samples etc.
Wechsel Garland (Germany) see: Samples etc.
Gasoline Heart (US)
You Know Who You Are (2006, 49.24) ***½/T

Move Along
Cheers (Here's to Life)
All the Way
When Big Girls Grow Small
Redlight, Redlight (Hey Baby)
Paralyze
Steam (a Well Dried Up)
Meet Me in Georgia
That Girl
Rumors, Rumors
Long Island (What's Keeping Me From Here or Anywhere to Be Exact)
Kiss Off
Current availability:
Mellotron used:
Electrical Audio Studios' M400
Gasoline Heart are a superior garage/powerpop outfit from Brooklyn, whose debut album, 2006's You Know Who You Are, shifts between the Replacements-esque powerpop of opener Move Along and Cheers (Here's To Life) through the even more melodic realms of All The Way and Redlight, Redlight (Hey Baby) to the mandolin-driven Rumors, Rumors. Truth be told, there isn't a bad track here, actually, although at nearly fifty minutes, the album outstays its welcome slightly, possibly knocking half a star from its rating.
Andy Simonds plays producer Steve Albini's Electrical Audio Studios' Mellotron, with a background string part on Steam (A Well Dried Up) and wobbly flutes on closer Kiss Off. If you like your powerpop with a bit of grit and don't mind sifting through a slightly overlong album, you could do an awful lot worse than to invest your time and money in a copy of You Know Who You Are, although I'm not sure I'd bother for the Mellotron.
Gateless Gate (Canada) see: Samples etc.
Gateway Singers (US)
Family Portrait (197?, 32.09) *½/T½

Say I Do
I'm Standing on the Solid Rock/Rock of Ages
Singing Alleluia
He Isn't There
Let My Light Shine
What a Difference You've Made in My Life
Hallelujah Square
The Lighthouse
Loving Like a Man
Holy Spirit Thou Art Welcome in This Place
Current availability:
Chamberlin used:
Larry Benson's machine? (Model unknown)
The undated (mid-'70s?) Family Portrait is either the ninth or tenth Gateway Singers album, which, probably appropriately, properly puts the fear of God into me, I can tell you. What, there's another eight or nine of these horrors? At least? Help! Unlike some of the other '70s pre-CCM drivel my pal Mark sends me (yeah, thanks, mate), this at least avoids the 'piously lugubrious' trap, being an upbeat kind of effort, displaying at least a passing acquaintance with actual gospel music. You know, that real, black, Southern Baptist kind of stuff. Saying that, this is still unmitigated shite, one of the male singers tragically unable to hold a note for more than a second or so without veering off, glaringly obviously in most of the harmony parts. Maybe someone should've told him.
Funniest moment? (Look on the bright side; at least it's got one). Possibly the funk-lite of Let My Light Shine, like a low-low-budget Jackson 5 production, if you can imagine the style played (and worse, sung) by white Christians. Actually, the thing about this that really made me smile was some of the titles: He Isn't There. Well, we know that, you twats; irony is clearly not your strong point. Hallelujah Square: surely, 'Hallelujah, Square'? They don't come a lot squarer than this lot, frankly. And finally, Loving Like A Man: what, in church? Oh, I say, reverend! Er, have I got the wrong end of the stick here? (So to speak).
Label (Benson Sound, Inc.) owner/producer/arranger Larry Benson also adds (his own?) Chamberlin to a few tracks; the album opens with a flute arrangement on Say I Do, with pseudo-orchestral (of course) strings on Hallelujah Square and strings and flutes on appallingly tinkly closer Holy Spirit Thou Art Welcome In This Place. As Mark says, if this Benson character was a big man on the local God-bothering scene (Iowa area), then there's probably more of this stuff out there, Chamberlin ablaze with religious fervour. Run away. Run away fast.
Rachel Gaudry (Australia) see: Samples etc.
Stephen Gause & the Sol Gratis Project (US) see: Samples etc.
Mary Gauthier (US)
Between Daylight & Dark (2007, 50.18) ***/T

Snakebit
Can't Find the Way
Between the Daylight and the Dark
Last of the Hobo Kings
Before You Leave
Please
Same Road
I Ain't Leaving
Soft Place to Land
Thanksgiving
Current availability:
Chamberlin used:
Given that Mary Gauthier's from New Orleans, I'd have though her name was pronounced 'go-tee-ay', but it seems it's 'go-shay', presumably an Americanisation of French pronunciation. It seems her tragic beginnings have informed her whole career; given away by a mother she never knew, ran away from foster parents in her teens, finally tracked her birth mother down who wouldn't even meet her... Unsurprisingly, Gauthier's chosen method of communication is country, although it's thankfully nearer to American folk than the Nashville Horror, making her fifth album, 2007's Between Daylight & Dark, a very listenable proposition, in a bleak kind of way.
Patrick Warren on Chamberlin, again, with strings and flutes on Please, strings on Soft Place To Land and flutes on closer Thanksgiving, none of it that overt, sadly. Overall, a decent folk/country record, though listening to the lyrics more than I did might enhance it for you. Very little tape-replay, though, as so often; no point overdoing it, I suppose...
Marvin Gaye (US)
What's Going on (1971, 36.01) ****/T

What's Going on
What's Happening Brother
Flyin' High (in the Friendly Sky)
Save the Children
God is Love
Mercy Mercy Me (the Ecology)
Right on
Wholy Holy
Inner City Blues (Make Me Wanna Holler)
Current availability:
Chamberlin used:
Motown studio machine (model unknown)
Marvin Gaye's What's Going on is regarded as one of those seminal albums after which nothing was ever quite the same again. Breaking free from the Motown 'hit factory' shackles, Gaye wrote an album of protest songs, entering areas new to soul and a million miles away from its public persona as light entertainment or dance music. Now, I'll be perfectly honest here and say that the album does very little for me personally, but I can see why it's rated so highly amongst fans and critics alike, even if I don't actually choose to own a copy.
You'll find plenty of erudite reviews of the album on the 'Net, so I'll concentrate on what I'm best at: Mellotrons. Or, in this case, Chamberlins. It's rumoured that Motown owned a Chamby and it may be on loads of the label's recordings, but it seems impossible to verify this sort of information; after all, this music is about emotion, not technology. It would be nice to have some sort of confirmation, though... Most of What's Going on features the usual real strings, brass and backing vocals you'd expect, but Mercy Mercy Me (The Ecology) quite clearly has Chamby choir, although I think the strings are real. Why? Who knows, but it's very obviously not real voices, at least, I suppose they are, but once removed. So; don't buy the album for this reason, but if you want intelligent soul with a message, it doesn't come much better than this.
Mark Geary (Ireland)
33⅓ Grand Street (2002, 48.13) ***/T

Gingerman
Obi's Chair
Songs My Mother Taught Me
It Beats Me
Suzanne
Adam & Eve
Not Like Home
America
South
Volunteer
Here's to You
Current availability:
Mellotron used:
Dubliner Mark Geary moved to the States in his late teens, gradually working his way up the NTC pecking order. His second release, 2002's 33⅓ Grand Street, is a decent enough singer-songwriter effort, although his future film/TV soundtrack work is already evident in a certain blandness to much of its material. Best tracks? Full-blown Americana opener Gingerman (nice Clavinet work), South and Volunteer, the last-named reminding me of Television, of all bands (right city, I suppose).
Bruce Martin plays Mellotron, with probable background flutes on Obi's Chair and far more upfront ones on Suzanne, making me think we're probably hearing a real machine here. This is all a bit mainstream, but I've heard an awful lot worse in the genre, thus three stars, although not really worth it for the Mellotron.
Arthur Gee (Canada)
Arthur Gee (1971, 39.07) ***½/T½

Dimensions
Plain Talk
Cotton Suede
Love Song 451
A.L.F.A.L.F.A.
Country Fable
Waterweight
Love Song 450
Confessions
Dawn of Time
Current availability:
Mellotron used:
Arthur Gee (real name?) is an unfairly obscure figure, a Canadian who moved to Denver and recorded a pair of albums for Bill Szymczyk's short-lived Tumbleweed Records; more weed than tumble, by the sound of it. The first of these, Arthur Gee, might best be described as 'psychedelic country', although its best tracks tend to be the ones where Gee heads off into hippy singer-songwriter territory, notably opener Dimensions, Waterweight and Confessions, psychedelic hoedown Plain Talk being the best of the country numbers.
Despite detailed, track-by-track musicians' credits, there's no mention of the Mellotron (or Chamberlin), although it's clearly what we're hearing on Dimensions' high string line, with more of the same on Love Song 451 and Confessions. As a result of the credit fail, the player's unknown, although it's most likely keys man Bill Alexander, or possibly Marc Damerst. Unbelievably, this excellent album remains unavailable, although some of Gee's early demos have crept out on (natch) vinyl-only release.
Aviv Geffen (Israel) see: Samples etc.
Howe Gelb (US)
The Listener (2003, 52.30) ***½/T

Glisten
Felonious
Jason's List
Cowboy Boots
Torque (Tango de la Tongue)
Piango
Lying There
B 4 U (Do Do Do)
The Nashville Sound
Blood Orange
Moons of Impulse
Now I Lay Me Down
Lemmy N Emmy
Current availability:
Mellotron used:
Giant Sand's mainman, Howe Gelb, released The Listener in the gap between Giant Sand's Too Many Spare Parts... and ...Is All Over the Map. While clearly the work of the same man, the album uses a slightly wider palette of influences than those by the parent band, although the overall effect is still of windblown Americana with a side-helping of loneliness and alienation. Its best tracks are difficult to ascertain without giving the album more time than I have, although Piango and Blood Orange stood out on an initial listen.
Somebody (Gelb?) plays Mellotron on Now I Lay Me Down, with a polyphonic flute part, followed by queasy, pitchbent strings that sound as real as any Mellotron has a right to in these days of casual sample use. Anyway, those of you who get where Giant Sand are coming from will almost certainly love The Listener, assuming they haven't already heard it. Don't bother for the Mellotron, but worth it on all other grounds.
See: Giant Sand
Geller (Sweden)
The Uri Geller Syndrome (1999, 35.38) ****/TTTT½

Noones Dad
Smashing Riffkin
Mistake
Come Around
Over My Head
Father
Got a Plan
You Bore Me
Be Alright
Lightfinder
Everyone Loves You (2000, 41.09) ****/TTTT

All Alone in the World
When You're Dead
Everyone Loves You
Master
Intermission
Big Time
Simple Truth
Back
Beautiful Haze
You Have Changed
Everyday it Rains
My Lines Right
11 Decembre
Judas (2001, 34.55) ****/TTTT

Judas
She Said
All Alone in the World
Love to Leave
Almost All the Time
Lightfinder
We Are One
Misery
How am I Treating You?
Current availability:
All titles: Exergy (Sweden)
Mellotrons used:
Geller were yet another of Änglagård drummer Mattias Olsson's outfits, specialising in the kind of melancholy pop his bands seem to do so well. OK, not Änglagård. There's some confusion over their debut, The Uri Geller Syndrome, as it seems it was originally released as an Andreas & Jag album, only to retrospectively become Geller's debut. Amusement also, as Uri Geller himself, rather than suing, was delighted by the recognition. Not a man who understands irony, obviously, though I think we already knew that. Anyway, some of the tracks are more upbeat, but it comes into its own on moody numbers such as Mistake or You Bore Me.
Mattias doesn't actually play Mellotron on this album, leaving it to Adam Snyder, Andreas Jansson and Änglagård's inimitable Thomas Johnson (who seems to have now anglicised his name). Shedloads of it all over the thing, of course. Overt cellos on Noones Dad (as in 'no-ones') and Mistake, along with standard strings and string section and the rarely-heard Mellotron clarinet can be found on several tracks, including Smashing Riffkin, Come Around and Got A Plan, making a nice change from the usual stuff. Flutes and oboes crop up, too, making this a bit of a low-profile Mellotron Monster.
Everyone Loves You sets out its stall in the expected manner, Mellotron choirs being pretty much the first audible sound on opener All Alone In The World, followed by double-tracked strings, apparently. Other Mellotronic oddities include the Chamberlin piano (played from a Mellotron) on Simple Truth and wineglasses, as used on Anekdoten's Gravity, on You Have Changed, giving the song added ghostly ambience. One notable feature of the album is the Orchestron sounds layered all over it; Mattias had just bought his and took it out to play, so to speak. Oh, and this time round the Mellotron's played by Mattias and Andreas.
Judas, originally to be titled Aretha - Live in Pakistan (no it isn't) has more Orchestron, but there's still plenty of Mellotron, of course (Jansson and Olsson again). The album seems slightly more upbeat than its two predecessors, although that's only speaking relatively. They also reiterate two tracks from their first two releases, but I can't work out if they're new versions or not. As the Orchestron level rises, the Mellotron level drops, but there's still five tracks, top one having to be Almost All The Time, with scorching strings and windswept cellos, not to mention flutes, oboes and viola, plus Chamby piano and vibes (!). Phew, wot a scorcher, as they say. Plenty of other Mellotron action, too, particularly on Love To Leave, making this the third in a classic Mellotron trio.
I met the band when they played London in early '02 (they used my Taurus pedals and Mattias had the most bizarre percussion setup), but within the year they were no more. Despite the fact that most of you reading this will dislike them for not being 'prog', or at least for being 'pop', they're about as far away as you can get from the bland chart fodder choking up the airwaves; that'd be why they weren't more successful, but they're certainly worth hearing if you want something more mainstream than (insert fave prog rave here), but far darker than the rubbish that normally gets peddled to the general public. So; if you like the sound of that and you want to hear loads of Mellotron, buy.
See: Änglagård | AK-Momo | Molesome
Gene (US)
Drawn to the Deep End (1997, 52.49) **½/T

New Amusements
Fighting Fit
Where Are They Now?
Speak to Me Someone
We Would Be Kings
Why I Was Born
Long Sleeves for the Summer
Save Me, I'm Yours
Voice of the Father
The Accidental
I Love You, What Are You?
Sub Rosa
Current availability:
Mellotron used:
Gene were an indie/Britpop-type UK band from the early '90s, who achieved a modicum of success without really setting the world alight. 1997's Drawn to the Deep End was their third album and, I have to say, a pretty insipid one at that. I can see why this kind of stuff appeals to a young audience who get caught up in the rush of it all, especially live, but in the cold light of day, years later, it falls as flat as the proverbial pancake. Nothing actually stood out enough on the record to attempt to name a 'best track'.
Martin Rossiter and Wang Chung's Jack Hues both play (real?) Mellotron, although there doesn't seem to be that much about, with just strings on Speak To Me Someone and Save Me, I'm Yours, unless there's more hidden away in the mix somewhere. Overall, then, a dullard of an album, possibly comparable to the tedious Suede, with little Mellotron. Avoid.
General Rudie (Québec) see: Samples etc.
| | |
| --- | --- |
| Genesis (UK) see: | |
| | |
| --- | --- |
| Gentle Giant (UK) see: | |
Gentle Knife (Norway) see: Samples etc.
Gentle Readers (US) see: Samples etc.
Gentleman Losers (Finland)
The Gentleman Losers (2006, 49.02) ***½/T½

An Empire of Coins
Gold Dust Afternoon
Mansion on the Dunes
Slow Guitars
Horses of Instruction
Laureline
Silver Mountain
Light Fandango
Salt of the Sea
Weed Garden
Dustland (2009, 51.54) ***/T

Honey Bunch
Silver Water Ripples
The Echoing Green
Ballad of Sparrow Young
Bonetown Boys
Lullaby of Dustland
Midnight of the Garden Trees
Farandole
Spider Lily
Wind in Black Trees
Pebble Beach
Current availability:
Gentleman: Büro
Dustland: City Centre Offices
Mellotrons used:
The Gentleman Losers are two Finnish brothers, Samu and Ville Kuukka, whose raison d'être seems to be to make the most mournful music ever. I suppose you could categorise their eponymous 2006 debut as post-rock, but that would be to its detriment, this quiet but intense set of instrumentals standing head and shoulders above most of the brothers' contemporaries. Samu plays Mellotron, with a major flute part and strings on Gold Dust Afternoon, uncredited strings on Silver Mountain and credited ones on Light Fandango, although whatever's supposedly on Horses Of Instruction and Laureline is entirely inaudible, so given that there's one definite mis-credit, let's assume that there's more.
The duo follow up with 2009's Dustland, essentially more of the same, although with the surprise gone, it's all rather less effective. Samu on Mellotron again (which of their country's three or four machines are they using?), with occasional single string notes on Bonetown Boys and major flute and string parts on Spider Lily. I can't say I'm fully convinced by all the Mellotron work here; in places it sounds spot-on, while other parts could be sampled. Difficult.
Gentleman Reg (Canada) see: Samples etc.
The Gentlemen (US)
Blondes Prefer the Gentlemen (2003, 39.31) ***/0

Let Us Know
The Boys All Went Home
Return to This Fool
Show Me How You Rock n' Roll
It's Not So Much...
The Big Mistake
He is Risen
It's Phony Rock n' Roll
Charade
Laughing Matter
Let's Be Gentlemen Please
Riding in the Backseat
Current availability:
Gentlemen's Recording Co.
Mellotron/Chamberlin used:
The Figgs' Mike Gent hooked up with most of Boston's The Gravel Pit to form The Gentlemen, whose sound, on the amusingly-titled Blondes Prefer the Gentlemen, has been compared to The Replacements' raucous, Stonesy vibe. Top tracks? The punky Return To This Fool, the gentler The Big Mistake and Laughing Matter, maybe.
Jon Brion is credited with Mellotron and Chamberlin on It's Not So Much..., but whatever he contributes (on TWO instruments, note) is effectively inaudible, unless they're providing the vague background... somethings on the track. Can't even give this a half 'T', I'm afraid, although, given that the credited player is a tape-replay legend, nor do I feel I can chuck it into 'Samples etc.'
Geodesium (US)
Geodesium (1977, 38.11) ***/TT

The Answer
Little Dipper
Stardeath
Toccata and Fugue in D Minor
Free Fall
Martian March
Arabian Dance From "The Nutcracker"
Ptolemy's Ptune
Cosmic Calypso

Double Eclipse (1981, 45.26) ***½/0

Night Tripper
Voyager
Fugue in G Major (The Jig)
Double Eclipse
Masque
Dance on the Sun
Canon in D
Dance for Brass Quintet
Cosmic Cannonball
Current availability:
Both titles: Loch Ness (CD-Rs)
Mellotrons used: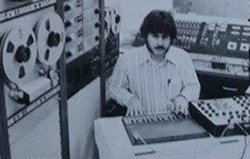 Mark C. Petersen wrote and performed suitably spacey music for Boulder, CO's Fiske Planetarium in the late '70s, releasing some of it on Geodesium's self-titled album in 1977, played almost exclusively on an EMS Synthi-A (effectively a VCS3) and a Mellotron M400 (pictured right). Much of the record hasn't dated well, sadly, the Synthi-A sounding rather on the plinky side, at its worst on Ptolemy's Ptune; I'm sure this stuff sounded amazing through the planetarium's presumed surround-sound system, but fares less well through small computer speakers, forty years on. The era's vogue for synthesized adaptations of classical pieces, kicked off by Walter/Wendy Carlos' Switched-on Bach, was pretty much over by this point, although the planetarium's audience would've appreciated familiar works such as Bach's Toccata And Fugue In D Minor and Tchaikovsky's Arabian Dance From "The Nutcracker". Petersen's Mellotron use starts well, with strings all over opener The Answer and Little Dipper, 'top Mellotron track' award going to Stardeath, essentially a solo piece for strings and choir, after which it only turns up on closer Cosmic Calypso, with some 'neither here nor there' background choirs.
By 1981's Double Eclipse, Petersen had invested in an Oberheim Two-Voice, which, presumably with judicious overdubbing, gave his electronic music a more solid synthesized backbone. Another two classical pieces turn up here, Bach's Fugue In G Major and Pachelbel's famous Canon In D, although most of the album's contents pass muster rather better than those of Geodesium, at their best on opener Night Tripper and the near-ambient title track. One small problem: where's the Mellotron? It's referred to in the sleevenotes, but is effectively inaudible, unless it provides near-subliminal choirs as a background wash on a couple of tracks. Incidentally, both of these albums are available, albeit seemingly only as CD-Rs, through Petersen's Loch Ness Productions site.
---