---
| | |
| --- | --- |
| Strawbs (UK) see: | |
Stray (UK)
Suicide (1971, 38.33) ****½/T½

Son of the Father
Nature's Way
Where Do Our Children Belong
Jericho
Run Mister Run
Dearest Eloise
Do You Miss Me
Suicide
Move it (1974, 42.55) **½/T½

Tap
Move it
Hey Domino
Customs Man
Mystic Lady
Somebody Called You
Give it Up
Like a Dream
Don't Look Back
Right From the Start
Our Plea
Current availability:
Mellotrons used:
Suicide: studio MkII?
Move it: studio M400?
Stray were one of the first wave of British hard rock bands and deserved better than the near-obscurity they achieved. Their first, self-titled album and Suicide are classics of bluesy hard rock with extra added something; think early-'70s Groundhogs but more adventurous. Admittedly, Suicide shows the first inklings of a softer, duller side, although Son Of The Father, the fab Jericho and the raw (if slightly un-PC) title track make the album well worth hearing for fans of the era. Guitarist Del Bromham played Mellotron strings on Son Of The Father to great effect, plus some on the balladic Dearest Eloise, but it's a real shame he didn't make more use of the instrument; Jericho may well have benefitted from its addition, too.
Three albums on and the rot had well and truly set in. I used to own 1974's Move it on vinyl, back in pre-history, along with most of their other later albums, but upon listening to it again, I can remember why I flogged it. It's boring. Mid-paced, dullsville rock that wasn't going to set anything alight, let alone the world. Somebody Called You's about the best track, meaning it would be a lesser effort on one of their first two, so don't go expecting too much. Bromham plays Mellotron again, with occasional strings on Somebody Called You and Right From The Start, coincidentally probably the album's next best track. No, really.
As a fan, I'd say buy both Stray (****½) and Suicide, but it's up to you whether or not you consider the latter worth the effort solely for its Mellotron content and I really wouldn't bother with Move it unless you're the completist I used to be. p.s. Thanks to Tony Haynes for pointing out that I'd missed Dearest Eloise. Oops...
Einar Stray Orchestra (Norway) see: Samples etc.
Joel Streeter (US)
Matador (2010, 44.07) ***/½

Matador
Make a Wish
Drive Away
Baby Your Time's Here Too
Close Your Eyes
Man of the Hour
Molly
Father's Son
Like a Bird in its Gilded Cage
Bad Example (All Hail the Lost)
Better Day
I'll Have You Back
Current availability:
Mellotron used:
Matt Henry Cunitz's 4-Track
San Franciscan Joel Streeter's second solo album, 2010's Matador, has input from several better-knowns, not least Counting Crows' Jim Bogios and Train's Jerry Becker, although, at least to my ears, they serve only to dilute his particular brand of powerpop. It isn't a bad album, not by a long shot, but, possibly due to the contributions from the mainstream guys, it seems to lack either the joie de vivre or the beautiful melancholy I tend to expect of the genre. Better tracks include the opening title track, Drive Away and Man Of The Hour, but little here really stands out in the way I'd like.
Bay Area sessioneer to the stars Matt Henry Cunitz plays his impossibly rare 4-Track Mellotron on Drive Away, adding an 'orchestra' part that, frankly, sounds little like a Mellotron as you or I know it, not helped by the Orchestron sax and cello on the same track. Overall, then, not bad, but could've been so much better. You can hear Streeter's talent in the grooves (micro-pits?), straining to get out. Maybe next time?
Streetwalkin' Cheetahs (US)
Greetings From Gainesville (2003, 57.03) ***/T

Good Morning
Strangled By Love
When God & the Devil Agree
Geek Like Me
Ward 6
Destination Zero
Rock & Roll Fade Away
December in a Day
Come to Mind
Born Leader
Crucified
One in the Chamber
On My Way
Preach
Larger Than Life
Kiss Me Twice Goodnight
Current availability:
Mellotron used:
The Streetwalkin' Cheetahs are a dirty rock'n'roll outfit, whose fifth full album (and last before their original split), 2003's Greetings From Gainesville, is typified by the punky Strangled By Love, better tracks including the angular Ward 6, the bluesy Crucified and closer Kiss Me Twice Goodnight, which is another way of saying 'anything that steps outside their comfort zone'.
Moog Cookbook's Brian Kehew plays his M400, with 'Strawberry Fields' flutes (and a smattering of strings) on atypical opener Good Morning. Not bad, not brilliant, the album's chief failing is its excessive length. As I might've said elsewhere, dirty rock'n'roll finds itself diluted in doses above, ooh, forty minutes, so almost an hour is way past optimum.
Barbra Streisand (US)
...And Other Musical Instruments (1973, 34.37) ***/½

Piano Practicing
I Got Rhythm
Johnny One Note/One Note Samba
Glad to Be Unhappy
People
Second Hand Rose
Don't Rain on My Parade
Don't Ever Leave Me
Monologue (Dialogue)
By Myself
Come Back to Me
I Never Has Seen Snow
Lied: auf dem Wasser zu Singen
The World is a Concerto/Make Your Own Kind of Music
The Sweetest Sounds
Current availability:
Mellotron used:
Er, Barbra Streisand? Huh? Barbra Streisand ...And Other Musical Instruments is the (partial) soundtrack to her 1973 TV special and is, quite honestly, one of the oddest records ever made, not merely because it's a bit strange, but it's a bit strange and it's by La Streisand. What was she thinking? It's actually far more entertaining than, oh, the rest of her entire career, but it wasn't too popular at the time and probably hasn't become much more so since. Basically, it's possibly the only album ever made in the 'experimental showtunes' bracket - sui generis? Gershwin, Rogers & Hart, Hammerstein & Kern, er, Schubert, all thrown together with Moogs, sitars, bagpipes, Indian percussion... You name it, it's probably here somewhere, although I suspect it worked an awful lot better visually than audibly. Now the special's finally been released on DVD, you can find out for yourself, 'cos I sure as hell won't be buying a copy.
Without the original sleevenotes to refer to, I can only go by what I've read, which is that there's a Mellotron on here somewhere. Maybe it's visible on the DVD? It's allegedly on The World Is A Concerto/Make Your Own Kind of Music, alongside various kitchen implements (!); Chris tells me that there's a specific 'Mellotron FX' credit on the sleeve and that it probably provides the wind sound, amongst other oddities. Are you going to buy this? Depends on how sick you are, I think; if the thought of the queen of the divas making one of the most bizarre 'mainstream' albums ever appeals to your sense of humour, then yes, you probably will. As for the rest of us... I have to say that Streisand's in superb voice throughout and I can now see what all the fuss is about re. her pipes, but do I give a shit? No. I don't. Three stars anyway. n.b. This is now on YouTube and no, no obvious Mellotron.
Strider (UK)
Misunderstood (1974, 40.18) ****/TT

Open Your Eyes
Misunderstood
Crossed Lines
Seems So Easy
Already Monday
Wing Tips
Take it or Leave it
Searching the Clouds
Current availability:
Mellotron used:
Strider were one of those second-division UK acts who only managed one really good album; I searched for their first, Exposed (**), for years, only to find that it was disappointingly below average. Misunderstood, on the other hand, is well worth the effort; hard rock without being overbearingly heavy, it's got great songs, all-round good musicianship and superb dynamics (listen to opener Open Your Eyes for proof). A couple of tracks on side two feature Mellotron strings from Ian Kewley, but they're not exactly classics of the genre; Wing Tips is excellent, a bit of a mini-epic, in fact, while Take It Or Leave It is more of a rocker, with a quick burst of Mellotron in the slow middle-eight and its reprise. There may just possibly be some sustained notes (overdubbed?) on closer Searching The Clouds, but it's hard to tell, to be honest.
So, buy the album 'cos it's good, but don't bother for the Mellotron or, indeed, the crap sleeve notes (though not as crap as on their debut). Oh and talking of which, avoid Exposed like the plague.
String Cheese Incident (US)
Untying the Not (2003, 54.24) ***½/TT

Wake Up
Sirens
Looking Glass
Orion's Belt
Mountain Girl
Lonesome Road Blues
Elijah
Valley of the Jig
Tinder Box
Just Passin' Through
Who am I?
Time Alive
On My Way
Current availability:
Mellotron used:
The String Cheese Incident are one of that peculiar brand of US acts that have sprung up in the '90s in the wake of the Grateful Dead: 'Jambands'. If you're not au fait with the genre, it seems to consist of bands who might otherwise have little in common with each other, but who have become intertwined due to their love of, well, jamming. Clearly, this is hardly a new phenomenon and even the jamband culture is merely a follow-on from the Deadheads, but bands like Phish (spiritual leaders in a post-Dead world), Blues Traveler and (resisting the term strongly) The Dave Matthews Band ride high in the pantheon of Jam Bands, as against the Allman Brothers Band, who pithily describe themselves as a 'band who jams'. Semantics, Schmemantics. Of course, basing your style on your live sound is all well and good, but how do you translate that onto record? The Dead always ran into problems on that front and so do their successors. The commonest solution seems to be to (like the Dead) write vaguely country rock-ish songs, then embellish them with a little taste of how you'd treat them onstage, presumably more to give your fans an idea of how your jams might start than to have, y'know, hit singles or anything.
The String Cheese Incident's Untying the Not (ho ho) is their seventh album, fearlessly mixing genres in true jamband style, throwing in a capella (Lonesome Road Blues), dancefloor hoedown (Valley Of The Jig) and a faintly reggae-ish groove (Sirens), with several examples of the vaguely country rock-ish style mentioned above. Plenty of 'psychedelic' spoken-word interludes from various people, not least one from a certain Carolyn Garcia, widow of the late Jerry, with most tracks running into each other in true psych style. Live, this album would last three hours; luckily, a combination of the CD format and common sense has kept it to slightly below one on record, where it doesn't outstay its welcome.
For some reason (availability?), keys man Kyle Hollingsworth has opted to add a Mellotron to his usual organ/piano setup this time round. There are a few background string chords on opener Wake Up, but the album's major Mellotronic contribution is on Hollingsworth's piano/violin instrumental Elijah, with string and flute parts weaving in and out of the mix. Faintly 'Strawberry Fields'-style flutes open Who Am I?, carrying on throughout the song, with strings here and there, finishing up with more strings on Time Alive. I have to say, the Mellotron sounds pretty authentic, though it's so hard to tell these days; the strings are wobblier than you'd expect from samples and lack the squeaky-cleanness of the digital variety, so let's hope, eh?
So; given my lack of knowledge of the genre, this seems to be a decent enough example of jambandmanship, but those of you with little tolerance for what is, essentially, a sub-Grateful Dead experience should probably steer clear. Some nice Mellotron work, though not really enough to make it worth buying for that alone. Er, even though I did.
String Driven Thing (UK)
String Driven Thing (1970, 36.29) **/T

July Morning
Say What You Like
Magic Garden
Wonderful Places
I Don't Wanna Wake Up
City Man
Another Night in This Old City
That's My Lady
Catch as Catch Can
No More You and I
Lie Back and Let it Happen
One of the Lonely People
Current availability:
Mellotron used:
Although String Driven Thing are known chiefly for their 1973 classic The Machine That Cried (****½), it's rather less well-known that they began as the folk trio of Chris and Pauline Adams with John Mannion and their first, eponymous album is a dated-for-1970 folk/pop effort, like a low-budget UK Mamas & the Papas, say. In fairness, it's not complete rubbish, but it shows absolutely no sign of the band they were to become (minus Mannion plus violinist Graham Smith), tracks like July Morning, Magic Garden and Lie Back And Let It Happen being fairly typical of its laid-back, West coast-ish vibe.
Despite the appearance of real strings on several tracks, Wonderful Places quite clearly features MkII strings from an unknown player, although it really isn't enough to make it worth hearing this decidedly substandard album. Get the second String Driven Thing from '72 and The Machine That Cried instead.
Stroke 9 (US)
Rip it Off (2002, 48.13) **½/½

Latest Disaster
100 Girls
Vacuum Bag
Kick Some Ass
Don't Worry
Do it Again
Just Can't Wait
We Were Wrong
Reject
Anywhere
Lead the Way
California
Current availability:
Chamberlin used:
Are Stroke 9 'emo'? I still don't fully understand the term, but a punk-ish bunch who sing heartfelt lyrics about crappy relationships seem to fit the bill. Don't they? Anyway, 2002's Rip it Off is the Bay Area band's fifth (and second major-label) effort, a lengthy howl of pain from mainman Luke Esterkyn that would've been improved by chopping at least ten minutes from its length. The music's much of a muchness across the record, leaving the lyrics as its central core, more memorable examples including 100 Girls and Vacuum Bag.
Patrick Warren plays Chamberlin strings (and flutes?) on Vacuum Bag, to no great effect, to be honest. I think I'm simply the wrong generation for this album; anyone over, say, eighteen upon its release (and I was well over eighteen) really isn't going to get it, it seems to me. Is it good at what it does? Fucked if I know. Incidentally, given the album's 'CD-R copy' artwork, I wonder how many people actually took the band at their word?
The Strokes (US)
First Impressions of Earth (2006, 52.19) ***/T

You Only Live Once
Juicebox
Heart in a Cage
Razor Blade
On the Other Side
Vision of Division
Ask Me Anything
Electricityscape
Killing Lies
Fear of Sleep
15 Minutes
Ize of the World
Evening Sun
Red Light
Current availability:
Mellotron used:
The Strokes are a band about whom I've read a great deal, but heard very little, or indeed, nothing, which is what happens when you avoid the mainstream media as assiduously as myself. Going by their third album, First Impressions of Earth, their sound is noticeably informed by early-'80s New Wave and the tediously ubiquitous Velvet Underground. OK, the Velvets were good, but am I alone in thinking they're a tad overrated? Anyway, The Strokes manage to cover a fair bit of ground on the album, while toning down the treble assault of their first two releases, which doesn't stop a lot of the material making one reach for the 'next' button.
The album's only real triumph, funnily enough, is the drumless, guitarless Ask Me Anything, which is essentially Julian Casablancas (that name!) singing over guitarist Nick Valensi's complex Mellotron cello part, with another unidentified sound coming in towards the end. Magnificent! Why can't more bands use the mighty Mellotron like this? It sounds genuine, with a low double bass note that many sample sets would probably miss and is surprisingly well-played for such an awkward instrument.
So; an album that just about scrapes three stars, with a completely essential Mellotron track. What to do? It hasn't been released as a single (yet) - maybe this is what the social evil of paid downloads is for? One great track, not too much money. Obtain, but don't go out of your way for the album.
Karin Ström (Sweden) see: Samples etc.
Strongbow (US)
Strongbow (1975, 39.48) ***½/T½

One Armed Bandit
Sister Sea
The Only One Around
Move Over Gloom
How Can I Be Loving You
Wine Eyes
Hazy May
Current availability:
Mellotron used: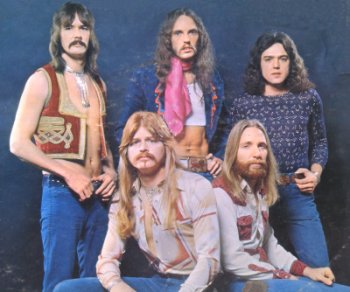 Never let it be said that I don't find utter obscurities for you (as if you would). Strongbow were a mid-'70s US outfit, falling somewhere in between typical Midwest rock and prog-lite, who (to my knowledge) released just the one, eponymous album on the local Southwind label. One Armed Bandit opens with an intriguing sequenced synthesizer part before shifting gear into more mainstream rock and while Sister Sea has its moments, the excitement factor is rather lacking in places. I had high hopes for The Only One Around, at nearly ten minutes, but it turns out to be a soft-rock epic with a proggy edge. Move Over Gloom and Hazy May are the most dynamic tracks on offer here, but Strongbow sound like a band who weren't quite sure what they wanted to be; to prog or not to prog? Like so many competent bands, especially in the vast hinterlands of the US, I expect they were popular locally, but, like all but the extremely lucky few, they were never going to break out nationally, let alone internationally. As you can see from the enclosed rear-sleeve pic, their fashion sense left a little to be desired, too.
John Stelzer doubled on keys and wind instruments, with vocalist Bill Bendler covering both pianos and electric trombone, apparently. Stelzer's Mellotron work is fairly sparse, with just a few string chords at the end of Sister Sea, although The Only One Around has a little more, scattered throughout the song. Hazy May would definitely have benefitted from its inclusion, but he opted to confine its use to the two tracks on side one, making me think that they almost certainly didn't own a machine, but used the studio's own/hired one in for the session.
So; an OK, so-so sort of album, with a few bright spots, raising it above the 'three star quagmire' of albums about which I can't get even vaguely enthused. I didn't pay that much for my copy, but it was still probably slightly too much. In other words, pick up if you see it cheap.
Joe Strummer & the Mescaleros (UK)
Streetcore (2003, 41.58) ***½/T½

Coma Girl
Get Down Moses
The Long Shadow
Arms Aloft in Aberdeen
Ramshackle Day Parade
Redemption Song
All in a Day
Burnin' Streets
Midnight Jam
Silver & Gold
Current availability:
Mellotron/Chamberlin used:
John "Joe Strummer" Mellor never really lost his status as 'punk icon' after the Clash finally (and messily) dissolved, even during his 'wilderness years' of the '90s. He worked his way through various bands and lineups, finally settling on the Mescaleros in the late '90s; he'd just finished recording their third album, Streetcore, when he tragically died of a heart attack, aged just 50. The album's really very good; from the propulsive Coma Girl through the American folk of The Long Shadow (written for Johnny Cash, where Strummer finally, posthumously earns his '70s nickname, Woody), to his reggae-free take on Bob Marley's Redemption Song.
Martin Slattery plays Mellotron and Chamberlin; I can already hear some wizened old mohawks whinging that those instruments 'aren't very punk' (not that they're likely to read this site, but you know what I mean...). Well, you know what? Not only does none of Strummer's solo work fit into that straitjacket, but neither does most of the Clash's back catalogue; even their 'none more punk' debut has a six-minute reggae track on it... Anyway, Slattery sticks some cranky-sounding (Mellotron?) strings onto Burnin' Streets, which sounds like a belated answer to The Clash's London's Burning, from 25 years earlier and what may be Chamberlin strings and Mellotron flutes on the following Midnight Jam, which quotes London Calling this time.
So; if you like the sound of a trawl through much of the 20th century's musical styles, all in forty-odd minutes, by someone whose delivery was never less than heartfelt, you could do an awful lot worse than invest in a copy of Streetcore. Joe was renowned for giving a shit, be it about environmental issues, politics or his fans, so it's good to see his legacy being upheld by a posthumous release this good. I'm really not a fan of his work with The Clash (and I saw them in '78, so I know what I'm talking about), but it would take an unfeasible level of churlishness to knock it, although its tape-replay input is far from a major component of its sound. Worth hearing, whatever.
Dan Stuart (US)
Can O'Worms (1995, 44.26) ***/½

Panhandler
Home After Dark
La Passionaria
Who Needs More
What a Day
Expat. Blues
Waterfall
In Madrid
Filipina Stripper
Can't Get Through
The Greatest
Current availability:
Mellotron used:
Dan Stuart was mainman of Paisley Underground ringleaders Green on Red (along with Chuck Prophet), going solo after their dissolution in the early '90s. 1995's Can O'Worms was the first fruit of his solo labour, a decent enough album of (very) slightly psychedelic Americana, highlights including La Passionaria, Expat. Blues and Waterfall, although, if I may level one fault at the album, too much mid-paced material tends to drag after a while.
J.D. Foster plays Mellotron, with distant strings on Waterfall, although I'm sure the flutey sound on Expat. Blues is something else entirely. Saying that, I'm not fully convinced by those strings, but I feel I need to leave this here until I find out otherwise. Good, then, but not classic.
Mark Edgar Stuart (US) see: Samples etc.
Peter Stuart (US)
Propeller (2001, 40.56) **½/T

Take Me Back
Propeller Girl
Innocence
With My Heart in Your Hands
Vertigo
Lets Get Lost
Roll Me Over
Songs About You
Here I am Here
The Real You
Bring You Back
Current availability:
Mellotron used:
Charlie Gillingham's M400
New York-based Peter Stuart only made one proper record, 2001's Propeller, a rather faceless pop/rock outing, which, oddly for an album of its type, starts off passably, then heads downhill at a rate of knots, most of it sitting firmly in 'falsetto-voiced, millennial pop, tailor-made for inclusion in shitty TV shows' territory. Any better tracks? Gentle closer Bring You Back isn't too offensive, I suppose. He said, grudgingly.
Counting Crows' Charlie Gillingham plays (presumably) his own M400, with distorted flutes (well, it makes a change) on Propeller Girl's intro, plus regular ones further in, with more of the same towards the end of The Real You, although the strings on a couple of tracks are real. So, given that he was every bit as good (or bad) as many others, why didn't Peter Stuart make it? I suppose some people get the breaks; most don't.
Styx (US)
The Serpent is Rising (1973, 40.07) ***½/TT

Witch Wolf
The Grove of Eglantine
Young Man
As Bad as This
Winner Takes All
22 Years
Jonas Psalter
The Serpent is Rising
Krakatoa
Hallelujah Chorus
7" (1974) ***/TTT

Young Man
Unfinished Song
Current availability:
Album and b-side: on The Complete Wooden Nickel Recordings: Hip-O-Select (US)
Mellotrons used:
Well, here's proof that some of my firmly (dearly?)-held beliefs re. Mellotron use can be overturned in an instant. I'm utterly convinced that there's not a jot of Mellotron on any of the four major-label Styx albums I own, although I've been told more than once that they used one at some point. And here it is. The Serpent is Rising, their third album for the Chicago-based Wooden Nickel label, is similar to the band's other early albums (Styx, Styx II and Man of Miracles), in having elements of what they were to become (for better or worse), but without the killer songs. There's some reasonably good material, but they're the work of a band still trying to find their feet, with no sign of a Suite Madame Blue or Queen Of Spades. Take that as you will; I really like late-'70s Styx, but they're heavily reviled by many proggers, particularly Americans, who've overdosed on the band via FM radio.

Anyway, although singer/keys man Dennis DeYoung has quite specific instrumental credits ('organ, pipe organ, piano, arp, moog'), there's quite clearly Mellotron to be heard on several tracks. The Grove Of Eglantine, containing the subtlest filthy lyrics I've heard since Fairport Convention's The Bonny Black Hare ('Serpent is Rising'? I'm sure it is...) has a few string chords, ditto the end of Jonas Psalter, while Young Man goes for the flutes and more strings. As Bad As This has more string use, but blows it completely with its ludicrous 'plexiglas toilet' end-section (no, you don't want to know); I'm sure it was screamingly funny at the time, but has dated exceedingly badly. Finally, the rather silly Krakatoa may have a rising string chord, but it holds far too long and is more likely to be synth.
Young Man was released as a single, with Unfinished Song on the flip, which is thankfully nothing of the sort, with a lyric about, er, an unfinished song. Previously available on a later version of Man of Miracles and a compilation, it's now most easily found as the only non-album track on the 2-CD The Complete Wooden Nickel Recordings (right), which is exactly what it says on the tin. A piano-led Dennis de Young ballad, it features slabs of Mellotron strings, confirming its position as a Serpent is Rising outtake.
So; rather formative, but not a bad record. If you don't already hate Styx with a passion, go for '77's The Grand Illusion (****½), or the following year's magnificent Pieces of Eight (*****) instead, although (to my knowledge) The Serpent is Rising is the only place you'll hear Styx use a Mellotron. Saying that, now I'm going to have to play all their other early albums again... [n.b. Nope, nothing else].
Sublime (US)
Everything Under the Sun [Disc 3] (2006, recorded 1989-97, 69.57) ***/T

Marley Medley (studio outtake)
Paddle Out (ruff mix)
Caress Me Dub (outtake)
Foolish Fool (unreleased demo)
Westwood One interview
89 Vision
Sweet Little Rosie (studio outtake)
Garden Grove (take 2)
Just Another Day (studio outtake)
Prince of Sin (studio outtake)
I Love My Dog Dub
At it Again
Wrong Way (acoustic)
New Realization (acoustic)
Boss DJ (alternate version)
Real Situation (acoustic)
Date Rape (live)
Soundcheck Jam (live)
Doin' Time (Snoop Time remix)
Doin' Time (Tricked Out Life Sentence remix)
Current availability:
Mellotron used:
It seems that Sublime were one of (or even the?) originators of the Californian ska/punk sound, although I'm not sure we should actually thank them for that. They split in 1996, after frontman Bradley Nowell OD'd on smack, although, in another parallel with Nirvana, they carried on releasing various live and outtake sets for some years. 2006's Everything Under the Sun should be pretty much the last word on the band, collating reams of demo and live material, not to mention several radio interviews of wildly differing lengths. Is it any good? I've no idea. Do you like ska/punk? Then you tell me.
David Kahne plays Mellotron strings on the demo version of Foolish Fool, maybe surprisingly, although it seems to be the only time they used one. Do you bother getting hold of this set for the one track? You do not.
Submarine Silence (Italy) see: Samples etc.
Submarines (US)
Declare a New State! (2006, 38.35) **/TT

Peace and Hate
Clouds
Vote
Brighter Discontent
Hope
Ready or Not
Modern Inventions
The Good Night
The Conversation
Darkest Things
Honeysuckle Weeks (2008, 34.58) **/½

Submarine Symphonika
The Thorny Thicket
You Me and the Bourgeoise
1940
The Wake Up Song
Swimming Pool
Maybe
Xavia
Fern Beard
Brightest Hour
Current availability:
Chamberlin/Mellotron used:
The Submarines' story seems to prove the old maxim that 'love will prevail': John Dragonetti and (Eleanor) Blake Hazard (a descendant of F. Scott Fitzgerald) hooked up personally and professionally, split up after a few years, both wrote loads of songs about sad they were, got back together and married. Hooray! 2006's Declare a New State! apparently began life as songs the couple wrote about each other while apart and was mastered for the couple as a wedding present. Less hooray. Because? Because it's one of the worst examples of thoroughly drippy indie I've heard in a while, typified by material like Clouds (a particular offender) or Hope. All terribly heartfelt, I'm sure, but wetter than a wet Wednesday afternoon. Peter Adams apparently plays Chamberlin, with flutes on Vote, cello and a brass/strings (?) mix on The Good Night and flute and strings on closer Darkest Things (or are those real strings?)
Their second release, 2008's Honeysuckle Weeks, is no better, chock full of the kind of twee indie that makes me want to chew the carpet. I mean, next to no tonal development within the compositions, in typical indie 'we have little real musical vocabulary' mode. Have none of these people thought of, y'know, stretching out a little? Listening to music that isn't just other simplistic indie nonsense? So, best tracks: none. Worst: Swimming Pool is particularly twee, but none of it's good. Someone (probably Dragonetti) plays a brief, fairly real-sounding Mellotron flute part on closer Brightest Hour, although all other potential parts are most likely nothing of the sort.
Subterranean Masquerade (US) see: Samples etc.
Suburban Reptiles (New Zealand)
7" (1978) ***/½

Saturday Night Stay at Home
45 Single
Current availability:
Vertigo (vinyl reissue), various comps.
Mellotron used:
Way ahead of the game, in a country known (certainly at the time) for being a little, well, behind the game, NZ's Suburban Reptiles formed in 1976, apparently one of the country's two first punk bands. Their second single, '78's Saturday Night Stay At Home b/w 45 Single, could easily pass for a second-division British obscurity from the likes of, say, Chelsea or The Cortinas, the Kiwi lifestyle clearly generating every bit as much teenage angst as the British one.
Split Enz's Phil Judd plays (presumably) their Mellotron on the 'A', if only just, with a few seconds of buried-in-the-mix strings at one point. An interesting curio, but essential on neither musical nor Mellotronic grounds.
Subway (UK/US)
Subway (1971, 35.52) ***½/T

I am a Child
Song for Sinking Shelters
Warm You Are
All the Good Things
Enturbulaton - Free Form
Arizona Sands
Rosanna of the Roses
Can I Trade With You My Mind
Current availability:
Mellotron used:
Subway were the duo of Irv (Mowrey) and Malcolm (Watson), one American, one British - I'll leave it up to you to work out which was which... Irv was the vocalist/guitarist/composer and Malcolm was the violinist; they met in Paris and busked in the Metro, or subway in Americanese. They recorded just the one eponymous album before disappearing and it's likely only a couple of hundred copies were ever sold, the remainder probably being destroyed. Irv's songs are a dark, not-very-American blend of folk and psych that would easily pass muster as an obscure British album from the same period, with rock elements added to the duo's sound here and there, not least the bass, drums and keyboards on Enturbulaton - Free Form and Rosanna Of The Roses. Overall, the material ranges from good to excellent and should have received more attention had they been better known.
Person or persons unknown added Mellotron to a couple of tracks, with powerful but restrained string parts on Song For Sinking Shelters and the 'Free Form' part of Enturbulaton - Free Form, distinct from Malcolm's violin work, although they blend well in a way not heard too often, sadly. Well, you're simply not going to find an original of this, I think it's safe to say, but it's been reissued by Spanish label Guerssen, so that's a definite recommendation to the acid folk brigade, although there's really too little Mellotron to be worth worrying about.
Suede (UK)
Dog Man Star (1994, 57.56) **/T

Introducing the Band
We Are the Pigs
Heroine
The Wild Ones
Daddy's Speeding
The Power
New Generation
This Hollywood Life
The 2 of Us
Black or Blue
The Asphalt World
Still Life
Coming Up (1996, 42.34) **/½

Trash
Filmstar
Lazy
By the Sea
She
Beautiful Ones
Starcrazy
Picnic By the Motorway
The Chemistry Between Us
Saturday Night
A New Morning (2002, 46.15) ***/T

Positivity
Obsessions
Lonely Girls
Lost In TV
Beautiful Loser
Streetlife
Astrogirl
Untitled...Morning
One Hit to the Body
When the Rain Falls
You Belong to Me
[Untitled]
Current availability:
Dog: Nude
Coming/New: Epic
Mellotrons used:
Suede were much-fêted by all and sundry when they appeared with their eponymous debut in 1993, music press hysteria reaching a peak with their follow-up, Dog Man Star, the following year. People started coming out with stuff like 'the new Bowie', with regard to singer Brett Anderson, although, in hindsight, it has to be said that they were sorely mistaken. The heart of the group seemed to be the working relationship between Anderson and guitarist Bernard Butler, who left in the mid-'90s, leaving the band slightly adrift; it seems their fortunes have never really recovered from the blow. Well, never mind, eh? Dog Man Star's wretched grandiosity leaves it locked firmly in its era, all faux Scott Walkerisms and pseudo-Bowie moves, at its least bad on We Are The Pigs and The Power, which shouldn't be taken as any kind of recommendation. Mellotron from an unknown musician, most likely Butler, with a high string line on We Are The Pigs and a more upfront part on Black Or Blue, neither of which make this worth hearing.
Coming Up was their third effort, guitarist Richard Oakes doing his best to emulate Butler. While I was never a fan of their sound, I have to say that I found this to be the dullest fag-end of Britpop effort imaginable, desperately dreary, with few songs of any real quality, Anderson's whiny tones destroying any slight vestiges of quality that may've been present originally. Apart from that, it's fine. Picnic By The Motorway features a brief Mellotron string part (presumably) from keys man Neil Codling, but I wouldn't rush out to buy it on that score if I were you. A New Morning, however, is a vast improvement, even if the critics preferred Coming Up. OK, when I say 'vast', what I actually mean is, er, 'middling', for want of a better word; several of the album's songs still manage to irritate me, but, overall, it's less glam and more singer-songwriter, so to speak, with a particularly good Anderson lyric on Lonely Girls. Credited Mellotron on Astrogirl from Alex Lee, with solo strings on the intro, a repetition of the part later in the song and other string interjections.
So; if you like mid-'90s UK indie/Britpop, you probably already own everything Suede ever recorded and aren't going to take any notice of these vicious put-downs reviews. As for the rest of us, you really don't need to bother. Trust me. Incidentally, rumours of Mellotron use on '94's Stay Together EP, but I can't hear anything other than sustained guitar and real strings, so don't bother × 2.
See: Bernard Butler
---