7" (1972) ****½/T½

Slark
Purple Spaceships Over Yatton
Friendliness (1972, 40.47) ****/TTT½

Lummy Days
Friendliness (1)
Anyone for Tennis
There is No Refuge
Syracuse the Elephant
Amazingly Agnes
Father Frankenstein is Behind Your Pillow
Story of My Heart
Keep on Clucking
Friendliness (2)
Teatime
The Man in the Bowler Hat (1974, 35.31) ****/T½

Fundamentally Yours
Pinafore Days
The Last Plimsoll
To the Sun and the Moon
The Road to Venezuela
The Galloping Gaucho
Humiliation
Dangerous Bacon
The Indifferent Hedgehog
God Speed the Plough
Extravaganza (1975, 42.36) ****/TT

Spin Round the Room
Grease Paint Smiles
The Volunteer
Highbury Incident (Rainy July Morning)
Benjamin's Giant Onion
Happy in the Lord
Rufus T. Firefly
No One's More Important Than the Earth Worm
Pocket Billiards
Who's That Up There With Bill Stokes?
Mr Mick (1976, 37.58) ****/TTT

Hold Me Tight
Breakfast With Werner Von Braun
Steam Radio Song
The Dump
Save a Red Face
The Slater's Waltz
Coniston Water
Hey Good Looking
Fish in a Glass
Do the Stanley (1976, 52.22) ****/T

Dora the Female Explorer
Everyman
Percy the Penguin
Slark
Anyone for Tennis
Amazingly Agnes
Purple Spaceships Over Yatton
Do the Stanley
The Road to Venezuela
Dangerous Bacon
Lummy Days
The Galloping Gaucho
C'est la Vie
Let There Be Lids
BBC Radio 1 Live in Concert (1997, recorded 1972-75, 56.37) ****½/TTTT½

God Speed the Plough
Lummy Days
Teatime
Anyone for Tennis
Amazingly Agnes
She Taught Me How to Yodel
32 West Mall
Syracuse the Elephant
The Volunteer
Who's That Up There With Bill Stokes?
No One's More Important Than the Earth Worm
The Galloping Gaucho
Dora the Female Explorer
The Radio 1 Sessions (1997, recorded 1971-73, 33.57) ***½/TT

Three Legged Table
Slark
The Lyder Loo
God Speed the Plough
The Road to Venezuela
The Galloping Gaucho
The Original Mr Mick (2000, recorded 1976, 45.09) ****/TTT

Hey! Good Looking
Breakfast With Werner Von Braun
Mr Mick's Walk
Mr Mick's Dream
The Cotton Reel Song [a.k.a. Save a
Red Face]
The Steam Radio Song
The Slater's Waltz
Hazy Dazy Holiday
Coniston Water
Can Inspiration Save the Nation?
Mr Mick's New Home
Fish in a Glass
CD Romp: Official Bootleg No. 2 [Rarities] (2001, recorded 197?-76, 62.31) ****/T

After the Tetracycline (live)
Dangerous Bacon (BBC session)
Can Inspiration Save the Nation
(studio outtake)
Do the Stanley (OGWT)
Every Living Hole (BBC session)
February in Shropshire (BBC session)
Fundamentally Yours (BBC session)
The Galloping Gaucho (BBC TV)
God Speed the Plough (demo)
The Laughing Policeman (BBC session)
MacGregor (live)
Pinafore Days (live)
Purple Spaceships Over Yatton (live)
Spin Round the Room (live)
Twist and Shout (OGWT)
The Volunteer (BBC session)
The Road to Venezuela (BBC TV)
Current availability:
Stackridge/Friendliness/Man/Extravaganza/Mr Mick/Original: Angel Air (UK)
Stanley: non-LP tracks on recent album reissues
BBC CDs: Strange Fruit (UK - still in print?)
CD-Romp: out of print?
Mellotrons used:
Stackridge occupy a unique place in music history as possibly the only band to successfully combine music-hall, folk and rock in fairly equal measures. OK, so the Bonzo Dog (Doo Dah) Band are better known and got there first, but they were only ever really a novelty act, whereas Stackridge did it for real, despite the humour. Their ever-changing lineup, with various members leaving and rejoining at different times didn't help their cause any, but they attracted a small but faithful following, many of whom have stuck with them to the present day. Live shows featured much 'rhubarb thrashing' from audience members and I believe dustbin lids were compulsory back in the band's heyday. Probably the best way to describe Stackridge is 'English'; no other country could have produced them and I suspect their appeal doesn't travel too well. Other keywords on the description front might be 'whimsical' and 'twee', if you're in a bad mood; should this be the case, a quick spin of any of their albums tends to alleviate the symptoms post-haste.
Their wonderful 1971 debut is filled with strange characters; Marzo Plod, Dora the female Explorer, Percy the Penguin and Slark the monster, whose exploits are detailed in a folk/prog style, with Slark afforded over a quarter of the lengthy album's running time. Other Stackridge highlights include Essence Of Porphyry and Marigold Connection, but to be honest, there ain't a bad track here. There also isn't any Mellotron, but the recent Angel Air reissue adds a drastically edited re-recording of Slark, released as a single the following year, complete with Mellotron brass and strings. Sadly, its gorgeous flip, Purple Spaceships Over Yatton, is Mellotron-free.
The Mellotron found its way onto their second outing, Friendliness, noticably on their jaunty 'anthem', Lummy Days, where Andy Davis' Mellotron strings duel nicely with Mike Evans' violin, with several other nice Mellotron moments, particularly on mini-epic Syracuse The Elephant. Overall, the album compares extremely favouably with its predecessor, with a noticeable Noël Coward creeping in on several songs, not least the bonkers Anyone For Tennis, while both parts of the title track pretty much redefine the word 'fey'.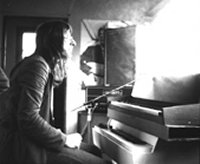 I was fairly certain that their rather belated follow-up, The Man in the Bowler Hat (a slightly different version released in the States was called Pinafore Days and yes, that's their (male) manager on the sleeve) had several tracks with rather understated Mellotron, but it seems that it's only obviously featured on album closer, the rather wonderful instrumental God Speed The Plough. I wouldn't know Vaughan Williams' music if it bit me, I'm afraid to say, but I get the feeling that this is how he might have written were he a member of Stackridge. Maybe. The rest of the record is the by-now usual Stackridge mixture of Cowardesque humour (Fundamentally Yours), music-hall madness (The Galloping Gaucho) and more straightforward material, or as straightforward as Stackridge ever got.
In many ways, Extravaganza was an even better album, with one of its Mellotronic highlights being the superb No One's More Important Than The Earth Worm, written by ex-Crimso Gordon Haskell during his very brief tenure with the band. Again, there was a different US version, this time with the same title. Other album highlights include The Volunteer ("Hands off cocks and on with socks!", he said to me...), Happy In The Lord and the Marx Brothers-referencing Rufus T. Firefly. Many fans believe that this album and its successor were fatally compromised by lineup changes, as co-singer/guitarist James Warren left for pastures new, but the end result still sounds like Stackridge, albeit Stackridge with bits missing.
1976's Mr Mick was a rather odd concept album about an old boy in a retirement home who breaks out for the day and has several rather strange encounters. It's actually far more promising than it sounds (honest!) and has a couple of brilliant Mellotron tracks in The Dump and Coniston Water, both primarily instrumental. Dave Lawson, recently ex-of Greenslade, was augmenting the band by this point, but it seems likely that Davis was still playing the Mellotron. The band were unhappy with the way the record company messed about with the record and released their original version as The Original Mr Mick in 2000 (see below).
Sadly, that was it for Stackridge; I don't know if punk brought them down, like so many others, or whether the constant instability of their lineup finally did for them, but they bowed out with a compilation of various tracks from their original label, Do the Stanley, including some non-album stuff, although this is all now available on the Angel Air CDs of their first two albums. '71's originally Mellotron-free Stackridge now adds the shorter, '72 single version of Slark, this time featuring some Mellotron strings (and brass?), recorded a little before Friendliness.
And that was that, basically, until the late 1990s, when a couple of archive releases crept out. BBC Radio 1 Live in Concert is an excellent compilation of three separate radio broadcasts; it would be nice to have the full versions, but as with so many of these albums, I suspect the record company would expect to sell rather less of a double CD than a regular release. Pity. Anyway, there's some excellent Mellotron work to be heard, with another version of God Speed The Plough being particularly effective. The Radio 1 Sessions is only a mini-album, but like the same year's live release, it features tracks never recorded in the studio. There's yet another version of God Speed The Plough, but all three are different enough that they're all fairly essential, really. Round about the same time, Stackridge reformed, though without Mellotron man Davis; their sole studio album to date, Something for the Weekend (ho ho) has what sounds like Mellotron flutes on a couple of tracks, but I strongly suspect they're samples. Whatever, it's good to see them back, even if their lineup problems seem to be as bad as ever.
As mentioned above, the band self-released The Original Mr Mick in 2000, letting the world know how the album was originally intended to sound. Losing Hold Me Tight was an excellent move (it was only ever meant to be a non-LP single) and the rest of the narrative makes more sense in this order, with missing tracks restored. Comparing the two versions is actually a pretty fiddly job, as bits from one found their way into the other, though by no means necessarily full tracks, but despite losing the official version's opener, the 'original' version still manages to be seven minutes longer. There's actually hardly any more Mellotron than on the official version (this time apparently played by not only Davis, but 'Mutter' Slater, too), with Hazy Dazy Holiday leading into Coniston Water and a fairly ordinary string part on Mr Mick's New Home, while Mr Mick's Dream is merely the original version of The Dump. After it slipped out of print, those nice people at Angel Air released a double-disc edition of Mr Mick, coupling the original version on disc one with the official one on disc two, making for a nice complete edition, with the official release's sleeve design, which is nicer than the 'original' version by several orders of magnitude.
2001's CD Romp: Official Bootleg No. 2 (...No. 1 is their Cropredy set from their appearance in 2000, Pick of the Crop) is, as you might expect, a CD-ROM of audio, video and other elements sourced from fans' collections of rare radio broadcasts and the like, not least a selection of seventeen rarities, including several otherwise-unavailable songs. Highlights? 'New' material such as After The Tetracycline, Every Living Hole and February In Shropshire are all highly welcome, although the BBC session version of Charles Jolly's The Laughing Policeman is probably the most fun. The live tracks are all from Sheffield Polytechnic, probably 1975, including sterling versions of Pinafore Days and the wonderful Purple Spaceships Over Yatton and although an Old Grey Whistle Test Twist And Shout is terrible quality, I suppose it's worth it for completists. Remarkably little Mellotron, all told, with naught but strings and choirs on the God Speed The Plough demo, as you'd expect, so nothing on any of the previously-unheard efforts.
As far as the various reissues go, the 1996 Demon version of The Man in the Bowler Hat adds three of Do the Stanley's six single-only tracks, but is now deleted. The band's whole original catalogue is now on Angel Air and although neither The Man in the Bowler Hat nor Extravaganza now have any extras, all six of those hard-to-find numbers are spread over Stackridge and Friendliness, although I shall leave Do the Stanley above for completeness' sake. As stated above, both versions of Mr Mick are now available as a double, although I've no idea whether the BBC CDs are still available.
Anyway, buy 'em all, 'cos they're great. Er, OK then, get BBC Live and Mr Mick for the instrumentals, then if you get on with them, progress to the others. Let there be lids!

Something for the Weekend (1998, 48.27) ****
A Victory for Common Sense (2009, 50.04) ***½
Stackridge disappeared in the late '70s, only to reappear twenty years later, sadly sans Mellotron god Andy Davis. Something for the Weekend (ho ho) doesn't sound much like the original band, although it has its moments (the faux-tea dance music of Sliding Down The Razorblade Of Love, the fiddle hoedown Five-Poster Bedlam), but it is a triumph of intelligent, literate pop, although it could be said that they shoot their bolt early, clustering the album's best songs near the beginning. It's A Fascinating World and Ruth, Did You Read My Mind? are both great songs, but still pale in comparison next to the wondrous Something About The Beatles, which surely has to be the greatest song of its type never to trouble the charts? Sadly, I s'pose it's thirty years too late. Hey, that's Stackridge; a band out of time. Anyway, on the fake Mellotron front, either John Miller or Richard Stubbings plays flutes on Fascinating World and the '60s-ish Youth Of Today, for what it's worth.
2009's A Victory for Common Sense (Davis returned, Mike Evans gone) is another superb effort, proving that bands don't have to gently slip into irrelevance with age. Saying that, its best track, opener Boots And Shoes, is an old Korgis song, which isn't to denigrate material of the quality of The Old Country, Long Dark River, Cheese And Ham and vaguely Floydian epic The Day The World Stopped Turning. Fake Mellotron on one track for definite, with strings on The Old Country, but as with Something..., it's a pretty minor ingredient overall.
Frankly, you NEED a copy of Something for the Weekend, if only for its first few songs, while A Victory for Common Sense is a very worthy successor.

---