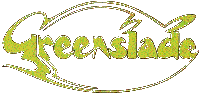 Greenslade (1973, 41.11/85.25) ****/TTTT (TTTTT)

Feathered Friends
An English Western
Drowning Man
Temple Song
Mélange
What Are You Doin' to Me
Sundance
[Esoteric 2CD adds:
Temple Song (BBC session)
Feathered Friends (BBC session)
An English Western (BBC session)
Sundance (BBC In Concert)
Drowning Man (BBC In Concert)
Feathered Friends (BBC In Concert)
Mélange (BBC In Concert)]
Bedside Manners Are Extra (1973, 39.20/55.21) ****/TTTT (TTTT½)

Bedside Manners Are Extra
Pilgrim's Progress
Time to Dream
Drum Folk
Sunkissed You're Not
Chalkhill
[Esoteric CD adds:
Time to Dream (BBC session)
Bedside Manners Are Extra (BBC session)
Pilgrim's Progress (BBC session)]
Spyglass Guest (1974, 38.40/91.10) ***½/TTT (TTTT½)

Spirit of the Dance
Little Red Fry-Up
Rainbow
Siam Seesaw
Joie de Vivre
Red Light
Melancholic Race
Theme for an Imaginary Western
[Esoteric CD adds:
Joie de Vivre (BBC In Concert)
Bedside Manners Are Extra (BBC In Concert)
Sundance (BBC In Concert)
Red Light (BBC In Concert)
Spirit of the Dance (BBC In Concert)
Mélange (BBC session)
Melancholic Race (BBC session)
Red Light (BBC session)]
Time & Tide (1975, 32.23/94.48) ***½/TT (TTTT)

Animal Farm
Newsworth
Time
Tide
Catalan
The Flattery Stakes
Waltz for a Fallen Idol
The Ass's Ears
Doldrums
Gangsters
[Esoteric 2CD adds:
Catalan (single edit)
Rubber Face & Lonely Eyes
Pilgrim's Progress (live)
Newsworth (live)
Flattery Stakes (live)
Bedside Manners Are Extra (live)
Joie De Vivre (live)
Waltz For a Fallen Idol (live)
The Ass's Ears (live)
Drum Folk (live)
Spirit of the Dance (live)]
7" (1975) ***½/TT

Gangsters
Rubber Face & Lonely Eyes

Live (1999, recorded 1973/75, 62.39) ****/TTTT

Sundance
Drowning Man
Feathered Friends
Mélange
Joie de Vivre
Bedside Manners Are Extra
Sundance
Red Light
Spirit of the Dance

Live in Stockholm: March 10th, 1975 (2013, 56.16) ***½/TTT½

Pilgrim's Progress
Newsworth
The Flattery Stakes
Bedside Manners Are Extra
Joie de Vivre
Waltz for a Fallen Idol
The Ass's Ears
Drum Folk
Spirit of the Dance

The Birthday Album: Live Switzerland 1974 (2016, 72.39) ***½/TTTT

An English Western
Sunkissed You're Not
Bedside Manners Are Extra
Pilgrims Progress
Drowning Man
Time to Dream
Sundance
Feathered Friends
Drum Folk
Reading Festival '73 (1973, 6.00) ***½/TT½

[Greenslade contribute]
Feathered Friends
Current availability:
Expanded studio albums: Esoteric
Live: Mystic (out of print? Now superseded)
Stockholm: Purple Pyramid (now superseded)
Birthday: Angel Air
Reading: See for Miles
Mellotrons used:
Upon leaving Colosseum, Dave Greenslade (son of orchestral arranger Art Greenslade) put his own band together in 1972, featuring the unusual lineup of two keys (with Dave Lawson, ex-Episode Six/Web/Samurai), old friend and musical sparring partner Tony Reeves on bass and drummer Andrew McCulloch. The most noticeable thing about their take on progressive rock is how much it's rooted in the blues, unlike many of their contemporaries. Not everyone's going to see this as a good thing, but they did have a fairly original style for a 'second-generation' progressive band, formed after the first wave had either taken off or sunk without trace.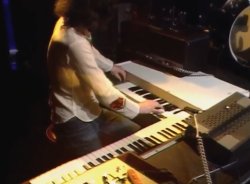 They released Greenslade in '73, carving their own little niche in the UK music scene, while never being in any real danger of catching up with the market leaders. The album's pretty laid-back, with big themes rather than particularly strong melodies, but they made a good noise and really didn't sound much like anyone else. On the Mellotron front, as with so many bands, most of the use (by Greenslade himself) is in the large string chord department, although I believe I can hear cellos on the intro to Drowning Man and a faint flute part in Temple Song. The best use is probably in fans' favourite Feathered Friends and What Are You Doin' To Me, although every track has at least a few seconds, taken to a ridiculous extreme by the single closing chord in An English Western. Given that it was their second release of that year, Bedside Manners Are Extra is excellent; several strong compositions ensure that this is probably their best album, though those looking for Crimson/Van der Graaf-style prog should, again, probably go elsewhere. The title track and Pilgrims Progress are the best of the bunch, with a good deal of Mellotron strings, especially on the latter. There's a solo flute part in Drum Folk, rescuing the track from being no more than a vehicle for that oddest of things, a studio drum solo. So, once again, Mellotron throughout and a damn' good album to boot.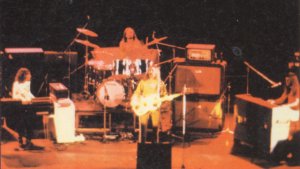 Despite containing two of Greenslade's most popular pieces in Spirit Of The Dance and Joie De Vivre, Spyglass Guest shows a slight slacking-off on the quality front, but three albums in two years must have taken its toll. The cracks were already starting to show in the apportioning of roles within the band, several tracks only featuring its composer on keys, effectively making the band a part-time trio, with several guest musicians appearing, including DG's old colleague, guitarist Clem Clempson from Colosseum. I don't know if Dave Lawson refused to play Mellotron, or was just more interested in pianos and synths, but his compositions are resolutely organ and Mellotron-free. DG's Mellotronic contributions are as good as ever; if only there were more of them. Melancholic Race and Spirit Of The Dance are both excellent Mellotronically, with overdubbed strings and flute on the latter.
By Time & Tide, all the usual stuff was happening with Greenslade; shorter tracks and more of them (it's a very short album), more straightforward material and little integration between the two keyboard men. Saying that, Tide is a wonderful piece of music, consisting of no more than DG on Fender Rhodes bass and overdubbed Mellotron strings and choir, with string work on Catalan and Gangsters, the latter a piece written for a BBC play. The rest of the material's OK, but their glory year(s) were certainly behind them by this stage. Incidentally, there's an excellent pic of the band's stage setup inside the album gatefold, showing that DG had a far cooler keyboard rig than DL. Well, it was his band... Incidentally, the band's one non-album track turned up on the flip of their last single, Gangsters. Rubber Face & Lonely Eyes is a pleasant, if inconsequential little instrumental, featuring quite heavy Mellotron flute and strings work, given how little there is on the actual album.
After the band's final split in '76, DG went on to record a couple of progressive-ish solo albums (see below), before moving into full-time TV music work. In the late 1990s, he was instrumental in reforming Colosseum, before deciding that maybe Greenslade were worth a revival, too. Live was released in '99 to test the water, consisting of two uncredited BBC In Concert performances from '73 and '75, including two very different versions of Sundance, showing how the band's approach changed in the space of two years. It's a fine album, displaying the band at their best, playing some of their best material; there's also some serious Mellotron action from DG, most tracks featuring at least a little. Red Light adds some not on the studio version, while Spirit Of The Dance takes it away, but it's all well worth hearing. Incidentally, as you can see, one live track was released way back in '73, on the Reading Festival 1973 various artists LP, along with The Faces, Rory Gallagher, Status Quo et al. It's an excellent version of Feathered Friends, with some well-recorded Mellotron strings, now available on See for Miles.
There's something of a story surrounding 2013's Live in Stockholm: March 10th, 1975, at least as far as I'm concerned. I used to have this listed under 'bootlegs', until its official release; what its rather excitable sleevenotes fail to mention is that the source for the release is an unofficial recording that's been doing the rounds since sometime back in the 2000s. An unofficial recording that I made from a cassette (source forgotten) and put out on the bootleg trading circuit; you know, the one that utilised 'trees', 'roots' 'branches' and possibly 'twigs'. The official disc is exactly the same length as my original CD-R, although the EQ's been tweaked slightly, while it's picked up a glitch at the beginning of Drum Folk on its travels that isn't there on my original. So; a barely-cleaned up bootleg, no more or less.
Anyway, their set that night was heavily slanted towards their new (and, as it turned out, last) album, Time & Tide, although all four of their releases are represented here, highlights including opener Pilgrim's Progress, Joie De Vivre and jaunty closer Spirit Of The Dance. Downsides? Dave Lawson's yowling vocals, possibly one of the reasons the band weren't bigger than they were and the chief reason I generally prefer their instrumentals. Sorry, Dave L. Dave G. gets some Mellotron in on most tracks: Pilgrim's Progress is veritably stuffed with flutes and strings, although we only get a few seconds of brass on Newsworth. The strings on Bedside Manners Are Extra and Joie De Vivre are woefully flat, despite Dave's best efforts to get the machine in tune, although things improve for the string and/or flute parts on Drum Folk and Spirit Of The Dance. Listening to this reminds me of the best thing about Greenslade's Mellotron work: big, lush, chordal string parts that rival anything the bigger and better(-known) Genesis and King Crimson could rustle up, at least on that front.
The Birthday Album: Live Switzerland 1974 sounds like another tarted-up bootleg to my ears, albeit not one I've had the privilege to originally edit and circulate. The tracklisting's better than Stockholm, chiefly due to it being recorded a year earlier, the obvious highlight being a killer, seventeen-minute version of Sundance, showing that the band could jam out when they wanted to. Dave G.'s Mellotron on most tracks, with nothing obvious on the first two, but lush strings on Bedside Manners Are Extra, flutes and strings on Pilgrims Progress, Sundance and Drum Folk, cellos and strings on Drowning Man and strings on Time To Dream and Feathered Friends.
The reformed Greenslade actually released a new studio album, Large Afternoon, in 2000, but don't hold your breath on the keyboard front. Both DG and Lawson's replacement, prog journeyman and all-round good guy John Young are all-digital (big surprise, there); live, they didn't even try to recreate the Mellotron sounds of yore. 2002 Live documents that lineup on stage; good, but not that startling, to be brutally honest, although if you're a fan, you shouldn't be (too) disappointed.
Between 2018 and '19, those lovely people at Esoteric issued expanded versions of all four studio albums, adding what appears to be every extant BBC session/In Concert broadcast, the odd single-only track and that blasted Stockholm broadcast. Greenslade's second disc pairs their first BBC session (Sounds of the Seventies), from January '73, with their first In Concert, from that April, featuring straight renditions of first album material, including a rare outing for Temple Song. Mellotronically speaking, without performing a forensic one-for-one, it seems that most of the studio parts survive, even on the live tracks, with (from the session) polyphonic flutes on Temple Song, strings on Feathered Friends and, quite literally, one string chord at the end of An English Western, as on its album counterpart. The live recording gives us flutes and occasional strings on Sundance, cellos on Drowning Man and strings on Feathered Friends and Mélange; nothing we haven't heard before, but nice for completists.
Bedside Manners is a CD/DVD combo, adding a mere three Sounds of the Seventies tracks to the audio section, with the expected Mellotron strings on Time To Dream, flute solo on Bedside Manners Are Extra and upfront flutes and strings on Pilgrim's Progress. The DVD (all on YouTube) consists of three 'live in the studio' tracks from a '73 promotional film from Warners and two from what I presume was their sole Old Grey Whistle Test appearance. If nothing else, interesting to see their keyboard setup at that point, not to mention who played what, on what. Spyglass Guest adds five tracks from another BBC In Concert broadcast and three from a Bob Harris session in November '74. The live tracks repeat the second half of Mystic's 1999 Live, although the session's previously unavailable. Mellotronically speaking, we get strings all over Mélange and Melancholic Race and strings and flutes on Red Light (as on the live version), despite there being nothing on the album version. Time & Tide adds a single edit of Catalan and the lone non-album b-side referenced above, Rubber Face & Lonely Eyes, plus, as mentioned above, the complete Stockholm broadcast, sourced from my anonymous cassette, which, of course, features Mellotron on six of its nine tracks. This reissue programme means that Greenslade's full discography can be cut down to five releases, these four two-disc sets and The Birthday Album, as not only has Stockholm been rendered inessential, but that 1999 Live set was only ever two of the BBC In Concerts, both included here.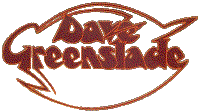 Cactus Choir (1976, 42.42) ***½/T

Pedro's Party
Gettysburg
Swings and Roundabouts
Time Takes My Time
Forever and Ever
Cactus Choir
The Rider
Greeley and the Rest
March at Sunset
Country Dance
Finale
The Pentateuch of the Cosmogony (1979, 78.10) ***/0

Introit
Moondance
Beltempest
Glass
Three Brides
Birds & Bats & Dragonflies
Nursery Hymn
The Minstrel
Fresco/Kashrinn
Barcarole
Dry Land
Forest Kingdom
Vivat Regina
Scream But Not Heard
Mischief
War
Lament for the Sea
Miasma Generator
Exile
Jubilate
The Tiger and the Dove
Current availability:
Cactus: Angel Air
Pentateuch: BGO
Mellotrons used:
The year after Greenslade (the band) split, erstwhile leader Dave put out his first solo album, Cactus Choir. More than anything else, it sounds like the lost fifth Greenslade album, or maybe a lopsided version of them, minus Dave Lawson's input. Most of the material is good, if a little unexciting, although Time Takes My Time was a mistake, as was Dave's singing on the track. Now we know why Lawson was the band's vocalist, despite everything... About the best thing on the album is the lengthyish closer, Finale, the string section sounding amazingly like a Mellotron at one point. Talking of which, there's very little Mellotron to be heard here; some choir, though not sounding like the regular 8-voice, on Swings And Roundabouts and something completely inaudible (but listed) on Forever And Ever.
Dave's last regular release for some time was the hugely ambitious The Pentateuch of the Cosmogony; an album out of time if ever there were one. It's actually hard to say whether it's a double album with accompanying hardback book, or a book with albums enclosed; it has both a label number and an ISBN, but we'll treat it primarily as an album for the purposes of this review. The story is the standard fantasy-literature-as-allegory thing, its tale of a planet's ruination being a fairly obvious ecological metaphor concerning our own world. Very worthy, but how many people by 1979 actually gave a damn, especially considering the packaging? Patrick Woodroffe's artwork is beautiful, in a fantasy art kind of way, but by the end of the '70s the world had moved on (before partially moving back again) and that, combined with the album/book's high selling price meant that few people actually bought a copy. It's actually a lovely collector's item and has recently been reissued as a CD miniature, but that rather misses the point, somehow; its appeal lies in its 12"x12" size, allowing the magnificent detail in the illustrations full rein.
Sad to say, the music (all instrumental) is actually pretty weak; a pale shadow of the stuff Greenslade was producing a few years earlier, although I suppose it was written to fit the concept, while Greenslade (the band) were very much a vocal group. There don't seem to be any particular highlights and, although at one point I'm sure I could hear some faint Mellotron on side 4's Miasma Generator, it doesn't seem to be there any more. Maybe it fell off. Anyway, there's one listed in the sleevenotes, but I'll be buggered if I can hear it anywhere.

See: Colosseum | Web | Reading Festival
---