---
Max Hatt/Edda Glass (US) see: Samples etc.
Aidan Hawken (US)
Pillows & Records (2005, 47.54) **/T½

Intro
Take in
Wherever You Are
Interlude
Get Over Yourself
Crush
Somebody Else
Tired
8 Weeks
Neighborhood
The Distance Between Us
Understanding
Pillows & Records
Jenny
Current availability:
Mellotron used:
Aidan Hawken is a modern American singer-songwriter; you may be thinking, &quot'This doesn't bode well". Unfortunately, you'd be right. Saying that, although his solo debut after years of playing in bands, 2005's Pillows & Records, is a pretty insipid affair, unlike, say, Maximilian Hecker, Hawken's music doesn't fill me with homicidal urges, which is a bonus. The album's plus points include some nice instrumental hooks, not least the guitar intro to Crush, although Hawken's weedy voice drags some potentially reasonable material down.
Jason Borger plays Mellotron, with a major cello part on (proper) opener Take In, strings on Get Over Yourself and both on the title track, which was rather more than I'd expected. I'd be lying if I said this was a good listen, but compared to many of his contemporaries worldwide, Hawken's rather limp style isn't actively offensive and sounds like he could actually do something worthwhile if only he'd loosen up a bit.
Hawkwind (UK)
Hall of the Mountain Grill (1974, 40.56/58.38) ****/TTT½

Psychedelic Warlords (Disappear in Smoke)
Wind of Change
D-Rider
Web Weaver
You'd Better Believe it (live)
Hall of the Mountain Grill
Lost Johnny
Goat Willow
Paradox (live)
[CD adds:
You'd Better Believe it (single version edit)
Psychedelic Warlords (Disappear in Smoke) (single version)
Paradox (remix single edit)
It's So Easy]
Warrior on the Edge of Time (1975, 44.49/146.44) *****/TTT½

Assault & Battery Part I
The Golden Void Part II
The Wizard Blew His Horn
Opa-Loka
The Demented Man
Magnu
Standing at the Edge
Spiral Galaxy 28948
Warriors
Dying Seas
Kings of Speed
[Atomhenge 2CD ed. adds album remix plus:
Motorhead
Soldiers at the Edge of Time (Michael
Moorcock version)
On the Road
The Wizard Blew His Horn (Nik Turner version)
Spiral Galaxy 28948 (demo)
Soldiers at the Edge of Time (Nik Turner version)
Motorhead (Dave Brock vocal version)
Kings of Speed (instrumental version)
Motorhead (instrumental demo)
Dawn
Watchfield Festival Jam
Circles
I am the Eye]
The '1999' Party: Live at the Chicago Auditorium, March 21 1974 (1997, 97.53) ****½/TTT½

Intro/Standing on the Edge
Brainbox Pollution
It's So Easy
You Know You're Only Dreaming
Veterans of a Thousand Psychic Wars
Brainstorm
Seven By Seven
The Watcher
The Awakening
Paradox
You'd Better Believe it
The Psychedelic Warlords (Disappear in Smoke)
D-Rider
Sonic Attack
Master of the Universe
Welcome to the Future
Current availability:
Hall/1999: EMI
Warrior: Atomhenge
Mellotrons used:
Space-rock veterans Hawkwind have rarely, if ever kept the same lineup two albums running, so, finding themselves without the services of poet-in-residence Bob Calvert for the recording of their fourth studio outing, Hall of the Mountain Grill, they moved slightly (but only slightly) away from their roots, recording their most overtly 'progressive' album yet. It was the first to feature violinist/keyboard player Simon House, who slapped Mellotron all over the album, giving the band an occasional symphonic edge, without destroying the freeform element of their sound.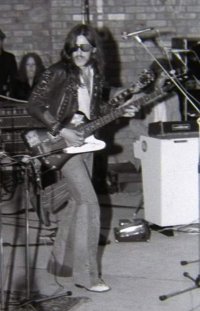 Unfortunately, the Mellotron is recorded fairly badly; in fact, the production overall is pretty ropey, but that's what happens when you spend the entire recording process stoned out of your skulls, I suppose. House comes straight in on funkyish opener Psychedelic Warlords (Disappear In Smoke) (I'm sure they do, I'm sure they do...), a string part running through most of the song. More of the same on instrumental Wind Of Change, while D-Rider has what may be Mellotron choir, but it may just be actual voices. Hard to tell. The title track is another instrumental piece with loads of Mellotron layered over the piano (!) part. I told you this isn't a typical Hawkwind album... A live Paradox closes the album with more Mellotron strings, giving you a taste of the rarely heard 'Mellotron jam' style; it has to be said, there's a reason you don't usually jam with one, but House makes a good go of it anyway... Incidentally, the EMI CD adds several tracks, most of which are 'single versions', but there's also a b-side, It's So Easy, including more of that strange Mellotron choir.
The following year, Hawkwind produced what some fans consider to be their piéce de resistance, Warrior on the Edge of Time. It's a very different album to, say, their stunning live extravaganza Space Ritual (*****), but works brilliantly as a straight space/prog crossover. Opening with Lemmy's bass under House's Mellotron strings, Assault And Battery is one of the band's all-time classics, driving along superbly before shifting into The Golden Void, with more Mellotron and one of the most piercing MiniMoog notes you're ever likely to hear (no, it is not House's violin...). Opa-Loka isn't really a song, as such; more a rhythm track with some Mellotron strings layered over the top, a few other bits thrown in for good measure. In direct contrast, The Demented Man is a rarity for Hawkwind, an acoustic ballad (complete with seagull sound effects), with much Mellotron strings and choir. Side two of the album is strangely Mellotron-free, but just as good, apart from final track Kings Of Speed, which really doesn't fit the album's feel at all; it was released as a single, backed by Lemmy's Motorhead, included on the CD. Stop the disc after Dying Seas and you'll have a more 'complete' album, to be honest.
Warrior has had several differing CD issues, extras ranging from a lone bonus track (b-side Motorhead, of course) through to Atomhenge's sprawling two-disc set, including the by-now ubiquitous bloody Steven Wilson remix and a plethora of bonuses, although the only one that especially bothers us here is the nine-minute, jammed out Dawn, Mellotron strings weaving in and out of the action over its first few minutes. Incidentally, I'm loving the way all the jams, or otherwise uncredited tracks, suddenly become Dave Brock compositions. Sure you wrote them, Dave. Although House stayed in the band for another couple of albums, he obviously disposed of his Mellotron after Warrior, switching to various synths, along with his trusty violin.
Since the mid-'80s, Hawkwind have fallen prey to the reissue merchants, with literally dozens of compilations, dodgy live recordings and straight reissues of their early albums on a bewildering variety of labels, few, if any of the profits making their way back to those who actually played on them. Some of these are awful recordings (the cheekily-named Space Ritual Vol. 2 (***) springs to mind), while some are just plain awful (The Text of Festival (**½)), so Hawkwind collecting has become an absolute minefield for the newbie. Two or three of the dodgier efforts could put you off them for life, but anyone who picked up The '1999' Party: Live at the Chicago Auditorium, March 21 1974 should have no such problem; a good, professional recording from their Mountain Grill US tour, it both sounds great and is superbly packaged. Simon House's Mellotron is used on six tracks, three of which are the same as their Mountain Grill antecedents, leaving three older songs with Special Extra Added Mellotron for flavour; all are improved by the Mellotron strings, especially the excellent You Know You're Only Dreaming. Incidentally, the album is notable for an early appearance of Mike Moorcock's poem Veterans Of A Thousand Psychic Wars, later to be set to (excellent) music by his other chief musical collaborators, the Blue Öyster Cult.
See: Samples etc. | Nik Turner | Space Ritual
Richard Hawley (UK) see: Samples etc.
Mayer Hawthorne (US) see: Samples etc.
Colin Hay (Australia) see: Samples etc.
Annie Hayden (US)
The Rub (2001, 31.30) ***/TT

Start a Little Late
Slip is Showing
The Land of Nod
Alone
Wood and Glue
Albatross
Red Lines
Guitar Lesson
Sign of Your Love
Pistol and Glasses
Lovely to See
Current availability:
Mellotron used:
Annie Hayden (ex-Spent) is an American singer-songwriter who has to be applauded for refusing to succumb to the temptation to appeal to the lowest common denominator. Her solo debut, 2001's The Rub, combines acoustic and electric elements on tracks such as Slip Is Showing and Sign Of Your Love, with the surprise addition of several instrumentals, not least the lovely Guitar Lesson and her sympathetic, keyboard-led version of (early) Fleetwood Mac's Albatross.
Hayden and John King share Mellotron duties, with string parts on the brief The Land Of Nod and Wood And Glue and flutes on Albatross, although the chord part on Slip Is Showing (sometimes credited as Mellotron) is nothing of the sort, sounding more like an early polysynth. So; a better than average album of its kind, although expecting anything too exciting will lead to disappointment, while nice Mellotron work on three tracks makes it work checking out if you see a copy cheap.
Liam Hayes (US)
Bright Penny [as Liam Hayes & Plush] (2009, 39.39) **½/T

Take a Chance
If I Could
White Telescope
I Sing Silence
Look Up, Look Down
We Made it
So Much Music
Getaway
The Goose is Out
O Street
Korp Sole Roller (2014, 37.50) ***/T½

A Glimpse Inside
Dream Deferred
Cried a Thousand Times
Waves
I'm Sorry
The Sane Society
Rosita
The Wake
Sweet Voice
Rock and Roll
Slurrup (2015, 33.14) ***½/T

Slurrup
One Way Out
Nothing Wrong
Get it Right
Theme From Mindball
Fokus
Greenfield
Keys to Heaven
Long Day
Channel 44
Outhouse
August Fourteen
Fight Magic With Magic
Current availability:
Bright: Broken Horse
Korp: Candlewick Lake
Slurrup: Fat Possum
Mellotrons/Chamberlins used:
The distinction between Liam Hayes and Plush might be too small to measure; I've certainly seen the band name described as his alter-ego. 2009's Bright Penny is credited to Liam Hayes & Plush, just to confuse the issue. Rather than the chamber pop/powerpop hybrid you might've expected, it's more of a soul/r'n'b effort, neither groundbreaking nor in any way outstanding, coming across like something of a waste of talent. 'Mr.' Jimmy Rowland plays Chamberlin and Mellotron, with what sound to my ears like Chamby strings on I Sing Silence and Getaway, although, as so often with that instrument, it's hard to tell.
2014's Korp Sole Roller still has a vestige of its predecessor's soul feel, although it's fair to say that Hayes has largely moved back towards his chamber pop origins, thankfully. Best tracks? Opener A Glimpse Inside, the soulful (yet not soul) Cried A Thousand Times and The Sane Society, with several other contenders. Hayes and Wilco's Pat Sansone are both credited with Mellotron and (very specifically) Chamberlin M1, with string swells in opener A Glimpse Inside, background Mellotron flutes and Chamby strings (?) on Cried A Thousand Times and obvious Mellotron flutes on Rosita. Some of the other string parts are clearly real, but some may be Chamby; I can tell what isn't, but not necessarily what is.
The following year's Slurrup is an eccentric album: sound FX tracks, studio chat, false starts... When Hayes finally gets down to business, he finally makes a decent powerpop album, top tracks including Nothing Wrong, Keys To Heaven and the frantic Outhouse. Your best for a while, Mr. Hayes. Paul von Mertens plays Mellotron, with what sound more like Chamberlin strings on August Fourteen, so we could be hearing a Mellotron, a Chamberlin, or samples of one or the other. Who knows?
See: Plush
Emile Haynie (US)
We Fall (2015, 46.12) **½/T

Falling Apart
Little Ballerina
Wait for Life
Dirty World
A Kiss Goodbye
Fool Me Too
Nobody Believes You
Come Find Me
Who to Blame
Ballerina's Reprise
The Other Side
Current availability:
Mellotron used:
Emile Haynie's known more for his production work (Lana Del Rey, Eminem) than as a musician, so perhaps it's not surprising that he utilises a wide rage of collaborators on his first solo album, 2015's We Fall. The end result is, of course, essentially mainstream pop, although, given the number of hip-hop acts he's produced, we've probably got off lightly. Better tracks? Hmmm. Would it be a thorough cop-out to say that I really can't tell? Probably. What I can say is that having different vocalists on every track makes for a slightly fragmented listen, but then, if Haynie's no singer, he should be applauded for not even trying.
Mellotron? Have a close look at the sleeve: yup, a pristine M400 surrounded by pot plants. No guarantee of actual usage - Opeth pulled that stunt a few years ago - but the presence of Roger (Joseph) Manning (Jr.) pretty much is, not to mention the picture to the right, one of several similar in the CD booklet. Thomas Bartlett plays something (background flutes?) on Wait For Life, although it's near-impossible to discern under he song's string section, while Manning adds background strings to Nobody Believes You and, if not upfront, then quite obvious ones to Who To Blame. That's it, really.
The Haystack (UK)
7" (1969) ***/TT

Tahiti Farewell
Pantomime People
Current availability:
Both tracks on Measure for Measure: The John Carter Anthology (RPM, 2003)
Mellotron used:
The Haystack were yet another John Carter/Ken Lewis project (creators of the better-known Flower Pot Men, of Let's Go To San Francisco fame), releasing two 45s under the name in 1969. The second, Tahiti Farewell, is a rather slight effort with a vaguely Hawaiian feel, although the flip, Pantomime People, is a far better track, with more of a Flower Pot Men vibe to it.
Pantomime People features some nicely full-on Mellotron flutes and strings (and brass?), presumably from one of the dynamic duo, also presumably played on Southern Studios' much-used MkII. Both sides of the single are available on RPM's 2003 collection Measure for Measure: The John Carter Anthology, along with the 'A' of their first release, A Letter To Josephine, while Letter... and Pantomime... can also be found on The Flower Pot Men's Listen to the Flowers Grow.
See: The Flower Pot Men | Friends | Beautiful People | Ministry of Sound
Justin Hayward (& John Lodge) (UK)
Blue Jays [as Justin Hayward & John Lodge] (1975, 47.00) **/½

This Morning
Remember Me (My Friend)
My Brother
You
Nights Winters Years
Saved By the Music
I Dreamed Last Night
Who Are You Now
Maybe
When You Wake Up
Songwriter (1977, 42.27/54.29) *½/0 (½)

Tightrope
Songwriter (Part 1)
Songwriter (Part 2)
Country Girl
One Lonely Room
Lay it on Me
Stage Door
Raised on Love
Doin' Time
Nostradamus
[CD adds:
Wrong Time, Right Place
Marie
Heart of Steel
Learning the Game]
7" (1979) *½/½

Marie
Heart of Steel
Current availability:
Blue Jays: Polydor
Songwriter: Decca
Mellotrons used:
It's debatable whether or not The Moody Blues actually split up after the end of the original band's final tour in early '74; their most recent album (1972's Seventh Sojourn) was by then two years old, while their attempts to record its follow-up in '73 came to nothing. All five members recorded solo records, Justin Hayward and Mike Pinder initially working together, until Pinder dropped out, to be replaced by bassist John Lodge for 1975's Blue Jays, although Lodge doesn't actually play on the (originally non-album) hit Blue Guitar, Hayward being backed by 10cc. The album is, frankly, the most insipid piece of soft-rock schlock it's been my displeasure to hear for a while, making the Moodies sound like The Stooges. Well, nearly. Someone (Hayward?) plays a very background Mellotron string part on Who Are You Now, as against the real strings used across the rest of the album, although I'd be lying if I said it added anything to the record.
The same goes for Hayward's Songwriter ('77), a horrendously insipid effort about as out of tune with the times as you can imagine, although the thought of fluffy Justin attempting anything even remotely aggressive is liable to induce uncontrolled smirking. His 1979 single, Marie, however, appears to have some background M400 choirs about halfway through (from Hayward?), although it's a bit 'blink and you'll miss 'em'. If you're a diehard Moodies fan and have to have everything, both sides of the 45 are on the 2004 version of Songwriter, but I really cannot recommend either of these in any way, I'm afraid.
See: The Moody Blues | John Lodge
Haze (US)
Haze (1974, 35.43) ***½/T

House on a Country Road
When We Were Kids
Waiting for the Moment
Higher Groove
Toe Jam
I Do Love My Lady
Are You Free
Foxy World
Fill My Mind With Music
Current availability:
Mellotron used:
Haze: a common-enough band name, not least Sheffield's ultimate cottage-industry outfit who surfed the outer edges of the early '80s so-called UK neo-prog scene. Tracing info on this particular bunch is complicated by an obscure British folk-rock act of the same name, who also released an eponymous album in 1974, but it seems this Haze were a soul/funk crew hailing from Minneapolis. Haze (their only release in their 'lifetime', I believe) is a solid example of the genre, untainted by the emergent disco scene, thankfully, featuring excellent Latin percussion work on its more upbeat tracks, not least Waiting For The Moment (killer Clavinet work) and Higher Groove, complete with ripping guitar solo, while all the instrumentalists get a turn on Toe Jam. Yes, there are several laid-back soul ballads, but Haze avoid the cheese of the Philly soul scene, going for a grittier, Midwest take on the style.
Someone (organist Peter Johnson?) plays Mellotron on the balladic I Do Love My Lady, with a pseudo-string section part that tells us that such production touches were probably out of the band's financial reach. They may've wished for a real string section at the time, but their compromise then is our pleasure now; a fine album of its type, with one decent Mellotron track.
Head East (US)
Flat as a Pancake (1974/75, 39.22) ***/TT

Never Been Any Reason
One Against the Other
Love Me Tonight
City of Gold
Fly By Night Lady
Jefftown Creek
Lovin' Me Along
Ticket Back to Georgia
Brother Jacob
Gettin' Lucky (1977, 41.50) **½/T

Gettin' Lucky
Back in My Own Hands
Show Me I'm Alive
Take it on Home
Dancer Road
Don't Let Me Sleep in the Morning
Sands of Time
Call to Arms and Legs
Time Has a Way
Every Little Bit of My Heart
Current availability:
Flat: A&M
Gettin': 2-on-1 with Head East: A&M
Mellotrons used:
Both titles: band's own M400?
Head East hailed from St. Louis, MI, having that Midwestern sound about them, a sort of hard-ish rock without really breaking sweat; think: early REO Speedwagon, before the (full-on) AOR. Effectively r'n'b-based stuff, with plenty of boogie piano, rock'n'roll guitar and slightly ropey vocal harmonies, they were probably a decent enough draw on the mid-'70s concert circuit, supporting Ted Nugent and his ilk without ever risking being a serious danger to the headliners.
Originally released on their own label in 1974 before being picked up by A&M, Flat as a Pancake is typical of the genre, being perfectly competent, but desperately unexciting and about as vital as being beaten over the head with a wet sponge. It starts well enough, with some nice synth work from Roger Boyd on Never Been Any Reason, quickly slipping into mid-tempoville, from where it rarely subsequently emerges. Boyd's keyboard work is one of the best things about the album, with some nice Hammond (listen to the intro to probably the album's best song, Jefftown Creek) and synth on several other tracks. Not to mention, of course, a bit of Mellotron, most unusually for a band of this type, with the chief use being the strings on City Of Gold and Ticket Back To Georgia, both, unsurprisingly, ballads. I don't know what tapes Boyd had in his machine, but there's some brass on One Against The Other and with no brass section credited, I suspect that's Mellotron, too. There may just possibly be a couple of other bits buried way down in the mix, but they're just as likely to be high-end Hammond deceiving the ear; hard to say.
I expected there to be some Mellotron on 1976's Get Yourself Up, but with Greg Oakley credited with 'string arrangements', the two tracks with strings sound like the real thing. '77's Gettin' Lucky gets back to the (credited) Mellotron, although the strings on Show Me I'm Alive are real. The album is, to be brutally honest, stupendously average, the only highlight of any kind being Sands Of Time, which sounds vaguely like Styx, or maybe Kansas, but everything else is either turgid Midwest boogie or a drippy ballad; the term 'filler' could've been invented to describe Call To Arms And Legs. Boyd digs out the Mellotron for one track, the wishy-washy Time Has A Way, but it's no match for even the fairly ordinary use on Flat as a Pancake. For those of you who saw my previous "I won't pay more than a quid or two if I find a copy" note, by the way, I did, in fact, pay exactly a pound for a copy of this in a charity shop.
Head, Heart & Hands (Germany)
Flor di Anglo (1980, 44.17) ***/T

Caribbean Shuffle
Stone Fruit
Sweet Secrets
El Diablo Suelto
Native Tongue
Daniel
Echoes of the Light
Flor di Anglo
Current availability:
Mellotron used:
Head, Heart & Hands were a German fusion outfit with a couple of ex-pat American members (guitarist Roy Louis also played on a few Passport albums), whose third and (to my knowledge) last album, 1980's Flor di Anglo, start off as a fairly typical offering from the period, before going a little off-piste with Sweet Secrets' slurring fretless bass and soprano sax lines, El Diablo Suelto's Disney-esque feel and the title track's epic fusion/prog approach. The rest of the album's slightly less interesting (at least to the non-fusion fan), but three tracks that go even slightly out on a limb is three more than on most similar.
The other non-German member, Geoff Stradling, plays keys, including Mellotron, clustered towards the end of the album, with distant (male?) choirs on Daniel, Echoes Of The Light and the title track. This is actually available on CD, maybe surprisingly; definitely worth it for fusion obsessives, possibly for the curious, but not really for the Mellotron fan.
Head Like a Kite (US) see: Samples etc.
Head South By Weaving & Alison O'Donnell (UK)
The Execution of Frederick Baker (2012, 41.36) ****/T

Fail in Flight
The Execution of Frederick Baker
Act of Contrition
Fleeing Limbus
Bird in a Cage
The Stonemason's Daughter
Prying Eyes
Hedge End Day
Current availability:
Mellotron used:
Head South By Weaving is Graeme Lockett's alter-ego, an I-can't-believe-it's-not-1970 psychedelic folk-rock/acid folk project. Graeme's early recordings apparently found their way to Alison O'Donnell, who you should all know (and shame on you if you don't) from the legendary Mellow Candle, starting a dialogue, the culmination of which was the collaborative The Execution of Frederick Baker. Frederick Baker? A Victorian-era child murderer, whose (known) victim, Fanny Adams, gave rise to the phrase 'sweet Fanny Adams', fact fans. Aside from the title track and Bird In A Cage (both traditional), the material is self-written, shifting stylistically from the expected acoustic end of the spectrum (Act Of Contrition, Prying Eyes) to the less expected acid rock of opener Fail In Flight and raucous closer Hedge End Day.
Tony Swettenham (a.k.a. Frobisher Neck) plays his own Mellotron, with a beautiful (not to mention beautifully upfront) cello part on Prying Eyes. Graeme and Tony have collaborated on various tracks on compilations and singles; if I discover any more Mellotronic input, I'll let you know. As far as this album's concerned, just one word: buy.
See: Mellow Candle
Heads Hands & Feet (UK)
Home From Home (the Missing Album) (1996, recorded 1970, 39.31) ***/T

Bringing it All on My Own Head
Ain't Gonna Let it Get Me Down
How Does it Feel to Be Right
Achmed
Precious Stone
Friend of a Friend
Windy & Warm
Who Turned Off the Dark
Can You See Me
Home From Home
Make Me Feel Much Better
Current availability:
Mellotron used:
Heads Hands & Feet, including legendary British guitarist Albert Lee and bassist Chas Hodges, later of Chas'n'Dave, coalesced from members of the Johnny Harris Orchestra, playing together at first as One Man Band. They recorded the material that eventually comprised Home From Home (the Missing Album) in 1970, but their record company, inexplicably, not only refused to issue it, but then chopped 1971's double Heads Hands & Feet down to a single disc for their home market, despite releasing the full version in the States. Record companies, eh? 1996 brought an exceedingly belated release for what should've been their debut album, an eclectic mixture of country, blues, folk and pop, not entirely unlike America's Blues Project, in some respects. Better tracks include opener Bringing It All On My Own Head, the syncopated Precious Stone and the folky Who Turned Off The Dark, Lee's and Hodges' instrumental work standing out particularly.
I presume it's keys man Mike O'Neill that plays the Mellotron on Windy & Warm, a brass part worming its way into the mix halfway through, to be slowly supplanted by those classic, heavily-reverbed MkII strings, to excellent effect. Although a worthwhile release, it must be said that this is really only an album for aficionados, sounding rather dated in the cold light of a few decades later, which isn't to denigrate See for Miles' sterling reissue work in any way. So-so record, one great Mellotron track.
Heads in the Sky (Canada)
Heads in the Sky (1981, 35.32) ***/T½

Heads in the Sky
Survive
Three Isle, My Land
Atomic Energy Sweet
Heavy Water
Meltdown
Requiem
On My Way to Freedom
Atlantis Lies
Golden Morning
Heads in Rio
Current availability:
Mellotron used:
Heads in the Sky were a little-known late-period prog outfit from Canada, whose sole, eponymous album was only released in their home country, the Netherlands, Germany and Japan, for some obscure reason. To be perfectly honest, it's not that great a record, being mostly rather insipid neo-ish prog, although that style was yet to appear in its full-blown form. There's a slight electro-pop influence in places, too, mainly due to Russ Walker and Chris McKim's synth use, including something that has to be an Oberheim. Unlike so many of their contemporaries, the band obviously had something to say, with both Three Isle, My Land (work it out) and Atomic Energy Sweet tackling the nuclear debate, though in a strangely laid-back kind of way. Walker sings on a few tracks, but overall, the album feels more instrumental than vocal, which is probably a good thing.
Walker and McKim stick some Mellotron on the album, although it's hardly the heaviest use you'll ever hear. There are distant choirs on Survive, occasional upfront string swells on Three Isle, My Land and the relatively lengthy On My Way To Freedom (plus a brief flute part on the latter), while a few seconds of strings on closer Heads In Rio finish a rather unsatisfying album with very little Mellotron use, considering on how many tracks it's used. This is one of those so-so records that gets prog fans excited due to its obscurity, then almost inevitably disappoints when it's actually tracked down. I've heard far worse, but there's practically nothing here that stands out from the pack, with its late-period Mellotron use being its only even minor talking point. Pick it up if you see it cheap, but don't go out of your way.
Headstones (Canada) see: Samples etc.
Health & Happiness Show (US)
Instant Living (1995, 49.55) ***/½

Lo-Fi Intro
To Be Free
Tossed Like a Stone
Sugar in Your Eyes
You is Fine
Many Kindnesses
Anytime
On Your Way
Johnboat
I'll Be Your Train
Watch the Weather
Portrait of Disaster
Don't Have Far to Fall
Untitled
Current availability:
Chamberlin used:
Health & Happiness Show's second album, 1995's Instant Living, is a kind of indie-end-of-roots-rock album, possibly at its best on Portrait Of Disaster and Don't Have Far To Fall. I'm sure this lot were great live, but it all comes across a bit... flat on record.
Tony Shanahan plays Chamberlin, with a distant string line on Anytime and upfront flutes on Don't Have Far To Fall, both of the minimalistic variety. I hate to be so dismissive of what I'm sure was a decent band, but this album entirely failed to impinge itself on my consciousness.
| | |
| --- | --- |
| Heart (US) see: | |
Hearts & Flowers (US)
Of Horses, Kids, & Forgotten Women (1968, 34.18) **½/½

Now is the Time for Hearts & Flowers
Highway in the Wind
Second-hand Sundown Queen
She Sang Hymns Out of Time
Ode to a Tin Angel
When I was a Cowboy
Legend of Ol' Tenbrookes
Colour Your Daytime
Two Little Boys
Extra Extra/Rock & Roll Gypsies
Current availability:
2-on-1 with Now is the Time for Hearts & Flowers: Edsel
Chamberlin used:
Hearts & Flowers were one of America's earliest country rock outfits, future Flying Burrito Brother/Eagle Bernie Leadon wandering in and out of their lineup. Their second (and last) album, 1968's Of Horses, Kids, & Forgotten Women is a slightly psychedelic Americana effort, although the psych element's nowhere near as obvious now (when we're used to such things) as I'm sure it was at the time. It's not a bad effort, but palls somewhat towards the end, despite its relative brevity; maybe you've really got to be into this stuff to appreciate it...
Someone plays Chamberlin strings on the most psychedelic thing here, Ode To A Tin Angel, alongside real strings, all other string parts on the album appearing to be real. Not bad, not great, one for Gram Parsons fans who just can't get enough of that sound, very little Chamby.
Heartsfield (US)
The Wonder of it All (1974, 35.36) ***/T

The Wonder of it All
House of Living
Pass Me By
Shine on
Eight Hours Time
I've Just Fallen
Racin' the Sun
LaFayette County
Current availability:
Mellotron used:
Heartsfield were a six-piece countryish-rock band; they'd quite possibly now be referred to as 'Americana'. Going by their second album (of four), The Wonder of it All, they were actually very good at it, having a slight CSN&Y vibe in places, specifically with regard to the vocal harmonies, although side two gets a bit countryish for my tastes. The best track (to my ears) is Shine On, with a more interesting chord sequence than the rest of their material, although Racin' The Sun is easily the album's longest track, allowing the band to stretch out a little.
Drummer Artie Baldacci doubled on piano and Mellotron, surprisingly, with a rich Mellotron strings part on Shine On and some brief background flutes on Racin' The Sun, although this isn't exactly what you'd call an indispensable Mellotron album. If that laid-back '70s country-rock thing falls into your listening orbit, you could actually do a lot worse than this (it's now available on CD), although I've no idea what their other albums were like. Anyway, one decent Mellotron track and the music's good for what it is. Better than the Eagles.
Anne Heaton (US)
Give in (2005, 38.00) **½/½

Give in to You
Make You Sad
The Line
Your Heart
Underdog
Counting
Breathing My Breath
Maybe it's Peace
Hey New York
Perfectly Lovely
Current availability:
Mellotron used:
Q Division Studio's MusicMaster 600
NYC's Anne Heaton is a singer-songwriter of the pop/rock crossover variety, at least on her second album, 2005's Give in, although I've bemusingly seen her described as 'folk'. Because she sometimes plays acoustic guitar? Lazy, lazy, lazy. Not her, them. Sadly, the album's a bit of a dog, at its relative best on The Line, the breezy Counting and its closing live tracks Hey New York and Perfectly Lovely, almost everything else taking a bit of teeth-grinding to get through.
Heaton's credited with Chamberlin (Q Division Studio's MusicMaster 600), with vibes and distant strings on Maybe It's Peace, although the possible sightings on a couple of other tracks probably aren't. You're not going to bother anyway, are you? No.
Heaven & Earth (US)
Dig (2013, 58.05) ***½/T

Victorious
No Money, No Love
I Don't Know What Love is
Man & Machine
House of Blues
Back in Anger
Waiting for the End of the World
Sexual Insanity
Rock & Roll Does
A Day Like Today
Good Times
Live as One
Current availability:
Mellotron used:
Heaven & Earth are an American old-school hard rock outfit; think: Rainbow on the cusp of their commercial era. Of course, this leads to better-left-in-the-can stuff like I Don't Know What Love Is and closer Live As One, but also to magnificence such as opener Victorious and Sexual Insanity (er, right). These guys are clearly connected, as guest spots for the likes of Heart's Howard Leese and, er, Bon Jovi's Richie Sambora amply display.
Keys man Arlan Schierbaum (mucho Hammond) plays Mellotron strings on Victorious, crediting 'Mellotron' in his 'Heaven & Earth uses' list in the CD booklet (along with a Clavioline!), which, along with the sound's inconsistencies, makes me think that this one's actually real. At almost an hour, this could have been edited into an even better record, but it has enough high points to keep the determined genre fan happy.
Heaven Street Seven (Hungary) see: Samples etc.
Heaven 17 (UK)
Pleasure One (1986, 40.36) *½/T

Contenders
Trouble
Somebody
If I Were You
Low Society
Red
Look at Me
Move Out
Free
Current availability:
Mellotron used:
Sheffield's Heaven 17 (or Seventeen), named for a fictional band in A Clockwork Orange (edgy!), formed out of the B.E.F./British Electric Foundation, who in turn, were composed of refugees from The Human League. Confused? After their initial burst of innovative synth-pop, characterised by singles like (We Don't Need This) Fascist Groove Thang and Temptation, they sunk into a mediocre premature middle-age, producing albums of averageness like their fourth, Pleasure One. This is basically '80s funk/pop-by-numbers, with none of the charm of their early work, perfectly content to trundle along in a funk-lite vein, without bothering overmuch about the songs. Harsh? Yup, but this was a really painful listen, amongst a sea of painful listens. Everything's that's worst about '80s pop encapsulated in one album.
Almost uniquely amongst such albums, though, is Martyn Ware's Mellotron use. Not that it's what you'd call major; strings that may be Mellotron on Look At Me and definite strings on closer Free, though little enough that this hovers between half and one T, so in a spirit of generosity, I've opted for the latter. Anyway, I didn't want to hear this album and nor do you. Hardly any Mellotron and the music's horrible. Avoid.
The Heavy Circles (US)
The Heavy Circles (2008, 34.14) ***/T½

Henri
Better
Ready to Play
Confused
Easier
Maximo
Wait and Wait
Need a Friend
Dynamite Child
Oh Darling
Current availability:
Chamberlin used:
The Heavy Circles are the stellar duo of Edie Brickell and Harper Simon, respectively Paul Simon's third wife and son from his first marriage, only actually six years apart in age. Their sole, eponymous album to date, released in early 2008, features Brickell considerably more heavily than her stepson; she writes and sings lead on all the songs, making you wonder exactly where Simon Jr. actually fits in. It's a surprisingly decent album, all things considered, although I'm not sure you'd notice the contributions of their heavy friends (name inspiration?), including Sean Lennon, members of Cibo Matto, Money Mark, Martha Wainwright and Anna Waronker, were they not listed. The material's variable, veering between the jaunty Better, Ready To Play's '70s groove, Easier's lethargic, CSN&Y-alike early '70s feel and closer Oh Darling's low-key psychedelic wigout, although lowpoint Need A Friend's irritating cod-reggae feel could've been left on the cutting-room floor.
Patrick Warren does his usual Chamberlin thing, with flutes on opener Henri, strings on Maximo and cellos and very recognisable strings on Wait And Wait. Overall, then, a decent enough album, effectively a rockier-than-usual Brickell release, short enough to avoid the boredom induced by so many overlong, self-indulgent modern efforts with little dead wood. Not that much Chamby work, but what did you expect?
See: Edie Brickell | Harper Simon
---