---
Patsy Moore (US)
Regarding the Human Condition (1992, 37.45) ***/½

These Loving Eyes
A City on a Hill
Grace
Dispensation
Lies (That I Have Known)
Shooting the Breeze
With Regard
The Pilgrim Song
I Remember
The Flower Child's Guide to Love & Fashion (1994, 42.59) ***/T

I've Got a Million
Flower Child
How it Should Be (Love and Fashion)
Hate is a Thief
Thinking of You
I Love a Boy (on College Radio)
The State I'm in
Who Floats Your Boat?
Under the Sign of Love
Fine Glide
Current availability:
Mellotrons used:
Known chiefly as a multiply-covered songwriter (Kim Hill, Dianne Reeves), Patsy Moore has also released a handful of albums, debuting with 1992's Regarding the Human Condition. Often categorised as 'gospel' or similar, the breezy pop/rock album's religious input is low-key enough to avoid offending the secular world, at its best on Shooting The Breeze, With Regard and The Pilgrim Song. Neil Larsen plays Mellotron, with faint flutes on With Regard's intro.
She followed up with '94's The Flower Child's Guide to Love & Fashion, losing most of its predecessor's soul influence, at its best on I Love A Boy (On College Radio) and Under The Sign Of Love, perhaps. Top session dude Greg Phillinganes plays Mellotron strings on How It Should Be (Love And Fashion), with brief strings and flute parts, quite distinct from the real strings later in the track.
Allison Moorer (US) see: Samples etc.
Mops (Japan)
Exit (1974, 45.44) ***/T½

Introduction
Medley:
Walk Don't Run
House of the Rising Sun
San Franciscan Night
I Love You
Somebody to Love
Asa-Made Matenai
Purple Haze
Iijanaika
Tadoritsuitara Itsumo Amefuri
Exit
Wara No Kotoba
Medley:
I Want to Hold Your Hand
Boom Boom
Sea of Joy
To Love Somebody
Nobody Cares
Asa-Made Matenai
Current availability:
Phoenix (Japan - unofficial?)
Mellotron used: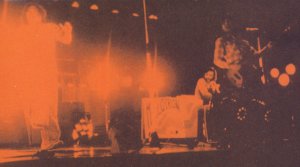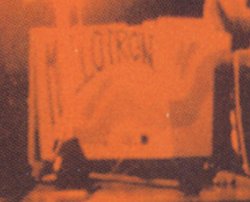 Mops (there doesn't seem to be a 'the') were one of Japan's top 'Group Sound' bands of the sixties, emulating Merseybeat and suchlike in an oriental manner. By the mid-'70s, they'd obviously long outgrown their roots, not to mention their hair, shuffling off this mortal coil with a farewell live album, Exit. Except that until near the end of the second track, a side-long medley, there's no sign of an audience at all, the orchestral intro tape sounding dubbed on at a later date; maybe it's a live/studio hybrid? Anyway, the unknown vocalist spends most of said medley speaking to the audience, the band occasionally breaking into a tune, some more familiar than others. They tackle Purple Haze reasonably well, while Walk Don't Run is recognisable, but I can't say I spotted Somebody To Love anywhere, to be honest. Exit itself sounds like a faintly jazzy studio track, followed by presumably their own composition, the rather proggy ten-minute Wara No Kotoba, before what I take to be more live stuff, with an appallingly-edited medley, cutting abruptly from one excerpt to another, the album trailing off into messing about by the end.
I'm afraid I have zero idea who the gentleman is on the keyboards; there are no obvious musicians' credits anywhere in the packaging, but he seems to concentrate mainly on organ, until you get to Wara No Kotoba, which is swamped in Mellotron strings, with an upfront flute line later on. There's a touch of strings in House Of The Rising Sun and a more upfront part in To Love Somebody, from the second medley, but that would seem to be your lot.
Incidentally, as you can see from the pic to the right, Mops had an onstage Mellotron, but what you might not be able to see is the back of the machine. Now look to the left and marvel at someone's handiwork; is that cool or what? Probably what, actually, but I can't say I've ever seen anything like it before; wonder who came up with that logo? And is that a big, swirly paintjob over the whole thing? Wish I knew where this one was now... Anyway, a somewhat average album musically, although with one really nice Mellotron track. You're most unlikely to find this cheap, but just in case...
Patrick Moraz (Switzerland)
i [a.k.a. The Story of i] (1976, 46.18) ***½/TT

Impact
Warmer Hands
The Storm
Cachaça (Baião)
Intermezzo
Indoors
Best Years of Our Lives
Descent
Incantation/Procession
Dancing Now
Impressions (the Dream)
Like a Child in Disguise
Rise and Fall
Symphony in the Space
Patrick Moraz [a.k.a. Patrick Moraz III] (1978, 39.02) ***/½

Jungles of the World
Green Sun
Tribal Call
Communion
Temples of Joy
Opening of the Gates
Overture
The Feast (A Festa)
The Conflict
Chamada (Argument)
Opposing Forces
The Battlefield
Dissolution
Victory
Primitivisation
Keep the Children Alive
Intentions
Realization
Future Memories Live on TV (1979, 36.50) ***½/T½

Metamorphoses
1st Movt.
2nd Movt.
3rd Movt.
Eastern Sundays
Part I
Part II
Black Silk
Part I
Part II
C O Existence [as 'Patrick Moraz + Syrinx'] (1980, 39.14) **½/T

Mind Your Body
Boonoonoonoos
Soundrise
Adagio for a Hostage
Freedom to...
Coexistence
Black Gold
Moments of Love
Chain Reaction
Peace on the Hills
Rime of the Ancient Sampler: The Mellotron Album (1993, 3.52) ***½/T½

[Patrick contributes]
Owner's Guide
Current availability:
i/C O: Esoteric
Patrick/Future: TimeWave
Rime...: out of print
Mellotrons used:
Patrick Moraz left Refugee, a vague attempt to reform The Nice without Keith Emerson, to join Yes, although he only stayed with them for two years and one album, Relayer. The whole band (even drummer Alan White) released solo albums in 1975/76, all except White's being at least partially musically successful (perhaps surprisingly), Steve Howe's's being the least good of the remainder, outshone by Moraz', never mind Chris Squire's splendid Fish Out of Water (****) and Jon Anderson's wonderful and unique Olias of Sunhillow.
i, often known as The Story of i is an early attempt at a fusion of progressive and 'world' musics, with a particular Brazilian influence, in which I'd say it was reasonably successful, although that probably depends on how you feel about the prog side of the proceedings. The playing is excellent throughout, both by Moraz and his large supporting cast, including many Brazilian musicians, although the writing tends towards formlessness in places, at least to my ears. The copious sleevenotes only actually mention the Mellotron once (on Intermezzo, where it's effectively inaudible), although the equipment list mentions 'Mellotrons Mks. I & II', by which I think he means an M400 and a Mk.V. There are various string sounds scattered throughout, but with his new toy, the Polymoog (so it DID come out in '76), the Mellotrons seem to be pushed slightly into the background, so most of the marked tracks above are essentially guesswork on my part. Strangely, Moraz elected not to use any Mellotron on his second solo effort, Out in the Sun (***), but Patrick Moraz (or Patrick Moraz III) manages what sounds to me like a whole few seconds of strings and possibly choirs on the rather unnecessary ballad, Keep The Children Alive. The album itself has more of that Brazilian influence, but is overall probably less impressive than i, although the side one material (first three tracks) aren't at all bad.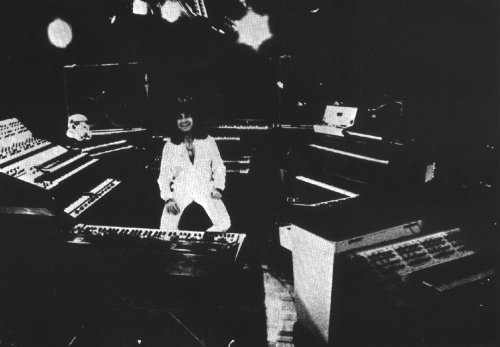 1979's Future Memories (Live on TV) is exactly what it says on the tin, a solo performance in front of the TV cameras, with much use of sequencers, although it's still extremely technically impressive. Going by the sleevenotes, it was Moraz' attempt to create truly improvised music, although he does own up to the sequenced parts, without which Metamorphoses, at least, would've been fairly static. The two pieces on side two are Mellotron-free (Black Silk is a piano solo), but the second movement of side one's Metamorphoses has flutes, church organ and strings, in that order, played from an M400 and a Mark V, erroneously credited as a 'Mark II' and a 'Mark IV' respectively (you'd have thought he'd know better, wouldn't you?). In some ways, this is the most musically satisfying Moraz album I've heard, allowing his phenomenal technique full rein, without muddying the waters with various dubious 'ethnic' influences. Incidentally, the inner sleeve has several fabulous pics of Moraz' gear (see pic), actually too big to be contained within a four-sided setup, spilling over into a fifth (or is it a sixth?) side, never mind the Oberheim 4-voice back-to-back withs the M400. Outrageous. Also incidentally, the version of this you're more likely to find (I speak subjectively, of course) is the 1984 reissue.
1980's C O Existence (later reissued as Libertate) is actually co-credited to Moraz and Syrinx, who I believe is the pan-pipe player on the Mellotron-fuelled soundtrack to 'Picnic at Hanging Rock'. Unsurprisingly, more of that South American thing, though more Andean this time, but I have to say, it's pretty cheesy all round; sort of bombastic balladic stuff, those bloody pan pipes warbling over everything. Practically no Mellotron, either; strings on Freedom To... and apart from a couple of unconfirmed sightings, that's it. Don't bother.
Moraz also contributed to the overrated Rime of the Ancient Sampler: The Mellotron Album, with the fairly decent, if a bit jazzy, Owner's Guide. Some great choir work and various bits of lunacy described in the sleevenotes as 'special PM sound effects, i.e. vocals, harps, waltz, backward piano' - presumably the same FX he used onstage in his M400 with the Moodies. Probably worth hearing, but don't shell out big bucks for the album.
So; Moraz' solo career's a bit of a disappointment, to be honest; not half as 'progressive' as I was expecting and not very much Mellotron, either. The only albums that I could in all conscience recommend are i and Future Memories; don't forget, this is the man who replaced Mike Pinder in the Moody Blues, just as they took the decision to sit (more) firmly in the middle of the road for the rest of their career.
See: Yes | Refugee | Moody Blues | Rime of the Ancient Sampler | Mellodrama
Gaby Moreno (Guatamala) see: Samples etc.
Morgan (UK)
Nova Solis (1972, 40.45) ***½/T

Samarkhand the Golden
Alone
War Games
Nova Solis (a Suite)
Theme
Floating
Take-Off
Asteroids
Earth
Hyperspace: the Return Home
Nova
May I Remember
Theme
Current availability:
Mellotron used:
Morgan were a British quartet consisting of most of The Love Affair (of Everlasting Love fame), with Tim Staffel, ex-Smile (whose other two members went on to achieve complete obscurity with some bunch called Queen. Stupid name, too). Named after keyboardist Morgan Fisher (later of Mott the Hoople), the music is, unsurprisingly, keyboard-dominated, although Staffel provides acoustic guitar in places, along with his excellent vocals. The music? Out-and-out prog, with an occasional dash of singer-songwriterness from Staffel. I think it's safe to say that there are both better and worse examples of the genre, although both Samarkhand The Golden and War Games stand out. Sadly, the side-long title suite doesn't, being a little too ordinary to succeed over its twenty-minute length, not to mention the fact that its 'spaceman returns to a devastated Earth' concept has a lot in common with then-recent albums by both Nektar and (especially) Gracious!.
Strangely, the band had to go to Italy to get a record deal (with RCA), the album being recorded at a state-of-the-art studio in Rome, giving Fisher free rein with their impressive keyboard collection. Sadly, he only chose to use their Mellotron on one track, Samarkhand The Golden, with brass and background strings, most of the album's keyboard work concentrating on piano and multitracked VCS3. Morgan lasted long enough to record a second album, The Sleeper Wakes, but, while I've no idea what it's like, I'm pretty sure it's Mellotron-free.
See: Mott the Hoople | Smile
Alanis Morissette (Canada)
Supposed Former Infatuation Junkie (1998, 70.25) */½

Front Row
Baba
Thank U
Are You Still Mad
Sympathetic Character
That I Would Be Good
The Couch
Can't Not
UR
I Was Hoping
One
Would Not Come
Unsent
So Pure
Joining You
Heart of the House
Your Congratulations
Current availability:
Chamberlin used:
You may have liked the emotional free-fall of Ms. Morissette's debut, Jagged Little Pill (**); millions did, making her an overnight star. Personally, I couldn't stand the damn' thing, with its irritating 'modern' production and her, frankly, awful vocals; I'm sure they're supposed to convey her emotional depth, but they sounded to me like a non-singer having a not-so-fair stab at becoming one. And as for the songs... As a result her second effort, Supposed Former Infatuation Junkie, was never really going to endear itself to me, as even her fanbase gently evaporated in the heat generated by its bad reviews.
Most of the songs sound like no more than vehicles for her lyrics, which, to be fair, are genuinely heartfelt, although lines like "We were together during a very tumultuous time in our lives" are deeply unforgivable, even if it's ironic, which I doubt. As on her debut, the programmed percussion makes my ears bleed after a while and, at seventy-one minutes, this album outstays its welcome by, ooh, about... seventy-one minutes, I think. The redoubtable Benmont Tench (Tom Petty) plays Chamberlin, but next to Glen Ballard's 'synthesizers and programming', it's extremely difficult to spot exactly where it was used, so the tracklisting above may well be heavily error-ridden. Anyway, to my ears, there are some faint flutes on Thank U, cellos (?) on Can't Not and possibly strings on Unsent.
Mörk Gryning (Sweden) see: Samples etc.
Morlock (UK)
Ancient Paths (2019, 41.34) ****/T

Ancient Paths
Morningside
Rendezvous at Hobb's End
Be Golden and Light
Kirby Oberon
Martian Church
Wayfarers All
Rotwangs Furnace
Arp Angel
Fitswitch
Caustic Mists
Godspeed the Plough
Blasted Heath
Current availability:
Mellotron used:
Morlock are the new solo project of my friend and ex-Zoltan bandmate Andy Prestidge, better known as drummer for a slew of hard rock/metal/doom outfits, not least Angel Witch, Lucifer and Warning. His project's moniker is, of course, an H.G. Wells quote; could it be considered the anti-Eloy? 2019's Ancient Paths, released on Zoltan's Austrian label Cineploit, started life as a series of 8-track demos, recorded on Andy's collection of mostly analogue synths, before being transferred to ProTools for overdubs and mixing. Stylewise, think: sparse, mournful, percussive electronica, little like the genre's '70s EM progenitors, featuring a contemporary edge (listen to Morningside), despite having not a hint of the dreaded EDM scene about it. Highlights? The opening title track, Martian Church and Fitswitch stand out, although nothing here would improve the album by its omission.
Mellotron and Solina (and MiniMoog, although that track didn't make the cut) were recorded at mine, a virtual one-day Zoltan reformation, brother Matt playing and engineering, while I added the odd part for good measure. We both play Mellotron flutes on Be Golden And Light (no, I can't remember why), while Matt adds strings and wobbly flutes and choirs to Wayfarers All, to generally good effect. It's difficult to know who, outside Cineploit's regular fanbase, will hear about this record, but it's an excellent piece of work, worthy of far wider exposure than it's likely to get. Buy.
See: Osiris Club | Zoltan
Morning Benders (US) see: Samples etc.
Morning Star (US)
Message From the Throne... (1975, 33.54) **½/T½

You're So Free
The First Day
Shine on (With Jesus)
His Will
Steppin' in & Steppin' Out
Joy in G Minor
The Conversation
The Ship of Life
Current availability:
Mellotron used:
Morning Star were a Jesus rock trio from the arse end of nowhere, USA, whose (presumably) sole album, Message From the Throne... (probably 1975) is a strange, drumless effort, full of massed acoustics and godly harmonies. Despite the usual lyrical drivel, this is rather better than many others I've heard, with funky slide playing on Steppin' In & Steppin' Out and, of course, some Mellotron.
The unknown keyboard player adds Mellotron strings to The First Day, His Will and closer The Ship Of Life, not in a pseudo-orchestral kind of way, interestingly, but more with some appreciation of the instrument's sound. If you really want to hear this, you're never going to find an original, but it's out there as a download; three reasonable Mellotron tracks and some not-too-awful God rock.
Morphine (US)
Yes (1995, 36.30) ***½/½

Honey White
Scratch
Radar
Whisper
Yes
All Your Way
Super Sex
I Had My Chance
The Jury
Sharks
Free Love
Gone for Good
Like Swimming (1997, 37.44) ***½/T

Lilah
Potion
I Know You, Pt. 3
Early to Bed
Wishing Well
Like Swimming
Murder for the Money
French Fries With Pepper
Empty Box
Eleven o'Clock
Hanging on a Curtain
Swing it Low
Current availability:
Both titles: Rykodisc (US)
Chamberlin/Mellotron used:
Morphine were a bass (as in two-string slide bass)/drums/baritone sax trio, whose influences roared straight out of jazz and the blues, updating them for a new audience. You could never accuse them of lacking energy or drive, while the songwriting was pretty cool, too. It seems they covered all bases, one minute frantic, the next sleazy, making leader Mark Sandman's onstage death in 1999 all the more tragic, as it seems they were one of the few bands around taking these styles somewhere new.
Yes was their third album (of five) and the first of two to feature Sandman on a tape-replay instrument. In this case, he played Chamberlin strings on Super Sex, to fairly average effect, to be honest. I can't recommend this album on those grounds, then, but it's a pretty cool record, in case it sounds like it might be your kind of thing. Their last effort released during Sandman's lifetime, '97's Like Swimming, carries on the work of its predecessors, mixing jazz, blues and 'alternative' rock to good effect, not to mention Sandman's 'tritar' (three-stringed guitar), heard on Murder For The Money. Sandman adds Mellotron this time round, with a cello arrangement on Hanging On A Curtain, sounding typically unorthodox.
Morphine have maintained their popularity in the alternative scene, surviving ex-members occasionally getting together as Orchestra Morphine. These albums are odd, innovative and pretty damn' unique, although that won't necessarily recommend them to you, of course. The Chamberlin on Yes probably isn't worth hearing, although the Mellotron on Like Swimming is.
Eliot Morris (US)
What's Mine is Yours (2006, 47.43) **/T

The Infancy of Us
Balancing the World
Fault Line
The Moment You Believe
No One Has to Know
This Colorful World
I Will Try
Anyway
Will She Ever Fall in Love Again?
Novocain
Love Rescue Me
Current availability:
Chamberlin used:
2006's What's Mine is Yours is Alabaman Eliot Morris' second album and his first for a major. His songwriting displays a talent for spotting the kind of tune that catches the ear of TV producers, although, I believe, he's only had one of his songs featured on an ad. So far. Any better tracks? Not really, no.
On the one track on which Patrick Warren is credited with Chamberlin, Fault Line, it's inaudible, although the flutes on This Colorful World and occasional strings on I Will Try make up for it. They're unable to rescue this sorry album, however.
Larry Morris (New Zealand)
Reputation Don't Matter Any More (1976) **/T

Living Theatre
Dance With Me
Silly Thing
Rock'n'Roll Struggle
Come Away
Bomber on the Loose
Out of the Closet
Speak for Yourself
People Passing People
Who Do We Think (We're Foolin')
Thank You
Current availability:
Mellotron used:
Larry Morris Sturdy rose to prominence on the New Zealand scene in the '60s with Larry's Rebels, but after going solo at the end of the decade, then receiving a jail sentence for drug-related offences, his 1976 album Reputation Don't Matter Any More couldn't have been better named. Unfortunately, it's a pretty staid singer-songwriter effort, sounding like a budget Kiwi Elton John in places, although many of the lyrics are unsurprisingly angry, given Morris' harsh treatment at the hands of the establishment, with lyrics such as, "Four years my records made no sound/Yet I saw them spinning round", clearly relating to his incarceration. The only even remotely bright spot on his musical horizon is closer Thank You, a bitter little a capella piece that doubtless endeared him to the critics, but has the advantage of being at least slightly adventurous.
'Melletron' on three tracks, from ex-Human Instinct member Steve McDonald, mostly as a string section substitute, by the sound of it, although he adds choirs to his palette (he's credited with 'Melletron & choir') on People Passing People, strangely titled 'Fallen Dancer' on the lyric sheet. You might've guessed by now that Reputation Don't Matter Any More isn't an essential album for anyone apart from students of Kiwi music, being a dullsville mid-'70s pop/rock effort with unmemorable material, not to mention very average Mellotron use, not that you're likely to find a copy outside NZ anyway.
See: Steve McDonald
Morse Code (Québec)
7" (1974) ***/T

Prends Ton Temps
Demain Tout Va Changer
La Marche des Hommes (1975, 34.08/42.05) ****/TTTT

La Marche des Hommes
Le Pays d'Or
La Cérémonie de Minuit
Cocktail
Une Goutte de Pluie
Qu'est-ce que t'as Compris?
Problème
[CD adds:
Cocktail (disco mix)
Qu'est-ce que t'as Compris? (edit)]
Procréation (1976, 50.50/59.28) ****/TTT½ (TTTT)

Précréation
Qu'est-ce t'es v'nu Faire Ici
Nuage
L'eau Tonne
Des Hauts et des Ha!...
De Tous les Pays du Monde
Procréation
Procréation 1
Procréation 2
Procréation 3
[CD adds:
Punch
Image]
Je Suis le Temps (1977, 37.21) ***½/TTTT

C'est Déjà du Passé
La Réalité
Berceuses
Chevaliers d'un Règne
Picadilly Circus
Sommeil
Je Suis le Temps
Magie de Musique

Code Breaker (1983, 38.23) *½/T

Still on My Mind
Help the Man
Finders Keepers
My Turn
Modern Problems
Tough Times
I'm Not That Kind
Never Grow Old
Hall of Mirrors
Current availability:
Single: YouTube
Marche/Procréation/Je Suis: ProgQuébec (Canada)
Code: Unidisc
Mellotrons used:
Morse Code started out as the slightly more mainstream Morse Code Transmission, releasing two albums in the early '70s, before disappearing for three years. They returned with 1974's mainstreamish 7", Prends Ton Temps b/w Demain Tout Va Changer, the flip slightly more acceptable (read: less commercial) than the 'A'. Christian Simard played background Mellotron strings on the 'A', although the best thing about the track is his quirky synth solo. Feel the need to hear this? It's YouTube. They also contemporaneously backed one Jacques Salvail on 1975's P'tit Bout de Langue Feelin, which is about as prog as this single, which is to say, not very.
They (re-)kicked off properly with 1975's La Marche des Hommes, mixing Genesis-style prog with a distinct French influence from their homeland. Obvious album (and probably career) highlight is its classic opening eleven-minute title track, all other songs being not only of 'regular' length, but also more straightforward, if retaining a progressive edge. Every track on this album features Christian Simard's Mellotron (it seems they owned two), highlights being the title track, Cocktail and Qu'Est-Ce Que T'As Compris? Strings all round, with quite unusual chord voicings in places, doubtless inspired by French chanson music as much as progressive rock. The very 'mainstream' sound of Cocktail, incidentally, is entirely due to those enlightened folks at Capitol demanding a 'disco' number, the band duly complying, as it allowed them to record an album of the music they wanted to play. Those wonderful people at ProgQuébec finally reissued these albums in 2007, adding a lengthier remix of Cocktail and its b-side, an edited Qu'Est-Ce Que T'As Compris?.
Their follow-up, Procréation, is every bit as good as its predecessor and over fifteen minutes longer, the magnificent twenty-six-minute title suite taking up the whole of side two. As with La Marche des Hommes, the rest of the material is best described as being in the 'compact progressive' style; shorter songs, but with a prog feel, although L'eau Tonne moves slightly towards the middle of the road, if truth be told. On to Procréation itself; this is superb symphonic progressive, with all the twists and turns you expect from the genre and a fantastic theme coming in towards the end, the whole being built along the lines of a lengthier La Marche Des Hommes, this time split into three parts because... they could. And why not? Answers on the back of a Mellotron to the usual address. Preferably a MkII. Speaking of which, although a couple of tracks are Mellotronless this time around, the rest of them feature it pretty heavily, especially the end of De Tous Les Pays Du Monde and the bulk of Procréation. Again, mostly strings, but a cello line or two crops up here and there. Bonus tracks on the CD are two non-album single sides, another disco-ish effort, Punch and its Mellotron-heavy flip, Image.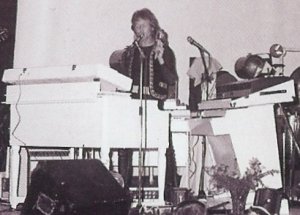 Typically, by '77's Je Suis le Temps, Morse Code followed progressive outfits worldwide in simplifying their approach, although, for them, this consisted simply of not including an epic and incorporating fewer interesting bits; saying that, opener C'est Déjà Du Passé is as good as any of the shorter pieces on its two predecessors. While the Mellotron count is slightly down, there's some decent enough strings and cellos on C'est Déjà Du Passé, while the balladic Berceuses features a good chunk of strings over the piano part. The nearest the album gets to a Mellotron classic, though, is the instrumental Picadilly [sic.] Circus, an excellent repeating rising string line leading into a key change. Oh, and for the only time on any of these albums, there's a little Mellotron choir to be heard on Sommeil, along with the more ubiquitous strings and an excellent part at the end of the title track. OK, it's all over the bloody thing.
Now, until recently, none of these had ever been issued on CD, leaving naught but a compilation, Les Grands Succès de Morse Code. Despite the omission of the classic three-part Procréation, it used to be the only way you were going to track this music down with any ease and at least it opened with La Marche Des Hommes. Given how much second-rate (and third- and fourth-...) stuff is available, complete with even ropier 'bonus' tracks of the drummer farting in rehearsal, it's bizarre how long it's taken for these albums to be reissued and it's taken an indie to do it. ProgQuébec have also reissued the legendary, if Mellotron-free Maneige albums, plus some live recordings. Now, we know Morse Code were recorded for Québecois radio; is the recording still out there somewhere?
There is one more Morse Code Mellotron album... After splitting in the late '70s, following being dropped by their label, the band got back together a few years later, sans Simard, releasing the English-language Code Breaker in 1983. By and large, it's appalling English-language commercial hard rock/AOR slush, with just one vaguely acceptable track in six-minute closer Hall Of Mirrors, although I really wouldn't want you to take that as any sort of recommendation. What little Mellotron is to be heard is played by Marc Leach, known to his mère as Marc Maheux (the whole band Anglicised their names, presumably in a desperate attempt to appeal internationally), with a few string chords in Tough Times, leaving Hall Of Mirrors (probably unsurprisingly) as the album's only proper Mellotron track, a repeating and rather screechy pattern of string chords reprising throughout the song. This is a truly horrible album, heavily besmirching a great band's reputation and I can only urge you to distance yourselves from it with some urgency. Bear in mind these wise words written by Atavachron on ProgArchives: "Code Breaker can best be described as what would happen if Eddie Jobson produced a collaboration between Survivor and Journey". Couldn't have (and didn't) put it better myself.
Christian Simard also played Mellotron for several other Québecois acts, including Capitaine Nô, Germain Gauthier and Nanette (Workman). As a sad postscript, cancer was to claim his life in late 2016.
See: Jacques Salvail
---