---
Ian McNabb (UK)
A Party Political Broadcast on Behalf of the Emotional Party (1998, 47.03) ***½/T½

Sex With Someone You Love
A Guy Like Me (and a Girl Like You)
Loveless Age
You Only Get What You Deserve
Bloom
The Man Who Can Make a Woman Laugh
Liverpool Girl
Absolutely Wrong
Little Princess
Girls Are Birds
Waifs & Strays (2001, recorded 1993-2000, 79.06) ***½/T

Loveless Age
Camaraderie
Fire Inside My Soul
Gak Mummy No. 1
I'm a Genius
Me and the Devil
Why Are the Beautiful So Sad?
Misty Meadows
Not Lost Enough to Be Rescued
Time of My Time
Great Dreams of Heaven
Nobody Say Nothin' to No One
You Stone My Soul
The New Golden Age
Current availability:
Party: Castle/Essential
Waifs: Evangeline
Mellotrons used:
Liverpudlian (and proud of it!) Ian McNabb was the mainman of '80s jangly popsters The Icicle Works, who always had more depth to their sound that they were given credit for. His second solo album, 1994's Head Like a Rock, was notable for containing several tracks recorded with the incomparable Crazy Horse, although they only exacerbated McNabb's existing Neil Young comparisons. After '96's excellently-titled Merseybeast, his fourth effort was the largely acoustic (deep breath) A Party Political Broadcast on Behalf of the Emotional Party. I can see this one being something of a 'grower'; the songs are mostly heartfelt, with excellent lyrics and a refreshing lack of cynicism. I'll probably re-review this in a year and give it a higher star rating. McNabb's credited with Mellotron on two tracks, with a regular string part on opener Sex With Someone You Love's ever-rising key changes, also one of the small number of songs in the popular canon dealing with masturbation. You Only Get What You Deserve has more strings, but that's it, at least for this album.
A collection of odds'n'sods from 2001, Waifs & Strays, also features the Great White Beast; its contents range from '93 to 2000 and are pretty much all good enough to have made 'proper' album release (several are, in fact, 'work in progress' versions of tracks which ended up on McNabb's '90s albums). As with so many such projects, the tracks which aren't pre-production demos (Fire Inside My Soul, Loveless Age, several others) aren't sub-standard, just didn't quite fit onto the album for which they were recorded. There are some real gems here, not least the vocal and solo electric take on Head Like a Rock's Fire Inside My Soul, nothing making you think, "Wish they'd left that off...", even the generic blues, Not Lost Enough To Be Rescued. Actual Mellotron on just one track, with some really cranky single-note choir on a 1996 recording, Gak Mummy No. 1 (cocaine/ancient Egypt reference), complete with outrageous key-click, although the strings on the balladic Why Are The Beautiful So Sad? and Nobody Say Nothin' To No One appear to be sampled.
See: Samples etc.
Shannon McNally (US) see: Samples etc.
Steph MacPherson (Canada) see: Samples etc.
Linda McRae (Canada) see: Samples etc.
Machiavel (Belgium)
Jester (1977, 46.12) ****/TTTT

Wisdom
Sparkling Jaw
Moments
In the Reign of Queen Pollution
The Jester
Mr. Street Fair
Rock, Sea and Tree
Mechanical Moonbeams (1978, 41.44/53.39) ****½/TTTT

Beyond the Silence
Summon Up Your Strength
Rope Dancer
Rebirth
After the Crop
Mary
The Fifth Season
[CD adds:
Wind of Life
I'm Not a Loser]
Urban Games (1979, 37.01/43.27) ***/TT½

The Humans
Over the Hill
Still Alive
City Flowers
Dancing Heroes
I'm Not a Loser
Let Me Live My Life
The Dictators
[CD adds:
Over the Hill (remix)
King of Slogans]
Current availability:
Jester/Mechanical: Esoteric
Urban: EMI (Netherlands)
Mellotrons used:
Many years ago, my mate Danny persuaded me to accompany him on an insane overnight trip to Belgium to see the reformed Machiavel, featuring Danny's friend and Now keyboard player Hervé Borbé. I really didn't know what to expect (this was my first trip across the Channel to catch a gig, if not my last), but they were magnificent. Despite playing some pretty awful later material, they opened their set with the massed synths of Wisdom from Jester and proceeded to play many other numbers from the band's first three albums. So, what was all the fuss about? Why get four hours' sleep in forty-eight to see a band almost no-one outside Belgium has ever heard of?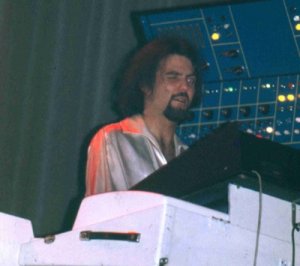 I'd bought a reduced copy of Jester a year or so earlier as an experiment and was instantly captivated. Machiavel's strange mixture of Genesis, Yes and Supertramp is actually quite unique, although it sounds only partly-formed on '76's Machiavel, despite some decent material. Keyboard man Albert Letecheur obtained a Mellotron before recording began on the following year's Jester, which put them into a whole different league. I don't know if they ever really played abroad, but I'm sure they could've broken out of Belgium with some hard work and a little luck. Mind you, '77 in Britain wasn't the best year for prog...
On Jester, Machiavel found the elusive quality that escapes so many bands: Their Own Voice. The influences mentioned above are just that; influences. The Supertramp comparison (not one that many bands would clamour for) is evident only in Letecheur's percussive Wurlitzer piano, his chief instrument, but his synth and Mellotron work show how individual his style had become. There isn't a duff track on the album, particular highlights being Wisdom and The Jester, with its scintillating Moog work. Most of the Mellotron use is on the choir front, although Moments gives the strings a rare outing (Letecheur mostly used string synth, for some reason), but the album's strengths are in its songwriting and arrangements rather than the Mellotron parts.
1978's Mechanical Moonbeams is, if anything, even better, although the first hints of their later mainstream style can be heard creeping through some of the arrangements, particularly with regard to Jean Paul Devaux's more upfront guitar parts. This is still superbly symphonicly progressive, however, just with more rhythm guitar than many bands utilised. The material is almost universally excellent, particular highlights being Rope Dancer, The Fifth Season and one of their best-loved songs, After The Crop. Again, most of the Mellotron work is choirs, although there's a string part in The Fifth Season; good all round, very atmospheric, very tasteful, although there is one Mellotron oddity on the album. After The Crop features, at around the five-minute mark, what has to be the only example of 'boogie Mellotron choir' ever. This quite defies description, to be honest; hear it and marvel! Although excellent, it's indicative of the direction the band would head in before long, but don't let that put you off. The CD has two Mellotron bonuses, too, in Wind Of Life and I'm Not A Loser; more choirs (if barely on the latter), usual stuff. Top marks, incidentally, for the bizarre artwork on these two albums, although I'm not entirely sure how they got away with the inside gatefold of Jester...
In retrospect, I suppose it's quite amazing that Machiavel put out a prog classic as late as 1978, so it's no surprise at all that '79's Urban Games is something of a letdown, although the following year's New Lines is much worse. Mainstream rock with progressive bits in places, Urban Games is generally one for the prog fan to avoid, to be honest, although it tends towards 'low side of average' rather than 'complete rubbish'; imagine a much less progressive version of their previous sound and you're probably somewhere near. Opener Humans, City Flowers and The Dictators are the best things here, although they pale in comparison to the best material from Mechanical Moonbeams. Letecheur (on his last album with the band) still gets some Mellotron choir onto most tracks (Humans/City Flowers/I'm Not a Loser/Let Me Live My Life/The Dictators, plus King Of Slogans, on the CD version), but it's mostly rather uninspiring stuff.
The Machine (Netherlands) see: Samples etc.
Machine & the Synergetic Nuts (Japan)
Leap Second Neutral (2005, 54.21) ***½/T

M-B
Monaco
Trout
Neutral
Stum
Oz
Solid Box
Texas
Normal
Current availability:
Mellotron used:
Machine & the Synergetic Nuts are a Japanese fusion outfit who, at least on their second album, 2005's Leap Second Neutral, play a style that veers between the rather generic and the genuinely progressive, not entirely unlike Yes' fusion flirtations on Relayer. Highlights? The piano chording on Trout is particularly effective, as is the vaguely Crimsonesque opening to Texas, although material such as Neutral and Oz are a little too 'fusion by numbers' for their own good.
Iwata Noriya plays almost certainly real Mellotron, with a brief, wobbly string part on Texas and a flute line and exceedingly wobbly strings on closer Normal, clearly meant to sound as unstable as they do. You'll need a reasonable tolerance for fusion in order to get much out of this, but its progressive influences, rather than its minor Mellotron use, make it worth the effort.
Machines of Loving Grace (US)
Gilt (1995, 42.56) **½/TT

Richest Junkie Still Alive
Kiss Destroyer
Suicide King
Animal Mass
The Soft Collision
Solar Temple
Tryst
Casual Users
Twofold Godhead
Last
Serpico
Current availability:
Chamberlin used:
Machines of Loving Grace operated in the 'industrial' demi-monde; that is, beat-heavy '90s metal with the odd sample thrown in, not SPK-style road-drills-on-stage industrial. Not 'industrial' at all, really, is it? 1995's Gilt was their third and last album, the cover shot tastefully based on an infamous '40s picture of a suicide victim. Nice. The music's everything you'd expect and less, with all the usual Nine Inch Nails clichés, all seeming strangely lifeless on cold plastic; I'm sure you had to see this lot live for it to make any real sense.
Mike Fisher plays Chamberlin on several tracks, with string parts on Kiss Destroyer (GREAT title!), Suicide King, The Soft Collision and a few seconds at the end of Tryst, though not obviously on closer Serpico, one of two tracks I was led to believe did have some. Anyway, unexpectedly heavy use on a rather dullsville album, so let's not look the proverbial gift horse, eh?
Enrico Macias (France) see: Samples etc.
Mad Men & English Dogs (UK) see: Samples etc.
Mad Scene (New Zealand/US) see: Samples etc.
Mad Tea Party (US)
Big Top Soda Pop (2006, 42.34) ***/T

62 Years
Space Repair
Big Top, Soda Pop
Whistle Pig
Muddy Water, Butterfly
Brotherhood of Man
Do You Have What it Takes?
World of Novelty
Box of Kittens
Music Makers
Berry-Belvin
Nora Trip
Brand New Key
Current availability:
Mellotron used:
North Carolinans Mad Tea Party's third album, Big Top Soda Pop, is a suitably mad, joyous record, freely mixing folk stylings, jazz and (of course) circus tunes into a swirling pot-pourri of contemporary old-time music, if that isn't a contradiction in terms. Highlights? The gentle Space Repair, the quirky title track and the kazoo-driven Brotherhood Of Man, although I'm unconvinced by their version of Melanie (Safka)'s Brand New Key, Ami Worthen's vocals crossing the line into 'twee'.
Sean Foley plays distant, warbly Mellotron flutes on Space Repair and deranged, wildly pitchbent ones on Box Of Kittens, all sounding nicely real. I won't try to pretend that this is for everyone, but if you're looking for a modern alternative to the usual dreary indie nonsense, I think you've just found it.
The Mad Trist (Netherlands)
Animals & Acrobats (2013, 46.09) **½/TT

Lack of Light
Pie in the Sky
The Witness
No Survivors
Is That a Sin?
Common Sense
Undercover
The Pleasure is Mine
Serenades
A Policy
Time is on My Side
Animals & Acrobats
Current availability:
Mellotron used:
2013's Animals & Acrobats is Dutch outfit Mad Trist's second album, an indie/alt.rock hybrid, apparently vaguely comparable to the Queens of the Stone Age in places, although I'll admit I can't hear the comparison. What I can hear is '90s alt.rock with a dash of U2's Gloria on opener Lack Of Light, electronica-influenced indie on Pie In The Sky, goth on Is That A Sin? and even post-rock on the closing title track, amongst other, rather disparate influences.
Ruud Peeters (Daniel Versteegh) plays his own M400 on the album, with a brief background string line on No Survivors, a more upfront part (with cellos) on Is That A Sin?, a high string note in Serenades sustained for so long that studio trickery must be involved and a more varied part in Time Is On My Side. Can I recommend this? Honestly? No.
Madame (Québec)
Wéké! (1991, 44.43) ***/TTT

Persona Non Grata
Aime-Moi
Un Mec
Debout
No Woman's Land
Sexy Sexe
Sale Temps pour les Amants
Où est Passé Roger?
On y Va
Criez pour Moi
Current availability:
Mellotron used:
One of Pierre Veilleux' M400s
Québec's Madame were a French-language pop/rock outfit, in existence from the early '80s to 2000, releasing five albums along the way. The third, 1991's Wéké!, is perfectly acceptable within its self-imposed limitations, probably at its best on the Crowded House-esque Un Mec, No Woman's Land and closer Criez Pour Moi, although you can't help wishing they'd drop the '80s guitars somewhere along the way.
One-time Québecois Mellotron god Pierre Veilleux plays one of his M400s, with background strings on opener Persona Non Grata, strings and cellos on Aime-Moi, strings on Un Mec, strings and choppy choirs on No Woman's Land, a flute line and strings on On Y Va and strings and volume-pedalled cellos on Criez Pour Moi, making for an unusually satisfying Mellotronic effort from a period of low usage.
Madden & Harris (Australia)
Fools Paradise (1975, 42.29/48.47) ****/TTT½

Wishes
Fools Paradise Part 2
The Wind at Eve
Margaret O'Grady
I Heard a Man Say
O'Weary Brain
Cool September
Fool's Paradise
Children of Ice
Will You Be There
E.I.E.I.O.
End Game
[CD adds:
Remember Me
A Simple Song]
Current availability:
Mellotron used:
Sydney-based Dave Madden and Peter Harris (Madden was Harris' guitar student) have remained completely underneath the prog radar until recently, when their sole album, Fools Paradise [sic.], was reissued, initially on the Korean M2U label. The duo had released a single, Remember Me, in 1974, the album appearing the following year, in a pressing rumoured to be only a few hundred copies. It's a lovely piece of folk/prog, largely consisting of gentle acoustic numbers like The Wind At Eve or I Heard A Man Say, the only real blip being O'Weary Brain, a jaunty, piano-led song, slightly out of place with the gentle melancholy of most of the other tracks.
Multi-instrumentalist Harris played all the album's keyboards, including Mellotron on a few tracks. There's a beautiful string part on opener Wishes, with a more background one on The Wind At Eve, before something very interesting (well, I thought so) on Margaret O'Grady: male voices in the background, revealing themselves to be Mellotronically-generated at one point. However, this isn't your standard 8-choir, or even the standalone male voices; it has far more of the sound of the infamously not-very-good 16-voice Teddy Taylor, or 'TT' choir. Which Australian Mellotron-owning band had the TT choir? The also Sydney-based Sebastian Hardie, that's who. I can't prove it, but... Anyway, more of those voices on part three of the side-long title track, E.I.E.I.O and another upfront string part on the closing section, End Game. Maybe surprisingly, the CD's bonus tracks (both sides of the single) also feature Harris on Mellotron strings; as you're exceedingly unlikely to find the original vinyl, I'll include them in the album's 'T' rating.
All in all, a very good album indeed; top marks to M2U for resurrecting this obscurity and making it available to the sort of audience it should've had first time round. This just proves that, like Quarteto 1111's criminally still-unreissued Onde Quando..., there are almost certainly many classic Mellotron Albums from the machine's heyday out there still waiting to be rediscovered, even if this one 'only' features it on five tracks. This is decidedly worth picking up, probably more for the music than the Mellotron, though the latter certainly isn't to be sniffed at. Recommended.
Made in Sweden (Sweden)
Made in England (1970, 39.03) ***/T

Winter's a Bummer
You Can't Go Home
Mad River
Roundabout
Chicago, Mon Amour
Love Samba
Blind Willie
Little Cloud
Current availability:
Mellotron used:
Made in Sweden can probably be considered that country's first genuinely 'progressive' group, although Made in England (a.k.a. Mad River) was actually their fourth album in three years, their first to head in a progressive direction. Saying that, it's more late-period psych than anything, various influences popping up here and there (notably the jazz/blues of Blind Willie); I have to admit I don't find it as riveting as some online reviewers, although it's by no means bad. The first few tracks are probably the best, before the band heads off into various musical cul-de-sacs and loses their way slightly.
Bassist Bo Häggström doubles on piano and Mellotron (guitarist/vocalist/main man George Wadenius also doubles on piano and organ), although there's only one Mellotron track here, with some great MkII strings/brass mix pitchbend work on jazzy opener Winter's A Bummer. The upshot of this is; Swedish proto-prog, well-played, not much Mellotron. Your choice.
Madison Dyke (Germany) see: Samples etc.
Madness (UK)
Can't Touch Us Now (2016, 59.15) ***½/T½

Can't Touch Us Now
Good Times
Mr. Apples
I Believe
Grandslam
Blackbird
You Are My Everything
Another Version of Me
Mumbo Jumbo
Herbert
Don't Leave the Past Behind You
(Don't Let Them) Catch You Crying
Pam the Hawk
Given the Opportunity
Soul Denying
Whistle in the Dark
Current availability:
Mellotron used:
In the generally-quite-nice north London street where I grew up, there was one 'problem' family, living some doors down on the other side, a younger son of whom would menace me occasionally. Imagine my surprise when I discovered Madness' Cathal (a.k.a. Carl) "Chas Smash" Smyth was his elder brother... Sadly, it did nothing to endear the band to me; the suits/short hair/danceable music combo shared by the era's shonky 'mod revival' and the Two Tone crowd was enough to bring a young Rock Geezer out in hives. Age has, of course (?), brought wisdom, not to mention a belated appreciation of Madness' superb, über-north-London thang; seriously, how can anyone take offence at their jaw-dropping run of hits? I'd go as far as to say that there appears to be a Madness-shaped hole in my collection in dire need of filling.
2016's Can't Touch Us Now is their tenth album (bear in mind that they disappeared for a decade) and, although I'll admit to having heard none of its predecessors, must surely stand up against them for the sheer quality of its songwriting. Highlights? The opening title track, both singles (Mr. Apples and the reggae-inflected Herbert) and Don't Leave The Past Behind You, with its simple-yet-effective piano riff, amongst many others. Criticisms? Given that we're talking about a band known for their singles, the whole affair is a little overlong and could possibly be improved by the removal of some of its more ordinary material (Grand Slam, Another Version Of Me, Mumbo Jumbo). Saying that, even the more musically mundane tracks tend to be lyrically worthwhile, so what do I know?
As with so many of my Mellotron hire jobs, this one began with a call from Liam 'Toe Rag Studios' Watson. "So who's it for this time, Liam?" "Madness." "Oh!" Well, what do you say? My M400's been used by a few unlikely artists, but Madness? As it turns out, although I was expecting to meet Mike Barson, I actually encountered guitarist Chris "Chrissy Boy" Foreman, who adds raucous cellos and strings to the title track and typically clunky vibes to Blackbird, while Barson plays upfront flutes on the excellent Herbert and background flutes on Soul Denying, only really audible at the end. Incidentally, my thanks to legendary producer Clive Langer who, unannounced, helped me carry The Beast down the long corridor to the studio. A lovely, unassuming man.
Unsurprisingly, I'd never seen the band live before, so was delighted to see that they were headlining one night at the same year's Fairport Convention's annual Cropredy bash (at which I'm a regular attendee). Bizarrely, three or four bands lower down the bill were the superb Gryphon. Bizarrely, other than the stylistic clash? I've now succeeded in seeing, on the same bill, the band who originally owned my Mellotron and its latest users. Weird. And Chas' younger brother? Brendan (co-writer of a brief number on the band's debut) was last heard of suing a Madness tribute act for using 'his' walk (you know the one) that he claims to've created in the band's early days. His lawyer commented, "Unfortunately, Brendan had some difficulties with the band during their heyday and never really benefited financially as he should have done." Read that as you will.
Madonna (US)
CDS (1999, 18.40) **½/T½

Beautiful Stranger
Beautiful Stranger (Calderone Club Mix)
Beautiful Stranger (Calderone Radio Mix)
Current availability:
Chamberlin used:
The quite remarkably talent-free Maddy recorded this lightweight piece of fluff for the second Austin Powers film, with the production assistance of the extraordinarily fashionable William Orbit, I believe. Along with the upbeat melody, it's got an irritating synth hook which she echoes in that appalling nasal whine she does so well. You may have guessed that I'm not her biggest fan, but I approached this with a (relatively) open mind and was comprehensively defeated.
I'm told the flutes are from a Chamberlin; they certainly sound like some form of tape replay, but I've no idea who plays it, even if it's genuine. Orbit? Anyway, nice warbly flutes wandering in and out of the song, quite upfront in the mix, which makes a change, but I wouldn't go out to buy it on those grounds, if I were you.
Madrigal (UK)
Beneath the Greenwood Tree (1973, 32.23) ***/½

Madrigal Theme
Marvellous Clouds
Long a-Growing
Mammy Blue
Sounds of Silence
Bye Bye Love
The Greenwood Tree
One Misty Moisty Morning
Trains & Boats & Planes
Christmas Lullaby
(Take Me Home) Country Roads
Watch the Changing Faces
April Come She Will
California Dreaming
Current availability:
Mellotron used:
Madrigal (as against any other band of the same name) were a nine-piece British folk outfit that coalesced from two other groups, specialising in massed male and female harmony/unison vocals with minimal instrumentation. While most of the material is traditional (Steeleye Span tackled One Misty Moisty Morning), several covers creep in, including Simon & Garfunkel's The Sounds Of Silence, The Everly Brothers' Bye Bye Love, Burt Bacharach's Trains And Boats And Planes, John Denver's (Take Me Home) Country Roads and The Mamas & the Papas' immortal California Dreaming. Stylistically, the album's a bit of an acquired taste, being rather too church choir/easy listening for many folk fans, although it's far from offensive, just lacking in personality.
Carolyn Whettell plays Mellotron, although the only definite parts are the flute line and cello on closer California Dreaming, presumably on a studio machine. Given that this is easily available as a download (you really are not going to find an original - a mere hundred were pressed), you can hear it without having to splash out, although if it's Mellotron you're after, you're probably best off going elsewhere.
Madrigal (France)
School of Time (1977, 39.54) ***½/T

The Seeker
Mad
King's Dynasty
Across the Past
The Old Clock
School of Time
The Ghost
Dear Mister Fantasy
Current availability:
Mellotron used:
Madrigal's School of Time is a bit of an oddball release, to be honest; after the hard-rock-with-clever-bits of The Seeker, hearing anything especially progressive seems unlikely. However, Mad opens with an intricate vocal arrangement, adding keyboards to the mix, while King's Dynasty rips Queen off something rotten, notably the Killer Queen cop on the chorus. Vocals are in (accented) English throughout, which is rare for a French band, so they must have had one eye on the international market, for all the good it did them. The rest of the album carries on in similar vein, switching between styles in what is actually a rather refreshing manner, given how genre-specific most bands are these days.
Next to no Mellotron, to be honest, with a fairly full-on choir part on Across The Past, the strings sounding like a Mellotron/string synth mix. More string synth and real flute on The Old Clock, but that seems to be it on the Mellotron front. Yet again, you're not going to find this that easily, although copies do crop up on eBay/Discogs. Do you want it? Well, how badly do you need a 'not bad, not great' semi-progressive late-'70s French album? It's an interesting listen in places, certainly, but one for the hardcore proghead only, I think.
Madrugada (Norway)
The Deep End (2005, 59.41) ***/½

The Kids Are on High Street
On Your Side
Hold on to You
Stories From the Streets
Running Out of Time
The Lost Gospel
Elektro Vakuum
Subterranean Sunlight
Hard to Come Back
Ramona
Slow Builder
Sail Away
Current availability:
Mellotron used:
Madrugada have been described as Norway's answer to R.E.M., although to my ears, they sound more like a cross between Neil Young and a better version of, say, Counting Crows, at least on their fourth album, 2005's The Deep End. While not a bad album as such, it outstays its welcome by several tracks, sounding a bit anodyne compared to many American bands playing in a similar style.
Kevin Savigar plays Mellotron flutes on regular album closer Sail Away, mixed in with his B3 and Wurly, to the point where they're only fully audible occasionally, all of which adds up to: passable but unexciting with very little Mellotron. The band subsequently split, following guitarist Robert Burås' untimely death in 2007, finishing their last album and playing a farewell tour in his honour.
See: Sivert Höyem
Màelstrom (US)
On the Gulf [a.k.a. Màelstrom] (1973, 37.03/50.10) ***½/TTTT

Ceres
In Memory
The Balloonist
Alien
Chronicles
Law and Crime
Nature Abounds
Below the Line
[CD adds:
Opus None
Genesis to Geneva]
Current availability:
Mellotron used:
Add Màelstrom to the ever-expanding list of obscure US prog outfits who never got anywhere, despite being rather good. I believe On the Gulf did actually gain a release at the time, unlike many of their contemporaries' recordings, but it had disappeared into the mists of time until recent CD reissue as Màelstrom (hooray!). The band's sound actually owed quite a bit to The Moody Blues in places, who were absolutely massive in the States in the early '70s. Saying that, there are traces of ELP here and there, not to mention the more 'generic' progressive sound prevalent at the time. The band were never destined to be frontrunners, to be honest, although Màelstrom is a decidedly worthy effort, if not exactly the next Yes.
The Mellotron was played by both Roberts Owen and Mark Knox and, it has to be said, they used it to rather delightful excess, only In Memory escaping. As you'd expect, most of their use is in the strings area, although the odd burst of choir here and there makes a nice change, especially for the time, while there may be some cellos, too. The album does sound a bit dated for 1973, to be honest, but it's worth a listen for the music and definitely for the Mellotron. Incidentally, the CD's two live bonus tracks are from 1980, one D. Kent Overholser on unusually late use of Mellotron on Opus None.
| | |
| --- | --- |
| Maestoso (UK) see: | |
Lois Maffeo & Brendan Canty (US)
The Union Themes (2000, 31.04) ***/T

These Parts
Being Blind
How I Came to Know
Best Believe
You Love Your Wounds
Hollow Reed
Give Faith
Con Job
Handwriting
Monument
Current availability:
Mellotron used:
Lois Maffeo has been around since the late '80s; amusingly, an early band was called Courtney Love, after a certain housemate of hers (!). Although she has spent much of her time in the '90s on her Lois project, The Union Themes, a gentle, acoustic singer-songwriter album, is a collaboration with Fugazi drummer Brendan Canty. I have to admit I'm not blown away by it, though I suspect the deficiency is in myself, not Lois. I'm sure it does what it does very well; it just doesn't click with my personal taste in this area.
Lois sings and plays acoustic guitar and flute, Canty covering most of the rest of the instrumental spectrum, including Mellotron. Sadly, it's only to be heard on one track, with a little orchestrally-arranged string part in the middle of Being Blind, making a whole T slightly generous, to be honest. It's difficult to recommend this album to fans of 'standard' singer-songwriter fare, but some of you are going to go for it. Not worth it for the Mellotron input, though.
---