---
Leech (Switzerland)
7" (2000, 24.29) ***/½

Zerotonine Days
Nachtfilter
Current availability:
Mellotron used:
I'm having trouble locating much information about Leech; all I can tell you is that they're a vaguely gothy indie band from Switzerland who've released three albums, well spaced apart. Zerotonine Days (more of an EP than a single) was released two years after their second album, 1998's Soundtrack to an Individual Emotion Picture Mindmovie; the A-side's all a bit ordinary, to be honest, but the flip, Nachtfilter, is an excellent, intense twenty-minute piece of psychedelic lunacy.
Urs Meyer plays Mellotron, listed as a MkII (I'd be surprised, frankly) on Nachtfilter, with a string part towards the end that sounds like it just might be real. I don't know how easy this is to find, but the B-side's so much better than the A that they almost sound like different bands. Not worth it for the Mellotron, though...
John Lees (UK)
A Major Fancy (1977, recorded 1972-73, 52.25) **½/0

Untitled No. 1 - Heritage
Child of the Universe
Kes (a Major Fancy)
Untitled No. 2
Sweet Faced Jane
Witburg Night
Long Ships/Link Piece
Untitled No. 3
Current availability:
Mellotron used:
John Lees was, of course, guitarist and sometime singer with Barclay James Harvest, who obviously felt, a few years into their career, that he had enough leftover material to record a solo album. Said record was duly knocked up around 1972/3, then stuck on the shelf due to obscure and idiotic record company politics, to finally emerge long after the event, in '77. Good year for soft rock, that. Actually, it probably was a good year for soft rock, what with the global success of such as Fleetwood Mac and ELO, though Lees was to see little of their sales figures. A Major Fancy would just about have passed muster in the early '70s, though it's no more dynamic than the work of his day job, but by the end of the decade it was a Record Out Of Time, while the cover pic of the slightly pudgy artiste in his best woolly jumper wouldn't have done an awful lot to sell it to Clash fans.
Sadly, the material is pretty insipid, not that BJH were ever the most raucous of prog bands, or even the most prog, for that matter. Child Of The Universe was rerecorded by BJH for '74's Everyone is Everybody Else, but nothing else here will be familiar. A quick note at this point to congratulate the hapless sleevenote writer, one Don Hurley, who elected to utilise purple prose such as 'there are very few writers who can inject such nerve-shattering thrust into their lyrics and deliver them with such crushing force', or 'he will spit out lyrics that cut like a machete'. 'Nerve-shattering thrust'? 'Crushing force'? All in his woolly jumper, no doubt. It hardly needs to be said that Lees does no such thing and A Major Fancy is a pretty limp effort all round, to be honest. In fairness, it isn't actually offensive, but it couldn't really be said to impinge itself on the consciousness very much at all, giving the air of being slightly unfinished, no fewer than three tracks being titled, er, Untitled, although one of them also has a title. Right.
In all honesty, by the time I got to the album's sole Mellotron track, the decisively-titled Untitled No. 3, I'd rather lost interest, not helped by what appears to be a total lack of Wally Waller's Mellotron anyway. Incidentally, my copy of the album is on Harvest's Heritage reissue imprint, but it seems that's how it originally appeared, due to its already-several-years-old status on its release. Side one is pressed fractionally off-centre, too, giving Untitled No. 2 the vague impression of being played on a set of steel drums, so all expense spared, it seems. Buy? I really wouldn't...
The Lees of Memory (US) see: Samples etc.
Leevi & the Leavings (Finland) see: Samples etc.
The Left Banke (US)
Strangers on a Train [a.k.a. Voices Calling] (1986, recorded 1978-79, 35.08) **½/T

Hold on Tight
Heartbreaker
Lorraine
You Say
And One Day
Queen of Paradise
Only My Opinion
Strangers on a Train
I Can Fly
Yesterday's Love
Current availability:
Mellotron used:
The Left Banke should need no introduction to anyone interested in rock and pop history: formed in '65 by Michael Brown, they quickly broke with the baroque pop of Walk Away Renée before internecine warfare slowly destroyed the band. Brown went on to Stories, while another three members reformed the band briefly in the late '70s, recording an album that finally saw release in 1986 as Strangers on a Train (resequenced as Voices Calling in Europe). Much of the album's fairly limp pop/rock, although it improves towards the end, the title track being about the best thing here, I Can Fly coming in second.
Les Fradkin plays his own Mellotron (thanks, Les), with a major string part on Lorraine, although all other string parts appear to be either real or synth. I'm not sure if Left Banke fans need to hear this or not, as it lacks Brown's melodic genius, try as it might, but I suppose I've heard a lot worse. Only one Mellotron track, though, making it somewhat inessential in that area.
Left Side (Netherlands)
The Best of Left Side [a.k.a. (Like a) Locomotion]
(1976, recorded 1972-76, 50.38) **½/T

Gimme Your Love
Be-Bop Baby
Tessie (I Love You)
I'll Be There
Mamma Mia 'Everytime I See Ye'
I Can't Say Why
Can't You See Me
(Like a) Locomotion
Gold in New Orleans
Alcohol Ruins Your Life
I Want Ye and I Get Ye
This is Life
Hello, Goodbye, Baby I See Ye
Freedom Means a Lot of Words to Me
Current availability:
Mellotron used:
The Left Side (Left Banke (above), anyone?) were a Dutch pop group who formed in 1967, released loads of singles and split in '76. According to Discogs (admittedly, not canonical), they never released a 'proper' album, just an incomplete compilation, The Best of Left Side (a.k.a. (Like a) Locomotion) upon their dissolution, in 1976. Ten of its fourteen tracks were definitely single A- or B-sides, veering between the funkyish Gimme Your Love (a 1975 single) through the rock'n'roll of Be-Bop Baby, the electric sitar-driven Moody Blues-esque Tessie (I Love You) and several other rather tepid light rock efforts. And what, precisely, is all this 'ye' business, guys? (Fake) Medieval English in the Netherlands in the '70s? Who do you think you are? Gryphon?
I presume keys man Dick Plat plays the Mellotron on a couple of tracks, along with various synths, with a harmony flute part on the reggae-ish I'll Be There (possibly an unreleased single from '72) and chordal flutes and strings on This Is Life (year unknown), although I wouldn't really say it's worth getting hold of this for that alone. To be honest, I've heard far worse bands than The Left Side, but they sound a little uninspired by today's standards. Maybe not, then.
Andrew Leigh (UK)
Magician (1970, 40.10) **½/½

Magician
Get Myself Together
Goin' Out to the West
Solitaire
Windy Baker Street
Take Me Back
Leaving Song
Fresh Brown Eggs
Up the USA
Current availability:
Mellotron used:
Ex-Spooky Tooth bassist Andrew/Andy Leigh (who also played on Gary Farr's 1969 opus Take Something With You) recorded his lone solo effort, Magician, around the same period, seeing it released on Polydor in 1970, where it proceeded to make little impression. In all honesty, forty-odd years down the line, you can see why, its mostly laid-back country/folk/psych/rock/boogie sound being pretty much of its time; 'hasn't aged well', I think you could say. The most impressive thing about it (don't hold your breath) is its low-level stellar(-ish) cast, including Farr, Spooky Tooth's Mike Kellie, Titus Groan's Tony Priestland and Blossom Toes' Brian Godding, while its best moments are probably the upbeat, sitar-driven opening title track, the mournful Get Myself Together and jammed-out, nine-minute, Neil Young-ish closer Up The USA.
Leigh is credited with 'Melotron' on two songs, with a high part that I presume is either MkII trombone or muted brass (tenor sax?) on Get Myself Together and something indistinct, chordal and background (possibly the same sound) on Windy Baker Street, only the former to any great effect. He went on to join Matthews' Southern Comfort (led by ex-Fairporter Iain Matthews, of course), before quietly disappearing from the scene in the early '70s. I feel rather churlish not being nicer to this record, but it really hasn't dated too well, to the point where I'm really not sure where the audience lies for Sunbeam's 2011 reissue, although full marks to them for resurrecting a perfectly pleasant, if undemanding obscurity.
See: Spooky Tooth
Kieran Leigh (US)
Under the Big Top (2008, 58.55) **½/T

Tear Me Down
Love Conquers All
Lover's Lane
Trust
Sucker
The Future Inside
Breathing
Mad as a Hatter
Catch Me
No Regrets
Rise Up
Six Strings
Motion Picture Soundtrack
Yoyo
Out of Sync (Big Top)
Current availability:
Mellotron/Chamberlin used:
Unknown Mellotron, Patrick Warren's M1
What can I tell you about Kieran Leigh? Not a lot, frankly. She's from L.A. and her debut (sole?) album, 2008's Under the Big Top, is, for the most part, a sparse, rather overlong indie-end-of-singer-songwriter record, at its best on the energetic Catch Me and Six Strings, although it could've done with a good edit.
Considerable tape-replay credits, Andrew Shapiro on Mellotron and Patrick Warren on Mellotron and his ubiquitous Chamberlin, although you wouldn't know it to listen to the album. In fact, all I can hear are muted Chamby brass on opener Tear Me Down, Chamby strings on Sucker and No Regrets and... something (muted brass?) on Yoyo and I wouldn't swear to all of those, although all other string parts sound real. Real Chamby, fake Mellotron? Hard to say.
Leilujh (US)
Dreamtime Escape Plan (2010, 60.36) **/½

Générique
Escape Plan B
Fingerpainting
Disco Hero
Peek/Pique/Peak
Loki's Theme
Glamorous
Audrey's Theme (Intermission)
Mirrensong
The Kiss of the Actress
Mr. Linden's Library
Lazy Marguerite
The Cat's Dilemma
The Death of Lincoln Beachey
Peppermint Man
Dreamtime Escape Plan
Current availability:
Mellotron used:
Leilujh (I've no idea of the name's origin) play an infuriating form of vaguely psychedelic indie, Marisa Chaves and/or Samara Violet's vocals tending towards the 'overly pure'. Dreamtime Escape Plan is apparently a concept album, but you wouldn't know if you didn't know, if you know what I mean, at its best on any track with an early 20th Century circus feel about it and at its most irritating on the twee, banjo-driven Lazy Marguerite.
Matt Henry Cunitz plays his own M400, but only just, with a brief burst of a high-end something that you only usually hear at the low end (viola?) at the beginning of Disco Nero, a very wobbly church organ swell on Mr. Linden's Library and what sounds like Mellotron sound FX bells on Lazy Marguerite, segueing into The Cat's Dilemma, which barely counts as two tracks'-worth. Unusual Mellotron sounds, but barely.
K. Leimer (US)
Imposed Order/Imposed Absence (1983/2018, recorded 1983-2000?, 86.35) ***½/0 (½)

The Human Condition
Shallows
Three Forms of Decay
Life of the Poet
Wajang Kulit
Water Music
Simple Hierarchies
Aspects of Order
Method, Language and Silence
[Expanded ed. adds:
Lits et Rature
Foreign Course
Interval
Rain Bed
Intervene
Corrupt Signal
The Uneven Ritual
A Nostalgia
Intervein
The Surround]
Current availability:
Mellotron used:
Seattlite K(erry) Leimer began experimenting with tape cut-ups aged ten, going on to produce several albums of ambient electronic music in the early '80s using similar techniques. Imposed Order is often quoted as a classic of minimalism, despite its relative obscurity; thankfully, Leimer's resurrected Palace of Lights label have reissued it as Imposed Order/Imposed Absence, adding another album's-worth of material recorded later, mostly in the same vein. Highlights? Water Music's Japanese tonalities and Aspects Of Order, I'd say. Actually, I'll tell you who the more rhythmic material reminds me of: an instrumental Japan, both in its rhythmic aspects and synth timbres.
Leimer adds Mellotron to one of the newer tracks (recording date unknown), with distant, volume-pedalled strings on A Nostalgia. I don't know if more Leimer reissues are planned, but anyone with a yen for the era's more unusual synth/ambient releases should make the effort to hear this.
Leiner & Hrnjak (Croatia) see: Samples etc.
Silje Leirvik (Norway)
Endless Serenade (2013, 45.37) ***½/TTT½

Glass of Water
Silver & Gold
Black Heart
When in the Water
Leah's Song
In the Garden
And Then Love Came
Sno
The Last Dance
Serenade
Current availability:
Mellotron used:
Silje Leirvik's Endless Serenade is a quietly beautiful singer-songwriter album, very Scandinavian, despite her flawless English diction. Highlights? Lengthy opener Glass Of Water, Leah's Song and Sno, maybe. The energetic Silver & Gold works slightly less well (at least, to my ears), although In The Garden and And Then Love Came survive the treatment.
Rhys Marsh plays Mellotron on most tracks, with strings on everything highlighted, plus background choirs on opener Glass Of Water, cello on When In The Water and flutes on several others. Whose? Dunno, but, as on his own records, it sounds real. A rather lovely album, then, recommended for both content and Mellotron.
Lemmus Lemmus (Israel)
Chameleon Mood Swing (2004, 40.58) ****/TTT½

Better Off With You - Part 1
Ain't Got No Time
Hands of Time
Chameleon Mood Swing
Suddenly Sunday
Bulldog & Sneakers
I'll Be the Same
Better Off With You - Part 2
Silly Princess
Lemmus Lemmus (2008, 43.05) ****/TT

Happen
Chasing a Ghost
Feathers on Your Body
Tame of the Shrew
The Angels We Thought We Should Be
Smiling Back
Me Chewing on Your Sonar Heart
My Stars, My Moons, My Love
Your Dream Revisited
Violet & Blue
Current availability:
Both titles: Naked Lemming
Mellotrons used:
Lemmus Lemmus (the Latin name for the common lemming) are Israel's premier (only?) current psych outfit, whose albums are as pure late '60s-esque records as you're likely to hear all year. Their debut, 2004's Chameleon Mood Swing, covers all bases, admittedly mostly early Pink Floyd ones, but who's complaining? Ex-Floyd (fittingly) MkII Mellotron from Noam Rappaport, with a wistful flute part on opener Better Off With You - Part 1, a lush string part on Hands Of Time, a more subdued one on Suddenly Sunday, plus choirs (new tapes, as the choirs weren't on the original MkII ones), upfront strings again on Bulldog & Sneakers, ditto (under Elia Semama's vocals) on Better Off With You - Part 2 and major flute and string parts on closer Silly Princess, from Rappaport and the machine's owner, Zohar Cohen.
Their 2008 eponymous follow-up doesn't miss a trick, sliding through several styles, including '68 Floyd again (opener Happen), jaunty psych/pop (Tame Of The Shrew) and psych/prog on closer Violet & Blue, making for a deeply satisfying mind-enhancing experience, all entirely legal. Rappaport plays Cohen's MkII again, with the tiniest string swell on Feathers On Your Body and more of the same on Your Dream Revisited, while Cohen himself adds strings, flutes and brass to Violet & Blue, easily the best use on the album. This man clearly knows how to handle a Mellotron...
Selim Lemouchi & His Enemies (Netherlands) see: Samples etc.
Lenka (Australia)
Two (2011, 38.50) **½/T

Two
Heart Skips a Beat
Roll With the Punches
Sad Song
Everything at Once
Blinded By Love
Here to Stay
You Will Be Mine
Shock Me Into Love
Everything's OK
The End of the World
Current availability:
Mellotron used:
Lenka Kripac grew up in small-town Australia, moving to Sydney in childhood, where she kick-started her acting career, taking up music in her late twenties. It'll come as little surprise to hear that 2011's Two is her second album (well, you never know; look at Pearl Jam. Better, don't), a lightweight pop confection doing its level best to sound like a grown-up record, better tracks including the vague electro of the opening title track, the jaunty, '60s girl group sound of Roll With The Punches and Everything At Once, a more unnecessary moment being the Autotune on You Will Be Mine.
Now, I've had this in Samples etc. for years, but a chance encounter with an online interview has forced me to give it another listen. It seems some of the album was recorded at The Kinks' North London facility, Konk, complete with its refurbished EMI M400. Kripac and Eamon Ryland share Mellotron duties, playing a flute melody running through Sad Song and distant strings (and choirs?) on Blinded By Love, not really enough to make this rather mainstream pop effort worth hearing.
See: Samples etc.
John Lennon (UK)
Unfinished Music No. 1: Two Virgins (1968, 28.59) ***/TTT

Side One
Side Two
Mind Games (1973, 40.38) ***½/T

Mind Games
Tight A$
Aisumasen (I'm Sorry)
One Day (at a Time)
Bring on the Lucie (Freda Peeple)
Nutopian International Anthem
Intuition
Out the Blue
Only People
I Know (I Know)
You Are Here
Meat City
Walls & Bridges (1974, 40.57) **½/½

Going Down on Love
Whatever Gets You Thru the Night
Old Dirt Road
What You Got
Bless You
Scared
#9 Dream
Surprise, Surprise (Sweet Bird of Paradox)
Steel and Glass
Beef Jerky
Nobody Loves You (When You're Down and Out)
Ya Ya
Current availability:
Virgins; Rykodisc
Mind/Walls: Parlophone
Mellotrons used:
Virgins: John's MkII
Mind/Walls: unknown
Unfinished Music No. 1: Two Virgins is, technically, John Lennon's first solo album, although it was credited to John Lennon and Yoko Ono. I say 'technically' (or maybe 'album'), because very little of it consists of what most people would regard as 'music' at all; it's a highly experimental work, containing much found sound and wailing from Yoko, along with snippets of speech, electronic drones, an upright piano and... John's MkII Mellotron, in its only known recording role, at least at the time. The 'music' is comparable to Lennon's soundscape on the White Album, Revolution 9 and should probably be judged using the same criteria.
It's an interesting listen, with several amusing moments, not least John muttering something about a 'fucking tin opener' on side one. I believe the album is officially split into twelve tracks, but with no track divisions, it's impossible to work out what's what. The Mellotron turns up on both sides, with various left-hand manual rhythms coming into play and much messing about on the right-hand manual, strings and organ being subjected to some extreme pitchbending measures, notably about eight minutes into side two. I can't realistically recommend this as a musical listening experience, but it's a fascinating glimpse into Lennon's rather fractured state of mind at the time. Not forgetting the cover... A full-frontal nude shot of the pair upset an awful lot of people, thus having the desired effect, while allowing me to show a picture of John Lennon's knob. Worth it for its oddness and some quite revolutionary Mellotron work.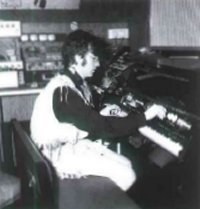 After The Beatles' final split in 1970, all four members went all-out to prove that they didn't need the others by sticking out stacks of solo albums of rather variable quality; amusingly, Ringo was (briefly) the most successful. John took a few albums to find his feet, finally getting it right on his second proper post-Beatles release, Imagine, in 1971. Love it or loathe it (I'm staying out of this one), it sold shitloads and the title track still tops 'greatest ever song' polls. It seems there was supposed to be some Mellotronic input to the album, The Moody Blues' Mike Pinder being drafted in to play the thing, no doubt working on the basis that you might as well get the best. However, the Mellotron he was supposed to play (presumably John's) wouldn't work properly (don't tell me, not maintained...), so he ended up merely bashing a tambourine. Andy Davis from the marvellous Stackridge was also supposed to play some guitar on it, but blew the session out as the band had a gig. And which would he remember more now? And doesn't he know it?
Paul McCartney was the only ex-member to use the Mellotron on a regular basis in his solo career, although John used the odd bit on a couple of albums, the first being 1973's Mind Games, from his regular keyboard man, Ken Ascher. It's the first thing you hear as you put the needle down/press 'play', a high string part lurching straight in on the title track; although the track's smothered in it, it's not the greatest use you're ever going to hear, to be honest. One Day (At A Time) has a flute part and what might be a couple of choir chords, though it's hard to tell, while there's some background strings on I Know (I Know), which, going by the lyrics, seems to be a semi-retraction of the 'sentiments' expressed on Imagine's How Do You Sleep?, regarding the breakdown of his personal and professional relationship with Paul.
Lennon followed Mind Games with Walls & Bridges, made during his so-called 'lost weekend', otherwise known as the eighteen months when he swapped Yoko for May Pang (what was it about him and oriental women?). The album has its fans, but I can't say I'm among them; soul-influenced mainstream '70s rock is never going to thrill me overmuch and there's little here that either floats my boat, or even makes me think that anyone would bother listening to it now were it not by John. Elton John guests on two tracks, but I'd be lying if I said he livened proceedings up to any noticeable extent, although he was responsible for John's last live appearance at Madison Square Garden a few months after the album's release, after winning a bet. Ken Ascher is credited with Mellotron, again, this time on just one track, Bless You, on which you can just about make out some background strings if you listen really closely.
See: Beatles | Paul McCartney | George Harrison | Ringo Starr | Yoko Ono
Julian Lennon (UK)
Help Yourself (1991, 58.29) **½/T

Rebel King
Saltwater
Get a Life
Would You
Maybe I Was Wrong
Help Yourself
Listen
Other Side of Town
New Physics Rant
Take Me Home
Imaginary Lines
Keep the People Working
Current availability:
Mellotron used:
John's elder son spent a few years as a critics' darling, before it finally dawned on them that he was nowhere near as talented as his dad. He was unfortunate enough to rise to prominence in the '80s, complete with that decade's appalling production values and a misplaced faith in the power of The Studio As Musical Salvation. Help Yourself consists largely of run-of-the-mill pop/rock, uptempo stuff like Get A Life contrasting with balladry such as Take Me Home, although most of the material is resolutely mid-paced and unchallenging.
The only Mellotron on the album (player unknown, although it may well have been producer and past user Bob Ezrin) is on Saltwater, a horrendous rip-off of dad's inimitable Strawberry Fields Forever, with a cheesy synth-flute intro that's far too close to the original for comfort. The Mellotron strings sound wobbly enough to be real, but Lennon's motive for its use has to be questioned, assuming he actually had any say in the decision. You might have gathered that I'm not very keen on this album, although I believe it did well enough when it came out.
Sean Lennon (US)
Into the Sun (1998, 49.08) **½/T

Mystery Juice
Into the Sun
Home
Bathtub
One Night
Spaceship
Photosynthesis
Queue
Two Fine Lovers
Part One of the Cowboy Trilogy
Wasted
Breeze
Sean's Theme
Current availability:
Mellotron used:
I'm sure you all know perfectly well that Sean Lennon is the only offspring of John and Yoko's decade-plus together, born in New York in 1975, so I won't bother mentioning it. 1998's Into the Sun is his first solo album, made while personally and musically entwined with Cibo Matto, making it hardly surprising that some of their retro-cheesiness rubbed off on the record. Lennon's fondness for Brazil's Os Mutantes is also fairly apparent in places, although the album seems strangely anodyne in comparison to that outfit's Tropicalia-influenced psychedelia. Sadly, Lennon's voice is something of an irritant on the album, largely 'cos he sounds almost exactly like his dad (listen to Queue), despite being (technically) American. Some (many?) of you love John's voice. Some of us don't.
Lennon apparently used a mixture of real Mellotron and samples on the album, presumably to do with availablity of sounds, or, possibly, availability of actual Mellotron. Anyway, the difference is fairly easy to spot: the quiet flutes on opener Mystery Juice are probably real, while the strings on Queue almost certainly aren't, leaving the cellos on closer Sean's Theme, which sound genuine. Overall, this fails on several fronts, although I'm sure it has as many admirers as detractors.
See: Samples etc. | Cibo Matto | Ghost of a Saber Tooth Tiger
Leño (Spain)
Leño (1979, 39.55) ***½/T

Castigo
El Oportunista
El Tren
Este Madrid
La Nana
Sodoma y Chabola
Se Acabo!!!
Current availability:
Mellotron used:
Leño, a hard rock act formed in 1978 and lasting just five years, are generally regarded as one of Spain's best rock bands. Their eponymous 1979 debut is a low-budget, Spanish-language album, sounding (as with the country's contemporaneous progressive scene) some years behind the rest of the world, operating outside any Anglo-centric expectations. Kicking off with the ten-minute Castigo, full of lengthy instrumental sections, El Oportunista is more like a Spanish Budgie (a recurrent influence, as it turns out), if you can imagine such a thing, while the eight-minute semi-acoustic psychfest La Nana throws a proper curveball at the listener and acoustic guitar instrumental closer Se Acabo!!! finishes things off in suitably unorthodox manner.
Teddy Bautista (Canarios) plays (presumably) his own M400, with murky choirs on Castigo, although, sadly, that's the last we hear of it. Leño isn't for anyone looking for a 'typical' Anglo-American hard rock act, but if you're prepared to be a little adventurous, you may find yourself well-rewarded.
Martin Léon (Québec) see: Samples etc.
Deke Leonard (UK)
Iceberg (1973, 47.06) ***½/½

Razor Blade and Rattlesnake
I Just Can't Win
Lisa
Nothing is Happening
Looking for a Man
A Hard Way to Live
Broken Ovation
Jesse
Ten Thousand Takers
The Ghost of Musket Flat
Crosby (Second Class Citizen Blues)
7171 551
Current availability:
Mellotron used:
Erstwhile Man guitarist Roger "Deke" Leonard's (1944-2017) first solo album, Iceberg, is an odd mixture of styles, like many similar efforts, where an artist writes a disparate collection of songs that aren't suitable for their parent band, then sticks them all together on one record. To quote The Mighty Boosh, "I think it is perhaps something to be saved for your solo project". Stylistically, the frenetic hard rock of Razor Blade And Rattlesnake, the rock'n'roll of I Just Can't Win, the country balladry of Lisa and half a dozen other styles all rub shoulders, seemingly getting on quite well together, despite their differences.
Full credits give the game away on the Mellotron front (doubtless the Rockfield machine, where the album was recorded), Deke himself playing it on the electric folk instrumental The Ghost Of Musket Flat. Now, before I put the album on, I guessed we'd be getting either a 'Strawberry Fields'-style flute part, or some quavery strings. Wrong. Under the track's real violin you can just about hear... trombones. I think. You can only really hear them at the very end of the track and I can't really say they especially enhance it in any meaningful way. Oh well.
This probably isn't an album for your average Man fan, as it only occasionally sounds much like them (notably on Broken Ovation and 7171 551, later to become a Man classic, of course), but hardcore fans probably need to own a copy, along with its successor, the following year's Mellotron-free Kamikaze. A quick footnote: why has my French UA LP got 7171 551 listed as '2138920716' on the label? Is this some Gallic in-joke - a girlfriend's phone number, maybe? I thought French numbers had eight digits. Whatever. Another quick footnote: Deke is pictured standing in front of a Bristol Fighter on the sleeve and the album's called Iceberg. For the follow-up, he was apparently keen on being pictured in front of an iceberg, while calling the album Bristol Fighter. Why do people drop these great ideas? It's like the follow-up to A Fish Called Wanda, Fierce Creatures (yawn), which was originally going to be called Death Fish II. Why, I mean, WHY, change something so perfect?
Ken Leonard & Jimmy Moore (US)
Improvised Waves (2005, 64.57) ***½/TTTT

Arpeg Two
As the Water Recedes...
Flute and Piano
Track 1
Current availability:
Mellotron used:
Moore's 'Formicatron' - formica-covered M400 (!)
Ken Leonard and Jimmy Moore are two of the East Coast's major Mellotron luminaries; Ken is intimately involved with MONEYPIT (Mellotron enthusiasts' meetings - don't ask), while Jimmy is Streetly Electronics' East Coast rep. In late 2004, they decided to hook up to record some improvised electronic music, heavily featuring the Mellotron. The end result (released the following year) is Improvised Waves, four pieces spread over slightly over an hour, mostly recorded live in the studio. Three of them are pretty much as you'd expect, improvised EM with loads of Mellotron, although Flute And Piano does exactly what it says on the tin, being a highly melodic Mellotron flute/piano duet.
Moore plays most of the Mellotron parts, although Leonard adds some on Arpeg Two, with lots of string section, the occasional flute line and some background choirs. Flute And Piano is fairly obvious, while the other two tracks (including the twenty-six-minute As The Water Recedes...) stick mainly to the string section and the odd flute part. The reason this 'only' gets four Ts is that the Mellotron work is, unsurprisingly, rather vague, as is most of the music, although it must be featured on at least two thirds of the album's length.
This is available from Ken's site (above), should you wish to indulge in the duo's indulgence. Despite its unsurprising lack of structure, this is far better than most modern EM albums, with their computer-driven, sample-triggering nonentitieness (well, it's a word now). Worth hearing for fans of the genre, or anyone who wants to hear loads of Mellotron.
Jamie Leonhart (US)
The Truth About Suffering (2008, 56.54) ***/TTT

Take Your Time
Area
Forward Motion
Hush
Grow
Who Says Words
The Spider & The Fly Intro
The Spider & The Fly
Satisfy Your Soul
Rainbow Connection
After The Rain
The Truth About Suffering
Simple Day
Sheltering Sky
Encomium
The Truth About Suffering (Reprise)
Current availability:
Mellotron/Chamberlin used:
Jamie Leonhart's The Truth About Suffering is a jazz-inflected singer-songwriter album, falling just the right side of adult contemporary, almost timeless in its approach. The weaker material is carried by her stunning voice, full-on chanteuse stuff, displayed at its best on Hush, Grow, the title track and Simple Day, amongst others.
Producer/jazz trumpeter/husband Michael Leonhart plays Mellotron and Chamberlin, with a Mellotron flute line on opener Take Your Time, upfront chordal flutes on Area, Chamby strings on Satisfy Your Soul and flutes again on the title track, Sheltering Sky (grinding to a halt in a real-as-it-gets kind of way), Enconium and closer The Truth About Suffering (Reprise). Until Sheltering Sky, I was about to chuck this into the sample dungeon, proving that perhaps it isn't as easy to spot them as I might think. Not an album for everyone, I'll admit, but done with aplomb.
---