Symphonic Pictures (1976, 36.01/.) ****½/TTTTT

69.26
Tao
Solution
Dialog
Sundrops
Pictures
[Esoteric 2CD ed. adds:
Tao
Dialogue
Gedankenspiel
Modimidofre
Prickel Pit
Ammernoon
Dadadam]
Sunburst (1977, 35.16) ****/TTTT

Wizzard
Autumn Sun in Cold Water
Artificial Energy
Driftin'
Troja
1580
Explorer
Ticket to Everywhere (1979, 35.56/53.07) ***/0 (T)

Open Doors
Song From India
Ticket to Everywhere
Spain Span Spanish
Here and Now
Slow Motion
Folk'n'Roll
[Expanded CD adds:
Every Land Tells a Story (live)
Explorer/Wizzard (live)
Ticket to Everywhere (live)]
Live 1975 (2002, 72.20) ***** (or **)/TTTTT+

Tao
Dialog
Gedankenspiel
Modimidofre
Prickel Pit
Ammernoon
Dadadam
Ticket to Everywhere
Current availability:
Symphonic/Sunburst/Ticket: Esoteric
Live 1975: On Esoteric issue of Symphonic Pictures
Mellotrons used:
Schicke Führs Fröhling, better known as SFF, metamorphosed out of Spektakel (an archive CD came out in '96) and were already playing live in 1975, sporting two Mellotrons, along with a butchered Ricky 4001/gold top Les Paul twin-neck and sundry other instrumentation. Their style was classic lush instrumental symphonic progressive with an electronic edge, with little of the 'German' feel of so many of their countrymen; the now sadly late Gerhard Führs played various keyboards, Heinz Fröhling tripled on guitar/bass/Mellotron, with Eduard Schicke on drums.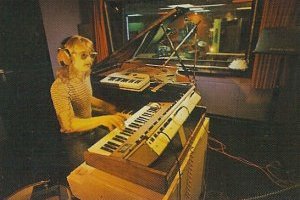 Symphonic Pictures is absolutely fantastic, although it almost pales in comparison to a live recording doing the rounds from '75 (see below). Anyway, the four tracks on the album's first side are pretty bloody good, with Mellotron all round; mostly strings, with the odd bit of flute thrown in. The side-long Pictures is the album's (and their career's) pinnacle, though; sixteen minutes (cut down from nearly half an hour live) of Mellotron-soaked prog, moving through various moods, including a choppy single-note choir part near the beginning that I'd swear Änglagård heard somewhere along the way. This one piece justifies the band's entire career, just in case it needed justifying. An essential album, whose only fault is its brevity.
Of course, Sunburst could never quite live up to the hype, so while it's pretty damn' good, it doesn't quite match Symphonic Pictures for sheer welly, or indeed, quality of composition. Don't get me wrong; it's still a great album, but not quite up there with its predecessor. I suspect much of it was recorded live in the studio, as an Eduard Brumund-Rüther plays bass on most tracks, but I suppose SFFB doesn't have quite the same ring to it. There's Mellotron on all but one track, but the use is more 'subtle' (i.e. background) than on their debut, although there's some nice string and choir parts to be heard, particularly on the album's best track (along with Troja), the opener Wizzard, despite its dodgy synth intro.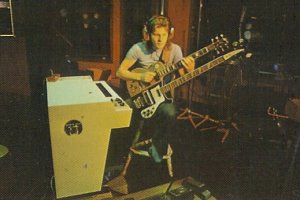 Sadly, by third (and last) album, the synth-heavy Ticket to Everywhere (***), SFF had gone pretty much off the boil, even including the odd vocal part; the album isn't quite as awful as I remember it, probably at its best on the Iberian-sounding Spain Span Spanish, but it really only shows the occasional spark of their previous genius. It doesn't even have the saving grace of any Mellotron, despite the pictures on the back cover, cribbed directly from the Symphonic Pictures sleeve of two years earlier. Before its release, Führs and Fröhling had formed a subsidiary duo, er, Führs and Fröhling (below), whose Ammerland is every bit as good as the first two SFF albums, if very different in feel. The duo lived beyond the trio, but still split around the turn of the decade, like so many other prog outfits of the day.
That could've been it, but in the mid-'90s a double CD was released, The Collected Works of Schicke Führs Fröhling, consisting of all three albums plus a couple of live tracks. Now long out of print, said live tracks have been added to Esoteric's version of Ticket to Everywhere. Not only are you unlikely to find this easily, but it's now been thoroughly superseded; however, it remains an important release in the band's small canon as the first CD issue of their works.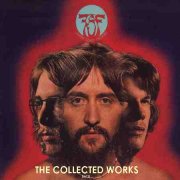 Some years after the Collected Works set, an album called Live 1975 appeared, also known as Live in Papenburg. I don't quite know how to review this because, on the surface, it's an incredible document of an excellent band, until you learn that it's edited down from a rather longer recording. The trouble is, rather than chop a track or two, what the compilers of this disc have done is (wait for it...) edited almost every track, the only survivor being Modimidofre, better known as Pictures from their first album, here nearly half an hour (!) long. The worst-hit is Gedankenspiel, which loses around five minutes, but despite a tape-speed issue and a considerable amount of between-song faff being edited, I reckon over ten minutes of music has gone up the swannee.
To add insult to injury, the editing (from the original ninety minutes) is so heavy that they've found room to stick a later (and highly inferior) live track on the end and still leave eight minutes of empty space on the disc. Gee, thanks, chaps... I've never heard of anything so stupid; what on earth are they trying to achieve by chopping lumps out of pieces like this? OK, so they've kept costs down and got it onto a single disc; big, fat, hairy deal. I think fans of the band would be happy to fork out a bit more for the full set and given that there's obviously more live stuff in the vaults, why not flesh out the second disc with more 1980 material? This is cretinous.
Given that the non-bowdlerised version isn't officially (I do stress 'officially') available, I really can't do any more than review this album as it stands. The music is stupendous, as you'd expect, clearly stating their unique style well before the release of their first album, with several excellent otherwise unreleased tracks. Apart from Modimidofre/Pictures, parts of Gedankenspiel sound familiar and Ammernoon eventually turned up on the first Führs & Fröhling album, but most of the material is unfamiliar, edited or otherwise. The instrumental interplay between Führs and Fröhling is excellent, with both Mellotrons going at once at some points and the band sounding considerably larger than a three-piece. This is a total Mellotron classic, in case you hadn't noticed, with more Mellotron per square inch than almost anything else in my collection, leading to my first-ever 'TTTTT+' rating, as five Ts just don't seem to be enough to describe such monumental Mellotron overkill. It isn't just the amount of Mellotron on offer here, as much as the frequently innovative playing and unusual chord structures the band employed.
As alluded to above, those lovely Esoteric people reissued all three SFF albums in 2010 (plus Ammerland, below), adding bonuses to two of them. Symphonic Pictures gains a second disc, the bowdlerised Live 1975, minus its 'bonus' version of Ticket To Everywhere, which has been added to the album of the same name, along with the two live tracks from The Collected Works. Now, all we need is for some enterprising individual to do something with the original, uncut 1975 set and we're laughing.
Ammerland (1978, 38.20) ****½/TT

Ammerland
Gentle Breeze
Dance of the Leaves
Street Dance
Sarabande
Circles of Live
Every Land Tells a Story
Ammernoon
Current availability:
Mellotron used:
Gerd Führs (keys) and Heinz Fröhling (guitars) recorded Ammerland together while still members of SFF, or Schicke Führs Fröhling, but their partnership endured beyond the breakup of the trio. Ammerland is one of those absolutely wonderful albums you encounter every now and again, then wonder how you'd done without it for so long. It's an almost unique mixture of classical guitar and monosynths, with the odd other keyboard and a plethora of superb tunes, at least one dating back to SFF's pre-deal days, going by bootleg evidence. Influences are the usual suspects, including Romantic era classical composers, but the CP70 piano work on the thirteen-minute Every Land Tells A Story is heavily redolent of Genesis' Tony Banks, which shouldn't come as any major surprise.
There isn't that much Mellotron to be heard, actually, but the album is bookended by superb Mellotron tracks in the really quite beautiful title track and Ammernoon, with its ethereal choirs (Mellotron cliché no. 5. Go to the bottom of the class, Thompson). More choir, faintly, in Circles Of Live, but sadly, that's it. So; a superb album that anyone interested in progressive rock should hear. Was that unequivocal enough for you? BUY! Incidentally, despite rumours, there's no obvious Mellotron on either of Führs & Fröhling's subsequent studio albums, 1979's Strings and '81's Diary, nor on 2007's archival Live 1980.
Metamorphosen (2011, 44.05) **½/TT½

Windrose
Still Here
Letzter Kuss
Duft Nach Vinyl
Say My Name
Spiegel
Like the Ocean
Frag Nicht
Walgesang
Metamorphosen
Letztes Signal (Sternenstaub)
Current availability:
Mellotron used:
Almost two decades after Gerhard Führs' death, Heinz Fröhling and Eduard Schicke teamed up to record 2011's Metamorphosen. Sadly, it's a rather average pop/rock effort, throwing in the occasional proggy touch in a vain attempt to keep older fans happy, chiefly on Spiegel and Walgesang. I realise that they've written these songs (notably Still Here) in honour of their old bandmate, but couldn't they have come up with a better elegy than this?
Fröhling's Mellotron credit appears to be genuine, although whether he still owns one of the trio's old machines or it's been borrowed/hired in is unknown. Anyway, we get strings all over opener Windrose, with a touch of choir, flutes and SFF-style choirs on Still Here, plus a solo spot for the cellos, choirs on Letzter Kuss, background choirs on Say My Name and clearly genuine choirs and strings on Walgesang. I'm genuinely sorry to be so negative about this release, but, not only is it most unlikely to appeal to SFF fans, but it doesn't even achieve its aims especially well. Sorry.
See: Spektakel
---