Gracious! (1970, 44.43/54.26) ****/TT½

Introduction
Heaven
Hell
Fugue in 'D' Minor
The Dream
[2004 Repertoire issue adds:
Beautiful
What a Lovely Rain
Once on a Windy Day]
7" (1972) ***½/TTTT

Once on a Windy Day
Fugue in 'D' Minor

This is...Gracious!! (1972, 42.14)

Super Nova
Arrival of the Traveller
Blood Red Sun
Say Goodbye to Love
Prepare to Meet Thy Maker
C.B.S.
What's Come to Be
Blue Skies and Alibis
Hold Me Down

This is...Gracious!! [1993 CD issue] (1972, 46.17)

Super Nova
Arrival of the Traveller
Blood Red Sun
What's Come to Be
Say Goodbye to Love
Prepare to Meet Thy Maker
C.B.S.
Once on a Windy Day
Blue Skies and Alibis
Hold Me Down
Current availability:
Both titles: BGO 2-on-2 (UK)
or; Gracious!: Repertoire (Germany)
Single: on Repertoire issue of Gracious!
Alternate This is...: Renaissance (US, long out of print)
Mellotrons used:
Gracious (the ! appears to be optional) formed in the late '60s, releasing one single, before signing with noted progressive label Vertigo and releasing Gracious! in 1970. It's an interesting on-the-cusp album, straddling the psych/prog divide with ease, although that put them a little behind some of their contemporaries, possibly leading to their eventual split. The band's endless inventiveness still shines through now, though, composite compositions such as Heaven and The Dream carving out their own little niche in the progressive spectrum. Something that really struck me, listening to this again, was the strength of the songwriting; Introduction is a superb song, worthy of far more attention than it got at the time, while Fugue In 'D' Minor is a gorgeous 12-string/harpsichord piece.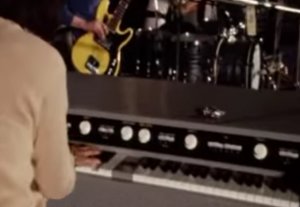 For all that Gracious! is frequently cited as a 'classic Mellotron album', it's only to be heard (at least to my ears) on two tracks, although keyboard man Martin Kitcat (his real name) owned a converted MkII FX machine (pics are from their Isle of Wight appearance in 1970), so there may be some bits'n'pieces that I'm not recognising. Heaven has a good chunk of Mellotron strings in it, plus what may well be MkII organ, as there's some on the piece, but Kitcat's not credited with playing one. The fairly bizarre The Dream also has short strings and mandolin parts, but apparently some of the sound effects are Mellotron, too, though it's hard to tell without a detailed knowledge of MkII rhythms etc. Saying that, his machine had 'lead' tapes on the left-hand manual, too, à la Mike Pinder's in the Moody Blues. So, less 'classic' than expected, but a good album in its own right. Later that year, a non-album single appeared, the late-'60s sounding Once On A Windy Day, strummy acoustics and Mellotron flutes and strings to the fore. Originally reissued on US label Renaissance 1993's issue of second album This is...Gracious!!, it can now be heard as the last of three bonus tracks on Repertoire's 2004 version of Gracious!, along with both sides of their first 7", '69's rather second-rate Beautiful b/w What A Lovely Rain, both sides Mellotron-free.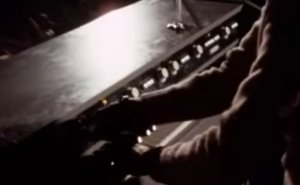 Gracious! recorded their follow-up in early '71, but after the band split later that year, record company politics decreed that This is...Gracious!! wouldn't appear until the following year on the budget Philips label. Even better than their debut, it's a tragedy that the band had already disintegrated by this point, as they may could've developed into one of the best progressive outfits of the decade. While slightly dated for the time, the songwriting's as good as on their debut; they certainly had a way with a melody, which is more than you can say for many of their contemporaries. The side-long Super Nova is an absolute classic, particularly the first two parts, featuring some of the most coruscating Mellotron you're ever likely to hear; saxes (?) stuck through an overdriven Marshall, with a driving backbeat from the rest of the band. Blood Red Sun itself exchanges sax for vibes on one manual and a strings/brass mix on the other, as Paul (later Sandy) Davis wails "Blood red sun, what has it done?". Bloody phenomenal. Kitcat keeps up the Mellotronic pressure for the rest of Super Nova and while, unsurprisingly, he never quite matches the intensity of the first two tracks on the rest of the album, he comes close at the ends of both Say Goodbye To Love and Prepare To Meet Thy Maker. There's a hell of a lot of brass on the album, particularly on Blue Skies And Alibis and Hold Me Down; in fact, it's almost the main sound used, over the usually ubiquitous strings. I'm not sure if the organ on C.B.S. is real or Mellotron; it sounds real, but it's frequently hard to tell. Anyway, a killer Mellotron album, fully deserving of its five 'T's.
The UK reissue of these albums is on a 2-on-2 set from BGO, with the original running order on This is... The US CD of the album on Renaissance, however, takes What's Come To Be, which should be part three of Super Nova, but was shifted due to the length restrictions imposed by vinyl and puts it back in its rightful place. It also adds the Once On A Windy Day single, but instead of putting it at the end as a bonus track, it's placed between C.B.S. and Blue Skies And Alibis, filling the gap left by What's Come To Be, although, as I've said above, the label obviously went bust years ago. Incidentally, you'll find seventeen minutes of the band's appearance at the 1970 Isle of Wight festival on YouTube, principally Super Nova, with a quick burst of Once On A Windy Day, Kitcat's distorted Mellotron to the fore throughout.
Two classic psych/prog albums, then, This is..., in particular, stuffed to the gills with Mellotron. If you want the 'full' version of the second album, you're probably going to have to buy both the UK 2-on-2 and the Renaissance release, if you can find it, but the British one should do for most of you. As a footnote, an album-length demo began circulating in the mid-'90s by an outfit of the same name, consisting of the original band's rhythm section and keyboard player Sev Lewcowicz. Echo (see below) was eventually released in 1996; while not a bad album, it isn't really up to the standard of the original band.

Echo (1996, 54.12) ***½
Gracious! are, of course, known as one of the first major Mellotron bands, if by 'major' you mean 'put two albums out on small labels in the early '70s'. Their eponymous debut has an awful lot less Mellotron on it than you might expect, although This is... Gracious! fared rather better. As they split before their second album was even released, it came as quite a surprise to be lent an advance tape of a new Gracious! album in the early '90s, although upon closer examination, it became apparent that it was basically the original band's rhythm section, Tim Wheatley and Robert Lipson, with one Sev Lewkowicz taking the place of the three absent members. In fairness, original guitarist Alan Cowderoy appears on one track, but this really isn't Gracious! as we knew them.
The album finally got an official release in 1996 by those nice people at Centaur in Dundee, although (to my knowledge) the band never played live, or promoted it in any other way. So; what's it like? Well... Difficult to describe, is the easy answer. It has a variety of influences, some familiar, some not. It's certainly 'prog', with several lengthy tracks that work their way through the usual range of time, tempo and mood changes, although it veers perilously close to neo-prog slop in places. I suppose the most obvious comparison is with the likes of Spock's Beard, although it's interesting to note that this would've been recorded before the first 'Beard album appeared. Anyway, 'modern prog' if you like, or even if you don't. Lewkowicz plays what have to be Mellotron string samples on two tracks, Oil Pressure and Echo itself, although the former is the only one to feature it to any great extent, which isn't really that great; one 'T' had it been real.

See: Sandy Davis
---