---
The Hang Ups (US)
Second Story (1999, 44.06) **½/T½

Caroline
Second Story
Pretty Ba
Parkway
Underneath a Tree
Out of Touch
Long Goodbye
Blue Sky
The Queen
Maroon
Party
Epic
[Bonus Track]
The Hang Ups (2003, 37.52) **½/T

It's All True
One of These Days
Deep Pool
Fool
For the Worry
Avalon
Little Blue
Like it Used to Be
Annie Walks
Wildflowers
Blue Residence
You've Come Home
Light Green Sails
Current availability:
Second: Restless
Hang: Trampoline
Chamberlin/Mellotron used:
Second: Fidelitorium Studios' M1
Hang: unknown Mellotron
The Hang Ups, from Minneapolis, apparently started as effectively a soft-rock band, hardening up slightly (but only slightly) into a limp indie act by their 1999 effort, Second Story. It's not all bad (opener Caroline's a decent powerpop number and Epic features a passable riff), but the record's full of lethargic ballads (the title track, Maroon) at the expense of anything more interesting. Band mainman Brian Tighe plays Chamberlin on a few tracks, with faint cellos on opener Caroline, more upfront and obvious ones on Underneath A Tree and strings on Maroon, though nothing outstanding.
Despite a four-year gap between albums, 2003's The Hang Ups is essentially more of the same, possibly a fraction less insipid, but not by much. Jeff Kearns plays Mellotron, with several 'is it/isn't it?' tracks (notably whatever makes that sound at the end of Deep Pool), but Avalon's the only absolute definite, with a flute part running through most of the song. So; two not-very-interesting-at-all albums, with a small handful of tape-replay tracks over the pair. Just don't.
John Hanlon (New Zealand)
Higher Trails (1975, 44.01) **½/T

Windsongs
Lazy Day
Apple Wine
Dog Talk
Higher Trails
Mouldy Sunday
Lovely Lady
Crazy Woman
I'll Be Back
Current availability:
Mellotron used:
John Hanlon is a Malayan-born Kiwi, whose career kicked off in the early '70s after a studio owner heard some of his songs. Higher Trails was his third album and, while generally playing it safe, is far more palatable than, say, his countryman Larry Morris' Reputation Don't Matter Any More, released the following year. Opening track Windsongs is probably the album's highlight, although it has to be said that some of the material crosses the line into cheese territory,
Mellotron on one track only, Crazy Woman, played by Hanlon's musical collaborator, Mike Harvey, a choir part slowly rising up in the mix, although it's hardly what you'd call essential listening, to be honest. I'm afraid to say that the same goes for the album as a whole; although better than a lot of similar singer-songwriter stuff, it hasn't dated well, especially in the lyric department, not that you're like to find a copy outside New Zealand anyway.
See: Mike Harvey
John Wort Hannam (Canada) see: Samples etc.
Hanson (US)
Underneath (2004, 62.05) **/T½

Strong Enough to Break
Dancin' in the Wind
Penny & Me
Underneath
Misery
Lost Without Each Other
When You're Gone
Broken Angel
Deeper
Get Up and Go
Crazy Beautiful
Hey
Believe
String Theory (2018, 83.32) **½/0

Reaching for the Sky (Pt. 1)
Joyful Noise
Where's the Love
Dream it Do it
MMMBop
Chasing Down My Dreams
Tragic Symphony
Got a Hold on Me
Yearbook
Siren Call
Me Myself and I
Reaching for the Sky (Pt. 2)
This Time Around
Something Going Round
Battle Cry
You Can't Stop Us
Broken Angel
What Are We Fighting For
Breaktown
No Rest for the Weary
I Was Born
Sound of Light
Tonight
Current availability:
Chamberlins used:
Hanson, eh? MMMBop. Yeah. Maybe my cynicism's down to being considerably nearer the Hanson brothers' parents' age than theirs. The brothers (the eldest three of seven kids) started playing together as The Hanson Brothers, which just makes me think of 'guilty pleasure' Slap Shot, a Paul Newman ice hockey comedy from the late '70s, featuring three semi-legendary moronic goons of the same name. Canadian hardcore outfit Nomeansno have a humorous side-project of the same name, apparently dressing like said brothers and playing Ramones-style punk with super-dumb lyrics. Canadians, eh? Anyway... These Hanson brothers recorded their first album when the youngest, drummer Zac, was nine, which is pretty shocking, although it seems that they didn't actually play on the record (I have to assume they sang on it). After a second independent effort, featuring the aforementioned MMMBop, they got themselves signed to a major and re-recorded it for their 'debut'. They made two more major-label efforts, including a Christmas album (gack), before going independent again.
Underneath was their first post-major release and, while less vile than their earlier efforts, is still a pretty cheesy pop/rock effort, although at least there's some reasonable elderly keys work on the album. I can't find anything sensible to say about the material, I'm afraid; it's commercial, it's pop/rock, it's forgettable. Chamberlin on three tracks: Taylor Hanson (middle brother) plays a vocal line-matching string part on opener Strong Enough To Break, the heavily ubiquitous Patrick Warren plays orchestral strings on Broken Angel, while Isaac Hanson (eldest) plays some perfectly competent strings on Deeper, including a few seconds where you hear it almost solo.
2018's String Theory (ho ho) is a double-disc semi-retrospective of the trio's career, the mostly familiar material reworked with the Prague Symphony Orchestra, a handful of new numbers thrown into the mix. And it sounds like... An album of crummy ballads, interspersed with more upbeat pop/rock stuff, nothing actually standing out as worthy of your attention. Patrick Warren's credited with his familiar Chamberlin, although, given that he's competing with an orchestra, I have no idea why. As a result, although I'm sure he's in there somewhere, I have absolutely no idea where, so this gets a big, fat '0' on the tape-replay front. Bring back the original Hanson brothers, I say.
Jennifer Hanson (US) see: Samples etc.
Bo Hansson (Sweden)
Ur Trollkarlens Hatt [a.k.a. Magician's Hat] (1972/73, 38.20) ***/T

The City
Divided Reality
Elidor
Before the Rain
Fylke
Playing Downhill Into the Downs
Findhorn's Song
Awakening
Wandering Song
The Sun (Parallel or 90°)
Excursion With Complications
Mellanväsen [a.k.a. Attic Thoughts] (1975, 37.12) ***/T

Attic Thoughts
March
Repose
Wandering
Time and Space
Waiting...
Waltz for Interbeings
Time for Great Achievements
The Hybrills
Rabbit Music
General Woundwort
Fiver
Day and Night
A Happy Prank
Current availability:
Mellotrons used:
Bo Hansson is largely remembered these days for his first album, the pretty successful Sagan om Ringen/Lord of the Rings (***½), a droning instrumental organ-fest, more post-psychedelia than prog. By Ur Trollkarlen's Hatt/Magician's Hat (originally 1972), he'd taken on a full band and headed further into proggier territory, although he'd already carved out his own little niche, sounding like no-one else in particular. It's all very laid-back, low-key, slightly jazzy stuff, with little in the way of dynamics or drama, perfect for, er, 'relaxing', I suppose. There's not that much of Hansson's 'Melotrone', with some brief, quiet strings on Divided Reality, along with a fairly major flute part, played with considerable dexterity, although all the rest of the album's flute appears to be real.
Incidentally, a mystery has arisen re. this album's Mellotronic content: before re-reviewing the remastered versions, I was sure I could hear a Mellotron flute part on Playing Downhill Into The Downs, but upon not hearing it this time round, I assumed I was originally mistaken. However, Christopher Orczy assures me that it IS on the original version, so for whatever reason, it appears to have been removed. This is all most bizarre and unnecessary (and says a lot about using different mixes for different releases), so if you'd like to hear it, you'll have to get the old version. Ludicrous. n.b. Tommy Schønenberg has cleared up the mystery: the remasters are taken from the original Swedish versions, while the Mellotron part on the track was obviously added for the UK release. Grr.
Mellanväsen/Attic Thoughts sounds very similar to its predecessor, to my ears; given that it appeared as late as '75, it's actually a little dated for the period. Hansson's style was obviously still working for some people, but his declining sales gave the true picture. Again, not a lot of Mellotronic input, with a few choir chords on Time For Great Achievements and what I presume are Mellotron string swells on Day And Night. Incidentally, the two-part Rabbit Music was a pointer towards his last album before a very lengthy, health-enforced career break, '77's El-Ahrairah/Music Inspired By Watership Down (***½). I personally prefer this last album to its predecessors, with its new-found sense of dynamics and (dare I say it?) energy. Also incidentally, the three-part bonus track on the remastered CD of Attic Thoughts, The Crystal Suite, is probably one of the best tracks Hansson has ever recorded. Very atmospheric. Sadly, having picked up his career on a part-time basis in the late '90s, after what I've been informed was a lengthy struggle with alcohol, Hansson died in 2010.
Happiness Factor (US) see: Samples etc.
Happy Apple (US)
Youth Oriented (2003, 61.36) ***/T

Youth Oriented
Green Grass Stains on Wrangler Jeans
The Landfall Planetarium
Salmon Jump Suite
The Drama Section
The Treetops of a Bad Neighbourhood
It Will Be
Crème de Menthe Quasar
Youth Oriented
Current availability:
Mellotron used:
Happy Apple are a Minneapolis-based jazz trio who've been described as 'jazz-punk' in the past, though going by their fifth album, Youth Oriented (we'd say 'youth orientated; Australians would probably abbreviate it to a single syllable), I've no idea why. It gets slightly raucous occasionally, but overall it's a fairly typical sax/bass/drums album, all instrumental, with the odd bit of guitar for variety. Do I like it? Not especially; I've never really understood jazz, but I believe it's rated by those in the know.
Drummer Dave King plays Mellotron, with some wavery and very real-sounding flutes on The Landfall Planetarium that slowly take over from the other instrumentation until the last minute or so of the track is nothing but. Nothing else, but this is rather more than you'll get on most modern albums and it does sound genuine, which makes a nice change. Anyway, instrumental jazz; you probably already know whether or not you'll like it. One good Mellotron track, but that's your lot.
Jim Haptonstahl (US) see: Samples etc.
Shinji Harada (Japan)
7" (1978) **½/½

Our Song
Something New
Current availability:
On Golden Best (For Life Records) & other compilations
Mellotron used:
Shinji Harada was something of a teenaged prodigy, releasing his first single at the age of eighteen, in 1977. The following year's Our Song isn't exactly a paean to youthful rebellion, more a slushy ballad aimed at his parents' generation, which you can hear on YouTube if you really must. To be frank, I haven't heard its flip, Something New, so it's pure assumption that it's Mellotron-free.
Someone (Harada himself?) plays Mellotron choirs towards the end of the song, in a way that suggests that the budget had been used up on the orchestra, so a cheap vocal group substitute had to be brought in. Really not worth the effort.
Scotty Hard with John Medeski & Matthew Shipp (US)
Scotty Hard's Radical Reconstructive Surgery (2006, 47.06) ***/½

Chance Operation
St. Clare's Hospital
Noonday Demon
The General
Eclipse
Apothecary's Cabinet
The Peeler
Anatomy of Melancholy
Round 2
Current availability:
Mellotron used:
Scotty "Hard" Harding is a hip-hop DJ who's moved into the jazz field by dint of working with some of the best names on the New York scene. Scotty Hard's Radical Reconstructive Surgery consists of Hard overdubbing and remixing performances by said best names, including keyboard players Matthew Shipp and John Medeski. The end result is probably jazz, depending on what you mean by the appellation; it's also pretty avant-garde, although it's a long way from the hip-hop that originally influenced its manipulator.
Medeski is credited with Mellotron, but the only place it even might be is the weird, pitch-shifted stringlike sounds in Noonday Demon, which could well be Medeski manipulating the flywheel (not recommended, boys'n'girls). So; not somewhere you're going to go for its Mellotron content, but something you may well go should you be into the further reaches of fucked-up jazz.
As a sad postscript, Hard was paralysed in a car crash in 2008. He is apparently recovering, but the pernicious system of American so-called 'healthcare' means that he needs constant funds, or he will, presumably, be flung out onto the street. And they vote for this. Truly disgusting. Let's hope he makes a full recovery while he and his friends can still afford it.
See: John Medeski | DJ Logic
Hardcore Superstar (Sweden) see: Samples etc.
Eddie Hardin (UK)
Wizard's Convention (1976, 41.32) **/T

The Craig Song
When the Sun Stops Shining
Loose Ends
Money To Burn
Whose Counting on Me
Make It Soon
Until Tomorrow Part 1-4
Light of My Life
She's a Woman
Swanks and Swells Part 1
Swanks and Swells Part 2
Current availability:
Mellotron used:
Rick van der Linden's M400?
Cruelly retitled Money to Burn for an '80s reissue, Eddie Hardin's Wizard's Convention is the sort of vanity project that punk (love it or loathe it) put to the sword the following year (see: The Intergalactic Touring Band). So; what is it? Soft rock, that's what. No obvious concept, just an album of soft rock drivel with loads of guests, including several then-current and past members of Deep Purple, all of whom should've known better. The pace picks up just once, in one part of Until Tomorrow, but it's nothing you haven't heard done far better by about a million other bands, not least Purple themselves. Other than that, we're looking at then-oh-so-trendy soul and blues influences on most tracks, Jon Lord getting a chance to show off his piano chops on She's A Woman to little effect, to be honest and various singers (David Coverdale, Glenn Hughes, Mike d'Abo) all trying to outdo each other in the soulfulness stakes, as if anyone cared. The only point at which the album branches out is on the two parts of Swanks And Swells, with Chris Barber's trad jazz band backing, making for a welcome diversion from the slush preceding it, although it's hardly cutting-edge.
The album's only obvious Mellotron is on the last part of the four-part Until Tomorrow, with major string and choir parts, played by Rick van der Linden (Ekseption/Trace), apparently, making for a brief moment of relief from the tedium surrounding it. Sad to say, this is a limp, insipid piece of mid-'70s soft rock, without even the benefit of some decent tunes and with only a brief burst of anything Mellotronic. I would steer well clear if I were you, even (especially?) if you collect Purple-related stuff.
See: Deep Purple | Glenn Hughes | Ekseption | Trace
John Wesley Harding (UK)
The Confessions of St. Ace (2000, 45.39) ***½/T

Humble Bee
She's a Piece of Work
People Love to Watch You Die
I'm Wrong About Everything
Same Piece of Air
Old Girlfriends
Bad Dream Baby
Goth Girl
You in Spite of Yourself
Our Lady of the Highways
After the Fact
Too Much Into Nothing
The Sound of His Own Voice (2011, 46.33) ***½/T

Sing Your Own Song
I Should Have Stopped
Captain Courageous (on Disko Island)
I Might Be Dead
Uncle Dad
The Way We Weren't
There's a Starbucks (Where the Starbucks Used to Be)
The Colloquy of Mole & Mr. Eye
Gentleman Caller
Calling Off the Experiment
The Examiners
Good News (& Bad News)
The World in Song
Current availability:
Confessions: Hollywood
Sound: Yep Roc
Mellotrons used:
I was quite surprised to discover that Wesley "John Wesley Harding" Stace is British, albeit an ex-pat since 1991; I suppose Bob Dylan fandom's fairly universal... 2000's The Confessions of St. Ace is another decent singer-songwriter effort with more than a touch of country in places. Harding actually sings in his own accent most of the time, often about quite British concerns (Goth Girl is an amusing yet poignant example), although he goes all American on us as the country quotient rises (notably on Our Lady Of The Highways). No fewer than three musicians are credited with Mellotron: Tim Lauer, Jeff Roach and Scott McCaughey, although I'm not sure why it takes so many people to play so relatively little Mellotron: flutes and strings on People Love To Watch You Die and almost-not-there flutes on After The Fact, although the strings on closer Too Much Into Nothing are real.
2011's The Sound of His Own Voice proves that it's possible for some artists to keep on improving. Harding's style has moved closer to powerpop territory and the songwriting's stronger all round, highlights including Uncle Dad, the droll There's A Starbucks (Where The Starbucks Used To Be) and Calling Off The Experiment, but there's little, if anything here that lets the side down. Just McCaughey on Mellotron this time round, with strings on I Might Be Dead and flutes on The Way We Weren't, although they sound a little on the suspect side, if truth be told.
See: Samples etc.
Hardtimes (US)
Beginning to End (2000, recorded 1987-88, 79.57) ***/TTT

Start Again
No Lasting Love
With You
Look to the Sea
Can't Believe
Early Night's End
Night's End
Move a Little Closer
Do it All
Ready to Run
Ready to Love
We'll Show Them
Dawn Till Dusk
Another Day
On the Floor
1970
Current availability:
Mellotron used:
Hardtimes were one of a vast number of bands worldwide who found themselves adrift in the shallow, image-obsessed '80s (I was in one, too). They clearly wanted to play progressive rock, but found themselves sidelined into more of an AOR direction, although their surviving recordings (from the late '80s) contain many proggy touches. Drummer Jim Wojcik wrote to me recently to let me know that he's compiled a full-length CD of said recordings, ten tracks, mostly overlapping with these, available for download on Amazon. As a result, it straddles the 'available'/'unavailable' divide, but I'll review it anyway.
The tapes are beginning to show their age; several tracks feature unintended pitch-shift, not to mention the serious tuning issues on Another Day and vocalist Pete Stipan's sometimes rather tuneless voice, but then, the band are at their best in the instrumental sections, anyway. Highlights include Early Night's End, a kind of superior AOR instrumental (!), With You is pleasantly reflective, while Dawn Till Dusk is nicely jammed out towards the end. Going by online snippets, the missing track from my version, Patriots, is a lightweight pop-rock number, although it's downloadable should you wish to hear it.
The band obtained their Mellotron from the legendary Cleveland Agora ballroom, where it had been left (!) after malfunctioning during a show. Those were the days... They refurbished it and used it on about half of these recordings, with a descending string line, doubled with flutes on No Lasting Love, a harmony flute part on With You and a high flute melody, doubled with strings on Look To The Sea. Move A Little Closer features a string wash and the rare Mellotron harpsichord (the track's main keyboard sound), Ready To Love's string line was fed through the tremolo circuit on a guitar amp and On The Floor has a background cello line, leaving the album's best track, 1970, as its Mellotronic highlight, opening with a major string part, complete with un-fakeable wobbles, not to mention the distant choirs at the end of the track.
Overall, this is a distinctly mixed bag, demos as against fully-realised recordings, but I can attest that those were hard times (sorry). Since 1970 is on the download version, I suggest that you get hold of a copy to hear a long-lost late-period BJH-esque soft prog gem, then listen to the online snippets to see if you'd like to delve any deeper.
Françoise Hardy (France)
Françoise Hardy [a.k.a. Soleil] (1970, 31.17) ***/T

Point
San Salvador
Fleur de Lune
Effeuille-Moi le Coeur
Un Petit Sourire, un Petit Mot
Le Crabe
Mon Monde N'est Pas Vrai
Tu Ressembles a Tous Ceux Qui Ont Eu du Chagrin
L'Ombre
Soleil
Je Fais des Puzzles
Dame Souris Trotte
Entr'acte (1974, 27.10) ***/T

Ce Soir
Merveilleux
Et Voilà
Je N'Aime Pas Ce Qu'il Dit
Chanson Noire
Je Te Cherche
S'il Avait Été
Bonjour Bonsoir
Il y a Eu des Nuits
Fin d'Après-Midi
Star (1977, 34.51) **½/T

Star
Chanson Sur Toi et Nous
Enregistrement
À Vannes
Flashbacks
L'Impasse
Ton Enfance
Je Ne Suis Que Moi
Drôle de Fête
Fatiguée
Musique Saoûle [a.k.a. J'Écoute de la Musique Saoûle] (1978, 33.58) ***/T

J'Écoute de la Musique Saoûle
Hallucinogène
Occupé
Brouillard dans la Rue Corvisart
Tu M'Vois Plus Tu M'Sens Plus
Nous Deux, Nous Deux et Rien d'Autre
Swing au Pressing
Perdu d'Avance
Tip Tap (Tip Tap) T'Entends Mes Pas
Si Je le Retrouve un Jour
Beau Boeing Belle Caravelle
Current availability:
Soleil/Entr'acte: Warners
Star/Musique: EMI France
Mellotrons used:
Soleil: studio MkII?
Other titles: unknown M400
As France's yé-yé era faded away at the end of the '60s, poster-girl Françoise Hardy took the sensible decision to become a more 'serious' artist, 1970's eponymous album, a.k.a. Soleil, being one of the first fruits of her new direction. To be honest, from the perspective of a half-century down the line, it still sounds like French '60s pop to my ears, albeit very acceptable French '60s pop, at its best on opener Point, the balladic San Salvador and L'Ombre, perhaps, although twee closer Dame Souris Trotte would only improve the album by its absence. An unknown player adds some surprisingly radical MkII Mellotron strings to Le Crabe, switching between a choppy, near-atonal part, key-click to the fore and a couple of pitchbends, quite distinct from the real strings used elsewhere. Given that Spooky Tooth (and future Foreigner) guitarist Mick Jones played on the record, might he have added the Mellotron? It's hardly a keyboard player's part and his presence suggests that this was at least partially recorded in London.
Some years later, Hardy (or, more likely, her producers) used Mellotron on no fewer than another three albums. 1974's Entr'acte (intermission) is pretty much what you'd expect, a largely balladic album that, in many ways, harks back to her mid-'60s heyday, probably at its best on Et Voilà and Bonjour Bonsoir. An unknown musician plays a polyphonic flute part on the latter, including an intriguing solo part at the end of the track. '77's Star is less of the same, never really shifting out of 'drippy balladry' mode. Gabriel Yared on Mellotron, with upfront flutes on Ton Enfance and a piping, high flute part on Drôle De Fête. The following year's Musique Saoûle (reissued as J'Écoute de la Musique Saoûle - listen to the drunken music), while avoiding the era's ubiquitous disco tropes, is a rather more upbeat effort, if not in a terribly satisfying way, better moments including the fusionesque monosynth work on Occupé and Tu M'Vois Plus Tu M'Sens Plus, with its accordion-esque use of string synth. Yared's Mellotron turns up on the latter, with an upfront string line and more of those flutes.
Morten Harket (Norway)
Vogts Villa (1996, 41.44) **½/TT

Tilbake Til Livet
Jeg Kjenner Ingen Fremtid
Herre i Dr?mmen
Fremmed Her
S?ndag Morgen
Gammal og Vis
Taksameteret Går
Himmelske Danser
Lyser Når du Drar
Vuggevise
Current availability:
Mellotron used:
You'll probably know Morten Harket as the voice of A-Ha; you know, the one with the four-octave range, or whatever he has (or had). His voice was still definitely on form for his third solo album, 1996's Norwegian-language Vogts Villa, although the material's a bit on the average side, nothing really standing out very much, although Himmelske Danser at least vaguely rocks it up a little.
There seems to be some disagreement over whom, exactly, plays Mellotron on the album, with both producer Kåre Chr. Vestrheim (Gluecifer) and Thomas Tofte listed in various sources. Anyway, we get flutes all over Jeg Kjenner Ingen Fremtid, clearly real strings on Taksameteret Går and more of the same on Lyser Når Du Drar, although I suspect the cello's real. Not the most exciting album ever, then, although a little obviously genuine Mellotron spices things up a little. Stick to A-Ha's greatest hits, I think.
See: A-Ha | Magne Furuholmen | Savoy
Harlequin (US)
7" (1974) ***½/TT½

Trees
What's Your Pleasure?
Current availability:
Mellotron used:
Prog fiends Harlequin, from the northern reaches of NY state, only ever released this one 7"; if you're thinking, "Not really the ideal format for a progressive band", you'd be right. Nonetheless, it was clearly all they could afford to record/release, so it's what we've got. Trees is kind of the bastard child of King Crimson's Easy Money, while What's Your Pleasure? is rather more breezy, like a wannabee West Coast take on prog, if that makes any sense.
Presumably keys man Burt K. Diaz on Mellotron, with big slabs of chordal strings (thus the Crimso comparison) and delicate flutes on the 'A' and more subtle strings on the flip. Trees is on YouTube, while What's Your Pleasure? is on Soundcloud (where d'you think I heard them?); a proper release would be nice, but would presumably only be worth the effort if band members crept out of the woodwork, ageing rehearsal tapes clutched in their sweaty paws to make up a full album.
Steve Harley (& Cockney Rebel) (UK)
7" (1974) **½/T

Big Big Deal
Bed in the Corner
Timeless Flight (1977, 40.49) **/½

Red is a Mean, Mean Colour
White, White Dove
Understand
All Men Are Hungry
Black or White
Everything Changes
Nothing is Sacred
Don't Go, Don't Cry
Current availability:
Timeless: BGO (UK)
Single: various compilations
Mellotrons used:
Steve Harley, with the original, guitarless Cockney Rebel, somehow managed to miss out on the huge hit they deserved in 1973 with the glorious, overblown Sebastian, but managed a couple of top ten entries the following year with the creepy, weird pop of Judy Teen and Mr. Soft. By the following year, they'd peaked artistically (in my humble opinion, of course), although the irritating Make Me Smile (Come Up And See Me) sold shedloads everywhere and is the song for which Harley is remembered above all. Nestling in between the great and the successful was a complete flop, the non-album Big Big Deal, credited to Harley alone, presumably just after the acrimonious split with his band (see: the lyrics to Make Me Smile...). It's... thoroughly average, to be honest, quite deserving of its chart non-placement, sounding more like an anonymous album track than a hit. It opens with a handful of Mellotron choir chords which reiterate towards the end of the song, but that's the only reason it's here. It you want to hear it, it's on various greatest hits/anthology albums, or the expanded CD of The Psychomodo. Out of interest, a longer version, with more of those choirs, is available on the four-disc Cavaliers: An Anthology 1973-1974 and possibly elsewhere.
By Timeless Flight (a second-hand shop perennial, along with Love is a Prima Donna), Harley had already shot his bolt commercially and artistically, of course, although his biggest hit was all of a year behind him and his last (proper) one, his take on George Harrison's Here Comes The Sun was from earlier in '76. I'm afraid to say that Timeless Flight is a dullard of an album, all bland singer-songwriter fare, only Harley's unique voice differentiating it from the pack. Duncan Mackay's keyboard work is a little on the sparse side, consisting mainly of monosynth parts on several tracks. However, the very first sound on the album is three high Mellotron string notes, although the only other audible Mellotron is a single, 'violined' chord in the left speaker only in White, White Dove. As a result, I find it difficult to recommend this album on any front. Buy a 'Best of' for those early hits instead.
Daniel G. Harmann (US) see: Samples etc.
Sarah Harmer (Canada) see: Samples etc.
Harmonium (Québec)
Si on Avait Besoin d'une Cinquieme Saison [a.k.a. Le Cinq Saisons] (1975, 41.34) ****/TTT½

Vert
Dixie
Depuis l'Automne
En Pleine Face
Histoires Sans Paroles
L'Heptade (1976, 85.36) ****/T½

Prologue
Comme un Fou
Sommeil Sans Rêves
Chanson Noire
Le Bien, le Mal
Pour une Blanche Cérémonie
Le Premier Ciel
L'Exil
Le Corridor
Lumières de Vie
Lumière de Nuit
Éclipse
Lumière de Jour
Lumière de Vie
Comme un Sage
Épilogue
En Tournée (1980, 87.57) ****/TTT

Introduction
Comme un Fou
Chanson Noire
Le Premier Ciel
L'Exil
Le Corridor
Lumières de Vie
Lumière de Nuit
Lumière de Jour
Lumière de Vie
Comme un Sage
Current availability:
Cinq/: Polydor
Heptade: CBS
Tournée: Zone3
Mellotrons used:
While Harmonium's first, self-titled album (***½) is pretty much straight French-influenced folk, Le Cinq Saisons (as it's usually known) adds a progressive element, although it's entirely drumless, reminding me in places of Italy's wonderful Celeste, operating around the same time and half a world away. After opening with the gentle Vert, the album is let down slightly by the irritating, jaunty Dixie, before being completely redeemed by the pastoral, acoustic guitar and piano-led Depuis l'Automne. En Pleine Face is very French, complete with accordion, but lengthy closer Histoires Sans Paroles stays true to its title, 'Story Without Words', by being a lengthy instrumental in the same style as Depuis L'Automne.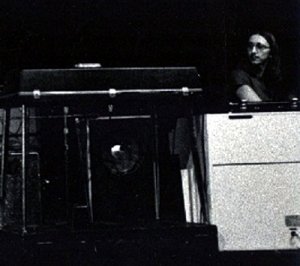 Serge Locat's Mellotron string work on Depuis L'Automne is exemplary, although much of it consists of laying down a two-chord riff for acoustic guitar and sax to solo over. After a wordless vocal/Mellotron section, the string part becomes far more interesting and the ten-minute piece ends on a superb short solo Mellotron section. Histoires Sans Paroles goes one better by having a darker two-chord Mellotron riff, more interesting chords and several solo sections, along with a short chordal flute part near the beginning, which sounds more like Mellotron than the band's two flautists playing in harmony.
1977's ambitious double, L'Heptade, utilises an orchestra across much of its length, who set out their stall from the off, with the almost wholly orchestral Prologue. The album largely moves away from the French folk template that characterised their first two releases, although there's still quite a bit of acoustic material on display. It's difficult to pick highlights, although the fourteen-minute four-part Lumières De Vie is especially good. Serge Locat plays quite a bit of synth this time round and drums are used across much of the album, giving it an entirely different feel to its predecessors. Doubtless due to the orchestra, Locat's Mellotron use is rather lesser this time round, although some 'Strawberry Fields'-style flutes can be heard on Comme Un Fou, the real thing playing over the top. The first part of Chanson Noire and Le Corridor have some background strings, while Comme Un Sage features just a few seconds of choir, quite distinct from the massed voices of the musicians.
En Tournée is basically a slightly cut-down version of L'Heptade, played live, sans the original orchestral accompaniment, meaning that a healthy proportion of the orchestral parts are covered by Locat's Mellotron. Comme Un Fou features strings and choir, most the album's choir parts being backup for a few real voices. Actually, much of the album's Mellotron work is fairly low-key, although there's a nice upfront string part in L'Exil and full-on choirs in the last part of Lumières De Vie. I'm torn between a TT½ or TTT rating for this, to be honest; there's Mellotron on practically every track, but mostly in a supporting role to the rest of the band, denying it a full 'Mellotron Album' tag. Saying that, it's a great album - well, it's effectively the same record as L'Heptade, albeit with an extra added live feel. I leave it up to you which version of the album to buy.
See: Serge Locat | Serge Fiori
---