David Bowie [a.k.a. Space Oddity] (1969, 46.14) ***/TT

Space Oddity
Unwashed and Somewhat Slightly Dazed
Letter to Hermione
Cygnet Committee
Janine
An Occasional Dream
The Wild Eyed Boy From Freecloud
God Knows I'm Good
Memory of a Free Festival
Hunky Dory (1971, 41.39) ***½/½

Changes
Oh! You Pretty Things
Eight Line Poem
Life on Mars?
Kooks
Quicksand
Fill Your Heart
Andy Warhol
Song for Bob Dylan
Queen Bitch
The Bewlay Brothers
Aladdin Sane (1973, 41.34) ****/T

Watch That Man
Aladdin Sane (1913-1938-197?)
Drive-in Saturday
Panic in Detroit
Cracked Actor
Time
The Prettiest Star
Let's Spend the Night Together
The Jean Genie
Lady Grinning Soul
Diamond Dogs (1974, 38.00) ****/TT

Future Legend
Diamond Dogs
Sweet Thing
Candidate
Sweet Thing (Reprise)
Rebel Rebel
Rock'n'Roll With Me
We Are the Dead
1984
Big Brother
Chant of the Ever Circling Skeletal Family
David Live (1974, 81.31/102.41) ***½/T (T½)

1984
Rebel Rebel
Moonage Daydream
Sweet Thing
Changes
Suffragette City
Aladdin Sane
All the Young Dudes
Cracked Actor
Rock'n'Roll With Me
Watch That Man
Knock on Wood
Here Today, Gone Tomorrow
Space Oddity
Diamond Dogs
Panic in Detroit
Big Brother
Time
The Width of a Circle
The Jean Genie
Rock'n'Roll Suicide
Band intro
Station to Station (1976, 37.45) ***½/T½

Station to Station
Golden Years
Word on a Wing
TVC15
Stay
Wild is the Wind
Low (1977, 38.58/50.32) ****/TT

Speed of Life
Breaking Glass
What in the World
Sound and Vision
Always Crashing in the Same Car
Be My Wife
A New Career in a New Town
Warszawa
Art Decade
Weeping Wall
Subterraneans
"Heroes" (1977, 40.19) ****/T½

Beauty and the Beast
Joe the Lion
"Heroes"
Sons of the Silent Age
Blackout
V-2 Schneider
Sense of Doubt
Moss Garden
Neuköln
The Secret Life of Arabia
Stage (1978, 71.43) ****/TT

Hang on to Yourself
Ziggy Stardust
Five Years
Soul Love
Star
Station to Station
Fame
TVC15
Warszawa
Speed of Life
Art Decade
Sense of Doubt
Breaking Glass
"Heroes"
What in the World
Blackout
Beauty and the Beast
Lodger (1979, 35.10) ***/T

Fantastic Voyage
African Night Flight
Move on
Yassassin
Red Sails
D.J.
Look Back in Anger
Boys Keep Swinging
Repetition
Red Money
Japan-only 7" (1980) ***½/TT

Crystal Japan
Alabama Song
Scary Monsters... & Super Creeps (1980, 45.43/60.50) ***/T

It's No Game (part 1)
Up the Hill Backwards
Scary Monsters
Ashes to Ashes
Fashion
Teenage Wildlife
Scream Like a Baby
Kingdom Come
Because You're Young
It's No Game (part 2)
[Rykodisc CD adds:
Space Oddity
Panic in Detroit
Crystal Japan
Alabama Song]
7" (1981) ***/TT

Up the Hill Backwards
Crystal Japan
Ziggy Stardust - the Motion Picture (1983, recorded 1973, 67.06) ****½/TT

Hang On to Yourself
Ziggy Stardust
Watch That Man
Medley:
Wild Eyed Boy From Freecloud
All the Young Dudes
Oh! You Pretty Things
Moonage Daydream
Changes
Space Oddity
My Death
Cracked Actor
Time
Width of a Circle
Let's Spend the Night Together
Suffragette City
White Light/White Heat
Rock'n'Roll Suicide
Never Let Me Down (1987, 51.01) **/T

Day-in Day-Out
Time Will Crawl
Beat of Your Drum
Never Let Me Down
Zeroes
Glass Spider
Shining Star (Makin' My Love)
New York's in Love
'87 and Cry
Too Dizzy
Bang Bang
Cracked Actor (Live Los Angeles '74) (2017, 97.12) ***½/TT

Introduction
1984
Rebel Rebel
Moonage Daydream
Sweet Thing/Candidate/Sweet Thing (Reprise)
Changes
Suffragette City
Aladdin Sane
All the Young Dudes
Cracked Actor
Rock'n'Roll With Me
Knock on Wood
It's Gonna Be Me
Space Oddity
Future Legend/Diamond Dogs
Big Brother/Chant of the Ever-
Circling Skeletal Family
Time
The Jean Genie
Rock'n'Roll Suicide
John, I'm Only Dancing (Again)
Live in Berlin [1978] L.P. (2018, 32.28) ***/T

"Heroes"
Be My Wife
Blackout
Sense of Doubt
Breaking Glass
Fame
Alabama Song
Rebel Rebel
Welcome to the Blackout (Live London '78) (2018, 107.29) ****/T½

Warszawa
"Heroes"
What in the World
Be My Wife
The Jean Genie
Blackout
Sense of Doubt
Speed of Life
Sound and Vision
Breaking Glass
Fame
Beauty and the Beast
Five Years
Soul Love
Star
Hang on to Yourself
Ziggy Stardust
Suffragette City
Art Decade
Alabama Song
Station to Station
TVC 15
Stay
Rebel Rebel
Current availability:
Mellotrons used:
Space: studio MkII
Hunky: studio M400?
Aladdin/Diamond/Live/Motion Picture: Bowie's own M400
Station-Scary: Bowie's own Chamberlin (M1?)
Never: Bowie's own M400?
I think it's safe to say that pretty much everyone reading this knows the David Bowie Story pretty well by now; grew up on the south-east London/Kent border (Bromley area), worked his way through several mid-'60s beat groups before discovering Theatre and making some fairly bad Anthony Newley-style recordings which came back to haunt him years later, before signing with Philips in 1969. David Bowie (titled Man of Words/Man of Music in the States and reissued as Space Oddity in 1972) was Bowie's first proper album and, while I'd hardly call it a classic, it certainly wasn't an embarrassment, featuring one cast-iron classic in its (eventual) title track. The haunting Space Oddity was originally to have had a string section on it, but, after getting session keyboardist Rick Wakeman (who he?) to lay down a guide part on Mellotron, the end result was so good that producer Tony Visconti got Rick to double-track it, creating a lasting Mellotron Classic and a hit single into the bargain. I'm told (thanks, Bill) that Visconti makes a reference to Mellotron string and flute overdubs on The Wild Eyed Boy From Freecloud on the audio commentary to Ziggy Stardust - the Motion Picture, but it sounds like nothing more than regular orchestral accompaniment to me. Maybe it's buried deep in the mix? Why?
Now, there's been a real on-off debate going on at PlanetMellotron Towers over 1971's Hunky Dory (means 'alright', for non-Brits), which has finally been settled (thanks, Johannes!). The latest CD issue (with the previous issue's bonus tracks mysteriously and irritatingly removed) apparently credits Spiders From Mars guitarist Mick Ronson with Mellotron and, once Johannes pointed the bits out to me, they did indeed become apparent. Overall, the album is still quite formative, but contains some great material nonetheless, notably the two singles that open the collection and the excellent Life On Mars? As for that Mellotron, there's a few seconds in Changes that quite clearly aren't the orchestral strings otherwise deployed in the song, while Quicksand has an even less obvious part, so don't bother with this on that front, although it's well worth it musically.
Ziggy Stardust (*****) and Aladdin Sane shot Bowie to superstar status, his famed chameleon-like personality driving him to change his image every year or two. Although I thought the latter to be Mellotron-free, I've been alerted to the great string pitchbends in Drive-In Saturday, presumably Ronson again, although it could just as easily have been Bowie himself, as the album credits simply state 'played by David Bowie and Mick Ronson, with...' The album is a triumph, featuring future David classics such as Cracked Actor and killer single The Jean Genie, coincidentally using exactly the same riff as The Sweet's contemporaneous Blockbuster, which just goes to prove how a great glam riff is a great glam riff.
By 1974, Bowie was still recognisably the same person who was in the charts with Starman and The Jean Genie two years earlier, although that was about to change. Diamond Dogs was the last album of his early-'70s phase, still bearing some musical relationship to its immediate predecessors, letting that particular Bowie persona bow out in style. It has a grubby, urban feel to it, with strangely simplistic guitar parts due to the fact that David allegedly played them himself, along with much of the other instrumentation, including the Mellotron. The tracks tend to run into each other, giving the album a cohesive feel missing from much of Bowie's work. There are several Bowie classics on offer here, including the title track and the immortal Rebel Rebel, not to mention 1984. The album opens with what sounds like Mellotron strings and cellos under the apocalyptic narration of Future Legend, a trick Bowie seems to have lost over the years (see: Never Let Me Down below), before the killer title track. Sweet Thing and its reprise feature Mellotron flutes, but Big Brother is the album's Mellotronic standout, with stacks of choir, including a great single-note part and what sounds suspiciously like Mellotron sax (listen for the key click on the faster runs). All in all, a great album and just about worth it for the Mellotron.
By the time David toured the album, however, he'd invented a radically new persona, the Thin White Duke (namechecked in Station To Station), characterised by baggy suits, short, floppy hair and even more extreme cocaine use. Allegedly. As yet, though, his sound hadn't changed that much and, of course, he had to rely on his back catalogue to pull in the punters. David Live is a good tour document, giving an overview of where Bowie was at in 1974, with somewhat rearranged versions of his classics pointing in the direction in which he was headed. We get tracks from his previous five studio albums, ignoring the rather pointless covers set, Pin-Ups (***), a cover (Knock On Wood, soon to be a single) and the 'one he gave away', All The Young Dudes, a major hit for Mott the Hoople, of course. Bowie seems to've been trying to reclaim 'ownership' of the song ever since, by performing it whenever possible. Hey, David, it's got your name on it, OK? There's only a couple of bits of Mike Garson's Mellotron on the album: a similar arrangement of Moonage Daydream to the one we'd subsequently hear on the live Ziggy Stardust album and a single chord at the end of All The Young Dudes. Good album, but forget it for the Mellotron. Incidentally, 2005's expanded reissue adds four tracks, excluding the band intros tacked on the end, including, unsurprisingly, rather creaky strings and unexpected choirs on a slowed-down Space Oddity.
After the dull 'plastic soul' of Young Americans (**½), Bowie's second and last 'soul' album, Station to Station, came as a refreshing surprise. In retrospect, future echoes of his 'Berlin period' are apparent, with the smallest number of songs ever on one of his albums, although you can still hear his recent influences on most of the tracks. Golden Years is far better than anything on its predecessor, most of the other tracks being worth hearing, if decidedly 'un-rock'. I presume that Bowie picked up his Chamberlin while touring the States in '75/'76, as it appears to get its first use here, on Word On A Wing, with what sounds like separate male and female choirs, towards the end of the song, while the strings on Stay sound suspiciously Chamby-like, too. Incidentally, 2010's three-disc reissue contains the entire 1976 Nassau Coliseum set, but all Mellotron/Chamberlin parts are provided by a Solina string synth, played by Tony Kaye, ex-Yes/Badger.
Bowie quickly tired of the Thin White Duke and moved to Berlin in '77 to chill out for a while, recording his famed 'Berlin' trilogy. Low apparently partially consists of rejected soundtrack material for his first major celluloid adventure, The Man Who Fell to Earth, split between (relatively) straightforward songs on side one and longer proto-ambient pieces on the flip, with considerable Eno input; both halves of the album are good, but side two's of more obvious interest to the tape-replay fan. Actually, there's some confusion over the Chamberlin use on this album, caused by credits on Speed Of Life ('tape horn and brass'), Always Crashing In The Same Car ('tape cellos') and A New Career In A New Town ('tape sax section'), which may or may not be Chamby; I can't actually imagine what else he might've meant by it. Only the cellos sound much like the instrument, but with its notorious ability to slip quietly into the mix, it's rather hard to tell, so they're getting credited anyway. Of the two definitely credited tracks, there's little obvious use on Art Decade, despite both Bowie and Eno playing it, but the lengthy, moody Warszawa is chock full of cellos and flutes, played by Eno; a Chamberlin classic, no less.
"Heroes", from later the same year, features more Chamby, presumably played by either Bowie or Eno, though without credits, it's not always easy to say where. Opener Beauty And The Beast has what sounds like Chamberlin flutes, "Heroes" itself has what may be brass stabs and the strings on Sense Of Doubt are almost certainly Chamby, too, but they could be one of the more sophisticated string synths around at the time, although not going by that wobble... None of this is helped by Robert Fripp's guitar work, with his long sustains, often building up into string-like chords. Four probable tracks, then, although there could be either more or less.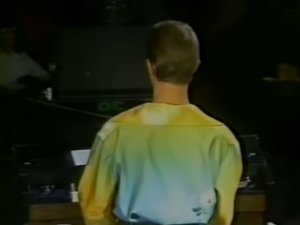 The trilogy was interrupted by Bowie's second double live, Stage. I believe this is frequently regarded by Bowiephiles as a rather poor document of the "Heroes" tour, but it sounds OK to me. It's split quite neatly into four sections on the original double LP; a side of Ziggy material reinterpreted by Bowie's current band, a side of Fame/Station to Station, a side of mostly instrumental Berlin stuff, then a final side of more upbeat recent vocal material, an effect which is probably slightly lost on the CD. Sean Mayes plays piano and string ensemble, while Roger Powell (from Todd Rundgren's Utopia) plays 'keyboards and synthesizer', leaving Bowie playing Chamberlin on four songs, with flutes on the magnificent Warszawa (cellos provided by a synth simulation), strings on Speed Of Life, pitchbent vibes on Art Decade and brass (maybe saxes?) on Sense Of Doubt. Lodger, with its confusing 'arse about face' sleeve is the lesser cousin of the trilogy, its songwriting noticeably weaker than on the other two, although there's a block of better songs in the middle of the album, from Red Sails to the album's only 'proper' hit, Boys Keep Swinging. There's only one credited Chamberlin track this time round, too, the minor hit D.J., with some great, cranky strings played by Mr. Bowie again. Wouldn't go too far out of your way for this one, really.
1980's Scary Monsters... & Super Creeps was Bowie's last Chamberlin album and, unless it's even less audible than usual, it's only to be heard on major-ish hit Ashes To Ashes, with block string chords and what I take to be choirs on Because You're Young, but once again, it's extraordinarily hard to tell. Overall, the album's far better than I expected from this stage of Bowie's career, although the quality dips a little on side two, particularly on the "Heroes"-alike Teenage Wildlife. Fripp's on guitar again and makes his presence felt all over, lifting several tracks from the mundane, the first three songs being the equal of anything The Dame released around this time. So, cautiously recommended, though obviously not for its Chamberlin content. Incidentally, the long-deleted early-'90s EMI CD adds several bonus tracks, including a Japanese-only single, Crystal Japan, belatedly issued as the UK b-side to Up The Hill Backwards in '81. An instrumental (it was used in a Japanese TV ad), it features Chamby strings alongside what I presume are Chamberlin choirs and is also available on the All Saints: Collected Instrumentals, 1977-1999 compilation.
In 1983, a concert film from a decade earlier did the rounds in the cinemas, entitled Ziggy Stardust - the Motion Picture. Sadly, it wasn't very well shot or edited, but it's still fascinating as a document of Bowie's so-called 'farewell' gig, which he later backed out of by saying it was his 'farewell' to the Ziggy Stardust character, rather than to himself. Hmmm. Also sadly, the rumoured footage of audience members performing almost unspeakable perversions in the aisles of the good old Hammersmith Odeon is nowhere to be seen. Pity. Prudery or myth? We may never know. I always wondered why its carpet was so sticky... Anyway (ahem); a companion double-LP soundtrack was released and, sad to say, it sounds terrible. The content is excellent, but the sound quality is, frankly, rubbish; muffled and appallingly mixed, it tries its damndest to obscure the qualities of the Spiders From Mars beneath layers of murk. For all that, it's worth having and I believe a remastered version is about to become available, which may bring its standard up to just about acceptable. There's some M400, played by Bowie's then-keyboardist, Mike Garson, on three tracks. Space Oddity has Garson's attempt to recreate Wakeman's majestic sound, only on a single M400 rather than a double-tracked Mark II, which makes it rather doomed to failure. The other two tracks, both from Ziggy Stardust, Moonage Daydream and Rock'n'Roll Suicide, have Garson replicating string section parts, with only partial success. So, top marks for the music, but neither the sound quality nor the Mellotron content make it really worth the purchase. n.b. Having finally heard the remastered CD, I can happily report that the sound quality issue has been sorted out (I've bumped its star rating up accordingly), while Changes has been moved to its correct place in the running order.
1987's Never Let Me Down is, to be brutally honest, pap. All but his most hardcore fans will usually admit, after mild torture, that he hasn't really made a decent record since 1983's Let's Dance and this one proves it. Christ, does it prove it... David almost certainly isn't its biggest fan, either; Too Dizzy is actually omitted from the Virgin and EMI reissues, a step that's almost unheard of normally. As a result, I haven't actually heard the track in question (which is probably sans Mellotron), but it must be pretty awful... The rest of the album's pretty ropey, too, especially the risible Glass Spider, with some ludicrous narration from Bowie about a large, er, glass spider doing something or other. To compound his folly, the subsequent tour was named the Glass Spider Tour; I think that was the one where fans were asked to vote for the songs they wanted to hear via a premium-rate phone number (or was that the subsequent 'Greatest Hits' tour? Maybe. Why spoil a good story?). Strangely enough, it would appear that several million people voted for a solo track by tour guitarist and sometime Crimsoid Adrian Belew. Funny, that. On the Mellotron front, Day-In Day-Out has all the hallmarks of an '80s production; appalling drum sound, bad synths etc. Amazingly, it also has some nice Mellotron choir chords riding over the dross, played by Bowie himself, giving the album almost as many Ts as *s. Don't buy it on that account, though...
2017's Cracked Actor (Live Los Angeles '74), the first relevant release in a series of posthumous live albums, catches Bowie during the first part of his Diamond Dogs tour, as documented on David Live at the time. This is definitely the superior recording, however, highlights including Changes, Aladdin Sane, Space Oddity and Diamond Dogs, although we really could've done without David Sanborn's irritating saxophone harmony on Moonage Daydream. Mellotron? Well, listening to this tells tape-replay watchers (moi?!) that, by this point, Mike Garson was playing a Chamberlin onstage, presumably the same M1 that Bowie played himself later in the (art) decade. You can't necessarily tell from the distant strings on Moonage Daydream, but All the Young Dudes quite clearly features the distinctive tones of the Chamberlin solo male voice, while the strings on Space Oddity are definitely Chamby, as are the strings solo on Big Brother and chordal strings on Rock'n'Roll Suicide, although Future Legend sound like the album version played over the PA.
I hate to be so negative about a classic-era David live album, but 2018's clumsily-titled Live in Berlin [1978] L.P. (there was also an EP version, which doesn't excuse it), but given the London set (below), this seems redundant. Not only do we get a mere eight tracks from a lengthy set, but it's an odd, vocal-heavy mix, presumably only released to feed the current mania for vinyl. The material, of course, is great, but the actual release seems rather pointless, so three stars for concept, not contents. One Chamberlin track, with a brass/strings mix on Sense Of Doubt. The, er, welcome release (initially for Record Store Day) of Welcome to the Blackout (Live London '78), a full set from the Isolar II tour in its correct running order, originally mixed the following year, is a far better proposition. Excellent sound, great playing, a cool set; what's not to like? Highlights include Sound And Vision, a lengthy Station To Station and closer Rebel Rebel, although Bowie's take on Brecht's Alabama Song will remain a matter of taste. David plays his Chamby M1, with flute and string lines doubling the Solina on opener Warszawa, chordal strings (string section?) on Sense Of Doubt, regular strings on Speed Of Life and brass (?) on Art Decade. Given this was initially shot as a concert film, what are the chances of an exceedingly belated release, now that the Thin White Duke's no longer around to nix it? The title of 2020's I'm Only Dancing (the Soul Tour 74) (***) rather gives the game away; while still touring Diamond Dogs, David (as you know) went all soul on our arses, recruiting a soulful cadre of backing vocalists, including a pre-fame Luther Vandross. Despite Garson's 'Mellotron' credit and the knowledge that he used a Chamberlin on at least part of the tour, there's nothing to be heard this time round except a quick burst of string synth at one point.
Several of Bowie's best albums are Mellotron-free, but of the ones listed above, Diamond Dogs is probably the only must-have, although the track Space Oddity is essential, even if only on a greatest hits set. David Live and Ziggy Stardust - the Motion Picture are worth hearing in one form or another and his 'Berlin period' material isn't bad, particularly Warszawa, in either live or studio form. Forget the later stuff and put Space Oddity on again. All together now:
'Here am I, sitting in a tin can, far above the world,
Planet Earth is blue and there's nothing I can do...'
Still sounds good, dunnit?
Hours... (1999, 47.02) ***
After many more howlers, Hours..., from '99, was a slight return to form, but only compared to its many terrible predecessors (we can a discreet veil over Tin Machine). It's actually pretty forgettable, but that's rather better than all-out shite, making it a rather dim star in the Bowie firmament, rather than a gaping black hole. A 12-string acoustic-driven number, Survive, is the sole Mellotron track here, with some spacious strings played by Mark Plati, although, given that the final chord holds for sixteen seconds, not to mention its less-than-fully authentic sound, samples it is. I have to say, it's nice to see that Bowie's never fully forgotten the tape-replay concept; however awful Never Let Me Down was, it was a rarity in the late '80s simply for the inclusion of a Mellotron, although, of course, time's rather caught up with Mr. Bowie now, with Mellotrons, or at least their sounds, being more popular than ever.
There are plenty of Bowie boots about - unsurprising, given his prominence - but it seems that his live tape-replay use is limited to two fairly short periods: Mellotron from 1973-74 and Chamberlin around '77-8. The Mellotron period is documented on Ziggy Stardust - the Motion Picture ('73) and David Live ('74), with that extra track on the expanded version, while his Chamby use can be heard on Stage. There's no Mellotron on Santa Monica 72, while the '76 bootleg added to the latest version of Station to Station is all string synth, so unless there are any unofficial live Chamby tracks from the late '70s, there seems little point in tracking down live recordings, only to hear nothing new on the tape-replay front. Unless, of course, you know better...
See: Spiders From Mars | Mott the Hoople | Brian Eno
---