7" (1965) ***/TT

Lease on Love
My Heart's in Little Pieces
There's a Bond Between Us (1965, 40.27) ***½/TTT

Who's Afraid of Virginia Woolf
Hear Me Calling Your Name
The Night Time is the Right Time
Walkin' in the Park
Last Night
Baby Can it Be True?
What'd I Say?
Dick's Instrumental
Don't Let Go
Keep a' Drivin'
Have You Ever Loved a Woman?
Camels and Elephants
Love is the Law (1969, 37.10) ***½/T

Love is the Law
Moving Towards the Light
Our Love Will Come Shining Through
I Couldn't Stand it Anymore
Sun Dance
Crossroads of Time
Bad News Blues
Strange Times, Sad Times
The Naz
The World Will Soon Be Free
Mighty Grahame Bond (1969, 36.23) ***½/T

Water, Water
Oh Shining One
Pictures in the Fire
Baroque
Sisters and Brothers
Stiffnecked Chicken
Freaky Beak
Walk Onto Me
Magic Mojo
Brothers and Sisters
Wade in the Water: Classics, Origins & Oddities [disc 3] (2012, recorded 1965, 77.03) ***½/TTT½

Tell Me (I'm Gonna Love Again)
Love Come Shining Through
Please Don't Say
Like a Baby
Walking in the Park (stereo)
Don't Let Go (stereo)
My Heart's in Little Pieces (stereo)
The Night Time is the Right Time (stereo)
What'd I Say? (version 2, stereo)
Have You Ever Loved a Woman? (stereo)
Who's Afraid of Virginia Woolf (stereo)
Hear Me Calling Your Name (stereo)
Last Night (stereo)
Baby Can it Be True? (stereo)
Dick's Instrumental (stereo)
Camels and Elephants (stereo)
Lease on Love (stereo)
Cold Rain
Positive a.k.a. HHCK Blues (alt. take, stereo)
Positive a.k.a. HHCK Blues (master take, stereo)
When Johnny Comes Marching Home (stereo)
Good Good Loving
Only Sixteen (stereo)
St. James Infirmary
Current availability:
There's (including single)/Wade: Repertoire
Love/Mighty: Esoteric
Mellotron used:
Organist/saxophonist Graham Bond's ultimately tragic career is pretty well-documented; pack-leader of the '60s British R&B scene, slow career decline and an increasing fascination with the occult, leading to his untimely death under a tube train at Finsbury Park underground station, north London (for what it's worth, I probably passed through the station that very day). His debut, The Sound of '65 (***½), is a great jazz-inflected R&B album featuring his Organisation (or Organization), alongside Bond, Dick-Heckstall Smith (later of Colosseum) on sax and the thoroughly obscure rhythm section of Jack Bruce and Ginger Baker, mixing blues standards (Hoochie Coochie Man, Got My Mojo Working) with cheesy balladry (Tammy), sax-driven madness (almost everything) and even a take on classical themes (Wade In The Water).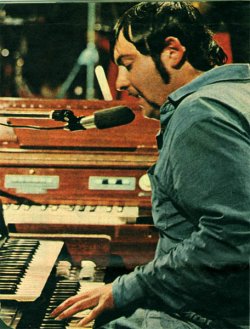 His Lease On Love single from later the same year is the first (known) Mellotron recording, although session man Geoff Unwin may well have used one earlier. It's not actually that great, to be honest, nowhere near the quality of the album material, although its b-side, My Heart's In Little Pieces, is marginally better. Very faint Mellotron strings on the 'A', but a far more upfront string part on the flip, making this worth tracking down if you're interested in hearing where it all started.
Bond truly came into his own stylistically on '65's There's a Bond Between Us, with more of a jazz influence on the album, the whole thing sounding more polished than its raw predecessor, although some excitement has been sacrificed in the process. Loads of Mellotron, sounding like it was probably recorded with a mic up against its internal speakers, rather than through the line out, with single string notes on Hear Me Calling Your Name, brass chords (under the real sax) on Who's Afraid Of Virginia Woolf, Walkin' In The Park and Last Night, complete with audible key-click. Grungy-sounding flutes and a string part on Baby Can It Be True? and very clear saxes behind Heckstall-Smith on Dick's Instrumental and Don't Let Go make for a good Mellotron album, though probably not one for those who rarely delve earlier than the psych era.
Bond's career starting falling apart after his first couple of albums and the Organisation's dissolution, leaving a then-unheard-of three year gap between albums, possibly due to his struggle with heroin. His third and fourth efforts, Love is the Law and the misspelled Mighty Grahame Bond, both appeared in 1969, seemingly only in the States, although there's some dispute over release dates. Love is the Law sticks fairly closely to the template Bond set down several years earlier, soulful R&B with a rock edge, albeit with the addition of quasi-mystical lyrics in places, clearly a forerunner to the Crowleyesque 'Holy Magick' he got into in the early '70s (note the album's title). One of the album's most eccentric tracks is Crossroads Of Time, opening with a short burst of Bach on the Hammond, also incorporating a (doubtless uncredited) segment of Percy Mayfield's Hit The Road Jack. Odd. As far as Bond's MkII goes, we get seriously full-on Mellotron strings on the opening title track, complete with 'rewind' gap at the end, where Bond holds the closing chord too long, but sadly, that's your lot. Why? Wish I knew.
Bond's second album of '69 was Mighty Grahame Bond, although I don't know if the misspelling was deliberate, or a couldn't-give-a-shit record company. It's pretty similar to its predecessor, mixing blues, classical and blue-eyed soul in fairly equal measures, the resulting brew having a fair bit in common with many British ex-soul artists who had 'gone psych' (notably Traffic's Stev(i)e Winwood). 'Best tracks' depends largely on personal taste, even more than usual, with Water, Water, Baroque and maybe Walk Onto Me having the most relevance to psych fans. On the Mellotron front, Walk Onto Me opens with a blast of (double-tracked?) MkII strings, keeping up throughout, although as with Love is the Law, one track's yer lot.
Decades after Bond's death, those nice Repertoire people released the self-explanatory Wade in the Water: Classics, Origins & Oddities, featuring material recorded between 1963 and '67, much of it never previously released in any form. Disc 3 covers mid-to-late 1965, including stereo versions of almost all of There's a Bond Between Us and associated singles, adding several unreleased tracks, the best of which are probably the 'master take' of Positive a.k.a. HHCK Blues and the band's usual jazz/blues take on When Johnny Comes Marching Home. Unsurprisingly, we get the same Mellotron parts on the remixes as on the original tracks, plus vibes and brass on the previously unreleased Cold Rain and strings on both versions of Positive a.k.a. HHCK Blue, more upfront on the master take.

See: Jack Bruce
---