---
Shakira (Colombia)
Laundry Service (2001, 49.20) ***/½

Objection (Tango)
Underneath Your Clothes
Whenever, Wherever
Rules
The One
Ready for the Good Times
Fool
Te Dejo Madrid
Poem to a Horse
Que Me Quedes Tu
Eyes Like Yours
Suerte
Te Aviso, Te Anuncio (Tango)
Current availability:
Mellotron used:
Laundry Service is by far and away Colombian superstar Shakira Ripoll's best-selling album, at least to date. I have to admit, I was expecting a typical American light, fluffy pop record, so I was pleasantly surprised to be presented with a bright'n'breezy, Latin-flavoured pop/rock album (I was unaware of Shakira's nationality, I'm ashamed to say). No, this isn't exactly going to be a regular fixture on my stereo, but it's so nice to listen to a mainstream album and not have my beleaguered ears assaulted by lowest common denominator crud, and to know that the young lady in question has written and produced the album herself. She sets out her stall from the off, with the Latin intro to Objection (Tango), and even though the songwriting quality fluctuates (Te Dejo Madrid), I have to give this the thumbs-up simply for not offending me.
Keyboards are played by Lester Mendez (Nelly Furtado), so I presume it's him on Mellotron flutes on The One. There may be some background strings on one other track, but it's difficult to tell, so it stays unhighlighted. Y'know, I'm not even sure where I found out there was Mellotron (or is it Chamberlin?) on this album; there's no credit in the booklet and I can't find any 'Net reference. So; not one for you progheads (you mean you're even READING this?), but rather better than expected. Minimal Mellotron, though.
Shalini (US)
We Want Jelly Donuts (2000, 32.12) ***/T½

Telepathic World
Get Free
Creepy Emily
Pandora at Sea
Emotion Bomb
This is Telluride
Conviction Overturned
Desperate for Dawn
Around the Eyes
Destination Anywhere Else
Current availability:
Chamberlin used:
After playing in Kissyfish, then Vinyl Devotion from the late '80s to the turn of the millennium, Shalini Chatterjee kicked off her solo career in '99. She released her debut, We Want Jelly Donuts, in 2000, sitting at the 'rock' end of powerpop, highlights including jangly opener Telepathic World, the rocking Creepy Emily, Desperate For Dawn and closer Destination Anywhere Else, complete with its brief burst of Thin Lizzy harmony guitars.
No fewer than three Chamberlin players are credited: producer Mitch Easter, Eric Marshall and Shalini herself, with faint flutes and strings on Telepathic World and strings on Emotion Bomb, Conviction Overturned and Desperate For Dawn. Classic? No. Perfectly good album of its type? Yes, almost scraping that extra half star.
Ken Sharp (US)
Happy Accidents (2000, 42.22) ***½/T

Beautiful
See Through My Eyes
Mr. Sun
Wrecking Ball
Happy Accidents
Brand New Day
Unconditionally
Tea and Sympathy
Floating on a Cornflake
You Said You'd Love Me
Room for Two
Girl Don't Tell Me
You Ain't Foolin'
Current availability:
Mellotron used:
Philadelphian music journo Ken Sharp recorded his debut, 1301 Highland Avenue, after writing a seminal work on The Raspberries, 2000's Happy Accidents being its slightly belated follow-up. Unsurprisingly, it's a powerpop album, highlights including Mr. Sun, the gorgeous Unconditionally and Room For Two, with no obvious duffers, although a handful of tracks feel like they're coasting in places.
Someone (probably Sharp himself) plays major, clearly genuine Mellotron flute parts on Wrecking Ball and the title track, the latter seemingly no more than under a minute of the former played backwards. While not a genre classic, this is still a fine release, worthy of powerpop fans' attention.
See: Samples etc.
Sonny & Linda Sharrock (US)
Paradise (1975, 39.38) ***/TT½

Apollo
End of the Rainbow
Miss Doris
1953 Blue Boogie Children
Peaceful
Gary's Step
Current availability:
Mellotron used:
Stunt jazz guitarist Warren Harding "Sonny" Sharrock had a chequered career, dropping out of music entirely at one point, despite having worked with Miles Davis, amongst other luminaries. 1975's Paradise was one of the few times he recorded with his then wife, Linda (they divorced three years later), an album of which he went on to express embarrassment, probably due to Linda's er, 'eccentric' vocal contributions, which do their level best to undermine hubby's hard work. It's best described as a funk/jazz crossover record, years before the horrible jazz-funk scene of the '80s and totally different in character, the jazz part taking the lead on most tracks, although opener Apollo is an excellent, Clavinet-led funk workout.
Kenny Armstrong plays Mellotron, with strings all over opener Apollo and Miss Doris and strings and thick, meaty cellos on End Of The Rainbow. This might've got another half star were it not for Mrs Sharrock's warblings; her close-mic'd 'vocal' gyrations on Apollo really have to be heard to be believed. Yup, it's experimental, but how often do experiments fail? Often. Anyway, this is approximately half good, with some decent Mellotron work on three tracks; Sonny died in 1994, making sure he couldn't object to Water Music's reissue of his work.
The Shazam (US)
Rev 9 (2000, 27.37) ***½/TT

On the Airwaves
Wood and Silver
Okay
Periscope
Month o'Moons
Take Me
Revolution 9
Current availability:
Mellotron used:
The Shazam, presumably named for either the Move album or the cheeso US late '70s superhero TV show, play an appealing mixture of powerpop and the music made at the point where beat became psych. 2000's mini-album Rev 9 seems to be their fifth release, after four full-length albums; possibly because of its under-half-hour length, the band don't put a foot wrong, with material as strong as On The Airwaves or Okay making this a must for powerpop fans. Well, anyone fookin' cocky enough to title a track Revolution 9 can't be all bad... It's not actually a cover of The Beatles iconic cut-up, but incorporates elements of that piece's approach into its six-minute length.
Brad Jones plays Mellotron, with flutes and strings on Wood And Silver, alongside what sounds like real violins and cellos, plus strings on Take Me and distant choirs on Revolution 9, which is rather more than I expected, I have to say. So; an all-round good listen, with just enough Mellotron to keep tape-replay fans happy. Worth the effort.
Ringo Sheena (Japan) see: Samples etc.
The Sheer (Netherlands) see: Samples etc.
The Sheila Divine (US) see: Samples etc.
William Sheller (France) see: Samples etc.
Michael Shelley (US)
I Blame You (2001, 37.02) ***/T

Mix Tape
Face in My Pocket
Dear Mr. Webster
Stoop Sale
Nine Lives
Don't Fence Me Out
Rollo
Favorite Graduate
Let's Fall in Hate
Listening to the Band
I Blame You
Don't Wait Up
Current availability:
Mellotron used:
NYC-based Michael Shelley has collaborated with members of Belle & Sebastian, but we mustn't hold it against him. 2001's I Blame You was his third solo album, sitting somewhere in between powerpop and Americana, highlights including opener Mix Tape, Dear Mr. Webster, the unusual-for-the-style instrumental Rollo and Favorite Graduate, maybe, although the full-on country of Let's Fall In Hate falls a little flat.
Dave Amels plays what sounds like genuine Mellotron flutes on closer Don't Wait Up, although, as so often, it's hard to tell for certain. Good, not great, one top Mellotron track.
Maisie Shenandoah (US) see: Samples etc.
Vonda Shepard (US)
Songs From Ally McBeal (1998, 43.01) **/½

Searchin' My Soul
Ask the Lonely
Walk Away Renee
Hooked on a Feeling
You Belong to Me
The Wildest Times of the World
Someone You Use
The End of the World
Tell Him
Neighborhood
Will You Marry Me?
It's in His Kiss (the Shoop Shoop Song)
I Only Want to Be With You
Maryland
Ally McBeal: A Very Ally Christmas (2000, 37.24) **½/0

This Christmas
The Man With the Bag
Please Come Home for Christmas
Silver Bells
Let it Snow, Let it Snow, Let it Snow
Winter Wonderland (Macy Gray)
Run, Rudolph Run (Jane Krakowski)
Santa Claus Got Stuck in My Chimney (Lisa Nicole Carson)
I Saw Mommy Kissing Santa Claus (Jane Krakowski)
Santa Baby (Calista Flockheart)
Have Yourself a Merry Little Christmas
River (Robert Downey, Jr.)
White Christmas (Robert Downey, Jr. & Vonda Shepard)
What Are You Doing New Years Eve
Chinatown (2002, 39.16) ***/0

Rainy Days
Chinatown
My Whole World
Lose My Way
Rain or Shine
Downtime
Gyroscope
In July
Sunset Marquis
7 Days
Promising Grey Day
Current availability:
Ally McBeal albums: Sony
Chinatown: Jacket
Mellotron/Chamberlins used:
Songs From...: Jebin Bruni's M1?
Very Ally Christmas: Patrick Warren's M1
Chinatown: Mitchell Froom's M1
Vonda Shepard is best-known for her role in the tedious Ally McBeal, where she not only appears most weeks singing in the characters' favourite bar, but even sings the title song. Bit of a result, that... She actually released her eponymous first album in 1989 and spent the early '90s struggling in LA, before being picked up for the show by its producer.
Shepard's first McBeal album, 1998's Songs From Ally McBeal, is a bland (mostly) covers collection, although, in fairness, that was precisely what the series apparently required. All tracks are performed in a safe, light country-rock style, with far too much pedal steel for my liking, although Shepard has an excellent voice, which I'd like to think is the only reason the programme's producers chose her. Yeah, right. Worst track? Hard to say, although her ugly reinterpretation of the great Tell Him (anyone else remember late-period denim-clad UK glamsters Hello's killer version?) is pretty awful, as is her balladic take on I Only Want To Be With You. One Chamberlin track, from Jebin Bruni, with a reasonable string part, once again sounding quite like the real thing on Will You Marry Me, but not exactly the sort of thing that'll have you rushing out to your local rekkud store. The following year's Heart & Soul: New Songs From Ally McBeal is often referenced as having Chamberlin contributions from Mitchell Froom (later to become Shepard's husband), but the detailed track-by-track credits in the CD booklet make no mention of it and listening to the album proves inconclusive (not to mention stultifyingly boring). Is that Chamby strings or some form of generic sample in Confetti? The Chamberlin's propensity for merging seamlessly into a mix goes against it here, making it near-impossible to tell whether or not it actually appears at all.
It is credited, however, on 2000's part-compilation, Ally McBeal: A Very Ally Christmas, where half the songs are sung by Shepard and the other half by various cast members, oh, and Macy Gray. It's dull, but even an old 'bah, humbug' type like myself can't entirely object to an album of Christmas songs performed in a bland but generally inoffensive manner, although I probably should. Patrick Warren's credited with Chamberlin, but yet again, while several things might be it, none are definite, so although it's credited, I can't reasonably highlight anything. 2002's Chinatown is back to Shepard's own material, away from McBeal, but proves to be barely any more interesting than anything else she's done, I'm afraid. Co-producer Froom is credited with Chamberlin, but I'll be buggered if I can hear it amongst the real strings, though I'm sure it's doing its usual trick of hiding away in the background somewhere. So; a batch of somewhat dullsville records, the Ally McBeal ones doing good business at a charity shop near you.
See: Samples etc.
Sherbet (Australia)
On With the Show (1973, 40.49) ***/TT

We Can Make it Right
Summer Satisfaction
Jubilee Morning
Cassandra
Roll Me Over
Chicago
Jungle Jiver
Sweet Valentine
Au Revoir
Slipstream (1974, 38.38) ***/TT½

Slipstream
Endless Place
Wild Love
Another Hustler
What is it All About?
Freedom
Silvery Moon
Handy Mandy
When the Sunshine Turns to Grey
Earthquake in My Head
So Glad You're Mine
7" (1975) ***/T½

Summer Love
You Go Your Way (I'll Go Mine)
...In Concert (1975, 42.51) ***/TT

Cassandra
Wishing Well
Another Hustler
Jungle Jiver
Do it
Freedom
Medley
Can You Feel it
You've Got the Gun
You're All Woman
Hound Dog
Medley
Au Revoir
Goodbye
Current availability:
On With the Show: Mushroom (Australia)
Slipstream: Infinity/Festival (Australia)
In Concert: on CD, label unknown
Mellotrons used:
All titles: band's own M400
Sherbet are remembered in Britain (if at all) for their sole UK hit, '76's Howzat, capitalising on the two countries' shared cricket heritage, but they'd been around in their homeland since the end of the '60s. They never pretended to be particularly 'rock', but their mainstream pop was actually rather good in places. 1973's On With the Show catches them before their unfortunate glam period, and is a perfectly competent mainstream pop/rock album of the time, with only side two's epic opener Chicago straying too far from the template. Keys man Garth Porter plays 'Tron on a few tracks, with flutes and strings (complete with tape-wobble) on Jubilee Morning, along with his seemingly ubiquitous Wurly, although the strings on Cassandra and the cheesy Au Revoir (clearly written as a concert closer) are real. More strings on Chicago, and flutes on the dodgy 'joke' track, Jungle Jiver, although that seems to be your lot.
On '74's Slipstream, their appalling new image knocks them back several steps in the credibility stakes; I mean, what were they thinking of? Australia's not exactly known as a haven for the less than totally masculine ('Priscilla, Queen of the Desert' aside) so, although I'm sure the band were as straight as they come, they look like a bunch of King's Cross (Sydney version) tarts on a girls' night out on the sleeve, particularly bassist Tony Mitchell and guitarist/main man Clive Shakespeare. Porter is credited with playing Mellotron on four tracks, although there's also clearly some polyphonic flute and cello work on Handy Mandy. Silvery Moon and When The Sunshine Turns To Grey feature some rather ordinary strings parts, but the album's opening salvo of Slipstream and Endless Place is very listenable, with a high, sustained string note being one of the first sounds you hear. Actually, the title track is quite excellent, with an almost proggy key change into Endless Place, making up for later sins such as Another Hustler. Plenty of 'Tron strings here, with a strange, muted part linking the tracks, plus some choir chords on the second track.
A quick diversion into single-land here, as their no.1 hit Summer Love (released March '75 at the end of summer, northern hemisphereites) featured a reasonable amount of Porter's 'Tron, in a 'substitute real string section' kind of way. A non-album track, it's available on various compilations.
As if to prove they were a 'proper' band, Sherbet's next release was ...In Concert, recorded in Sydney (the Opera House, no less) and Melbourne in front of thousands of screaming girls. The over-enthusiastic MC announces Sherbet as "Australia's number one rock'n'roll band"; um, correct me if I'm wrong, but hadn't AC/DC released at least one album by this point? The rear sleeve features a most fetching pic of vocalist Daryl Braithwaite in the most appalling red and white striped suit/red shirt combo, almost (but not quite) grabbing at his crotch. Lovely... The band could clearly play perfectly well, making a good job of Free's Wishing Well (a hit, I believe, when released as an unusual live single), with Porter getting a nice 'Tron part in, also reproducing Cassandra's studio string parts. You can hear him tuning up (on the flutes) at the beginning of the terrible Jungle Jiver, with a quick left-hand part later in the song (while he plays concert grand with his right), while a faint string part on their medley version of Can You Feel It wraps it up on the 'Tron front.
So; can I recommend these? Hmmm. On With the Show isn't too overtly poppy, while despite starting well, much of Slipstream is overly commercial, although I suppose that's what they did, so it seems a tad unfair to berate them for it. There's some decent Mellotron work on several tracks on all albums, so I think this one's up to you. I'm told there's some 'Tron on a single from '75, Summer Love, which can only be found on compilations; I'll confirm should I ever hear the track in question. '76's Howzat has detailed instrumental credits, but sadly, it's nowhere to be seen, so it seems that's your lot on the 'Tron front.
The Sherbs miming furiously on the Paul Hogan Show, Mellotron in shot.
Shimmering (Norway) see: Samples etc.
Shine Dión (Norway) see: Samples etc.
Shingetsu (Japan)
Shingetsu (1979, 43.36) ****/TTT

Oni
The Other Side of Morning
Influential Street
Afternoon - After the Rain
Fragments of the Dawn
Freeze
Night Collector
Return of the Night

Akai me no Kagami: Live '79 (1994, 72.54) ****/TT½

Oni
The Other Side of Morning/Influential Street
Afternoon - After the Rain
Fragments of the Dawn
Fui no Tabidachi
Shojyo Wa Kaerenai
Akai me no Kagami/Satsuie no Funade
Night Collector
Shingetsu Live, 25-26 July 1979, ABC Kaikan Hall Tokyo (2004, 67.33) ****/TT½

Oni
Fragments of the Dawn
The Other Side of Morning
Influential Street
Afternoon - After the Rain
She Can't Return Home
Night Collector
Reddish Eyes on Mirror
Voyage for Killing Love part 2
Return of the Night
The Whole Story of Shingetsu 1976-1982 (2005, 269.48) ****½/TTTT½

Oni
The Other Side of the Morning
Influential Streets
Afternoon - After the Rain
Fragments of the Dawn
Magic Flute "Reitou"
The Night Collector
Return of the Night
Life and Death
Reddish Eyes on Mirror
The Voyage for Killing
Love, part 1
The Voyage for Killing
Love, part 2
Homing to the Island
Orion/Tsuzumi Hoshi
"Takeshi" skit
The Journey of Takeshi Kid (demo)
Homing to the Island (rehearsal)
Reddish Eyes on Mirror (basic track)
Tuning
Fragments of the Dawn (demo)
The Night Collector (rehearsal)
Return of the Night (demo)
Practice on the Bass
Oni (demo)
The Voyage for Killing Love,
part 2 (demo)
Sir Bordenhausen (live)
Triplet Colors (live)
The Star of Sorrow/In Memory
of Chardanes the Pan (live)
Open Before Knock (demo)
The Broken Chain (demo)
Recurrence (demo)
The End (home demo)
Blur Blue Sky (demo)
The Voyage for Killing Love,
part 1 (demo)
Recurrence/Oni (demo)
Remnants of Maldek (demo)
Take Hikaru/Illuminating Bamboo
(demo)
Roman Fu (demo)
Blue (demo)
Akane Sasu/Flickering
Evening Daylight (demo)
A Letter From the Sea
(home demo)
Farm (home demo)
Theme for Gelverna (home demo)
Shinkan-sen (rehearsal)
The Last Breakfast (rehearsal)
Budokan (rehearsal)
The Scarlet Dune (rehearsal)
Ameba/Tapestry (demo)
Slip Into the Sea
Hirotoubi/The Song of Hiroshima
Prefecture Eastern Beauty
Special School
Current availability:
Shingetsu: Belle Antique (Japan)
Live: Musea (France)
Whole Story: Made in Japan
Mellotrons used:
Shingetsu/Whole Story: band's own M400?
Live: band's own and hired-in Mellotrons?
Shingetsu ('New Moon') were a relatively early Japanese progressive outfit, along with Ain Soph, as the '70s scene in their country was more psych than prog (Cosmos Factory, Far East Family Band), and most of the known Japanese bands were active during the '80s. As a result, their influences are wholly from the '70s, making Shingetsu one of the best Japanese progressive albums, bar none. Genesis are an ever-present influence, although they're an awfully long way from being a clone, despite their seeming lack of any noticeable local input into their sound, aside from the Japanese vocals. Oni is a particularly strong opener, although there isn't actually a bad track here, which is more than you can say for many of their successors.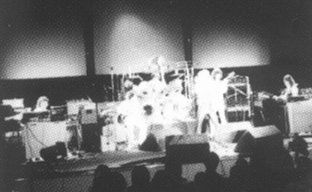 Keys man Akira Hanamoto uses the usual 'boards, with decent helpings of Hammond etc., plus Mellotron on several tracks. The flute solo on Oni actually fooled me into thinking it was real for a minute, before it speeds up, with Hanamoto playing one of the fastest Mellotron parts I can remember hearing. There's one more flute part on the album, and cellos on Fragments Of The Dawn, with everything else being standard strings, used well, although there's some string synth to be heard, too.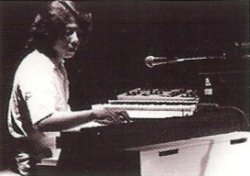 In 1994, Japanese progressive label Belle Antique released three Shingetsu-related albums, including their debut on CD for the first time. The other two were a live effort, Akai Me No Kagami: Live '79 and an archive release containing unreleased material as Serenade/Shingetsu. The live album, while poorly recorded (or at least mixed), is everything you'd expect of prime Japanese progressive; highly melodic and (I suspect) very theatrical, they took the lush symphonic sound of Genesis and Camel and ran with it, adding elements from their own culture, as does most good progressive rock. Hanamoto and guest player Takashi Kokubo (left), each with an M400, add Mellotron to several tracks, with complex flute and string parts in opener Oni, background strings on Afternoon - After The Rain, cellos and another complex flute part on Fragments Of The Dawn, occasional flutes on Fui No Tabidachi and quite literally a second of pitchbent strings at the end of Satsuie No Funade.
Things get weird with the 2004 release by those lovely Musea people, Shingetsu Live, 25-26 July 1979, ABC Kaikan Hall Tokyo. Pourquoi? Those are the same recording dates and venue as Akai Me No Kagami, that's why. It isn't a straight reissue, though, by a long way. The sleeve lists ten tracks, though there's only nine sequenced on the disc, but it seems the discrepancy is in the 20-minute Reddish Eyes On Mirror/Voyage For Killing Love Part 2 (a.k.a. Akai Me No Kagami/Satsuie No Funade). The track order's rejigged, the tapes have (presumably) been remixed, one track appears to've been removed and another added and a couple renamed, not to mention several judicious edits of rather dull sound effect tapes running between tracks. Confused? Me too. The Mellotron use is, essentially, the same as the earlier issue of the recordings, minus the flutes on the missing Fui No Tabidachi. So which of these versions should you go for? You may not have much choice, as I doubt whether the earlier one's available in any sensible form; the missing track is probably the weakest thing on it, so you're not missing that much, while the overall sound on the Musea version is vastly better.
In 2005, the five-disc The Whole Story of Shingetsu 1976-1982 appeared out of nowhere; while not actually the last word on the band, it's clearly attempting to be exactly that. We'll ignore disc one, as it's merely a remastered version of Shingetsu, but disc two is a newly-recorded set of material, their 'second album', From a Distant Star (from Life And Death through to Orion/Tsuzumi Hoshi above). And it's... every bit as good as their debut, even if we've already heard two if its six tracks on Shingetsu Live. Is that Hanamoto's real Mellotron on Life And Death and The Voyage For Killing Love, part 2? Hard to tell, but while there's a string line running through the former, there's next to nothing on the latter, anyway. Disc 3, Out Takes 1979-1980, is almost exactly what it says on the tin, although the brief Practice On The Bass dates from '77. There's only a little Mellotron on the disc; as if to make up its no-show up to that point, Fragments Of The Dawn features cello, string and flute parts, with more of the same on Oni, including a nifty flute part.
Disc 4, Archives/HAL Serenade, all from 1976, contains some of the best material on the set, maybe surprisingly, although neither the very ELP-esque Sir Bordenhausen nor Blur Blue Sky are among them. More Mellotron this time round, with a flute melody and wobbly string chords on The Broken Chain, more strings on the fabulous Recurrence, possibly the best track on the entire set, while The End is a short, beautiful piece for Mellotron flute, strings and cello, not to mention the strings towards the end of Blur Blue Sky, flutes on The Voyage For Killing Love, Part 1 and cellos and flutes on Recurrence/Oni. I don't know where they get the '1977' bit on the final disc, Other Materials 1977-1999, as it was actually recorded almost entirely between 1980 and '83, the sole dissenter being the final track, 1999's Hirotoubi/The Song Of Hiroshima Prefecture Eastern Beauty Special School. It's a rather more mixed bag than the previous discs, some shorter, more straightforward material creeping in, as the band crossed the 1980 watershed. There are a handful of Mellotron tracks, all from 1980, with cellos and flutes on Roman Fu and strings on Blue and Akane Sasu/Flickering Evening Daylight, although it seems they'd ditched it by the following year, 1983's Ameba/Tapestry (actually a demo by Tapestry) being a particularly bad offender, featuring some seriously heinous synth sounds.
So; if big, lush symphonic prog is your bag, I can wholeheartedly recommend these, although Haruhiko Tsuda's restrained guitar work isn't going to be to all tastes.
See: Serenade/Shingetsu | Makoto Kitayama with Shingetsu Project
Shining (Norway)
In the Kingdom of Kitsch You Will Be a Monster (2005, 38.57) ***/T

Goretex Weather Report
REDRUM
Romani
Perdurabo
Aleister Explains Everything
31=300=20 (it is By Will Alone I
Set My Mind in Motion)
Where Death Comes to Cry
The Smoking Dog
Magazine RWRK
You Can Try the Best You Can
Current availability:
Mellotron used:
Shining are a Norwegian prog/avant-garde troupe, some of whose members have also played with Jaga Jazzist. 2005's In the Kingdom of Kitsch You Will Be a Monster is their third album, and I were to tell you that it's not the easiest listen ever, I wouldn't be lying. Influences include the more out-there regions of jazz, French chanson (no, really), the RIO of Henry Cow et al. and even the occasional burst of more 'mainstream' prog.
Despite two credited Mellotron players (Jørgen Munkeby and Morten Qvenild), there's very little obvious 'Tron on the album, although the choirs on 31=300=20 (It Is By Will Alone I Set My Mind In Motion) are pretty real-sounding, which is nice. So; one for those of you who feel that Slapp Happy are boringly normal, or Univers Zero sound like Genesis. Not much obvious Mellotron, but it's hardly the album's stand-out feature, anyway.
See: Jaga Jazzist
Shining (Sweden)
VI / Klagopsalmer (2009, 50.32) ***/T½

Vilseledda Barnasjälars Hemvist
Plågoande o'Helga Plågoande
Fullständigt Jävla Död Inuti
Ohm - Sommar Med Siv
Krossade Drömmar och Brutna Löften
Total Utfrysning

VII / Född Förlorare (2011, 41.47) ***/T½

Förtvivlan, Min Arvedel
Tiden Läker Inga Sår
Människa o'Avskyvärda Människa
Tillsammans Är Vi Allt
I Nattens Timma
FFF
Current availability:
Klagopsalmer: Osmose Productions
Född: Spinefarm
Mellotrons used:
One or more of Lars Fredrik Frøislie's M400s
Shining (nothing to do with the Norwegian band, above) seem to be the kind of death metal band that gives the genre a bad name, allegedly glorifying suicide and self-harm, although I remain slightly sceptical without seeing translated lyrics; 'moral panics' are easy to whip up and bands like this are ideal candidates for vilification. Going by their sixth album, VI / Klagopsalmer (Hymns of Lament), they play the kind of highly proficient thrash/'technical' metal beloved of a certain kind of young man who needs to get out more. The album actually has its moments, not least the surprisingly tasteful middle part of Ohm - Sommar Med Siv and the whole of the desolate, acoustic Krossade Drömmar Och Brutna Löften, although a surfeit of death grunts and impeccably-played but totally derivative riffs tend to spoil the overall effect. Unusually for him, Norway's premier 'Tron-merchant, Lars Fredrik Frøislie (Wobbler, White Willow, a million others), plays with a Swedish band this time round, adding Mellotron and celeste to the album. We get choirs on Vilseledda Barnasjälars Hemvist and flutes and strings on Plågoande O'Helga Plågoande, although the cellos in lengthy closer Total Utfrysning are real.
Two years on, VII / Född Förlorare (Born Loser) is, by and large, more of the same, although the number of quiet, reflective sections has risen in the interim, as has the melodic content of the heavier parts. A major surprise is track five, an instantly recognisable cover of Landberk's mournful I Nattens Timma (from 1992's Riktigt Äkta), featuring Peter Bjärgö on vocals and piano, one of several guest spots on the record. Now, I've had Bjärgö down as playing Mellotron on the track, but, upon researching it again, it seems that Frøislie plays all Mellotron parts, with a brief cello and flute section at the end of Tiden Läker Inga Sår, flutes and vibes on Tillsammans Är Vi Allt and vibes on I Nattens Timma, although only the first-named is particularly overt.
You probably don't need these for their Mellotron use, but for relatively tuneful black metal, you could do a lot worse.
Shipwreck Union (US) see: Samples etc.
Shits & Giggles (US)
Trick or Treat (2009, 31.13) ***/T½

Trick or Treat
Mexigermaican
Corduroy Kiss
More Valium on the Mellotron
Spellcaster
Zykatronics
Junkanooga Booga
Current availability:
Free Dope & Fucking in the Streets (vinyl only?)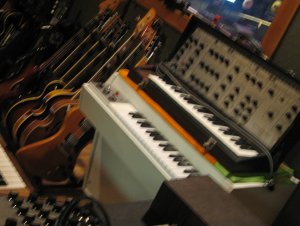 Mellotron used:
Shits & Giggles are involved with the Vas Deferens Organization and the Mutant Sounds blog, so it should come as no surprise to hear that they're pretty, er, 'out there', combining fucked-up jazz, plunderphonics and anything else that comes their way on their debut, 2009's Trick or Treat. I'd be lying if I tried to claim this is an easy listen, but those of you more attuned to the weirder end of weird may well go for it. I'm sure there are other online reviews that actually describe this stuff better than I can; it's far enough beyond my comfort zone to be influenced by other artists that are also a long way from said zone.
Since no-one's credited with the Mellotron (or anything else), the player could be any of Ariel Pink, Christopher Moock, Eric Lumbleau, Jay Jernigan or Matt Castille; whoever it is adds pitchbent flutes and choir to More Valium On The Mellotron and more choirs on Zykatronics to passable, if not entirely essential effect. All in all, this is a pretty odd album, but those on the further edges of the psych spectrum may be up for it, ditto anyone into the whole Nurse With Wound scene.
---