---
Michelle Tumes (Australia) see: Samples etc.
KT Tunstall (UK)
Invisible Empire/Crescent Moon (2013, 51.12) **½/T

Invisible Empire
Made of Glass
How You Kill Me
Carried
Old Man Song
Yellow Flower
Crescent Moon
Waiting on the Heart
Feel it All
Chimes
Honeydew
No Better Shoulder
Feel it All - Band Jam
Current availability:
Mellotron used:
Scottish singer-songwriter Kate Victoria "KT" Tunstall's sobriquet possibly refers to her known admiration for Kate Bush, being reminiscent of that artist's pre-fame KT Bush Band. Her fourth release, Invisible Empire/Crescent Moon, while perfectly pleasant, is also rather unengaging, its better tracks clustered towards the beginning, in true 'mainstream pop' style.
Howe Gelb (Giant Sand) plays Mellotron, although all I can spot are a few seconds of squawking flutes opening the album and a magnificently clicky high-speed strings run in Old Man Song which, despite failing on the musical front, wins hands-down in the Mellotronic stakes. Incidentally, top marks to Ms Tunstall for publicly disowning her stepfather after he opted to stand as a candidate for the odious BNP (far-right scum for non-Brits).
See: Samples etc.
Steve Turner (US)
Searching for Melody (2003, 32.56) ***½/T

The Idiot Blues
Living Through the Mistakes
Searching for Melody
I Want You in My Arms
Smart Operator
Not Only You
Sometimes I'm Wrong
Nothing But the Blues
You, My Girl
I'm 37
Instro #1
New Years Day
Take Care
Last Call
Current availability:
Mellotron used:
Despite being a Texan, Steve Turner was intimately involved in the formation of various Seattle-area bands, notably Mudhoney. 2003's disingenuously-titled Searching for Melody sounds nothing like any of them, being Turner's take on traditional folk, unsurprisingly with a punk edge, particularly in the vocal department; think: 'modern Seattle Bob Dylan'. A very listenable album, its best tracks include Living Through The Mistakes, the title track, Smart Operator and a capella closer Last Call.
Johnny Sangster plays Mellotron on Instro #1, with a reverbed flute part dipping in and out of the mix, although that appears to be your lot. If you like the sound of raw, honest, folk-influenced songs sung by someone who sounds like he actually means it (a rare commodity these days), Searching for Melody might well be your bag, although it really isn't worth it for its minor Mellotron use.
Tusmørke (Norway)
Underjordisk Tusmørke (2012, 67.38) ****½/TTTT

Fimbul
Watching the Moon Sail Out of the East
The Quintessence of Elements
A Young Man & His Woman
A Nightmare's Just a Dream
Høstjevndøgn
Salomonsens Hage
Singers & Swallows
Ode on Dawn [by Les Fleurs du Mal]

Riset Bak Speilet (2014, 46.25/70.55) ****/TT½

Offerpresten
Gamle Aker Kirke
Black Swift
All is Lost
Riset Bak Speilet
[CD adds:
Mener Vi Alvor Na?
Kairo
En Verden av i Gar]

Elektriske Skrekkøgler og Forhistoriske Framtidsfabler [as Tusmørke vs Spectral Haze] (2015, 41.22) ***½/T

Tusmørke:
Demonologi
Empathy for Evil
Reptilhjernen Vet
Spectral Haze:
Skallen

Ført Bak Lyset (2016, 44.17) ****/T

Ekebergkongen
Et Djevelsk Mareritt
De Reiser Fra Oss
Ført Bak Lyset
Spurvehauken
Nordmarka
Vinterblot

Hinsides (2017, 47.22) ****/T

Hjemsøkte Hjem
I Feel Like Midnight (I Dream I'm Awake)
En Rykende Ruin
Lysskydrøm
Sankt Sebastians Alter
Current availability:
Underjordisk: Termo (Norway)
All other titles: Svart
Mellotrons/Chamberlins used:
All titles: Lars Fredrik Frøislie's M400(s)/M1
Tusmørke have a highly convoluted history, originally forming in the mid-'90s, before morphing into psych/progsters Les Fleurs du Mal, finally splitting and reforming in 2009 as Tusmørke again. Their debut, 2012's Underjordisk Tusmørke (Subterranean Twilight), is actually only six tracks (and forty minutes) long, Salomonsens Hage and Singers & Swallows counting as 'bonuses', while seventeen-minute closer Ode On Dawn is the sole Les Fleurs du Mal recording, finally available. The vocal-heavy album has a heavy psych/folk/prog '72 vibe about it, its acoustic/electric sound occasionally recalling Änglagård's debut, although the overall sound is less Genesis/Crimson, more The Incredible String Band and Caravan, although I've also seen slightly bemusing comparisons with various krautrock outfits. Like Änglagård, a considerable Scandinavian folk influence abounds, although the two outfits have taken it in different directions, Tusmørke utilising massed male vocals in a 'bordering-sea-shanty' style that may not suit everyone. Distilling highlights from such a strong release is near-impossible, although opener Fimbul sets the band's stall out nicely.
Our old friend Lars Fredrik Frøislie (Wobbler, White Willow) is Tusmørke's honorary fifth member, playing keys alongside someone calling himself 'Deadly Nightshade'. Both are credited with Mellotron, while Lars adds Chamberlin to two tracks, leaving just one track (The Quintessence Of Elements) tape-replay-free. You really can hear the difference between the Mellotron and Chamberlin violins used in tandem on Fimbul, the Chamby violins turning up again on A Nightmare's Just A Dream, with Mellotron strings, flutes (alongside the real one), choirs and cellos elsewhere. And is that M400 church organ all over Høstjevndøgn? It's the only track with a real (as against early '80s Korg clonewheel) Hammond credited, but it sounds more like Mellotron. To my surprise, Les Fleurs du Mal used an obviously real Mellotron (played by Trond Egil Aasen), too, used to good effect on Ode On Dawn, complete with some wonderful (if accidental) volume surges.
2014's Riset Bak Speilet carries on in a similar vein, stronger tracks including Gamle Aker Kirke, the jaunty folk/metal of vinyl version closer Riset Bak Speilet itself and the ten-minute CD-only En Verden Av I Gar. Other notable features include the real brass on opener Offerpresten (although I'm not so struck on the track itself) and the organ solo in the fuck-off heavy All Is Lost, which is pure Canterbury. The band continue to give themselves silly nom-de-plumes, Frøislie's being The Phenomenon Marxo Solinas. Although they're not always audible, he plays Mellotron on all but Mener Vi Alvor Na? and Chamberlin on Gamle Aker Kirke, Black Swift, the title track and En Verden Av I Gar, mostly strings (and a burst of church organ somewhere?), plus definite Mellotron flutes (under the real one) on CD bonus Kairo.
2015's Elektriske Skrekkøgler og Forhistoriske Framtidsfabler (according to Google translate, rather wonderfully, 'Electric Horror Keys and Prehistoric Future Fables') is a split release with Spectral Haze, one vinyl side each, Tusmørke's three contributions all being at the more energetic end of their range, while Spectral Haze's seventeen-minute Skallen sounds exactly like 1972-era Hawkwind. Skallen might just actually be the best thing here, even if it's only present by accident, but the Tusmørke tracks are all worth hearing for the committed fan. No credited Mellotron, but it seems more than likely that Frøislie (listed as producer) plays the string part on Reptilhjernen Vet. The following year's Ført Bak Lyset is another rocking, yet folky effort, particular highlights being opener Ekebergkongen, which almost-but-not-quite quotes from Grieg's In The Hall Of The Mountain King in its flute refrain, De Reiser Fra Oss, with its beautiful, gritty Hammond part and closer Vinterblot. Once again, uncredited Mellotron (obviously Frøislie), with strings on Spurvehauken and Nordmarka, particularly upfront on the latter.
2017's Hinsides is even crazier than Tusmørke's previous work, which is saying something, veering between Scando-Latin (!) opener Hjemsøkte Hjem, complete with massed Yamaha CS80 swoops, I Feel Like Midnight's tribal rhythms (yes, English-language vocals), the deranged massed crumhorns at the end of Lysskydrøm and the album's crowning glory, 23-minute closer Sankt Sebastians Alter, an epic worthy of the name. Frøislie's Mellotron (and Chamberlin?) only appear towards the end of the album, with what sounds like Mellotron cello, doubling a real one, on Lysskydrøm (spot that filthy double bass note!) and flutes and cellos on Sankt Sebastians Alter.
The cynical amongst you might be thinking, "Ho hum, more Mellotron-fuelled Scando-prog releases"; technically correct, but Underjordisk Tusmørke is an excellent album, diverging from the 'mainstream' (such as it is) to the point where, say, Flower Kings fans will probably recoil in horror. That, dear readers, is a recommendation. The lone Les Fleurs du Mal track is almost worth the price of admission on its own; we can only hope that the band's semi-promise in the CD booklet to record the rest of their oeuvre comes to fruition in the not-too-distant future.
See: Wobbler
Tweedy (US)
Sukierae (2014, 71.44) ***½/½

Please Don't Let Me Be So Understood
High as Hello
World Away
Diamond Light Pt. 1
Wait for Love
Low Key
Pigeons
Slow Love
Nobody Dies Anymore
I'll Sing it
Flowering
Desert Bell
Summer Noon
Honey Combed
New Moon
Down From Above
Where My Love
Fake Fur Coat
Hazel
I'll Never Know
Current availability:
Mellotron used:
Tweedy is the duo of Wilco's Jeff Tweedy and his son Spencer, a sprawling, seventy-minute set that covers a multitude of Americana/singer-songwriter bases. Highlights include the countryish Wait For Love, Pigeons, Nobody Dies Anymore and I'll Sing It, but, amazingly, there's not one single genuine clunker over the album's twenty tracks. The set's lone fault is that it's a bit of a long haul getting through its full length. Possibly more an album to dip into than to play in one hit?
Two credited Mellotron tracks, Scott McCaughey on Low Key and (Jeff) Tweedy on Where My Love, although it's effectively inaudible on both, although there just might be some faint cellos on the latter. However, someone plays choppy strings on opener Please Don't Let Me Be So Understood to reasonable effect, so, while I'll leave the other two tracks highlighted, there's really only half a star's-worth of Mellotron to be heard.
See: Wilco
Twelfth Night (UK)
Twelfth Night [a.k.a. The Electra Tape] (1980, 32.12) ***½/T½

The Cunning Man
Afghan Red
Abacus
Keep the Aspidistra Flying

Live at the Target (1981, 45.42/73.12) ***½/½

Für Héléne
After the Eclipse
East to West
Sequences
[CD adds:
Afghan Red
Freddie Hepburn
Encore une Fois]

A Midsummer's Night Dream (2005, recorded 1980, 79.02) ****/T½

Keep the Aspidistra Flying
Abacus
Encore une Fois
After Office Hours
Für Helene I
The Cunning Man
Afghan Red
Sequences
Current availability:
Electra Tape: tracks split between Live at the Target CD and Voices in the Night (also Cyclops)
Live at the Target: Cyclops (UK)
A Midsummer's Night Dream: website
Mellotrons used:
All titles: band's own M400
Twelfth Night were one of the first bands to emerge from the early-'80s UK progressive scene, having been around since 1978 in one form or another. After a couple of very limited-release cassettes, they put out a tape of no particular title, sometimes known as Twelfth Night or The Electra Tape, in homage to its rather dreadful American female vocalist, Electra McCloud (yes, really). The music is excellent, displaying their echo-drenched sound, lead bass and intricate arrangements to the full, but it could rather have done without the vocals. Well, the lyrics really. I mean, (from The Cunning Man):
'There he stands upon a stage,
Calmly cool, guitar in hand,
Is he Beck or is he Page?
No! No! He's the Cunning Man'.
Good God. I ask you... Anyway, no point holding that against it, though I think all concerned would now rather it had been fully instrumental. Afghan Red is precisely that, thankfully, starting with Clive Mitten's 6-string bass chords, before their trademark string synth arpeggios and their 'playing along with a delay' stuff cuts in. There's a little Mellotron strings towards the end of the track, but nothing to write home about, really. Abacus is another vocal track, and manages some choir under the vocals, but again, they don't really add very much to the track. I know there's a Twelfth Night reissue programme on the cards at the moment; the four tracks come in at about half an hour, and I'm sure with a few other recordings from that era they'd make a fine CD. (n.b. All four tracks are now available, with Afghan Red being a bonus track on the Live at the Target CD, and the other three turning up on Cyclops' 'vocalist' compilation, Voices in the Night).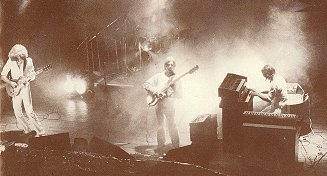 By 1981 (well before Marillion, note), Twelfth Night put out their first album proper, Live at the Target. An all-instrumental affair, their sound is still based heavily on the delayed guitar/bass interplay (difficult to describe; you need to hear it, really), although Rick Battersby's keyboards cut through sometimes. Despite hauling an M400 about, it's only to be heard here on a few chords of Für Héléne; a quick burst of choir and it's gone. As indeed, it was from their setup. Battersby left for a while (I saw them in late '82 as a four-piece, desperately trying to cover the keyboard parts along with everything else) and on his return the 'Tron was no more. They'd got themselves a vocalist in the meantime, their old friend Geoff Mann, and they started shifting away from their old style, integrating his vocals to their new approach. They'd recorded the classic Fact and Fiction (****½) during Battersby's absence, following it with the even more classic Live and Let Live (*****), released in early '84, after Geoff's departure.
Twelfth Night carried on for a few more years before throwing in the towel after an abortive attempt to 'do a Marillion' and 'go commercial' (1986 style). Very nasty. They got their classic lineup back together in '88 to record a previously-unrecorded crowd favourite from their heyday, The Collector, subsequently released on the Collectors Item (****½) compilation. Tragically, Geoff Mann (by this time an ordained vicar) died of cancer in 1993, and unlike most of their contemporaries, Twelfth Night have never attempted to reform.
If you can find a copy of the cassette album, go for it, though not for the Mellotron use. Pretty much the same goes for Live at the Target, but I personally recommend the Geoff Mann LPs for the uninitiated.
Many, many years later... Suddenly, as if from nowhere, in 2005 Twelfth Night released a series of 'official bootlegs' (you know, live albums of a quality too poor for full commercial release). Quality be damned; these are excellent documents of the various stages of 'Night activity, making several of my actual bootlegs redundant in the process. The only one which concerns us here is A Midsummer's Night Dream (nice turnaround, there), a soundboard tape of a gig at Reading University in June 1980, before the recording of The Electra Tape above. Recording quality is reasonable, although there's a little distortion in places, and the odd drop-out. Given that this has doubtless been lying around on cassette for 25 years, it sounds remarkably good, to be honest. It contains the first CD release of any sort for Encore Une Fois (originally on their First Tape Album), and instrumental versions of a couple of tracks better-known as vocal ones; After Office Hours is an early version of East To West, in case anyone's watching that closely. You can see Rick's 'Tron clearly in one sleeve pic, and indistinctly on another two and indeed, there it is, with some very audible choirs on Abacus and Encore Une Fois. Although I've highlighted opener Keep The Aspidistra Flying, I'm not entirely convinced that's Mellotron strings we're hearing at the end, but since his Vox String Thing couldn't make that sound on its own, I have to assume that it's a composite of the two.
n.b. In late 2007, Twelfth Night did indeed reform, with 4/5ths of their later recording lineup, the only absence being Rick Battersby. Were they good? Yes they were, pretty much avoiding material from their horrible last album. Roll on more action, chaps...
Twenty Sixty Six & Then (Germany)
Reflections! (1994, recorded 1972, 73.56) ****/T½

At My Home
Autumn
Butterking
Reflections on the Future
The Way That I Feel Today
Spring
I Wanna Stay
Time Can't Take it Away
Current availability:
Mellotron used:
Before I begin, I only own the CD reissue of Twenty Sixty Six & Then's Reflections on the Future, titled Reflections! It appears that this is actually a completely different album to the original, comprising various pre-album tapes, with several extra tracks and longer takes. It seems the album tapes are long gone, so instead of mastering a copy from vinyl, the Second Battle label utilised this approach. I don't know if the 'original' album is doing the rounds on CD-R, but I'll review it separately should I get to hear a copy.
Now I've got that out of the way, I was very pleasantly surprised by the music on Reflections! I'd expected another stoned-out hippy jam like Emtidi's Saat or Witthüser & Westrupp's Der Jesuspilz/Musik Vom Evangelium, but actually got a very good psychedelic hard rock album from a band who knew how to keep a jam interesting. To be honest, it does flag a little towards the end, but given that the CD must be the better part of double the length of the original album, there's at least an hour of excellent music here. Highlights for me are the opening tracks, At My Home and Autumn, but most of it's worth hearing; certainly enough to make it worth buying, anyway.
The Mellotron was apparently played by Steve Robinson (a.k.a. Rainer Geyer) and Veit Marvos, although it's not really that prevalent. Strings, brass and flutes on Autumn, with some brass on Butterking, but it's not exactly the heaviest use you're ever going to hear, to be honest. I'm now keen to hear the original version of this album, but if you're finding it as difficult to source as I am, this version will certainly suffice. Buy.
Twilight Hotel (Canada)
Highway Prayer (2008, 63.01) ***/T

Viva la Vinyl
No Place for a Woman
Impatient Love
Highway Prayer
Slumber Queen
Iowalta Morningside
The Ballad of Salvador and Isabelle
Shadow of a Man
The Critic
If it Won't Kill You
Sometimes I Get a Little Lonely
Sand in Your Eyes
Best Buds
Current availability:
Mellotron used:
After a 2004 release under their own names, Brandy Zdan and Dave Quanbury became Twilight Hotel, 2008's Highway Prayer being their second album under their joint moniker. It artfully combines traditional folk with a modern sensibility, particularly in the lyric department, better tracks including rock'n'roll opener Viva La Vinyl, the title track, Shadow Of A Man and The Critic.
Richard Bell on Mellotron, with more Chamberlin-sounding (mixed?) string parts on If It Won't Kill You and an instrumental take on the same track, closer Best Buds, which I take to be real, not least due to the unusual sound used and the improbability of a band like Twilight Hotel using anything bogus. He said, hopefully. Anyway, a very good album of its type from a duo committed to keeping it real.
Twilight Singers (US)
Twilight as Played By the Twilight Singers (2000, 46.59) **½/T½

The Twilite Kid
That's Just How That Bird Sings
Clyde
King Only
Love
Annie Mae
Verti-Marte
Last Temptation
Railroad Lullaby
East 17th
Into the Street
Twilight
Black is the Color of My True Love's Hair EP (2003, 13.13) ***/TT

Black is the Color of My True Love's Hair
Domani
Son of the Morning Star
Blackberry Belle (2003, 44.45) ***/TT

Martin Eden
Esta Noche
Teenage Wristband
St. Gregory
The Killer
Decatur St.
Papillon
Follow You Down
Feathers
Fat City (Slight Return)
Number Nine
Powder Burns (2006, 48.46) **½/T½

Toward the Waves
I'm Ready
There's Been an Accident
Bonnie Brae
Forty Dollars
Candy Cane Crawl
Underneath the Waves
My Time (Has Come)
Dead to Rights
The Conversation
Powder Burns
I Wish I Was
A Stitch in Time (2006, 23.05) ***/T

Live With Me
Sublime
Flashback
They Ride
The Lure Would Prove Too Much
Dynamite Steps (2011, 43.02) ***/T

Last Night in Town
Be Invited
Waves
Get Lucky
On the Corner
Gunshots
She Was Stolen
Blackbird and the Fox
Never Seen No Devil
The Beginning of the End
Dynamite Steps
Current availability:
Twilight...: Sony
Black is the Color...: Birdman
Blackberry/Powder/Stitch: One Little Indian
Dynamite: SubPop (US)
Mellotrons used:
The oddly-named Twilight Singers are Greg (Afghan Whigs) Dulli's new band, specialising in laid-back melancholia, although, to my ears, too 'indie' to be especially interesting. I've seen a reference to trip-hop in a review of Twilight as Played By the Twilight Singers, and I can see where the reviewer's coming from, although I'll stick with 'slightly miserablist indie', I think. I'm finding it difficult to come up with anything constructive to say about this album, and I'm sure there's plenty of online reviews from people who know what they're talking about, so maybe I'll just stick to commenting on its Mellotron use. Dulli plays all the 'Tron here, with strings all round, pretty upfront on The Twilite Kid and a short part at the end of Love that slips into the next track. More strings on Last Temptation and Railroad Lullaby, but nothing really that major.
2003's Black is the Color of My True Love's Hair EP appeared the week before their next album, featuring a reworking of the old folk tune via Nina Simone. The EP's other two tracks, Domani and Son Of The Morning Star both have a reasonable Mellotronic presence, presumably from Dulli, with string parts on both. It's also definitely on said album, Blackberry Belle, which isn't dissimilar to its predecessor, although the songs seem more... focussed, somehow. Less irritating, anyway. Better 'Tron use, too, from Dulli and Mathias Schneeberger this time, with pretty upfront strings on The Killer, Decatur St. and Papillon, although not so much on Fat City (Slight Return).
I'm afraid to say that after two plays, 2006's Powder Burns just ended up irritating me. I really don't get this 'overwrought indie' thing, I suppose, and that describes the Twilight Singers to a T. Speaking of Ts, the Mellotron's only actually properly audible on half its credited tracks, with Dulli playing strings on brief opening instrumental Toward The Waves, strings that could have come from almost anything on Bonnie Brae, possibly flutes on The Conversation (not very audible here) and strings (alongside real ones) on the title track. Pete Adams plays the album's most audible 'Tron part on My Time (Has Come), with a string part that actually stands out from the morass of instrumentation, but nothing here makes you go, "Wow! Mellotron!" (should you be prone to making such announcements). Funnily enough, the same year's A Stitch in Time EP is a far more listenable proposition all round, condensing everything the band do best into twenty-odd minutes, particularly on the incandescent They Ride. One 'Tron track, with a rather unexciting background string part on closer The Lure Would Prove Too Much, proving that actually, you can't have it all.
After a lengthy break, 2011's Dynamite Steps is their best album since Blackberry Belle, with the proviso that if you can't enter Greg Dulli's world, you're probably not going to get it. Like me. Anyway, better material than on Powder Burns, if less Mellotron, with a mere two tracks this time round. Opener Last Night In Town builds up to a crescendo, strings bursting in at the peak, while On The Corner features background string stabs, both from Dulli, although several other instrumental parts on the album sound like they could be tape-replay-generated.
Well, you may like these if miserable indie is up your street; I like a lot of miserable music, but somehow, this lot (generally) just don't really float my boat. Passable Mellotron on their first, fairly good on their second and not so hot on the latest, though I'm not sure I should say 'buy for the 'Tron', to be honest.
See: Afghan Whigs
Twink (UK)
Think Pink (1969, 38.07) ***/½

Coming of the One
Ten Thousand Words in a
Cardboard Box
Dawn of Majic
Tiptoe on the Highest Hill
Fluid
Mexican Grass War
Rock and Roll the Joint
Suicide
Three Little Piggies
Sparrow is a Sign
Current availability:
Mellotron used:
Twink, or John Alder to his mum, worked his way through a series of '60s outfits as drummer, joining the band that became Tomorrow, with Steve Howe, before moving on to the Pretty Things. Think Pink was his first solo album, released either late '69 or early '70, made with the help of various Deviants (in any sense of the word you care to use), before all and sundry went on to form the Pink Fairies and it's... a product of its time. A very trippy album, full of psychedelic guitar workouts like Tiptoe On The Highest Hill and Rock And Roll The Joint, or stoned weirdness like opener Coming Of The One, but very little actually resembling a song per se. Am I missing the point? Or merely the joint?
A little Mellotron (played by the Pretties' John Povey), with a faint string part on Tiptoe On The Highest Hill, very faint brass, strings and flute in Suicide (real vibes, though) and even fainter strings on Ten Thousand Words In A Cardboard Box (thanks, Johannes). Soon to be ex-Deviant and future author Mick Farren's superb memoir, Give the Anarchist a Cigarette, has this to say about the album:
As the producer, I'd conned noteworthy drinking money out of Decca Records, by invoicing for session men - phantom string and oboe players who were in fact nothing more than the Pretty Things' keyboard ace John Povey reproducing them on a Melotron [sic]...
Well, this just scrapes three stars, but is really only for nostalgists, or those who want to hear what hippies really listened to. Minimal Mellotron, too, invoiced-for or otherwise.
See: Pretty Things | Deviants
Twinkeyz (US)
Alpha Jerk (1979, 37.44) ***/T

Aliens in Our Midst
Tonight Again
Sweet Nothing
1,000 Reasons
Cartoon Land
E.S.P.
Twinkeyz Theme
That's the Way it Goes
Alpha Jerk
Strange Feelings
Wild Love
Current availability:
On Aliens in Our Midst: Anopheles
Mellotron used:

The Sacramento-based Twinkeyz (apparently an 'offhand tribute' to Twink, above) were one of California's first DIY outfits of the late '70s, assaulting all and sundry with their 'sci-fi punk', recording a handful of singles and a lone album in the process. 1979's Alpha Jerk was only released in the Netherlands, for some reason, replete with a crummy pressing and production; containing four previously-released tracks, it unsurprisingly sank without trace until reissued as part of 1998's Aliens in Our Midst set (right). Influence-wise, artists springing immediately to mind include The Velvets/solo Lou and Bowie, with a dash of contemporary punk thrown in for good measure, better tracks including the mock-paranoia of Aliens In Our Midst, Twinkeyz Theme (like a darker, less manic Devo) and the strange title track.
Dave Houston plays a strained, clearly deliberately off-key Mellotron string part on Alpha Jerk, although I've no idea how they came to use what must by that point have been seen as a shockingly reactionary, prog-referencing instrument. Subversion? Reverse subversion? For the hell of it? Who knows? Anyway, the whole album comprises the first eleven tracks of Aliens in Our Midst, so it's easy to find should you so desire, although it honestly isn't worth it for its minor Mellotron use.
Two Fires (US)
Two Fires (2000, 63.30) **/½

My Love Will Be There
I Won't Give Up on Us
Piece of My Heart
When Love is Gone
Summer of Love
Surrender
A Man's Gotta Do (What a Man's Gotta Do)
Remember
Never Stop Loving You
Alyssia
I Believe in You
I Can See You
River of Destiny
Current availability:
Mellotron used:
Two Fires. What kind of band would use a name like that? I genuinely didn't have a clue until I pressed 'play', only to hear a '70s-ish hard rock guitar intro that didn't sound too unpleasant. Until... 30 seconds in, the drums kick in and... it's AOR. No! Not a modern AOR album! Please! Not another grab-bag collection of glossy 'commercial' rock clichés thrown together willy-nilly! Please! What is the fascination with this stuff? Given that Aussie AOR god Jimmy Barnes (wasn't he good in the '70s? Maybe not) made an album called Two Fires in 1990, I think we have to assume that this lot are named in honour of.
To recap for a moment... As I'm sure you know, the once-behemoth of AOR has contracted to a worldwide huddle of enthusiasts, tied together by the proverbial World Wide Web. The genre always had a plethora of small-time bands hoping to break through from the mid-'70s on, the difference now being that, apart from the handful of giants still left touring the world's arenas, the little guys are all that's left. Sound familiar? Exactly the same thing as progressive rock, of course, although that genre's era was over a decade earlier. Despite the glut of pointless copycat prog (South Americans are particularly culpable here), there is one important difference between the genres: prog was always supposed to be about innovation and some modern practitioners still adhere to this principle; AOR was about producing the most commercial rock possible, without tipping over into pop, although, of course, there was always a huge crossover. So; some modern prog still strives to do something new. No AOR, new or otherwise, does anything but copy its predecessors, leaving new AOR albums sounding like nothing more than a pale copy of Foreigner, Journey, et al. and believe me, Two Fires are no exception.
It turns out they actually have a Journey connection, although the band that springs to mind first is the underrated New England, without their high points. The sense of despair that crept over me as the album progressed (term used very loosely) would have been palpable had anyone else been unlucky enough to be in the room at the same time; this is glossy, superficial fluff of the highest/lowest order. And these qualities are highly regarded in the genre? It's a sick world, brothers and sisters... As if their forbears' albums weren't bad enough, this drivel also goes on seemingly forever, as the band attempts to fill the entire disc up with aural candyfloss, finally grinding to a halt at slightly over an hour.
But is there any Mellotron, I hear you cry? Joe Marquez is credited and indeed, there are some distant flutes to be heard on I Believe In You, one of the album's slushier ballads. Is it real? Fucked if I know and I've no idea how I might find out. Suffice to say, if you love AOR and don't already own Two Fires, you'll go ga-ga over this. As for the rest of us... Avoid. Please.
Two Times the Trauma (Sweden)
I Fell in Love With an Ocean (2006, 44.00) ****/TTT½

I Fell in Love With an Ocean
A Little Sign
If You Ever
A Song My Love
Freak Show
Some Things Don't Show Until it's Time
Darkness My Dearest
In Your Eyes
3 a.m.
Your Ghost
A Song for a Tiger
Current availability:
Mellotron used:
Two Times the Trauma are a duo of Mattias Eriksson from Celestine and the inimitable Mattias Olsson (Änglagård, AK-Momo, Nanook of the North etc.etc.), with help from a bevy of friends and acquaintances. I Fell in Love With an Ocean is, of course, somewhat on the melancholy side, but Pineforest Crunch aside, so is every project in which Olsson has ever had his fingers, it seems. Do you have a problem with that? I hope not. This is quietly beautiful music, although I wouldn't exactly recommend it as something to make the party go with a swing. While there's not a bad track on the album, it's difficult to pick out highlights on only a couple of listens, although the opening title track is just possibly the best thing here.
Copious amounts of Mellotron, of course, variously played by Olsson, Tobias Ljungkvist and Linus Kåse, with plenty of your standard fallbacks, strings (actually three violins, of course) and flutes, although there are plenty of lesser-known sounds, including the striking wineglasses on In Your Eyes, and the Chamberlin harp glissandos on several tracks. However, the jewel in this album's Mellotronic crown are the 'Gaby Stenberg bees'. The WHAT, I hear you cry? Unbelievably, these are a set of Mellotron tapes made from (naturally) pitched bumblebees, which sound a lot like... bees. The estimable Ms.Stenberg recorded what must have been an awful lot of bees in order to get nearly three octaves, but she did it, and this legendary tape set now belongs to Mattias Olsson, which means we haven't heard the last of them, by a very long way...
So; the usual caveat: do you like Mattias Olsson's Roth-Händle productions? If so, you'll like this, if not, you probably won't. As always, shedloads of Mellotron, plus the usual Orchestron and Optigan, not to mention loads of other obscure old pieces of shit vintage equipment. Recommended.
See: Celestine | Änglagård | AK-Momo | Molesome | Nanook of the North
The Tyde (US)
Three's Co. (2006, 36.31) ***/T½

Do it Again Again
Brock Landers
Separate Cars
Too Many Kims
Glassbottom Lights
The Lamest Shows
Ltd. Appeal
County Line
Aloha Breeze
The Pilot
Don't Need a Leash
Current availability:
Mellotron used:
The Tyde grew out of the excellent Beachwood Sparks, eventually outliving them. Less alt.country, more surf/psych, after 2001's Once and '03's Twice, Three's Co. is their best yet, although its stylistic conformity makes the album drag after a while, as it does on its predecessors. Best tracks? Probably openers Do It Again Again and Brock Landers and the powerpop of Too Many Kims. Worst? The pseudo-country of Aloha Breeze.
Mellotron from Ann Do (a.k.a. Ann Do Rademaker, vocalist/guitarist Darren Rademaker's wife) on two tracks, with a little flute melody on Separate Cars, sounding authentically out of tune, with a 'Strawberry Fields flutes' string part on The Lamest Shows, with the tapes almost choking to a halt at the end. Real, surely? Anyway, a reasonable if slightly unexciting album with a couple of nice 'Tron tracks. Yup, another one.
See: Beachwood Sparks
---