---
Batti Mamzelle (UK)
I See the Light (1974) ***½/T½

Lament
San Juan
Caroni
Seasoning
Voodoo Man
Get Out of My Way
Love is Blind
Bird
I See the Light
Streaking
Current availability:
Mellotron used:
Batti Mamzelle (French patois for 'crazy lady', the Trinidadian term for a dragonfly) found themselves attached to the London 'afro-rock' scene in the early '70s, alongside the better-known Osibisa, despite not actually featuring any African musicians per se. They mixed steel drums and other percussion into a kind of Latin/funk/rock brew, making music that must have been devastating live. Their sole album, I See the Light, apparently took a while to record, as the band (unsurprisingly) had trouble capturing their live sound on tape, and while the end result gives some idea of how they must've sounded, the limitations of the studio presumably hindered the band's chances commercially. Voodoo Man is a prime example of their, er, voodoo, with an outrageously propulsive rhythm, while Bird sounds like a Caribbean Santana, although Winston Delandro's guitar work lack's Carlos' fire.
Osibisa's ex-keyboard player, Robert Bailey, produced (his brother was the drummer and their dad was manager), adding Mellotron to a few tracks. The background string part on Seasoning is neither here nor there, but an upfront flute part on Get Out Of My Way enhances the track nicely, although that would seem to be your lot. I had the impression this was pretty hard to find, but I found a slightly battered copy in a suburban London shop for two quid, although that was probably more down to luck than judgement. Its almost unique mix of steel pans and more standard instrumentation is worth hearing, with most of the solos taken on percussion rather than guitar or keys, the notable exception being the ripping fuzz guitar solo on album closer Streaking. Not that much Mellotron, but an interesting curio that still stands up well today.
Bauer (Netherlands)
Baueresque (2004, 45.59) ***½/TTT

Bouillabaisse of Brilliance
Libitz in a Car
A Renegade Cop
Cubicle
The Record Machine
Thin White Line
It's Getting Better
Life's a Breeze
Open Air
A Bird Called Fish
Swag
Climbing Trees
Doctor in Love
Everything After All
The Bauer Melody of 2006 (2006, 44.58) ***/T

Bouillabaisse of Brilliance
Sunburned Teeth
It's Getting Better
Boring Pictures
At the Door
Long Way Away
Blissfully Up
Save
Here Come the Germans
Herrmann
I'm No Prototype!
Captured in a Spinning Wheel
Don't Think About it Too Much
Snow in Spring
Current availability:
Both titles: Excelsior (Netherlands)
Mellotrons used:
Both titles: Dubbe's MkVI
It seems Bauer are essentially a duo of Berend Dubbe (ex-Bettie Serveert) and Sonja van Hamel, who between them play everything on their third album, Baueresque. They use a whole raft of vintage gear, including a MiniMoog, an ARP Odyssey, Rhodes, Wurly and Hohner pianos and a new Mellotron MkVI (does that mean it's no longer 'vintage'?). Musically, they describe themselves amusingly as 'queasy listening' or 'soft psych synth pop', both of which should give you some idea of their sound. The songwriting's really rather good, although I suspect this is going to take a few plays to really sink in, and highlights are difficult to pick out on a first listen. Actually, d'you know what this reminds me of? Mattias 'Änglagård' Olsson's work with several of his recent projects such as Reminder or Nanook of the North, so if you're into them, you can't go too far wrong here.
I'm having trouble identifying the string sounds on opener Bouillabaisse Of Brilliance: M300B solo violin? A new sound? Cellos underneath, I think, but it's hard to tell. No such issues on Thin White Line; standard M400 strings throughout, and a front-of-the-mix flute melody on Open Air. I think that's 'Tron choir on Swag, along with more strings, flutes and cellos again on Climbing Trees, and more of the same (the band must own at least two tape frames) on the other highlighted tracks.
The duo's follow-up, The Bauer Melody of 2006, is a bit of an oddity, being a live album recorded with a small orchestra alongside their usual vintage kit, credited to 'Pop-Duo Bauer & the Metropole Orchestra'. The strings and brass have the effect of making an already cheesy thing, er, cheesier, bringing in something of a Scott Walker/John Barry vibe to the proceedings, but I'm sure the end result is exactly the sound the band were looking for. Dubbe plays flute chords on Sunburned Teeth and a monophonic part on Don't Think About It Too Much, and while there may be other parts hidden under or playing along with the real strings and/or flutes, it's almost impossible to tell.
If you don't object to retro/modern crossover pop, you may well go for Baueresque; I've seen it memorably described as 'pop made by a prog band', which isn't to say that it isn't pop - just clever pop. Less Mellotron than expected, but what's here is good, so; tentatively recommended. I'm not quite so sure about The Bauer Melody..., but that's probably down to taste. Definitely less 'Tron, though.
See: Bettie Serveert
Bauer (Argentina) see: Samples
Peter Baumann (Germany)
Romance 76 (1976, 32.50) ***½/TTT

Bicentennial Present
Romance
Phase By Phase
Meadow of Infinity (Part 1)
The Glass Bridge
Meadow of Infinity (Part 2)
Current availability: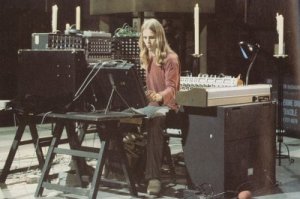 Mellotron used:
Peter Baumann was still a member of Tangerine Dream when he recorded Romance 76, his first solo album. The title obviously refers to several things, including its year of release and the 'aged' half of Baumann's face on the sleeve. Unsurprisingly, the album delves deeply into Tangs territory, though without Edgar Froese's guitar interjections; six lengthy instrumental synth-led pieces with a reasonable dash of Mellotron here and there. Apart from the usual sounds, I suspect that's Mellotron piano and tuned percussion to be heard, though it's always difficult to prove with the 'lesser-known' sounds.
So, while nothing outstanding, Romance 76 is both a good electronic album and a reasonable 'Tron one. Worth a flutter.
See: Tangerine Dream
Carlos Baute (Venezuela) see: Samples
Baxter (US)
Baxter (1973, 44.46) ***½/TTT

By the Gates
Give it All
Renaissance Woman
'51
Gentle Arms
Moonfire II
Canít Find The Time
Doctor Doctor
197Three
Current availability:
Mellotron used:
Baxter were one of those early-'70s US bands who can only really be described as 'rock': not heavy enough to be 'heavy', prog enough to be 'prog' or soft enough to be 'West Coast'. Their sole, eponymous album from '73 displays a mixture of styles, from the twin-guitar hard rock of '51 through the near-country balladry of Gentle Arms to the almost-prog of Renaissance Woman and Moonfire II, the two main tracks that save this album from mediocrity and gain it an extra half star. There are other progressive moments, not least in Doctor Doctor and 197Three, but too much of this album is mid-paced third-division material, which explains why you've probably never heard of them before.
Mellotron from both Doug Arioli and Steve Kirshenbaum, though I've no idea who played what and where. Renaissance Woman marks the first entrance of the 'Tron, with a cello part that couldn't be anything else, with a more 'normal' string part on Gentle Arms, leaving the album's major 'Tron interjection to side two's Moonfire II, with some very upfront strings, with less of the same on closer 197Three. So; Baxter is a game of two halves, with the band's proggier material being dragged down by their more straightforward stuff. However, I'm quite sure that the latter went down better on stage, and since they probably relied on live work to pay the bills, who can blame them for recording some of it? Anyway, not bad, not great, with a surprising amount of Mellotron work.
Lullaby Baxter (Canada)
Capable Egg [as Lullaby Baxter Trio] (2000, 38.13) ***½/T

Hopscotch
The Anyway Song
Knucklehead
Rooster in Love
Mr. Powder Blue Breadbox
The Chatterbox Chronicles
Mama (Should I Bake a Cherry Pie
and Hide You Inside?)
Ding-a-Ling
Morty-Mort-Morton Showstopper Calhoun
Spacegirl
Horsey Don't Snore
Lullaby
Ding-a-Ling (reprise)
Current availability:
Chamberlin used:
Angelina "Lullaby Baxter" Iapaolo's first album (as the Lullaby Baxter Trio), 2000's Capable Egg, is a largely acoustic jazzy pop effort, incorporating a plethora of other genres, actually considerably better than it sounds, helped somewhat by the presence of some of the rather good Oranj Symphonette as her backing band. Ms Baxter's voice is the kind often referred to as 'sultry', while her lyrics are, frankly, quite bonkers, albeit in a good way, more nuts examples including the superbly-titled banjo-fest Mama (Should I Bake A Cherry Pie And Hide You Inside?), Ding-a-Ling and Horsey Don't Snore, while musical highlights include upbeat opener Hopscotch and the harmonium-fuelled Mr. Powder Blue Breadbox.
Rob Burger plays Chamberlin, with occasional strings on opener Hopscotch and string and wobbly flute parts on Horsey Don't Snore; good to hear, but not enough on its own to warrant purchase. However, anyone looking for a new take on the tired old singer-songwriter schtick might just have come to the right place. Impressive. Incidentally, the album timing above eliminates around seven minutes of dead space in between Lullaby and Ding-a-Ling (Reprise).
See: Oranj Symphonette
Beach Boys (US)
Wild Honey (1968, 24.22) ***½/T

Wild Honey
Aren't You Glad
I Was Made to Love Her
Country Air
A Thing or Two
Darlin'
I'd Love Just Once to See You
Here Comes the Night
Let the Wind Blow
Now She Boogalooed it
Mama Says
Sunflower (1970, 36.49) ***½/½

Slip on Through
This Whole World
Add Some Music to Your Day
Got to Know the Woman
Deirdre
It's about Time
Tears in the Morning
All I Wanna Do
Forever
Our Sweet Love
At My Window
Cool, Cool Water
Current availability:
Wild Honey: 2-on-1 with Smiley Smile: EMI
Sunflower: 2-on-1 with Surf's Up: Capitol
Chamberlins used:
By 1968, the Beach Boys were beginning to lose their way. After the Smile debacle and the half-arsed Smiley Smile (****), Brian Wilson co-wrote most of Wild Honey with his arch-nemesis, Mike Love, with patchy results. It opens well enough with the title track, but most of the tracks fade awkwardly and sound slightly unfinished, with the obvious exception of the album's standout, Darlin'. It's also about the shortest album on this entire site, including one that runs at 45 rpm and at least one mini-album, indicating, I suspect, the band's serious loss of direction and confidence. Now, this has been ping-ponging its way between this page and Mistaken ID for the last couple of months, but it seems to have found its way back here for good. Country Air has a little of what are presumably Chamberlin flutes, as the chances of any Mellotron finding its way to the West Coast in 1968 are slim-to-vanishing. A nice part, but nothing outstanding.
Sunflower is generally regarded as the best Beach Boys album since the mid-'60s, although, to be honest, it sounds a bit lightweight to my ears after the wonders of Pet Sounds, or Brian Wilson's slightly belated Smile (only 40 years late, Bri). The harmonies are certainly there, as are those gorgeous chordal twists (the 4th in the bass or whatever it is), but there's no God Only Knows, no Caroline No, no Surf's Up (finally unveiled to the listening public on the album of the same name the following year). I'm probably being a bit churlish, though, as there's plenty hear for the ear attuned to the Beach Boys' unique melodic sense, and not all of it written by Brian; he has no writing input on five of its twelve tracks, while Dennis writes or co-writes three.
But what's it doing here, eh? Donny Lang tells me that Add Some Music To Your Day and Forever have faint Chamberlin string lines, probably played by Brian. They're there all right, hidden away beneath the vocals, but they're hardly the most auspicious use of the instrument ever, to the point where I wouldn't have known if I hadn't been told. So; two good Beach Boys albums, if not classics, with little enough Chamby to be worth ignoring on that front.
Beach Patrol (US)
Riding Dinosaurs (2008, 34.50) ***½/½

Love Away
Money Money
A Friend Like You
One More Cigarette
On the Road
Windy City
This Side of 25
Preston the Human
Shitty Record Store
The Lonely One
Outta Joint
Current availability:
Mellotron used:
I can't say I know much about Wisconsin natives Beach Patrol, although I can tell you that 2008's Riding Dinosaurs is their second album, fully in the powerpop tradition of Big Star et al., stuffed full of material as good as Love Away, One More Cigarette, This Side Of 25 and the witty Shitty Record Store. If I'm going to be brutally honest, it's all slightly generic, but the sheer quality of the material on offer overrides any tedious 'originality' accusations. Anyway, Beach Patrol have a punky edge to their style that differentiates them from many of their more '60s-obsessed peers.
Ian Olvera plays Mellotron, with a flute line on Love Away that may very well not have actually emanated from a real, tapes'n'all machine, although, as so often, it's hard to tell. It's fairly irrelevant, anyway, as the album's strengths don't lie in the instrumentation used (and so they shouldn't), but the material, which is excellent.
Beachwood Sparks (US)
Once We Were Trees (2001, 51.25) ***½/T

Germination
Confusion is Nothing New
The Sun Surrounds Me
You Take the Gold
Hearts Mend
Let it Run
Old Manatee
The Hustler
Yer Selfish Ways
By Your Side
Close Your Eyes
Banjo Press Conference
Jugglers Revenge
The Good Night Whistle
Once We Were Trees
Make the Cowboy Robots Cry (2002, 28.43) ****/T½

Drinkswater
Hibernation
Ponce de Leon Blues
Sing Your Thoughts
Galapagos
Ghost Dance 1492
Current availability:
Trees: Rough Trade (UK)
Cowboy Robots: Sub Pop (US)
Mellotrons used:
Beachwood Sparks fit fairly and squarely into the 'alt.country' ghetto, though it seems to me there are far worse places to be. Along with Wilco, Son Volt et al., their efforts to build on the brief career of Gram Parsons, including his work with the Byrds, is not only admirable, but actually rather good, even to those of us who loathe mainstream country music with a passion; how thankful I am that I live in a country where that bilge isn't ubiquitous. They released their eponymous debut in 2000, following it a year later with Once We Were Trees.
Distinctly different from the other Americana I've heard, it's a good selection of songs, without being especially outstanding, although Let It Run's drifting-tumbleweed feel and Syd Barrett-ish guitar definitely catch the ear; possibly the work of a band still trying to find their collective feet. I wasn't at all sure they was going to be any Mellotron on here, but Close Your Eyes' choirs are pretty authentic, and the vibes on Banjo Press Conference (best song title award) have that 'Tronnish key-click about them. The flutes on By Your Side are slightly less convincing (as in, could be real), but I'll leave it highlighted until/if I find out it isn't.
The mini-album (remember them?) Make the Cowboy Robots Cry gives the impression of being a stop-gap release between the band's second and third albums, only it seems they disintegrated before recording anything else, leaving this as their last will and testament. And a very fine one it is, too, with its oblique songwriting (the climax of Drinkswater is really quite transcendent) and unusual juxtapositions of instruments, notably the plucked banjo and pitchbent synth on Galapagos. It's rather hard to tell, but there seems to be some Mellotron use on at least two tracks, with some occasional background string chords on Hibernation and a distant flute part towards the end of Galapagos. The string part on Sing Your Thoughts has a very 'Mellotronic' feel to it, too, although the precise sound isn't entirely familiar. String section? Uncredited Chamberlin? Not tape-replay at all?
Anyway; if you're thinking of dipping a toe or two into the murky waters of Americana, you could do a lot worse than pick up a copy of either of these releases. A little 'Tron, but much excellent music. Recommended.
See: All Night Radio | The Quarter After
Beady Eye (UK) see: Samples
Beardfish (Sweden) see: Samples
Beat Circus (US)
Dreamland (2008, 45.06) ****/½

Gyp the Blood
The Ghost of Emma Jean
Hypnogogia
Delirium Tremens
Lucid State
Death Fugue
The Good Witch
Dark Eyes
Slavochka
The Gem Saloon
El Torero
The Rough Riders
Coney Island Creepshow
Hell Gate
Meet Me Tonight in Dreamland
March of the Freaks
Current availability:
Mellotron used:
Beat Circus (originally Beat Science), helmed by multi-instrumentalist Brian Carpenter, are a shifting ensemble of musicians, influenced by a host of unusual styles, including cabaret, circus music (of course) and bluegrass; unsurprisingly, they fall between several stools, which is presumably how they like it. 2008's Dreamland is the band's second release and the first instalment of Carpenter's Weird American Gothic trilogy, a concept album about the legendary Coney Island amusement park that burnt down in 1911. The album evokes the weirdness of the era, much of it sounding like music for a particularly twisted carney freakshow, banjos, tubas and accordions to the fore, both bizarre and strangely normal, if judged by the standards of the early twentieth century.
Carpenter plays Mellotron on Hell Gate (the ride where the fire started), with a brief string part and rather more choirs, sounding not out of place in the record's unique soundscape. You might be getting the impression that you'll have to be pretty musically adventurous to like this, but it's actually very listenable, certainly going by some of the weird shit I've encountered over the years. Adventurous, original and done to perfection. Recommended.
Beaten By Them (US)
Invisible Origins (2011, 42.44) **/½

Damp Sky 1
Final Sun
Lost
Damp Sky 2
Yo
Water
Bird's-Eye View
Vanishing Point
Destiny Manifest
Nusla Nif
Skin of the Snake
Current availability:
Mellotron used:
Coalescing in San Francisco, Beaten By Them are a multinational outfit, more Australian than American; their third release, 2011's Invisible Origins, despite their weak protestations, falls firmly into the post-rock bracket, complete with obligatory real cello. While most of its tracks differ, sometimes quite markedly, from each other, the overall effect is of a band who want to create the modern equivalent of 'mood music', but have yet to properly develop the skills to do so. Better tracks include the energetic Final Sun and the piano-led Water, but it's all a bit anodyne, frankly.
Keys man Max McCormick plays Mellotron, although the only obvious use is a flute line on Yo, which, of course, may or may not be genuine. To be honest, I found this album a severe drag; not too bad for a few tracks, but a real grind by the end, despite its relative brevity. Not worth it for either music or Mellotron.
The Beatifics (US)
How I Learned to Stop Worrying (1996, 37.08) ***½/TT½

Almost Something There
Something/Anything?
This Year's Jessica
Without a Doubt
Last Thing on My Mind
Happy to Be Sad
Crazy Lovesick Heart
Those Kids
Read You Wrong
Green Day Rising
The Way We Never Were (2002, 33.12) ***/TT

Sorry Yesterdays
After All
February
The Only One
When it's Whenever
Different Stars
In the Meantime
Between The Lines
Pt. 2
Outro
Current availability:
How I Learned: Restless
Way We Never: Bus Stop
Mellotrons used:
I don't know if The Beatifics' name was chosen to file next to The Beatles, but I wouldn't be surprised; they fit fairly and squarely into the powerpop genre, clearly worshipping at the altar of all the 'B' bands, not to mention later proponents of jangly, melodic-yet-intelligent pop (which makes it sound like melody's for idiots. Sorry). 1996's How I Learned to Stop Worrying was their debut, full of songs of the quality of opener Almost Something There (hey, always open a powerpop album with your best track), This Year's Jessica and Without A Doubt, and Something/Anything? has to be a deliberate Todd quote...
Band leader Chris Dorn plays Mellotron, amongst other things, with a wash of strings on Without A Doubt, plus full-on, definitely genuine cellos, strings on Last Thing On My Mind and Green Day Rising and strings and cellos on Read You Wrong. Incidentally, the CD displays about twenty minutes longer, but I've removed the empty space between the end of the last track and a few seconds of pointlessness at the end of the album.
The band released an EP in 2001, In the Meantime, with Mellotron credited; three of its five tracks appeared on the following year's The Way We Never Were, but it's impossible to know if there's any 'Tron on the other two without hearing them. Said album appeared in 2002 and the band seem to have taken on a bit of a garage influence (not the hip-hop variant, dumbarse), notably on opener Sorry Yesterdays, although the album as a whole seems rowdier than before. The material's decent enough, but possibly not quite meeting the band's earlier standards, seeming slight more derivative (that's a cheeky chord at the end of In the Meantime...).
Mellotronically speaking, I thought at first that they used samples this time round, until a 'stand alone' part convinced me otherwise, although I suspect it's mixed with something sample-based. Anyway, we get strings on After All, flutes and phased strings on The Only One, flutes on When It's Whenever, although the strings don't sound right, ditto for Different Stars, although the flutes and cellos sound real and I remain unconvinced by the strings on February and the cellos on Outro.
Overall, then, two powerpop albums, one very good and one good, one with plenty of definite 'Tron and one with some rather suspect stuff. If you're thinking of dipping your toe in the water, I'd have to recommend How I Learned to Stop Worrying over In the Meantime on every front, although the latter's worth hearing, too.
| | |
| --- | --- |
| The Beatles (UK) see: | |
Beautiful People (UK)
7" (1981, recorded 1969, 5.25) ***½/TT

Let's Go Back to San Francisco, Pt.1
Let's Go Back to San Francisco, Pt.2
Current availability:
On The Flower Pot Men: Listen to the Flowers Grow, RPM, 2007
Mellotron used:
I've known about this pairing for years, but had no idea they were released in 1981, of all years. The Beautiful People were another name used by John Carter and Ken Lewis, the creators of the mostly fictitious Flower Pot Men, of Let's Go To San Francisco fame. Let's Go Back... was a 1969 recording, clearly designed to cash in on its two years-earlier predecessor, then left in the can for an inexplicable fourteen years. No wonder it appeared on the little-known RK label... Both sides of the single are actually almost as good as the original two-part track, with the proviso that they lack even its dubious claims to originality.
Carter and/or Lewis provide the distant MkII Mellotron flutes on the 'A' and the major string part on the flip, making this a lesser-known Mellotron must-have from the era. Luckily, the tracks have been anthologised more than once, now easily available on RPM's 2007 Flower Pot Men release, Listen to the Flowers Grow.
See: The Flower Pot Men
| | |
| --- | --- |
| Be-Bop Deluxe (UK) see: | |
Bebe (Spain)
Y (2009, 57.20) **½/½

No + Llorá
Me Fui
Busco-Me
Sinsentido
Escuece
Cuanto + Me Sujetas
Que Mimporta
La Bicha
Se Fue
Pa Una Isla
Nostaré
Pa Mi Casa
Uh, Uh, Uh, Uh, Uh
Current availability:
Mellotron used:
María Nieves Rebolledo "Bebe" Vila has actually acted in more films than she's made albums; does this make her an actress who also has a music career? Anyway, her second album, 2009's Y, is a pretty typical Latin pop effort, featuring a heavy folk influence amongst the modern production touches. Picking out 'best tracks' is well-nigh impossible for someone really not into the style; suffice to say, it all seems to be done well enough, but is fairly tedious for the non-fan from a different part of the world (yes, Spain and Britain are sufficiently far apart, both geographically and culturally to be considered 'different parts of the world').
Carlos Jean plays Mellotron, with a 'typical' flute part on Se Fue; always nice to hear, but I couldn't honestly say it especially enhances the album. All in all, then, one for the Latin music lover in your life; I can't imagine anyone else is going to get much out of this, minor Mellotron use or no minor Mellotron use.
Beck (US)
Odelay [Deluxe ed. Disc 1] (1996/2008, 70.31) ***½/0 (T)

Devil's Haircut
Hotwax
Lord Only Knows
The New Pollution
Derelict
Novacane
Jack-Ass
Where it's at
Minus
Sissyneck
Readymade
High 5 (Rock the Catskills)
Ramshackle
Diskobox
[Deluxe ed. adds:
Deadweight
Inferno
Gold Chains]
Mutations (1998, 49.18) ***/T

Cold Brains
Nobody's Fault But My Own
Lazy Flies
Cancelled Check
We Live Again
Tropicalia
Dead Melodies
Bottle of Blues
O Maria
Sing it Again
Static
Diamond Bollocks
Stray Blues (2000, 29.02) ***/½

Totally Confused
Halo of Gold
Burro
Brother
Lemonade
Electric Music and the Summer People
Clock
Feather in Your Cap
Eternal Sunshine of the Spotless Mind (2004, 5.54) ***½/T

[Beck contributes]
Everybody's Gotta Learn Sometimes

Scott Pilgrim vs. the World: Original Motion Picture Soundtrack (2010) ***/½

[Beck contributes]
Ramona
Current availability:
Odelay/Mutations/Stray Blues: Geffen
Eternal Sunshine: Hollywood
Scott Pilgrim: ABKCO
Mellotrons/Chamberlin used:
Odelay/Mutations/Stray Blues/Scott Pilgrim: unknown
Eternal Sunshine: Jon Brion's M1?
After a shaky 'one-hit wonder' start (1994's Loser), Beck Hansen has gone on to become the darling of the 'alternative' scene, and one of its most visible members. Although his early-'90s signing with Geffen was ostensibly because they allowed him to concurrently release less commercial material on indie labels (three in 1994 alone), he only seems to've made use of this facility initially, with two indie albums in '94, after his Geffen debut, Mellow Gold.
1996's Odelay was an unexpected success; I can only assume it caught the era's zeitgeist perfectly, which was rather crafty (or lucky) of Mr. Hansen. Listening to it now, its genre-mangling still sounds refreshing, although its mad sampedelica's a little dated sixteen years on. While there's no Mellotron on the original album, one bonus track on 2008's double-disc expanded edition, Deadweight, features a brief repeating flute part from yer man himself. '98's Mutations was his third major release and is a blend of low-fi(ish) folk-influenced material, with just about everything thrown into the pot somewhere down the line, not least the slightly unwelcome country of Cancelled Check and Sing It Again. Roger Manning, once of the extraordinary Jellyfish, plays Mellotron on two tracks: a gorgeous flute part on Dead Melodies and some solo strings right at the end of Diamond Bollocks (not a word in general use in the States; is that why he's used it?).
One more definite Beck 'Tron track in his version of Skip Spence's Halo Of Gold, originally recorded for the Spence tribute album More Oar, finding its way onto Beck's b-sides compilation Stray Blues, apparently only available on Geffen Japan. It's a heavily psychedelic version of what's probably a heavy psychedelic track, with some form of electronic organ making flutey sounds in the verses, then actual 'Tron flutes during the choruses. The rest of the album's as you'd expect; Beck odds'n'sods that hardcore fans will want, while the rest of us shrug our shoulders.
So; if you're a Beck fan, I'm sure you own Mutations anyway. For the rest of us, if a laid-back, slightly countryish album with odd bits thrown in sounds like your thing, go for it. I can't say it blows me away, but there you go. Only one overt 'Tron track, too. Oh, and please can we hear no more of that Scientology bullshit please, Mr. Hansen? Just because with you grew up around that insidious crap is no excuse to get caught up in it yourself. You're far more intelligent than most 'celebrity Scientologists', after all...
See: Eternal Sunshine of the Spotless Mind | Scott Pilgrim vs. the World
Beck, Bogert & Appice (UK/US)
Beck, Bogert & Appice (1973, 37.10) ***/T

Black Cat Moan
Lady
Oh to Love You
Superstition
Sweet Sweet Surrender
Why Should I Care
Lose Myself With You
Livin' Alone
I'm So Proud
Current availability:
Mellotron used:
BBA were Jeff Beck's then-latest attempt to find a band scenario that suited him (he never did, of course), with the defunct Vanilla Fudge's rhythm section, Tim Bogert and the superb Carmine Appice. Musically, Beck, Bogert & Appice's a bit of a mish-mash of funky hard rock; not heavy enough to really grab the Zeppelin/Purple fans, but too 'rock' for the mainstream. Typical Beck, really; rarely in quite the right place at quite the right time. Saying that, it has its moments, Lose Myself With You rocks and funks with equal enthusiasm, and opener Black Cat Moan gets things off to a good start, but thirty years on, much of the album just sounds far too stodgy and lifeless compared to many of their contemporaries, whose work still stands up well today.
There's only one Mellotron track, credited: Oh To Love You, 'Tron played by Duane Hitchings; an undistinguished ballad, with 'Tron strings (and possibly cellos) coming in about a minute from the end. Beck, Bogert & Appice is, well, OK I suppose, but I'm having difficulty getting excited about much of it, although some of Beck's guitar work is as good as you'd expect. Maybe pick it up if you see it cheap, but don't bother for the 'Tron.
See: Carmine Appice
---