---
Sugarbomb (US)
Bully (2001, 39.40) ****/TTT½

What a Drag
Bully
Hello
Mail Order Girlfriend
Motor Mouth
Clover
Over
Gone
Posterchild for Tragedy
Waiting
After All
Current availability:
Mellotron used:
Another excellent Jim Rigberg review, ladies'n'gents!
Apparently, as with all excellent - and somewhat unique (sort of like the bastard child of Weezer and Queen) - new bands these days, Sugarbomb managed to last long enough to issue only one full-length release, 2001's Bully. I suppose a potential silver lining exists - vocalist/keyboard man Les Farrington, on the one hand, and vocalist/guitarist David Harville, on the other, are now free to form two good bands. Unfortunately, given the lack of commercial success of Sugarbomb and the prospects these days for any act that doesn't need to rely on those two Swedish guys that supply the tripe for the Justin Aguileras of the world, it would not surprise me in the least if these talented gentlemen blew off music for lucrative careers in web-design, real estate sales, or catering.
Anyway, Bully really is a power-pop gem. Reviews of the CD included comparisons and references to Todd Rundgren, Cheap Trick, XTC, the Beatles, Smashing Pumpkins, Jellyfish, and - of course - Queen, a stated favorite of Mr. Farrington's. Sugarbomb's music echoes all of these bands and, at the same time, carries plenty of complementary modern production finishes, punk energy à la Supergrass, and great, great hooks. Several songs - What A Drag, Bully, Hello, - are radio-ready (but in a good way); it's hard to believe that this CD (which was released on RCA) didn't do a whole lot better. I can't profess to know all the facts, but I suspect that the usual factors (ahem, abandonment of record company financial and advertising support) contributed to the outcome.
Not much Mellotron on the opening track, What A Drag - just some string washes here and there. Mail Order Girlfiend and Motor Mouth, on the other hand, are stuffed with 'Tron. Mail Order Girlfriend sounds like Queen channeling some boy-band (but, I promise, it does not suck) with plenty of creepy-carnival sounding 'Tron and organ figures. However, the 'Tron centerpiece - and the reason an 11-track CD with 'Tron on only four tracks still merits a TTT½ rating - is Posterchild For Tragedy. The verse, chorus, and outro of this piano-based track boast three distinct melodies that would make Paul McCartney proud. The 'Tron strings are up front, come in on the first chorus and, after the second chorus, don't leave. Most importantly, there is that rarest of rarities, a 'Tron solo!
Equally impressive is the 'Tron-less closer After All, the best Queen song not written or performed by Queen. In fact - I hate saying this - the melody of After All is better than most anything Queen ever came up with.
Five of the songs on Bully were apparently re-mastered/re-engineered/re-recorded tunes that appeared on an EP Sugarbomb released in 1999 or 2000. I've not heard the original versions. I have heard a great acoustic version of Killer Queen they performed which is definitely worth down-loading if you can find it. At any rate, if you like any kind of intricate pop music, Bully is a must-buy. Please, Les and Dave - if you are reading this - either get back together or form your two new bands and get us some new stuff!
Sugarland (US)
Enjoy the Ride (2006, 42.25) **/½

Settlin'
County Line
Want to
Everyday America
Happy Ending
These Are the Days
One Blue Sky
April Showers
Mean Girls
Stay
Sugarland
Current availability:
Mellotron used:
These days, Sugarland are the good-looking C&W duo of Kristian Bush and Jennifer Nettles, although some controversy surrounds the departure of Bush's original musical partner, the openly lesbian Kristen Hall, presumably seen as a barrier to mainstream acceptance. Their second album, 2006's Enjoy the Ride, despite its indie-ish sleeve, is a very typical modern country album, featuring the obligatory arena rock influence alongside the pedal steel and ten-gallon hats, difficult to review objectively without wholeheartedly embracing the country music culture.
Tony Harrell plays Mellotron on two tracks, with some near-inaudible strings on Want To and something entirely inaudible on These Are The Days, making you wonder why anyone bothered. So; mainstream country with next to no Mellotron. Do you bother? You tell me.
Sugarloaf (US)
Sugarloaf (1970, 37.47) ***/½

Green-Eyed Lady
The Train Kept-a-Rollin' (Stroll on)
Medley: Bach Doors Man/Chest Fever
West of Tomorrow
Gold and the Blues
Things Gonna Change Some
Current availability:
2-on-1 with Spaceship Earth: Collectables
Chamberlin used:
Sugarloaf were based around the talents of vocalist/organist Jerry Corbetta, so it's hardly surprising that their eponymous 1970 debut is stuffed with his fiery Hammond work. Sugarloaf's a strange album, half mainstream pop/rock of the era (big hit Green-Eyed Lady, West Of Tomorrow), half more eclectic material, including a strange instrumental version of The Train Kept-A-Rollin' (a.k.a. Stroll On), the similarly vocal-free Medley: Bach Doors Man/Chest Fever (Corbetta's organ showcase) and the overlong slow blues of Gold And The Blues.
Corbetta adds Chamberlin flutes to the dying seconds of West Of Tomorrow, although that appears to be it, unless there's anything else hidden in the mix. Why bother? Who knows? Anyway, a decent enough album of its type, if a little unexciting. As a sidenote, Corbetta's been known to say that he used 'the Chamberlin music box sound' on, er, Music Box on their follow-up, 1971's Spaceship Earth, but given that a) I'm completely unaware of any music box sound on the Chamby (which doesn't necessarily mean anything, in fairness) and b) he's credited with celeste on the album, which would produce that sound most satisfactorily, it seems unlikely.
Sula Bassana (Germany) see: Samples etc.
Sullivan (US)
Hey, I'm a Ghost (2006, 45.02) **½/T½

Down Here, We All Float
Ten Ways to Impress
Cloudy
The Charity of Saint Elizabeth
Cars at Break-Neck Speeds
Gardens
Insurance for the Weak
How I Remember You
Promise Me
Under the Watchful Eyes of Dr. T.J. Eckleburg
Hey, I'm a Ghost
Current availability:
Mellotron used:
Sullivan were a band at the noisy end of U.S. indie, who released two albums in the mid-'00s, the first being 2006's Hey, I'm a Ghost. You know that slightly punky American indie thing? It's like that, but worse, with appalling, whiny vocals. Sorry, guys, but this really isn't any different to a thousand other bands out there; The Charity Of Saint Elizabeth's about the best thing here, but that isn't really saying much.
Vocalist Brooks Paschal plays Mellotron on the album, with possible strings and definite choirs on Gardens, what sounds like real cello and 'Tron strings on Promise Me, while Under The Watchful Eyes Of Dr. T.J. Eckleburg (a Great Gatsby quote, apparently) opens with a strings part before it gets noisy. You really don't need to hear this for its subdued Mellotronic contributions, though, or for any other reason, for that matter. Generic.
Sulo (Sweden)
Rough Diamonds (2003, 50.52) ***/½

Weekend Monster
Inflammable 69: er
Rough Diamond
Living Legends Dyin' Hearts
Ba Ba Ba (the Word is on the Street)
R'n'R Declaration
Vegas Vamp
Love Me, Hurt You
8: PM
In Your Cave
I'll Be Your Monkey
Dullsville Girl
Gravity Blues
Golden Trash
Current availability:
Mellotron used:
Sören "Sulo" Karlsson is best-known as vocalist with '90s Swedish outfit The Diamond Dogs (interesting name; wonder what inspired it?), associated with the better-known Hellacopters. His first solo album, 2003's Rough Diamonds, features various members of The Hellacopters, the Backyard Babies and his regular band and contains a reasonably appealing mix of punk and powerpop in typical Swedish style. Its highlights are possibly more apparent in its influences than the actual material, not least the Pretty Vacant quote on Inflammable 69: er's fadeout, the Beach Boys-esque backing vocals on R'n'R Declaration and the Teenage Kicks-alike riff on I'll Be Your Monkey, the songs themselves being largely competent-yet-slightly-unexciting garage rock, Dullsville Girl probably being the cream of the crop.
Tomas Skogsberg plays Mellotron, but the only even remotely possible part is what just might be some background string section on Vegas Vamp, so we're not exactly talking top Mellotron use here. So; a good, gritty rock'n'roll album, but a bit of a dud on the Mellotron front.
Sulphat'Ketamine (France)
Giant Runk (2015, 44.09) ***½/T

Black Stuff
Stop the Grind
Alrightotherapy
Jackass Boogie
Blue Marine's Blues
The Strange
Birth of the Runk
Current availability:
Mellotron used:
Sulphat'Ketamine are a new French psychedelic blues-rock outfit, whose debut full-length release, 2015's Giant Runk, works its way through several variations on a theme over its seven tracks, notably on lengthy opener Black Stuff, which might just be the exemplar of the band's style, an eleven-minute heavy blues-rock jam bookended by stoner-esque vocal sections. Elsewhere, the electric piano-led instrumental Stop The Grind showcases their more laid-back side, Alrightotherapy features female vocals (from Rita Pradinas) and an epic end section, while Blue Marine's Blues is everything you'd expect from its title.
Bassist Sébastien Grammond (once of the excellent 4/3 de Trio) adds the Mellotron (the same one you'll hear on his previous band's albums) to Hendrixesque closer Birth Of The Runk, with some volume-pedalled choir chords and a more full-on part towards the end. Worth it for the Mellotron? Not really, but a fine album in its own right.
See: 4/3 de Trio
Mark Sultan (Québec) see: Samples etc.
Cree Summer (US)
Street Faërie (1999, 59.19) ***/T

Revelation Sunshine
Miss Moon
Still Heart
Deliciously Down
Mean Sleep
Life Goes on
Fall
Angry Boy
Sweet Pain
Smooth My Heart
Naheo
Soul Sister
Curious White Boy
Current availability:
Mellotron used:
Cree Summer (Francks) is an actress, mainly known for voicing animated characters, although she's had a fair few 'regular' roles, too. After an unreleased 1993 album, it seems Street Faërie is her only proper release, falling somewhere between R&B, soul and rock, which isn't exactly surprising when you consider it was produced by her friend Lenny Kravitz, whose music is best described as falling somewhere between R&B, soul... you get the picture. As with most of his production efforts, Kravitz is the chief musician on the album, although he seems to have reined in his compositional talents this time round, with a mere single co-writing credit.
Kravitz plays Mellotron on four songs, which is rather more than he manages on his own albums, with rather murky strings on opener Revelation Sunshine and more of the same on Life Goes On. He's credited with 'Mellotron voices' on Smooth My Heart, but if it didn't say, you probably wouldn't know that the faint backing 'aahs' on the track were 'Tron, while Soul Sister has 'Mellotron orchestra', which sounds like it might be a couple of string sounds overdubbed. Overall, very little 'Tron, in true Kravitz style. Why does he bother?
Street Faërie apparently didn't sell very well; maybe it fell between too many stools? It's too laid-back and acoustic to really appeal to the R&B crowd, too rock for the soul fans, too soul... It isn't a bad record, but doesn't really stand out in any noticeable way, and it seems the record-buying public agreed. Ironically, it's immeasurably better than anything by the likes of the horrendous Mariah Carey, or any number of other multi-million-selling 'artistes'; not unoriginal enough? Wouldn't surprise me. Anyway, not worth it on the 'Tron front, despite four credited tracks, and most readers of this site really aren't going to like the music, though I expect you'd worked that one out for yourselves by now.
See: Lenny Kravitz
Sun City (Australia) see: Samples etc.
Sun City Girls (US)
Funeral Mariachi (2010, recorded 2006? 37.12) ***/½

Ben's Radio
The Imam
Black Orchid
This is My Name
Vine Street Piano (Orchestral)
Blue West
Holy Ground
Mineral Wells
El Solo
Come Maddalena
Funeral Mariachi
Current availability:
Mellotron used:
The Sun City Girls (apparently named for a retirement community in Arizona) formed in 1979, keeping a consistent lineup from 1981 to 2007, when they split after drummer Charles Gocher's untimely death. Exponents of '80s cassette culture, the band began the slow switch over to more conventional formats with 1984's eponymous release, their first CD appearing in 1993. Due to multiple-format releases, reissues and the like, it's difficult to say how many albums they've released in thirty-plus years, but according to their website, 2010's Funeral Mariachi (presumably recorded around 2006) is their 57th LP/CD.
It's actually extremely difficult to describe, but I'll have a go. Lo-fi world music? Atonal psychedelic folk? Outsider western swing? Does that explain my dilemma? It's apparently the nearest they ever came to 'mainstream', which makes me wonder just what, exactly, the rest of their output sounds like. Alan Bishop, who, together with his brother Richard, made up the other two-thirds of the trio, is credited with Mellotron, but the only thing I can hear that even might be one is an odd organ sound on This Is My Name that 'hiccups' like a badly-adjusted Mellotron. Hammond (actually Lowrey) organ tapes?
Anyway, while clearly highly accomplished in its genre-of-one, I'm not sure I can recommend this to most of you, either for the music or the Mellotron, though not in a bad way. I'm glad bands like The Sun City Girls exist, if only to act as the grit in the oyster shell of the music business.
Sundae Club (UK)
Technostalgia (2004, 52.24) ****/TTTT

Angels in the Sky
In Love With Sundae
Frankie & Tronny
Stuff
The Brummagem Fly
When Beechleaves are Falling
Great Big Homburg Hats
Smaller Fedora
Arabian Flights
Balky Mule
A Different Tide
British Summer Time (2008, 60.18) ***½/TTT

Good People
Pies
The Voder
Honey Bee
The Doddler
Flight Four India
Let's Go to Germany
London to Shanghai via Chipping Norton
Circles
My New Neighbours
Holiday Magic
Oh Roger Rum
Current availability:
Technostalgia: Technostalgic Tunes (UK)
British Summer Time: download from here
Mellotrons used:
Both titles: band's own M400
You know when you hear a piece of music and it effortlessly invokes a national or regional characteristic? Oompah bands are forever Bavarian, skirling gypsy violins transport one to Hungary in the blink of an eye, a samba lands you on Copacabana beach; you get the idea. Well, Sundae Club are British. Not a 'rolling green hills and Jane Austen' type of Britishness, more the 'wet bank holiday at Skegness' kind, with the whole family stuffed into your dad's Hillman Hunter, eating fish-paste sandwiches while watching the rain, and hoping your little sister doesn't throw up on the way back to the guest house. But if you think this is starting to sound a little negative, think again...
Technostalgia is a celebration of growing up in the '60s and '70s in Britain, with everything that implies; I keep being reminded of the interval music in the local Odeon, with the cheesy, badly-made adverts for local boutiques and Indian restaurants, and the ubiquitous wobbly Hammond they invariably used as a soundtrack. Nostalgia is the key element here, simultaneously with and without irony; the beautifully-designed CD digipack opens out to reveal the dashboard of an unidentified '70s British car (maybe that Hillman Hunter?) in loving detail, the icing on the cake being the pile of Ladybird books in the glove compartment, the bottom one of which is titled, "How it works: the Mellotron". If you're reading this with non-British bemusement, I apologise; I didn't make the album or design its sleeve, but I'm glad someone did.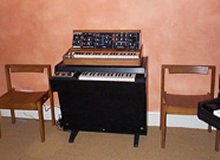 I haven't even tried to describe the music yet... Easier said than done, to be honest; think 'British film samples mixed with '60s easy listening over a faint techno beat', or 'weird Mellotron riffs in a chill-out room with extra added diva'. I dunno - it doesn't sound like anything else, which is entirely in its favour, but it may also be too eclectic for the average listener, which will somewhat restrict its audience. Do they care? Shouldn't think so; Technostalgia has all the hallmarks of an album made for the amusement of its creators, although I doubt if they'd complain if it suddenly took off. Some tracks catch my ear more than others, but that's hardly surprising, with the variety on offer here. I can't really warm to the girly warblings on three of the tracks, and the vocal samples (of the title) in When Beechleaves Are Falling got on my nerves after a while, but the spoken-word samples in The Brummagem Fly and Great Big Homburg Hats are spot-on (no, I didn't spot their sources), and all the instrumental work is excellent.
Sundae Club are Dr. C.D. Mille on 'composition, production, Theremin, cello, keyboards, loops, percussion, tools', and the ingeniously-named Hamstall Ridware (haven't I seen that name on my phone bill? Sorry, UK Mellotron-owner's in-joke...) on 'composition, Mellotron, keyboards, percussion, tapes and wireless', and I think it's fair to say that they are both absolutely barking mad - in the nicest possible way, of course. Mille's contribution to their sound is described on their website as 'mainly techno', while Ridware's is 'mainly nostalgic', with a full equipment list on the CD sleeve, which informs us that not only do they own an M400 (I knew that, thanks), but a Bentley Rhythm Ace (see: Arthur Brown's wondrous Journey album), a Rhodes and a Wurly, and a bloody DX7. Oh, and a Theremin, that looms up out of the sonic morass here and there. Almost too many 'Tron highlights to name: the 8-choir that opens the album? the flute solo in Angels In The Sky? The MkI (yes, I) rhythms on Frankie & Tronny (actually recorded onto MiniDisc and imported from there, but it still counts)? I'm sure I've missed some more subtle 'Tron parts, but I couldn't hear a single track with nothing at all, though I'm sure I'll be corrected if I'm wrong (ah, correction: The English Vice).
It's taken the Sundae chaps four years to follow Technostalgia, with British Summer Time appearing as a download in 2008, preparatory to a full CD release, apparently. Opener Good People fools the listener into thinking they're going to get more of the same, although it has more of a mainstream 'full band' vibe about it. Pies sounds like some cockney geezer rapping over an Ian Dury outtake, giving the impression of a lite funk rewrite of Blur's Parklife, while Honey Bee goes completely overground, with a mainstream male vocal rather strongly resembling Jeff Lynne's warblings with ELO. You know, you can take this nostalgia thing too far, chaps... The Doddler's plethora of samples sounds more like what we've come to expect from the Clubsters, as does Let's Go To Germany, although the latter is a little repetitive. Circles is another mainstream pop song, while the last few tracks are more typical. What's with the guitar solos, though? Much less obvious Mellotron than last time round, although a typical string part on Good People might initially make you think otherwise. Strings (MkII moving strings?) and cellos on Pies, a lovely flute part on The Voder and distant, phased choirs on Flight Four India keep things going, but several tracks feature no obvious 'Tron at all, which is, of course, the band's prerogative. Strings on London To Shanghai Via Chipping Norton and faint, effected choirs here and there, and once the band actually pointed it out to me, MkII guitar on The Doddler and MkII brass on Circles, but still well down on last time.
Technostalgia: wow, what an album! It certainly isn't yer run of the mill effort, and it's a million miles away from my more typical listening, but isn't that a good thing? Completely bonkers, rather wonderful, and more Mellotron than you can shake the proverbial stick at. Of course, you don't have to be British and Of A Certain Age to really appreciate this, but it probably helps. Whatever. Buy this album. British Summer Time is a very different record, but its charms may become more apparent if I find the time to give it repeated plays. Not bad, but not great.
Sundance (Sweden)
Sundance (1976, 41.41) ***/½

Yea Yea
Some Drunk
Buster
Aspects
So Soft
Current availability:
Mellotron used:
How do you find out anything about a Swedish fusion band from the mid-'70s? You don't, is the short answer. All I can tell you is that is was recorded in Gothenburg, on the west coast and something like thirteen people played on 1976's Sundance, probably their only release, although I don't know how many of them were 'proper' band members, assuming I can even make that distinction. It's all accomplished stuff, as you'd expect, although nothing stood out melodically to a non-jazzer.
Carl-Axel Hall played Mellotron, with a couple of brief, yet lush string parts on Aspects, not even managing to scrape a full T. While this isn't available on CD, downloads are out there, but you really aren't going to bother for the minimal Mellotron.
Sundial (UK)
Acid Yantra (1995, 49.21) ***½/T½

Red Sky
Apollo
3,000 Miles
Are You Supernatural?
Bad Drug
Fly Into the Sun
Rollercoaster
Nova
Yantra Jam

Zen for Sale (2003, 42.11) ****/TT½

You're Still Wondering
Open Your Eyes
Believe in the Spaceman
Tumbling Down
Acid Test
Supernatural Man
Out of Space Out of Time
Blue Sugar
Reflections
Current availability:
Acid Yantra: Beggars Banquet
Zen for Sale: Acme
Mellotrons used:
Both titles: Gary Ramon's own M400?
Sundial (or Sun Dial) are a fairly rare thing, a modern full-on UK psych outfit; formed in 1990 by mainman Gary Ramon, they went through numerous lineups while managing to release several albums, signing with Beggars Banquet in '93. Acid Yantra was their fifth album in as many years, and features various takes on the whole psych thing, from acoustic whimsy (3,000 Miles, Yantra Jam) to all-out rock (Apollo, Are You Supernatural?), opening with almost the least obvious opener, the lengthy, stoned-out Red Sky. Ramon is credited with Mellotron, and by track 8 I'd given up on hearing any, so I'm pleased to report that Nova, is chock-full of 'Tron strings, played in an endearingly psych-ish manner, with some distant flutes on Yantra Jam to finish off. Acid Yantra is possibly a better concept than an actual album, but it's not at all bad, while making you hope Ramon can hone his skills more finely next time round.
There wasn't actually a next time round until 2003, when a new lineup released Zen for Sale. It's more cohesive than its predecessor, with an even higher late '60s quotient - spot the early Floyd cop on Open Your Eyes - but better songs (listen to closer Reflections) and less aimless jamming, which has to be good. Doesn't it? Anyway, I presume it's Ramon on the 'Tron again, with flutes and cellos on Tumbling Down, heavily reverbed strings and cellos on Supernatural Man, strings on Blue Sugar and flutes and strings on Reflections, making for a healthier Mellotron selection this time round.
So; modern Brit-psych: a small field (Bevis Frond, a few lesser-known acts), but a worthy one. All power to Sundial, then, who have carried on releasing records since their reformation, albeit mostly EPs. I shall report back should I find there to be any Mellotron on them. As far as these two go, I'd rate (and in fact, do rate) Zen for Sale above Acid Yantra, although fans may disagree. It's certainly the better Mellotron album, so get out there a score a copy.
Bo Sundström & Frida Öhrn (Sweden) see: Samples etc.
Sunflow (Ireland/US) see: Samples etc.
Sunny Day Real Estate (US) see: Samples etc.
Sunshine Collective (US) see: Samples etc.
Super 400 (US)
Sweet Fist (2009, 51.27) ***/T

Needle Down
Another Heavy Word
FFMN
Flashlight
Wave
Sand Hill
Thought it Was the End
Dreamboat
Thorn Tree
I Feel the Earth Move
Devil Song
White Bird
Current availability:
Mellotron used:
Presumably named for Gibson's hollow-bodied archtop guitar, Super 400 are (or were) a New York State-based trio, taking inspiration from The Who, Cream and other proto-hard rock outfits of the era. I believe Sweet Fist is their fourth album, highlights including opener Needle Down, the quieter FFMN and the country-blues of Thought It Was The End, although the excision of their insidious indie influence would improve the band's sound.
Bassist Lori Friday's Mellotron sounds real to my ears - given that the album was recorded at Memphis' legendary Ardent Studios, is this their old M400, as used by Big Star and others? Anyway, assuming it's genuine (or even if it isn't), we get cello and flute parts on FFMN and flutes on the gentle Devil Song.
Superchunk (US)
Indoor Living (1997, 48.32) ***/TT

Unbelievable Things
Burn Last Sunday
Marquee
Watery Hands
Nu Bruises
Every Single Instinct
Song for Marion Brown
The Popular Music
Under Our Feet
European Medicine
Martinis on the Roof
Current availability:
Mellotron used:
Superchunk formed in the late '80s, which probably puts them at the forefront of modern US indie, for better or worse. Indoor Living is their sixth album, excluding compilations, and pretty much defines the late-'90s American indie scene, being composed of equal parts pop/punk (backings) and modern pop (melodies), Mac McCaughan's vocals being of the 'relatively fey' variety, which you'll either like or you won't, I suspect; probably not too many half-measures here. The music does what it does perfectly well, without touching this listener emotionally in any way, which isn't to actually denigrate it; just because I don't particularly like it doesn't mean it's bad.
The strings on some tracks, particularly Burn Last Sunday and Every Single Instinct are clearly not Mellotron, generic string samples being a more likely source, but McCaughan plays 'Tron on three tracks, with wobbly and very real-sounding cellos on Marquee (you really can't fake that wobble, you know), high flute and string notes on The Popular Music and a brief string part on European Medicine. While there were samples around in '97, all 'Tron parts here sound genuine, which makes a nice change, to be honest. So; American indie; I'd rather leave it than take it, but some of you will like it, and there's the consolation of a few halfway decent 'Tron tracks.
Superdrag (US)
Regretfully Yours (1996, 41.39) ***½/T

Slot Machine
Phaser
Carried
Sucked Out
Cynicality
Destination Ursa Major
Whitey's Theme
Truest Love
What if You Don't Fly
Garmonbozia
N.A. Kicker
Nothing Good is Real
Rocket
Head Trip in Every Key (1998, 49.46) ***½/0

I'm Expanding My Mind
Hellbent
Sold You an Alibi
Do the Vampire
Amphetamine
Bankrupt Vibration
Mr. Underground
Annetichrist
She is a Holy Grail
Pine Away
Shuck & Jive
Wrong vs. Right Doesn't Matter
The Art of Dying
Current availability:
Mellotrons used:
A quick glance at the cover of Superdrag's debut album, Regretfully Yours, is liable to make one shudder and think, "Indie-schmindie time". While it isn't entirely true to say that nothing could be further from the truth, they're actually a really good punky powerpop outfit with great melodies and an obvious love of The Beatles, although they must have Hüsker Dü and The Replacements posters on their bedroom walls, too. I'm sure repeated plays would bring out the album's subtleties, but on a single listen, no one track particularly stands out (OK, N.A. Kicker is pretty good), although the overall effect is of tuneful but energetic pop/rock, with not a trace of that terrible indie wussiness so many of their contemporaries insist on sporting (anyone say "Bright Eyes?"). Mellotron on Truest Love, from vocalist/guitarist John Davis, with a melodic string part slightly buried in the mix, meaning that one T is too much, but half isn't enough, so one it is.
They followed up, two years later, with Head Trip in Every Key, which starts badly, then picks up quickly with track two, Hellbent, keeping the quality up for the bulk of the rest of the record, other top tracks including Sold You An Alibi and Pine Away. Although Davis is credited with Mellotron again, I've no idea where it might be; the strings on Amphetamine and The Art Of Dying are real, so unless it's buried somewhere deep in the mix...
So; neither of these albums is going to satisfy the Mellotron junkie, to say the least, but they're good, energetic pop/rock records for those into the genre.
See: John Davis | The Lees of Memory
Supergrass (UK)
Life on Other Planets (2002, 40.45) ***½/½

Za
Rush Hour Soul
Seen the Light
Brecon Beacons
Can't Get Up
Evening of the Day
Never Done Nothing Like That Before
Funniest Thing
Grace
La Song
Prophet 15
Run
Current availability:
Mellotron used:
Along with Pulp, and maybe Blur, Oxford-based Supergrass are one of the more literate outfits to've risen from the Britpop 'movement' (more of a music press construction than any real meeting of minds, to be honest). I believe their previous album was something of a letdown, but Life on Other Planets was hailed as a return to form on its release, and it isn't difficult to see why. The songwriting's good (these boys know how to construct a song properly), the influences are impeccable, the musicianship stands up well... Beat that, Oasis! Highlights? Hard to say, but Za is a strong opener, and Brecon Beacons impresses, too, but there really isn't a bad track on the album. Saying that, little of it is 'classic', either, slightly reducing its star rating, but it's still worth hearing for those of you into intelligent, witty pop.
No credits anywhere, but I believe the heavily-featured keys are played (as ever) by mainman Gaz Coombes' brother Rob, the band's unofficial fourth member. I'm not sure what his reasoning is for refusing to become a full member; maybe it pays better this way? Anyway, aside from the Hammond, piano and monosynth parts, Coombes (if Coombes it is) plays a few Mellotron flute chords on the raucous Never Done Nothing Like That Before, and sounds like he's probably doubling the ethereal 'rub a bottleneck across the string' part on Run with a brief single-note string part.
So, a good album of its type, though not one for the miserablists among you. Not an awful lot of 'Tron, to be honest, but a good, solid album.
---