---
Danielia Cotton (US) see: Samples etc.
| | |
| --- | --- |
| Counting Crows (US) see: | |
Court Yard Hounds (US) see: Samples etc.
Christina Courtin (US)
Christina Courtin (2009, 45.23) ***/½

Green Jay
Bundah
Foreign Country
Hedonistic Paradise
Mulberries
February
Laconia
One Man Down
Rainy
Unzipped
Current availability:
Chamberlin used:
Christina Courtin is a Juilliard graduate (on violin), although she doesn't flash her skills around on her eponymous debut album, a delicate singer-songwriter effort, which isn't to say she doesn't play at all. It's one of those perfectly nice albums that are slightly unengaging, Courtin's voice not really being quite strong enough to carry the material, although nothing here even comes close to offending. Think: fragile, folk-influenced writing and singing and you won't be too far off, though nowhere near the level of, say, Vashti Bunyan, but then, who is? The album's best tracks are probably February (a lovely string part) and maybe closer Unzipped, an unusually loud effort from Ms. Courtin, with an almost chaotically full arrangement.
Jon Brion plays credited Chamberlin on two tracks, with whichever woodwind plays the solo in the middle of the song (I think) and what sounds like flutes amongst the maelstrom on closer Unzipped. In other words, two credits, but it's not entirely certain what either of them are. Anyway, Christina Courtin isn't a bad album at all, with a couple of surprises, although its Chamberlin use isn't among them.
Covenant (US)
Nature's Divine Reflection (1992, 42.29) ***½/TT½

Premise of Life
Thanatopsis
Nature's Gift
Ascension
Spiritual Forces
Eternity's Call
Synopsis
Eschatolic Covenant
Sunchild's Spiritual Quest Through the Forest of Introspection
Acquiesence
Catharsis
Assessment of Reality
Enter the Sacred Labyrinth
Metamorphosis/Transformation
Across the River of Souls
Through the Gates of Emotion
Storm of Centuries Past; Rebirth
Sunchild's Lament
As One With the Infinite Spirit
Current availability:
Mellotron used:
It seems Covenant were essentially drummer/keyboardist Dave Gryder's solo project, with noted progressive guitarist Bill Pohl (of Solid Earth fame) guesting on the first track. Although Echolyn and Magellan were both already in operation when Nature's Divine Reflection was recorded in 1992, it still counts as one of the earliest American entries in the 'new prog' field, although, sadly, it now seems to be largely forgotten. I believe Gryder is first and foremost a drummer, so it's unsurprising that the album is rhythmically complex, although slightly less so melodically and harmonically. Fully instrumental, the online review I saw that compared its sound to that of Wetton/Jobson's UK wasn't too far off, although UK would never have written 'side-long' pieces, let alone ones with titles such as Sunchild's Spiritual Quest Through The Forest Of Introspection.
Gryder uses a range of keyboard equipment, old and new, so you get the bland Korg M1 next to a Hammond, Solina, Prophet and, of course, a Mellotron, though the newer 'boards aren't intrusive enough to ruin the overall sound (unlike on, say, the Romantic Warriors' album). He's actually a pretty good player, showing off his Hammond chops on the shorter Eschatolic Covenant, and what I presume to be a Prophet-on-mono-mode solo near the beginning of the aforementioned Sunchild's Spiritual Quest.... Gryder doesn't overuse his Mellotron - in fact, he only uses the choirs, preferring the Solina for strings (why?). It isn't fantastically well-recorded, to be honest, although it could simply be that the machine was well overdue for an overhaul (not so easy in the early '90s). Choir parts on all tracks, though Eschatolic Covenant is the only one to feature it to any great extent; I've no idea where the 'Tron comes in on the longer tracks - suffice to say, it dips in and out of the mix without ever completely taking over (sadly).
To be honest, I don't personally find the music as exciting as that of many other practitioners of the genre, but Nature's Divine Reflection is a perfectly 'good' album without ever being in any particular danger of crossing over to 'great'. If you like your prog instrumental, rhythmic and a bit jazzy, you could do a hell of a lot worse than this, although I wouldn't really bother for the 'Tron work. Incidentally, these days, Gryder plays with stoner hard rockers Storm at Sunrise, still using the 'Tron.
See: Storm at Sunrise
Jon Cowherd (US)
Mercy (2013, 60.46) ***/T

The Columns
Mercy Suite Part One
Mercy Suite Part Two (Grace)
Mercy Suite Part Three (Mercy Wind)
Postlude
Baltica
Surrender's Song
Newsong
Seconds
Lowertown
Four Rivers
Current availability:
Mellotron used:
Jazz pianist Jon Cowherd (who frequently works with Brian Blade) has taken nearly twenty years from his first sideman recording to releasing his solo debut. Mercy is... a jazz album. You know, laid-back piano, upright bass and brushed drums. Jazz. If you like this kind of jazz, you'll almost certainly like this. I don't, but I can appreciate the artistry. I think.
Cowherd's credited with Mellotron and, indeed, those clicky, poppy flutes on Seconds sound like they at least started off being played on a real machine, although I suspect some subsequent sampling and looping has occurred. As long as a genuine Mellotron's been part of the recording process... I'm making something of an assumption here, but isn't that often the way?
The Cowsills (US)
II × II (1970, 34.32) ***/T½

II × II
I Really Want to Know You
Start to Love
Signs
Goodtime Charlie
Anything Changes
Silver Threads and Golden Needles
Night Shift
The Prophecy of Daniel and John the Divine
Don't Look Back
Father
On My Side (1971, 34.18) ***/T½

On My Side
Once There Was a Time
If You Can't Have it, Knock it
Contact Me
Can You Love Me
Mystery of Life
Heather Says
There is a Child
Dover Mine
Cheatin' on Me
Down on the Farm
Good Ole Rock and Roll Song
Current availability:
II × II: not on CD?
On My Side: Cherry Red
Chamberlins used:
If I were to tell you that Rhode Island's family grouping The Cowsills were the inspiration for The Partridge Family, would you run screaming? And could anyone blame you? I can't attest as to their earlier material (they debuted with an eponymous 1967 release), but 1970's II × II, if a tad dated for the year, is nowhere near as bad as I'd expected. It doesn't get off to a good start, the rather anodyne lead-off title track and the slushy I Really Want to Know You throwing out warning signs, but the rockier Signs (appropriately), the distinctly Beach Boys-influenced Goodtime Charlie and the religio-psych of The Prophecy Of Daniel And John The Divine are all pretty decent, as long as you're not expecting, well, The Beach Boys. Someone (John Cowsill? He played keys for, yes, The Beach Boys in later decades) slaps pseudo-orchestral Chamberlin strings all over I Really Want to Know You and Father, the arrangements sounding far too 'blocky' for real strings.
They followed up with '71's On My Side, if anything, slightly less commercial than its predecessor, highlights including Once There Was A Time, the doomy (no, really) Contact Made and the banjo-driven Dover Mine, although the generic country of Cheatin' On Me and the rather pointless hoedown of Down On The Farm let the side down slightly. Another two Chamby tracks, with flutes and strings on Can You Love Me and Mystery Of Life, from the mystery musician.
Do you bother hearing these? While very much of their time, they knock the crap out of the blander-than-bland Partridge Family knock-off and are possibly worth it for the vocal harmony work alone. And, of course, four nice examples of an unknown model of Chamberlin.
Lol Coxhill (UK)
Ear of Beholder (1971, 83.34) ***/T

Introduction
Hungerford
Deviation Dance
Two Little Pigeons
Don Alfonso
Open Piccadilly
Feedback
Vorblifa-Exit
Insensatez
Conversation With Children/
Jamaican Rumba
Piccadilly With Goofs
Rasa-Moods
Collective Improvisation
I am the Walrus
Rhymthmic Hooter
Lover Man
Zoological Fun
Little Triple One Shot
That's Why... Darkies Were Born?
A Series of Superbly Played Mellotron Codas
Current availability:
Complete version: Air Mail Archive: Japan
Mellotron used:
Legendary free jazz saxophonist Lol Coxhill, already no spring chicken as the '70s rolled around, has played with the good and the great, not least Kevin Ayers, Fred Frith and, er, The Damned, alongside running a solo career. His solo debut, 1971's Ear of Beholder, was released on the also legendary John Peel's wonderfully crackpot Dandelion label (logo: the Peel family's pet hamster, Dandelion), largely a home for the wilfully obscure and, frankly, utterly unsellable. Ear of Beholder falls firmly into both camps, being a double album of mostly unaccompanied soprano sax solos of variable recording quality, intercut with strange little items such as Coxhill and David Bedford (later of Mike Oldfield fame, of course) singing twee little songs such as Two Little Pigeons or Don Alfonso. The most 'difficult' piece here is probably the twenty-minute Rasa-Moods, though, a mad, full band improv piece, sounding as if it was recorded on one mic from the next room, which does little for its fidelity.
This album's presence on this site rests wholly on its last track, the 26-second A Series Of Superbly Played Mellotron Codas, Coxhill playing five codas from the left-hand (rhythm) manual of a MkII 'Tron, including the famous (well, round these parts, anyway) Bill Fransen "Yeah!". Despite its brevity, the track is so startling and so, well, Mellotronic, that it still gets a full T. This isn't an album for the faint-hearted, or, for that matter, people who don't like saxophones, but if you're of an adventurous bent, you might find things to admire here. Personally, I admire its last 26 seconds. File under: 'music I'm glad exists but don't really want to listen to again'.
Mike Coykendall (US) see: Samples etc.
Cozumel Keith & the Ginseng Addicts (US) see: Samples etc.
Crack (Spain)
Si Todo Hiciera Crack (1979, 40.53) ****½/TTT½

Descenso en el Mahëllstrong
Amantes de la Irrealidad
Cobarde o Desertor
Buenos Deseos
Marchando Una del Cid (part 1, 2)
Si Todo Hiciera Crack
Epillogo
Current availability:
Mellotron used: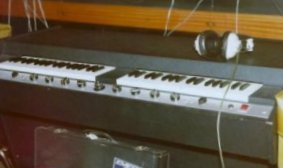 Crack's sole album, Si Todo Hiciera Crack, is a masterpiece of Spanish progressive, with gentle lyrical passages alternating with fiery unison sections. There is a slight 'Spanish' feel to the music, although not nearly as overtly as, say, Iman, Califato Independiente, with a real edge to their piano-driven compositions, marking this as one of the best albums from Spain's late-'70s progressive scene. Plenty of interesting synth work on several tracks, plus, of course, shitloads of Mellotron (as you can see, a rare MkV) from Mento Hevia.
On the 'Tron front, Descenso En El Mahëllstrong has cellos on its gentle intro and later in the track, while Amantes De La Irrealidad features choirs quite heavily, plus a few ethereal string chords at its close. Cellos again on Cobarde O Desertor, while Marchando Una Del Cid ('Tron brass) is indeed a march, with more than a little Jethro Tull about it, and not just because of the flute. Apart from the last two tracks, there's a good whack of 'Tron on the album, although as with so many Spanish bands, most of the strings are from a string synth. Why did they do that?
Anyway, an excellent album that I'd been hoping to track down for a while. Fantastic compositions and excellent Mellotron. Buy.
| | |
| --- | --- |
| Crack the Sky (US) see: | |
Cracker (US)
The Golden Age (1996, 48.34) ***/T½

I Hate My Generation
I'm a Little Rocket Ship
Big Dipper
Nothing to Believe in
The Golden Age
100 Flower Power Maximum
Dixie Babylon
I Can't Forget You
Sweet Thistle Pie
Useless Stuff
How Can I Live Without You
Bicycle Spaniard
Current availability:
Mellotron used:
Cracker are fronted by David Lowery, ex-Camper Van Beethoven (of Take The Skinheads Bowling fame), and boast of being the only band to support both the Grateful Dead and the Ramones (!). Critical opinion has it that their third album, Golden Age, isn't a patch on their second, Kerosene Hat, but to my ears it sounds like a decent enough semi-Americana effort, frequently tipping over into more straightforward, slightly grungy mainstream rock. Best track? Possibly opener I Hate My Generation, even though (or because?) it nicks the riff from Hawkwind's iconic Assault And Battery.
Lowery and Dennis Herring both play Mellotron, with most of the work being Lowery's, with strings on the really rather good I'm A Little Rocket Ship, a high string part on the title track and yet more strings near the end of 100 Flower Power Maximum that could, at a pinch, be mistaken for real ones, which, incidentally, is exactly what you get on Dixie Babylon and Bicycle Spaniard. So; not bad at what it does, though no classic, with passable 'Tron work. Yup, another average Mellotron album.
See: Johnny Hickman
Sarah Cracknell (UK) see: Samples etc.
Crash Kelly (Canada)
Penny Pills (2003, 37.23) ***½/T

She Gets Away
Love Me Electric
Irish Blessing 95
Penny Pills
11 Cigarettes
You Don't Know
Movie
Wanna Be Like You
Easy & the Fifth
Something Hollywood
Since You Been Gone
[Bonus track:
Elo Kiddies]
Current availability:
Mellotron used:
Sean Kelly's Crash Kelly (named in honour of his uncle, an ice-hockey pro) released their debut, Penny Pills, in 2003, an album at the heavy end of the powerpop spectrum, influences clearly including Kiss (boo!) and Cheap Trick (hooray!), to the point of covering the latter's Elo Kiddies. Top tracks? Opener She Gets Away, Love Me Electric, You Don't Know, Wanna Be Like You... It's pretty much all good, but why end the album with a version of Russ Ballard's (via Rainbow) Since You Been Gone? Cheesy pop/rock nonsense.
Craig McConnell plays tentative, real-sounding Mellotron strings on 11 Cigarettes, the nearest the album gets to a ballad. Although Crash Kelly haven't released anything for a decade at the time of writing, Sean's busy playing variously with Helix, Nelly Furtado and others, so it ain't over until it's over.
Crash Test Dummies (Canada)
Give Yourself a Hand (1999, 38.37) **½/TTT

Keep a Lid on Things
A Cigarette is All You Get
Just Chillin'
I Want to Par-tay!
Give Yourself a Hand
Get You in the Morning
Pissed With Me
Just Shoot Me, Baby
A Little Something
I Love Your Goo
Aching to Sneeze
Playing Dead
Current availability:
Mellotron used:
The Crash Test Dummies apparently started off as irritating 'wacky', but by '99, they'd mutated into a far-too contemporary outfit, with all the right 'retro' instrumental references, including widespread use of a vibraphone, not to mention the obligatory Mellotron, although incorporating funk, soul etc. influences doth not necessarily a 'relevant' album make, especially when the lyrics are so tediously infantile.
As far as the Mellotron's concerned (possibly from co-vocalist Ellen Reid), most of the relevant tracks feature it in a pretty low-key role, although Get You In The Morning, Just Shoot Me, Baby and I Love Your Goo have some upfront flutes and strings. The others all have amounts ranging from 'bits' to 'next to nothing', but there's probably enough use to make it worth picking up second-hand, as long as you can cope with the irritating music.
See: Samples etc.
Crazy House (UK)
They Dance Like This From as Far Off as the Crazy House (1982, 45.20) ***/½

Come on Down No 1
10, Pemberley Sands
This is Procedure
While We Walked There
We Drive So Hard
Honeymoon
The Weekend One (10, Pemberley Sands... Reprise)
Fall in Line Laura
Cowboys Out of Action
The First Time
March, March, March
People Fall From Tall Buildings
Come on Down No 2
The Weekend Two (the Weekend One... Reprise)
Current availability:
Mellotron used:
I'm British and was a (young) music-obsessed adult in 1982. Why have I never heard of Crazy House? Despite being (much) more towards the rock end of things, I nursed a secret admiration for some synthpop outfits, so discovering this lot almost three decades on is, if not an active joy, certainly of interest. 1982's verbosely-titled They Dance Like This From as Far Off as the Crazy House is a pretty decent noo wave/synthpop effort, better tracks including Men Without Hats-esque opener Come On Down No 1, the driving, fractured electronica of We Drive So Hard and the spacious Cowboys Out Of Action, all tied together by David Luckhurst's Bowiesque vocals and the stench of cheap synthesizers.
Peter Parsons is credited with various keyboards, including Mellotron, although by the end of track thirteen, Come On Down No 2, I was beginning to think it was a misnomer. Then album closer The Weekend Two (The Weekend One... Reprise) kicks in and... there it is. Weedy background choirs, although unmistakably Mellotron, not least due to the obvious key-click. Students of the era who haven't previously encountered Crazy House should make the effort to track this down; not exactly a lost gem, but a worthwhile effort, although not for the Mellotron.
Crazy World (Finland)
The Return of the Clown (2012, 80.08) ***½/TT½

Every Good Wish All to You
I Think I Saw My Brothers Eyes
The Clown in a Swing
You're So So Vain
Pearls Before Swine
She Could Be Your Mother
From Son to Father
Clown's Gotta Go
Mrs Politician
The Return of the Clown
Lay it Down
Since I've Been Loving You (live)
The Clown in the Swing
Current availability:
Mellotron used:
Crazy World appear to be some kind of Finnish supergroup, almost Five Fifteen mk.2 (they share vocalist/guitarist Mika Järvinen), whose second album, 2012's The Return of the Clown, appears to be some kind of bizarre concept effort concerning the titular clown, from its sleeve art down to song titles and lyrics. As with Five Fifteen, this treads a fine line between hard rock, psych and prog, between wild enthusiasm, idiot near-plagiarism and knowing pastiche. But is it fun? 'Course it is, although you're best off leaving your brain at the door. Highlights? Ten-minute opener Every Good Wish All To You, the crunchy hard rock of I Think I Saw My Brothers Eyes, the psychedelic Pearls Before Swine and Mrs Politician, while the bizarre You're So Vain continues Five Fifteen's habit of re-using famous song titles for their own compositions. Why?
Esa Kotilainen does his usual Finnish Mellotron thing, with background choirs on Every Good Wish All To You, flutes and strings on The Clown In A Swing, flutes on From Son To Father, a flute part in the quiet section of Mrs Politician and chordal flutes and muted strings on the title track. Anyone who ever liked Five Fifteen will almost certainly like Crazy World, Kotailainen's Mellotron simply being the icing on the cake. I'll review their eponymous debut when I get to hear a copy.
See: Five Fifteen
Cream (UK)
Goodbye (1969, 30.38) ***½/T

I'm So Glad
Politician
Sitting on Top of the World
Badge
Doing That Scrapyard Thing
What a Bringdown
Current availability:
Mellotron used:
Cream's last, posthumous album, Goodbye, was comprised of three live tracks (covering about two-thirds of the album's length) and three studio, one of which had already been a hit. Scraping the barrel? Hmmm. Saying that, the lengthy I'm So Glad which opens the record is a storming version, with Clapton's soloing showing what he was once capable of, and the band almost telepathically slipping back into the groove after all going their separate ways for a few minutes. Neither Politician or Sitting On Top Of The World fare as well, but the three studio tracks are all pretty good.
Badge is one of their best-known songs anyway, although the marvellous 'chorus' Leslied guitar part would have born some repetition. There's some Mellotron strings towards the end of the song that I'd never noticed before, too, from producer and later Mountaineer Felix Pappalardi, although Doing That Scrapyard Thing is the track that's usually quoted as being the album's 'Tron highlight. Well, it's got a brief repeating brass (?) part, but nothing to write home about, so while it's a good album, it's no 'Tron classic.
See: Jack Bruce
The Creation (UK)
How Does it Feel to Feel (1982, recorded 1966-68, 45.10) ***/½

How Does it Feel to Feel
Life is Just Beginning
Through My Eyes
Ostrich Man
I am The Walker
Tom Tom
The Girls Are Naked
Painter Man
Try & Stop Me
Biff-Bang-Pow
Making Time
Cool Jerk
For All That I am
Nightmares
Midway Down
Can I Join Your Band?
Current availability:
Tracks spread over both volumes of Complete Collection: Sin-Drome
Mellotron used:
It seems a select band of music fans exist who claim that The Creation are better then The Who; both outfits had art school connections, both utilised feedback and did things to their guitars other than play them 'normally', but The Who predated The Creation by a good two years, had better songs and did it first. All of which isn't to say that The Creation were a bad band; far from it - they produced some excellent sides, more than equalling some of The Who's rather ordinary album tracks, but there's nothing in their (smallish) catalogue to obviously challenge My Generation, Anyway, Anyhow, Anywhere or, well, any other Who hits you can think of.
They only released one album in their lifetime, 1967's We Are Paintermen, although they've been compiled multiple times since, starting as early as 1968's The Best of The Creation. 1982's How Does it Feel to Feel added some previously unreleased tracks to their catalogue, including what appears to be their sole Mellotron track, Ostrich Man, with a skronky woodwind (oboe?) line from guitarist Eddie Phillips, although it's hardly something you're going to go out of your way to hear for that alone.
Anyone interested in British '60s rock probably needs to hear The Creation somewhere down the line, but given that this compilation's long, long out of print, you're probably better off with, say, the expanded We Are Paintermen, containing pretty much everything you need to hear, including Ostrich Man.
Creation/Felix Pappalardi (Japan/US)
Creation/Felix Pappalardi (1976, 35.19) ***/T½

She's Got Me
Dreams I Dream of You
Green Rocky Road
Preachers' Daughters
Listen to the Music
Secret Power
Summer Days
Dark Eyed Lady of the Night
Ballad of a Sad Café
Current availability:
Mellotron used:
Mountain were long washed-up by 1976, and bassist Felix Pappalardi fell in with a Japanese band, Creation. Each liked the other's way of working, and a decision was made to record together, although the resulting album was released with the band's name first in Japan, and Pappalardi's in the States, as you can see. The album isn't a million miles away from Mountain, proving that they were Pappalardi's band as much as Leslie West's, although it's fairly bland throughout much of its length - no Nantucket Sleighride here. Mid-paced bluesy opener She's Got Me sets the tone for much of the album, slipping into ballad territory on track two, Dreams I Dream Of You. None of the material's particularly outstanding, to be honest, although nothing actually offends.
Real strings on a couple of tracks, with Pappalardi's 'Tron only cropping up with a few string chords on She's Got Me and a slightly more substantial part on 'Ballad Of A Sad Café, though that would seem to be it. So; not a classic on any front, though possibly worth picking up cheap. Average.
See: Mountain
---