---
The Blue Van (Denmark)
The Art of Rolling (2005, 39.36) ***½/T½

Word From the Bird
Product of DK
I Remember the Days
I Want You
The Remains of Sir Maison
Baby, I've Got Time
The Bluverture
Revelation of Love
Mob Rule
What the Young People Want
Couer de Lion
New Slough
Current availability:
Mellotron used:
The Blue Van are only the third Danish band to be featured on this site, and one of the others (Etcetera) only uses 'Tron samples, assuming, that is, that these guys are using the Real Deal... For such a young band, they're quite astonishing, clearly refusing to acknowledge any influences later than the '60s, many years before any of them were born. It seems they grew up in quite an isolated part of the country and had few, if any contemporaries to pull them into line, thankfully, with the end result being a joyfully authentic garage band, or what the Americans would call 'British Invasion', I suppose. The Art of Rolling is their debut, following an EP or two; average track length is under three minutes, although New Slough bucks the system, being a fantastic jammed-out eight-minute effort, making full use of Steffen Westmark's vocal tics and Per M. Jørgensen's Keith Moonalike drumming, forever teetering on the edge of collapse, but never quite attaining it.
I don't seem to be the only online reviewer who thinks that Søren V. Christensen's keyboards define the band's sound, with lashings of Vox, Hammond and Wurlitzer all over the shop, plus just a dash of Mellotron, of course. Saying that, short instrumental The Bluverture starts with 'Tron flutes, and ends up smothered in the thing, with strings and doubtless unintentionally inauthentic cellos blasting away, with more flutes on the more typical What The Young People Want, although that's your lot. So; if raw, '60s-inspired pre-psych rock is your thang, you can't go too far wrong with The Art of Rolling, although originality isn't really part of the equation. One great 'Tron track, too, so try to hear it, if not the entire album.
Blues Image (US)
Open (1970, 36.42) ***/½

Love is the Answer
Running the Water
Clean Love
La Bamba
Consuelate
Ride Captain Ride
Pay My Dues
Fugue U
Parchman Farm
Wrath of Daisey
Take Me
Current availability:
Chamberlin used:
Blues Image were a Florida-based late '60s band, who seemed to cover quite a bit of musical ground, certainly going by their second album (of three), 1970's Open. An odd record, it shifts style pretty much every track, from the hard(-ish) rock of opener Love Is The Answer, through Clean Love's blues jam, their Latin-lite version of Ritchie Valens' La Bamba... The end result is a rather unfocussed record, albeit one with its moments, not least the excellent jam in lengthy closer Take Me.
Keyboard player Frank "Skip" Conte (subsequently of Three Dog Night) played Chamberlin (possibly the impossibly rare four-manual M4 he used with that band), although it's barely audible, providing the woodwind (oboe?) on major pop hit Ride Captain Ride. Overall, a rather average effort, with the benefit of hindsight, although it's far from offensive. 'Also-rans', I think, despite their brief prominence.
Blues Project (US)
Reunion in Central Park (1973, 58.47) ***½/TT

Louisiana Blues
Steves Song
I Can't Keep From Cryin' Sometimes
You Can't Catch Me
Fly Away
Caress Me Baby
Catch the Wind
Wake Me, Shake Me
Two Trains Running
Current availability:
Mellotron used:
The Blues Project could only have been named in the mid-'60s - any later and the name would've been considered too clichéd, or plain too old-fashioned. Consisting of a mixture of session guys and other seasoned musos including guitarists Danny Kalb and Steve Katz, they were joined soon after their formation by session wunderkind, multi-instrumentalist Al Kooper on keys. Kooper left after three albums, only one of which was a proper studio effort, going on to Blood, Sweat & Tears, more session work and a solo career, before rejoining the band (as 'The Original Blues Project') for a one-off live album, Reunion in Central Park. Before you envisage crowds of hundreds of thousands, the gatefold shows a seated crowd of a few thousand, which was probably the setup for most gigs in the park (see: King Crimson the following year).
The album's a good document of what must've been a burning live band in their day; they ain't so bad here, as it happens. While there is some straight blues (chiefly You Can't Catch Me) to be found here, the band were always far more eclectic than that, and manage pretty much a different style on every track. Side three's cover of Donovan's Catch The Wind shows the band's folkier side, although it's almost jazz in places, and while side four's lengthy jam Two Trains Running is a blues, it goes way beyond most older blues acts' comfort zones.

Kooper brought a good-sized keyboard rig along; a B3 topped with a MiniMoog, a Clavinet that he strangely left standing on its own, demoting his M400 to his far right (why not put it on top of the 'Tron?). This pic is from the inside gatefold, and is actually reversed to get it 'right', as the original is a reflection from an above-stage mirror. The 'Tron actually gets a mention in the tracklisting, with a 'Mellotron - Al' credit after Steves Song [sic], where he lays down some decent flutes, shifting between them and strings. However, Catch The Wind is the album's standout 'Tron track, absolutely smothered in strings, played in a pleasingly orchestral manner, with the odd bit of flute thrown in for good measure.
This band's influence is clearly considerable; Lynyrd Skynyrd (funnily enough, a recent Kooper production) seemingly copped their entire sound from opener Louisiana Blues, and I spotted a bit 'borrowed' by the Blue Öyster Cult somewhere, too. So; if you want to hear where Al Kooper came from, this isn't a bad place to start, though it is essentially (surprise, surprise) a blues album. Anyway, two decent 'Tron tracks, right up in the mix; not bad for a lives blues album, eh? Incidentally, I suspect the double album is the whole set, as it's pretty short, and could easily have another twenty minutes spread across its four sides.
Der Blutharsch & the Infinite Church of the Leading Hand (Austria) see: Samples etc.
Bluetones (UK)
Return to the Last Chance Saloon (1998, 55.06) **/½

Tone Blooze
Unpainted Arizona
Solomon Bites the Worm
U.T.A.
4-Day Weekend
Sleazy Bed Track
If
The Jub-Jub Bird
Sky Wil Fall
Ames
Down at the Reservoir
Heard You Were Dead
Broken Starr
A Woman Done Gone Left Me
Current availability:
Mellotron used:
The Bluetones are sometimes described as 'Britpop survivors', which probably tells you more about their music than I can; dated-sounding '90s indie, essentially, with too few '60s influences to even attempt to be interesting. A few of the songs on their second album, 1998's Return to the Last Chance Saloon (ho ho) are vaguely catchy, but since when has that necessarily been a recommendation?
Apparently, Adam Devlin and Hugh Jones both play Mellotron, but you could've fooled me, as the only thing across the album's entire length that even might be the Great White Beast is a few seconds of what sounds like a strings/choir mix at the end of 4-Day Weekend. It took two of you to do that? OK... Maybe there's more buried in the mix, yeah? So; you don't need this album for any reason at all.
Nicki Bluhm & the Gramblers (US) see: Samples etc.
James Blunt (UK)
Back to Bedlam (2005, 39.28) **/½

High
You're Beautiful
Wisemen
Goodbye My Lover
Tears and Rain
Out of My Mind
So Long Jimmy
Billy
Cry
No Bravery
Current availability:
Mellotron used:
James 'Blunt' Blount has to be the first artist whose name has almost immediately been appropriated as cockney rhyming slang©: "Cor, 'e's a right James Blunt, in'ee?" While playing this album for review, I had no qualms whatsoever about skipping track two, You're Beautiful, one of the most maudlin, self-pitying, whingeing pieces of shite to assault our airwaves since, er, the last one, and given that Mr. Blunt has had the (rare) good taste to put full instrumental credits in his debut album, Back to Bedlam, I didn't have to. So I didn't. It is the nastiest piece of music on the album, also the catchiest, with the other nine songs being a variety of '70s-influenced singer-songwriter pop, with a surprising number of analogue 'boards on display, and a refreshing lack of sampled beats et al. While the word 'highlights' is difficult to use in this context, the Hammond solo on So Long Jimmy is very acceptable, as is the Riders On The Storm tribute/cop on the same track.
The worst thing about Blunt's album is Blunt himself; his horrible, whiny voice ruins several otherwise dull but inoffensive tracks, and his much-vaunted army past (from a military family, don'cha know) and public school education have apparently helped to make him (according to Wikipedia) the 'fourth most annoying thing in the UK' in 2006, and believe me, having been on a job for several days at the peak of Bluntmania with the radio on constantly, 'that bloody single' is enough to make one wish to commit murder, preferably in an extremely unpleasant manner. For all that, his album is more dull than offensive, giving it a surprisingly high two star rating, but I really wouldn't take that as any sort of recommendation.
Mellotron? Yup, Blunt plays 'Tron strings himself on Cry, with a passable but ineffectual part that is at least audible, though not enough to even earn one T, I'm afraid. Well, he's bound to record again, and I suspect we have several years of Blunt-related pain to come, before he slides off the map in true Dido style (whatever did happen to? etc...). Please don't buy this album; I'm sure he was relatively wealthy before he ever recorded a note, and he really doesn't need your money. Go and buy something good instead.
Blur (UK)
Parklife (1994, 52.55) ***½/½

Girls & Boys
Tracy Jacks
End of a Century
Parklife
Bank Holiday
Badhead
The Debt Collector
Far Out
To the End
London Loves
Trouble in the Message Centre
Clover Over Dover
Magic America
Jubilee
This is a Low
Lot 105
Current availability:
Mellotron used:
Blur's third album, Parklife, was the one that broke it wide open for them, although it's slightly strange in retrospect to think that for a few short months they were neck-and-neck with Oasis, before the monobrowed ones leapt ahead, at least commercially. Parklife does sound a little of its time now, and hasn't dated as well as, say, Pulp, but it's still a musical microcosm of early-'90s Britain, full of characters like the Debt Collector, or the layabout narrated by Phil Daniels in the title track. The album actually covers quite a lot of ground, musically, stepping far outside Oasis' narrow boundaries, taking in music hall and various other indigenous styles (you mean we have some?), although Damon Albarn's faux-cockernee vocals just irritate, especially when you know he's a nice middle-class boy from Essex.
An online interview alerted me to the fact that the band used a real, gen-u-wine Mellotron on one track, although it was barely worth it for the few seconds of strings we get on Badhead, presumably played by Graham Coxon. So; a good album, defining 'Britpop' better than most of their contemporaries, although absolutely not worth it for the 'Tron.
Phillip Boa & the Voodooclub (Germany)
Hair (1988, 40.16) **½/T

Hurray
Container Love
You Sent All My Letters
Primitive Man
Tragic Mastery of Stock Hausen
Happy Spider
Morlocks in England
They Say Hurray
Albert is a Headbanger
Fine Art in Silver
Boleria
I Wanna Be Your Hoover
I Go Down to the Sea
Hispañola (1990, 40.09/77.40) **½/T (T½)

This is Michael
I Don't Need Your Summer
The Day I Lost My Sleep
Jules Verne
Love-Hate-Crap!
König Hedon
Rocshee
They Paint the Silence
Don't Kill Me Slaughter
Ernest Statue
Eva in the Froggarden
De-Generators
[2006 version adds:
29th Love Affair
I'm So Phisticated
Boa Diddley
This is Michael (original)
The Day I Lost My Sleep (original)
Blood on the Wind (demo)
Fairyteller
Solid Gold Easy Action
Sex Mission (demo)
Don't Tell Me Why (demo)
This is Michael (Westbam Remix)]
The Red (2001, 56.22) **½/T½

Intro By Schneider TM
When I'm Bored
To the Saints
Eugene
Where the Raingods Meet
Silver Ego
I Can't Go Home Again
Sandy Lee
Speed
The Impossible
Narcissus
The Black Tiger
Am I the Object That I See
The Gallery of Human Errors
Current availability:
Hair/Hispañola: Polydor
Red: BMG Ariola
Mellotrons used:
Ernst Ulrich "Phillip Boa" Figgen is a German new wave type who has released albums regularly since the mid-'80s, 1988's Hair being his fourth. It consists of a range of new wave-inspired pop/rock styles, better examples including Morlocks In England, the faux-metal of Albert Is A Headbanger and Boleria, Boa's take on Ravel's Boléro, unfortunately all rather spoiled by Boa's non-voice. Thomas Kässens plays Mellotron, the album actually opening with a brief Mellotron flute solo, Hurray, with more of the same on Boleria, although all oboe parts are real.
Boa followed up in 1990 with Hispañola, a similar album to its predecessor, discepancies including the folky mandolin on opener This Is Michael, the accordion on I Don't Need Your Summer and the electro feel on several tracks. The original release has been almost doubled in length by a 2006 reissue, although only fans of the man have any need to get excited about this development. Kässens on Mellotron again, with instantly-recognisable background strings on Rocshee and De-Generators on the original release, plus more upfront strings on the Blood On The Wind demo on the expanded edition.
A decade or so on, 2001's The Red is a rockier proposition all round, although we're not exactly talking metal here. Like its distant predecessors, the album mixes and matches styles with gleeful abandon; Intro By Schneider TM is electro by any other name, To The Saints is classic 'noo wave', Eugene sounds like a Sex Pistols outtake... You get the picture. Dave Anderson (which one?) plays Mellotron, with strings on Where The Raingods Meet and Sandy Lee and flutes and strings on I Can't Go Home Again, sounding reasonably real.
I'll be honest here and say I don't really get where the estimable Mr Boa's coming from; is his muse a dated new wave aesthetic, or has he invented a new merging of styles? Either way, I can't say these appealed to me very much, but they may be your bag, although their Mellotron quotient is fairly low.
See: Samples etc.
Robbert Bobbert & the Bubble Machine (US) see: Samples etc.
Tomas Bodin (Sweden) see: Samples etc.
Boeing Duveen & the Beautiful Soup (UK)
7" ( 1968) ***½/T½

Jabberwock
Which Dreamed it
Current availability:
Jabberwock: Waxworks Vol. 1 (Bam Caruso)
Mellotron used:
The mysterious Boeing Duveen was finally outed a while back as 'rock doctor' Sam Hutt, better known as Brit-country legend Hank Wangford. He, along with The Beautiful Soup, produced just the one single, the fab psych effort Jabberwock (complete with obligatory period sound effects), basically Lewis Carroll's poem set to music, backed with the raga-rock of Which Dreamed It. Both sides of the single are available on various psych-era compilations, official and otherwise, unlike many gems from the time.
Someone plays MkII 'Tron on the a-side, with a restrained flute part and almost-distorted strings, sounding like the machine was routed through an amp. I wouldn't actually recommend spending loads of money to get hold of this, but if you're thinking of buying Bam Caruso's Waxworks Vol. 1 anyway, this will come as a nice bonus.
Hanne Boel (Denmark) see: Samples etc.
Curt Boettcher (US)
Chicken Little Was Right (2004, recorded 1973, 30.07) ***½/T

I Call You My Rainbow
Louise
Out of the Dark of the Night
Astral Cowboy
Rest in Peace
Sunrise Mango
Sunsets Falling
We're Dying (Angel City)
You Make Me Feel So High
I've Been Wrong
She's Got the Power
Current availability:
Chamberlin used:
Curt Boettcher is best-known for his work with The Association and The Millennium, although his career spanned twenty years, only curtailed by his untimely death in 1987. His unreleased recordings from 1973 first appeared in 2004, titled Chicken Little Was Right, reissued in truncated form as disc five of Sony's eight-disc Millennium-and-associated set, At Last, the version reviewed here. In some ways, it's an album out of time, having more in common with Boettcher's spiritual home, the late '60s, than anything from 1973, although much of it could easily pass for what it actually is, an early '70s West Coast singer-songwriter record. Highlights? Opener I Call You My Rainbow, the light-as-air (in a good way) Louise, Out Of The Dark Of The Night and 'bonus' track She's Got The Power, not on the 2004 version.
Frank "Skip" Conte (soon to be of Three Dog Night) plays Chamberlin, with flutes and strings all over I Call You My Rainbow, although that would seem to be our lot. Not the heaviest use ever, then, but worth hearing, as is the album as a whole for anyone who ever liked The Millennium.
See: The Millennium | Michael Fennelly
Bollenberg Experience (Belgium)
If Only Stones Could Speak (2002, 57.26) ***½/TT½

If Only Stones Could Speak
Holy Blood
Minna
Ursus Bruggia
Café Vlissinghe
No Words
Anna From the Well
The Story of Three
The Goodnight Knight
Current availability:
Mellotron used:
The Bollenberg in question is Belgian music journalist John "Bo Bo" Bollenberg, active on the European progressive scene for many years now. These days, he tends to write mainly for ProgressiveWorld.net, although he's written for various magazines in the past, not least US mag Progression. Apparently, he also sang in prog band Ouies in his pre-journalism days; suffice to say, although we don't always agree on who's hot and who's not, he knows what he's talking about when it comes to prog. If Only Stones Could Speak is John's first album, although he has guested on other artists' records, not least the New Grove Project's Brill. Subtitled 'A Musical Journey Through Myths and Legends of Medieval Brugge', the album has a decidedly medieval flavour to many of the tracks, although John's slightly characterless vocals sound uncomfortable with the subject matter in places. The concept, such as it is, deals with, unsurprisingly, the history of Brugge, and what stories the stones could tell, which beats the hell out of the usual rubbish peddled by many modern bands in the name of the 'concept album'.
John's years in 'the biz' have paid off handsomely, as the album's stuffed with his famous friends, including Pär Lindh, Rick Wakeman (!), Roine Stolt (The Flower Kings), Jordan Rudess (Dream Theater), and members of inexplicably popular current UK dullards Mostly Autumn. Unfortunately, the end result of so many guests is a slightly uncohesive sound, though far from an unpleasant one; medieval beats neo- any day round these parts. Compositionally (most of the music being written by Bollenberg's collaborator Björn Johansson), the more medieval-sounding pieces tend to work better, at least to my ears, with the straightforward rock drumming (also from Lindh, surprisingly) and William Kopecky's 5-string bass sounding rather out of place and unnecessary. Given that Lindh's forté is keyboards, maybe a more inventive progressive drummer should've been found for the project.
Both Lindh and Johansson play Mellotron, with male voice choir and flutes on the opening title track, background 8-voice on Holy Blood, and upfront flute and string parts on Ursus Bruggia, with more of the same on Anna From The Well, with a string part near the end of The Goodnight Knight to round things off nicely. A real 20-piece choir is also present, so I'm hoping I haven't confused the two anywhere.
So; do you? Well, given that many people are going to turn their noses up at an album made by 'a journalist', this is actually rather good, although not every track convinces. Reasonable Mellotron use, though maybe slightly more restraint was used than necessary, and some of the contemporary sounds grate somewhat. Oh go on, have a flutter...
See: New Grove Project | Pär Lindh Project
Bombs of Hades (Sweden)
Into the Eternal Pit of Fire (2011, 10.25) ***/TT

Prologue (the Ecstacy of Blood)
Into the Eternal Pit of Fire
The Day Man Lost
Confessor
Atomic Temples (2014, 38.21) ***/TT

Fracture
And Your Flesh Still Burns
Palace of Decay
Omens
Cadaverborn
Crawling Wind/The Tyrant Embryo
Atomic Temples
The Dream Death Nebula
Worm Holes/Black Holes
Psychonaut
Opium Gods
Pentagrammaspin
Worm Holes/Black Holes (Reprise)
Through the Pandemonium
The Last Gateway
Current availability:
Eternal: Detest (Belgium, vinyl only)
Atomic: War Anthem
Mellotrons used:
Chances are you've already worked out in which genre Bombs of Hades operate: yup, death metal. Although they formed back in 2002, they've only released one album to date, 2010's Chambers of Abominations, while the following year's Into the Eternal Pit of Fire is their second EP, alternating full-on metal with surprisingly tuneful sections, making it an uneasy listen for those unattuned to its level of heaviosity. Incidentally, the two sides of the vinyl-only disc are subtitled 'Side Atomic Holocaust' and 'Side Brutal Mutilation'. Now, stop it, lads, it's neither big nor clever and you know it. Vocalist ('screams')/guitarist Jonas Stålhammar doubles (triples?) on Mellotron, with strings on the title track and The Day Man Lost (a Carnage cover, apparently), particularly upfront on the latter. Is it real? I've no idea; there are quite a few genuine machines in Sweden, but whether or not one found its way to Västerås' Sutare Studios in the April of 2011 remains an unknown.
2014's Atomic Temples shows a band who've worked on their art (no, seriously) and produced a more cohesive, if not exactly mature work, at its best on Cadaverborn and the eleven-minute, six-part title track. Yes, it's still fucking heavy, yes, Stålhammar's vocal style can still best be described as 'roaring', but the sensibly-lengthed record hangs together well, the band channelling their influences in the right direction. Stålhammar plays Mellotron again, with a brief string line opening Palace Of Decay, distant, atonal strings and choirs (sounding pretty damn' authentic, actually) on Crawling Wind/The Tyrant Embryo, choirs and strings on part one of the title track, a flute line and choirs on the acoustic part four and strings on part six and, finally, background strings on closer The Last Gateway.
Anyway, death metal fans will love these, nearly everyone else won't, although Atomic Temples is a distinct improvement over the EP.
Haley Bonar (US)
Big Star (2008, 31.16) ***/T

Green Eyed Boy
Arms of Harm
Little Maiden Gin
Big Star
May Day
Better Half
Something Great
Queen of Everything
Highway 16
Along
Tiger Boy
Current availability:
Mellotron used:
South Dakotan Haley Bonar's fifth album (including her early, self-released work), 2008's Big Star, presumably named in honour of, sits somewhere between 'alt.', 'singer-songwriter' and 'Americana', highlights including the haunted Mayday and closer Tiger Boy. Like so many similar, though, she's guilty of trying too hard in places, tackling upbeat alt.rock-type material (Something Great, Queen Of Everything) that doesn't fully suit her voice.
Bonar plays well-arranged, reasonably real-sounding Mellotron flutes on Tiger Boy, to decent effect, although all other possibles turn out to be something else. Overall, a rather mixed bag, but when it works, its works well.
Vlassis Bonatsos (Greece)
7" (1975?) **½/T½

Kyriaki
Oso ki an Psachno
Current availability:
Mellotron used:
It seems that Greek entertainer Vlassis Bonatsos (Βλάσσης Μπονάτσος, 1949-2004) is better-known for his film and TV work than his music, although he released several singles and albums over a ten-plus-year period. An early release (his first?) is a 1975 single, Kyriaki (Κυριακή), a pretty typical ballad for its time and place, making it a less-than-fully-essential listen today.
An unknown musician plays Mellotron strings on the 'A', to reasonable effect, although, having not heard it, I can't comment on the flip, Oso ki an Psachno (Οσο κι αν Ψάχνω). Finding a download of this doesn't seem to be an option at the moment, but it's on YouTube, for those who just can't get enough Mellotronic Greek balladry.
Graham Bond (Organisation) (UK)
7" (1965) ***/TT

Lease on Love
My Heart's in Little Pieces
There's a Bond Between Us (1966, 40.27) ***½/TTT

Who's Afraid of Virginia Woolf
Hear Me Calling Your Name
The Night Time is the Right Time
Walkin' in the Park
Last Night
Baby Can it Be True?
What'd I Say?
Dick's Instrumental
Don't Let Go
Keep a'Drivin'
Have You Ever Loved a Woman?
Camels and Elephants
Love is the Law (1969, 37.10) ***½/T

Love is the Law
Moving Towards the Light
Our Love Will Come Shining Through
I Couldn't Stand it Anymore
Sun Dance
Crossroads of Time
Bad News Blues
Strange Times, Sad Times
The Naz
The World Will Soon Be Free
Mighty Grahame Bond (1969, 36.23/52.32) ***½/T

Water, Water
Oh Shining One
Pictures in the Fire
Baroque
Sisters and Brothers
Stiffnecked Chicken
Freaky Beak
Walk Onto Me
Magic Mojo
Brothers and Sisters
[CD adds:
You've Gotta Have Love, Baby
I Love You
Blew Through
Water, Water]
Current availability:
Lease/There's a Bond: Repertoire (Germany)
Love is the Law/Mighty: Sunrise (Germany?) - possibly pirates
Mellotron used:
All titles: Bond's own MkII?
Organist/saxophonist Graham Bond's ultimately tragic career is pretty well-documented; pack-leader of the '60s British R&B scene, slow career decline and an increasing fascination with the occult, leading to his untimely death under a tube train at Finsbury Park underground station, north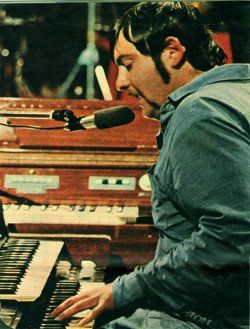 London (for what it's worth, I probably passed through the station that very day). His debut, The Sound of '65 (***½), is a great jazz-inflected R&B album featuring in his Organisation (or Organization), alongside Bond, Dick-Heckstall Smith (later of Colosseum) on sax, and the thoroughly obscure rhythm section of Jack Bruce and Ginger Baker, mixing blues standards (Hoochie Coochie Man, Got My Mojo Working) with cheesy balladry (Tammy), sax-driven madness (almost everything) and even a take on classical themes (Wade In The Water).
His Lease On Love single from later the same year is the first (known) Mellotron recording, although session man Geoff Unwin may well have recorded it earlier. It's not actually that great, to be honest, nowhere near the quality of the album material, although its b-side, My Heart's In Little Pieces, is marginally better. Very faint 'Tron strings on the a-side, but a far more upfront string part on the flip, making this worth tracking down (probably on MP3, to be honest) if you're interested in hearing where it all started.
Bond truly came into his own stylistically on '66's There's a Bond Between Us, with more of a jazz influence on the album, the whole thing sounding more polished than its raw predecessor, although some excitement has been sacrificed in the process. Loads of Mellotron, sounding like it was probably recorded with a mic up against its internal speakers, rather than through the line out, with single string notes on Hear Me Calling Your Name, brass chords (under the real sax) on Who's Afraid Of Virginia Woolf, Walkin' In The Park, Last Night, complete with audible key-click. Grungy-sounding flutes and a string part on Baby Can It Be True? and very clear saxes behind Heckstall-Smith on Dick's Instrumental and Don't Let Go make for a good 'Tron album, though probably not one for those who rarely delve earlier than the psych era.
Bond's career starting falling apart after his first couple of albums and the Organisation's dissolution, leaving a then-unheard-of three year gap between albums, possibly due to his struggle with heroin. His third and fourth efforts, Love is the Law and the misspelt Mighty Grahame Bond, both appeared in 1969, seemingly only in the States, although there seems to be some dispute over release dates. Love is the Law sticks fairly closely to the template Bond set down several years earlier, soulful R&B with a rock edge, although with the addition of quasi-mystical lyrics in places, probably a forerunner to the Crowleyesque 'Holy Magick' he got into in the early '70s (note the album's title). One of the album's most eccentric tracks is Crossroads Of Time, opening with a short burst of Bach on the Hammond, also incorporating a (doubtless uncredited) segment of Percy Mayfield's Hit The Road Jack. Odd. As far as Bond's MkII goes, there are seriously full-on 'Tron strings on the opening title track, complete with 'rewind' gap at the end, where Bond holds the closing chord too long, but sadly, that's your lot. Why? Wish I knew.
Assuming it actually came out later the same year, Bond's second album of '69 was Mighty Grahame Bond, although I don't know if the misspelling was deliberate, or a couldn't-give-a-shit record company. It's pretty similar to its predecessor, mixing blues, classical and blue-eyed soul in fairly equal measures, the resulting brew having a fair bit in common with many British ex-soul artists who had 'gone psych' (notably Traffic's Stev(i)e Winwood). 'Best tracks' depends largely on personal taste, even more than usual, with Water, Water, Baroque and maybe Walk Onto Me having the most relevance to psych fans. On the Mellotron front, Walk Onto Me opens with a blast of (double-tracked?) MkII strings, keeping up throughout, although as with Love is the Law, one track's yer lot.
So; as far as There's a Bond Between Us goes, if you want to hear an album of great historical Mellotronic interest, and a jazz/R&B hybrid doesn't sound too painful, it's easily available on a BGO 2-on-1 with his possibly superior debut. Love is the Law and Mighty Grahame Bond are relatively easy to find these days, and both good, though considerably lesser 'Tron albums.
See: Jack Bruce
Pierre Bondu (France)
Quelqu'un Quelque Part (2004, 38.50) **½/T

Caravelle
Vu d'Ici
Je Rêve
Sur les Coeurs
Mieux Que Personne
Quitter la Terre
Du Gene a Tomber
La Vie Qu'on Avait
A Côté de Moi
Sans Rancune
Current availability:
Mellotron used:
Can I tell you much about Pierre Bondu? Not really, no; he's from Nantes, in Western France and he's made three albums to date, the second of which is 2004's Quelqu'un Quelque Part. In many ways a typical chanson release, it occasionally takes unexpected turns, not least odd upbeat part that punctuates the generally low-key material and the full-on orchestral strings part that closes the album.
Bondu plays Mellotron on La Vie Qu'on Avait, with a gentle polyphonic flute part, complete with pitchbend, although it's really not possible to tell whether or not it's played on a real machine. You're probably not going to want to hear this unless you're a fan of the style - you certainly won't bother for the Mellotron - but it does what it does perfectly well.
Tracy Bonham (UK)
Down Here (2000, 42.03) ***/½

Freed
Behind Every Good Woman
You Don't Know Me
Fake it
Cold Day in Hell
Jumping Bean
Oasis Hotel
Second Wind
Thumbelina
Meathook
You Can't Always Not Get What You Don't Want
Give Us Something
Blink the Brightest (2005, 45.44) ***/½

Something Beautiful
I Was Born Without You
And the World Has the Nerve
to Keep Turning
Eyes
Take Your Love Out on Me
Whether You Fall
Dumbo Sun
All Thumbs
Naked
Shine
Wilting Flower
Did I Sleep Through it All?
Current availability:
Down Here: Island
Blink the Brightest: Zoe
Mellotron/Chamberlin used:
Down Here: Mitchell Froom's M400?
Blink the Brightest: Unknown
Tracy Bonham (no relation to a certain now deceased drummer) plays a kind of rock/pop/singer-songwriter hybrid that manages to be reasonably challenging in places without actually being obscure. Saying that, much of the material on her second album, 2000's Down Here is pretty mainstream pop/rock, though likeable enough, all things considered. One of the album's several producers, Mark Endert, also plays Mellotron strings on opener Freed, although you'd be hard-pushed to spot them under Bonham's violin, though not as hard-pushed as to spot whatever Mitchell Froom plays on Cold Day In Hell, which is completely inaudible.
Bonham worked with The Blue Man Group in the early '00s, presumably one of the reasons for her five-year gap between solo releases. 2005 brought Blink the Brightest, which, while not a bad record, is closer to the mainstream than its predecessor. As with so many (effectively) singer-songwriter efforts, the album's power is in the lyrics, And The World Has The Nerve To Keep Turning being a particularly strong example. If Greg Collins' Chamberlin contribution wasn't credited, you'd have absolutely no idea it was there; the few seconds of Chamby clarinet could be almost anything, up to and including a real one, though at least we get to (briefly) hear an unusual Chamberlin sound.
Tracy Bonham stands out from the pack for several reasons, not least her voice and her violin playing, heard to good effect across both these albums. There's next to no tape-replay work, though, so don't come here looking for that.
See: The Blue Man Group
---