7" ( 1987) ***/TT

Dreaming From the Inside
The Opiate
Nothing is Written (1991, 61.49) ***/½

Face to the Sun
Otherworldly Pleasures
Another Misguided Soul
Chamber of Horrors
Evaporation
Motherland
Room 801
Aqaba (a Matter of Going!)
Bark in D Minor
Legacy
The Automaton
Don't Lose Control
Richelieu's Prayer
Other Crimes & Misdemeanours II (1995, recorded 1986-91, 50.18) ***/T

Dreaming From the Inside
The Opiate
Reach in to the Flames
Dreams of Tomorrow
GSX
Truth of You
Aqua Nimue
Painted Lady
Pretty in the Sun
There Must Be a Way
Rollercoaster
Suffering in Silence
Year Zero (2002, 56.05) ****/TTT

Year Zeroverture
Belt Up
Ever the Optimist
The Charlotte Suite
Haunted
Democracy
Baroque and Roll Dementia
A Deeper Understanding?
The Jazz Suite
Take a Deep Breath and Hold on Tight
Hindsight 1 - Piano and Clarinet
Hindsight 2 - A Very Clever Guy Indeed
The September Suite
World Watching
Deceptive Vistas/Postscript - Perspective
Empires Never Last (2007, 61.45) ****½/T

De-fi-ance
Termination
I Could Be God
Sidewinder
Memories From an Africa Twin
Empires Never Last
This Life Could Be My Last...

Battle Scars (2012, 57.42) ****/T

Battle Scars
Reach for the Sun
Singularity
Bitter and Twisted
Suspended Animation
Beyond the Barbed Wire
Seize the Day
Sleepers 2012

Beyond the Realms of Euphoria (2012, 55.52) ***½/½

Salvation I - Overture
Salvation II - Judgement Day
Guardian Angel
Secret Kingdoms...
...And Secret Worlds
All in the Name of Progress
Guardian Angel - Reprise
Richelieu's Prayer 2012
Current availability:
Mellotrons used:
Dreaming: band's own M400 (no. 308)
Nothing is Written: IQ's M400
Year Zero: Planet Mellotron M400
Empires: Clive Nolan's M400 (ex-IQ)
Battle/Beyond: Nolan's M400?
Galahad formed in the mid-'80s on the south coast of Britain, in direct response to the brief upsurge in popularity of prog of a few years earlier. Their first keyboard player, Nick Hodgson, owned a Mellotron, along with several other killer pieces of gear, but he left after one single, anthologised onto 1995's Other Crimes & Misdemeanours II. Said 1987 single, Dreaming From The Inside b/w The Opiate, is typical of the era, the A-side having a strong Marillion feel about it, although the flip's slightly more imaginative. On the Mellotron front, Dreaming features an ascending choir part, shifting into Forgotten Sons-style chords, with more choirs on the other side, but I wouldn't exactly call it essential Mellotronic listening. The rest of Other Crimes... consists of tracks from 1990-91, mostly in a rather more commercial vein than the material on '91's Nothing is Written (see below), a couple of live tracks added to the recent reissue.
Nothing is Written was their first album 'proper' (there were earlier cassette releases), solidly in the neo-progressive vein of Marillion et al. Keyboardist of the day Mark Andrews obviously favoured the digital end of the spectrum, but was persuaded to play a few older bits of equipment, including IQ's Martin Orford's M400. As a result, it's almost inaudible on the finished product, although I've had it confirmed that there is a bit of choir on album closer Richelieu's Prayer.
I was contacted back in (I believe) 2000 by Galahad's mainman Stuart, with a view to using my M400 on their next album. As is the way of such things, it took until Christmas 2001 for us to coincide sufficiently to be in the same studio at the same time, my MiniMoog and Taurus pedals coming along for the ride, although they only crop up occasionally on the finished product. The band have progressed (ho ho) by leaps and bounds in the decade since Nothing is Written (just look at the difference in the cover art), each album quite distinctly progressing from its predecessor (remember progression?). Year Zero has a pleasingly organic sound, long-time guitarist Roy Keyworth cranking it up a good bit more than in days gone by and current keys man Dean Baker using both real and fake analogue gear. In Year Zeroverture, he uses one of the newer crop of analogue-soundalikes to produce an almost-techno heavily-filtered sequencer part, Mellotron choir chords breaking through the mix. The material itself still has some of that 'love it or hate it' neo-progness about it, particularly in the vocal melody department, but the bulk of the album avoids that trap, giving the impression that Galahad have been listening as much to Korn or Rammstein as Genesis or Marillion. The album should really be viewed as one hour-long track in fifteen parts, although I've listed the tracks separately, as on the CD sleeve. I'm not entirely sure what the album's concept is actually getting at, but it seems to be relevant and contemporary, without going all Misplaced Childhood on us. Above all else, Year Zero rocks, which it's been difficult to say of previous Galahad releases, although they're (thankfully) not about to enter Dream Theater territory.
Anyway, Mellotron use: Dean used the choirs more than anything; in fact, they're to be heard floating away ethereally within the first few seconds of Year Zeroverture, with some more serious use later on in the piece, carrying on into Belt Up, where they alternate with some nice strings work, while Ever The Optimist opens with some great, filter-rich MiniMoog, choirs lurching back in later on. Democracy, despite its near-ten minute length, only features the Mellotron in the last minute of the song, a piercing discordant string line dissolving into chords before it slides into the short Baroque And Roll Dementia and more choir. Take A Deep Breath And Hold On Tight returns to the alternating strings and choir of Belt Up, while Deceptive Vistas/Postscript - Perspective features a classic '(neo-)prog ending riff' repeated ad infinitum, complete with choirs. Now, I'm pretty sure Dean played both the flutes and cellos, but I can't hear either of them anywhere, so either my ears are defective (fairly likely), or they're lost somewhere in the mix.
Five years on (take their time, these boys) and Empires Never Last hoves into view. Recorded at Pendragon/Arena man Clive Nolan's studio, his M400 gets a look-in on a couple of tracks, though nowhere near as much use as on Year Zero. The album itself is even better, with Galahad (now woefully mis-named, though far too late to change) really finding their feet after a twenty-year career. I saw the material previewed eighteen months earlier and wasn't the only punter blown away by what I heard; modern, hard-edged metal-tinged prog, managing to sound like absolutely no-one else; of how many other current progressive acts can you say that? De-Fi-Ance opens with angelic female choristers, before lurching into a 'beat you to death' riff, setting the tone for the rest of the album. Best track? Possibly I Could Be God, featuring a section of Martin Luther King's famous 'I have a dream' speech, but it's difficult to pick one out from the pack, to be honest. On the Mellotron front, both Dean and guitarist Roy get some in, though barely enough to make a difference, really. The choirs on Termination could almost be from any generic synth you care to name, while This Life Could Be My Last... has some 'stabbed' flute chords, which at least sound like a Mellotron.
2012's Battle Scars continues down the band's 'own-brand' progressive metal path, displaying enough of their own personalities to avoid getting caught up in the 'thousand Dream Theater rip-offs' stampede. The opening title track is a microcosm of the album, shifting between moods over its seven-minute length, while Singularity and (especially) Seize The Day use techno-inspired sequencers and drum loops, reminding us that Galahad remain unwilling to settle into a middle-aged, safe neo-prog (non-) groove. The album's highpoint, however, has to be their reworking of an older piece, the fourteen-minute Sleepers 2012, current band tropes present and correct. Baker adds (Nolan's?) M400 to a couple of tracks, with a few string chords on Battle Scars itself and Suspended Animation, although nothing you couldn't live without. Their second album of 2012, Beyond the Realms of Euphoria, is slightly less impressive than their first, although material such as Salvation II - Judgement Day, Guardian Angel and All In The Name Of Progress keep the quality up. This album's re-recording, though, is something of a mistake, at least to my ears: Richelieu's Prayer 2012 (originally on Nothing is Written, above) fails to transcend its Marillion-esque neo-prog roots, despite the band's attempts to give it a full makeover. Even less Mellotron this time round, with naught but some chordal strings on Salvation II, although it's possible I'm missing parts in the mix.
If you like your prog neo-, you'll like Nothing is Written, but it's not exactly a Mellotron classic. Year Zero, however, is a good album with some great instrumental passages, while Empires Never Last takes their sound a stage further, making Galahad one of the UK's best prog exports in the early 21st century. They seem to have developed their own brand of modern progressive, bringing in influences that most prog outfits would shun, while still sounding like themselves. Recommended.

Seize the Day (2014, 42.40) ***½
Empires: A Curious Companion (2015, recorded c.2006, 34.11) ***
Quiet Storms (2017, recorded 2014-17, 75.19) ***
When Worlds Collide (2015, 156.07) ***½
For some reason, Battle Scars' Seize The Day appeared as the lead track on an EP of the same name, nearly two years after its parent album's release, although 'EP' seems a strange term to use for a forty-two minute disc. Mind you, we only actually get three songs, with two versions of each, including a lengthy live version, so perhaps it isn't that difficult to make an album-length 'EP'. The two 'b-sides' are both reworkings of old songs (this is getting to be a bit of a habit, isn't it, chaps?): 21st Century Painted Lady, complete with more of those techno-inspired synths, was originally merely Painted Lady, from their 1985 demo, while Following Ghosts's Bug Eye becomes a modern, prog-metal-with-synths epic. I believe the 'Mellotron' flutes on 21st Century Painted Lady are sampled; the same apparently goes for the bonus tracks on the band's two other EPs released the same year, although there's nothing obvious on Guardian Angel.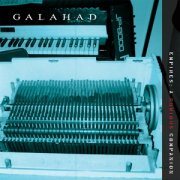 2015's Empires: A Curious Companion is a short disc of demos for Empires Never Last, from almost a decade earlier. Now, that cover pic (right) will have Mellotron nuts slavering, am I not right? Two things: 1) That's the innards of my very own M400, picture taken during the recording of Year Zero. 2) The only 'Mellotron' on this album is, unsurprisingly, given that it's a bunch of demos, sampled. To be fair, Stu wrote to tell me they were using the pic, but I'm just warning you not to get too excited. Just in case... It's a classic 'fans only' release, of course, akin to lifting the (Mellotron?) lid to see the workings; not for everyone, better tracks including This Is Where I Come From (Mellotron Showcase) and Termination (Instrumental Demo). Samplotron everywhere, with strings all over Empires Never Last - Part Two, choirs and (obviously sampled) strings on Termination, MkII moving strings, regular strings, choirs and church organ on (unsurprisingly) This Is Where I Come From (Mellotron Showcase), strings on Wagging Tongues and strings and choirs on Empires Never Last (Piano/Mellotron Demo).
2017's Quiet Storms (complete with beautiful sleeve pic), in the band's own words, "...shows a more mellow and at times pastoral side to the band's output...", consisting of material previously released on their 2014 EP series, album reissue bonus tracks and some new recordings. I like the kind of compilation that collects otherwise hard-to-find tracks, although, unsurprisingly, given the album's 'low-key' concept, it doesn't collect everything from the period covered. To be honest, seventy-something minutes of Galahad's piano ballads can get a little wearing, unless you're a huge fan, but there are some gems here, not least Iceberg, the German-language, acoustic version of Rammstein's Mein Herz Brennt (!) and the wonderfully overblown Shine. It's often hard to tell whether the strings are Mellotron samples or generic, the only 'definite' being the choirs and strings (alongside 'orchestral' samples) on Iceberg. Definitely fans only.
Speaking of fans, 2015's When Worlds Collide, complete with a big '30' on the cover, is shamelessly retro, featuring rerecordings of material from their history, one never previously recorded in any form, alongside more standard compilation fare. The upside? Modern sounds/arrangements. Downside? Far too neo- in places, assuming you consider that to be a downside. Highlights? The previously-unrecorded piece, City Of Freedom, Chamber Of Horrors and the Genesis-alike Don't Lose Control, possibly. Time to put this 'rerecording old material' thing to bed, though, chaps. Dean Baker plays samplotron choirs on Dreaming From The Inside and Don't Lose Control and a flute line on 21st Century Painted Lady, while the original recording of This Life Could Be My Last features real Mellotron flutes, as reviewed above.

---