---
All Night Radio (US) see: Samples etc.
All Over Everywhere (US) see: Samples etc.
All Them Witches (US)
Sleeping Through the War (2017, 46.22) ***/T

Bulls
Don't Bring Me Coffee
Bruce Lee
3-5-7
Am I Going Up?
Alabaster
Cowboy Kirk
Internet
Current availability:
Mellotron used:
Nashville-based All Them Witches are a current heavy(-ish) psychedelic band, albeit less heavy (and certainly less progressive) than, say, Astra; in fact, the one thing that lets them down (admittedly possibly only in my eyes) is the indie influence prevalent on much of 2017's Sleeping Through the War. The album starts well with Bulls, but by the likes of Am I Going Up? or Alabaster, they've shifted into a cross between a late '60s first-time-round jamband and an indie outfit doing too much weed. Best tracks aside from Bulls? Cowboy Kirk gets going nicely as it progresses, while closer (Guess I'll Go Live On The) Internet jams out nicely over its nine-minute length, but too much of the album meanders aimlessly, although I'm quite certain that's the band's intention.
No fewer than three of the band's four members are credited with Mellotron: vocalist/bassist Charles Michael Parks, Jr., guitarist Ben McLeod and keys man Allan Van Cleave. In which case, all I have to say is: where is it? The only obvious use is some background strings, followed by a chordal string part that suddenly appears towards the end of Bulls, all other vaguely stringish parts sounding little like a Mellotron. Bizarre. So, a decent enough effort, but, given that this is actually their fourth album, not cohesive enough to be fully recommendable.
Maartin Allcock (UK) see: Samples etc.
Daevid Allen & Kramer (Australia/US)
Who's Afraid? (1993, 42.53) ***½/T

Thinking Thoughts
Love
Who's Afraid?
Shadow
Bopera III
Pretty Teacher
Call it Accident
Song For Robert
C'est la Maison
More & More
Quit Yr Bullshit
Current availability:
Mellotron used:
I don't know who came up with the idea of pairing on/off Gongster Daevid Allen and noted US eclectic producer/muso (Mark) Kramer, but the combination seems to work, going by their one collaboration, 1993's Who's Afraid? More Allen than Kramer, at least to my ears, it's a quirky collection of late '60s-esque psych, with plenty of acoustic guitar, almost-chanted vocals and the relentless electric repetition of Bopera III and More & More.
Kramer's responsible for the album's occasional keyboard work, including some wavery, high-end Mellotron strings on the title track which, while unusual, are nothing you desperately have to have. Given the year of release, it seems likely it's genuine, although early samples were coming in by that point. Quit Yr Bullshit's strings sound more like an old string synth than anything; definitely not a Mellotron, anyway. Daevid Allen fans will love this, Kramer ones probably less so, while the rest of us will probably sit on the sidelines wondering what all the fuss is about. Good, but niche.
Jon Allen (UK)
Dead Mans Suit (2009, 45.09) ***/½

Dead Mans Suit
In Your Light
Going Home
Down By the River
Sleeping Soul
Happy Now
Take Me to Heart
Lay Your Burden Down
Young Man Blues
New Years Eve
Bad Penny
Friends
Current availability:
Mellotron used:
Growing up in rural Devon, south-west England, Jon Allen was free to develop without the pressures of any urban music scene, resulting in a young artist principally influenced by roots rock and all the 'classic' artists. You think this is a bad thing? Regressive? Heard any contemporary indie lately? 2009's Dead Mans Suit (sic.) is a decent enough effort, although too many of its tracks err on the slight side, steering the album in the direction of a collection of also-rans. Reading it back, that seems incredibly harsh (and not very well-written); the album contains some strong material, not least the opening title track, Bad Penny (which sounds like a more tuneful Dylan) and closer Friends, which delivers not only one of the record's better tunes, but also one of its most mature lyrics.
Allen plays Mellotron, with an arranged string part on Going Home that may or may not have anything to do with a real machine. The album was apparently recorded in a house in Balham, south London, which means nothing: I have a Mellotron in my house. Overall, then, not a bad debut, with some potential, although Allen needs to steer away from the blandness of much of his output. Not sure about that Mellotron, but what's new?
Dot Allison (UK)
Exaltation of Larks (2007, 49.23) ***½/T½

Allelujah
Thief of Me
Sunset
In Deep Water
You Dropped Your Soul
M'Aidez Call
Tall Flowers
Quicksand
Shivering
The Latitude and Longitude of Mystery
I Killed the Monster: 21 Artists Performing the Songs of Daniel Johnston (2006)

[Dot contributes]
Don't Let the Sun Go Down on Your Grievances
Current availability:
Exaltation: Cooking Vinyl
I Killed: Second-Shimmy
Mellotrons used:
Both titles: Kramer's M400
Dot Allison is a Scottish singer who rose to fame via her involvement with the electronica of One Dove in the early '90s. Given that she's known for working in that style, it's all the more surprising that her third solo album proper, 2007's Exaltation of Larks, should consist of hushed, dreamy folky material, full of banjos, solo violins and Allison's breathy voice. The latter actually becomes a distraction after a while, as she doesn't seem to be able to sing this material any other way, but that could be construed as unfair criticism of a quietly beautiful album.
The legendary Kramer produces and plays various keyboards, including Mellotron, with uncredited strings on opener Allelujah and credited ones on Sunset and M'Aidez Call, all used to reasonable effect while never being in any danger of being lauded as 'outstanding'. Overall, a lovely album, worth pursuing by those of a folky persuasion, being far more 'authentic' than some of the bigger new names on the current British folk scene. Naming no names.
See: I Killed the Monster
Alma (Sweden)
For Loved Ones & Lost Ones (2002, 36.57) **½/T½

It's Alright
Everyone Was Right
Ann-Christine
Blue T-Shirt
Boy
In Bad Dreams
What I've Been
Maybe Next Year
Closer Than You Think
Flowers
Current availability:
Mellotron used:
I'm having trouble finding out very much about Alma; it seems they were a Swedish quartet, two blokes, two girls, specialising in a type of country/folk/pop. To my sketchy knowledge, they only released the one album, 2002's For Loved Ones & Lost Ones, a pleasant enough set, if a little samey, which manages to slightly outstay its welcome, despite its relative brevity. There's nothing specifically wrong with any individual track, but ten of them on the trot made me fidgety.
Tom Hakava (Ben's Diapers) plays Mellotron, with major flute and string parts on Everyone Was Right and strings towards the end of closer Flowers, to good effect. Just for once, I'm going to say that I feel it was used about the right amount here; it's easy to overdo, especially on an album as quiet as this. I've heard far worse albums than For Loved Ones & Lost Ones, but then, I've heard far more interesting ones, too.
Alma Ata (Germany)
Dreams (1979, 34.40) **½/T

Dream
Keep on
Come to Stay By Me
New Born Baby
Metall Angel
Welcome to Night
Top of the Hill
Current availability:
Mellotron used:
Klaus Hoffmann-Hoock's M400
I can't tell you a great deal about Alma Ata; both Discogs.com and Krautrock-musikzirkus.de only list one album, so I suspect that's the extent of their career, such as it was. To be blunt, I don't think we're missing out to any great extent; 1979's Dreams is a bland, disco-inflected soft-rock effort, less obnoxious tracks including the Fleetwood Mac-esque boogie-lite of Come To Stay By Me and Metall Angel's mild twin guitar histrionics, although six-minute closer Top Of The Hill succeeds in being far less epic than we might hope.
Although he's only credited with writing lyrics, our old friend Klaus Hoffmann(-Hoock) tells me he played his Mellotron on New Born Baby, with a sympathetically-arranged high string part running through the bulk of the track, with a choir segment in the fade. Not only is this not available on CD, but I can't imagine why it might ever be, its style being about as unfashionable as it comes. Do you bother for its Mellotron use? No, you do not.
See: Klaus Hoffmann-Hoock
Anne Marie Almedal (Norway)
The Siren & the Sage (2007, 45.33) ***/½

The First Picture of You
Trouble
Monterosso
Since Yesterday
Joy
Scarlet
Heaven
Southern Sky
Morning '71
Listen
Happy Ending
Blue Sky Blue (2010, 50.35) ***/½

Safe From Harm
I Think I Love You
Show More Love
Alone to the Chill
Blue Sky Blue
The False Alarm
Paint it Black
Dawn Chorus
Gardengreen
White Cloud
Seize My Heart
Himmelblå
Current availability:
Mellotrons used:
Anne Marie Almedal was vocalist with Mellotron users Velvet Belly for a decade before going solo, debuting with 2007's The Siren & the Sage. It's a gentle, drifting album of dreamy, folk-influenced pop, like Kate Bush on mogadons; probably a slightly harsh assessment, but its languid sameyness makes it difficult to concentrate on the music to any great extent. Maybe that's the point? Also, her/her record company's insistence on promoting her via rather inappropriate imagery (all short skirts and high heels) rankles a little, too. Anyway, Nicholas Sillitoe plays Mellotron, with background strings and flutes on Since Yesterday, though it's hardly the most arresting use you'll ever hear.
Anne Marie followed up with 2010's Blue Sky Blue, a similar album to its predecessor, albeit with one particular highpoint: her version of The Stones' Paint It Black is superb, as she enunciates the lyrics more clearly than Mick ever could. Two credited 'Tron tracks from Sillitoe again, with nothing audible on Dawn Chorus and faint background strings on Gardengreen, making this even less worthwhile on that front than its predecessor.
I think my problem with these albums is that almost any track in isolation, picked at random, is a thing of ethereal beauty; a whole album (never mind two) starts to drag after a while. Maybe I'm just not in the right headspace. Anyway, good at what they do, next to no Mellotron.
See: Velvet Belly
Marc Almond (UK)
Varieté (2010, 66.43) ***½/½

(Intro)
Bread & Circus
Nijinsky Heart
The Exhibitionist
The Trials of Eyeliner
Lavender
Soho So Long
Unloveable
Sandboy
It's All Going on
Variety
Cabaret Clown
My Madness and I
But Not Today
Swan Song
Sin Song
Current availability:
Mellotron used:
Marc Almond (not to be confused with early '70s Brit-jazzers Mark-Almond) rose to prominence with, of course, the superb Soft Cell with Dave Ball in 1980, going on to a solo career four years later. 2010's Varieté is his eighteenth post-Soft Cell effort, including releases with two other band projects, staying true to his lifelong obsession with the sleazier side of things, jazz and cabaret influences to the fore, as ever. While the album's good (possibly excellent) at what it does, Marc sounds like he's repeating himself, both musically and lyrically, with tales of drag queens, unrequited love et al., although it's a million miles from Soft Cell's cool turn-of-the-'80s electronica. Incidentally, Soho So Long appears to be built around a sample from Squeeze's classic Take Me, I'm Yours - well, Mr. Almond?
Roland Faber plays Mellotron on two tracks, with strings on My Madness And I (mis-credited as being on Cabaret Clown) alongside a well-played Theremin and while there's nothing audible on Swan Song, it features some of the best Hammond work I've heard in a while. Overall, you're probably not going to go a bundle on this unless you're already a fan, but as a non-believer, I have to say that much of it grabbed my attention in the way that most current albums don't. Hardly any Mellotron, then, but worth hearing.
Andi Almqvist (Sweden) see: Samples etc.
Aloha (US)
Here Comes Everyone (2004, 45.43) ***/T

All the Wars
You've Escaped
Summer Away
Boys in the Bathtub
Be Near
Water Your Hands
I Don't Know What Else to Do
Setting Up Shop
Thermostat
Perry Como Gold
Altoona
Goodbye to the Factory
Some Echoes (2006, 38.59) ***/½

Brace Your Face
Big Morning
Your Eyes
Ice Storming
Between the Walls
Come Home
Weekend
Summer Lawn
If I Lie Down
Mountain
Current availability:
Mellotrons used:
Many online reviews label Aloha art-rock, or even a modern take on prog. Weeeellll... Slightly arty indie with the occasional tricky bit thrown in for good measure might be a closer description, albeit rather less snappy. They apparently featured vibraphone heavily on their early records, but vibraphonist Eric Koltnow left after 2002's Sugar, leaving the band to find a new instrumental focus.
Their third album, 2004's Here Comes Everyone, fits the above description to a T, my main beef being that memorable material seems to be at a bit of a premium, although I'm quite sure fans of the band will shoot me down for saying so. Most of the songs are slightly Tortoise-like downbeat efforts, although Perry Como Gold gives the 'widescreen proggish effort' button a good whack, giving the whole a 'just about made it' three stars. T.J. Lipple plays Mellotron, with flutes on opener All The Wars, You've Escaped and Setting Up Shop, with something else (cellos?) on Thermostat, though nothing you can't live without, to be honest. I've seen a reference to a 'homemade Mellotron', so I've no idea whether what we're hearing is the Real Deal or some other form of bodged-together tape-replay device. Or indeed, samples. Who knows.
Two years on, and Some Echoes repeats the formula, if with a slightly more psychedelic bent than before. Again, not much to stick in the synapses, although the slightly proggy Summer Lawn has its moments. Practically none of whatever Lipple's calling a Mellotron this time round, with only what sounds like high-end 'Tron cellos on Come Home. Going by 'Net reviews, many people love Aloha to bits, and I feel slightly ashamed not to be able to join them, but I found both these albums rather flat-sounding and, well, dull really. Sorry chaps, but you just don't float my boat. Next to no Mellotron (or similar) either.
Herb Alpert's Tijuana Brass (US)
Whipped Cream & Other Delights: Re-whipped (2006, originally 1965, 46.58) **/T

Whipped Cream (Anthony Marinelli)
A Taste of Honey (John King)
Green Peppers (Anthony Marinelli)
Ladyfingers (Camara Kambon)
Love Potion #9 (Anthony Marinelli)
Peanuts (Anthony Marinelli)
Tangerine (DJ Foosh)
El Garbanzo (Medeski Martin & Wood)
Lemon Tree (Thievery Corporation)
Lollipops and Roses (Anthony Marinelli)
Bittersweet Samba (Mocean Worker)
Butterball (Anthony Marinelli)
Current availability:
Mellotron used:
Herb Alpert (the 'A' in 'A&M') and his Tijuana Brass are one of the scourges of the '60s; the kind of stuff that your parents would put on, thinking they were hip, now cluttering up a charity shop/garage sale near you. Yes, some people claim that this kind of easy listening has a certain caché these days: they're wrong. Not cool then, not cool now; don't give me that hipster crap. 1965's Whipped Cream & Other Delights was one of Alpert's most successful releases, familiar to anyone brought up on this kind of stuff (not me, then), presumably making it ideal for an ironic remix project, Whipped Cream & Other Delights: Re-whipped (remixers credited in brackets). You can see this in three ways: a) as a welcome updating of a vilely dated sound, b) vandalism of the highest order, or c) doing something nasty to something that's already nasty. I favour c).
John Medeski plays Mellotron on his trio's reworking of the Latin El Garbanzo, with some typically skronky, pitchbent strings warbling away in the background, barely scraping a single T. If your ironic bone is twitching, you stand a good chance of loving these contemporary reworkings. If it isn't, I can only suggest that you move quickly in the direction of 'away', as this may irritate you as badly as it's irritated me.
Alrune Rod (Denmark)
Spredt for Vinden (1972, 41.34) ***½/½

Kom Nu
Her i Solen
En Snehvid Fugl
Sammensang
XN
Flyv Fugl Fisk
Spredt for Vinden
Gåseøje
Gåseøje Fortsat
Current availability:
Mellotron used:
Alrune Rod were one of Denmark's first psychedelic bands, operating between the late '60s and mid-'70s, producing six albums in the process, although the only one that interests us here is 1972's Spredt for Vinden, a raw, psych/proto-prog crossover effort with a broad blues streak running through it. This really is rather good, actually, standout tracks including opener Kom Nu, the incendiary Flyv Fugl Fisk and closer Gåseøje Fortsat, while the brass-driven Sammensang, while not amongst the album's best tracks, is unusual enough to be worth commenting on.
This album's up for the coveted 'least actually audible Mellotron on a record ever' award, with naught but a few seconds of background choppy strings on opener Kom Nu, although two gentlemen are credited with it, Mikael Miller and someone called Ivan. Is there more elsewhere? Possibly, but as with so many albums on this site, if it's there, it's buried pretty deeply in the mix. Anyway, a good album of its type, worth hearing for psych and early prog fans who think they've heard it all.
Altar of Oblivion (Denmark) see: Samples etc.
Alva Star (US)
Alligators in the Lobby (2001, 36.11) ***½/T

Adore
Falling
Unhappily Yours
Thing for Me
Beautiful
74
Victorian
Revelation
Alva Star
Girlfriend
Current availability:
Mellotron used:
John Hermanson's Alva Star are a Minneapolis-based powerpop outfit, whose 2001 debut, Alligators in the Lobby (is that a Fear & Loathing in Las Vegas reference?) is an excellent addition to the canon, top tracks including opener Adore, with a repeating guitar hook to die for, Unhappily Yours, the laid-back 74 and solo-electric-guitar-and-vocal closer Girlfriend. Truth be told, there isn't a bad track here, although Hermanson's falsetto on Beautiful reminds me a little too much of the horrible James Blunt, even though that artist's similarly-titled hatefest was several years in the future at this point.
Hermanson plays Mellotron on their 'theme tune', Alva Star, with a beautifully upfront and very real-sounding flute line and string and choir chords, making it a pity it wasn't used a little more often. All in all, yet another great powerpop album, the only caveat being that, like so many similar, it has trouble standing out from the pack, despite featuring several memorable tracks.
Amandine (Sweden)
This is Where Our Hearts Collide (2005, 43.29) ***½/½

For All the Marbles
Halo
Fine Lines
Stitches
Blood & Marrow
Over the Trenches
Fathers & Sons
Firefly
Sway
Easy Prey
Heart Tremor
Current availability:
Mellotron used:
Amandine are a Swedish sort-of Americana four-piece, whose debut, 2005's This is Where Our Hearts Collide, showcases their laid-back, vaguely Neil Young-ish approach with aplomb. 'Best tracks' include opener For All The Marbles, the string-laden, waltz-time Halo, the sparse Fathers & Sons, complete with picked banjo and closer Heart Tremor, particularly at around three minutes in, when it suddenly doubles its pace, but there actually isn't a single genuinely weak track here, which is rare enough to be worthy of comment. If I have a criticism, Olof Gidlöf's vocals are sometimes so transparent that they approach invisibility, but that is, frankly, nit-picking.
Ove Andersson adds Mellotron flutes to Firefly, if only just, all assuming it's even real. I mean, who knows any more? Real or otherwise Mellotron is essentially irrelevant when it comes to deciding whether or not to splash out your hard-earned on this, though; the unassailable quality of the songs should be the deciding factor. Amandine apparently used a Mellotron on the following year's Leave Out the Sad Parts EP, too; review forthcoming when I track a copy down.
Amaral (Spain)
Pajaros en la Cabeza (2005, 52.39) **½/T

El Universo Sobre Mí
Días De Verano
Revolución
Mi Alma Perdida
Marta, Sebas, Guille y los Demás
Esta Madrugada
Big Bang
Enamorada
Tarde Para Cambiar
En el Río
Resurrección
Confiar en Alguien
Salta
No Soy Como Tú
Current availability:
Mellotron used:
Top-selling Spanish duo Amaral, named for vocalist Eva Amaral, play a kind of Latin-infused pop/rock, tailor-made to appeal to the Spanish market, not necessarily in an opportunistic way, I suspect. 2005's Pajaros en la Cabeza (their fourth album) sounds like the kind of music Spanish twenty- and thirty-somethings might listen to when they've grown out of their various teenage phases: tuneful, slightly 'alt.rock', with plenty of local stylistic input, some tracks (Revolución, Big Bang) sounding more sub-U2 than others, with plenty of Mediterranean balladry.
Guitarist Juan Aguirre, crediting himself as "Los Aguirre", plays Mellotron, with flutes all over opener El Universo Sobre Mí, although nothing else sounds enough like a Mellotron to count. So; Latin pop/rock, anyone? Didn't think so. Perfectly respectable, but not my bag and very little Mellotron.
Amaze Knight (Italy) see: Samples etc.
Amazing Blondel (UK)
England (1972, 34.57) ***/½

The Paintings
Seascape
Landscape
Afterglow
A Spring Air
Cantus Firmus to Counterpoint
Sinfonia for Guitar and Strings
Dolor Dulcis
Lament to the Earl of Bottesford Beck
Current availability:
Mellotron used:
Amazing Blondel (named after Henry VIII's favourite minstrel, apparently), started life as an Elizabethan music ensemble, operating in the same vague sphere as Gryphon and Magna Carta, although they did it first, with albums such as their self-titled debut and '71's Fantasia Lindum. England was their fourth release, with the band down to a duo, and the first to noticeably incorporate contemporary instrumentation, although much of the album still has that 16th century vibe about it. To be honest, much of the material is a bit lightweight and forgettable, with the honourable exception of Cantus Firmus To Counterpoint, which conjures up the spirit of times past with aplomb. To be fair, this may just be a reflection of the era they were trying to recapture, but I find that side one, in particular, doesn't bear repeated listening.
Most of the tracks are backed by the strings of the Hopkins/Blondel Ensemble, but Terence Alan Wincott, as the band's resident multi-instrumentalist, plays Mellotron (credited as 'Mellotron?!') on closing instrumental, Lament To The Earl Of Bottesford Beck, although all that's audible is a few strings pitchbends behind the harmonium and pipe organ. So, not a classic, but some of side two is quite listenable.
Amazing Friendly Apple (UK)
7" (1969) ***½/TT½

Water Woman
Magician
Current availability:
On compilations: see below
Mellotron used: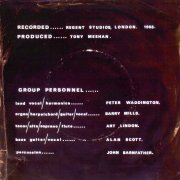 Amazing Friendly Apple were a Leeds-based five piece, who only managed to release one single; there doesn't even appear to be any other material in the vaults. The A-side is a very British take on Spirit's Water Woman (not to be confused with Mancunians Pacific Drift's fiddle-led version from a year later), while the flip, Magician, is an excellent late-period psych piece. Organ, harpsichord and Mellotron strings, presumably from organist Barry Mills, vie with each other for precedence over Peter Waddington's strangely nasal vocal, as the song moves through several different parts in quick succession, reminding me slightly in places of Traffic's Hole In My Shoe. In fact, this could be said to be bordering early progressive; it's certainly more inventive than many of its better-known cousins.
You're unlikely to find an original copy of Magician, but it's apparently available on The British Psychedelic Trip 1966-1969 LP or The Great British Psychedelic Trip, Vol.1 CD, according to the excellent, and now sadly disappeared Tapestry of Delights site. I wouldn't say it was a 'Tron classic, but it's worth hearing on both musical and Mellotronic grounds. A quick word here to say a public thank you to the band's manager, Peter Brent, for providing scans and information. Interesting to note that the single even had a picture sleeve, as they were still a rarity in the UK at that time.
Oren Ambarchi, Stephen O'Malley, Randall Dunn (Australia/US)
Shade Themes From Kairos (2014, 67.44) ***/T

That Space Between
Temporal, Eponymous
Circumstances of Faith
Sometimes
Ebony Pagoda
Current availability: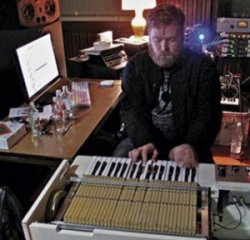 Mellotron used:
The (one-off?) Ambarchi/O'Malley/Dunn combo can almost be considered a Sunn O))) side-project, Stephen O'Malley being one half of the duo, while Australian Oren Ambarchi frequently guests and Randall Dunn also acts as an unofficial member and live engineer. The trio's album, 2014's Shade Themes From Kairos, is yet another of those 'difficult to describe' efforts: ambient metal? I know that such a thing exists; perhaps this is it. Drifting, formless, experimental music, like psychedelia taken to an extreme, maybe, or a black metal band tripping on the baddest brown acid ever. 'Stoner' doesn't even begin to describe it. Given that this is well beyond my conceptual level, which is essentially a fancy way of saying that I don't 'get it', I think three stars is reasonable enough; they seem to know what they're doing, even if I don't.
As you can see, a gen-u-wine M400 was hired for the Belgian sessions, Dunn bringing it in from the off, with quick, volume-pedalled, pitchbent choir chords in the opening minute of That Space Between, strings and flutes drifting in towards the end of Temporal, Eponymous and drifting strings and flutes on lengthy closer Ebony Pagoda, although if overall use tops a total of two minutes, I'd be amazed. One for the experimentalists amongst you, then, and, of course, Sunn O))) completists. Really not worth it for that Mellotron use, though.
See: Samples | Earth | Master Musicians of Bukkake
Ambeon (Netherlands) see: Samples etc.
Amber Light (Germany)
Goodbye to Dusk, Farewell to Dawn (2004, 64.02) ***/T

A New Atlantis
Tartaros
Devil Song
Gangsters
The Drowning Man in My Hands
Hide Inside
Clock Hands Heart
New Day
Current availability:
Mellotron used:
Amber Light fall somewhere between 'typical' modern prog and the Talk Talk/Porcupine Tree, combining 'trad' prog moves with an almost post-rock sensibility in places. However, their debut album, 2004's Goodbye to Dusk, Farewell to Dawn, does rather outstay its welcome at over an hour, with overlong tracks like Clock Hands Heart and New Day, while Hide Inside is an irritatingly poppy effort, particularly in the vocal department. The album does have its better points, but they're all too often hidden behind what sometimes feels like hour upon hour of 'emotional' vocal work and an unfortunate tendency to attempt a 'crescendo-lite' style of writing, like applying Godspeed, You! Black Emperor's chief defining feature to a song-based aesthetic.
Vocalist/guitarist Louis Gabbiani also plays the album's keyboard work, with Mellotron (real?) on a couple of tracks, with block chord flutes on Devil Song and distant choirs on Gangsters. He's not actually credited with the thing, so if it hadn't have been for an online review that mentioned their use of 'all-analogue equipment', this would be in the sample section by now. Of course, said review could be wrong, but until/unless I find out for sure...
Some prog fans will 'get' this, many won't. In addition to the bands references above, think Radiohead and Pineapple Thief and you won't be too far wide of the mark. Very little Mellotron (real or otherwise), too, but if you want more of that post-rock/prog crossover, you'll probably go for this.
Wolfgang Ambros (Austria)
Es Lebe der Zentralfriedhof (1975, 38.36) **½/0

Es Lebe der Zentralfriedhof
Wem Heut Net Schlecht is
Espresso
G'Söchta
Heit Drah i Mi Ham
Zwickt's Mi
Familie Pingitzer
De Kinettn Wo i Schlof
A Gulasch und a Seitl Bier
I Glaub i Geh Jetzt
Current availability:
Mellotron used:
Wolfgang Ambros is an Austrian singer-songwriter, whose 1975 album, Es Lebe der Zentralfriedhof, is a fairly typical mainstream pop/singer-songwriter record of the era, albeit one sung in German, which won't add to its non-German-speaking appeal. Is it any good? Not especially, no, although I've no doubt that the lyrics are meaningful and erudite; shame they're set to such dull music, really.
Christian Kolonovits allegedly plays Mellotron, though I'll be stuffed if I can tell where, as all of the album's strings are real and there are no obvious flute or choir parts. Maybe he didn't actually play one at all? Anyway, although this is actually available on CD, I can't really recommend it on either of the usual grounds.
Ambrosia (US)
Ambrosia (1975, 38.36) ***½/TT

Nice, Nice, Very Nice
Time Waits for No One
Holdin' on to Yesterday
World Leave Me Alone
Make Us All Aware
Lover Arrive
Mama Frog
Drink of Water
Somewhere I've Never Travelled (1976, 45.48) ****/½

And...
Somewhere I've Never Travelled
Cowboy Star
Runnin' Away
Harvey
I Wanna Know
The Brunt
Danse With Me George (Chopin's Plea)
Can't Let a Woman
We Need You Too
One Eighty (1980, 39.38) **½/½

Ready
Shape I'm in
Kamikaze
You're the Only Woman
Rock n' a Hard Place
Livin' on My Own
Cryin' in the Rain
No Big Deal
Biggest Part of Me

All This & World War II (1976, 3.52) ***/½

[Ambrosia contribute]
Magical Mystery Tour
Current availability:
Chamberlins used:
All titles: band's own M1 (?)
Ambrosia operated towards the rock end of the 'progressive pop' field, rather in the way that Canada's Saga did a few years later, without really sounding anything much like them. Regular song format, good hooks, clever arrangements, interesting instrumentation... I think you get the general idea. Influences include Yes, Styx (who were still on their way up when Ambrosia appeared) and maybe Kansas (ditto); a very American sound, which keeps reminding me of Spock's Beard from two decades hence.
Ambrosia itself is a good album, if falling short of 'excellent', with standouts including Time Waits For No One, Make Us All Aware and Mama Frog, complete with Lewis Carroll quotes. Christopher North plays Chamberlin on several tracks, with flutes on Nice, Nice, Very Nice and what I presume are Chamby cellos on Make Us All Aware, but it isn't until Lover Arrive that it kicks in properly, with a beautifully arranged polyphonic flute part. Apart from a brief burst of flutes again on epic closer Drink Of Water, that would appear to be it, but as usual with the Chamberlin, I could just be missing parts due to a lack of detailed knowledge of its sounds. Either way, a fine album.
The following year's Somewhere I've Never Travelled (note English spelling!) sees Ambrosia at the peak of their pomp powers; an excellent album with endlessly inventive arrangements, often coming more from a soundtrack/stage show area than 'rock'n'roll'. Highlights are probably Cowboy Star and Danse With Me George, but there isn't a bad track on the album. Much real strings/woodwind, although it's been pointed out to me that there's a brief burst of Chamberlin flutes (and possibly strings?) towards the end of Cowboy Star, though the casual listener simply isn't going to notice.
By '78's Life Beyond L.A. (**½), North seemed to have been relegated from full-member status, only playing on a handful of tracks. The album starts well enough, but soon deteriorates into soul-influenced schlock. Overall, avoid. One Eighty's the only other Ambrosia album to have credited Chamberlin, but in all honesty, if it's actually on Biggest Part Of Me I'd be surprised; it's the nearest any of the keyboard sounds gets to tape replay. The album's a slight improvement over its predecessor, although there are two or three soul-influenced tracks that are rather hard to bear. The band are, surprisingly up to a six-piece, with North reinstated, but it hasn't improved their sound overmuch. I'm actually surprised they didn't manage to break through into the AOR big league; right time, wrong place? Maybe a lack of truly memorable material sunk them, although they managed one more album, '82's Road Island (***).
One various artists project appearance, with a so-so version of Magical Mystery Tour on 1976's dodgy All This & World War II, but with merely a few seconds of Chamby strings (admittedly underneath some great Taurus pedal notes), we're talking less than fully essential, I think.
So; Ambrosia and Somewhere I've Never Travelled are worth hearing, though the Chamberlin input isn't that great. The later albums are for fans only, to be honest, although there might just be a decent album to made from the three of them.
Ambulette (US)
The Lottery EP (2006, 23.05) **½/½

I've Got More
Fall
When I See You
Seconds Until Midnight
If You Go Away
Current availability:
Mellotron used:
Ambulette were one of Denali frontwoman Maura Davis' projects, who managed just the one release, 2006's The Lottery EP before splitting up. It's pretty typical female-fronted US indie, to be honest, occasionally cranking up the volume, but defaulting to dreary miserablism at the first opportunity. Seconds Until Midnight is probably the most energetic track, but that's not a recommendation as such, merely a comment.
Guitarist Ryan Rapsys and bassist Matt Clark are both credited with Mellotron, but it's not exactly overused, assuming it's even real, with some not wildly Mellotronic-sounding strings on Seconds Until Midnight, while the mooted 'Tron on Fall seems to be sustained guitar. So; rather overwrought indie, little 'Tron, don't bother.
---