Center of the Sun (2011, 43.34) ****/TTT

Center of the Sun
Usurpers
Restorers
Rik Rite
7" (2012) ****/TT½

Backdoor Jane
Wooden Nickels

Second Sight (2013, 44.56) ****½/TTTT

Lost Are the Years
Wooden Nickels
Cultrider
Second Sight
Waiting for the Tide

Vision & Ageless Light (2016, 46.21) ****/TTT

Book of the Dead
Kill the Slavemaster
Searching
Dweller of the Twilight Void
As Sure as the Sun
Current availability:
Center/Second: self-released download/Kemado
Backdoor: Lost Weekend (vinyl only)
Vision: Laser's Edge
Mellotrons used:
Ohian psychonaut trio Eye's debut, 2011's Center of the Sun (initially only available as a 'set your own price' download) is a superb slice of heavy space-rock; these guys are clearly majorly in thrall to Hawkwind. And why not? The album opens with the side-long title track, which shifts through several sections, not least an early '70s boogie passage; you know, the rhythm that later metal bands dropped without a backwards glance. The 'shorter' tracks on side two (this is now available on vinyl) are of comparable quality; how come this bunch are so obscure? Guesting keys man Adam "Smitty" Smith plays genuine Mellotron, strings and flutes all over the opening title track (spot the 'can't fake that' wobblies on some of the flute notes), choirs on Usurpers and more strings and flutes on the last two tracks. While the Mellotron isn't omnipresent, it's used heavily enough to be considered as a fairly major player in the band's sonic arsenal.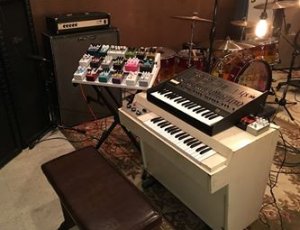 The following year's Backdoor Jane b/w Wooden Nickels highlights two very different sides of the band, the 'A', being a full-on, dual-guitar instrumental, while the flip is a reflective acoustic number, all harmony vocals and trippy lyrics. Mellotron on the 'B' only, with lush flute, string, brass and vibes (!) parts across the board.
Second Sight is even better than their debut, from the multiple parts of side-long opener Lost Are The Years, to the killer circular riff on Cultrider and gentle closer Waiting For The Tide. This is the sound of a band whose sound is coming to maturity as they work together, their writing coalescing into something very special indeed. Smith plays Mellotron on every track, with flutes, cellos and strings on Lost Are The Years, strings and flutes on Wooden Nickels, cellos and strings on Cultrider, super full-on strings (and choir samples) on the title track (spot the tape-mangling around three minutes in) and flutes on Waiting For The Tide.
After a three-year gap, Vision & Ageless Light, while excellent, is possibly not quite up to the standard of its predecessor, despite (?) featuring a twenty-seven-minute track. Highlights? Opening keyboard extravaganza Book Of The Dead, Kill The Slavemaster and the folk/prog of Dweller Of The Twilight Void, perhaps, although nothing here disappoints. That near-half hour epic, closer As Sure As The Sun, has some superb sections, but is possibly slightly too disjointed to be considered the band's finest hour. Lisa Bella Donna on keys, going fucking crazy on what appears to be twin ARP 2600s in a couple of places, plus, of course, Mellotron. The album opens with a solo Mellotron section, strings and cellos battling it out too see which can be wobblier; hey, at least we know it's real... We also get minor string use on Kill The Slavemaster and Dweller, with more upfront parts, plus flutes (and sampled brass and choir) on As Sure As The Sun.

Live at Relay (2013, 39.07) ****
Live at Relay documents the band playing a live-in-the-studio set, also filmed for DonewaitingTV, playing Usurpers and Restorers from the first album and side-long jam Dream. Usurpers is reminiscent of Deep Purple's Child In Time (not a criticism), which I hadn't noticed before, but Dream is the reason you need to own this, a superb, jammed-out piece, complete with filthy Hammond explorations and a 'Hawkwind section', for want of a better description. Smith plays samples only, with string and choirs parts here and there. Originally released on cassette, the set is now available on both vinyl and as a download.

See: Lisa Bella Donna
---