UK '80s Prog & the Mellotron
---
In a manner of speaking, it could be said that progressive rock never really went away in the UK, even during the 'punk years'. Debate still rages in certain quarters over whether or not punk was really a media invention; there was definitely a grassroots movement of people who'd had enough of soulless arena gigs and untouchable bands, for whom the relatively polite, if energetic R&B of pub rock just wasn't enough. It's certainly true that as soon as the music press picked up on it, anything old hat was out. Over 22? Forget it. Year Zero had arrived.
This state of affairs, while (arguably) healthy, did young progressive bands no favours whatsoever. The so-called 'dinosaurs' were completely untouched by the sea change, but younger or smaller bands went to the wall. Farewell Gryphon, Druid and Greenslade, not to mention Curved Air and Van der Graaf (by this time no longer Generator). Almost the only smaller home-grown act to survive the purge was The Enid, who fought through on sheer bloody-mindedness and actually seemed to thrive on adversity. The only other club-level act to make it through was Steve Hackett, after his departure from Genesis in 1978. Saying that, he had an instant fan-base from his alma mater, although this is not to belittle his achievements.
Dark days for the Mellotron, too. The only 'punk' act to treat it with anything other than utter scorn was America's Dickies, who were really just a bunch of old progheads having a laugh anyway. 200 m.p.h. versions of Nights in White Satin et al, anyone? The Enid used one on their first album, 1976's In the Region of the Summer Stars and Steve Hackett put one on a couple of tracks of his first post-Genesis effort, 1978's Please Don't Touch, before going into Mellotron overdrive on his next couple of releases. The only other obvious British band to fly the Mellotronic flag was England, whose sublime Garden Shed was released in late '77 by Arista, who didn't appear to have noticed that punk had happened. A full-on symphonic prog album released a good two years too late to make any serious impact, Garden Shed remains a lost classic. Vinyl copies are hard to find, but a recent CD reissue can still be tracked down. In 1996, a CD of demos appeared entitled 'The Last of the Jubblies'; although less essential than its illustrious forebear, it's still worth getting hold of.
About the only confirmed sightings of the Mellotron in those gloomy days were, oddly enough, not actually progressive bands at all. Magnum, from Birmingham, had been around since the mid-'70s, releasing a cover of Sweets for my Sweet, of all things, on CBS in 1974. They suffered the usual punk-related problems, but by '78 had got themselves signed to Jet and released their first album, Kingdom of Madness. Their sound can best be described as a UK take on US pomp, a la Styx, Starcastle etc.; not exactly prog, but a mixture of progressive rock, hard rock and AOR. Quite a few Mellotronic moments on the album, though it's rather more apparent on '79's follow-up, Magnum II.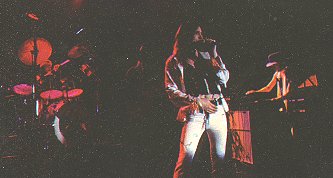 Magnum weren't afraid to use their M400 on stage, either. 1980's live EP, followed by what looks like a rather hastily shoved out live album of the rest of the tracks from their set, Marauder (cheap sleeve or what?!) feature the Mellotron in places, although they seemed to restrict its use to occasional bursts, rather than the more 'progressive' blanket coverage. They carried on using it live for the next few years, although its chief use seemed to be on the first few bars of Changes, from Magnum II - an awful lot of trouble for a few seconds of music! Their Mellotron can also be heard on a couple of retrospective releases, Vintage Magnum, a collection of b-sides and Archive Magnum, basically a bunch of outtakes, most of which, sadly, sound like it. There's also a live album from their '82 tour, Invasion, which looks like another opportunistic release by the company who owned the tapes. Apparently, guitarist/main man Tony Clarkin still has the band's Mellotron in his Midlands studio, although it doesn't appear to be used on his own work.

The other major Mellotron users from this era were a hard rock band from Mansfield, Limelight. A slightly Rush-like three-piece, their guitarist Glenn Scrimshaw played an M400 on stage and it's featured on their eponymous 1981 album, particularly on the proggy Man of Colours, which invariably brought the house down live. There doesn't seem to be any official UK release of the album at the moment, but surely someone must reissue it soon? While they're at it, maybe the tracks for their unfinished second album could be tacked on the end? Just hoping...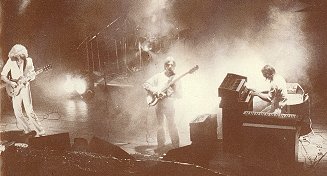 As early as 1978, the first stirrings of a 'new wave' of progressive bands could be felt, mainly in the home counties (prog's 'heartland'). Early incarnations of both IQ and Twelfth Night started this year and in Twelfth Night's case, recording commenced within a year. By 1980 their keyboard rig had expanded to include a Mellotron, although it has to be said that they never exactly made the fullest use of the instrument. You can hear it on Afghan Red and Abacus from their officially untitled Twelfth Night (a.k.a. 'The Electra Tape') cassette-only release, which is still awaiting a CD reissue (hint, hint). Also a brief burst of choir on Fur Helene from '81's Live at the Target, one of the albums that kicked the movement off properly. It seems that the band ditched their Mellotron around this time and moved across to a far more contemporary synth-based sound, which, in all fairness, sounded great. Maybe they were just never destined to become one of the Great Mellotron Bands...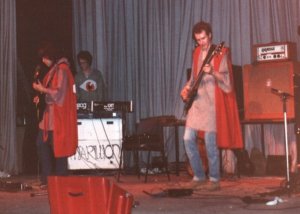 Nor were Marillion. Forming around 1979 in Aylesbury as Silmarillion (after Tolkien) they used a Mellotron in their early days. Over-used, in fact. They were known for plastering huge slabs of Mellotron strings and choir all over everything in their live set, which actually became a little wearing after a while. Either way, for whatever reason, they'd rid themselves of the machine by early 1982, using an original Emulator for a rather inferior choir sound on their first album. Their Mellotron can be heard on the much-circulated bootleg of an early rehearsal tape, usually titled Forgotten Songs (very droll), though it didn't seem to make their first demo.
North of the border, however, something was stirring... Pallas formed in Aberdeen, about as far from the London-based scene as possible, in 1975, calling themselves Rainbow. Ritchie Blackmore's new band put paid to that one, but the band soldiered on, playing a few of their own songs among a set of covers. By 1977, 'the summer of hate' (or whatever), they were defiantly ignoring the media, playing a set including Led Zep's Rock'n'Roll and ELP's arrangement of Copland's Fanfare for the Common Man. They released a self-funded EP, the cunningly-titled The Pallas EP in '78, on which they appeared to have taken a little notice of current goings-on by including four short-ish fairly succinct songs, barely nodding in the direction of progressive rock.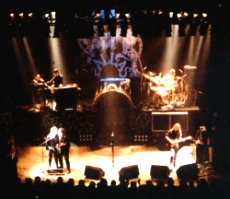 Sometime between then and 1981 Pallas acquired a Novatron M400 and began making good use of their new acquisition. They appeared in an early edition of 'Kerrang!'s 'Armed and Ready' section, with a moody picture a million miles from the rather suspect-looking metal bands that usually inhabited those pages. They cited influences such as Genesis, Rush and surprisingly, Alice Cooper, although their slightly sub-Gabriel theatrics also echoed Alice, as did the main riff to Flashpoint, a track on their independently-released hour-long live cassette from '81, Arrive Alive. This contained just six songs, chock full of Mellotron; the original running order has never been adequately reissued, although all six tracks have been made available between the 1984 vinyl edition and the 1998 CD. Some listeners complain about the vocals, or the somewhat 'rough' sound of the album, but it has bags of energy and an excellent 'live' feel to the whole thing. No overdubs here, matey...
The tape opens with a muted hum and a muttered 'good evening', before bursting into 5 to 4 with ripping Mellotron strings, 12-string and Taurus pedals. Keyboardist Ronnie Brown knew how to get the best from his gear and manages several stunning moments throughout the album, especially during closing track, The Ripper. This contains what may be one of the great Mellotron Moments, with a superbly gothic descending run on the strings. Heart Attack is also recommended and Queen of the Deep has some highly evocative choir parts, making great use of the pitch control. The tape does have the odd 'I wish they hadn't done that' moment, particularly on the mostly excellent Crown of Thorns, where they manage to rip Genesis off both lyrically and musically, not to mention singer Euan Lowson's old man mask he wore for The Ripper. Hmmm. Wonder where that one came from? OK, so they weren't 100% original, but it's a great album. The two tracks left off the CD are both available in later studio form, but completists should pick up a copy of the LP too.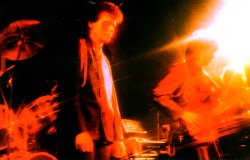 By 1982, IQ, originally from Southampton, were starting to pick up a following. Their low-budget album-length demo, Seven Stories Into Eight contained some great material, but the recording quality is, sadly, rock bottom. A 1998 CD re-recording of the whole tape includes a tarted-up version of the original on a second disc, but it's never going to sound brilliant... still worth hearing, however. By the following year IQ had picked up an M400 and gigged it up and down the country. Keyboardist Martin Orford loved the choir sound and obviously had a soft spot for the flutes, but never really liked the strings. He once memorably described them as 'sounding like someone sawing wood', which makes you wonder what exactly was wrong with his tapes. Years later he lent it to superb London-based oddballs Cardiacs, whose mainman Tim Smith has commented that 'the strings didn't really sound like Mellotron strings. They didn't have that edge'. Nevertheless, Martin used the sound occasionally, notably on Awake and Nervous from their first album proper, 1983's Tales from the Lush Attic. The other Mellotronic highlights on the album are the two 'epics', The Last Human Gateway and The Enemy Smacks; both tracks feature unusual Mellotron flute passages and some rather more standard choir. IQ may not have had Marillion's major label budget, but they walked all over them compositionally (hate mail to the usual address) and are still releasing albums of some merit, unlike many of their contemporaries.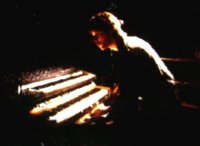 Pallas took three years from Arrive Alive before their first 'proper' album. They signed to EMI Harvest and at one point were quite seriously proposing releasing a full-blown 'concept' album of their 'Atlantis' material, possibly as a double, some of which was in their 1981 set. Several pieces have survived only on bootleg; not even the band have copies and it's a crying shame it wasn't recorded properly at the time. Of course, EMI nixed the whole idea and in the end, only two of the relevant pieces made the album, The Sentinel, in 1984. Another two parts of the story got onto b-sides, but even with a re-jigged track order on the CD version the original concept has been heavily diluted. A new double live CD contains their reworking of these four pieces into one 25-minute track, though sadly without any Mellotron. After a change in the vocalist department (why did almost all the main bands in the scene change singer?) they released the Knightmoves EP, now included as part of the Knightmoves to Wedge CD (reissued as The Wedge), which included what many regard as their greatest moment, Sanctuary, featuring Mellotron choir heavily in the closing section.
In retrospect (isn't hindsight wonderful?), Pallas' chief problem was sticking too closely to the '70s template of Genesis, Yes et al. Marillion moved into different areas, taking their fanbase with them, although many die-hard proggers were appalled by 1985's Misplaced Childhood with its AOR-isms and radio-friendly singles. Pallas rather belatedly attempted to move in a similar direction on '86's The Wedge, but try as they might, they could never sound commercial enough to break through. They carried on using their Novatron on stage until 1988, when they effectively retired from live performance for the better part of a decade. Their Mellotron can also be heard on a couple more cassette-only releases, Live in Southampton 1986 and Sketches, a rather odds'n'sods tape of demos for their next album, live stuff and anything else that was lying around.
Back to 1985; IQ followed up Lush Attic with the considerably higher-budget The Wake, a real tour de force. Apart from a short burst of 'strings' on The Thousand Days, the only Mellotron to be heard is slabs of choir across several other tracks, notably the title track and the superb Widow's Peak. There's more Mellotron to be heard on the (originally) unsanctioned live album Living Proof, now available on the band's own GEP label and the official bootleg Nine in a Pond is Here (don't ask). Sides 1-3 of this are available on an official CD, but the quite frankly bizarre side 4 languishes in the 'where are they now?' file. Shame. IQ decided to take the 'Marillion route' for their '87 release, Nomzamo (their first for a major), which features some Mellotron action, but by '89's Are You Sitting Comfortably? (their last for a major) it had completely disappeared, although its IQ days weren't over yet... Sadly, Martin had stopped gigging the machine by 1987. The story goes, he'd discovered a roadie bumping it down a flight of steps on his own after a gig (!) and decided that 'enough was enough'. Affordable samplers were coming in by this point, so he sampled the choir, working on the theory that it was the only 'essential' from the machine.
Pallas and IQ were the most high-profile names using Mellotrons in the scene, but one other name springs to mind from the era; Steve Leigh of Tamarisk had an EMI 400, heard to good effect on their Lost Properties demo. Rumours abound of the 'imminent' release of a Tamarisk CD, but nothing's actually appeared as yet. It's rumoured that Quasar used a Mellotron early on, too, but there doesn't seem to be any audio evidence to back this up.
By 1986, the scene had become thoroughly dissipated, with all the main names either splitting up or becoming unfeasibly mainstream and a dwindling audience for the smaller outfits. By the end of the decade there were only a tiny handful of lesser names still on the circuit and it took until the early '90s for even a small upsurge in interest. Mellotrons were not only considered fairly old hat by this time, but the supply of affordable working machines had pretty much run out. Martin Orford carried on using his on record until 1993's Ever, but it hadn't seen any live action for some years. Samples of the choir sound were evident on their 1997 double concept album, Subterranea, but the real thing wasn't to be heard again on an IQ album. Except, of course, archive releases...
1991's J'ai Pollette d'Arnu (apparently it's completely meaningless...) featured a mixture of live and studio tracks, including both sides of a 1986 single, re-recordings of Seven Stories tracks It All Stops Here and Intelligence Quotient. These featured new singer Paul Menel, but are possibly sonically the best of several recordings of the songs. 1984 b-side Dans le Parc du Chateau Noir (schoolboy French, anyone?) also featured, but has since turned up on the band's own CD reissue of The Wake. In 1999, a further retrospective slipped out, The Lost Attic, consisting of odds'n'sods from right across the band's history, including their classic BBC 'Friday Rock Show' session from 1984, which provide the bulk of the album's Mellotronic moments. Now, by my reckoning, there must still be tracks in the vaults; several fan club singles remain unavailable and many date from the band's Mellotron years. How about it, chaps? Any chance of ever hearing The Big Balls of Bert Christ on CD?
As a postscript, Arena appeared in the mid-'90s, featuring Pendragon's keyboardist Clive Nolan and (very) ex-Marillion sticksman Mick Pointer. They used Pallas' M400 on their first album, Songs From the Lions Cage (sic) and not just for the by now ubiquitous Mellotron choir'. Nolan eventually bought Martin Orford's old machine, making Arena the Mellotronic link between the '80s' two premier exponents of the instrument. Although the band don't gig it, at least it's getting used. So, whither Twelfth Night's old machine?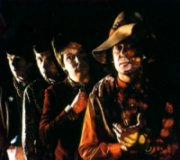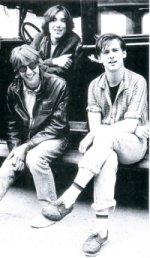 As a postscript, there were a couple of other non-'progressive' UK Mellotron users in that most blighted of decades. XTC and Talk Talk both evolved into extremely interesting outfits after their first few albums - some would claim that XTC were always excellent. They apparently bought their machine from 'a bloke in Wales' and although they used it on Mummer and The Big Express in the early '80s, their major Mellotron work was their late-'60s psych spoof side-project, the Dukes of Stratosphear. Their 1985 mini-album 25 O'Clock was such a success that they managed a full-length outing in '87, Psonic Psunspot. Their pastiches are utterly brilliant - a 'must' for anyone into that era and they obviously had great fun dressing up in period costume... Both releases were combined onto a single CD, Chips From the Chocolate Fireball. XTC used tape-replay a couple more times; 1986's Skylarking was recorded at Todd Rundgren's studio in upstate New York and features Dave Gregory playing Chamberlin on one track and as late as 1998, their 'comeback' album, Apple Venus Vol.1 features some particularly effective Mellotron on a couple of tracks. Talk Talk shifted from chart-pop to a quite unique, sparse sound in the space of about two albums; the latter of these, 1986's The Colour of Spring, features Mellotron on a couple of tracks. Although they moved further into the 'ambient soundscape' field (for want of anything better to call it), they didn't use Mellotron again.
---
Discography
The Enid
| | |
| --- | --- |
| | In the Region of the Summer Stars; 1976 |
England
| | |
| --- | --- |
| | Garden Shed; 1977 |
| | The Last of the Jubblies; 1996, recorded 1976-77 |
Magnum
| | |
| --- | --- |
| | Kingdom of Madness; 1978 |
| | Magnum II; 1979 |
| | Magnum Live (EP); 1980 |
| | Marauder; 1980 |
| | Invasion; 1986, recorded 1982 |
| | Vintage Magnum; 1986, recorded 1977-83 |
| | Archive Magnum; 1993, recorded 1974-82 |
Limelight
| | |
| --- | --- |
| | Metal Man (7"); 1980 |
| | | |
| --- | --- | --- |
| | | Limelight; 1980 |
Twelfth Night
| | |
| --- | --- |
| | Twelfth Night (a.k.a. 'The Electra Tape'); 1980 cassette |
| | Live at the Target; 1981 |
Pallas
| | | | |
| --- | --- | --- | --- |
| | | | Arrive Alive; 1981 cassette/1983 LP/1998 CD. Cassette tracks spread over LP/CD |
| | |
| --- | --- |
| | The Sentinel; 1984 |
| | Eyes in the Night EP; 1984 |
| | Shock Treatment EP; 1984 |
| | The Knightmoves EP; 1985 |
| | | | |
| --- | --- | --- | --- |
| | | | The Wedge/Knightmoves to Wedge; 1986 |
| | |
| --- | --- |
| | Throwing Stones at the Wind EP; 1986 |
| | Live in Southampton; 1986 cassette |
| | Sketches; 1990 (?) cassette |
| | Mythopoeia; 2002 |
IQ
| | |
| --- | --- |
| | Tales from the Lush Attic; 1983 |
| | The Wake; 1985 |
| | Living Proof; 1986 |
| | Nine in a Pond is Here; 1986 |
| | Nomzamo; 1987 |
| | J'ai Pollette d'Arnu [compilation]; 1991 |
| | The Lost Attic [compilation]; 1999 |
Tamarisk
| | |
| --- | --- |
| | Lost Properties; 1983 cassette |
Marillion
| | |
| --- | --- |
| | Market Square Heroes; 1982 EP |
Arena
| | |
| --- | --- |
| | Songs From the Lions Cage; 1995 |
| | Pride; 1996 |
| | The Visitor; 1998 |
| | Immortal?; 2000 |
Cardiacs
| | |
| --- | --- |
| | A Little Man and a House and the Whole World Window; 1988 |
XTC
| | |
| --- | --- |
| | Mummer; 1983 |
| | The Big Express; 1984 |
| | Skylarking; 1986 [Chamberlin] |
| | Apple Venus Volume 1; 1999 |
as The Dukes of Stratosphear
| | |
| --- | --- |
| | 25 O'Clock (mini album); 1985 |
| | Psonic Psunspot; 1987 |
| | Chips From the Chocolate Fireball; 1987? [compilation] |
Talk Talk
| | |
| --- | --- |
| | The Colour of Spring; 1986 |
There are also multiple bootleg tapes of Pallas and IQ featuring Mellotron.