The Raven That Refused to Sing (& Other Stories) (2013, 54.44) ****/TTT½

Luminol
Drive Home
The Holy Drinker
The Pin Drop
The Watchmaker
The Raven That Refused to Sing
Current availability:
Mellotron used: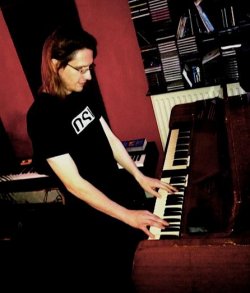 I can't imagine Steven Wilson needs much introduction, but just in case... He formed Porcupine Tree during the early days of No-Man, going on to play with and/or produce many other acts, not least I.E.M., Blackfield and Opeth, becoming prog's current Renaissance Man in the process. 2013's The Raven That Refused to Sing (& Other Stories) is his third solo album, after the sample-employing Insurgentes (2008) and Grace for Drowning (2011), raising the bar on almost every level. You can almost tell that this is the man behind Porcupine Tree albums such as Up the Downstair and The Sky Moves Sideways, but only just, that band's early psychedelia having been largely abandoned here, replaced by a modern-yet-timeless form of progressive rock, where a song's length is determined by expediency, not expectation.
Stylistically, the album veers all over the progressive spectrum, opener Luminol channelling various eras of King Crimson and the Canterbury Scene (spot the Caravan-esque section around halfway through), Drive Home is more typically 'Wilsonian', The Holy Drinker harks back to the Porcupine Tree of over a decade earlier... You get the picture? Attempting to isolate any 'best tracks' is entirely futile, as all six have their own particular strengths, although Luminol and The Watchmaker might just have the edge.
Although it seems that Wilson used a real Mellotron on several Porcupine Tree albums, he's more known round these parts for sample use. So why, dear reader, am I reviewing this here? The more observant amongst you may have noticed the picture to the right, Steven playing one of Robert Fripp's MkIIs, which he apparently used on the album. Of course, original MkII tapes have no choirs (you mean you didn't know?), meaning that a mix'n'match approach has clearly been taken, but some real Mellotron's better than none, eh, kiddies? Of course, I can't verify any of the use, but we get string and flute parts on opener Luminol, although the choirs alter in the track make me think samples have been invoked, too, polyphonic flutes on Drive Home, strings on the jazzy The Holy Drinker, strings on The Pin Drop and The Watchmaker and, finally, more flutes on the closing title track, making for a full Mellotronic house. Possibly.
Do you go for this? An unequivocal 'yes', I'd say, more for its sense of adventure and willingness to experiment than for its Mellotron use, which is clearly only partly genuine. After twenty-five years or so, Wilson's career is still on an uphill gradient, which is, frankly, astonishing. More power to him.

Insurgentes (2008, 55.17/79.42) ***

Harmony Korine
Abandoner
Salvaging
Veneno Para las Hadas
No Twilight Within the Courts of the Sun
Significant Other
Only Child
Twilight Coda
Get All You Deserve
Insurgentes
[Special ed. adds:
Port Rubicon
Puncture Wound
Collecting Space
Insurgentes (Mexico)
Untitled]
Grace for Drowning (2011, 82.57) ***½

Grace for Drowning
Sectarian
Deform to Form a Star
No Part of Me
Postcard
Raider Prelude
Remainder the Black Dog
Belle de Jour
Index
Track One
Raider II
Like Dust I Have Cleared From My Eye
Cover Version (2014, recorded 2003-2010, 54.50) ****

Thank U
Moment I Lost
The Day Before You Came
Please Come Home
A Forest
Four Trees Down
The Guitar Lesson
The Unquiet Grave
Sign O' the Times
Well You're Wrong
Lord of the Reedy River
An End to End
Leader of the Starry Skies: A Tribute to Tim Smith: Songbook 1 (2010) ****½

[Wilson contributes]
Stoneage Dinosaurs
Current availability:
All titles: Kscope
Leader: Believer's Roast (UK)
It's difficult to have any connection with modern progressive rock without knowing something about Steven Wilson: founder of both No-Man and Porcupine Tree, his side-projects include I.E.M. and Bass Communion, while he plays with and/or produces Blackfield and Opeth, amongst others. It's rumoured he actually has a private life, although how he finds time for it is a mystery.
Maybe surprisingly, 2008's Insurgentes is his first album under his own name, although his gasmasked visage on the sleeve tells you everything you need to know regarding his semi-legendary views on fame and privacy. Categorising the album's about as difficult as you might expect, elements of prog, metal, post-rock and ambient all battling it out, albeit mostly very quietly, better tracks including the dynamic No Twilight Within The Courts Of The Sun and, from the special edition's bonus disc, Puncture Wound. Wilson is credited with 'Mellotron' on one track on the regular release plus two bonuses, with nothing obvious on Get All You Deserve, distant choirs and strings on Puncture Wound and strings on Collecting Space. Actually, this is almost a primer, style-wise, for Wilson's entire back-catalogue, encompassing elements of almost everything he's done in the past, if only tangentially.
2011's two-disc Grace for Drowning (disc titles: Deform to Form a Star and Like Dust I Have Cleared From My Eye) is, in many ways, similar to Wilson's solo debut, determinedly eclectic and obstinately anti-easy-listening, I'm pleased to report. Highlights include the inventive Remainder The Black Dog, the faintly Cardiacs-esque Track One (Wilson is a fan) and deranged, twenty three-minute avant-prog epic Raider II, but nothing here disappoints, making this a rather better listen than recent Porcupine Tree albums. Samplotron on a few tracks, with strings, choir and flutes on Sectarian, Deform To Form A Star and Raider II, but it's far from a defining sound on the album.
2014's Cover Version is a compilation of six single releases from 2003 to 2010, each being (unsurprisingly) a cover, with a Wilson original on the flip. Almost every track distinguishes itself, the vast majority being gentle, understated pieces, with nary a drumkit in sight, particular highlights including Wilson's takes on Abba's superb The Day Before You Came, The Cure's haunted A Forest and Donovan's drifting Lord Of The Reedy River, while of Wilson's own material, Four Trees Down and the McCartney-esque Well You're Wrong particularly stand out. Plenty of samplotron, although it's not always easy to determine just how 'Mellotronic' the samples might be, with background strings on Moment I Lost, faint, background choirs on his take on The Day Before You Came and Four Trees Down, stabby flutes and choirs on The Guitar Lesson, choirs on Sign O' The Times, squishy strings and angular flutes on Well You're Wrong and choirs on An End To End. All in all, highly recommended.
Speaking of Cardiacs fandom, Wilson's version of the haunting Stoneage Dinosaurs on Tim Smith fund-raising tribute Leader of the Starry Skies is one of the album's most worthwhile contributions. Do you buy these? Are you a fan of Wilson's various projects? All of them, not just Porcupine Tree? Then yes.

See: Porcupine Tree | No-Man | Blackfield | Aviv Geffen | I.E.M. | Opeth | Leader of the Starry Skies
---