---
Wild Strawberries (Canada)
Heroine (1995, 43.28) **½/T

I Don't Want to Think About it
Careful
Heroine
Fall
Invitation
On My Own
Debutante
Aisle C
Fine
Everything That Rises
Give it Up
Everybody Loves You When You're Dead
Twist (2000, 56.06) **½/0

Lucky Day
Bungalow
Jaded
Wish
Somersault
Love Song 3000
Wake
Twist
All I Want
Popsicle
Thousand Kisses
I Know You're Gonna Break My Heart
Tainted Love
Wrong to Let You Go
Current availability:
Heroine: Nettwerk
Twist: Universal
Mellotron/Chamberlin used:
Wild Strawberries are the Toronto-based married couple duo of Ken and Roberta Carter Harrison, who've been making albums, with varying commercial success, since the late '80s. The fact that they've played Lilith Fair probably tells you a good bit about how they sound; perfectly pleasant, but a bit wet, in a typically indie manner. 1995's Heroine features nice instrumentation in places (plenty of Wurly piano), although the '808 kit' credited on a few tracks wears one down pretty quickly. Ken (the duo's sole songwriter) plays inaudible Mellotron on I Don't Want To Think About It, while Fall has a very audible flute part and Fine a lesser one.
Two albums later, 2000's Twist is, essentially, more of the same, only longer, so if lightweight indie-pop's your bag, you've come to the right place. Is there a best track? Yup: their rocky cover of Gloria Jones via Soft Cell's Tainted Love. Harrison (K.) supposedly plays (real?) Chamberlin on All I Want, but I've no idea what it might be doing. Incidentally, one oddity here is the series of brief, silent tracks, interspersed with bursts of ambient noise, separating the two covers that end the disc from the rest of the album. Why?
So; if Canadian female-fronted indie is your bag, go for it. As for the rest of us... Extra marks, though, for the wonderfully ironic 'fifties' domestic goddess' sleeve design on Heroine and the title of their latest album, Deformative Years.
Wild Swans (UK)
Space Flower (1990, 41.43) ***½/½

Melting Blue Delicious
Butterfly Girl
Tangerine Temple
Immaculate
Space Flower
Chocolate Bubblegum
I'm a Lighthouse
Magic Hotel
Vanilla Melange
Sea of Tranquility
Current availability:
Mellotron used:
The Wild Swans came out of the same Liverpool scene as Echo & the Bunnymen and Julian Cope's Teardrop Explodes; in fact, mainman Paul Simpson is ex- of the latter band. Their '80s incarnation never fulfilled their initial promise, splitting up before recording an album, then reforming after various members found more success with the likes of The Lotus Eaters. Space Flower was their second (and last, at least in this form) album, following '88's Bringing Home the Ashes, and is best described as Scouse psych, along the lines of The Icicle Works, whose Ian McNabb actually guests on the record. It's one of those albums that will almost certainly grow on me should I ever give it enough plays to give it a chance; an initial listen highlights the title track and I'm A Lighthouse, but there's nothing genuinely bad here, and at 40-odd minutes, it doesn't outstay its welcome.
Now, this Mellotron business: Simpson is credited with playing one, that I've even seen described as his 'trademark'. Er, huh? While I'm grateful to my hobby for introducing me to this band, I'd never previously heard of him and was only vaguely aware of his band. I know it's credited, but the only thing here that sounds even slightly like a 'Tron is the strings on Magic Hotel, and I wouldn't actually put money on them being genuine. This is in pre-'Tron sample days, of course, but the 'Mellotron' could easily be some variety of string synth, or a combination of several string sounds. Impossible to tell, to be honest.
Anyway, a good album, with a full-on psych blowout in ten-minute plus closer Sea Of Tranquility, but not a 'Tron album by any stretch of the imagination. Incidentally, the band's record company (Arista) were so fuck-useless that they didn't even originally release this album in the band's home country; Sire finally released both albums as a set entitled Magnitude in 2007, which quickly disappeared, at which point US reissue label Wounded Bird picked them up. Once again, this is only available on import; plus ça change...
Wildbirds (US)
Golden Daze (2007, 40.55) **½/T

421 (Everybody Loves You)
Shake Shake
Hard on Me
It's Alright Now
Way Down Low
All Get Away
Where Has Goodness Gone
Someday We Can Fly Away
Slow Down
Please Don't Go
Suzanna
Current availability:
Mellotron used:
I've seen Wildbirds' 2007 debut, Golden Daze, described as 'a timeless record', to which I can only say: Sir, you are deluding yourself. It's a thoroughly average, early 21st-century indie album, guitars thrashing away to no particular effect, although they stick in the odd exception to the Velvets-esque rule like All Get Away or Someday We Can Fly Away to attempt to relieve the boredom.
Matthew Reetz plays a Mellotron flute melody on Where Has Goodness Gone, but we're not talking the most essential use etc. etc. All in all, dull, little Mellotron, don't bother.
Barney Wilen & Dièse 440 (France)
Live in Paris, 8 Janvier 1983 (2007, 56.55) ***/0

Défilé
Le Curé
Miroirs
Passage
Take Seven
Jungles
Ptérodactyles
Soir
Current availability: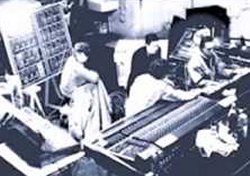 Mellotron used:
Maybe surprisingly, given his rather non-Gallic name, Barney Wilen was a French jazz saxophonist, whose recording career stretched from 1957 until just before his death in 1996. He was noted for his eclectic approach to his art, discovering rock in the late '60s, punk a decade later and electronics in the early '80s. As far as I can tell, Live in Paris, 8 Janvier 1983 was released in 2007; it doesn't seem to've appeared at the time of recording. Basically, it's a collaboration between Wilen and Dièse 440, a synth trio, the end result being a largely improvised mesh of analogue electronica and Wilen's bop-era sax runs, possibly too experimental for its own good, although the disparate elements occasionally coalesce into something worthwhile.
Michel Bertier is credited with 'prepared Mellotron'; er, huh? How do you 'prepare' a Mellotron? Stick drawing pins into its felt pads or pinch-rollers? I've had this in 'Mistaken ID' for years, as it appears to be so 'prepared' that it doesn't actually exist, until I found the pic to the right. Yup, the white box behind the chap in the dark jacket. And... It's totally inaudible, which is why it went into 'Mistaken ID' in the first place. Was Bertier playing sound FX? I can't hear any of the recognisable ones, but who knows? Without knowing how the machine was 'prepared', it's impossible to say. Anyway, pretty out-there synth jazz with no obvious Mellotron. Up to you, methinks...
Willard Grant Conspiracy (US)
Mojave (1999, 62.12) ***½/½

Another Lonely Night
Color of the Sun
The Work Song
How to Get to Heaven
Archy's Lullaby
Go Jimmy Go
I Miss You Best
Cat Nap in the Boom Boom Room
Front Porch
Love Has No Meaning
Sticky
Right on Time
The Visitor
Current availability:
Mellotron used:
The Willard Grant Conspiracy are essentially Robert Fisher plus whoever, although he formed the band with Paul Austin in the mid-'90s. 1999's Mojave is their third studio album and second to be recorded at Boston's all-analogue Zippah Studios, an alt.country set crossed with what I've seen described as 'American Gothic', which sounds about right. Top tracks include opener Another Lonely Night, which sets out their stall, The Work Song and slow-burning, eight-minute closer The Visitor, which builds to a massive crescendo without ever once entering post-rock territory. Not so sure about 'odd man out' Go Jimmy Go's hardcore approach, mind...
Someone (probably studio owner Pete Weiss) plays faint Mellotron strings on I Miss You Best, although that would seem to be your lot. I first saw a reference to Weiss playing Mellotron with the band years ago, so it's good to finally nail down an otherwise uncredited performance. So; good album of its type, but next to no Mellotron.
The William Blakes (Denmark)
The Way of the Warrior (2010, 52.48) **/½

Caves and Light
Dark Hand
Golden Dawn
Mountains and Valleys
Come Closer
The End of the World
The Way of the Warrior
Pocahontas
Forest Spirit
Three Brothers (Trois Frères)
The Next World
After the Kill
The Sun
Current availability:
Mellotron used:
The William Blakes (ho ho) are a Danish pop group who, despite their relatively traditional lineup, sound more like Take That crossed with, say, The Flaming Lips, of whom they are big enough fans to name their debut album after that outfit's frontman, Wayne Coyne. Their third album, 2010's The Way of the Warrior, is a pretty insipid affair, I have to say, heavy on limpid, chart-friendly material and light on substance. About the best things here are the ambient-ish Forest Spirit and the percussion-heavy The Next World, but that really isn't saying much.
Kristian Leth plays (real?) Mellotron, with nothing obvious on The End Of The World or Pocahontas and naught but an occasional high string line on Three Brothers (Trois Frères), while Bo Rande adds flutes to Come Closer. So; a very dull, frequently irritating record with next to no Mellotron, which might not even be real. Why do I bother? I mean, why?
Dar Williams (US)
The Green World (2000, 42.41) ***/½

Playing to the Firmament
And a God Descended
After All
What Do You Love More Than Love
Spring Street
We Learned the Sea
I Won't Be Your Yoko Ono
Calling the Moon
I Had No Right
It Happens Every Day
Another Mystery
My Better Self (2005, 49.56) ***/TT½

Teen for God
I'll Miss You Till I Meet You
Echoes
Blue Light of the Flame
Everybody Knows This is Nowhere
Two Sides of the River
Empire
Comfortably Numb
So Close to My Heart
Beautiful Enemy
Liar
You Rise and Meet the Day
The Hudson
Current availability:
Mellotrons used:
Dorothy "Dar" Williams is usually described as 'pop/folk', which is probably as good a description as you're going to get. She's essentially a protégé of Joan Baez, who's also covered several of her songs, which probably gives you a good idea of where she's coming from. 2000's The Green World is her fourth full album of original material, and, while very worthy, isn't the kind of record that makes this reviewer's heart quicken. I hate myself for saying that, as Williams strikes me as the kind of person this world could do with more of, but her music's a bit lightweight, in my humble opinion; as so often, the message seems to be more important than the medium, which is generally left to fend for itself. There seems to be some confusion over whom, exactly, plays Mellotron on the album: Stewart Lerman's a definite, Steuart Smith's a possible and ex-Hooter Roby Hyman's a rank outsider. No big deal, anyway, as all you get are a brief string part on And A God Descended and possibly a few seconds of flute somewhere else, but we're not talking major 'Tron use here.
Five years on, and Dar releases another Mellotron album, 2005's My Better Self. The album sounds ever so slightly more muscular, although I've no idea whether or not this is deliberate. Dar covers a couple of classics this time round, with good versions of Neil Young's Everybody Knows This Is Nowhere and, bizarrely, Pink Floyd's Comfortably Numb. In direct contrast to The Green World, although only one musician is credited with playing Mellotron (Julie Wolf), it's on several tracks, with strings on I'll Miss You Till I Meet You, Everybody Knows This Is Nowhere and (quietly, sadly) Comfortably Numb, flutes and strings on Blue Light Of The Flame and flutes on You Rise And Meet The Day and The Hudson, although none of it's that overt.
Overall, then, two albums at the pop end of the folk spectrum. Williams has a lovely voice, a far easier listen than Baez' shrill soprano, but too much of her material's a little too inconsequential for my tastes. On the Mellotron front, don't bother for The Green World, but My Better Self's rather, er, better.
Don Williams (US)
Visions (1977, 31.02) **/T

Time on My Hands
I'll Forgive But I'll Never Forget
I'm Getting Good at Missing You
In the Mornin'
Missing You, Missing Me
Some Broken Hearts Never Mend
Fallin' in Love Again
We Can Sing
I'll Need Someone to Hold Me (When I Cry)
Expert at Everything
Cup o'Tea
Current availability:
Chamberlin used:
Don Williams is an old-school country singer, whose 1977 release, Visions, despite its 'traditional' sound, is rather more listenable than you might expect, although that may well depend on how much country you've been subjected to over the years. As someone from a country where this isn't the default setting, it strikes me as harmless enough, but it's easy to understand how Williams' slightly hokey, downhome philosophy and mainstream sound could drive music-lovers to distraction/homicide. Better tracks include I'm Getting Good At Missing You and closer Cup O'Tea, but I can't imagine they'll endear this to anyone other than fans of the genre.
Probably for financial reasons, someone (more than likely Charles Cochran) plays Chamberlin strings on several tracks, notably Time On My Hands, I'll Forgive But I'll Never Forget, Some Broken Hearts Never Mend (the album's hit) and Cup O'Tea, although his use is complicated by the solo violin that crops up here and there. To be honest, most of you are going to hate this with a vengeance, so with so little obvious tape-replay use, whether or not I recommend this is a bit of a no-brainer.
Kathryn Williams (UK)
Two [as Kathryn Williams & Neill MacColl] (2008, 39.34) ***½/½

6am Corner
Innocent When You Dream
Come With Me
Before it Goes
Blue Fields
Frame
Grey Goes
Weather Forever
Shoulders
Armchair
Rolling Down
All
Holes in Your Life
The Quickening (2010, 37.44) ***½/½

50 White Lines
Just a Feeling
Winter is Sharp
Wanting and Waiting
Black Oil
Just Leave
Smoke
Cream of the Crop
There Are Keys
Noble Guesses
Little Lesson
Up North
Current availability:
Two: CAW
Quickening: One Little Indian
Mellotrons used:
After her 1999 zero-budget debut, Kathryn Williams came to the general public's attention when she was nominated for the 'prestigious' (it says here) Mercury Prize for the following year's Little Black Numbers. Five albums later, 2008's Two is a duet with Neill MacColl, a gentle, all-acoustic album of the pair's heartfelt songs, the kind of music that is often called 'folk', but isn't. Top tracks include Innocent When You Dream and Blue Fields, but there isn't anything here that should offend the discerning ear. Williams plays Mellotron herself, with flutes on opener 6am Corner, although the strings on Shoulders are real.
2010's The Quickening combines relatively upbeat material with the kind of haunted folk that goes down well at Planet Mellotron, highlights including Just A Feeling, the mandolin-fuelled Winter Is Sharp and closer Up North. Leo Abrahams (The Smoke Fairies) plays (real?) Mellotron, with a high, distant string line on Noble Guesses (ho ho) and cello on Little Lesson, although I'm not fully convinced it's real. Anyway, two decidedly decent acoustic singer-songwriter albums (yes, with a little touch of folk for good measure), although very little Mellotron.
Official Williams/MacColl site
Lucinda Williams (US)
Little Honey (2008, 64.44) ***/½

Real Love
Circles and X's
Tears of Joy
Little Rock Star
Honey Bee
Well Well Well
If Wishes Were Horses
Jailhouse Tears
Knowing
Heaven Blues
Rarity
Plan to Marry
It's a Long Way to the Top
Down Where the Spirit Meets the Bone (2014, 103.17) ***½/½

Compassion
Protection
Burning Bridges
East Side of Town
West Memphis
Cold Day in Hell
Foolishness
Wrong Number
Stand Right By Each Other
It's Gonna Rain
Something Wicked This Way Comes
Big Mess
When I Look at the World
Walk on
Temporary Nature (of Any Precious Thing)
Everything But the Truth
This Old Heartache
Stowaway in Your Heart
One More Day
Magnolia
Current availability:
Mellotron/Chamberlin used:
Little: unknown
Down: Patrick Warren's M1
I've been waiting for Lucinda Williams to turn up here for years; somehow, she's the kind of artist you feel really should use a Mellotron (or Chamberlin) at some point. And here she is, with 2008's Little Honey, repeating the successful 'part rock/part country' formula of her breakthrough, 1998's Car Wheels on a Gravel Road, leading to weird juxtapositions like the mournful Plan To Marry sitting cheek-by-jowl with Williams' superb rock'n'roll (OK, more rock'n'roll) take on AC/DC's iconic It's A Long Way To The Top that closes the record. Rob Burger plays Mellotron on Little Rock Star, with what I have to assume is an otherwise uncredited vibes part, as nothing else on the track sounds even close. Overall, then, another worthwhile Lucinda Williams album, but as for that 'finally on Planet Mellotron!' brag, only just.
2014's sprawling, two-disc Down Where the Spirit Meets the Bone feels like a summary of Williams' career to date, its stylistic reach stretching from trad.country to twin-guitar southern rock and all bases inbetween. Highlights? West Memphis ("That's the way we do things in West Memphis"), the bluesy Foolishness, Something Wicked This Way Comes and haunted, near-ten-minute closer Magnolia. However, if I'm going to be honest (and I think I should), many of the songs feel a little... overextended; some editing would actually improve the album. Honorary exception: Magnolia. Patrick Warren plays his Chamberlin on three tracks, with a background string part, only occasionally audible, on Burning Bridges, a flute part dipping in and out of the mix on When I Look At The World and exceedingly faint strings on Stowaway In Your Heart, subtle to the point of near-inaudibility.
Mark Williams (New Zealand)
Mark Williams (1975, 36.19) **/T

Gimme Little Sign
Get on the Right Road
Celebration
Love the One You're With
Let Love Come Between Us
Disco Queen
Sail on White Moon
Ain't No Sunshine
Wailing Wall
Jimmy Loves Marianne
Yesterday Was Just the Beginning of My Life
A Perfect Love
Current availability:
Mellotron used:
Mark Williams left his band, The Face, in 1973 for a solo career; the first evidence of this, 1975's Mark Williams, was apparently New Zealand's 'best selling pop/rock album of the '70s'. With the benefit of hindsight, it consists of soul-inflected mid-'70s pop, concentrating on slightly lesser-known cover versions, although Stephen Stills' Love The One You're With isn't exactly unknown. Other writers featured on the album include Todd Rundgren (Wailing Wall), the Easybeats' Vanda and Young (Yesterday Was Just The Beginning Of My Life) and Tony Ashton and Jon Lord (Celebration), all tackled in a bland, mainstream sort of way that probably wouldn't have turned anyone's head in Britain or the States, or possibly even Australia.
David Fraser plays Mellotron on a couple of tracks, with flute and string lines on Bill Withers' Ain't No Sunshine and a rather maudlin string part on closer A Perfect Love, but as so often with this kind of album, nothing you can't do without. On the offchance you should happen to a) be in New Zealand or b) be a New Zealander, please avoid this album. It may be perfectly professional, but so are any number of tedious mainstream efforts; I think giving it two stars is rather generous, to be honest.
Robbie Williams (UK)
Sing When You're Winning (2000, 75.58) ½/½

Let Love Be Your Energy
Better Man
Rock DJ
Supreme
Kids
If it's Hurting You
Singing for the Lonely
Love Calling Earth
Knutsford City Limits
Forever Texas
By All Means Necessary
The Road to Mandalay
Escapology [U.S. Version] (2002/03, 60.07) **½/0

Feel
Monsoon
Sexed Up
Get a Little High
Come Undone
Something Beautiful
Love Somebody
Revolution
How Peculiar
One Fine Day
Me and My Monkey
Handsome Man
Nan's Song
How Peculiar (Reprise)
Intensive Care (2005, 53.04) **½/T

Ghosts
Tripping
Make Me Pure
Spread Your Wings
Advertising Space
Please Don't Die
Your Gay Friend
Sin Sin Sin
Random Acts of Kindness
The Trouble With Me
A Place to Crash
King of Bloke and Bird
Current availability:
Sing When You're Winning: Chrysalis
Escapology/Intensive Care: Virgin
Mellotrons/Chamberlin used:
All titles: unknown M400, Jebin Bruni's M1?
After Robbie Williams left the massively successful Take That, he was widely expected to disappear into obscurity, but surprised all and sundry by becoming everyone's favourite Cheeky Chappie, notching up hit after tedious hit. The biggest, or at least the most ubiquitous of these was the irredeemable Millennium, which without the replayed 'sample' from the Bond soundtrack 'You Only Live Twice' wouldn't even have been a song. His popularity (almost exclusively with women of seemingly all ages) refuses to wane, however, mostly due to his saturnine good looks and 'rock star' persona.
I'd have liked to review Sing When You're Winning properly, but I found it impossible to get more than about 30 seconds into each track, due to their general awfulness. I gritted my teeth and sat out the whole of The Road To Mandalay, all for a few seconds of producer/songwriter Guy Chambers' 'Tron string line. Chambers, you should be ashamed of yourself. This is shit. So; don't buy this record. Appalling music, remedial singing, terrible songs, almost nonexistent Mellotron. Avoid like the plague. Unbelievably, Williams' hyper-inflated ego has allowed him to think he can take on Sinatra (!!) and record an album of big band standards, Swing When You're Winning (ho ho). He seems to have missed the essential point that Sinatra is one of popular music's great voices, if not the greatest. Oh well, that's egos for you...
Well well well; how times change... 'Robbie' (you know someone's a household name when they become synonymous with their Christian name) seems to've matured greatly in a pretty short period; something to do with getting the monkey off his back, maybe? Anyway, without sacrificing any popularity whatsoever, he's reinvented himself as an 'adult entertainer'; I'm not saying he's suddenly worthy of serious attention, but he's making respectable albums like 2002's Escapology, which, while largely dull, rarely actually offend. Escapology's actually quite confusing, given that there are two noticeably different albums of that title floating around; the standard UK release has no Mellotron, while the 'clean' (seemingly interchangeable with 'American') version does. There are three different tracks on the 2003 version, Get A Little High, One Fine Day and closer How Peculiar (Reprise), although why they make a difference is far from obvious; there are still several tracks with lyrics calculated to offend the Moral Majority, which don't seem any better than the three dropped ones. Strange. Anyway, Claire Worrall plays Mellotron, although I'll be buggered if I can tell where, so mark that down as a big, fat zero.
2005's Intensive Care carries on in the same vein, mixing medium-outrageous lyrics (opening couplet "Here I stand victorious/The only man who made you come") with more heartfelt stuff like the pedal steel-infused King Of Bloke And Bird. It certainly toys with mainstream drivel (A Place To Crash), but avoids that awful dance-influenced style that so many of his contemporaries seem to find it perfectly acceptable to foist on the general public. Jebin Bruni plays something unidentifiable on a Chamberlin on Spread Your Wings (what is it about this guy and Queen song titles?), but Claire Worrall's Mellotron strings on King Of Bloke And Bird cut through nicely throughout the track, which ends with a genuinely beautiful minute or so of solo lap steel.
So; a man improving himself, which has to be applauded; under no circumstances, however, even think about voluntarily hearing any of Williams' early work. Very nasty. For that matter, don't go too far out of your way for his recent albums, either; just because I'm saying 'it's a lot better' isn't to actually say 'it's any good'.
Official site (should you, for some bizarre reason, wish to go there)
See: Take That
Robert Williams (US)
Buy My Record (1981, 11.54) ***/T

Buy My Record
Black Yard
Frankfurt
Time to Dance Again
Current availability:
Mellotron used:
Robert Williams is probably best known as Captain Beefheart's drummer on his last couple of albums, although he was also co-credited on Hugh Cornwell's Nosferatu. Unsurprisingly, his first fully solo release, 1981's Buy My Record EP, is a fairly peculiar effort, sounding not unlike Beefheart at his most disorganised, with pretty odd vocals, if we're being generous. Of course, it's meant to sound odd; you think it'd have got three stars otherwise?
Beefheart's co-conspirator, Eric Drew Feldman, plays Mellotron here, amongst other things, with faint string and brass interjections on Black Yard, though nowhere near as upfront as on Doc at the Radar Station. Overall, then, an odd little effort that I don't believe's available anyway, although I could be wrong. Not worth it for the Mellotron, whatever.
See: Captain Beefheart | Hugh Cornwell
Vanessa Williams (US)
The Sweetest Days (1994, 52.18) **/½

Intro-Lude
The Way That You Love
Betcha Never
The Sweetest Days
Higher Ground
You Don't Have to Say You're Sorry
Ellamental
Sister Moon
You Can't Run
Moonlight Over Paris
Constantly
Long Way Home
Current availability:
Mellotron used:
Vanessa Williams achieved fame early, being the first African-American woman to be crowned Miss America, although a Penthouse photo-shoot scandal outrageously forced her to resign, in true double-standards tradition. However, she fought back, becoming both an actress and a successful recording artist, which has to stand as a major blow against the (patriarchal) empire. The Sweetest Days was her third album, and apparently more varied than her first two, including jazzier material such as Sister Moon alongside her usual R&B-flavoured stuff. You, the typical Planet Mellotron reader, are not going to like this album.
It's actually perfectly good at what it does, and Williams has a fantastic voice, but if you don't like music variously described as 'adult contemporary' and 'smooth, sexy adult pop', you don't wanna go there... Credited Mellotron on two tracks, surprisingly, with something entirely inaudible under the real strings on Higher Ground, from Nick Moroch, and a pleasant flute part on closer Long Way Home from Jeff Bova. I can only reiterate that unless you're a Vanessa Williams fan who's found their way to this site, you are MOST UNLIKLEY to like this album... One OK 'Tron track, but that really is your lot.
Victoria Williams (US)
Musings of a Creekdipper (1998, 43.19) ***½/TTT

Periwinkle
Rainmaker
Kashmir's Corn
Train Song (the Demise of the Caboose)
Last Word
Nature Boy
Tree Song (Eucalyptus Lullabye)
Let it Be So
Allergic Boy
Humming Bird
Grandpa in the Cornpatch
Blackbirds Rise
Water to Drink (2000, 48.02) **½/TT

Grandma's Hat Pin
Gladys and Lucy
Water to Drink
Light the Lamp Freddie
Claude
Joy of Love
Until the Real Thing Comes Along
Lagniappe
Junk
Little Bird
Young at Heart
A Little Bit of Love
Current availability:
Chamberlin/Mellotron used:
Musings: Patrick Warren's M1
Water: Phil Parlapiano's M400
Victoria Williams (MS sufferer and now ex-wife of Jayhawk Mark Olson) released Musings of a Creekdipper in 1998, possibly best described (by someone else, I'll admit) as sounding like 'a southern Neil Young'; her thin, high voice certainly recalls Neil's more wind-blasted moments on the album's sparse, quirky Americana. It's actually quite difficult to pinpoint highlights; this is one of those albums best consumed as a whole (take that, iTunes), most of its tracks bearing comparison with each other, the sum greater than its parts. Patrick Warren plays Chamberlin on a good half of the album, with what I take to be brass on opener Periwinkle, strings and solo male and female vocals on Kashmir's Corn, strings on Train Song (The Demise Of The Caboose), flutes, more strings and mixed voices on Last Word, flutes on Nature Boy and brass, strings and flutes on Grandpa In The Cornpatch, making this one of the more major Chamby albums to be found on this site.
Surprisingly, if not alarmingly, her follow-up, 2000's Water to Drink, sounds nothing like its predecessor, being an album of mixed-genre singer-songwriter stuff, frequently straying into light jazz, even lighter blues or even 'standards' territory, none of which seem to be particularly well-suited to her voice. In fairness, there are a couple of countryish tracks (notably closer A Little Bit Of Love), but Williams' desire to 'stretch out' seems to be removing her from her natural constituency. Phil Parlapiano plays Mellotron, with distant cellos on opener Grandma's Hat Pin, strings and cellos on Light The Lamp Freddie, flutes and cellos on Claude and a major flute part on Junk, which is rather more than I'd expected.
Musings of a Creekdipper is a prime Americana release; all alt.country/Neil Young fans who haven't already encountered it need to do so immediately, ditto anyone wishing to hear Patrick Warren's Chamberlin used audibly for once. However, I'm not quite sure who at whom Water to Drink is actually aimed; chances are, such concepts are fairly alien to Williams and she made it because she wanted to. I'm not personally sure it's a success, but that's just one man's opinion. Anyway, a passable level of Mellotron use on a sadly rather mediocre album.
James Williamson (US) see: Samples etc.
Andrew Thomas Wilson (Australia)
The Chain Reaction [OST] (1980, 38.23) ***½/T

Awakening
The Beast
Decontamination
Heinrich's Theme
Waldo
A Swim in the River
Chain Reaction
Once More With Feeling
Paradise Valley
Car Chase
Carmel's Theme
Waldo Arrives
The Hand at the Window
Message to a Friend
Current availability:
Mellotron used:
Andrew Thomas Wilson soundtracked Aussie 1980 nuclear disaster flick The Chain Reaction with an electronically-inclined score, chiefly played on Moog and Roland modulars and an Oberheim four-voice, alongside a couple of non-synth 'boards. Unsurprisingly, the bulk of its contents are best described as 'atmospheric'; as with so many soundtracks (actual incidental music and themes, as against a list of popular songs), I'm sure this is best heard in context, although it's a decent enough listen in its own right. Highlights? The cheesy, sequencer-driven The Beast (wonderfully of its time), Decontamination, the skronky Waldo and the title track, amongst others.
Wilson also plays Mellotron on a couple of tracks, with distant choirs on Decontamination and Car Chase, quite distinct from the Moog vocoder that pops up here and there, but not exactly anything you can't live without. This hasn't been issued on CD - I doubt if there's much demand for it, sadly - but it's one of the better non-Vangelis/John Carpenter electronic soundtracks about.
Jonathan Wilson (US)
Frankie Ray (2005, 78.32) **½/T

Your Ears Are Burning
El Matador
Waltz With Me
Carousel
Road 92
Alabaster Dove
White Turquoise
Frankie Ray
Sing to You
For Every 10
Yonder Lies My Love
You Can Have Me
Born to Be My Truelove
Dreaming
Masters in China/Frankie Ray Reprise
Fanfare (2013, 78.22) ***/T

Fanfare
Dear Friend
Her Hair is Growing Long
Love to Love
Future Vision
Moses Pain
Cecil Taylor
Illumination
Desert Trip
Fazon
New Mexico
Lovestrong
All the Way Down
Current availability:
Frankie: Pretty & Black
Fanfare: Bella Union
Mellotrons used:
Jonathan Wilson appeared in the mid-2000s, seemingly from nowhere and already over thirty; his 2005 debut, Frankie Ray, was never officially released and is only available on CD-R, apparently. Frankly (ho ho), it's a wildly overlong, rather dreary singer-songwriter effort, something of a throwback to the Laurel Canyon (where Wilson actually lived for a while) era of CSN&Y and their ilk, only, er, not as good. Going by this album, this is a man who needs to learn the art of editing, two tracks here sitting around the ten-minute mark; fine if you have something amazing to say, either musically or (at a real stretch) lyrically, but Wilson doesn't. An album of this type, literally half the length of this one, would be an acceptable enough effort, but this just goes on and on and on... Best tracks? Funnily enough, two of the longest (Sing To You and For Every 10) are also two of the best, probably because they sit on the edge of psychedelic territory. Wilson plays Mellotron himself, although it's difficult to say whether or not it's real (a familiar story). Anyway, I'll put my non-existent reputation on the line and say I think we're hearing cellos on For Every 10, Born To Be My Truelove and Dreaming, although, who knows? Wilson, presumably.
2013's Fanfare isn't wildly dissimilar, although Wilson's tightened up his songwriting in the interim, better tracks including the jammed-out Dear Friend (all very Neil Young, albeit in a more West Coast kind of way) and the acoustic Cecil Taylor (very CSN&Y). Wilson has the likes of David Crosby, Graham Nash and Jackson Browne on backing vocals, not to mention members of Tom Petty's band in attendance, all of whom add their distinctive touches. Six credited Mellotron tracks, with Wilson playing something inaudible (strings under the real ones?) on the opening title track, strings on Dear Friend but nothing audible on Fazon or on All The Way Down, while Jason Borger is credited on Desert Trip and Omar Velasco on Lovestrong, with nothing obvious on either, although we get uncredited, authentically wobbly strings on Illumination. Once again, all very accomplished, but it's still far too long, most of the tracks in the five-to-six minute range. Edit, please!
Overall, far shorter, more concise efforts would be far more listenable propositions, which isn't to say these albums don't have their moments. Really don't know about that Mellotron, but it's not something you're going to listen to these for, anyway.
---