---
Joe Walsh (US)
So What (1974, 36.42) ***/½

Welcome to the Club
Falling Down
Pavane of the Sleeping Beauty
Time Out
All Night Laundry Mat Blues
Turn to Stone
Help Me Through the Night
County Fair
Song for Emma
Current availability:
Mellotron used:
The trouble with Joe Walsh solo albums is that I always expect them to rock rather more than they do; he's written a few genuinely great songs, but seems to restrict himself to one per album, which gives him about half-an-hour's worth over his entire career. So What's classic is Turn To Stone, with other highlights being Walsh's version of a Ravel piece, Pavane, played entirely by himself on synths, which actually works far better than you might expect, and the epic-ish County Fair.
Its sole Mellotron track (played by Walsh himself, incidentally) is the rather ordinary opener Welcome To The Club, with a single-note string line near the end turning into a decent enough chord sequence, but hardly in the 'classic' league. Since there was a 'Tron in the area, it's a shame Walsh didn't put it on a couple of other tracks; Turn To Stone would definitely have benefitted from its inclusion, but there you go. So, so-so album, minimal 'Tron usage. Buy the double Look What I Did! The Joe Walsh Anthology (***½) instead, with most of his best stuff and Welcome to the Club.
J. Roddy Walston & the Business (US)
Hail Mega Boys (2007, 43.45) ***/½

I'll Tell You What
Nineteen Ought Four
Rock and Roll the Second
Used to Did
The Times Are a Staying
Go for it
Generic in Love
Picnics and Kisses
Sally Bangs
Mommie Bomb
Stop Rip and Roll
Go Malachi
Current availability:
Southren Brethren/Morphius
Mellotron used:
Tennessee native and vocalist/pianist J. Roddy Walston grew up surrounded by pianos, so it comes as no surprise to see him fronting his rock'n'roll combo, The Business, playing one. His/their first album, 2007's Hail Mega Boys, contains an appealing combination of southern boogie, rock'n'roll, blues and punk, not to mention several other related genres, better tracks including Sally Bangs and Mommie Bomb, although nothing here offends.
Jeff Conlin plays Mellotron on two tracks, with nothing obvious on Mommie Bomb and a brief but major flute part on closer Go Malachi, although I really couldn't imagine it sitting comfortably anywhere else. A decent enough effort, then, if a bit thin on the Mellotron front, but don't bother if you're not into straight-down-the-line rock'n'roll.
Walt Mink (US)
Bareback Ride (1993, 30.43) **½/T

Subway
Shine
Zero Day
Disappear
Sunnymede
Frail
Turn
Fragile
What a Day
Tree in Orange
El Producto (1996, 38.37) **½/½

Stood Up
Everything Worthwhile
Betty
Overgrown
Settled
Me & My Dog
Little Sister
Up & Out
#246
Listen Up
Sunshine M.
Love in the Dakota
Colossus (1997, 41.27) **½/½

Goodnite
John's Dream
She Can Smile
Brave Beyond the Call
Lost in the World
Lovely Arrhythmia
Boots
Lama
Act of Quiet Desperation
Freetime
Current availability:
Bareback: Caroline
Producto: Atlantic
Colossus: Deep Elm
Mellotrons used:
Walt Mink formed in '89 as the power trio of John Kimbrough, Candice Belanoff and drummer Joey Waronker, son of producer Lenny and brother of Anna. Their first 'proper' release (after a couple of album-length demos), 1992's Miss Happiness, sounds slightly like King's X, i.e. vaguely interesting hard rock with some unusual chords, although their follow-up, '93's Bareback Ride, is a rather less interesting proposition all round. Much of its material is in that vaguely 'punk' style that American bands seem to've made their own, although the acoustic tracks, notably Sunnymede, are rather better. The album's only Mellotron use is on closer Tree In Orange, with a murky flute part, probably from guitarist/vocalist Kimbrough, although the strings on Shine are real.
By their third effort, '96's cynically-titled El Producto, they were more at the rocky end of indie, which this site finds to be rather less interesting. It's not an awful album, by any means, but with so few positive features and so many neutral ones, it isn't that surprising that they only lasted another year or so after its release. I get the impression Kimbrough plays the Mellotron, with a faint flute melody at the end of opener Stood Up, distant string chords at the end of Me & My Dog and similar on Sunshine M., although the strings on closer Love In The Dakota sound real.
The following year's Colossus was the band's last studio album, slightly better than its two predecessors (particularly on the production front), although I really wouldn't take that as a recommendation. Once again, the acoustic tracks work better than the electric ones, notably the hidden track at the end of the album. Mellotronically speaking, all I can hear are murky strings on Lovely Arrhythmia (do I detect a pattern here?) and even they could actually be something else.
All in all, then, neither a particularly exciting series of albums nor decent Mellotron ones. Next...
The Walter Eugenes (US)
Beautiful (1995, 45.02) ***/T

Clear My Head
Beautiful
I Need You
Hole for a Heart
Joy
Farmer and the Crow
America
Talk to Me
Hands That Feed Us
Crawl
Current availability:
Mellotron used:
The Walter Eugenes seem to have effectively been an enhanced CCM duo, with Rick Eugene May singing and Walter Paul Robinette doing pretty much everything else, plus guests. Actually, this is vastly less offensive than the bulk of the Christian albums I've endured for the sake of you, dear reader; while not really sounding very much like, say, Daniel Amos, they share with them an ability to make Christian music than doesn't make the non-believer want to retch. I've just worked out who they're trying to sound like, amongst other funk/rocksters: King's X. A nominally Christian band at the time, their Hendrix-inspired chord work is a distinct influence here, although Houston's best band have a vastly better vocalist (in fact, three of 'em), vastly better material and would never produce songs as drippy as I Need You.
Mellotronist-to-the-Christian-community, Phil Madeira, does his usual thing here, with stabbed choir chords and a flute melody on opener Clear My Head and the occasional pitchbent string chord on Joy. So; much better than I'd expected, but not actually that good, just not that bad. Not much 'Tron, either, but given its genre (lyrically speaking), it could've been so much worse.
Wang Chung (UK)
Points on the Curve (1983, 43.16) ***½/T

Dance Hall Days
Wait
True Love
The Waves
Look at Me Now
Don't Let Go
Even if You Dream
Don't Be My Enemy
Devoted Friends
Talk it Out
Current availability:
Novatron used:
Huang Chung formed in 1980 and released their eponymous art-rock/pop debut two years later, before signing to Geffen and being persuaded to change their name to the supposedly more-pronounceable Wang Chung. They hit immediately with the propulsive new wave/pop of Dance Hall Days and its attendant album, 1983's Points on the Curve, although they were always more popular in the States than their homeland. Like a slightly watered-down version of their debut, the album displays a keen sense of melody and harmony (front man Jeremy "Jack Hues" Ryder had a music degree), which, somehow, manage to ride over the borderline-distressing production techniques employed. Top tracks? Dance Hall Days, of course (whadd'ya mean you hate it?), the angular The Waves and the fractured white-boy funk of Even If You Dream. It's notable how every track sounds completely individual, while still sounding like Wang Chung, making a cohesive album out of what could have been a terrible mess.
Three musicians are credited with keys, although I suspect Hues (later to work with Tony Banks and play Mellotron with Gene) who adds the occasional burst of Novatron to the album, with string swells in Dance Hall Days' chorus and what I very strongly suspect are Mellotron church organ tapes on Wait and Look At Me Now (listen to the chorus). String lines on another couple of tracks might be Mellotronic, but then again, they might not be. Although Points on the Curve is stuck fast in its era, it's perhaps worthy of reappraisal, although I wouldn't bother for the Mellotron.
Waniyetula (Germany)
A Dream Within a Dream (1983, 44.38) ***½/T

The Foreboding
Alone
Feathery Bird
Valley of Unrest
A Dream Within a Dream
Song of Master and Boardswain
If I Could Tell You
Dreamland
Yessertronics
Current availability:
Garden of Delights (Germany)
Mellotron used:
Waniyetula's history is rather confused, encompassing forming in 1969, recording an album in '75, released three years later under a different name, then finally getting something out under their own name fourteen years after forming. Not to mention frequently being mistaken for Swiss... The story goes, their '78 release, Nature's Clear Well, was released by a moronic US label under the name Galaxy, and while it sounds little like the band's later work, it's worth hearing for what it is. '83's A Dream Within a Dream (a Poe quote) sounds like deceptively commercial-sounding Canadians Saga across most of its length, with the odd un Saga-like touch such as unusual time signatures, and the occasional burst of Mellotron. Heinz Kühne does his very best Michael Sadler impersonation (a German trying to sound like a Canadian trying to sound like an Englishman?), and the band have their twiddly synth hooks down to a tee, making for an actually very pleasing end result, as long as you like Saga.
Norbert Abels gets a distant Mellotron flute melody in on Valley Of Unrest, and a far more overt one, key-click and all, on Dreamland, although that's definitely it on the 'Tron front. A grinding Hammond on If I Could Tell You is also very non-Saga, but otherwise, they stick fairly closely to the Canucks' template, featuring mainly early '80s polysynths, from the era just before interesting keyboards dissolved in a huge vat of digital unpleasantness. This is actually a very decent album, deserving wider recognition amongst Saga and UK fans. It isn't easy to write this kind of stuff without morphing into pure cheese, but Waniyetula manage to keep on the right side of the dairy debate, making an album that should keep Saga fans happy, in lieu of any more archive releases from the real thing.
Incidentally, an archive release from Waniyetula themselves appeared in 2006, entitled Iron City, featuring early versions of Alone and Valley Of Unrest from A Dream Within a Dream, although it turns out to be 'Tron-free.
See: Galaxy
War (US)
Platinum Jazz (1977, recorded 1971-77?, 77.44) ***/T

War is Coming! War is Coming!
Slowly We Walk Together
Platinum Jazz
I Got You
L.A. Sunshine
River Niger
H2Overture
City, Country, City
Smile Happy
Deliver the World
Nappy Head (Theme From 'Ghetto Man')
Four Cornered Room
Current availability:
Chamberlin (?) used:
War began in 1962 as The Creators, meeting ex-Animals wildman Eric Burdon at the end of the decade, triggering a name-change and commercial success at last. After two albums, including one which has to have one the best titles ever, The Black-Man's Burdon, Burdon left in 1971 after his friend Jimi Hendrix's death (he had jammed with the band the night he died), leaving the band to carry on perfectly well without him. After a run of jammed-out funk/soul/jazz records, someone opted to release the double part-compilation Platinum Jazz in 1977, in a gap between proper releases. Featuring a mix of (sometimes edited) earlier material, current stuff and possibly unreleased older tracks, it's a bit of a curate's egg, mangling some of their best jamming work, not least the mutilated City, Country, City, although its unreleased element makes it a must-have for fans of the band.
I wasn't at all convinced I was going to hear anything Mellotronic here, to say the least, but keys man Lonnie Jordan plays either Mellotron or (more likely) Chamberlin strings on one of the previously-unreleased tracks, I Got You, although it does a good job of simulating the real thing, making me think a Chamby's more likely. You're not going to buy this for its limited tape-replay, and it probably isn't the best place to become acquainted with War, but the unreleased material is worth hearing if you're into their style anyway.
War & Peace (US)
Light at the End of the Tunnel (2001, 54.07) ***½/T½

What Cost War
The Night You Walked Away
Wrong Place, Wrong Time
Playing God Again
Solitary World
In the Dead of Night
Sweet Release
End of the Tunnel
Stay Out of My Mind
Cast the Stone
Current availability:
Mellotron used:
War & Peace were originally formed by Dokken bassist Jeff Pilson (later of Lynch/Pilson) around 1990, splitting two years later. After an archive release in '99, he regrouped a version of the band and recorded Light at the End of the Tunnel in 2001. It's actually a fairly good modern hard rock release, featuring a couple of surprisingly proggy tracks closing the album, Stay Out Of My Mind and Cast The Stone. The former obscurely reminds me of a couple of Gillan's underrated early '80s prog/hard rock crossovers, while the latter has touches of The Beach Boys and Queen, particularly in the vocal department. The album's oddest track, though, is Sweet Release, consisting of just vocal and (synthetic) strings, ensuring that hidebound rock dudes will probably avoid this like the plague, leaving it to the slightly more discerning listener to mop up unsold copies.
Pilson plays (real?) 'Tron, with strings on opener What Cost War, a handful of string chords on Playing God Again and a more upfront part on Stay Out Of My Mind, although the rest of the album's string sounds appear to be synth-generated. Overall, then, a relatively mediocre album with two or three excellent tracks, their combined weight adding a half star to its rating, although I wouldn't really bother for its Mellotron use.
See: Dokken | Lynch/Pilson
M. Ward (US)
Post-War (2006, 37.35) ***/T

Poison Cup
To Go Home
Right in the Head
Post-War
Requiem
Chinese Translation
Eyes on the Prize
Magic Trick
Neptune's Net
Rollercoaster
Today's Undertaking
Afterword/Rag
Current availability:
Chamberlin used:
Matthew Stephen "M." Ward is an American singer-songwriter of the mainstream variety (aren't they all?), whose fifth studio album, Post-War, consciously echoes post-World War II music of the '40s and '50s, referring to the West's appalling current escapades in the Middle East (there, that's given you an idea where I stand on the issue). It's not a bad record, per se, but its deliberately very retro sound is only going to appeal to a certain type of listener, I suspect, and that type isn't me.
Mike Mogis plays Chamberlin on the album, although the only obvious use is the dusty strings on opener Poison Cup, where, for once, you get to hear the instrument properly, without stacks of studio dreck heaped over it like a winter overcoat in the middle of summer (how's that for an over-egged analogy, eh?). It's possible it's in the background on Neptune's Net, too, although it could be, well, almost anything, really. For what it's worth, it seems to be real strings on Today's Undertaking.
Anyway, a curiously old-fashioned album in a post-modern world, or something. Ward manages to fuse old-style songwriting with the modern world - a feat in itself - but you're not all going to actually like it. One good Chamby track, worth hearing if you get the chance.
Anna Waronker (US)
Anna (2002, 41.35) **½/T

Love Story
I Wish You Well
Beautiful
Nothing Personal
John & Maria
All for You
Long Time Coming
Fortunes of Misfortune
How Do You Sleep?
Perfect Ten
A Hollow Daze
Eat Me Alive
The Powers That Be
Goodbye
California Fade (2011, 40.48/47.28) **½/T

Beautiful Life
What Do You Do?
California Fade
I Don't Wanna
How am I Doing?
Cannibals & Quicksand
Leaving Home
Our Love
Scared
First Time in My Life
Spinning Out
[CD adds:
This Place
I Never Want to See Your Face Again]
Current availability:
Anna: Five Foot Two
California: Riot Structure
Mellotrons used:
Waronker? Haven't I heard that name before? Of course, her dad, noted producer Lenny Waronker. Add another name to the lengthy list of 'ambitious offspring of famous musos'. After three albums with the strangely-named that.dog, Waronker released her solo debut, Anna, in 2002. Despite being married to the wondrous Redd Kross' Steven McDonald, it's... not actually that good. Aside from a couple of decent powerpop tunes (notably A Hollow Daze, although Goodbye is worthy of mention), most of the record veers between dopey pop-punk (Love Story, All For You) and dozy ballads (John & Maria, The Powers That Be), few of which capture the imagination in any great way. Oh, and spot the Who cop in How Do You Sleep? One bonus on the album is Anna's Mellotron use, with strings on Beautiful and flutes on the chorus of Nothing Personal, sounding quite real. The actual strings on several other tracks are mostly obvious, apart from on Fortunes Of Misfortune, where they're probably real, but sound a lot like a Mellotron (I believe it's all in the arrangement).
Nine years on and Anna releases her follow-up, California Fade, a very different record to its predecessor. Although it features the occasional punkier effort (I Don't Wanna), the bulk of the album contains typical, if better than some, singer-songwriter material, better tracks including What Do You Do? and Scared. Anna plays Mellotron, with flutes on Our Love and Spinning Out and strings on What Do You Do? and Scared, although the rest of the album's strings are real.
So; there's worse about than these, but there's also an awful lot better, so don't go too far out of your way. Passable 'Tron use on a handful of tracks, couple of OK songs. Hmmm.
See: Steven McDonald
Krystle Warren & the Faculty (US) see: Samples etc.
Ricky Warwick (UK)
Tattoos & Alibis (2003, 51.36) **½/T

Mysterioso
Enemies
Can't Live With Maybe
Genuine Fool
Three Sides to Every Story
It Always Rains on Sunday
Church of Paranoia
Nothing is Real
Tattoos and Alibis
Minor Miracles
Crack'n'Divide
Can't Get Arrested
Close to the Last Call
Ending is Better Than Mending
Current availability:
Mellotron used:
Given that legendary hard-nut Ricky Warwick is best-known for his leadership of the heavier-than-thou Almighty, it comes as something of a surprise to hear 2003's Tattoos & Alibis, probably best described as an Americana-tinged John Mellencamp-style roots-rock album. The trouble with this style is that if you haven't got an absolutely killer set of songs, the whole thing can fall as flat as a pancake, and while Warwick digs out a few decent melodies, the overall effect is of an overlong album of mostly so-so material that, sad to say, fails to ignite.
Ronan McHugh plays Mellotron, with a rather generic flute part on It Always Rains On Sunday and no more than a couple of flute swells on Minor Miracles, although the album's strings appear to be real. All in all, not an album you particularly need, then, unless you're a) an Almighty/Warwick fan, or b) have to have every pseudo-Americana album ever released. Nowt special.
Washed (US)
Washed (1975, 40.34) **/T

Roll on
My Father
Gentle Jesus
There's Alot in the Bible
He Smiles at Me
The Resurrection
Revival Train
Latter Rain
Israel
Cain Killed Abel
Man From Galilee
I Walk Beside You
Current availability:
Mellotron used:
Appallingly-named Christian outfit Washed's eponymous 1975 effort features a Biblical quote on the rear sleeve, He That Hath an Ear, Let Him Hear..., that could possibly be taken as the title instead. Either way, Washed were four godly girlies with rather, er, 'untutored' vocal styles and some unpictured backing musicians, whose rather bland, country/folk album contains few surprises. Its most uncharacteristic track is opener Roll On, a truck driver paean in the grand tradition, the rest being split between gentle folky efforts and more upbeat countryish things, mostly featuring overtly Christian lyrics and rather flat voices. Oh joy. There's 'alot' of bad grammar around, too; There's Alot In The Bible indeed...
Aside from piano, Jeff Lass also plays Mellotron, with fittingly watery strings on Latter Rain and a brief flute part on Cain Killed Abel, neither of which should be enough to tempt the heathen Mellotron obsessive, even though Washed can be found on download sites. Not entirely rubbish, then, merely rather dull.
Washington (Norway) see: Samples etc.
Deborah Washington (US)
Love Awaits (1979, 37.12) **½/T

Boogie Baby
Back in Love Again
Can't Be a Fool for Love
Rock it
Loving You
World of Pain
For the Love of Him
Loneliness
Current availability:
Mellotron used:
The sleeve and title of Deborah Washington's second (and last) album, 1979's Love Awaits, led me to expect the worst, in a slushy soft-soul kind of way, so it comes as a pleasant surprise to be able to tell you that it's an upbeat funk record. A 'pleasant surprise', I hear you cry? Yes. I've just listened to a Westlife (below) beyond-pain release, so something this lively actually comes across pretty well in comparison. It's actually perfectly ordinary funk/soul/disco, but at least it's excellent played and doesn't make we want to kill someone.
Mike Piccinillo plays Mellotron, with volume-pedalled and pitchbent chords on World Of Pain and 'regular' ones on closer Loneliness, although all string parts sound real. Overall, one for the disco queen (of either sex) in your life, although I doubt whether the rest of us will get too much from this.
Watashi Wa (US)
Eager Seas (2005, 45.58) **/T½

10 Years and Separating States
Face
Free Ride
Courtyard
The Game
Broken Man
All That I Can't Keep
2:57
Sydney Tonight
All of Me
Father, Son
Something to Say
Current availability:
Mellotron used:
Watashi Wa were a Christian indie band, which is every bit as awful as it sounds. Not only whiny, 'confessional'-style vocals, but whiny, 'confessional'-style vocals singing about God. Painful. Eager Seas was apparently originally going to be called People Like People (hey! Good title!) by Eager Seas, a new band rising from the ashes of Watashi Wa, but they were obviously persuaded to keep the moderately successful original brand. Most of the album consists of either over-cheery upbeat songs (the vaguely punky Free Ride, Sydney Tonight) or 'intimate' stuff (the countryish Courtyard, 2:57), with a handful of less tedious tracks (The Game, the powerpop-ish All Of Me). Not really a recommendation, is it?
Zach Hodges and Yuri Ruley both play Mellotron, although there isn't that much of it obviously about, with heavy-duty cellos on Broken Man and slightly lesser ones on All Of Me, plus a string part on Father, Son, distinct from the real strings on a couple of tracks. Generally speaking, then, you really don't want to hear this; I didn't, either, but this site's remit forced my hand. Sort of. Anyway, apart from a bit of full-on cello abuse, there's nothing here Mellotronically that you haven't heard a thousand times before, and better.
| | |
| --- | --- |
| The Watch (Italy) see: | |
Watchmen (Canada)
McLaren Furnace Room (1992, 51.33) **/T

Cracked
Run & Hide
Try it Sometime
Sleep
Must to Be Free
Falling
Mister
Anything But That
I'm Still Gone
Soul Stealer
Crazy Days
Make You Go Down
Current availability:
Mellotron used:
Canucks The Watchmen play a particularly tedious and unoriginal variety of alt.rock, going by their 1992 debut, McLaren Furnace Room. The album's full of the kind of faux-rootsy songs that probably work well on stage, but lose their mojo entirely the minute they're committed to tape, Soul Stealer being the best of a bad bunch. No one song made me reach for the sick-bag, but nor did any inspire me to give them more than a cursory listen.
Noted Canadian businessman/musician Jason Sniderman plays Mellotron on Must To Be Free, with a repeating sequence of string chords at the end of the track, which wouldn't honestly be missed were they not there. I'm sorry to be so hard on this album; I'm sure I'd have given it a better rating had I attempted to review it from hearing two or three random tracks, but fifty-odd minutes ground me down.
Waterboys (UK)
A Rock in the Weary Land (2000, 58.24) ***½/T

Let it Happen
My Love is My Rock in the
Weary Land
It's All Gone
Is She Conscious?
We Are Jonah
Malediction
Dumbing Down the World
His Word is Not His Bond
Night Falls on London
The Charlatan's Lament
The Wind in the Wires
Crown
Current availability:
Mellotron used:
Mike Scott and his band, the Waterboys, are essentially interchangeable, although he didn't use the band name for the bulk of the '90s. Many fans still consider their early 'big music' albums to be their best, and I'd personally quote Red Army Blues, from 1984's A Pagan Place as his/their best song, bar none. 2000's A Rock in the Weary Land was the first album under the Waterboys name for seven years, and, although I've seen it described as 'inspired by alternative music', it sounds to my ears like an update of the band's early sound, with a strong Dylan influence pervading the record. About the only real criticism I'd level at it is that most of the tracks are too long; not because Scott's singing reams of lyrics, but because the band insist on 'stretching out' on almost every track, even when doing so can be to the detriment of the music.
Spiritualized member and frequent Julian Cope collaborator Tim 'Thighpaulsandra' Lewis guests on the album, playing various keyboards, including Mellotron on three tracks. Well, two actually, as the distorted strings on Dumbing Down The World ('recorded in Hell') are credited to 'Slubgob', but as everyone playing on the track is graced with pseudonyms (Scott's is 'Screwtape', wittily referencing noted Christian C.S.Lewis' 'The Screwtape Letters'), but it's almost certainly Thighpaulsandra here, too. On his two credited tracks, there are somewhat background strings on My Love Is My Rock In The Weary Land, and, er, not sure, but possibly distant choirs and upfront brass on closer Crown.
So; Waterboys fans of old who gave up on the band years ago should probably give A Rock... a chance, although there's nothing here sounding anything like The Whole Of The Moon or their other early-'80s efforts. Mellotron nuts (yes, YOU!) probably don't need to bother, but anyone wishing to hear good songwriting in an age of fakery would do well to invest. Incidentally, Scott used Mellotron (amusingly spelt 'Melletron') on 1997's Still Burning solo album and Love Anyway EP, with the (presumed) Floyd homage/tribute/pastiche Careful With That Melletron, Eugene.
See: Samples etc. | Mike Scott | Thighpaulsandra | World Party
Waterclime (Norway) see: Samples etc.
Patrick Watson (Canada) see: Samples etc.
Joe Wayman/Don Mitchell (US)
Wake Up to Your World (1976, 35.22) */T½

Wake Up to Your World
When Was the Last Time
Ride a Wild Horse
Share Your Love
Diana
Lord, You Made Me a Traveling Man
Give Me the Grace
Turn Yourself Around
Can You Remember
The Best Part of Love
Current availability: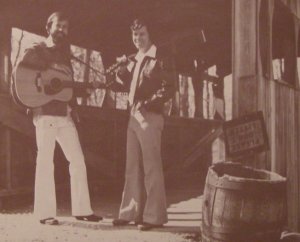 Mellotron used:
Going by the picture on the rear sleeve of 1976's Wake Up to Your World (at least their second album), Joe Wayman and Don Mitchell were a couple of likely-looking lads, probably country dudes. Correct, to a degree; this is actually super-cheesy Christian country (well, all country tends towards God, but you know what I mean) crossed with the easy listening of around a decade earlier, Wayman(?)'s voice as smooth and taste-free as a velvet Elvis. Horrible? You're not wrong. The album's at its least hideous when the pair aim for upbeat country (the title track, Share Your Love, Turn Yourself Around), the remainder being appallingly schmaltzy balladry with Christian-lite lyrics; believe it or not, this actually gains a half star for not being too God-bothering.
With four credited keyboard players (no Mellotron credit), it's impossible to know who's doing what, but given that Tom Brooks went on to play Chamberlin for Doris Frazier a couple of years later, it might just be him on Mellotron. Anyway, although most of the album's strings are real (four players credited), the ones on Lord, You Made Me A Traveling Man sound Mellotronic, while the choirs (in suitably 'heavenly' mode) on When Was The Last Time and Share Your Love are quite definitely so. Anyway, not only is this pretty obscure (once again, thanks, of a strangely twisted kind, to Mark for supplying this), but you really, really don't want to hear it. Believe me. It seems the pair made children's records, too; might there be any Mellotronic involvement on them? I think we need to know.
Web (UK)
I Spider (1970, 39.54) ***½/TT

Concerto for Bedsprings
I Spider
Love You
Ymphasomniac
Always I Wait
Current availability:
Mellotron used:
Web are one of the lesser-known of the 'proto-prog' very early '70s UK bands, characterised by a bluesy and/or jazzy feel to much of their material (see: Cressida, Titus Groan et al.). I Spider is notable for being one of Dave Lawson's pre-Greenslade projects, and you can hear at least vague similarities between the two bands. Apart from the usual instrumentation, the album features sax and vibes, adding to its general slight air of jazziness. The material is reasonable, but you can see why they never really took off and aren't regarded as highly as, say, Gracious! these days.
Lawson's Mellotron use (probably a MkII) seems to be limited to the ubiquitous strings, with the one outstanding part being some interesting dissonance at the beginning of Ymphasomniac, but probably not enough over all to make it an essential purchase, unless you're particularly into this era of UK prog.
See: Greenslade
---