---
Herbert Vianna (Brazil) see: Samples etc.
Vibravoid (Germany) see: Samples etc.
Viima (Finland)
Kahden Kuun Sirpit (2009, 45.11) ****/TTTT

Autio Pelto
Unohtunut
Sukellus
Kahden Kuun Sirpit

Kalevala: A Finnish Progressive Rock Epic (2003)

[Viima contribute]
Kaukomielen Kaipaus [on reissue only]

Tuonen Tytär II: A Tribute to Finnish Progressive rock of the 70's (2009)

[Viima contribute]
Uuteen Aikaan
Current availability:
Kahden: self-released
Kalevala/Tuonen: Musea
Mellotron used:
All titles: band's own (?) MkVI
The fact that Finns Viima owe a debt to Focus on their second album, 2009's Kahden Kuun Sirpit, is obvious from the off, but that's so much more welcome than the usual half-arsed range of influences that forgiveness is easy. Very easy indeed. If I have a criticism, it's that they choose to use vocals, if only occasionally; the lengthy instrumental sections are so good that it seems a shame to spoil them with rather below-par vocalising. All four tracks on the album differ, from the Focusisms of opener Autio Pelto through the jaunty, folkish Sukellus to the jazz/folk feel of the slightly overambitious 'side-long' title track, making Viima a very rare beast in the modern progressive scene.
Kimmo Lähteenmäki plays keys, including real Mellotron this time round, with strings and/or choir on every track, plus possible flutes doubling strings on Sukellus. Given that I knew next to nothing about Viima before hearing Kahden Kuun Sirpit, this is an extremely pleasant surprise; not jaw-dropping, but an interesting, genuinely progressive album, within the genre's usual limitations, although their debut is rather less interesting.
See: Colossus | Samples etc.
Vijaya (Sweden)
The Time Will Come When We Find Our Home (2005, 17.30) ****/TT

Life - a Slight Change
End of Love Street
Put on More Make-Up
A Few Good People

Vijaya (2006, 35.00) ****/TTTT

Örby Slott
Life - a Slight Change
Great Big City
Commuter Train (Time Theft)
End of Love Street
Your Gun Will Never Set You Free
A Few Good People
Reflections
Pale From the Bright Lights
Current availability:
Both titles: Starfly/Exergy (Sweden)
Mellotrons used:
Vijaya is a Swedish singer-songwriter, active since the mid-'90s, although she is only now (mid-2005) in the process of recording her debut album. The Time Will Come When We Find Our Home is her second EP, and (I believe) the first to feature Mattias Olsson (Änglagård, Pineforest Crunch etc.)'s production work, including (of course) his inimitable Mellotron, Optigan and so forth. Vijaya specialises in laid-back, melancholy little songs (now there's a surprise, given Mattias' involvement), sung in English, which would almost certainly appeal to a sector of the British (and maybe American?) indie crowd, if only they were actually exposed to it. My personal favourite is 'Tronless opener Life - A Slight Change, but there's little to criticise in any of the tracks here present. 'Tron? A full-on string part closes End Of Love Street, while a flute melody runs through the verses of Put On More Make-Up, with strings towards the end, and Mattias' Chamberlin Rhythmate on A Few Good People, although you're unlikely to spot the latter unless you actually know it's there.
And the following year... Vijaya carries on her good work from the EP, with more melancholy, muted low-fi singer-songwriter stuff. It seems the Time Will Come... EP was a taster for the album; two of the three tracks they have in common seem to be the same versions. The rest of the material follows similar lines, and it's fair to say that if you like previous Mattias Olsson productions, you'll like this. Conversely... Loads of Mellotron, with particular highlights being the very full-on strings (various sounds) on Örby Slott, End Of Love Street and Pale From The Bright Lights, with some of the 'Tron parts being so high in the mix that they drown out everything else. Yes! Apart from the Rhythmate in A Few Good People, you can spot the 'Tron in every highlighted track, although chances are you'll miss sounds such as the Chamberlin piano/lap steel/harp, MkI 'Tron moving cellos/violins and woodwinds, clarinet, boys choir and Hammond with pedals, but they're all in there somewhere. Plenty of Orchestron and Optigan, too, not to mention several strange organs, including the Silvertone (played by Vijaya), the Elgam and the Malmsjö 500. Anything new? Thankfully, no.
As previously stated, if you like Roth-Händle productions, you will assuredly like Vijaya. Despite the writing credits, most of Mattias' productions are effectively his albums with different people writing and singing, and these are no different. Recommended.
See: Änglagård
Kurt Vile (US)
Smoke Ring for My Halo (2011, 46.49) ***/T

Baby's Arms
Jesus Fever
Puppet to the Man
On Tour
Society is My Friend
Runner Ups
In My Time
Peeping Tomboy
Smoke Ring for My Halo
Ghost Town
Untitled
Current availability: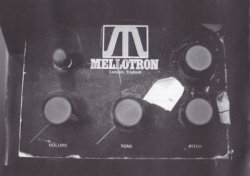 Mellotron used:
Kurt Vile (actually his real name, it seems) is an American singer-songwriter with a Dylanish edge, whose fourth album, 2011's Smoke Ring for My Halo, combines his core style with something of an alt.rock edge, not to mention occasional mock-Spectoresque touches. To be honest, a few tracks go on a bit - the album might have been better had it not topped forty minutes - but the overall effect is decent enough, within its limitations.
I'd thrown this into the sample dungeon before discovering the booklet pic (right) of the control panel of a battered-looking Sound Sales M400; to be honest, although it takes both Vile and Adam Granduciel to play the Mellotron flute and string parts scattered throughout Society Is My Friend, they're easily mistaken for samples. Well, that's my excuse and I'm sticking to it.
Villagers (Ireland) see: Samples etc.
Jacques Villeneuve (Québec)
Private Paradise (2007, 54.40) *½/T

Foolin' Around
You Are
Father
Tout Dire
Ones
Accepterais-Tu?
Why Did You Come?
Vaguement
Lullaby
Private Paradise
Etrangers
Women Come Women Go
Mother Earth
Current availability:
Mellotron used:
Jacques Villeneuve's story has to be one of the oddest on this site: a respected Formula One racing driver, he took the unusual step for someone from his profession of diversifying into music with 2007's Private Paradise. It shouldn't come as any great surprise to learn that it's pretty terrible; Villeneuve's not always fully in-tune vocals spout his frequently risible lyrics on a succession of tedious, overlong, self-written ballads, possibly best-heard on Father: "Father, I miss you so/Father, why'd you have to go?" Pure genius. A handful of tracks are no worse than 'dull', but with so many painful clunkers, the album was doomed to failure.
Fred Jaffre plays Mellotron, with a full-on flute part opening Lullaby, although that would appear to be your lot. I think it would be fair to say that the album was not a success; by the end of its year of release, it had apparently sold under a thousand copies across the entire North American continent. Ouch. OK, it's bland and dull, but so is most music; surely his name should've sold more copies than that? Presumably not.
Vintersorg (Norway) see: Samples etc.
Vinyl Shockley (US) see: Samples etc.
Violent Femmes (US)
Why Do Birds Sing? (1991, 42.23) **½/½

American Music
Out the Window
Look Like That
Do You Really Want to Hurt Me
Hey Nonny Nonny
Used to Be
Girl Trouble
He Likes Me
Life is a Scream
Flamingo Baby
Lack of Knowledge
More Money Tonight
I'm Free
Rock!!!!! (1995, 32.12) **½/T

Living a Lie
Tonight
Bad Dream
I Danced
Thanksgiving (No Way Out)
Dahmer is Dead
Life is an Adventure
She Went to Germany
I Wanna See You Again
Didgeriblues
Death Drugs
Sweet Worlds of Angels
Current availability:
Why Do Birds Sing?: Warners
Rock!!!!!: Cooking Vinyl (UK)
Mellotrons used:
Birds: unknown
Rock: Sigmund Snopek's M400?
I'm told the Violent Femmes were at their peak in the '80s, and 1991's Why Do Birds Sing? is their first real letdown. I can believe it, I have to say; dullard 'alternative' stuff with a slight Americana bent doth not make for an especially fun listen, round these parts, at least. Keyboards throughout from producer Michael Beinhorn, including Mellotron on two tracks. Yes, Do You Really Want To Hurt Me is a cover of the execrable Culture Club song (is there any other kind?), made surprisingly palatable by the Femmes' approach, albeit with no more than a hint of 'Tron strings halfway through. Used To Be has a more overt strings part, though nothing you haven't heard a thousand times before, in all honesty, mixed with real strings into the bargain. Nowt special.
Rock!!!!!'s sleeve is a heavy-handed, not to say several years too late satire on late-'80s L.A. hair metal, but the group were well past their sell-by date by this point, so I suppose we shouldn't be that surprised. OK, there's an awful lot worse about, but it all seems rather uninspired, certainly in comparison to their cutting-edge '80s albums; the fact that it was initially released only in Australia says it all, really. The only track that stands out in any way is Didgeriblues (so what's all this Aussie business, then?), which seems to've been mastered louder than the rest of the album, and has a ripping didgeridoo part from bassist Brian Ritchie. Mellotron on one track, from the inimitable Sigmund Snopek III; closer Sweet Worlds Of Angels has a really very nice flute part, from someone who knows his Mellotrons. Sadly, it's the best thing on the album, so if you liked their early stuff, I think I have to recommend that you stick to that and avoid their reformation material.
So; two very unexciting albums, unless, I suppose, you're a diehard Violent Femmes fan, in which case you're not going to take a blind bit of notice of these reviews anyway. One decent 'Tron track between the pair, so don't go too far out of your way.
See: Sigmund Snopek III
Violet Burning (US) see: Samples etc.
Violet Sedan Chair (US) see: Samples etc.
Kim Virant (US)
Songs From a Small House (2007, 42.20) **/T

Love Ain't for the Weak
Jesse's Song
Genius Morning
Letting Go
Crystal Clear
Cozy Little Babies
3am
Careless Girls
Constant Motion
Western Sky
Current availability:
Mellotron used:
Seattlite (is that a word?) and ex-Lazy Susan Kim Virant sits at the indie end of Americana, going by Songs From a Small House. I'm afraid the end result is exceedingly dullsville; the nearest I can get to 'interesting' is the moment she finally unearths a previously-undiscovered reserve of energy on Constant Motion, albeit briefly.
Gary Westlake plays Mellotron strings on one of the less dull tracks, Careless Girls, sounding relatively real, although that's no guarantee, of course. I don't think you're going to go too far out of your way for this one, anyway.
The Virgineers (US) see: Samples etc.
Visible Wind (Québec)
A Moment Beyond Time (1991/1999, 43.49/51.26) **½/0 (T½)

Behind the Curtain
A Moment in Time
Soleil d'Aube
Chasing the Skyline
Ulysse's Return
Seeking the Moon
Solitude
The Faded Years
Running Backwards
A Moment Beyond Time
?
Beyond the Curtain
Narcissus Goes to the Moon (1996, 68.27) ***/TTT

A Succulent Anachronic Pastiche
Fuzzy Concept
By the River
Xenophobia
Introvenus
Intravenus
Lunar Doubts
Join My Soul
Race on a Pseudo Flying Carpet
Nothing Left to Hide
Ambulance
The Awakening
Camel Ride Dream
A Bubble Burst
Prisonnier du Temps
The Preacher in the Desert Quicksand
The Mad Tryst
A New Reality
So Divine
Barb-à-Baal-a-Loo (2001, 54.19) ****/TTT

Vladivostok
The Healer/Maniaquerie
Barb-à-Baal-a-Loo
Hollow Emptiness
Mal Brook
Lost Ideals
Dans le Vide
Qui Sème le Vent...
Neandertal
Visages de Sable
Recommencement
Freed Again
I Was There
Current availability:
All titles: Ipso Facto (Canada)/(Narcissus... also on Musea (France))
Mellotron used:
Visible Wind are another English-as-second-language band who haven't understood the comic potential of the word 'wind' in the wrong context; Belgian band Now have to be the worst offenders with their debut, Complaint of the Wind (stop laughing at the back), but these guys aren't that far behind, sadly. It seems they've been going since the early '80s, although they've managed to shuck off some of their more overt neo-progisms over the years. I haven't heard '88's Catharsis, thankfully, but much of '91's A Moment in Time is pretty awful neo-prog, top offenders including The Faded Years and the title track, although parts of Chasing The Skyline are pretty inventive, while Solitude is a beautiful classical guitar piece. Now, a minor conundrum: how is it that a Mellotron-free album, recorded several years before the band's purchase, can suddenly become a Mellotron album? Because, dear readers, for reasons best-known to themselves, the band reissued their by-then out of print title eight years later, adding not only a couple of bonus tracks (italicised above), but overdubbing Mellotron onto both bonuses and the title track. Stephen Geysens adds string swells to Running Backwards and chordal strings to new closer Beyond The Curtain, with strings and choirs added to various parts of the lengthy title track, to passable effect.
While I haven't heard '94's Emergence, '96's Narcissus Goes to the Moon is a considerable improvement over the band's early work, although the song structures are still rather simplistic by symphonic standards. Improvement it may be, but even on the longer material, I find myself wishing the band would be more adventurous and that the guitarist would stop pretending he was playing in a part-time metal band (a common problem in current prog). Originality is an issue, too; there's a direct Saga rip on Intravenus and what sounds like a Jadis vocal line on Lunar Doubts, though I'm probably being a bit harsh; much of the material holds the interest, despite its over-reliance on Geysens' vocals, which, to his credit, are almost accentless. At some point in the mid-'90s, Geysens bought a Mellotron and uses it a reasonable amount here; choir chords on Fuzzy Concept, a polyphonic flute part on Xenophobia, followed by some full-on, top-of-the-mix strings. More choirs on the lengthy Intravenus (as against the short instrumental Introvenus) and another upfront string part on Race On A Pseudo Flying Carpet. A couple of the highlighted tracks above only feature a few seconds, mind you, with the strings at the beginning of Nothing Left To Hide being no more than a hang-over from the end of the previous track, but overall, Geysens uses his Mellotron imaginatively and doesn't overdo it, unlike some I could name.
Well, give a band a few years... Five years on, the strangely-titled Barb-à-Baal-a-Loo (no, no idea) sounds almost nothing like its predecessor, never mind the band's highly derivative early work. Heavier than before, it's also far more inventive, sounding like... well, no-one, really and it's not often you can say that in the progressive world these days. There are still some standard song structures dotted around (notably on Lost Ideals), but the band take interesting and unexpected twists and turns all over the place, which is more than you can say for 99% of their neo-prog contemporaries. Geysens' keyboard work is even better than on Narcissus..., too, with plenty of ripping (in a 'has to be real' vein) Hammond and lots of Mellotron, mostly strings, with some highly effective swells in Dans Le Vide, slightly recalling Crimson's Epitaph. Even where he uses polysynth patches (analogue? Digital?), as on Recommencement, he manages to keep them interesting and original, rather than the awful 'this one's straight outta 1988!' approach that still seems all too common amongst his contemporaries.
According to the band's website, there are a huge number of unofficial recordings available from the band; well over a hundred, dating back to 1983, if they can be believed, so it seems highly likely that many of the later ones also feature their M400. So; do you buy these albums? A Moment in Time: not unless you're a neo-prog fan. Narcissus Goes to the Moon: do you have a tolerance for fairly inventive neo-prog? Do you object to a lack of key-changes in your progressive listening? If these aren't problems, there's some nice (real) Mellotron work on the album. Barb-à-Baal-a-Loo: What a surprisingly excellent record - if only more current prog bands would make this much effort to do something new, while not forgetting the all-important exhortation to 'write some songs!' Recommended. Incidentally, their 2002 BajaProg set, La Dæmentia Romantica - Live in Mexicali, released in 2006, features Mellotron samples.
See: Samples etc.
Viva Vertigo (Denmark) see: Samples etc.
Anna von Hausswolff (Sweden) see: Samples etc.
Chris von Sneidern (US) see: Samples etc.
Voodoo Glow Skulls (US) see: Samples etc.
Vos Voisins (Québec)
Holocauste à Montréal &nbsp[a.k.a. Vos Voisins] (1971, 33.36) ****/TT

Voisins (Mon Chum)
Sous la Lune
L'Instrumental
Tania
Le Monstre de la Main
Ya Just de T'Ca
Le 3/4 de l'Archevèque
Current availability:
Mellotron used:
Vos Voisins ('your neighbours') were one of Québec's (and probably Canada's) first progressive bands, taking their cues from the first Gentle Giant album and Ekseption's mad, Hammond-fuelled takes on the classical canon, amongst others, with maybe a hint of Deep Purple's organ filth. To my knowledge, 1971's Holocauste à Montréal was their sole album, quickly re-released as Vos Voisins after some long-forgotten fuss over the sleeve design. Despite the above influences, the band had already found their own voice by the time they recorded the record, knocking spots off, say, the early Ange albums (to pick the biggest French-language prog band of the, or probably any time), combining classical, rock and jazz in a slightly different way to pretty much anyone else I can think of, which is probably enough to count as 'original', especially when you consider when this was made.
Keys man Jacques Perron played their friend Yvon Deschamps' M300, with strings on Tania and strings and flutes on Le Monstre De La Main, although nothing on probably the album's best track, closer Le 3/4 De L'Archevèque. Although of slightly variable quality, this really is an outstanding album in places, well worth tracking down.
See: Yvon Deschamps
Rocky Votolato (US) see: Samples etc.
Vow Wow (Japan)
Live (1987, 48.57) ****½/TTT½

Introduction - Beat of Metal Motion
Doncha Wanna Come (Hangar 15)
Too Late to Turn Back
Mask of Flesh (Masquerade)
Pains of Love
Love Walks
Premonition
Hurricane
Shot in the Dark
Nightless City
Hard Rock Night (1987, 73.29) ****½/TTT½

Introduction - Beat of Metal Motion
Go Insane
Doncha Wanna Come (Hangar 15)
Guitar Solo (Snow Flakes) - Pains of Love
Too Late to Turn Back
Mask of Flesh (Masquerade)
Vocal Solo (Cry Me a River)
I'll Wait a Lifetime
Keyboard Solo (including Arabesque)
Signs of the Times
Love Walks
Premonition
Hurricane
Shot in the Dark
Guitar Solo (CCG) - You Got it Made
Nightless City
V (1987, 47.19/53.16) ***/T

Don't Tell Me Lies
Somewhere in the Night
The Girl in Red
Break Out
Cry No More
Same Town
Born to Die
Waited for a Lifetime
Don't Leave Me Now
War Man
[CD adds:
Don't Leave Me Now (extended)]
Current availability:
Mellotrons used:
Both titles: band's own M400
Vow Wow formed in the early '80s from the ashes of Bow Wow, one of Japan's best-loved homegrown rock outfits. Instead of the original band's two guitar lineup, Vow Wow went for one guitar (band leader and wunderkind Kyoji Yamamoto) and keys (the superb Rei Atsumi), and a far more sophisticated sound than their previous incarnation. Sadly, several of their albums have never been available outside Japan, but Live and V were the second and third of four to be released in the West. Live is actually an edited version of the Japanese-only Hard Rock Night, which may have been a double on vinyl; it's certainly a full-length CD.
Live/Hard Rock Night's an excellent record; the best of their repertoire up to that point recorded in front of a partisan home crowd. From killer opener Beat Of Metal Motion to their classic, Hurricane, they can do no wrong. Atsumi's keyboard rig consisted of the best from all eras; MiniMoog, Jupiter-8, DX7 and, of course, a Mellotron M400. There are some nice string swells on Doncha Wanna Come and some epic chords in the short introduction to Hurricane, Premonition, but he gives the full five-star treatment to big ballad Pains Of Love. A picked guitar intro, Snow Flakes, with Genki Hitomi's plaintive (if strongly-accented) vocal leads into a massively effective key change and a blast of 'Tron strings, which Atsumi keeps up for the rest of the song, plus a short flute solo and a burst of choirs at the end. Absolutely magnificent. The longer version of the album adds mucho 'Tron choir and strings on Atsumi's keyboard solo, much as I remember it live from the time, while it becomes apparent that Love Walks has a brief string part and Hurricane features some background choir stabs.
Although the band used their Mellotron to great effect live (I still have fond memories of several London Marquee gigs at the time), it barely pokes its head above the parapet on their next studio effort, V (as in 'Five'). In fact, it's extremely difficult to work out what might be 'Tron and what might be generic string sample, or choir for that matter. It sounds like choir on a couple of tracks, but I'm willing to be proved wrong. The album's best track, Waited For A Lifetime, actually features what sounds like DX7 brass, despite my general dislike of the instrument.
So; if you can trace Live/Hard Rock Night, get it 'cos it's a great album, and has one total 'Tron classic. If you like the band's style, buy V, but otherwise I really wouldn't bother. The band headed further towards the mainstream after this, and the Mellotron was quietly retired from the road. Apparently Rei still has his machine, and it's been spotted on a relatively recent release, so at least he hasn't dumped it, like so many other past players.
---