---
Espers (US)
III (2009, 47.32) ****/T

I Can't See Clear
The Road of Golden Dust
Caroline
The Pearl
That Which Darkly Thrives
Sightings
Meridian
Another Moon Song
Colony
Trollsländia
Current availability:
Mellotron used:
Given that Philadelphia's Espers are led by latter-day Mellotron fiend Greg Weeks, I've been waiting for them to use the thing themselves for a while. A folk/psych/prog outfit, they specialise in slow, quiet songs that build up to huge, guitar-driven climaxes, although not in a duff, post-rock kind of way. Their first two albums are well worth hearing, but they only finally get some Mellotron in on 2009's III, an album not dissimilar to its predecessors, if less electronic, top tracks including That Which Darkly Thrives, Meridian and Another Moon Song.
Weeks plays insistent Mellotron strings on Another Moon Song, although they could easily have enhanced several other tracks, too. Overall, then, another Espers triumph, assuming you like the sound of what they do. Incidentally, it appears there's an Espers album slotted inbetween I and II, 2005's covers collection The Weed Tree, including a Blue Öyster Cult cover that isn't (Don't Fear) The Reaper, namely the stunning Flaming Telepaths. Hurrah! Now all I need to do is track a copy down...
See: Greg Weeks
Gloria Estefan (US)
Unwrapped (2003, 63.14) ***/T½

A Little Push
Te Amare
Your Picture
Wrapped
Time Waits
In the Meantime
Dangerous Game
Into You
One Name
I Will Always Need Your Love
Say Goodbye
I Wish You
You
Famous
Te Amare (Spanish)
Tu Fotografia
Hoy
Mientras Tanto
Current availability:
Mellotron used:
I had no idea Gloria Estefan had been around for so long; the Cuban-born songstress joined the Miami Sound Machine thirty years ago, admittedly while still in her teens, and has recorded in both English and Spanish throughout her career. After the Spanish-language Alma Caribeña in 2000, Unwrapped is Estefan's first English-language album in five years, although, admittedly, it's only her second in that time in any language. I'm not au fait with her earlier, poppier material, but Unwrapped consists largely of Latin-flavoured folkish tracks and is actually perfectly listenable, although I wouldn't exactly recommend it to those who wish to journey away from the mainstream.
Ron Taylor plays Mellotron on the album, with flute parts on Wrapped, In The Meantime and Say Goodbye; none outstanding, though all pleasant. The last four tracks on the album are Spanish-language versions of tracks 2, 3, 4 and 6, with identical backing tracks, so it's a bit of a cheat saying there are five 'Tron tracks here, which is reflected in the 'T' rating. So, perfectly pleasant Latin-flavoured folky pop, a few nice bits of Mellotron flute. That's it.
Eternal Void (US)
Moon Sliver (2013, recorded 1977, 43.19) ***/TTTT

Pirates Puppet
The Black Stream
Devils Workshop
Peasant Song
Sliver
A Face at the Window... A Mind at the Door
Overburden Stone
Dance of Lunacy
Current availability:
Mellotron used:
Craig P. Smith bought his M400 from Mark Dahlgren of Albatross, subsequently utilising it on several projects, not least Eternal Void's instrumental recordings from 1977, finally officially available (admittedly only as downloads). Moon Sliver is a slightly mixed bag, shifting between lengthy psychedelic experimentation (opener Pirates Puppet), King Crimson-esque progressive rock (The Black Stream), mournful Mellotron solos (Peasant Song), ambient warbling, lurching into full-blown lo-fi space-rock (Sliver itself) and avant-Black Sabbath (Overburden Stone). Patchy? In places, definitely, but this is the sound of a band finding their feet, although it seems they fell apart before they could make any professional recordings.
Craig gets that Mellotron onto most tracks, with cellos, rather wobbly flutes and phased strings all over Pirates Puppet, a strings/cello mix throughout The Black Stream and Peasant Song, a murky version of the same sound on Sliver itself and cellos on A Face At The Window... A Mind At The Door. You're not going to download Moon Sliver for its immaculate song construction or professional production values, you're going to download it for its experimental attitude and shedloads of slightly murky Mellotron. It's free; what can you lose?
See: Providence | Craig P. Smith
Ethos (US)
Ethos (Ardour) (1976, 46.43) ****/TTTT½

Intrepid Traveller
Space Brothers
Everyman
Atlanteans
The Spirit of Music
Longdancer
The Dimension Man
E'mocean

Open Up (1977, 39.53) ****/TTTT

Pimp City
Start Anew
U.V. Melody
Memories
The Players (of the Game)
Marathon II
Sedona
Close Your Eyes
Relics (2000, recorded 1973-74, 62.01) ****/TTTT

Nightingale
Elephant Man
Placebo
Identity
Experimental War
Troilus and Cressida
Intrepid Traveler
Doing Your Duty
Perceptions
Pimp City Dream
[hidden track]
Current availability:
Ethos (Ardour)/Open Up: Korean CDs (bootleg?)
Relics: Black Moon
Mellotrons/Chamberlins used:
Ethos/Relics: band's own M400 & M1
Open Up: band's own M1
Ethos were that rarest of things; an American progressive band who got a major label deal. Capitol signed the band around 1975, and let them release two albums before (presumably) pulling the plug. Of course, while in Britain it was punk that scuppered prog, in the States it was disco; unlike punk, a major-league cash cow for the record companies, without too much financial input. I say 'Ethos'; in fact, it's difficult to work out from this album whether they called themselves Ethos or Ethos (Ardour), but their recent retrospective set loses the '(Ardour)', so I shall too.
Despite being released as late as 1976, Ethos (Ardour)'s sleeve lays their, er, ethos out for all to see; a naked god-like being with star-shaped nipples (!) and long white hair holding a staff with a snake wrapped round it in one hand, and a strangely reversed globe in the other, against a backdrop of cosmic-looking clouds and ancient pyramids. The lyrics are mostly science-fictional stuff involving Atlantis, space etc., which can all be ignored given the quality of the music. This isn't top-notch prog, but it's still good stuff, with lashings of both Mellotron and Chamberlin on every track from L. Duncan Hammond and Michael Ponczek (top example: the intro to Space Brothers, featuring Chamby solo female voice over 'Tron 8-voice choir). Like all good prog bands they list all their equipment on the sleeve, and include a very fetching picture of singer/guitarist/main man Wil Sharpe with his Gibson twin-neck. Songs titles like Space Brothers, Atlanteans, and E'mocean (that's 'emotion' to you, OK?) defiantly fly in the face of all that was American in 1975, but since when have we had any argument with that? I hope I'm not sounding like I've got a downer on this album; the music is excellent, it's just the (even by then) outdated hippy-dippy stuff that will put some potential listeners off.
By their second outing, Open Up, Hammond had left, taking his Mellotron with him, leaving original keys man Ponczek covering all bases, including Chamberlin. On a first listen, the material is probably up to that of their debut, though, like all good prog, I expect it'll take a few listens to really appreciate. With Chamberlin on all tracks, it's difficult to pick out highlights, although the strings work on Pimp City and Marathon II are excellent. Brass on several tracks, too, with the occasional burst of flutes, including on the 32-second U.V. Melody.
In 2000, an archive set, cheekily entitled Relics appeared, containing demos and live tracks from 1973-74, including early versions of both Intrepid Traveler and Pimp City. The material isn't all as good as that on their two proper releases, but most of it's pretty much up to scratch, making this a welcome find. The hidden track at the end is a slightly pointless instrumental jam, but as with most of the other tracks, it's got loads of (L. Duncan) Hammond and Ponczek's 'Tron and Chamby work, the only obvious exception being Intrepid Traveler, replacing the later version's 'Tron with string synth. Tape replay highlights are the great strings pitchbend work on Placebo and a lengthy section of flute lead on Experimental War, but there's little to knock here, to be honest.
Anyway, you'll probably have trouble finding either of their original albums, but they're both worth the effort if you can, both for the music and the tape-replay. Relics should still be easy enough to find, and is a good introduction to the band's style, not to mention even more of that 'Tron/Chamby work.
Marvin Etzioni (US)
Marvin Country! (2012, 68.08) ***½/T

You Possess Me
The Grapes of Wrath
You Are the Light
Lay it on the Table
A Man Without a Country
Living Like a Hobo
Son of a Carpenter
Ain't No Work in Mississippi
Bob Dylan is Dead
Miss This World
It Don't Cost Much
Where's Your Analog Spirit?
Diamond in the Sky
Gram Revisited
Hard to Build a Home
What's Patsy Cline Doing These Days? pt. I
What's Patsy Cline Doing These Days? pt. II
Trouble Holding Back
There's a Train
God's Little Mansion
Ain't No Work in Mississippi
Hold Fast Your Dreams
Current availability:
Mellotron used:
Marvin Etzioni is a founding member of '80s cowpunks Lone Justice, which is enough to give him proper country kudos, at least 'round these parts. 2012's two-disc set (although it would fit on one) Marvin Country! has apparently been 'in development' since 1985, which makes famous other long-awaited projects look quite fleet of foot. It's a collection of prime Americana, recorded with a host of guests, not least Lucinda Williams, X's John Doe, Steve Earle and our very own Richard Thompson. Top tracks? Hard to say, but both version of Ain't No Work In Mississippi (with Earle and The Holy Brothers), Hard To Build A Home and Trouble Holding Back all stand out.
I'm not sure why it takes both Etzioni and Eitan Bernstein to play the squawking (and obviously real) Mellotron strings on Trouble Holding Back, but there you go. Just in case you're not convinced, the tape wow and flutter at the end of the track should change your mind. A good set, then, that doesn't outstay its welcome, despite its length.
Eugene Wendell & the Demon Rind (US)
Meet Me in the Garden & We'll See What Happens (2011, 19.51) ***/T

Oh No
Mark 3:16
Foggy Mountain Woman
Somebody Good
Four o'Clock Rock
The Demon Rind
Love These Things
Those Fuckers
Layers of Paint
Current availability:
Mellotron used:
Going by 2011's Meet Me in the Garden & We'll See What Happens, Eugene Wendell & the Demon Rind (now just The Demon Rind, as they've presumably tired of being asked 'which one's Eugene?') play a raucous, off-the-wall variety of indie, possibly at its best on the twisted boogie of Foggy Mountain Woman and The Demon Rind.
Ian Moore plays a raft of instruments, including, going by the upfront string part on Mark 3:16, real Mellotron, which makes a nice change in these post-millennial, post-actual Mellotronic days. An odd little EP, then; where they sourced a real Mellotron (assuming I'm right) will have to remain a mystery. Note: Wendell Eugene was an American jazz trombonist; the band's original name was presumably a send-up.
Eulenspygel (Germany)
Ausschuss (1972, 45.50) ***½/TT

Abfall
Menschenmacher
Teufelskreis
Herzliches Beileid
Der Fremde
Untertanenfabrik
Current availability:
Garden of Delights (Germany)
Mellotron used:
Eulenspygel started life as Royal Servants, with 1970's We being their sole release; confusingly, after their name and style change, Eulenspygel called their first album Eulenspygel 2 (apparently one of the first German-language rock albums), clearly considering the band a straight continuation of the original outfit. Their follow-up, Ausschuss (or Ausschuß), consists of a slightly unwieldy mixture of proto-krautrock, more straightforward proggy material and mainstream rock, with its highlight probably being the side-long four-part Abfall, which shifts seamlessly through the band's various styles, rather overshadowing the rest of the album in the process, although it picks up a little towards the end.
The album was recorded at London's Apple Studios, apparently, which explains the murky MkII-ish Mellotron parts on a few tracks; I wonder which Beatle's machine we're hearing? Anyway, the first sound on the record is the faint flutes and strings on the first part of Abfall, from guitarist James "Till" Thurow, with the strongest 'Tron use on the track's last part, with a rising string line surging up through the mix over the course of a couple of minutes, alongside the Hammond. Der Fremde has a minor strings part, with a stronger strings/flutes part on closer Untertanenfabrik, although not enough to make this a Mellotron Album per se.
Ausschuss probably isn't for your typical prog fan, with only a couple of tracks really falling into that category properly, but if you're feeling slightly (and really, only slightly) adventurous, you could do a lot worse than to grab a copy of Garden of Delights' bonus-tracked reissue, although it's probably not worth it for the relatively minor Mellotron use.
Euroboys (Norway)
Soft Focus (2004, 51.28) **½/T

Break Away
Sleep 'Til Tomorrow
Hold on
Fears Be Gone
Topanga
One-Way Street
24 Years
Good Enough for Now
Pharaoh
Soft Focus
Crystal Pipeline
Current availability:
Mellotron used:
Norwegians The Euroboys (previously known as Kåre & the Cavemen at home) have been around since 1990, releasing their first album, Jet Age, under their original name in 1997. 2004's Soft Focus is their fifth album overall and is best described as quieter-end-of-indie, I think; I've certainly heard a hell of a lot worse, although it's a long way from 'exciting', by my exacting standards. Basically, it wafts along without really impinging on the listener too heavily, which is almost certainly what the band wanted, so job done.
Mellotron on two tracks, with strings from Mats Engen on Fears Be Gone and Knut Schreiner on Topanga, with some authentic wobbles at the end of the latter, neither particularly overt parts, nor something you desperately need to hear. I can probably say the same for the album, to be honest. Average.
See: Samples etc.
Eva & the Heartmaker (Norway) see: Samples etc.
Evan & Jaron (US)
Evan & Jaron (2000, 44.37) **/T½

Outerspace
Ready or Not
Crazy for This Girl
Done Hangin' on Maybe
Distance
Wouldn't it Be Nice to Be Proud
Pick Up the Phone
From My Head to My Heart
On the Bus
You Don't Know Me
Make it Better
I Could Fall
Current availability:
Mellotron used:
Identical twins Evan and Jaron Lowenstein began making music together as Durable Phig Leaf, thankfully changing to their better-known nomenclature before long. A successful major-label debut (1998's We've Never Heard of You, Either) was followed by 2000's Evan & Jaron, a mainstream pop/rock effort of the kind popular at the time; for some reason, this kind of stuff always makes me think of Seattle, a city I've never visited, while the twins are from the other side of the country (Atlanta, GA, to be precise), anyway. If I were to be generous, I'd call it 'harmless'; if I weren't, it'd be 'guff'. It doesn't actually produce aural pain, in fairness, but it's all desperately unexciting stuff with few redeeming features, though at least they've got that 'close relative/close harmony' thing going on (see: The Beach Boys for details).
Jaron plays Chamberlin, with occasional strings on Done Hangin' On Maybe, cellos on Distance, flutes on You Don't Know Me and more audible strings on Make It Better and strings and flutes on closer I Could Fall, although the cello-ish sound on Wouldn't It Be Nice To Be Proud sounds like something else. None of the use is particularly major, thus the relatively low T rating. So; some passable Chamby work, but not something you're going to want to hear even once unless you're a glutton for punishment mainstream pop.
Everyone (UK)
Everyone (1971, 35.26) ***/½

Trouble at the Mill
Sad
Midnight Shift
Don't Get Me Wrong
Sitting on a Rock
Too Much a Loser
Radio Lady
This Way Up
Current availability:
Not on CD - some tracks on Andy Roberts' Just for the Record: The Solo Anthology 1969-76: Sanctuary
Mellotron used:
It seems there are two different versions of Everyone's sole eponymous album, with the Polydor issue (possibly retitled Andy Roberts With Everyone, for their vocalist/guitarist/leader) shifting tracks around, losing a couple and adding their take on Neil Young's Cowgirl In The Sand. The original B & C issue is structured slightly oddly, alternating shorter, countryish tracks with longer, keyboard-driven proggier efforts (mostly written by organist Bob Sargeant), climaxing with the excellent This Way Up, making for a slightly unsatisfactory listen in places. Effectively, the even-numbered tracks are the ones to listen out for, with the likes of Trouble At The Mill and Midnight Shift being a bit of a waste of space.
Sargeant doubled on acoustic guitar and various keyboards, including a credited Mellotron, although, sadly, the only place it's at all obvious is a few seconds of faint strings at the end of the lengthy, proggish Sad, probably the album's next best track. Anyway, while I doubt that it's worth an awful lot, Everyone is obscure enough to be fairly hard to find, and while it has a few decent tracks, its Mellotronic input is absolutely minimal, should that influence your decision.
Incidentally, there's some confusion over Andy Roberts' solo discography, too; his solo album (featuring the 'Tron) from the previous year, Homegrown, was available in two wildly differing versions. Sargeant also produced a Mellotronic effort in '74, First Starring Role. More news when etc. etc.
See: Andy Roberts
Evripidis & His Tragedies (Greece) see: Samples etc.
Murrell Ewing (US)
The Good Times (197?, 37.52) ½/T

Cleft in the Rock
The Good Times (Always Outweigh the Bad)
It'll Be Different (the Next Time You Come)
New House
The Potter's Field
That's How He Found Me
Those Were the Days
Contrast
Write it All Down
(It's a) Long Way to Heaven
Current availability:
Mellotron used:
Mark Medley, you're a dead man. Mark insists on sending me lovingly-transferred vinyl rips of the most appalling God-bothering shite imaginable, although I keep begging him to stop. I can see I'm going to have to start sending cash, used notes only. His latest 'offering' is Murrell Ewing's typically-for-the-genre undated The Good Times, probably from the mid-'70s, going by the instrumentation, although Ewing's 'image' (I use the term extraordinarily loosely) in the sleeve pic could put it at a decade earlier.
Although probably considered 'gospel' at the time, the album's vile contents are more piano-led Christian campfire singalong with occasional country touches, notably the pedal steel on a few tracks. Ewing sings in a style not unlike famed UK absurdist comic Vic Reeves' 'pub singer' style, all restricted air passageway and preternaturally controlled embouchure, heard at its best (?!) as he (just) hits the high notes on Contrast; this really does have to be heard to be believed, I can tell you, although I wouldn't take that as any, make that ANY kind of recommendation whatsoever. Top comedy moment? I'm not sure the term's fully relevant here, but the backing vocals on That's How He Found Me are pretty laughable, ditto the puke-inducing 'wedding scene' that closes Those Were The Days (no, I'm not joking) and the barely-repressed sexual tension (no, really) for his 'Lord' on Contrast.
One Lari Goss plays Mellotron on a handful of tracks, with faint strings on opener Cleft In The Rock (cleft in your fucking head, more like), The Potter's Field, Those Were The Days and Contrast and more upfront ones on New House, although I'd be lying shamelessly if I said it improves matters any. Bishop Ewing died in 2010; a tragedy for his family, friends and congregation, I'm sure, although as long as his passing doesn't trigger a non-overdue reissue of this crud, the event will probably pass the rest of us by. Incidentally, Mark Medley, you're a dead man. As dead as Murrell Ewing.
Exciting Café (Austria)
Big Deal (1995, 66.03) **½/½

On Line
Rats
Mobile Clowns
Once You've Got Them By the Balls
Prayer for Michael
Nick
Leesons Party
Catastrophy at No.10
Six Pack Woman
? Part 1
Silicon Valley
Where's the Spiritual Boss
Vive Chirac
Greenpeace Paranoia
Quite a Day
Just Make Believe
Briefing With the Maestro
Luto on Pluto
? Part 2
Wo ist Mein Klo
Part of the Game
Six Pack Woman (Rude Nude Version)
Current availability:
On CD, but appears to be long-deleted
Mellotron used:
The quite superbly-named Exciting Café are an Austrian outfit comprising ex-Iviron man Ingo Schleicher-Atanasov and a cast of thousands. Their first album, Big Deal, came out around '95, and seems to be some kind of rock opera/concept thingy, or even the soundtrack to a theatre show, not unlike the lone Future Shock album. Think 'vaguely akin to Frank Zappa, or possibly German lunatics Spliff', and you won't be a million miles off. But does that combination make for great music? Er, not really, no. It feels like the music is only the second most important ingredient here, with sort-of prog (On Line) morphing into straightforward pop/rock (Rats), to jokey oom-pah (Mobile Clowns) to cheeso balladry (Prayer For Michael), not to mention crummy unaccompanied rock'n'roll (Six Pack Woman), updated musical theatre (Where's The Spiritual Boss) and dirgelike German jazz-funk (Wo Ist Mein Klo). Best tracks (yes, there are a few)? Probably On Line, the acoustic Nick, the slightly jazzy flute piece Greenpeace Paranoia and Luto On Pluto, but they're few and far between, to be honest.
Despite the presence of two Mellotron players (Schleicher-Atanasov and Hans Gattringer), unless I'm much mistaken, it's only to be heard on one track, opener On Line, with a cello line echoed by strings later in the instrumental piece. Despite its relatively recent release, this is wildly obscure (thanks to Wolfgang for providing my copy) and unlike the Iviron album, probably isn't worth the effort involved in tracking it down. Interesting, in a quirky kind of way, but ultimately inessential.
See: Iviron
Expanding Man (US)
Head to the Ground (1996, 47.24) **½/½

Put Me Out
Download (I Will)
Disappear
Starman
Okay Fine
Screws
Underground
Blood Red Crush
It's Not Me
Head to the Ground
Goodbyes
Current availability:
Chamberlin used:
The Long Island-based Expanding Man are generally described as 'post-grunge', although their sonic links to the likes of the tedious Pearl Jam seem a little tenuous to my ears. 1996's Head to the Ground was their first full album, although their lack of any noticeable 'quirk' probably consigned them to the dustbin of history almost immediately. They recorded a second album, but after being comprehensively fucked over appallingly by Universal (do you really need a reason never to sign to a major?), they quietly split. Head to the Ground starts well enough, stronger material including opener Put Me Out and Download (I Will), but the album soon becomes mired in second-rate stuff like It's Not Me and the title track.
Producer Mike Denneen (Gigolo Aunts, Velvet Crush) plays Chamberlin, with a brief, faint string part on Starman and an even briefer and fainter one on Screws, but hardly the kind of use that'll have you rushing out to score a copy of this record. This would probably have made an excellent mini-album, but nearly fifty minutes is at least twenty too many.
Experimental Pop Band (UK) see: Samples etc.
Exploded View (UK/Mexico)
Exploded View (2016, 39.32) ***/T

Lost Illusions
One Too Many
Orlando
Call on the Gods
Disco Glove
Stand Your Ground
No More Parties in the Attic
Lark Descending
Gimme Something
Beige
Killjoy
Current availability: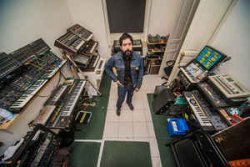 Mellotron used:
Although I've listed Exploded View as a British/Mexican project, vocalist Annika "Anika" Henderson actually lives in Berlin, despite being British-born, so perhaps we should simply think of them as Mexican? Anyway, their eponymous 2016 debut takes inspiration from krautrock, trip-hop (Anika worked with a Portishead side-project at one point) and other experimental, synth-based musics. The end result is something that's more likely to appeal to those into the experimental end of the indie scene (such as it is), rather than fans of Can et al.; Anika's faux-robotic tones are definitely an acquired taste, as are the sounds Hugo Quezada gets out of his impressive collection of vintage synths. I find myself unable to accurately describe their music: uneasy listening? That's what YouTube's for, folks.
Quezada's much-mooted Mellotron isn't actually used that much here, unless he's got some seriously odd sounds installed, which doesn't seem likely. In fact, it's only audibly used on Stand Your Ground, which features an upfront repeating flute part. I've given this three stars for its ambition; I actually can't tell whether the music is any 'good' or not.
| | |
| --- | --- |
| Eye (US) see: | |
Eyes of Blue (UK)
Crossroads of Time (1968, 42.56) ***½/TTT

Crossroads of Time
Never Care
I'll Be Your Friend
7 + 7 is
Prodigal Son
Largo
Love is the Law
Yesterday
I Wonder Why
World of Emotion
Inspiration for a New Day
In Fields of Ardath (1969, 39.10) ***½/TTT

Merry Go Round
The Light We See
Souvenirs (Tribute to Django)
Ardath
Spanish Blues
Door (The Child That is Born on
the Sabbath Day)
Little Bird
After the War
Extra Hour
Chances
Current availability:
Mellotrons used:
Welsh proto-progsters Eyes of Blue (with a Man connection) straddle the divide between late-psych and early prog with ease, though it certainly wouldn't have been seen that way at the time. Their debut, Crossroads of Time, is far too good to languish in the obscurity in which it finds itself; why isn't this album better known? Material of the quality of the title track and Largo should be far better known in psych fandom, although I'm not entirely sure the band should've covered either Love's 7 + 7 Is or the ubiquitous Yesterday, although they turn the latter into a blues/psych-fest of decent enough proportions, so all is forgiven. Not entirely sure who plays the Mellotron, although Phil Ryan seems the most likely candidate, beginning with a few brief string notes at the end of the opening title track and a muffled flute part on Never Care. The album's real 'Tron monsters are Largo and Love Is The Law, both smothered in MkII strings, with even Yesterday getting flute and string parts in.
Their second and last album, In Fields of Ardath, opens with the most progressive track on the album, the nine-minute Merry Go Round, while the rest of the record steers a path through light guitar jazz (Souvenirs), acoustic balladry (Chances) and, er, blues (Spanish Blues), although a psych/prog crossover is their default setting. Merry Go Round doubles 'Tron strings (MkII) and organ, while Door has some upfront strings over the song's bridge. Little Bird has a fantastic 'Tron flute section, involving playing the instrument considerably faster than its design spec, adding a radical pitchbend at the end, on top of the brass earlier in the song, while the other two highlighted tracks have more 'standard' string parts.
So; two very good albums, all in all, with some very decent 'Tron work. No idea if they're still available, but they're both worth picking up, for both music and Mellotron. Incidentally, the band subsequently changed their name to Big Sleep, releasing their sole album in '71.
See: Big Sleep
Ezio (UK)
The Making of Mr Spoons (2003, 56.14) **½/T½

Inside Me Again (Immigrants Table)
Waiting for Too Long
Everybody Forgets Sometimes
Mr Spoons
Song 4 the Tempted
Take Me Away
The Same Mistake
Mermaid Song
Shadow Boxers
Sometimes I Wish
My Friend Tonight (Darkness)
The Further We Stretch
This is the Day (2010, 48.17) **½/T½

A Small Dream
Bad Bad Place
This is the Day
Supermarkets
Bruce Springsteen
Can't Stop Dreaming
Marina
Bicycle
Each Time You Cry
The One and Only One
Mad at Myself
I Still Want You
Current availability:
Mr Spoons: Eagle
This is: Tapete
Mellotron used:
Ezio are named for vocalist Ezio Lunedi, although they seem to be a proper band, as against a singer with backing musicians. 2003's The Making of Mr Spoons is a reasonable pop/rock singer-songwriter effort, although like many similar, the lyrics seem to take precedence over the music, leading to a position where no tracks stand out in particular. The effect isn't helped by a preponderance of overlong material, although I'm sure Mr Lunedi would argue that the length is determined by the lyrical content. Three credited Mellotron tracks, with a couple of faint flute swells on Mr Spoons and more obvious flutes and strings on The Same Mistake (listen for the solo flute note at the end) from Lee Russell, plus a flute melody on Mermaid Song from Ezio himself. The clear, but uncredited string line on Shadow Boxers, presumably from either Felix Huber or Stephan Fischer, is probably samples, ditto the strings on The Further We Stretch. Incidentally, the album timing above is minus the irritating seventeen minute-plus gap between My Friend Tonight (Darkness) and the 'hidden' The Further We Stretch.
2010's This is the Day has something of a rockabilly feel about it, though less so than, say, Jace Everett, although far too much of it sinks into a kind of Brit-country swamp, particularly towards the end of the record, honourable exceptions being the sort-of rocking The One And Only One and closer I Still Want You for its lyrics, a subtle tale of accidental man-love. "Thought I was the one for you, but I was out by twenty-three". Very good... Lunedei plays Mellotron, with a big string part on the title track, background cello on Supermarkets and strings on the second half of the (relatively) lengthy Mad at Myself, improving the tracks on which it's heard; there might be more, but it's difficult to differentiate from the real strings used in places, especially the cello. Good job it's not a Chamberlin, eh?
Anyway, two passable albums, too mid-paced-to-slow, not to mention overlong, to generate any real excitement, although at least we get a couple of decent Mellotron tracks. Incidentally their first alleged Mellotron release, 2000's Higher, features samples at best.
See: Samples etc.
---